Montrose Townhomes For Sale Guide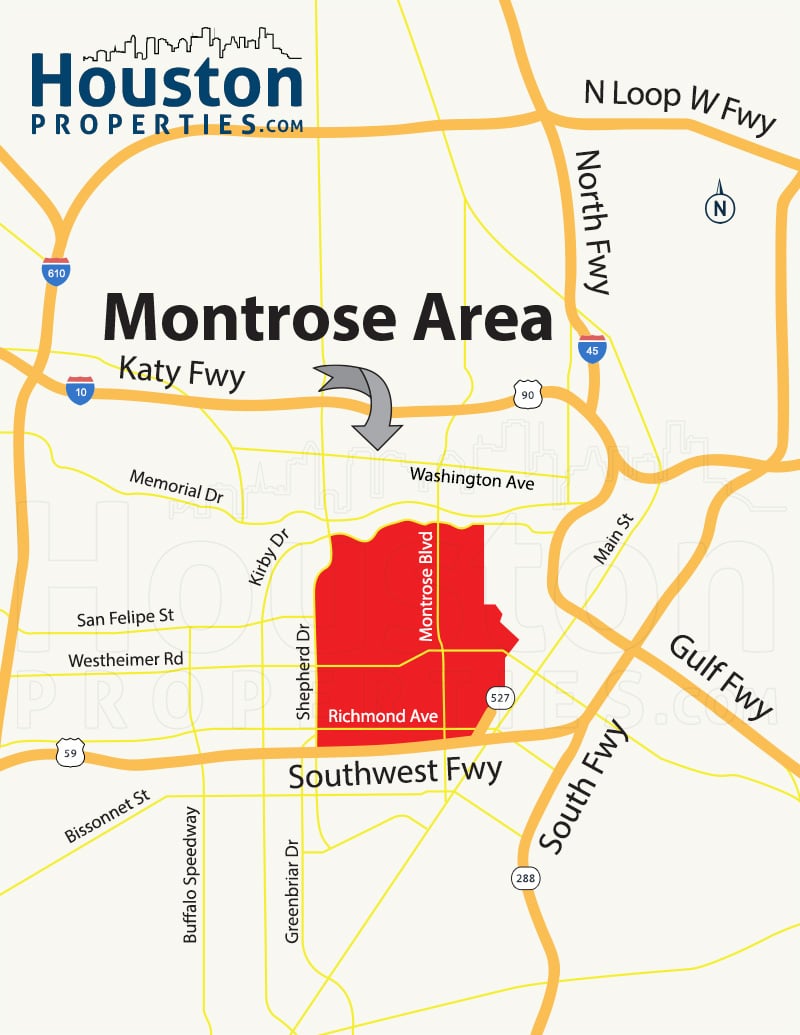 Known as the "Heart of Houston," Montrose is a diverse, mixed-use neighborhood just west of Downtown. Like Midtown and EaDo, Montrose is in the middle of redevelopment. Many residential projects include new construction townhomes.
Montrose townhomes for sale are in high demand due to the following:
Prime location: Key Houston cultural, business, and entertainment centers, including the Central Business District, Museum District, and the Texas Medical Center are within minutes of Montrose.
Great accessibility: With its central location within the Inner Loop, Montrose has immediate access to job and entertainment centers. The district is also one of the most accessible neighborhoods in Houston.
Exciting nightlife: Montrose has an eclectic mix of restaurants, bars, ice houses, pubs, and wine lounges. Montrose has something for everybody, whether it's craft beers or fine dining, dog-friendly patio bars or hole in the wall pubs.
Diverse, active community: Montrose is home to almost 20 neighborhood and business associations that are all working to improve the community. It was once part of the American Planning Association's list of 10 great neighborhoods in America.
Top schools: Zoned to the Houston Independent School District, Montrose has access to great public schools. The University of Saint Thomas is also located in the neighborhood.
Montrose has a quaint and quirky charm, a trait seen through its homes and commercial establishments. Montrose offers a wide array of housing options, and new developments in the area have produced several multi-level townhomes.
Montrose townhomes spend 12 (median) days on the market, with some properties not getting listed at all. With the help of the best Houston realtor, homebuyers can get updated information as well as advice about Montrose real estate.
Contact Paige Martin, head of the Houston Properties Team & Broker Associate at [email protected] or 713-425-4194 for help buying or selling a Montrose townhome.
Montrose Houston Resources:
For more information on available Montrose Homes for sale call Paige Martin at 713-425-4194 or email [email protected].
Montrose Houston Neighborhood Guide
A vibrant and eclectic community, Montrose is one of Houston's trendiest districts.
It is located north of the Medical Center and Museum District, west of Downtown Houston and Midtown, south of Rice Military, and east of Upper Kirby and River Oaks. Montrose's borders are defined as Allen Pkwy on the north, Southwest Fwy (Highway 59) on the south, Shepherd Drive on the west, and Spur 527 on the east.
With major job centers like Downtown and Medical Center just minutes away, Montrose residents enjoy a fairly easy commute to and from work.
Montrose is also a major Houston cultural and historical hub. The neighborhood is home to 5 historic districts and a number of art galleries. The Menil Collection, one of the most extensive private art collections, is located in Montrose.
Montrose started out as a residential community. In 1911, J.W. Link of the Houston Land Corporation purchased tracts of land to form the 250-acre Montrose neighborhood. Originally envisioned as a streetcar suburb, the neighborhood was built with four landscaped and curbed boulevards.
Link himself built a home in the neighborhood. The Link-Lee mansion is now a landmark listed on the National Register of Historic Places. It has served as the offices of the University of Saint Thomas since 1947.
In the 1990s, renewed interest in Montrose sparked the district's revitalization. During this period, a number of townhomes were developed in the neighborhood, a trend that is still evident today.
Now a lively mixed-use district, Montrose provides a great option for those who want to live near great schools, numerous entertainment options, and job centers.
Montrose is located within the 77006 zip code of Harris County.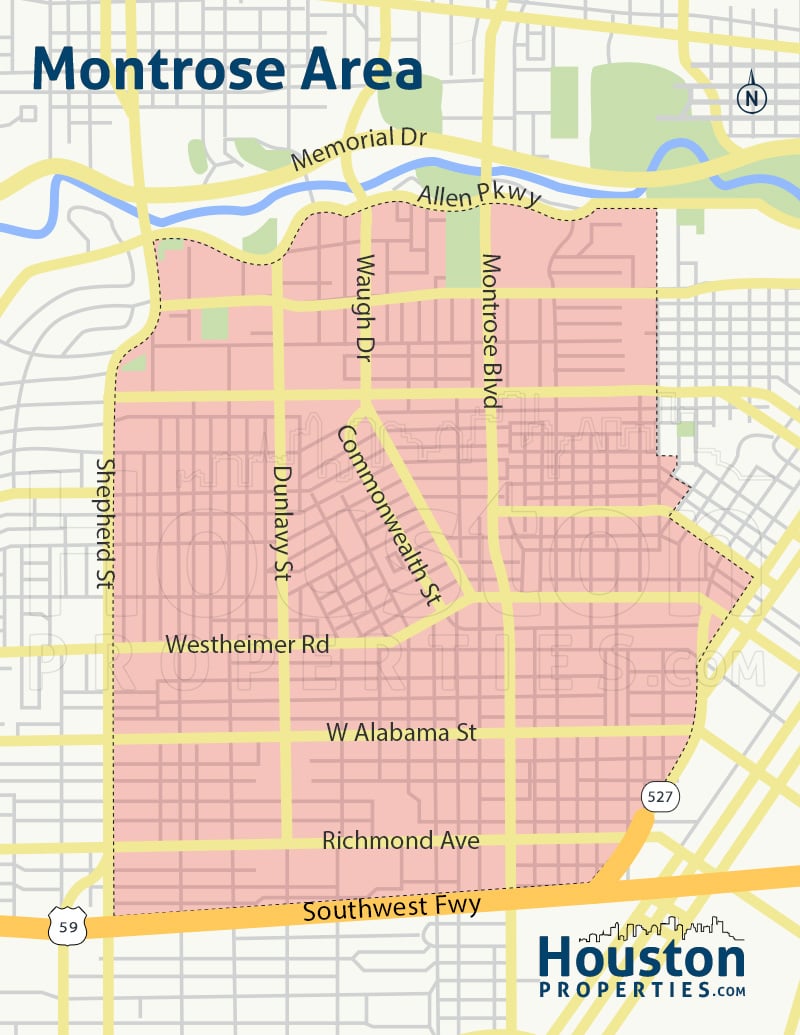 Montrose Townhomes Real Estate Trends
Property values in Montrose have been on the steady rise over the past decade, marking an 84% increase in median sales price.
Montrose townhomes for sale have a median size of 2,092 square feet, with 3 bedrooms and 2 and a half baths. A number of factors affect pricing, including year built and location. Some townhomes in Montrose date back to the 1990s, and those tend to sell for cheaper.
Newer construction townhomes can go for as much as $1,300,000.
Guide To Schools In Montrose Houston
Montrose is zoned to the Houston Independent School District (HISD) and is home to the University of St. Thomas (UST), a Catholic university in the Archdiocese of Galveston-Houston.
Public
Elementary
MacGregor Elementary School at 4801 La Branch St. MacGregor Elementary can trace its roots back to 1922. It serves students in grades PK to 5 and offers magnet programs in music and science. Afterschool activities include girl and boy scouts, as well as an Extended Day program.
Poe Elementary School at 5100 Hazard St. Named after Edgar Allan Poe, this elementary school is a fine arts magnet school. It has a GreatSchools.org rating of 8/10.
Wharton Dual Language Academy at 900 W Gray St. An alternative primary school, Wharton offers a Language Magnet program for students in grades PK through 8. It features a program that incorporates both Spanish and English languages. It has a GreatSchools.org rating of 10/10.
Wilson Montessori at 2100 Yupon St. Also known as Wilson Elementary, this school offers a Montessori program that encourages self-reliance and independence.
Middle School
Lanier Middle School at 2600 Woodhead St. In 2011, Sidney Lanier Middle School received a Texas Gold Performance Award. It offers a Vanguard program for exemplary students and has a GreatSchools.org rating of 10/10.
Gregory-Lincoln Education Center at 1101 Taft. GLEC features a Fine Arts magnet program for students in grades K to 8. It offers classes in vocal and instrumental music, theater, dance, culinary arts, visual arts, and multimedia arts.
Baylor College of Medicine Academy at Ryan at 2610 Elgin St. BCMAR is a magnet middle school located in the campus where Ryan Middle School once stood. A relatively new school, it offers offers a unique Medical Magnet program that is centered on a health science based curriculum.
High School
Lamar High School at 3325 Westheimer Rd. Home to the Lamar Redskins, this high school has one of the best Athletics programs in the area. Lamar also boasts of the oldest lacrosse programs in Texas. It has a GreatSchools.org rating of 7/10.
High School for the Performing and Visual Arts at 4001 Stanford St. Also known as HSPVA, this school boasts of "an academic program with concentrated training in the arts." HSPVA is divided into six departments, including creative writing, vocal music, instrumental music, dance, theater, and visual arts.
Montrose also features several private schools. Here are some of them:
Annunciation Orthodox School at 3600 Yoakum Blvd.
The Harris School at 900 Lovett Blvd.
Avalon Academy at 1616 Indiana St.
Kipling Street Academy at 1425 Kipling St.
School For Young Children at 810 Sul Ross St.
St Stephens Episcopal School at 1800 Sul Ross St.
To find an updated listing of all Montrose real estate zoned to any specific public school, please send an email to Paige Martin at [email protected] with the property preference and budget that you're working with.
*Note: School zoning tends to change from year to year, information provided above are accurate but not guaranteed. Please double check by visiting the school's website.
Montrose Houston Realtor – Paige Martin
As featured on Fox News in the Morning, the Houston Business Journal, Houston Chronicle, and Houston Magazine, Paige Martin – a consistent Top Producing Broker-Associate and head of the Houston Properties Team – is ranked amongst the very top Keller Williams agents in the Houston area.
Paige is ranked as one of the top realtors in Montrose Houston, and the state of Texas. Read more about the over 65 awards she's won in the last few years.
Paige works with a tremendous number of buyers and sellers within the Inner Loop.
For a specific recommendation of neighborhoods, homes or properties based upon your personal style, goals & price point, please contact Paige Martin, head of the Houston Properties Team & Broker Associate at [email protected] or 713-425-4194.