Museum District Houston Homes For Sale Guide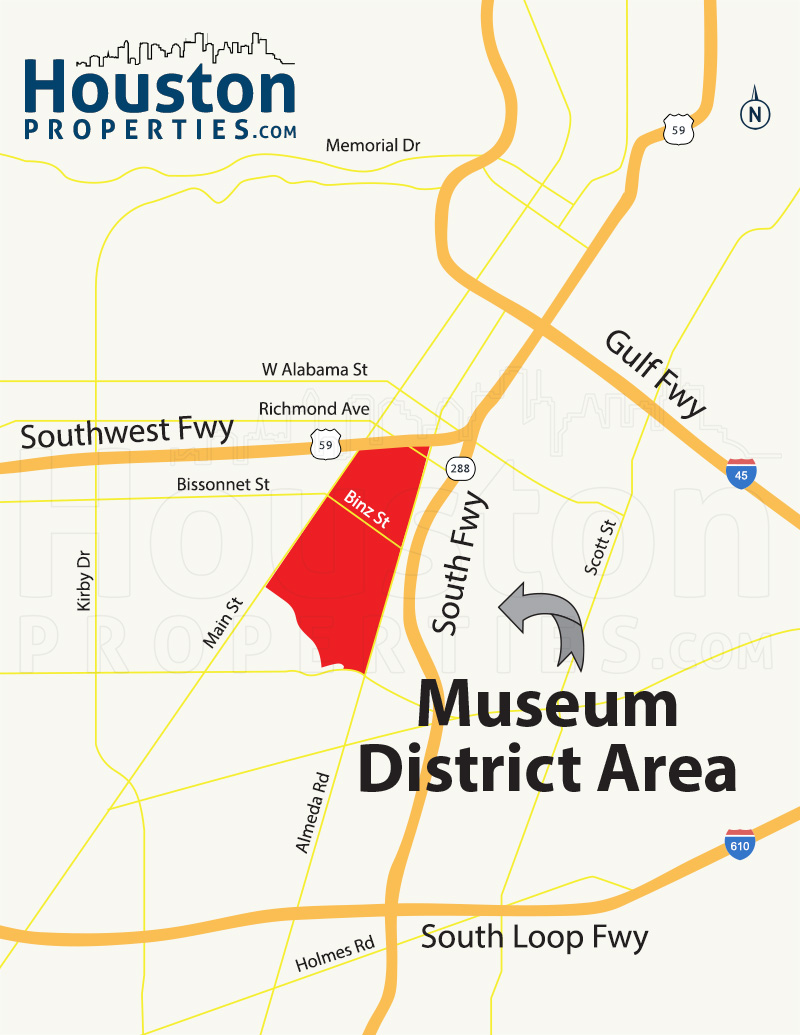 True to its name, the Houston Museum District is home to 19 cultural, historic, and scientific museums and institutions.
A few miles southwest of Downtown, Museum District homes for sale are constantly in demand due to their:
Centrally located: Located in bustling south central Houston, the Museum District has easy access to key areas including Downtown and the Texas Medical Center.
Convenient accessibility: Pedestrian-friendly and located along South and Southwest freeways, the Museum District is among Houston's most accessible neighborhoods. The district also has MetroRAIL access via three stops in the area.
Access to various entertainment options: The Houston Museum District Association is comprised of 19 member institutions, 12 of which offer free admission. Retail and dining options are also available within minutes of the neighborhood.
Bustling real estate market: Museum District offers a wide variety of housing options, including patio homes, townhomes, lofts, and condos. Historic estates are also available in the area.
The Houston Museum District offers great access and houses some of the most visited cultural centers in the country. This, along with its convenient location near major Houston hubs, makes it an ideal choice for homebuyers.
Contact Paige Martin, a top-ranked Houston realtor and head of the Houston Properties Team for questions and advice about Museum District homes for sale.
Museum District Houston Resources:
For more information on available Museum District homes for sale call Paige Martin at 713-425-4194 or email [email protected]
Neighborhood Guide: Museum District Houston
Nestled in the area between Rice University, the Texas Medical Center, Midtown, and the Third Ward, the Museum District enjoys a central location within the Inner Loop.
Among the most accessible neighborhoods in Houston, the Museum District is located along two freeways, South and Southwest. The district also has three MetroRAIL stations (Museum District, Hermann Park/Rice U, and Wheeler) and promotes alternatives for getting around its pedestrian-friendly streets, including a bike sharing program called Houston B-cycle.
The development of the Museum District was a collective community effort – several organizations banded together to revive the area. The Museum District Development Association of Houston created a multi-phase plan to develop a pedestrian-friendly area centering on the Museum of Fine Arts.
Today, the Houston Museum District Association is made up of 19 museums and institutions, all located within a 1.5-mile radius.
The neighborhood features a rich assortment of housing options interspersed among the museums of art, history, nature, science, and culture. Historic estates, chic condos and lofts, luxury townhomes, and patio homes line the neighborhood's streets.
Museum District real estate have steadily appreciated over the past decade, from $438,075 in 2005 to $739,756 in 2014. This upward trend can be attributed to the steady number of new construction projects, along with increased interest in the area.
The Houston Museum District is under the 77004, 77005, 77006, 77030, and 77098 Harris County zip codes.
Nearby zip codes include 77002, 77003, 77019, 77021, and 77054. (View Houston zip code map)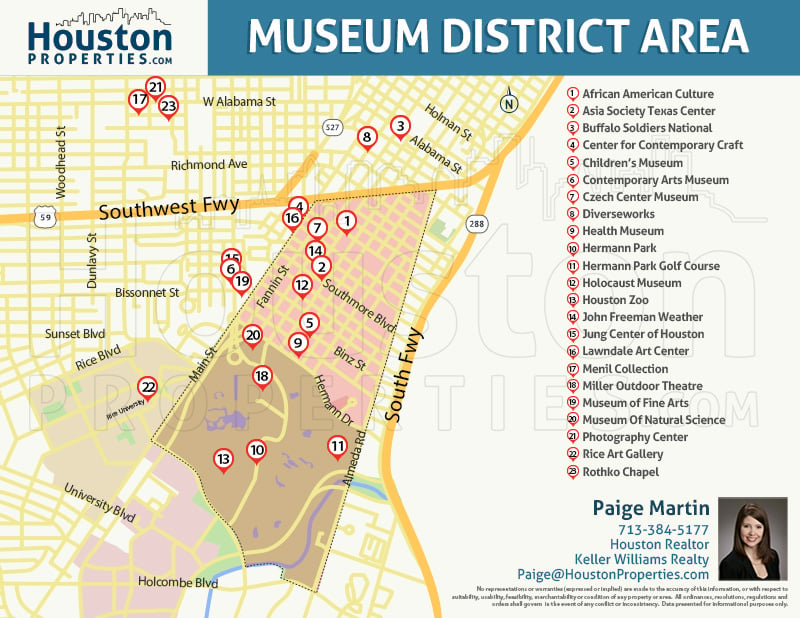 Fun Things To Do In And Around The Museum District
The Houston Museum District Association lists 19 member museums and institutions inside an area within a 1.5-mile radius of the Mecom Fountain in Hermann Park. These member museums – each with its unique scientific, educational, and artistic exhibits – welcome more than 8 million visitors annually.
Located at 1001 Bissonnet Street, the Museum of Fine Arts, Houston is one of the largest museums in the country. Within its 300,000-square feet of space, the MFAH houses more than 60,000 pieces in its permanent collection. Visitors can take advantage of the cultural complex's 2 gallery buildings, two house museums, sculpture garden, library, movie theatre, and cafe.
The Houston Museum of Natural Science, located at 5555 Hermann Park Drive, is one of the country's most popular museums, with more than 2 million visitors per year. In addition to its natural science halls, HMNS features the Wortham Giant Screen Theatre, the Burke Baker Planetarium, and the Cockrell Butterfly Center. The museum also plays host to numerous guest exhibits every year.
Forbes listed the Children's Museum of Houston at 1500 Binz Street as one of the "Best Children's Museums in the US." With its exhibits and bilingual programs, the museum aims to inspire "a passion for lifelong learning" in all children.
Another popular Museum District destination is Hermann Park. The 445-acre public park is home to the Houston Zoo, the Houston Museum of Natural Science, the Hermann Park Golf Course, the Miller Outdoor Theatre, and the Houston Garden Center. It features several attractions and amenities, including jogging trails, pedal boaths, playgrounds, and gardens, among others.
The Museum District also features plenty of dining, retail, and entertainment options, and its proximity to Montrose, Medical Center, and Rice University means that more choices are mere minutes away.
Listed below are some of the best places to visit in and around the Museum District:
Member Museums
Asia Society Texas Center
Buffalo Soldiers National Museum
Children's Museum of Houston
Contemporary Arts Museum Houston
Czech Center Museum Houston
DiverseWorks
Holocaust Museum Houston
Houston Center for Contemporary Craft
Houston Center for Photography
Houston Museum of Natural Science
Houston Zoo
The Health Museum
The Jung Center of Houston
Lawndale Art Center
The Menil Collection
Museum of African American Culture Center
Museum of Fine Arts , Houston
Rice University Art Gallery
The Rothko Chapel
In Hermann Park
Miller Outdoor Theatre
Houston Zoo
Buddy Carruth Playground For All Children
The Japanese Garden
McGovern Lake
Judson Robinson Jr. Community Center
Hermann Park Mini-Train
Hermann Park Trail
Houston Garden Center
Bayou Parkland
Hermann Park Golf Course
Restaurants
Maxwell Street Grill
Number 1 Chicken Rice & Seafood
Bowl Cafe
Davis Street at Hermann Park
Bowl Cafe
The Raven Grill
Bodegas Taco Shop
Lucille's
Pax Americana
Museum Park Cafe
Reggae Hut
Pinewood Cafe
Black Hole Coffee Houst
Ambrosia
Green Seed Vegan
The Lexington Grille
Papa Mio Italian Cafe
Nightlife
Monarch Restaurant & Lounge
Grand Prize Bar
Absinthe Brasserie
Harp
Revelry on Richmond
Ruthie's Place
Bar 5015
Kaiser's Korner Pub
The Alley Kat Bar & Lounge
Bosta Wine and Coffee
Mosaic Bar and Lounge