Best Value Museum District Homes Under $500K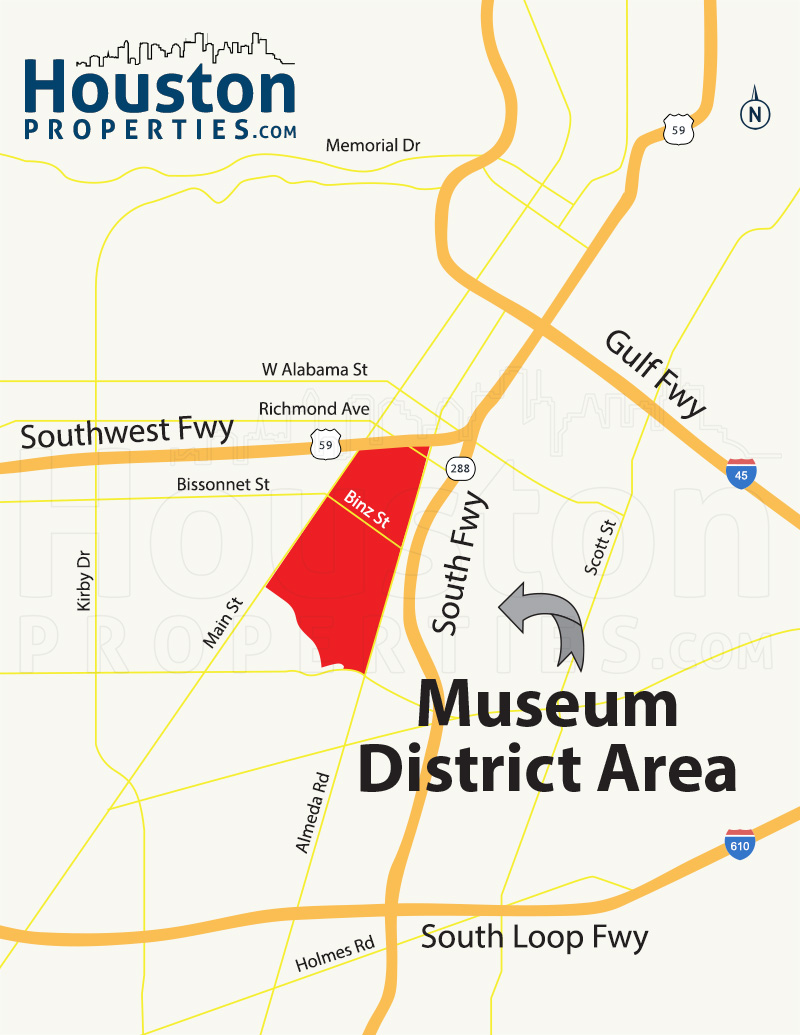 The Museum District, Houston's cultural center, is located just a few miles southwest of Downtown. Vibrant and diverse, this neighborhood offers so much more than the various museums that call it home.
Museum District homes for sale are highly desirable due to the following:
Central location: Centrally located within the Inner Loop, the Museum District is a few minutes away from Downtown Houston and the Medical Center – two of the Bayou City's major employment centers.
Great accessibility: One of the most accessible neighborhoods in Houston, the Museum District is along two major freeways and has three MetroRAIL stops and pedestrian-friendly streets.
Near retail and entertainment options: The Houston Museum District Association has 19 member museums and institutions, all within a 1.5-mile radius. Hermann Park, the Houston Zoo, the Museum of Fine Arts, and the Museum of Natural Science are mere blocks away from Museum District homes for sale.
Wide assortment of homes: Like nearby Montrose, the Museum District features a wide variety of homes, from bungalows and patio homes to garden homes, townhomes, and condos.
The Museum District's wide variety of housing options, coupled with its central location, makes it a great choice for professionals and families. New construction in the area, as well as high demand can make this market challenging to navigate, however, so homebuyers will appreciate the help of the best Museum District Houston realtor for advice and recommendations.
Contact Paige Martin, head of the Houston Properties Team & Broker Associate at [email protected] or 713-425-4194 for advice or questions about buying or selling a Museum District townhome.
Museum District Houston Resources:
For more information on available Museum District homes for sale call Paige Martin at 713-425-4194 or email [email protected]
Museum District Houston Neighborhood Guide
Sitting a couple of miles southwest of Downtown Houston, the Museum District features the second largest number of museums in a contiguous area in the country. Of the 19 member museums of the HMDA, 14 are located south of the Southwest Freeway.
Apart from Houston's Central Business District, the Museum District also has easy access to the Medical Center, The Galleria, Montrose/Neartown, Midtown, EaDo, Upper Kirby and West University.
Apart from its rich collection of educational, scientific, and artistic resources, the Museum District is also a very pedestrian-friendly, exciting mixed-use neighborhood.
Its development started in the 1970s, when a number of civic organizations and associations came together to create a vibrant community around the Museum of Fine Arts.
With the help of the Houston Museum District Association and volunteers, this development continues to this day.
The neighborhood has one of the Houston's hottest real estate markets, due in part to the surge of new construction – particularly of condos and townhomes – and the increased demand for Museum District homes for sale.
The Houston Museum District is under the 77004, 77005, 77006, 77030, and 77098 Harris County zip codes.
Nearby zip codes include 77002, 77003, 77019, 77021, and 77054. (View Houston zip code map)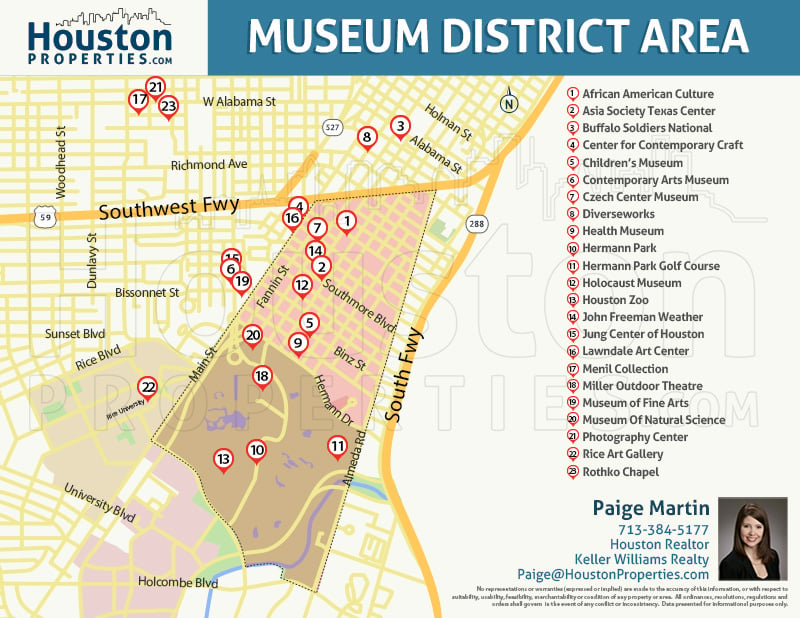 Museum District Schools Information
The Houston Museum District is zoned to the Houston Independent School District (HISD)and is home to high-rated schools like MacGregor Elementary School at La Branch Street and the Young Women's College Preparatory Academy at Cleburne Street.
Public
Elementary
MacGregor Elementary School at 4801 La Branch St. Founded in 1922, this school used to be known as Southmore. Named after Henry F. MacGregor, the school serves students in grades EE to 5 and offers magnet programs for music and science.
Poe Elementary School at 5100 Hazard St. Edgar Allan Poe Elementary is a fine arts magnet school, as well as a candidate school for the International Baccalaureate Primary Years Programme (IB PYP). Poe also offers enrichment classes in several areas including visual arts, dance, music, physical education, Suzuki violin, and technology.
Middle School
Lanier Middle School at 2600 Woodhead St. Located in the Neartown/Montrose area, Lanier Middle School is one of the HISD's International Baccalaureate World Schools. Lanier also has a Vanguard magnet program, as well as fine arts and athletics programs. It has a GreatSchools.org rating of 10/10.
Cullen Middle School at 6900 Scott St. Located a few minutes away from the Museum District, Cullen Middle School (or CMS) offers a number of academics programs. The school has a Pre-AP program, along with a Vanguard Magnet and Vanguard Neighborhood programs for Gifted and Talented students. Spanish, Music, and Aquatics are also offered at Cullen.
High School
Young Women's College Preparatory Academy at 1906 Cleburne St. A relatively new school, YWCPA opened in 2011 through a partnership between the HISD and the Young Women's Preparatory Network. This all-girls high school offers Pre-AP and AP programs.
High School for the Performing and Visual Arts at 4001 Stanford St. Located in Montrose, HSPVA offers a curriculum that covers six art areas, including intrumental music, vocal music, dance, theater, creative writing, and visual arts.
Debakey High School for Health Professions at 3100 Shenandoah St. One of the best public schools in the Houston area, Debakey offers the only magnet program for health professions under the HISD. It was recognized as a National Blue Ribbon School in 1997-98 and 2003.
Lamar High School at 3325 Westheimer Rd. Located in Upper Kirby, Lamar is an International Baccalaureate school that offers IB Diploma and AP programs. It also offers a magnet program for Business Administration. It also features a great athletics program and is home to the Lamar Texans, formerly known as the Redskins.
Private
The Museum District is an ideal jump off point to the private schools and universities located in Rice University, Montrose, Medical Center, and the Third Ward. Several private schools are located within minutes of the neighborhood. Listed below are some of them.
St. John's School at 2401 Claremont Ln. Founded in 1946, St. John's is one of the most prestigious private schools in Houston. Forbes listed it as one of "America's Elite Prep Schools" and holds a reputation for academic excellence and selectivity. It has a great athletics program as well, and has a rivalry with The Kinkaid School.
St. Paul's School at 5501 Main St.
Montessori Country Day School at 5117 La Branch St.
Presbyterian School at 5300 Main St.
The Joy School at 1 Chelsea Blvd..
To find an updated listing of all Museum District real estate zoned to any specific public school, please send an email to Paige Martin at [email protected] with the property preference and budget that you're working with.
*Note: School zoning tends to change from year to year, information provided above are accurate but not guaranteed. Please double check by visiting the school's website.
Museum District Houston Realtor – Paige Martin
As featured on Fox News in the Morning, the Houston Business Journal, Houston Chronicle, and Houston Magazine, Paige Martin – a consistent Top Producing Broker-Associate and head of the Houston Properties Team – is ranked amongst the very top Keller Williams agents in the Houston area.
Paige is ranked as one of the top realtors in Museum District Houston and the state of Texas. Read more about the over 65 awards she's won in the last few years.
Paige works with a tremendous number of buyers and sellers within the Inner Loop.
For a specific recommendation of neighborhoods, homes or properties based upon your personal style, goals & price point, please contact Paige Martin, head of the Houston Properties Team & Broker Associate at [email protected] or 713-425-4194.