Museum District Houston Neighborhood Maps
Located within Houston's Inner Loop, Museum District is the city's haven for culture and arts. The neighborhood is home to over 20 museums, parks, and science centers.
Museum District is at the corner where Southwest Fwy 59 and 288 meet, giving its residents easy access to main Houston districts of Downtown Houston and Galleria.
Nearby neighborhoods include West University, Medical Center, Midtown, Montrose, and Upper Kirby.
Museum District Related Resources:
Two New Museum District Houston Neighborhood Maps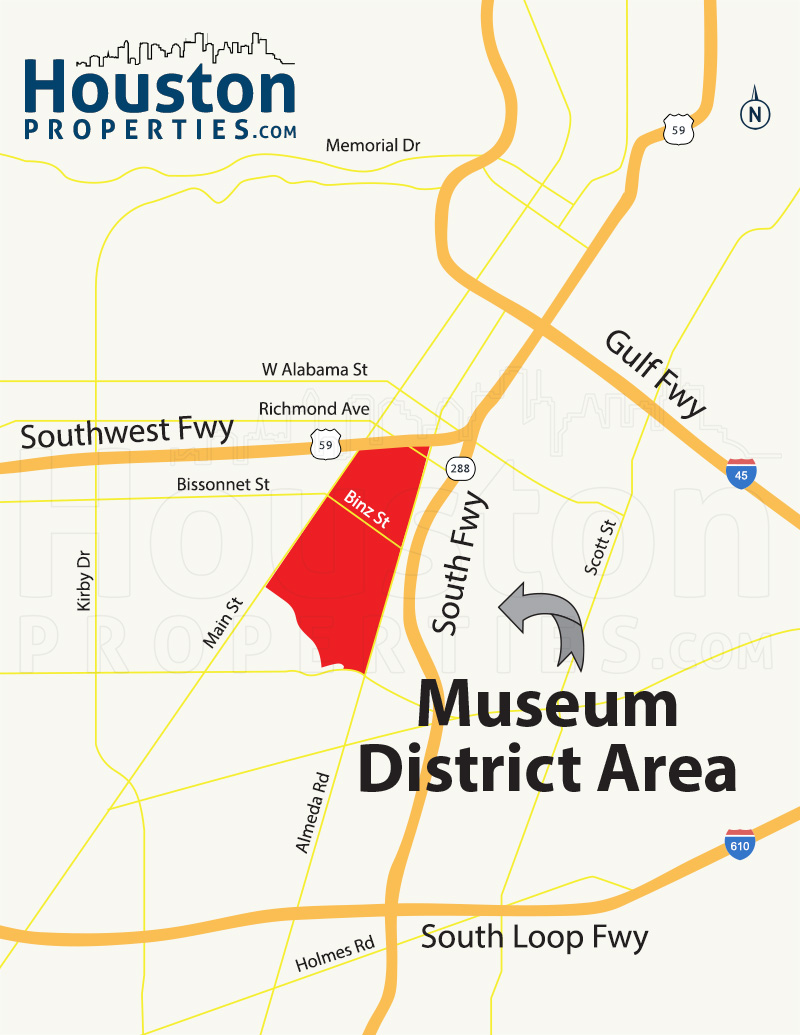 Museum District Maps: Neighborhood
Museum District is an exciting neighborhood of new construction single-family homes and townhomes, European-inspired condo buildings, and numerous commercial establishments.
Houston's Museum District has the second largest number of museums in a contiguous area in the country. Within a 1.5 mile radius, the Museum District has 19 museums that offer educational, artistic, and scientific resources. A dozen of the member museums have free admission each day.
In addition, this area covers Rice University, Houston's Zoo, Hermann Park Golf Course, Miller Outdoor Theatre, and has three running trails and MetroRAIL access to The Medical Center and Downtown Houston.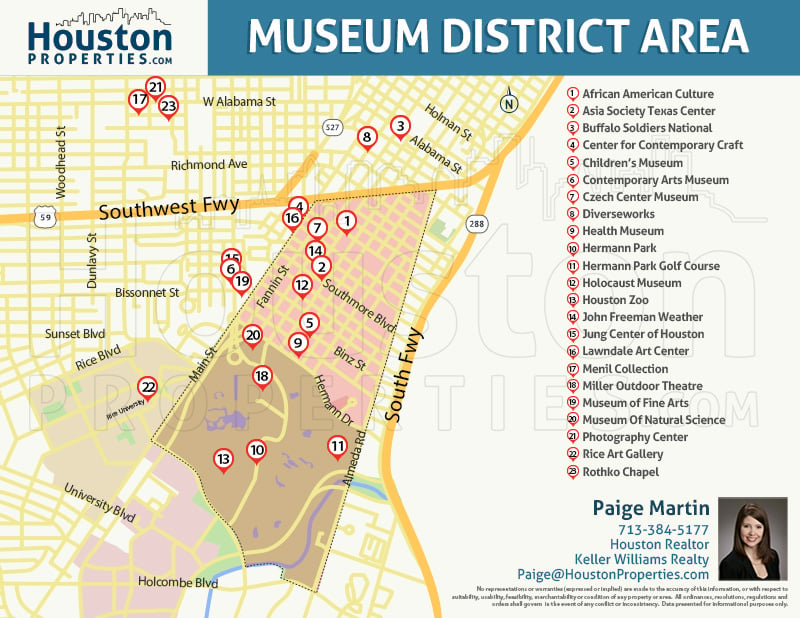 Museum District Condos Map
Museum District condo buildings are mostly European-inspired residences with early 19th century architecture.
True to its name, the tree-lined, sidewalk-laden district is home to approximately 20 museums, exposing condo residents to numerous art galleries, theater houses, and science centers.
The Museum of Fine Arts is the nation's 6th largest art museum. It has 300,000 square feet of space dedicated to paintings, sculptures, costumes, photography and textiles dating back to the antiquities. (Check Museum District map above for its exact location.)
Many Museum District Houston condos have 24-hour staff, guards, secure parking, gated entrance and building security. Some buildings also have fire prevention and emergency systems as well as surveillance cameras.