NORTHAMPTON PLACE REAL ESTATE GUIDE
2022 Northampton Place homes for sale & insider real estate guide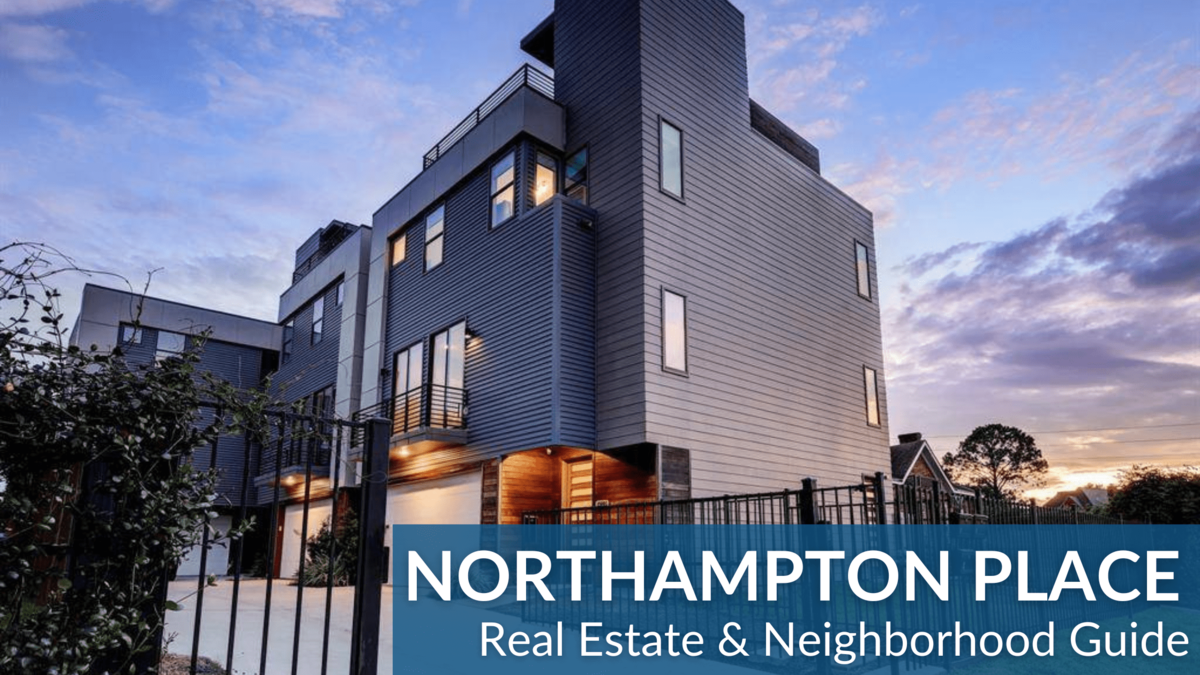 Northampton Place is a gated community just minutes from Greenway Plaza and the Texas Medical Center. It is nestled among Houston's most expensive neighborhoods. Northampton Place is a gated residential enclave of 36 single-family homes.
Northampton Place is famous for its:
PROXIMITY TO MEDICAL CENTER: The Texas Medical Center is one of Houston's major employment centers. It is around 2 miles from Northampton Place. It has about 50+ medical institutions and 100,000+ workers and volunteers. Another business district, the Greenway Plaza, is less than 10 minutes.

AFFORDABILITY: Northampton Place is near Houston's most expensive real estate. These are West University Place, Southside Place, Southampton Place, and Boulevard Oaks. Homes in these areas sell for $1,000,000 and above. Northampton Place homes are more affordable, with prices averaging $500,000. (See The Salary I Need To Buy A Home In Houston's Best Neighborhoods)

PROXIMITY TO RICE VILLAGE: Established in the 1930s, Rice Village is one of the oldest shopping destinations in Houston. Rice Village spans around 16 blocks and over 300+ restaurants, stores, cafes, and boutiques. Amusement hubs like Hermann Park and the Museum District are just minutes from the gated community.

ACCESSIBILITY: The community is prized for its location. It is near employment centers and some of the most expensive neighborhoods in Houston. Northampton Place has easy access to several main roads and freeways. They include North Boulevard, Southwest Freeway, Shepherd Drive, Kirby Drive, and Bissonnet Street. Northampton Place is near shopping districts and schools as well.

IB WORLD SCHOOLS: Three International Baccalaureate World Schools serve the community. They are Poe Elementary, Lanier Middle School, and Lamar High School. Rice University is a few blocks from the neighborhood.

VARIOUS HOME SELECTIONS: Northampton Place consists of beautiful single-family patio homes. Some residences have swimming pools, high ceilings, and spacious living spaces. Northampton Place homes have 3, 2, or 1-floor plans. The homes feature a traditional architectural style. Brick exterior and plantation windows punctuate each Northampton Place home. Home sizes are between 2,000 to 3,100 square feet. Lot sizes are 2,700 to 3,200 square feet.
Northampton Place real estate can be tricky to navigate. It is due to the community's low inventories. There have been less than ten public sales yearly. It is best to contact the best Northampton Place realtor, an expert in the community.
To get personal advice on buying or selling homes in Northampton Place, contact Paige Martin, one of Houston's best realtors and one of the top-ranked Realtors in the United States.
"I can't recommend the Houston Properties Team enough. Working with them has been a painless and wonderful experience and would recommend them to any of our friends and family. She and the Houston Properties Team guided us flawlessly through our first home purchase. There is no other person I would trust with our next home purchase after how amazing this process has been." - Chad (Google Review)
---
Table of Contents
---
Northampton Place Home Sale Trends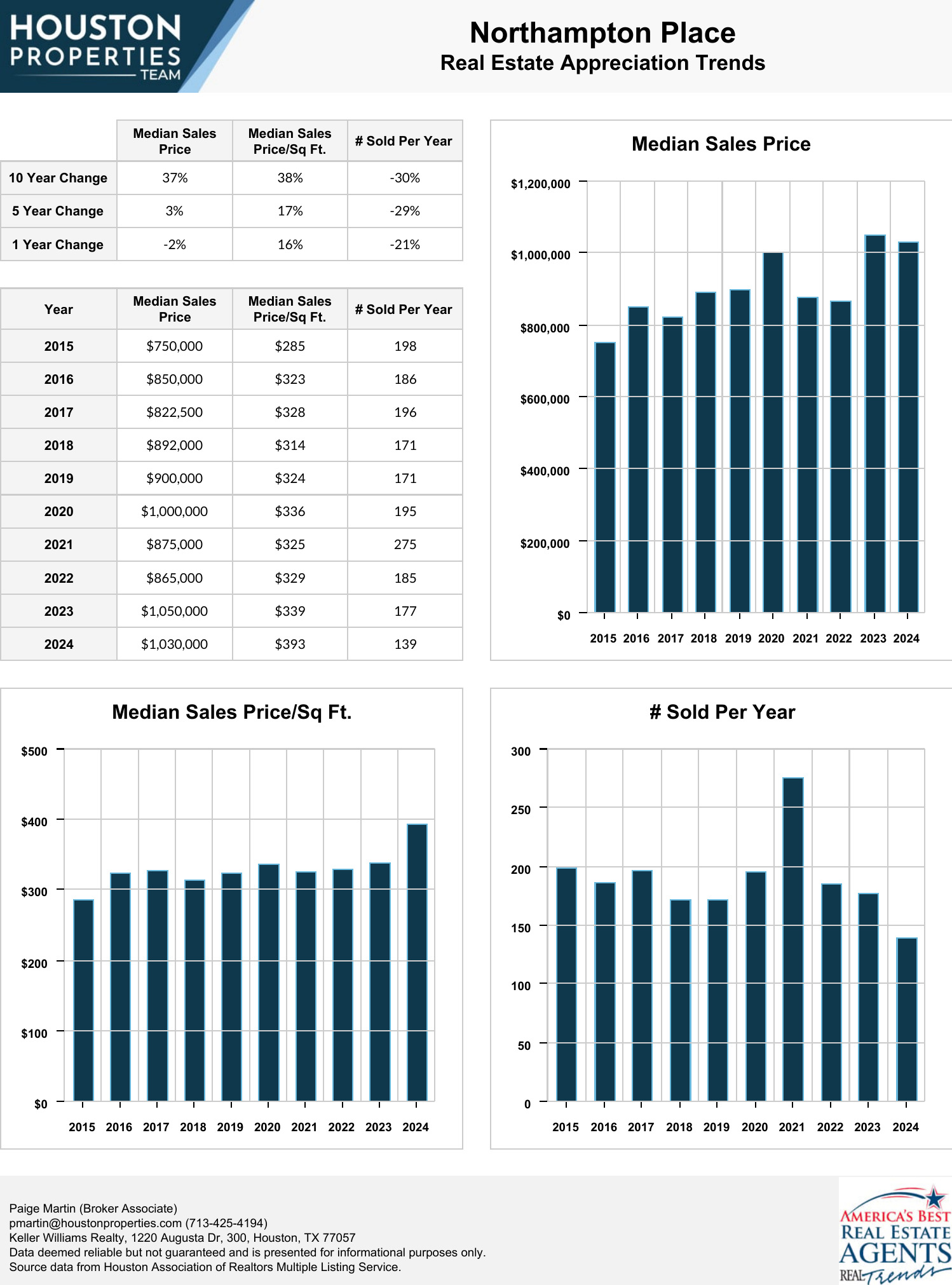 ---
Northampton Place Maps, Location & Zip Code
| Commute Time | Northampton Place |
| --- | --- |
| Downtown (min) | Unknown |
| Med Ctr (min) | Unknown |
| Energy Corridor (min) | Unknown |
| Galleria (min) | Unknown |
| Highlights | Northampton Place |
| --- | --- |
| Amenities | Unknown |
| Golf Courses | Unknown |
| Run / Bike Trails | Unknown |
| Nearby Retail / Dining | Unknown |
| Major Employers | Unknown |
---
Northampton Place Schools
| Top Elementary Schools | Great Schools Ranking |
| --- | --- |
| Roberts Elem | 9 |
| Top Middle Schools | Great Schools Ranking |
| --- | --- |
| Lanier Middle | 9 |
---
Best Houston Real Estate Resources
---