Oak Estates Real Estate Guide
Oak Estates homes for sale & insider real estate guide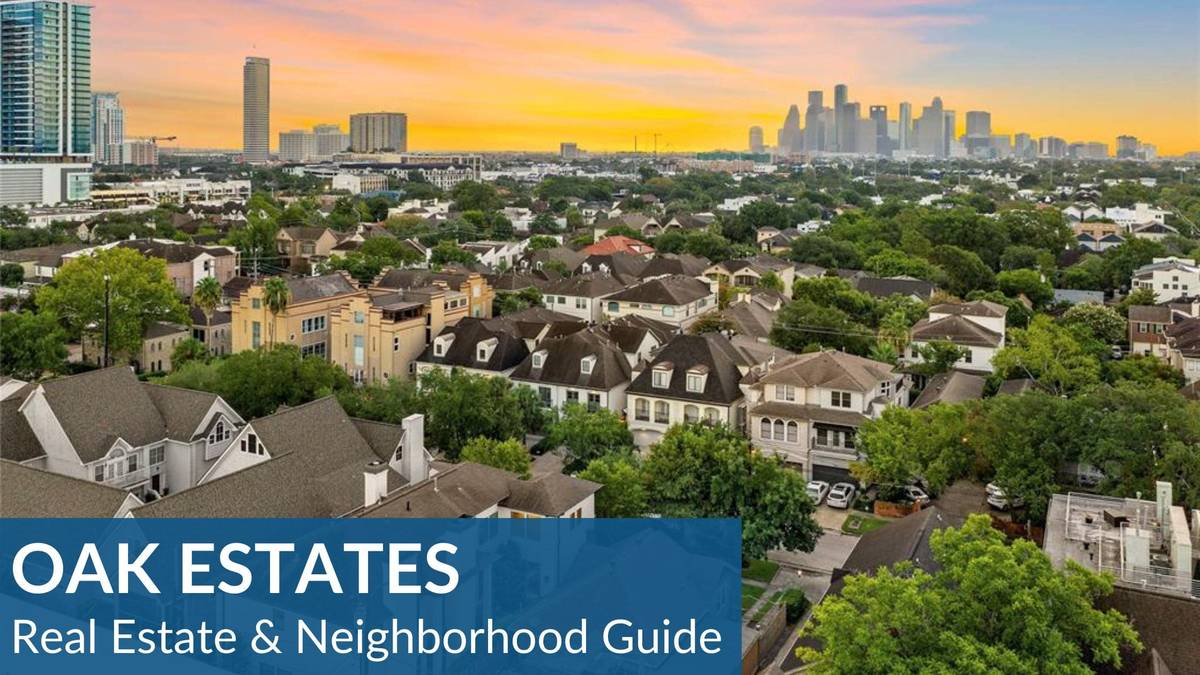 Oak Estates is one of the "pocket neighborhoods" located around River Oaks. The community is made up of around 140 single-family homes. The deed-restricted neighborhood is directly north of the Highland Village Shopping Center. The community features superb location, excellent accessibility, and premier schools.
Oak Estates residents enjoy:
EXCLUSIVITY: The median sales price of Oak Estates real estate is over $1,000,000. Compared to Royden Oaks and Afton Oaks, homes in Oak Estates are slightly more expensive. Homes in next-door River Oaks, however, are pricier, with a median sales price of over $2,500,000. (See Guide To 20 Most Expensive Houston Neighborhoods)

PRESTIGIOUS RIVER OAKS LOCATION: Oak Estates is located in the area between River Oaks and the Galleria. The community is near some of Houston's key roads and freeways. Several retail hotspots are nearby, including high-end shopping centers in River Oaks District and Highland Village.

HIGHLAND VILLAGE SHOPPING CENTER: Established in 1950, the Highland Village Shopping Center is one of Houston's best retail destinations. It features 60 upscale boutiques, stores, restaurants, and cafes. Oak Estates residents are a few blocks away, and Drexel Drive cuts through the neighborhood and the shopping center.

EXCITING GALLERIA: The Galleria, a major employment and retail center, is about a mile away from Oak Estates' homes. The district is home to more than 2,000 companies with over 50,000 employees. It features around 23 million square feet of office space and 5 million square feet of leasable space. Spaces consist of 350+ retail stores, restaurants, bars, and other commercial establishments.

GREAT ACCESSIBILITY: Residents have easy commutes to Downtown Houston, Greenway Plaza/Upper Kirby, and the Texas Medical Center. All these hotspots are accessible via San Felipe Street and Westheimer Road. Loop 610 is a few blocks away, while Downtown is around 6 miles away from the neighborhood.

AWARD-WINNING SCHOOLS: River Oaks Elementary School, one of the best schools in Houston, serves the community. Fellow IB World Schools Lanier Middle School and Lamar High School are also zoned to Oak Estates homes.
Buying or selling a home in Oak Estates can be tricky due to a number of factors. Some homes' have proximity to train tracks (which can affect resale values) and main roads. Depending on long-term goals, the neighborhood's deed restrictions can also be a major factor.
To get personal advice on buying or selling an Oak Estates home, contact Paige Martin. One of Houston's best realtors and one of the top-ranked Realtors in the United States.
"Working with Courtney from the Houston Properties Team was a great decision for my home-buying journey. I was impressed with Courtney's in-depth knowledge of the real estate market and her ability to find properties that fit my budget and preferences. She was always responsive, proactive, and provided excellent guidance throughout the process. If you're looking for a great real estate agent, Courtney and her team are the way to go!" - Sean Williams (Google Review)
---
Table of Contents
---
Oak Estates Home Sale Trends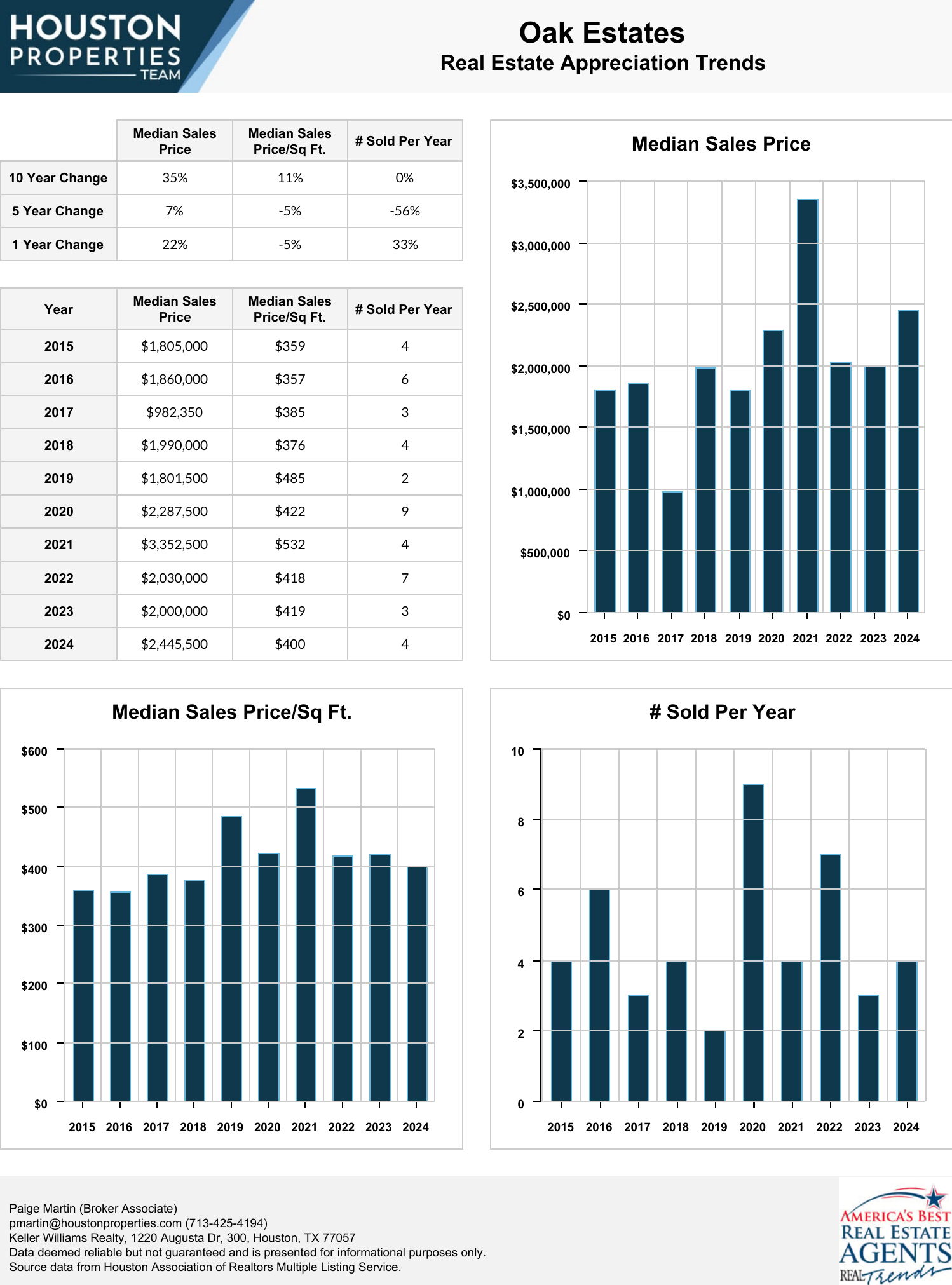 ---
Oak Estates Maps, Location & Zip Code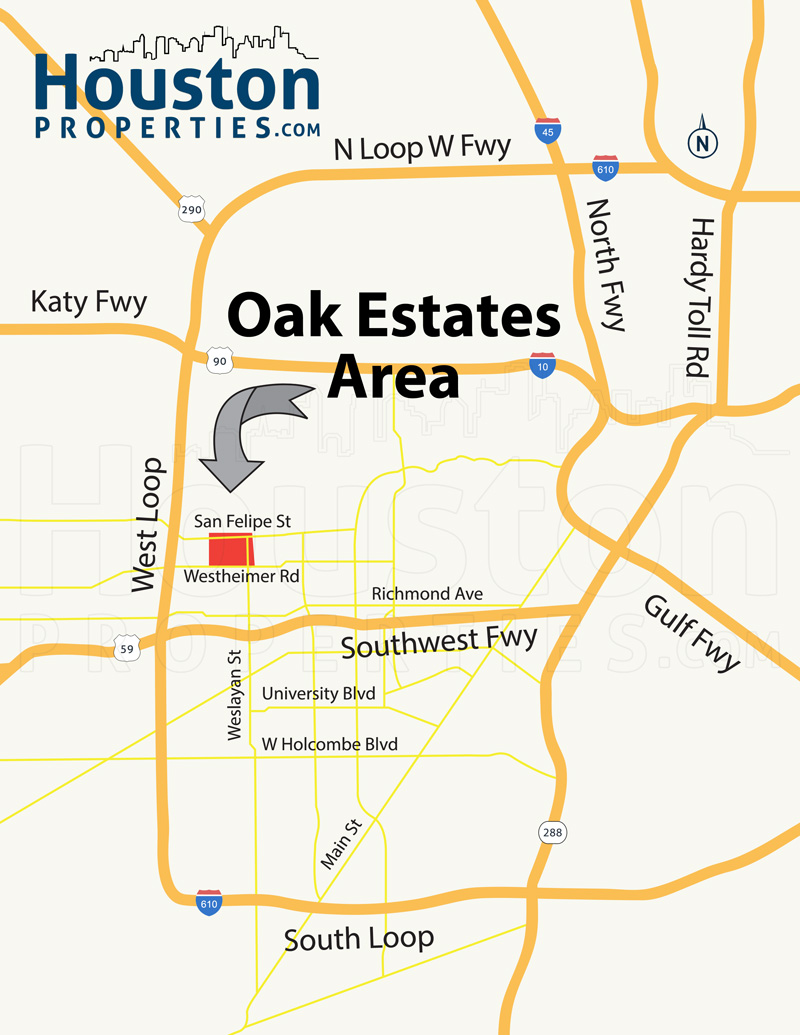 | Commute Time | Oak Estates |
| --- | --- |
| Downtown (min) | Unknown |
| Med Ctr (min) | Unknown |
| Energy Corridor (min) | Unknown |
| Galleria (min) | Unknown |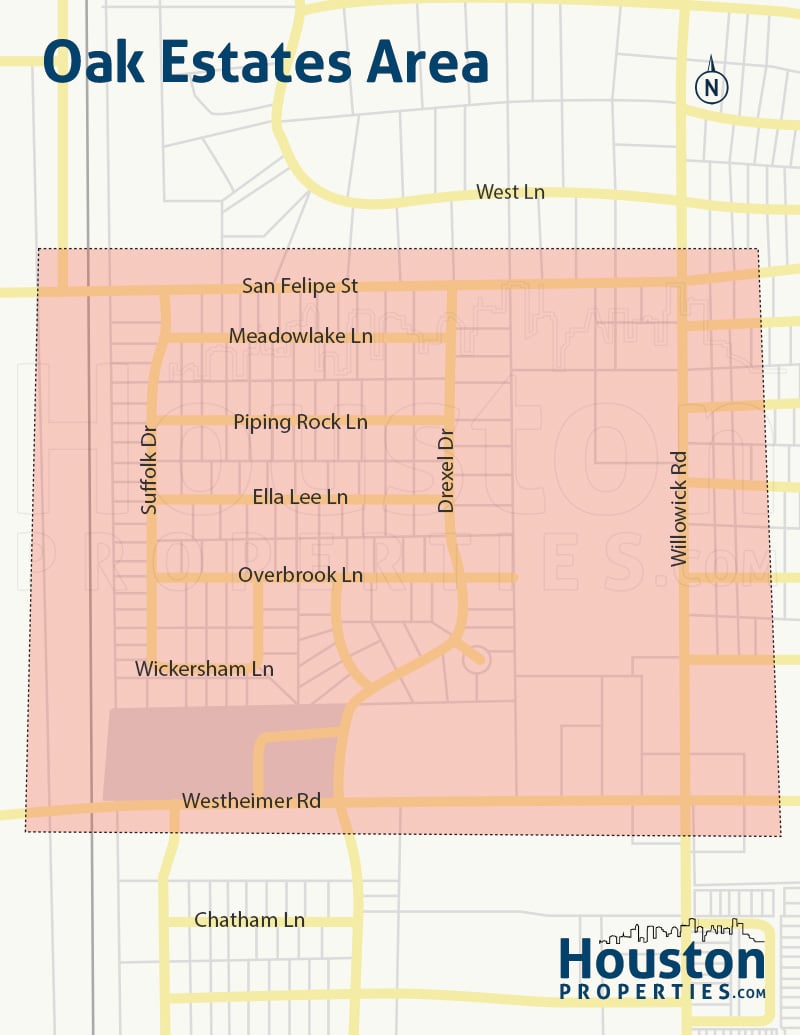 | Highlights | Oak Estates |
| --- | --- |
| Amenities | Unknown |
| Golf Courses | Unknown |
| Run / Bike Trails | Unknown |
| Nearby Retail / Dining | Unknown |
| Major Employers | Unknown |
---
Oak Estates Schools
| Top Elementary Schools | Great Schools Ranking |
| --- | --- |
| River Oaks Elem | 9 |
| Top Middle Schools | Great Schools Ranking |
| --- | --- |
| Lanier Middle | 9 |
---
Best Houston Real Estate Resources
---