Oak Forest is a collection of subdivisions ranked by the Houston Press as one of "The Five Most Underrated Neighborhoods In Houston".
Certain streets within Oak Forest are similar to the upscale West University due to public school ratings, deed restrictions and community planning.
The Oak Forest neighborhood ranks well in "Walkability" and "Bikability". With over 230 rated establishments, most Oak Forest homes are only a few minutes away from establishments such as restaurants, cafes, and retail stores. The community has roughly a dozen parks open for public too.
Oak Forest is also known for the highly rated schools within its area. Oak Forest Elementary School, Clifton Middle School, and Waltrip High School are some of the public schools zoned to Oak Forest.
Oak Forest houses for sale are typically in the $200,000 to $1,000,000 price range. The list below features the most expensive properties in Oak Forest.
For more information on available Oak Forest homes for sale, call Paige Martin at
713-425-4194 or email [email protected]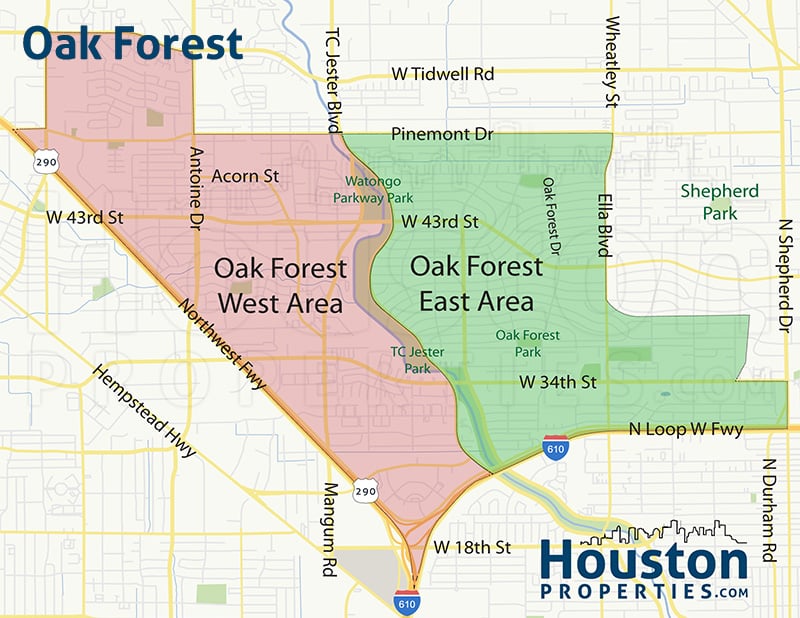 Oak Forest Homes: Neighborhood Perks

Efficient master-planning made Oak Forest one of the more organized neighborhoods in Houston (please see the inner map of Oak Forest above for a better reference). Oak Forest is currently the 28th most walkable neighborhood in Houston, based from Walkscore reports. The area's 59 over 100 "Bikeable rating" is also above the average rating for Houston neighborhoods.
Yelp.com has over 230 rated establishments in the area. Notable commercial establishments include:
Facundo Cafe ( Breakfast & Brunch, Burgers, Coffee) at 3103 Ella Blvd.
Petrol Station (Restaurant, Bar) at 985 Wakefield Dr
Shepherd Park Draught House (American Gastropub) at 3402 N Shepherd
Plonk! Beer & Wine Bistro (Wine Bar) at 1214 W 43rd St
Recreational parks are also a few minutes away from most Oak Forest houses for sale. Residents are only a short distance away from biking trails, picnic destinations, and scenic jogging trails.
Parks in Oak Forest include:
American Legion Park at 3621 Golf Dr.
Candlelight Park at 1520 Candlelight Ln.
Forest West Park at 5915 Golden Forest Dr.
Graham Park at 540 W. 34th St.
Langwood Park at 3975 Bolin
Mangum Manor Park at 5235 Saxon
Langwood Park at 3975 Bolin
Nacol Park at 4418 Bingle
Oak Forest Park at 2100 Judiway
Rosslyn Park at 6500 Pinemont
Shepherd Park at 4725 Brinkman
Watonga Parkway at 4100 Watonga Blvd
Neighborhoods Near Oak Forest:
Acres Home
Spring Branch East
Langwood
Sawyer Heights
Woodland Heights
Sunset Heights
Shady Acres
Independence Heights
Other popular neighborhoods within a 5-10 minute drive (depending on traffic) include: Memorial, Galleria, Downtown Houston and Rice Military.