Houston's Oak Forest is an exciting neighborhood of nearly 5,500 homes found north of the 610 Loop and east of U.S. Route 290. Oak Forest is in the middle of T. C. Jester and Interstate 45, near West 43rd Street.
Two Outstanding Oak Forest Houston Maps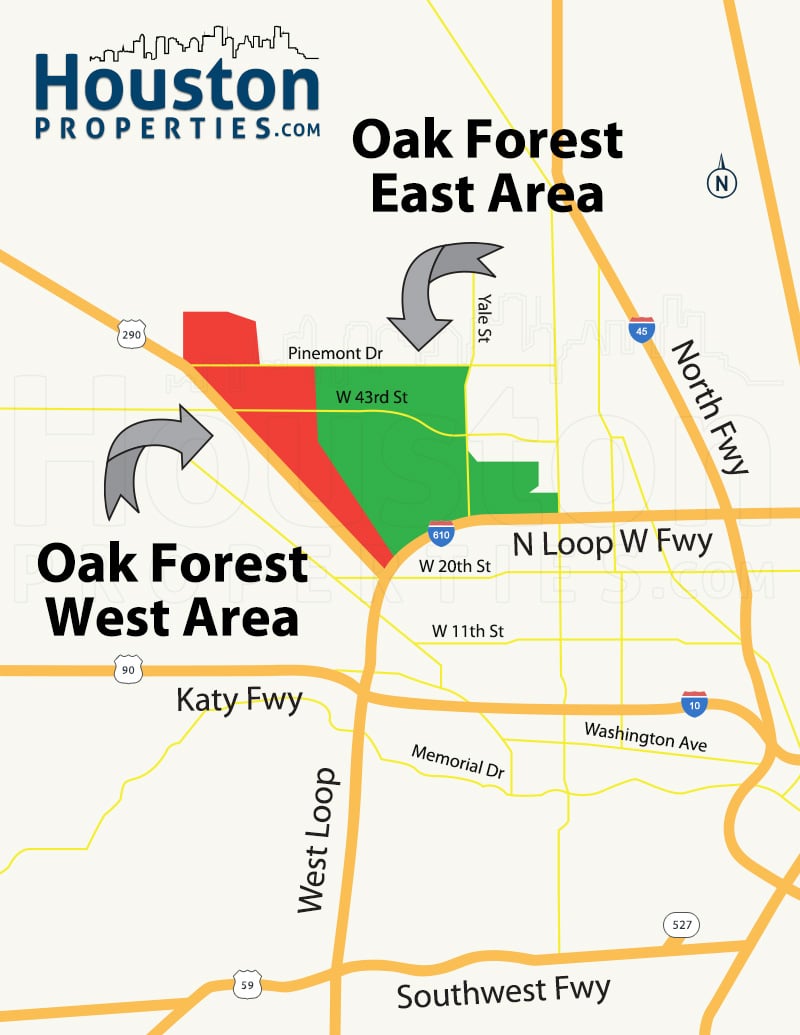 Oak Forest is Harris County's third largest subdivision, behind only Kingwood and Sharpstown. Master-planning and deed restrictions are in place. The area is divided into 18 sections, all under the Oak Forest Homeowners Association (OFHA).
Neighborhoods Near Oak Forest:
Acres Home
Spring Branch East
Langwood
Sawyer Heights
Woodland Heights
Sunset Heights
Shady Acres
Independence Heights
Other popular neighborhoods within a 5-10 minute drive include: Memorial, Galleria, Downtown Houston and Rice Military.
The Oak Forest Homeowners Association is a voluntary association. The HOA helps enforce that community's deed restrictions, organizes events, and spearheads beautification projects.
Used for mapping purposes, these sections also help the association plan scheduled maintenance, community improvements and its Caretaker Program (Oak Forest's beautification program). (Check out the Oak Forest Houston map below.)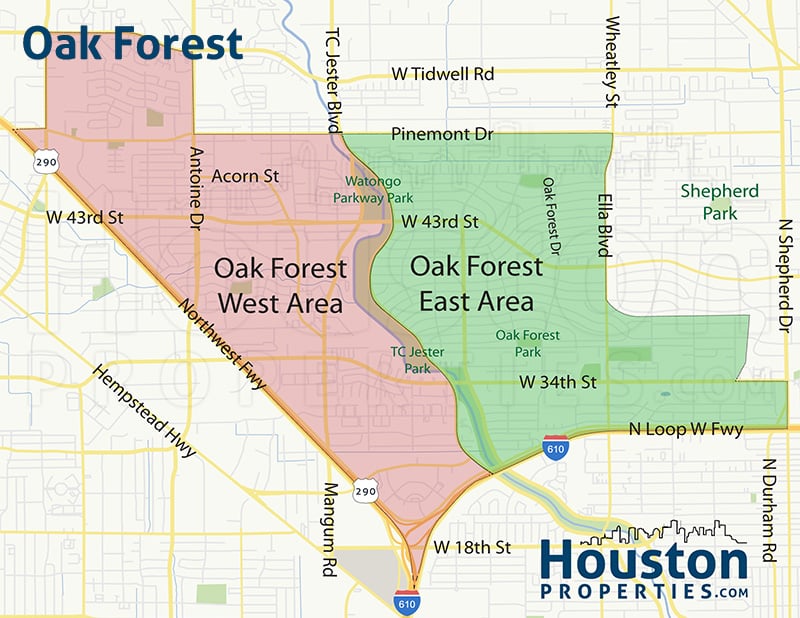 Fun Things To Do Around Oak Forest
Walkscore rates Oak Forest as the 28th most walkable neighborhood in Houston. Its 59/100 "Bikeable rating" is also above average. Yelp.com has over 230 rated establishments in the area.
Notable commercial establishments include:
Plonk! Beer & Wine Bistro (Wine Bar) at 1214 W 43rd St
Shepherd Park Draught House (American Gastropub) at 3402 N Shepherd
Petrol Station (Restaurant, Bar) at 985 Wakefield Dr
Facundo Cafe ( Breakfast & Brunch, Burgers, Coffee) at 3103 Ella Blvd.
Numerous recreational parks are also found all over Oak Forest. Most residents are only a few minutes away from biking trails, picnic destinations, and scenic jogging trails.
Parks in Oak Forest include:
American Legion Park at 3621 Golf Dr.
Candlelight Park at 1520 Candlelight Ln.
Forest West Park at 5915 Golden Forest Dr.
Graham Park at 540 W. 34th St.
Langwood Park at 3975 Bolin
Mangum Manor Park at 5235 Saxon
Langwood Park at 3975 Bolin
Nacol Park at 4418 Bingle
Oak Forest Park at 2100 Judiway
Rosslyn Park at 6500 Pinemont
Shepherd Park at 4725 Brinkman
Watonga Parkway at 4100 Watonga Blvd