Best Value Oak Forest Homes For Sale Under $300K
The appreciation in the Houston real estate market has made it difficult to find many single family homes under $300,000 located within 10-15 minutes of downtown.
Oak Forest is one of the few neighborhoods with a lot of home options in the sub $300,000 range. Oak Forest is bordered by US Route 290 to the east and is right next to Interstate 45, giving residents easy access to Galleria, Downtown Houston and Rice Military.
Oak Forest also has decent "Walkability" and "Bikeability" ratings. The neighborhood is home to a dozen parks and over 230 Yelp.com-rated commercial establishments.
To see Oak Forest homes for sale under $300,000, please check the list below.
For more information on available Oak Forest Houston Texas homes for sale, call Paige Martin at
713-425-4194 or email [email protected]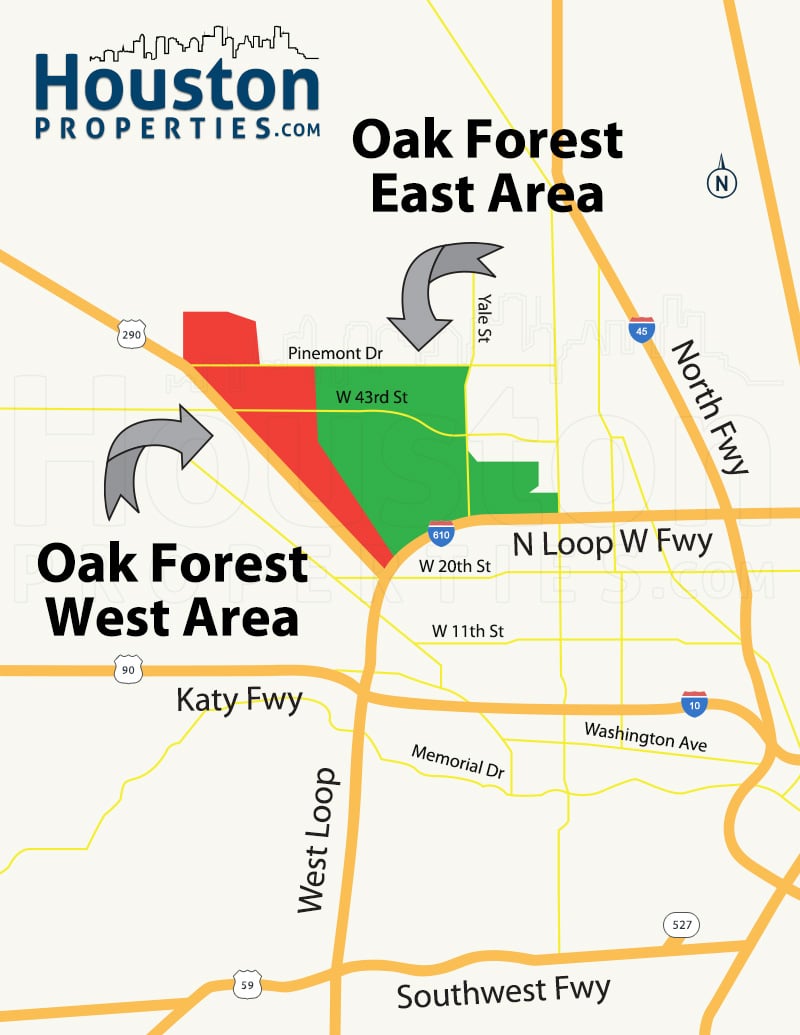 Oak Forest Homes For Sale: Schools
The Houston Independent School District (HISD) serves Oak Forest. The public schools associated with homes in Oak Forest include:
Elementary Schools
Parts of Oak Forest is also zoned to Clifton Middle School. Clifton Middle School got a 7 out of 10 GreatSchools.org ranking, with its students scoring between 6 to 23 percentage points higher than the state average in various subjects.
Built in 1951, Oak Forest Elementary School is one of the oldest and highest rated elementary schools in Texas. Greatschools.org gives it a 9 out of 10 score – one of the highest marks in Texas.
Oak Forest Elementary School students scored between 6 to 18 percentage points higher than the state average in the subjects of Writing, Science, and Math.
Middle Schools
Greatschools.org gives Clifton Middle School a rating of 7 out of 10 due to its students' strong test scores particularly in Math. Clifton Middle School testers scored between 6 to 23 percentage points above the average score in Texas.
High Schools
Waltrip High School is rated 5 out of 10 by Greatschools.org. While it remains average in most subjects, its Grade 11 students got between 91% to 98% test scores in English Language Arts, Math, Science, and Social Studies.
Oak Forest Private Schools
Notable private schools within a 10-15 minute drive of Oak Forest include:
Christian School of Northwest Houston at 6720 W Tidwell Rd.
Memorial Hall School at 3721 Dacoma St.
Montessori Children's Cottage at 4009 Sherwood Ln.
St. Ambrose Catholic School in at 4213 Mangum Rd.
St. Rose of Lima Catholic Church at 3600 Brinkman St.
Temple Oaks Baptist School at 2101 W 34th St.
To find an updated listing of all Oak Forest real estate zoned to any specific public school, please email Paige Martin at [email protected] with the property type and budget that you're looking for.
*Note: school zoning can change from year to year, information above is deemed accurate, but not guaranteed. Please double check.