PARKWAY TERRACE REAL ESTATE GUIDE
2022 Parkway Terrace homes for sale & insider real estate guide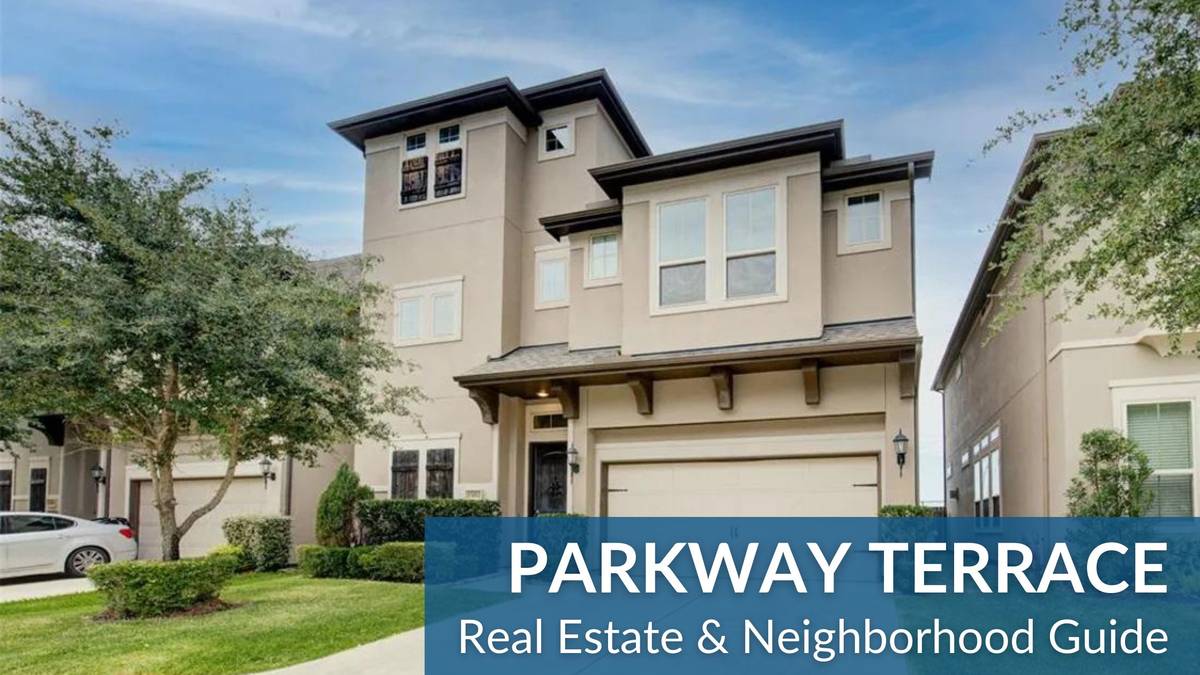 The upscale gated community of Parkway Terrace covers a 315-acre area just east of George Bush Park. It is made up of around 800 luxury homes and townhomes.
Parkway Terrace homes remain popular thanks to their:
LUXURY GATED COMMUNITY: One of the Best Gated Communities in Houston, Parkway Terrace is adorned with oaks, lakes, and fountains. Community amenities include 24/7 security, 11 lakes, jogging trails, a recreation center, a swimming pool, and tennis courts.

PROXIMITY TO JOB CENTERS: The Energy Corridor is around 2 miles away from Parkway Terrace, one of Houston's major employment centers. The district is home to the regional headquarters of several Fortune companies, including ExxonMobil Chemical. The Energy Corridor employs more than 80,000 individuals, mostly in the oil and energy industries.

MULTI-AWARD WINNING SCHOOLS: Parkway Terrace homes are zoned to the Houston Independent School District (HISD). Texas Monthly included Barbara Bush Elementary in its list of the "Best Public Schools in Texas" twice. The magazine also proclaimed it a Five Star School in 2001. The Texas Business Education Coalition (TBEC) as well named Bush an Honor Roll School five times. (See Best Houston Neighborhoods With Top Houston Schools)

NEAR OUTDOOR ENTERTAINMENT: Parkway Terrace is also minutes away from George Bush Park, a 7,800-acre park and wildlife sanctuary. The park features a wide range of outdoor recreation options. Amenities include miles of multi-use trails, soccer fields, baseball fields, a shooting range, and a field for flying model aircraft. Playgrounds, pavilions, and ponds also adorn the park.

GREAT ACCESS TO RETAIL AND ENTERTAINMENT: West Oaks Mall is just a short drive away from the community. With around 1 million square feet of retail space, the mall features 110 stores, restaurants, and entertainment hubs. Anchor stores include Macy's, Sears, Dillards, and Palais Royal, among others. Parkway Villages Shopping Center, on the other hand, is just outside the community.

RISING PROPERTY VALUES: Parkway Terrace real estate has steadily appreciated over the past decade, posting a median sales price of over $700,000.
Buying or selling a home in Parkway Terrace can be tricky due to the neighborhood's variety of home options and rising property values. Some of the subdivision's luxury homes tend to sell at a premium, while townhomes and patio homes in the area can sell for lower prices.
To get personal advice on buying or selling in the Parkway Terrace area, contact Paige Martin, one of Houston's best realtors and one of the top-ranked Realtors in the United States.
"Selling your home is an emotional process. For that, it is important to work with the best real estate agency out there. From the moment we decided to sell, Houston Properties Team was there for us. They took their time to get to know us, what our needs were and when it would be the right time to sell, and for what price. We received a detailed timeline so we knew exactly where we were in the process at all times. They were very knowledgeable and went above and beyond for us. They were very patient, answered every question we had big or small promptly, and always provided us with the information we needed. I highly recommend working with the Houston Properties Team. Thanks to them, we had a very smooth sale and found the perfect new owners for our house." - Olivia Simoen-Deman (Google Review)
---
Table of Contents
---
Parkway Terrace Home Sale Trends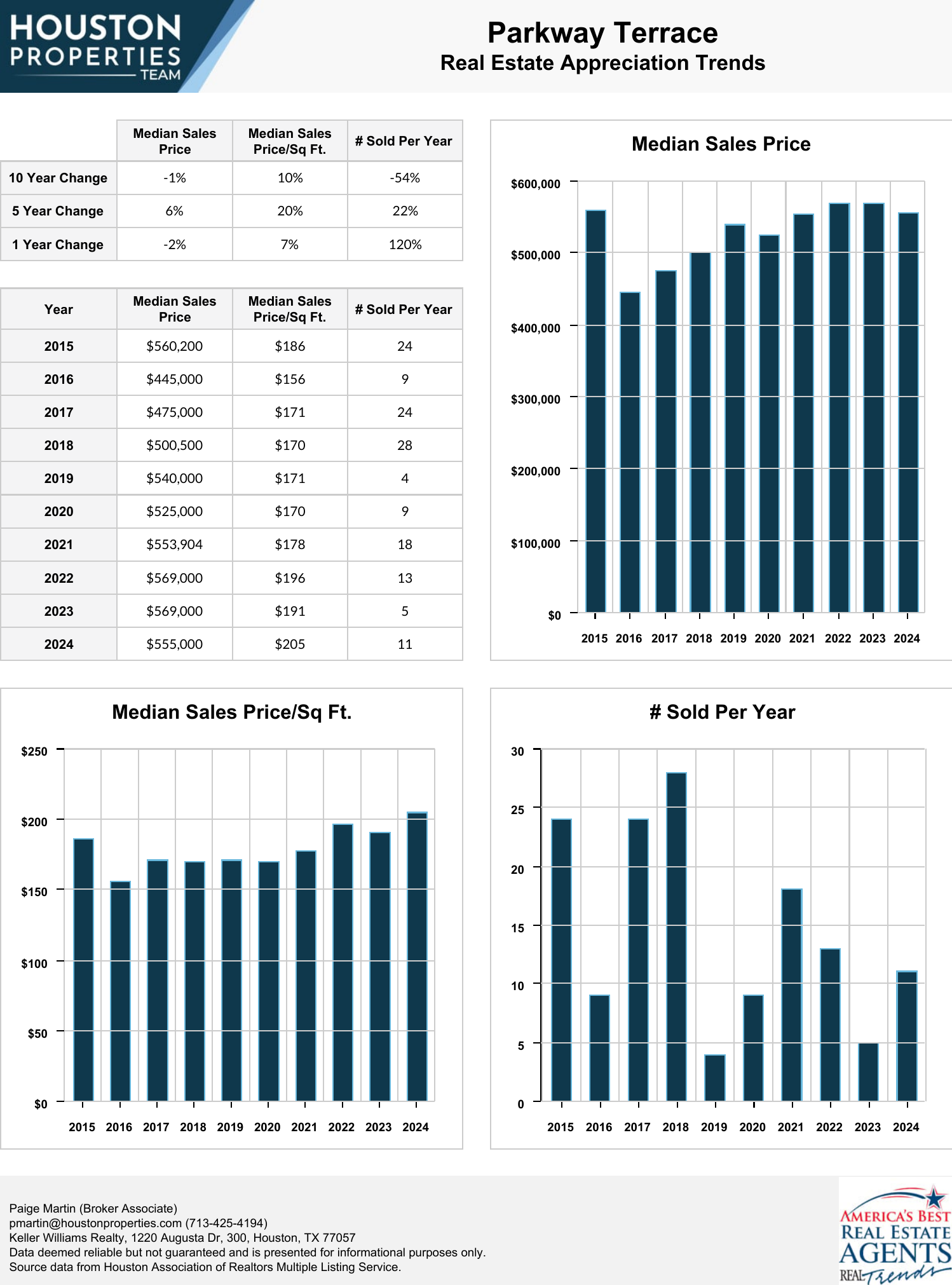 ---
Parkway Terrace Maps, Location & Zip Code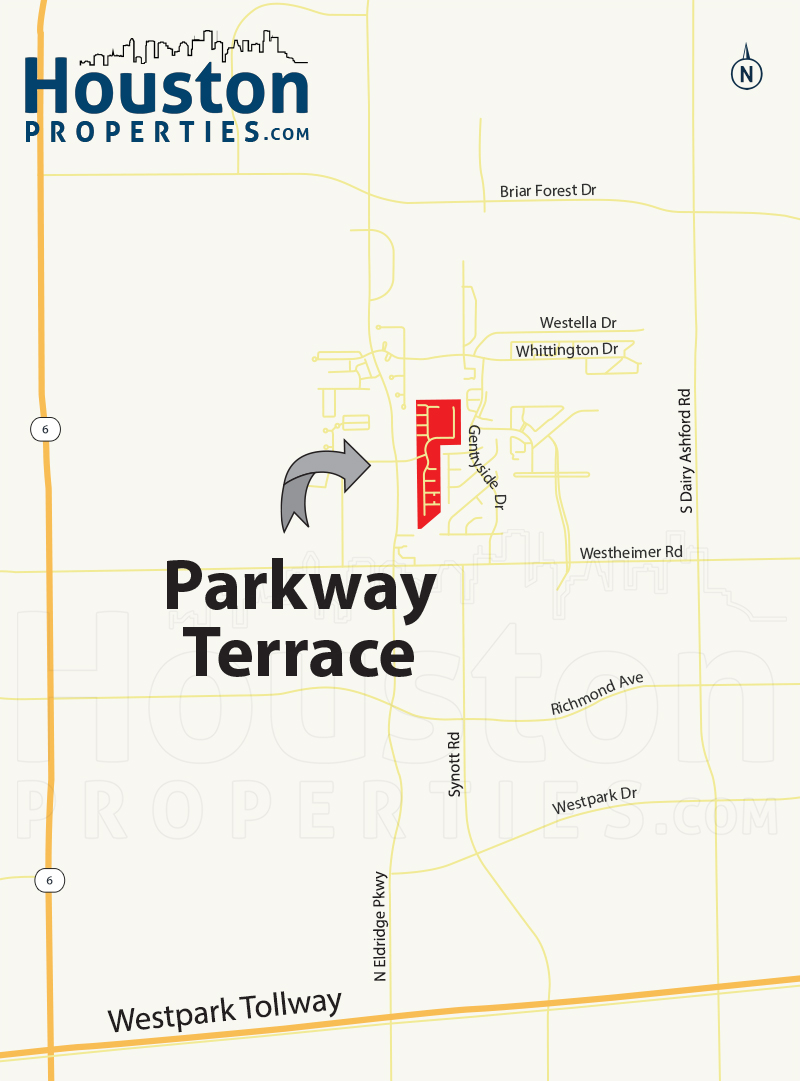 | Commute Time | Parkway Terrace |
| --- | --- |
| Downtown (min) | Unknown |
| Med Ctr (min) | Unknown |
| Energy Corridor (min) | Unknown |
| Galleria (min) | Unknown |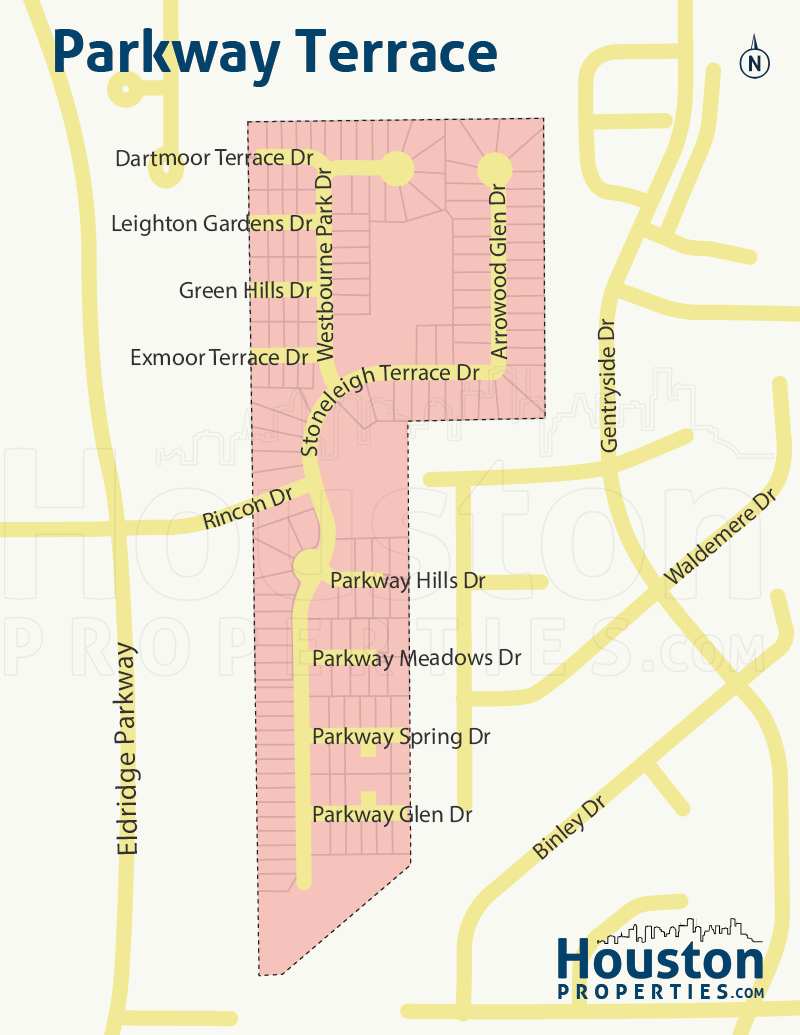 | Highlights | Parkway Terrace |
| --- | --- |
| Amenities | Unknown |
| Golf Courses | Unknown |
| Run / Bike Trails | Unknown |
| Nearby Retail / Dining | Unknown |
| Major Employers | Unknown |
---
Parkway Terrace Schools
| Top Middle Schools | Great Schools Ranking |
| --- | --- |
| West Briar Middle | 7 |
---
Best Houston Real Estate Resources
---