Pearland: CountryPlace Real Estate Guide
Pearland: CountryPlace homes for sale & insider real estate guide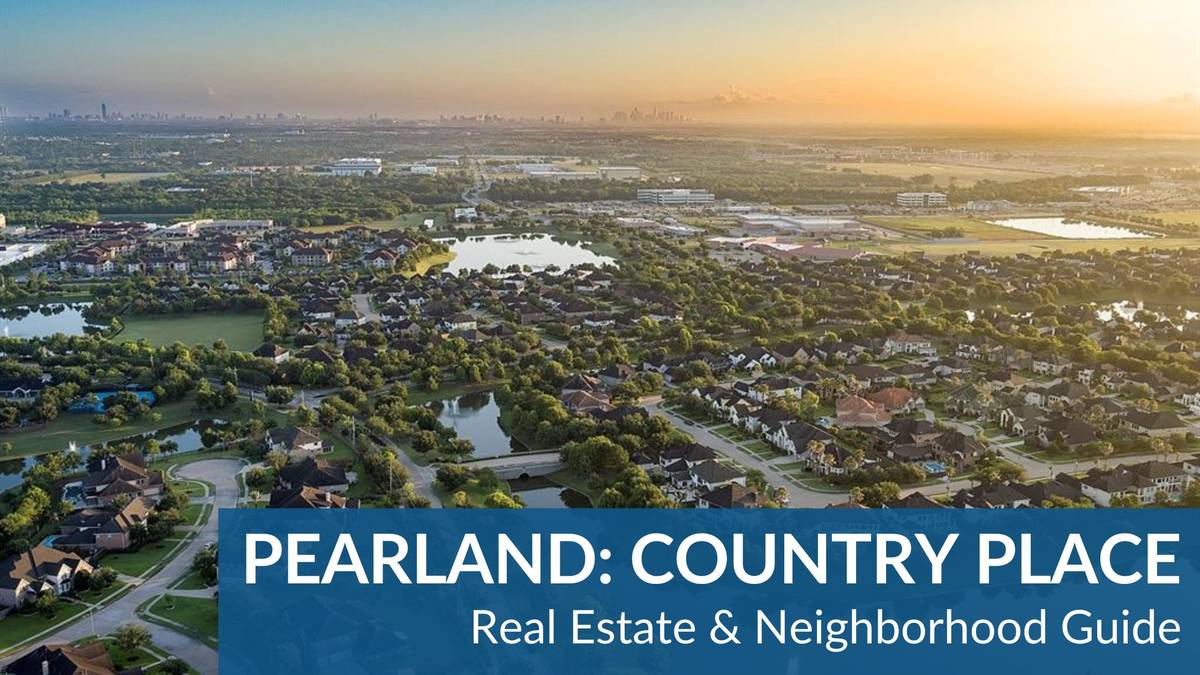 Pearland CountryPlace exudes a charming 55+ community living right off a bustling city center. It is nestled in a 332-acre residential development south of the Medical Center and Downtown Houston.
Pearland CountryPlace is an attractive place to live due to its:
SEMI-PRIVATE GOLF COURSE: Around the community spreads a redesigned and more challenging 18-hole golf course. It comes with a driving range offer, putting facilities, and membership benefits to residents or not.

WELLNESS ACTIVITIES: Pearland CountryPlace offers book reading, sports playing, and art making. Residents may also opt to join a few interest groups or social clubs formed by its association.

COMMUNITY LAKE: The scenic lakes within the community are not only for viewing but for a fishing experience, too. The community allows residents and guests to fish on a catch-and-release policy.

PAVILION AND WALK TRAILS: With a bocce court and a covered picnic area, the pavilion offers an inviting outdoor lounge. Walking and biking trails in Pearland are open for a more adventurous pastime.

EASY COMMUTE: Pearland CountryPlace sits along the South Freeway and south of Beltway 8. Thanks to this, residents may get to the main areas of Houston with reasonable ease.
Pearland CountryPlace enforces age and deed restrictions in the community. These factors can make the neighborhood real estate quite challenging to navigate.
For personal advice on buying or selling in the Pearland CountryPlace area, contact Paige Martin, one of Houston's best realtors and one of the top-ranked Realtors in the United States.
"The Houston Property Team was simply outstanding! They are extremely knowledgeable and competent, they also provided a comprehensive analysis of all the condos and neighborhoods we were interested in making the whole buying process very easy. We highly recommend them and could not be happier about our choice!" - Claudia O'Leary (Google Review)
---
Table of Contents
---
Pearland: CountryPlace Home Sale Trends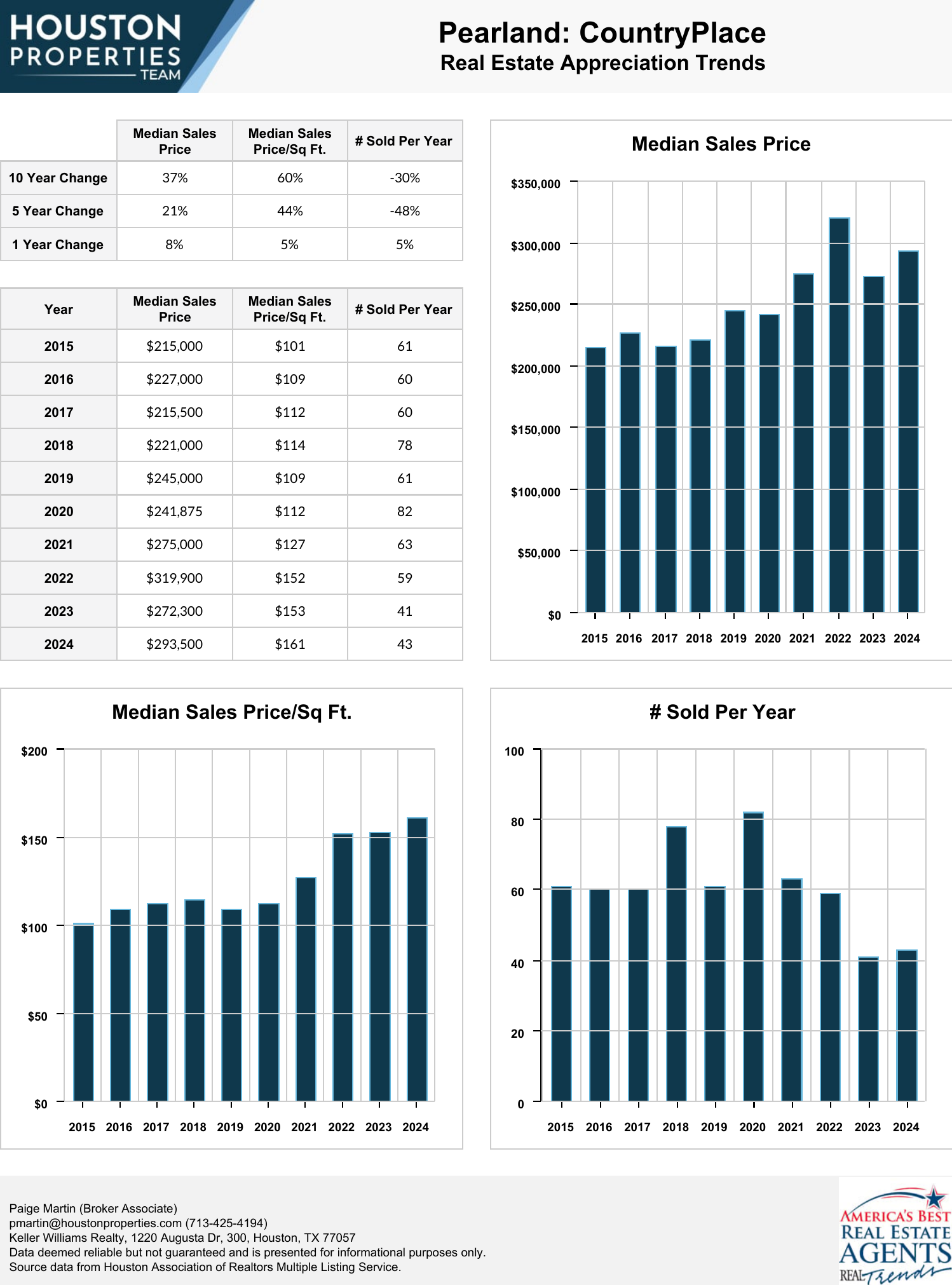 Located 15 miles south of Houston, Pearland CountryPlace is a 55+ community close to the metropolitan area. Major shopping and business hubs in Downtown and the Medical Center are only a few-minute drive away.
Pearland CountryPlace is known for its:
SEMI-PRIVATE GOLF-COURSE: An 18-hole golf course sprawls within the community. It is open to both residents and the public.

COMMUNITY LAKES: Members may experience fishing in the neighborhood lakes under a catch-and-release policy.

GREAT AMENITIES: The community offers various social and wellness activities. It has a fitness center, a library, card rooms, and sports grounds.
Pearland CountryPlace imposes deed restrictions for the benefit of the community. The HOA is also responsible for maintaining all the recreational areas.
---
Pearland: CountryPlace Best Realtor Insights
CountryPlace in Pearland is located at the heart of one of Houston's best suburbs.
Pearland CountryPlace sits 16 miles south of downtown Houston and 3 miles northeast of Pearland Town Center.

Pearland CountryPlace ranks as one of the best 55+ communities in Houston, Texas.

The community was developed by U.S. Homes from 1981 to 2000 as a low-maintenance community.

Pearland CountryPlace features an 8-hole golf course within its 332 acre-boundary. It is open to residents and the public.

Its Carriage House serves as the amenity center with fitness facilities, game rooms, a library, and a social hall. There are also outdoor play courts and a picnic area.

Residents may fish in the community lakes but needs to release the fish back into the water.

There are 841 homes in the community (612 single-family, 197 townhomes, and 32 garden homes).

The homes have an average size of 1,833 square feet with an average of 2 beds and 2 baths.

Real properties in Pearland CountryPlace made it to the list of Pearland neighborhoods with the best appreciation.

Its Homeowners Association enforces deed restrictions in the community. It also oversees the maintenance of the neighborhood.
---
Pearland: CountryPlace Maps, Location & Zip Code
| Commute Time | Pearland: CountryPlace |
| --- | --- |
| Downtown (min) | 20 |
| Med Ctr (min) | 15 |
| Energy Corridor (min) | 30 |
| Galleria (min) | 20 |
Highlights
Pearland: CountryPlace
Amenities
Pearland: CountryPlace boasts of a semi-private 18-hole golf course within its area.

Its amenity center at the heart of the community features a fitness center, a library, and a game and card room.

Residents can also experience fishing in its neighborhood lake.
Golf Courses
- Pearland Golf Club
- Clear Creek Golf Club
- Southwyck Golf Club
Run / Bike Trails
- Lake Park Hiking Trail at Clear Creek
- Shadow Creek Ranch Nature Trail
- Heritage Park
- Southern Trails Park
- Tom Bass Regional Park Section 1, 2, & 3
Nearby Retail / Dining
Retail Shops

- JCPenney
-Old Navy
- Burlington
- Lollipop Boutique
- Kohl's
- Marshals
- Lane Bryant

Dining

- Texas Roadhouse
- Willie's Grill & Icehouse
- Lupe Tortilla Mexican Restaurant
- Olive Garden Italian Restaurant
- Grazia Italian Kitchen
- Killen's TMX
- Killen's Steakhouse

Entertainment

- Hooters
- Bogie's
- 2-A-Days Sports Bar
- BreWingZ Restaurant and Bar
- Scotty's Pub
- Hamm's Icehouse

Grocery Stores

- Kroger
- Brookside Grocery
- Food Town
- Caribbean Spice LLC
- Sprouts Farmers Market
- Pearland African Depot and Grocery
- Randalls
- Target Grocery
Major Employers
- City of Sugar Land Economic Development
- Norton Rose Fulbright
- Texas Medical Center
- Chevron Corporation
- JP Morgan
- Deloitte
- Ernst & Young
- Wells Fargo
- United Airlines
- KPMG
---
Pearland: CountryPlace Schools
| Top Middle Schools | Great Schools Ranking |
| --- | --- |
| Rogers/Berry Miller Jr High | 9 |
| Top High Schools | Great Schools Ranking |
| --- | --- |
| Glenda Dawson High | 7 |
Pearland CountryPlace has some of the finest schools in Southeast Houston. It is zoned to Pearland Independent School (PISD).
PISD houses several National Blue Ribbon and multi-awarded schools. Pearland CountryPlace has some of the district's best schools zoned towards its neighborhood.
Berry Miller Jr High and Glenda Dawson High are highly-rated public schools by GreatSchools.org.
Note: Kindly refer to our Houston Schools Guide OR email me for more information on specific schools zoned to Houston Heights areas.
---
Top Elementary Schools
---
Public elementary schools nearby Pearland CountryPlace are:
Silvercrest Elementary School at 3003 Southwyck Parkway. Silvercrest leads elementary schools in Pearland with a rating of 10 from GreatSchools.org. They have over 700 students in PK-4. Most students enroll in the Gifted and Talented program, while others take the Bilingual/ESL and Special Education.

Shadycrest Elementary School at 2405 Shady Bend Drive. Shadycrest Elementary enrolls over 600 PK-4 students. They offer Special Education, Gifted and Talented, and Bilingual/ESL programs. GreatSchools.org summary rating for Shadycrest is above average.
---
Top Middle High Schools
---
Public elementary schools zoned to Pearland are:
Berry Miller Junior High School at 3301 Manvel Rd, Pearland. Berry Miller Junior High opened in 2008 and has over 800 students in Grades 7-8. The school ranks high in all seven distinctions, according to Har.org. Apart from academics, students hone their skills through athletics, arts, and robotics activities.

Rogers Middle School at 3121 Manvel, Pearland. Rogers Middle School earns an Excellent rating from Har.org. They have academic distinctions in ELA, Maths, and Post-Secondary. Their Comparative Closing the Gaps and Comparative Academic Growth programs also are remarkable. 700 Grades 5 & 6 make up the school's student population.
---
Top Junior High School
---
Public elementary schools served by Pearland ISD are:
Pearland High School at 3775 South Main Street. Pearland High was established in 1937. Its mascot, Oiler Man, pays homage to the local oil industry. For academics, the school offers Advanced Placement and Career and Technical Education. It also has a diversity of athletics and specialized clubs. Pearland High serves a crowd of 3,000 students.

Glenda Dawson High School at 2050 Cullen Boulevard. Students from the overcrowded Pearland High transferred to Glenda Dawson High School when it opened in the autumn of 2007. Former Texas Representative and Pearland High instructor Glenda Dawson inspired the school's name. It offers 33 Advanced Placement courses and 20 Athletics programs for men and women.
---
Pearland: CountryPlace Real Estate Market
Pearland CountryPlace Single-Family Home Sale Trends
---
Pearland CountryPlace has 612 single-family out of its 841 homes.
Homes in the community are typically 1,833 square feet in size. On average, it also comes in 2 beds and two baths.
The homes' appeal includes expansive living rooms, high ceilings, and broad kitchen islands. It also features large covered patios for a good view of the community area.
---
Pearland CountryPlace Townhome Sales Trends
---
Out of 841 Pearland CountryPlace homes, 197 are townhomes.
Townhomes in this community exhibit large kitchen areas, open living spaces, and high ceilings. They usually come in 1 story attached design.
---
Pearland CountryPlace Condo Sale Trends
---
There are no mid- or high-rise Pearland CountryPlace condos for sale, but plenty of units are available in the surrounding areas.
Several condo buildings are located in Downtown Houston, including:
To see other condos within the Inner Loop, see Inner Loop Houston Condos. To see condos within the Museum District area, see Houston Museum District Condos.
The Houston Properties Team are expert in Downtown, Inner Loop, and Museum district real estate. Please contact us if you'd like to see Houston condos or learn more about buildings that could be a fit for you.
---
Pearland CountryPlace TX History
---
Pearland was formerly known as "Mark Belt," after a local landowner. A Polish nobleman purchased a sizable tract of land and established a town site. Around the area, fruit trees were planted, and "Pear-Land" was formally platted by 1894.
Pearland slowly became home to several master-planned communities. Over 100,000 people now populate the area.
U.S. Home Corporation developed Pearland CountryPlace from 1981 to 2000. It prompted the development of other affordable 55+ communities in the nearby suburbs.
---
Fun Things To Do Near Pearland CountryPlace
---
Pearland CountryPlace offers a variety of community activities. Aimed for an active lifestyle, the programs include fitness classes, water aerobics, and tennis. They have arts and crafts workshops and discussion groups, too.
Pearland CountryPlace also keeps an 18-hole Golf Course in its open green space. Several organized groups for men and women hold golf tournaments in the area.
Residents also enjoy several dining and shopping options a few miles from Pearland Town Center.
Here are a few must-see attractions close to Pearland CountryPlace:
Dining
Texas Roadhouse
Willie's Grill & Icehouse
Lupe Tortilla Mexican Restaurant
Olive Garden Italian Restaurant
Grazia Italian Kitchen
Killen's TMX
Killen's Steakhouse
Entertainment
Hooters
Bogie's
2-A-Days Sports Bar
BreWingZ Restaurant and Bar
Scotty's Pub
Hamm's Icehouse
Retail Shops
JCPenney
Old Navy
Burlington
Kohl's
Marshals
Lane Bryant
Kroger
Brookside Grocery
Randalls
Target Grocery
Parks
Lake Park Hiking Trail at Clear Creek
Shadow Creek Ranch Nature Trail
Heritage Park
Southern Trails Park
Tom Bass Regional Park Section 1, 2, & 3
Golf Courses
Pearland Golf Club
Clear Creek Golf Club
Southwyck Golf Club
---
Best Pearland CountryPlace Realtor – Paige Martin
---
As featured on Fox News in the Morning, Houston Business Journal, and Houston Magazine, Paige Martin, a consistent Top Producing Broker-Associate and head of the Houston Properties Team, is ranked as one of the top residential real estate agents in the world.
---
Best Houston Real Estate Resources
---