Southwyck Real Estate Guide
Southwyck homes for sale & insider real estate guide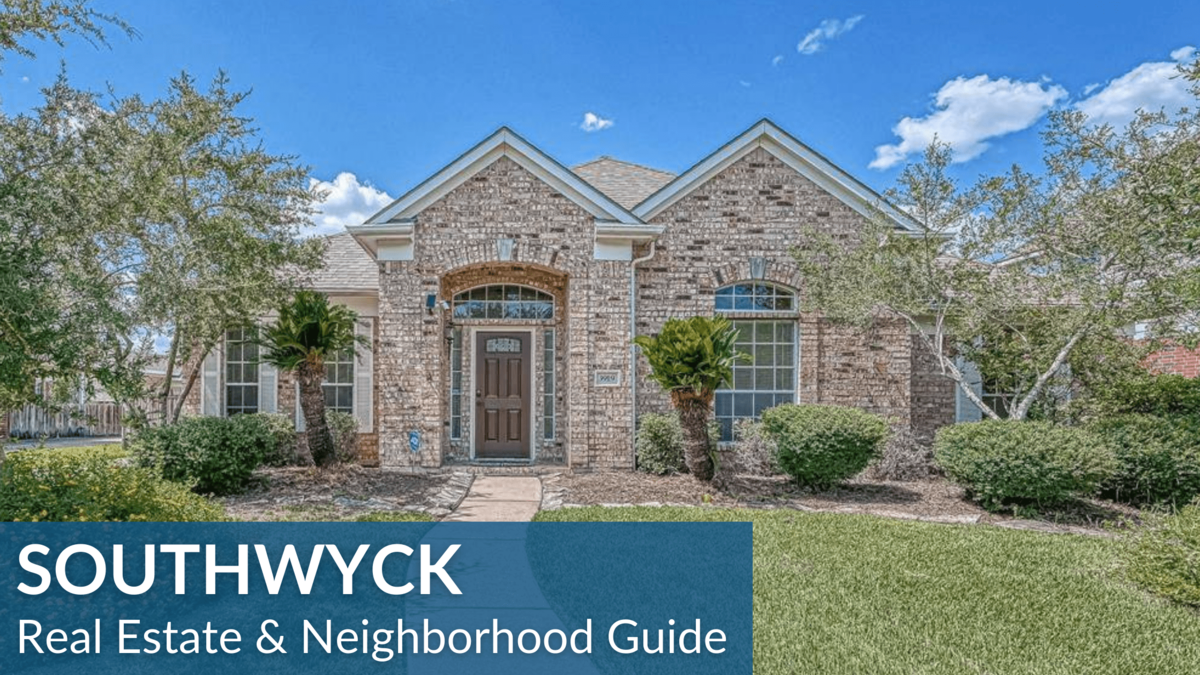 Southwyck lies in one of Houston's Best Suburbs. It is one of Pearland's premier neighborhoods. Southwyck consists of seven villages with excellent lakeside and golf course amenities.
Southwyck real estate is popular due to its:
EXCLUSIVE VILLAGES: Southwyck features seven famous lakeside and golf-course villages. These villages include Edgewater Estates, Emerald Pointe, and Huntington Park. The others are Lakecrest Estates, Southfield Village, Southglen, and Southmanor. Southwyck is home to some of Houston's Best Golf Course Communities. It is also mere minutes away from some of Pearland's best golf courses. The Southwyck Golf Club is only 7 minutes away from the neighborhood. Pearland Golf Club is 9 minutes away as well.

TOP-RANKED SCHOOLS: Southwyck homes are zoned to the Pearland Independent School District. Top-ranked public schools are near the area. The list includes Silverlake Elementary and Silvercrest Elementary. Berry Miller Junior High and Glenda Dawson High School are also nearby.

QUICK COMMUTES TO DOWNTOWN: Pearland lies south of Beltway 8 and along South Freeway. Southwyck residents have an easy commute to key Houston neighborhoods and employment districts. These include the Texas Medical Center and Downtown. Downtown Houston has more than 150,000 workers employed by 3,500+ businesses.

VARIETY OF RETAIL AND ENTERTAINMENT: Southwyck residents enjoy plenty of leisure hotspots. There are several dining, retail, and entertainment options within the borders of Pearland. There are over 10,000 Yelp-rated businesses in the area.

EXCELLENT AMENITIES: Southwyck has several neighborhood amenities. The community features Southwyck Lake Park. There are also keycard-controlled tennis courts, two swimming pools, and five parks. Residents may also enjoy the comforts of nearby Silverlake. Southwyck has a shared use agreement within the neighborhood.

GREAT NEIGHBORHOOD: Southwick's neighborhood features more than 1,600 homes. They are built from the 1980s to the 1990s. Some Southwyck homes lie next to Pearland's best master-planned communities, including Silverlake. Southwyck homes have traditional designs with 1- and 2-story home options. They sit on large wooded lots ranging from 6,200 to more than 24,000 square feet. Prices for Southwyck homes for sale can start at around $280,000 up to $900,000.
Southwyck real estate can be tricky to navigate due to the number of villages. Another factor to consider is the limited available inventory. Homebuyers will benefit from consulting with a top Southwyck realtor.
To get personal advice on buying or selling in the Southwyck area, contact Paige Martin, one of Houston's best realtors and one of the top-ranked Realtors in the United States.
"Paige Martin is the best Houston realtor, having awarded continuously year after year for her hard work, dedication and excellent customer service. She and her team share great information backed by data and research so you are confident that you are making a sound decision regarding your home. Even after the purchase or sale, you can expect that she keeps in touch on a regular basis to check on your needs and or concerns you may have. That is great customer service hard to find nowadays!" - Joyce Dy-Scott (Google Review)
---
Table of Contents
---
Southwyck Home Sale Trends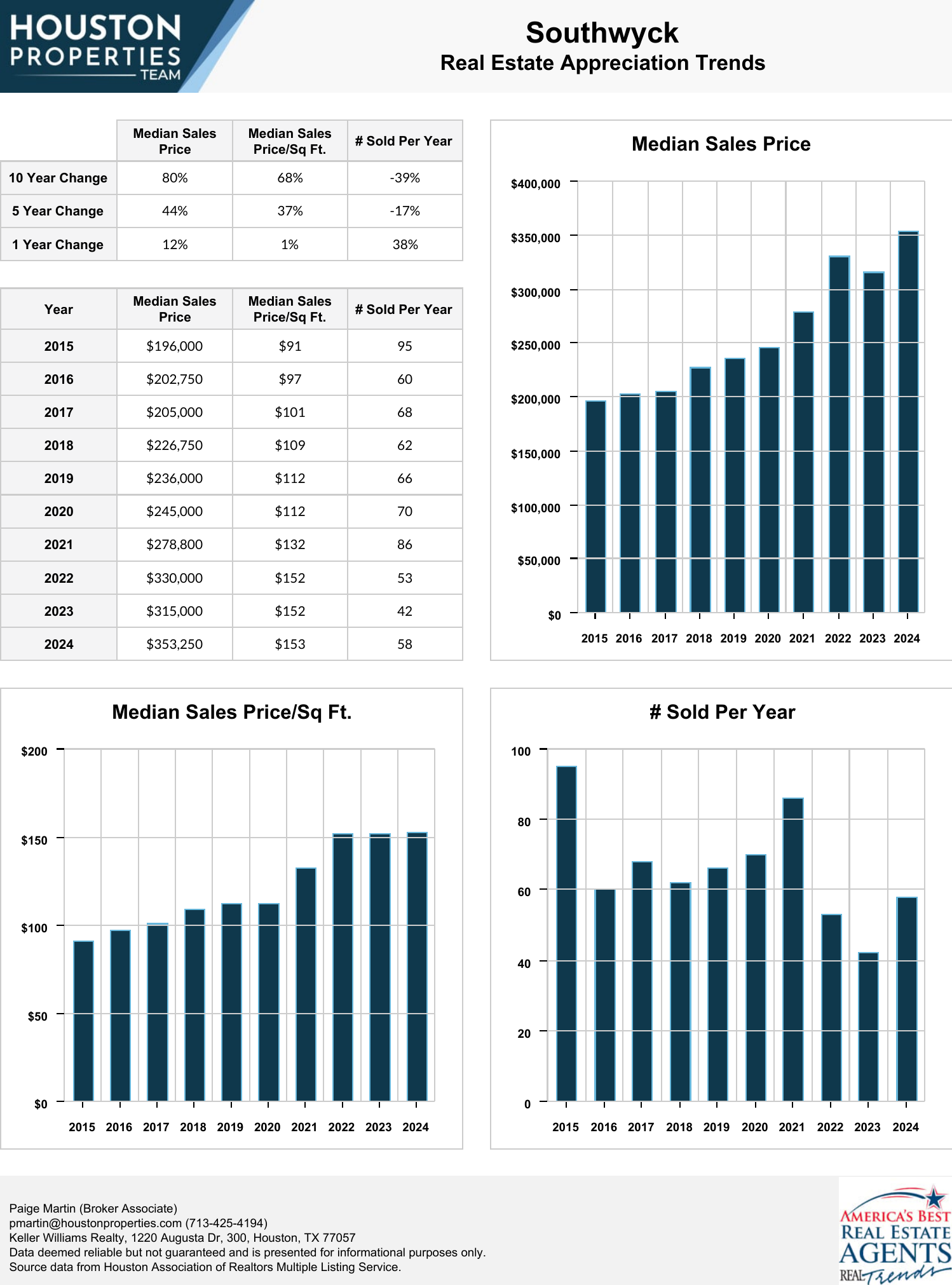 ---
Southwyck Maps, Location & Zip Code
| Commute Time | Southwyck |
| --- | --- |
| Downtown (min) | Unknown |
| Med Ctr (min) | Unknown |
| Energy Corridor (min) | Unknown |
| Galleria (min) | Unknown |
| Highlights | Southwyck |
| --- | --- |
| Amenities | Unknown |
| Golf Courses | Unknown |
| Run / Bike Trails | Unknown |
| Nearby Retail / Dining | Unknown |
| Major Employers | Unknown |
---
Southwyck Schools
| Top Elementary Schools | Great Schools Ranking |
| --- | --- |
| Silverlake Elem | 8 |
| Top Middle Schools | Great Schools Ranking |
| --- | --- |
| Jamison/Pearland J H South | 7 |
| Rogers/Berry Miller Jr High | 9 |
| Top High Schools | Great Schools Ranking |
| --- | --- |
| Glenda Dawson High | 7 |
---
Best Houston Real Estate Resources
---