Stonebridge Real Estate Guide
Stonebridge homes for sale & insider real estate guide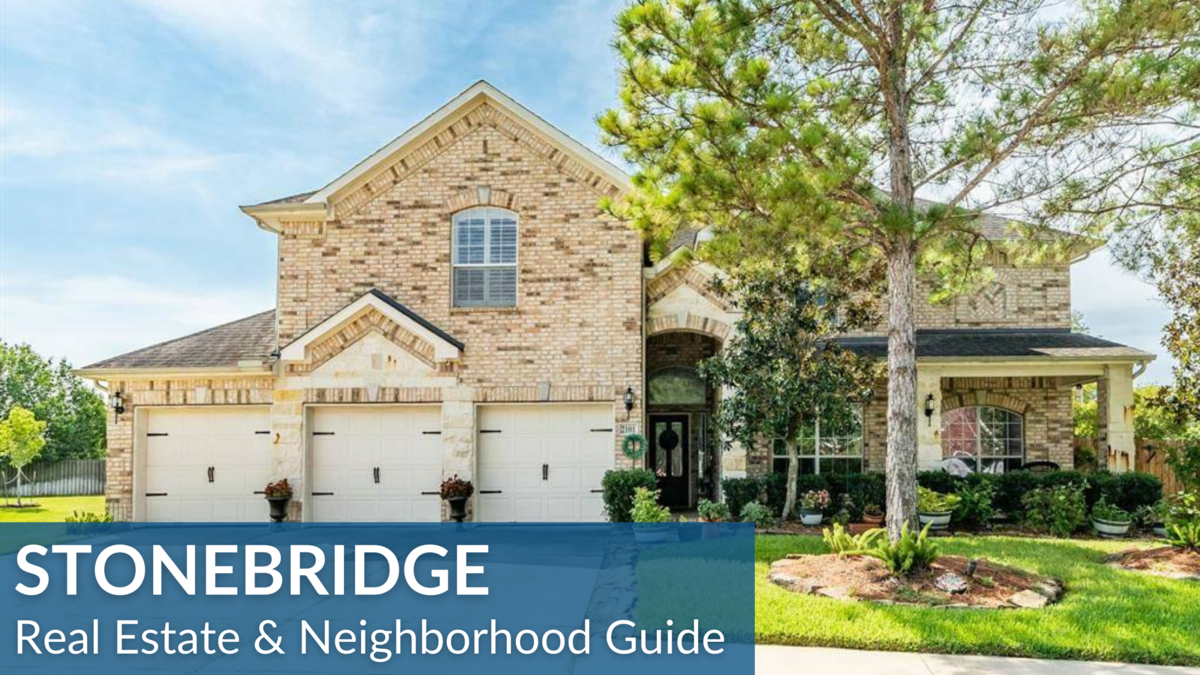 Situated off of Pearland Parkway, the Stonebridge is a master-planned neighborhood offering great amenities, a small-town vibe, and accessibility.
The Stonebridge is known for its:
EASE OF TRAVEL: The neighborhood has excellent access to Houston's notable points, such as the Inner Loop and the Downtown. The Johnson Space Center, Clear Lake, and the beaches of Galveston are only minutes away from the neighborhood.
COMPETITIVENESS: Based on community ratings on travel time, livability, schools, and amenities, Stonebridge is one of the Best Houston Districts.
GOLF COURSES NEARBY: The neighborhood has proximity to nearby golf courses. Some of the Best Golf Course Communities in Houston, including Golfcrest Country Club, Pearland Golf Club, and Southwyck Golf Club, all are under 20 minutes away.
SMALL TOWN ATMOSPHERE: The Stonebridge residents enjoy the community's small-town feel featuring hiking/biking trails and neighborhood parks.
The Stonebridge neighborhood is one of the known communities in Pearland. Centered around the man-made lake, the community offers traditional-style homes in tree-lined streets and cul-de-sacs. Its real estate market might be challenging to navigate.
To get personal advice on buying or selling a Stonebridge home, contact Paige Martin, one of the Top-Ranked Realtors in the United States.
"We lucked upon Paige when we decided to locate a property inside the Houston 610 loop. We were very impressed by her professionalism and warm personality. Not only was she knowledgeable with the current market trends, but as the process unfolded, she always provided us with valuable and timely advice, regularly updating us with progress and information. She was very patient as she walked us through a complex process. She is the best Houston realtor and we hope others won't have to depend on luck to find her. If you need a realtor in Houston, call her quickly and get ready to be wowed!" - Eddie Mann (Google Review)
---
Table of Contents
---
Stonebridge Home Sale Trends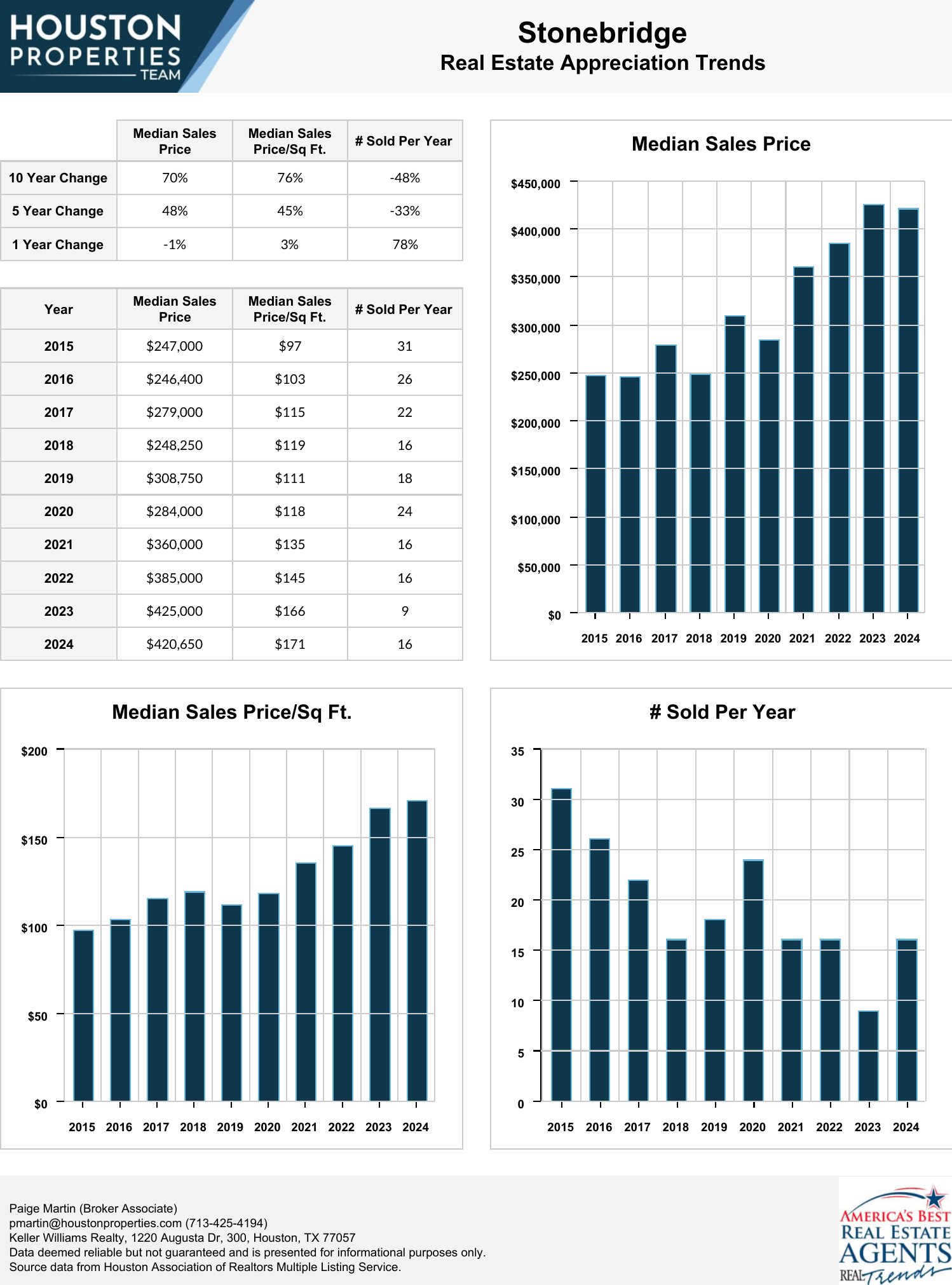 Nestled off the Pearland Parkway, the master-planned community of Stonebridge features traditional-style homes, a tree-lined neighborhood, and cul-de-sacs.
Stonebridge is famous for its:
ACCESSIBILITY: Situated off of Pearland Parkway, the community has proximity to key points in Houston, including the Inner Loop and the Downtown Houston. The Galveston Bay beaches, Johnson Space Center, and the Clear Lake area are only a short drive away from the community.
COMPETITIVENESS: Stonebridge is one of the Top-Rated Suburbs in Houston; the rating is based on amenities, public schools within the community area, commute time, and affordability.
ACCESS TO GOLF COURSES: The Stonebridge neighborhood is close to some of Houston's Best Golf Course Communities. Only 7 minutes away from Golfcrest Country Club, 14 minutes away from Pearland Golf Club, and 19 minutes away from Southwyck Golf Club.
SMALL TOWN VIBES: The Stonebridge community offers a small-town vibe close to major highways. Situated in the center of a man-made lake with bike/hike trails and parks in the area.
The Stonebridge neighborhood is one of the popular communities in Pearland. The community is home to lake and golf course amenities.
---
Stonebridge Best Realtor Insights
Located just off Pearland Parkway, the neighborhood is known as Pearland, TX.
Stonebridge is a small master-planned community with less than 300 homes centered around a man-made lake.

Stonebridge features quiet tree-lined streets and cul-de-sacs with homes done in traditional styles adding to the neighborhood's small-town feel.

Stonebridge homes are only a few minutes away from Houston's hotspots such as Downtown Houston and the Inner Loop via Beltway 8, Interstate 45, and Highway 35.

Stonebridge is within one of the Best Houston Suburbs based on community ratings for public schools, affordability, commute time, livability, and amenities.

Homes in the area sit on lush tree-lined lots with spacious front and back yards.

Stonebridge homes are also located near world-class golf courses including the Pearland Golf Club.

Stonebridge features traditional architectural styles with brick and wood exteriors.

Stonebridge homes for sale are available in several floor plans with up to 5 bedrooms and feature several luxurious details including floor-to-ceiling windows, built-in cabinets, hardwood floors, breakfast rooms, and heated pools.

Prices for Stonebridge homes for sale start at $250,000 up to $460,000.

The neighborhood is centered on a lake and features several walking and biking trails
---
Stonebridge Maps, Location & Zip Code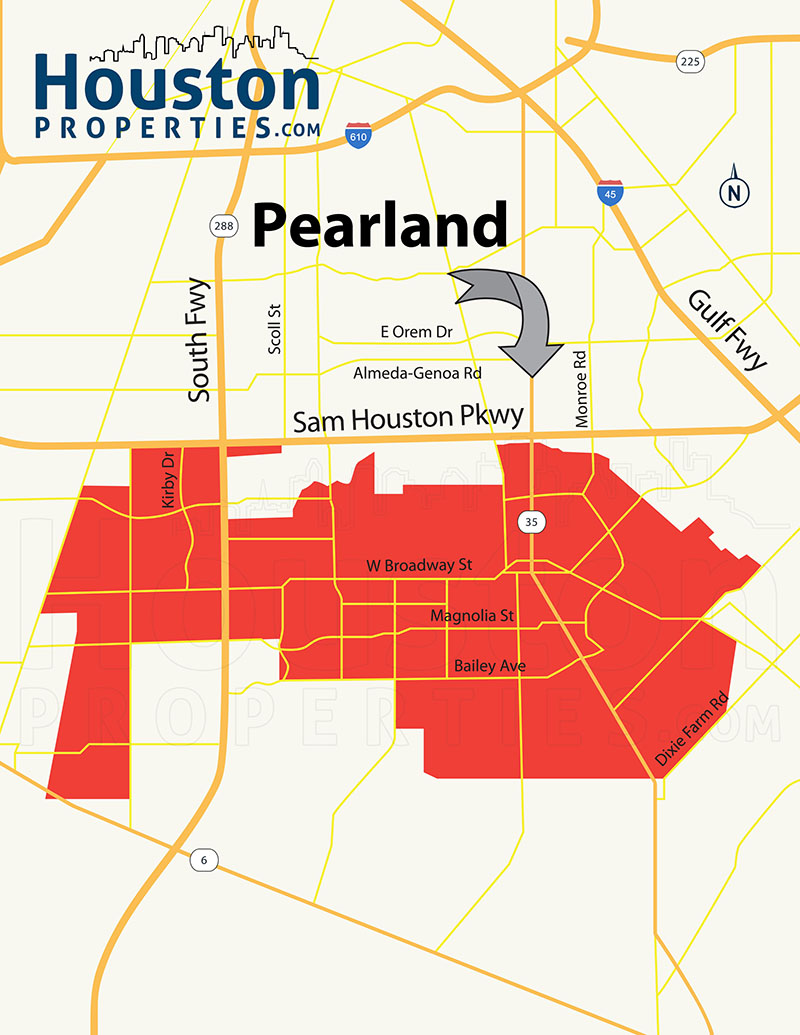 | Commute Time | Stonebridge |
| --- | --- |
| Downtown (min) | 20 |
| Med Ctr (min) | 20 |
| Energy Corridor (min) | 40 |
| Galleria (min) | 30 |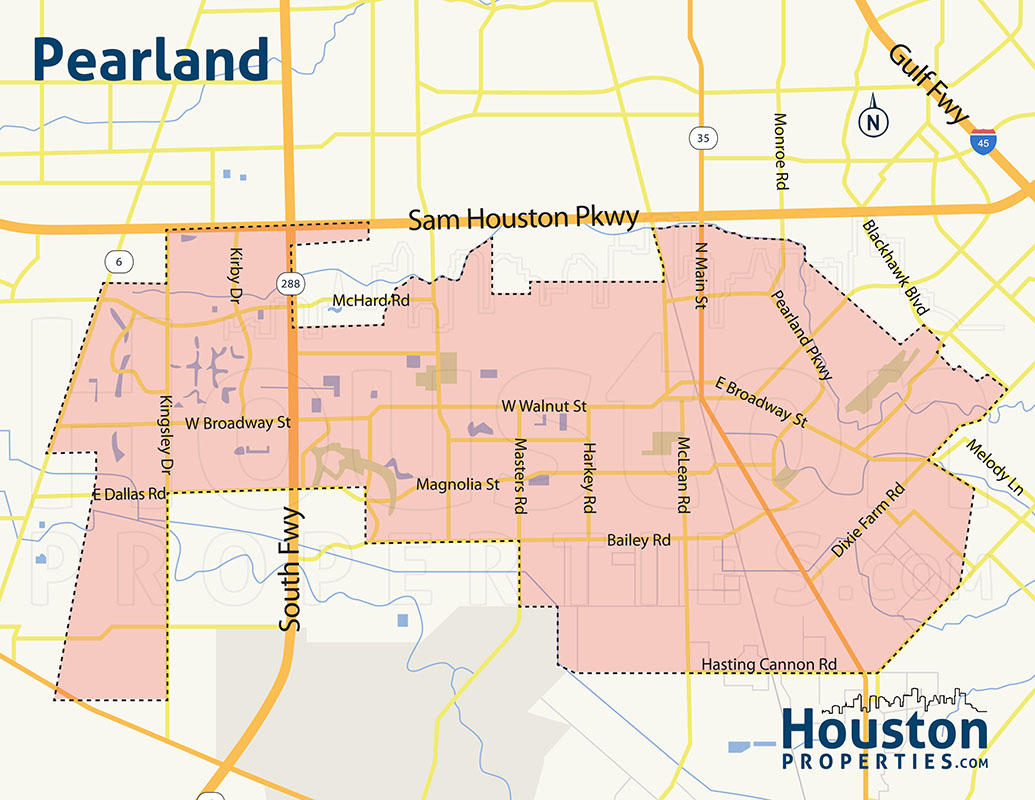 Highlights
Stonebridge
Amenities
- Several community pools are found in Stonebridge, such as the Houston Area Pools and Patios, Pearland Pools INC, Monterey Bay Pools and Spas, and many more only a short drive away.

- Zoned to Pearland ISD, students may attend best performing schools in Houston including Silvercrest Elementary, Pearland Junior High West, and Pearland High School.
Golf Courses
- The neighborhood is only a short drive away from several golf courses, including Golfcrest Country club, Pearland Golf Course, and Country Club Drive Properties.
Run / Bike Trails
- The community features several hiking and biking trails including Hunter Park, Lake Park Hiking at Clear Creek, and Green Tee Trail Head.
Nearby Retail / Dining
- The neighborhood has a number of restaurants in the area with 18 restaurants across Pearland.
Major Employers
- Big companies like Chevron and Exxon are also present in the area.
---
Stonebridge Schools
| Top Elementary Schools | Great Schools Ranking |
| --- | --- |
| Barbara Cockrell Elem | 8 |
| Top Middle Schools | Great Schools Ranking |
| --- | --- |
| Sablatura/Pearland J H West | 7 |
| Top High Schools | Great Schools Ranking |
| --- | --- |
| Pearland High | 7 |
Most Pearland homes are zoned to Pearland Independent School District. Portions of the city are under the Alvin, Fort Bend, Houston, Clear Creek, and Pasadena Independent School Districts.
Some schools serving the Pearland area are among the Best in the Greater Houston Area.
The neighborhood is zoned to Silvercrest Elementary, Rogers/Berry Miller Junior High, and Glenda Dawson High one of Pearland's ISD top-performing schools.
Pearland ISD was ranked 4th Best Public School District in Houston out of 45 school districts and 29th in the whole Texas area out of 1,019 school districts.
---
Elementary Schools
---
Silvercrest Elementary at 3003 Southwyck Pkwy. A highly rated public school situated in Pearland. Ranked 25th as one of the Best Public Elementary Schools in the Houston Metro Area as of 2021.
---
Middle Schools
---
Roger/Berry Miller Junior High School at 3301 Manvel Rd. The school was ranked 14th as one of the Best Public Middle Schools/Junior Highs in the Houston Metro Area. One of its mission is to train students by giving authentic learning experiences. This is done by competitive and flourished athletic and arts programs.
---
High Schools
---
Glenda Dawson High School at 2050 Cullen Blvd. Dawson High is named after former Texas Representative, Glenda Dawson. The school was opened in 2009 to relieve overcrowding at Pearland High School. Dawson High was ranked 16th in 2021 Niche ratings as one of the Best Public High Schools in the Houston Metro Area.
---
Pearland Houston Private Schools
---
The following are some of the more notable private schools near Pearland.
St. Helen Catholic School at 2213 Old Alvin Rd.
The Eagle Heights Christian Academy at 3005 Pearland Pkwy.
The Montessori of Downtown at 2525 Country Rd 90 and 2121 Grand Blvd.
Heritage Christian Academy at 12006 Shadow Creek Pkwy.
To find an updated listing of all Pearland real estate zoned to any specific public school, please send an email to Paige Martin at PMartin@HoustonProperties.com with the property preference and budget that you're working with.
*Note: School zoning tends to change from year to year, the information provided above is accurate but not guaranteed. Please double-check by visiting the school's website.
---
Stonebridge Real Estate Market
Stonebridge TX Schools
Stonebridge homes are zoned to the Pearland Independent School District.
Students in the area may attend Barbara Cockrell Elementary, Pearland J H West, and Pearland High School.
Both Barbara Cockrell Elementary and Pearland J H West have an 8/10 rating from GreatSchools.Org, while Pearland High School has a 7/10 rating.
Several notable private schools are also located nearby the community.
*Note: For a more detailed guide to schools zoned to Stonebridge homes, check our Houston's Best Schools OR email me at PMartin@HoustonProperties.com.
---
Best Houston Real Estate Resources
---