Located within Houston's Inner Loop (just west of Downtown), Rice Military is an exciting neighborhood of over 2,000 homes.
Rice Military is flanked by Westcott on the west, Shepherd/Durham on the east, Washington on the north, and Buffalo Bayou on the south.
Rice Military Resources:
Two New Rice Military Houston Maps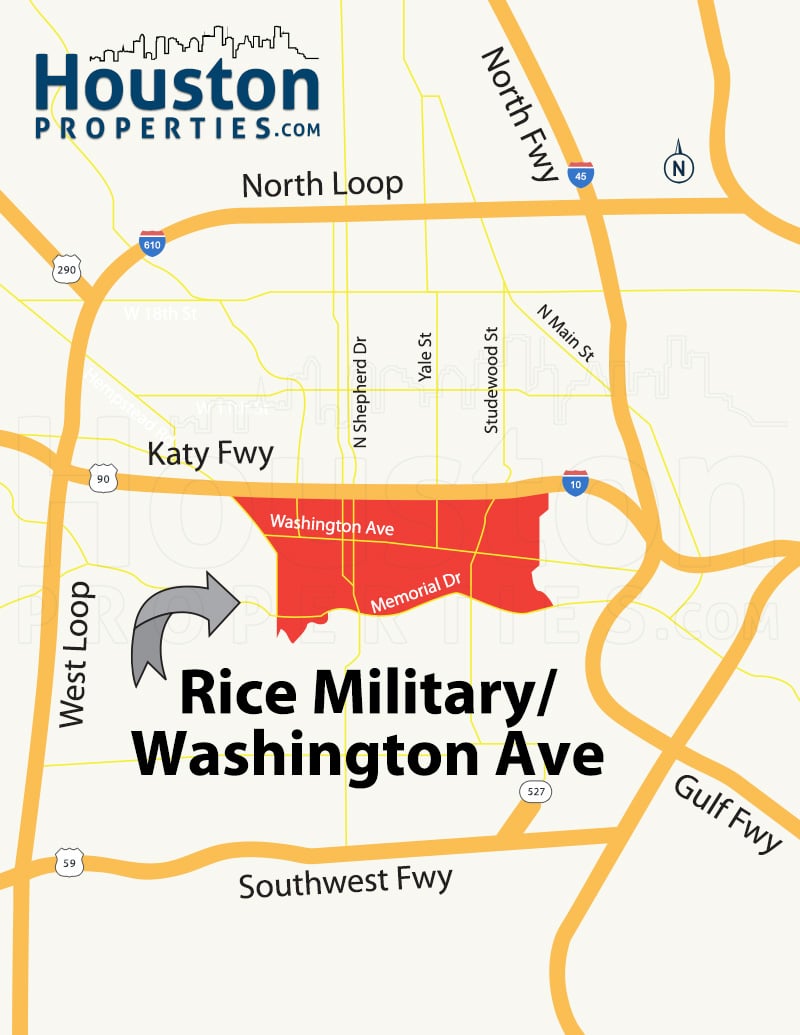 Rice Military is right at the center of Houston's Inner Loop. Rice Military residents have easy access to the most exciting districts in Houston. Downtown Houston, Memorial Park, Montrose, Galleria and Museum District are all between 10-15 minutes away from Rice Military homes.
One of the few Inner Loop neighborhoods with homes in the $300,000 to $500,000 range, the Rice Military neighborhood is also "an area of transition". Rice Military homes are still affordable but have appreciated well because of its "central location."
Neighborhoods near Rice Military include: Camp Logan, Memorial Park, Houston Heights, Timbergrove, Montrose, Midtown and River Oaks.
About 5-10 minutes away from Houston hubs Downtown Houston, Galleria and Museum District. Rice Military is also known for its lush foliage and numerous hiking and biking trails that make incredible use of nearby Buffalo Bayou.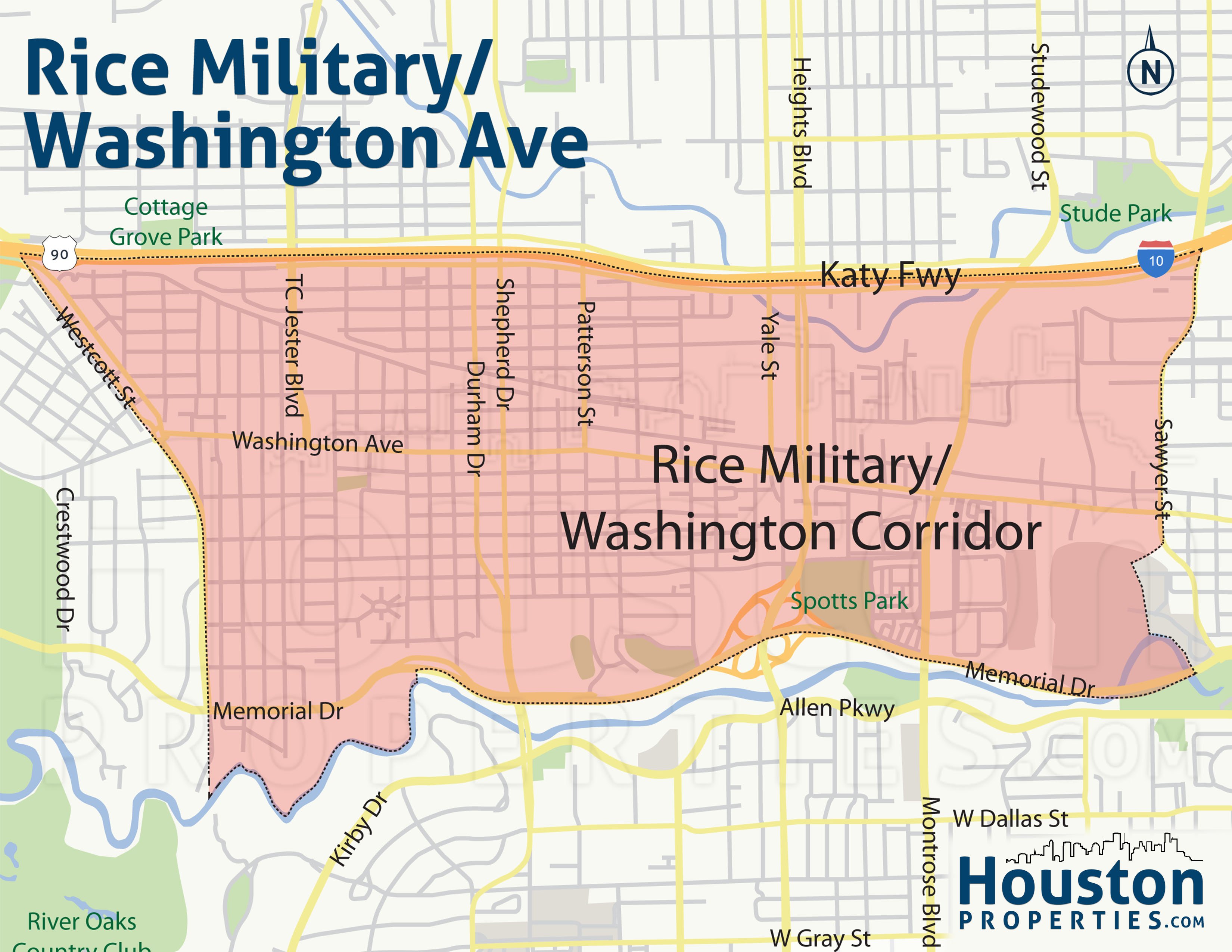 Rice Military Neighborhood: Lifestyle
Rice Military's central location makes it one of Houston's best neighborhoods. Commercial hubs Downtown Houston and Galleria are both a few minutes away.
One of the country's biggest and "greenest" parks, Memorial Park, is also roughly 5 minutes away from all Rice Military homes.
The Rice Military neighborhood itself also has one of the highest "Walkable" ratings in Houston. With a score of 75 over 100, WalkScore.com rates Rice Military as "Very Walkable".
With restaurants, bars, cafes, and retail stores close to most Rice Military homes, Walkscore.com notes that "most errands can be accomplished by foot". Yelp has over 500 rated establishments in the area. Some of our favorites include:
El Rey Taqueria (Mexican and Cuban restaurant) at 910 Shepherd Dr
Max's Wine Dive (Wine Bar, American cuisine, Music Venue) at 4720 Washington Ave
Polovina Italian Cafe (Italian restaurant and cafe) at 4500 Washington Ave
Benjy's (American breakfast and brunch) at 5922 Washington Ave
BRC Gastropub (Gastropub) at 519 Shepherd Dr
Soma (Japanese Sushi Bar) at 4820 Washington Ave
Rice Military has numerous parks throughout the neighborhood. Memorial Park is only 5 minutes away. Rice Military homeowners are only a few minutes away from biking trails, picnic destinations, and scenic jogging trails. Some of the parks within and near Rice Military include:
Houston Arboretum & Nature Center at 4501 Woodway Dr
The Lee and Joe Jamail Skatepark at 103 Sabine St
Nellie Keyes Park at Rose St
Buffalo Bayou "Dog Park" at 6000 Chimney Rock Rd
Spotts Park at 401 S Heights Blvd
Memorial Park at 6501 Memorial Dr
Boneyard Dog Park & Drinkery at 8150 Washington Ave