River Hollow Real Estate Guide
River Hollow homes for sale & insider real estate guide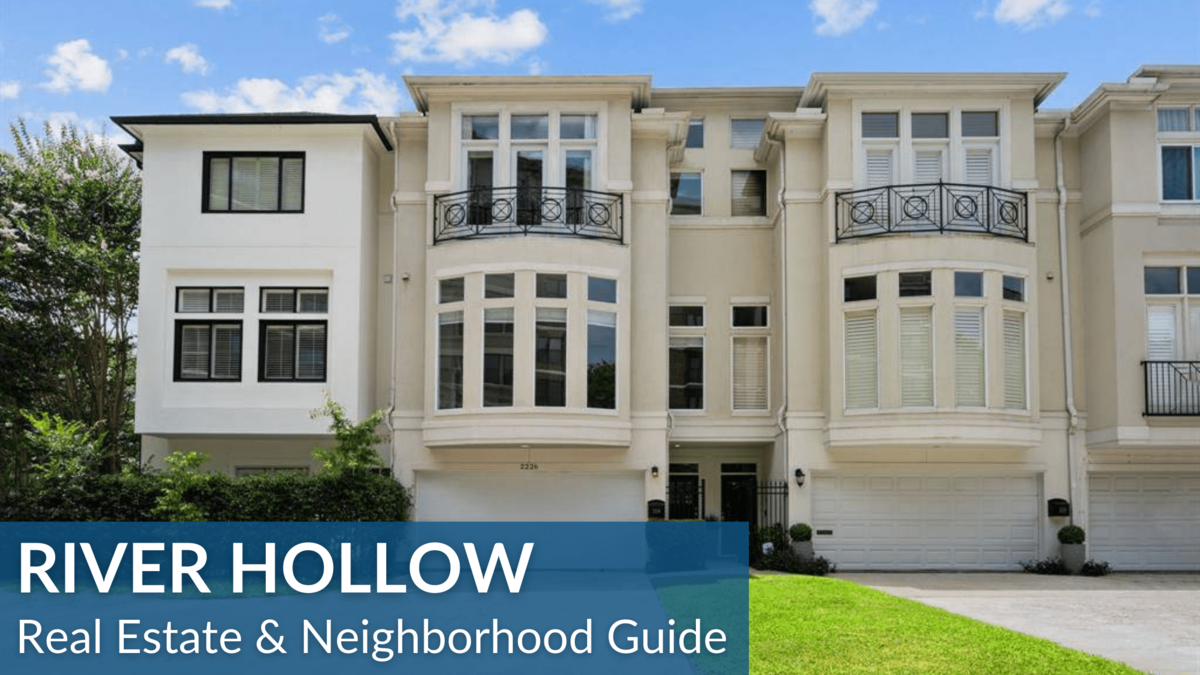 Nestled within the gated community of Briar Hollow, River Hollow's appeal stems from its location. Its neighborhood is secluded, minutes away from the hustle and bustle of the Galleria.
River Hollow is popular thanks to its:
EXCLUSIVITY: River Hollow is one of Houston's best-gated communities. Its neighborhood is nestled in a tranquil, lush setting near the Buffalo Bayou. This exclusive enclave has a 24-hour manned gate, which is one of its best features.

HIGH ACCESSIBILITY: River Hollow's homeowners have easy access to the most essential services in the community. The neighborhood is surrounded by entertainment hubs, shopping centers, and a wide variety of dining options. River Hollow has over 200 Yelp-rated restaurants within a few minutes drive. The River Oaks District, a massive outdoor shopping center of luxury brands, is just a short drive away.

EXCITING OUTDOOR ACTIVITIES: River Hollow is situated just north of Memorial Park. It is a 1,400-acre urban park and is one of the largest urban parks in the United States of America. Some of the popular destinations within Memorial Park include the Memorial Park Golf Course and the Lieberman Exer-trail. The park also has trails, playgrounds, and various sports facilities. Uptown Park is another shopping area accessible from River Hollow.

GREAT COMMUTE: River Hollow is just off Post Oak Park, which gives the homeowners immediate access to major roads. Loop 610, Westheimer Road, San Felipe Street, and Post Oak Boulevard are close by. The Medical Center and Downtown Houston are under a 20-minute drive from the neighborhood. Some of the other gated communities close by are Audubon Hollow and Raintree Place.

PROXIMITY TO JOB CENTERS: River Hollow is a stone's throw away from the Galleria. This bustling area has over 2,000 businesses in operation and a lot of retail centers.

TOP-RATED SCHOOLS: River Hollow homes are zoned for the Houston Independent School District (HISD). Notably, St. George Place Elementary, Lanier Middle, and Lamar High School are schools that serve International Baccalaureate programs. Additionally, some of the top-rated schools, according to GreatSchools.org, are T.H. Rogers School and Pin Oak Middle School.
Navigating River Hollow's real estate market can be complex. Lack of zoning and limited inventory can be bad for resale values. Apart from that, the proximity of some homes to the freeways can also affect the resale values. Thus, guidance from an experienced and knowledgeable realtor will be beneficial.
To get personal advice on buying or selling in the River Hollow area, contact Paige Martin, one of Houston's best realtors and one of the top-ranked Realtors in the United States.
"A job offer we couldn't refuse had us move out of state in less than 3 weeks. Working with Courtney Williams and her team gave us access to a depth of knowledge and experience in the Houston real estate market to successfully sell our house from out of state. We could not have done it without them! Courtney knew how to help at the right time and in the right way. She is responsive, personable, professional and really just a pleasure to work with. You want her on your team!" - Connie C (Google Review)
---
Table of Contents
---
River Hollow Home Sale Trends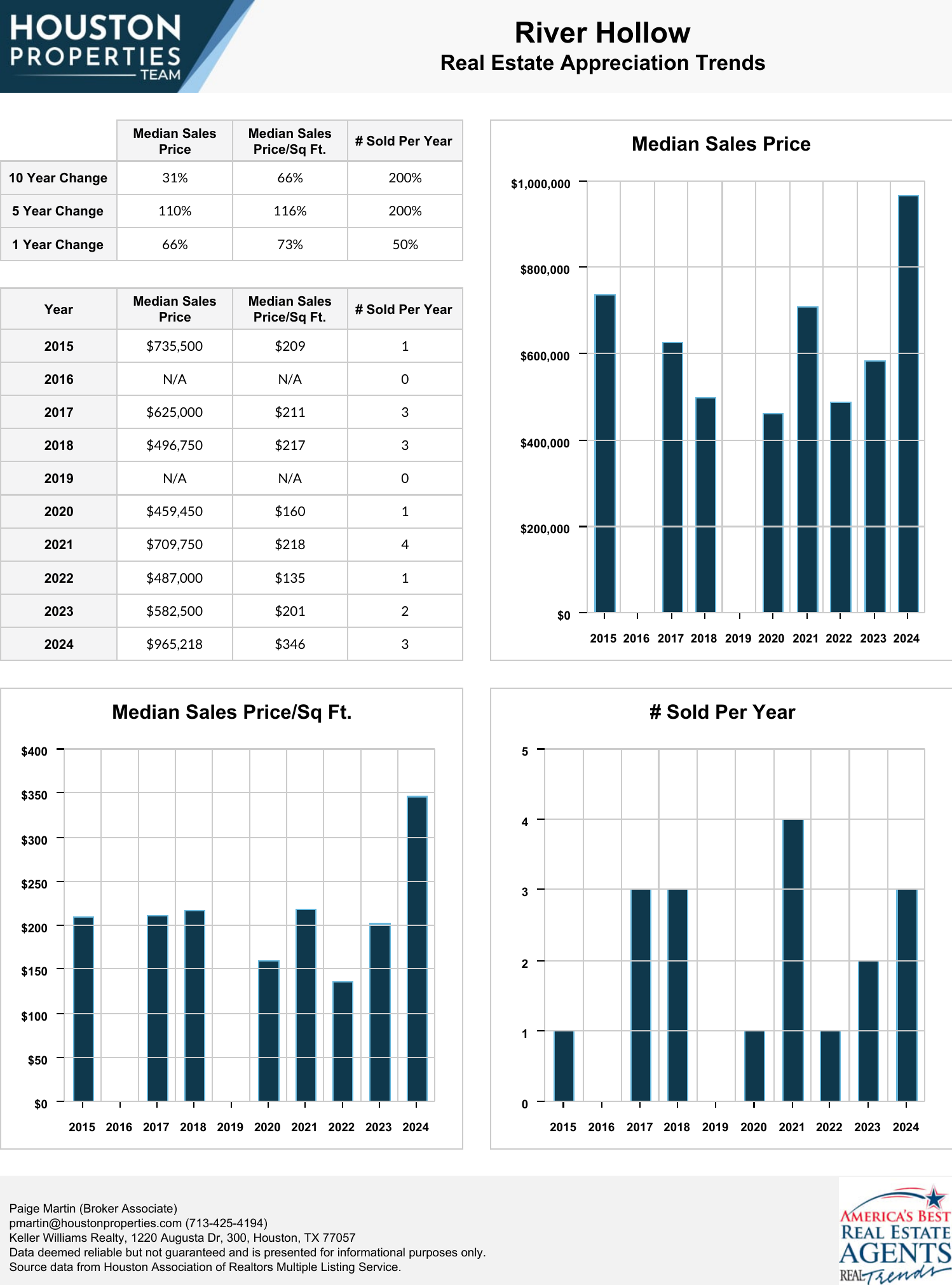 River Hollow is an exclusive community with a prime location. As one of the best gated Houston communities, River Hollow residents enjoy active security 24/7.
River Hollow is known for:
PRIVACY AND SECURITY: The staffed gate system ensures all residents are safe 24/7. Attentive security staff is trained to conduct regular safety checks within the community.

BUSTLING SHOPPING SCENE: River Hollow has vibrant retail and entertainment options. Residents can explore lifestyle amenities from local shops to shopping malls like Uptown Park.

GREEN SPACES: River Hollow is home to some of the best green spaces in Houston. Memorial Park, one of the country's largest urban parks. is located north of the neighborhood. This park boasts active recreational sites and scenic trails.

ACCESSIBILITY: - River Hollow is close to major streets and intersections. Residents have immediate access to Loop 610, San Felipe Street, and Post Oak Blvd. Driving to Downtown and Medical Center only takes less than 20 minutes.
This neighborhood is close to world-class green spaces and commercial landmarks. It is also 5-mins away from the Galleria for ample employment opportunities.
---
River Hollow Best Realtor Insights
River Hollow is an upscale gated community nestled within the secluded area south of Buffalo Bayou. Homeowners of this exclusive neighborhood enjoy top-notch security and lifestyle convenience.
River Hollow promotes active security with its 24/7 manned guard gates. This provides residents with unmatched privacy and peace of mind within the community.

The Galleria area is less than a mile away from River Hollow. The area is one of Houston's central business districts with over 2,000+ businesses in operation.

Memorial Park, a 1,400-acre urban park, is located north of the River Hollow. This park boasts miles of multi-use trails, sports facilities, and playgrounds.

Over 200 Yelp-rated establishments are within a mile of River hollow homes. The Galleria, River Oaks District, Uptown Park, and Highland Village are a short drive away.

River Hollow residents have quick access to major roads including Post Oak Boulevard and Loop 610. Downtown Houston is approximately 7 miles away from the community.

Schools in River Hollow are zoned to HISD. These are St. George Place Elementary, Lanier Middle, and Lamar High School. All three of which offer International Baccalaureate education.

Most homes in the community feature 3-bedroom floor plans (with 2 to 3 full baths). Common features include back patios, balconies, and rooftop decks. Most homes also have high ceilings and large master suites.

River Hollow homes were built between 1972 and 1980. Homes in the area are typically smaller, with living spaces ranging from 2,300 to more than 5,000 square feet.

Lot sizes are also smaller, ranging from 2,800 to 4,600 square feet.

Prices for River Hollow homes for sale can range from $450,000 to over $900,000.
---
River Hollow Maps, Location & Zip Code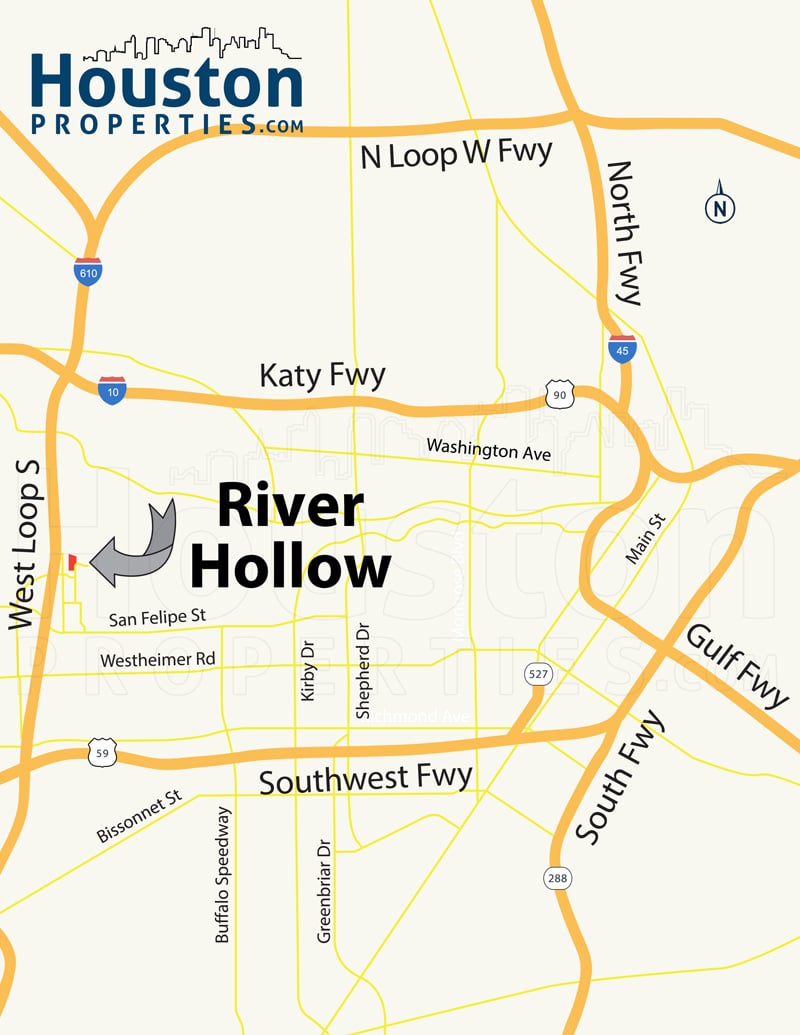 | Commute Time | River Hollow |
| --- | --- |
| Downtown (min) | 10 |
| Med Ctr (min) | 15 |
| Energy Corridor (min) | 15 |
| Galleria (min) | 5 |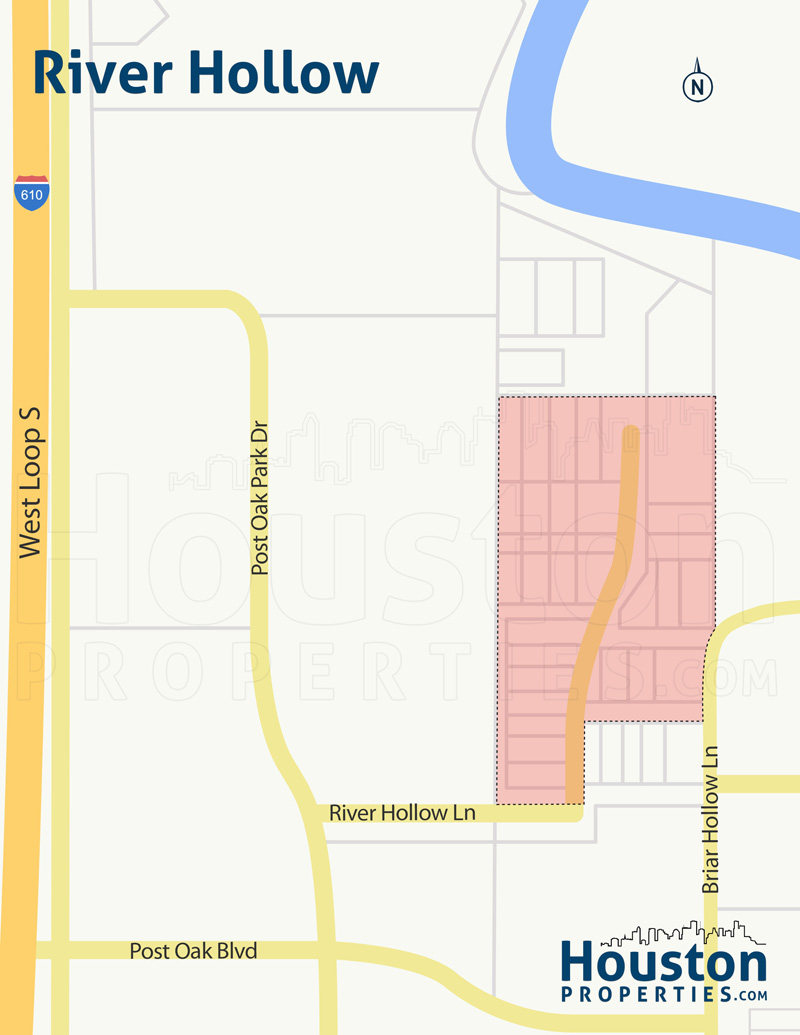 Highlights
River Hollow
Amenities
River Hollow is a neighborhood with access to world-class retail and green spaces, like Memorial Park and River Oaks.

There are dozens of shopping and dining options in the popular Uptown Park.
Golf Courses
- River Oaks Country Club
- Memorial Park Golf Course and Driving Range
- Houston Country Club
Run / Bike Trails
- Memorial Park Hike and Bike Trails
- Houston Arboretum & Nature Center
- Post Oak Park
- Martin Debrovner Park
- Wiess Park
- Del Monte Park
- Kettering Park
Nearby Retail / Dining
Retail:

- Uptown Park
- Post Oak Plaza Shopping Mall
- River Oaks District Shopping Mall
- Highland Village Shopping Mall
- Sage Plaza Shopping Mall
- The Galleria

Dining:

- McCormick & Schmick's Seafood & Steaks
- Merus Grill
- Étoile
- Bloom & Bee
- Mastro's Steakhouse
- Birdies

Entertainment:

- Belvedere
- The Black Swan Nightclub
- Craft F&B
- The Railyard Houston
- Ducky McShweeney's

Groceries:

- Whole Foods Market
- Randalls
- Target Grocery
- Woodway Food Group
- Hebert's Specialty Meats
Major Employers
- Shale-Inland Holdings Llc
- Quanta Services
- Sirius Solutions
- Iapetus Holdings
- Randstad
---
River Hollow Schools
| Top Middle Schools | Great Schools Ranking |
| --- | --- |
| Lanier Middle | 9 |
River Hollow homes are zoned to the Houston Independent School District (HISD).
Established in the 1920s, Houston ISD is the largest school district in the state (with 283 schools). The Texas Education Agency (TEA) gave the district a "Met Standard" rating. HISD features several International Baccalaureate (IB) schools, including Lamar High School, Lanier Middle School, and St. George Place Elementary School.
Students in the area may attend the following public schools:
---
Elementary Schools
---
St. George Place Elementary School at 5430 Hidalgo St. Also known as The School at St. George Place, it is located within the Galleria area. Some of the programs this school offers are the IB Primary Years Programme (PYP) and the Vanguard neighborhood program. St. George Place also offers academic programs for ESL and special education.
---
Middle Schools
---
Lanier Middle School at 2600 Woodhead St. Located in nearby Montrose, Lanier Middle School was established in the 1920s. Lanier offers IB Middle Years Programme (MYP), a non-magnet program, and a Gifted and Talented Vanguard magnet program. Lanier has received recognition and awards over the years, including the Texas Gold Performance Award.
---
High Schools
---
Lamar High School at 3325 Westheimer Rd. Lamar High School is recognized as an International Baccalaureate (IB) World School. It offers the Diploma Programme and boasts of the most graduates with IB diplomas in the state. The business Management magnet program is among the Advanced Placement programs Lamar offers. The school is also known for its great athletics programs, particularly football and lacrosse.
---
River Hollow Houston Private Schools
---
The following are some of the more notable private schools near River Hollow.
St. John's School at 2401 Claremont Ln.

Afton Oaks School at 4739 Ingersoll St.

Presbyterian School at 5300 Main St.

St. Anne Catholic School at 2120 Westheimer Rd.

Episcopal High School at 4650 Bissonnet St.
To find an updated listing of all River Hollow real estate zoned to any specific public school, please email Paige Martin at PMartin@HoustonProperties.com with the property preference and budget that you're working with.
Note: For more detailed information on specific schools zoned to different River Hollow areas, please refer to our Houston Schools Guide OR email me.
Note: School zoning tends to change from year to year. The information provided above is accurate but not guaranteed. Please double-check by visiting the school's website.
---
River Hollow Real Estate Market
River Hollow Single-Family Home Sale Trends
---
Like Raintree Place, River Hollow comprises mostly townhomes and a few detached patio homes.
As mentioned, these properties don't share a wall with their neighbors. Home and lot sizes are comparable to their townhome counterparts, however.
River Hollow homes offer 3 bedrooms spread over two stories.
---
River Hollow Houston Townhomes Sale Trends
---
River Hollow homes are mostly two-story townhomes (properties that share a wall with one or two neighbors) and patio homes.
Built between the early 1970s and 1980s, townhomes in the community feature traditional designs. Standard features include brick veneer or brick and wood exteriors.
River Hollow townhomes often offer 3-bedroom floor plans (with 2 to 3 full baths) spread over 2,600 to more than 4,300 square feet of living space. Standard features include back patios, balconies, two-car garages, rooftop decks, and high ceilings.
Prices for River Hollow homes range from $450,000 to upwards of $900,000.
---
River Hollow Condo Sale Trends
---
There are no mid or high-rise condos in River Hollow. Briar Hollow and nearby neighborhoods like the Galleria and River Oaks have plenty of residential buildings. Unit sizes, floor plans, and building amenities vary.
Briar Hollow condos include:
Here are more condos in the nearby River Oaks and Galleria area.
Galleria:
To see other condos within the Inner Loop, see Inner Loop Houston Condos. To see condos within the Galleria area, see Galleria Houston Condos. To see other condos within Downtown Houston, see Downtown Condos. To see condos within Museum District, see Museum District Condos..
The Houston Properties Team are expert in River Hollow real estate. Please contact us if you'd like to see Houston condos or learn more about buildings that could be a fit for you.
---
River Hollow TX History
---
The area south of Memorial Park and Buffalo Bayou and west of River Oaks used to be farmland.
Surrounding neighborhoods Highland Village, Afton Oaks, and Oak Estates were established well before development in Briar Hollow started in the 1970s.
The period during the 1970s and the 1980s saw development in several communities in the area, including River Hollow, Raintree Place, and Park Square Condominiums.
Today, River Hollow is still one of the best-gated communities in Houston, thanks mainly to its central location and high accessibility.
---
Fun Things To Do Near River Hollow Houston
---
River Hollow residents have over 200 Yelp-rated establishments within a mile of their homes. Several retail and entertainment hubs are within minutes away from the community, as well as Memorial Park.
The Galleria/Uptown Park area, located less than a mile from River Hollow, is home to more than 5,000,000 square feet of retail and commercial space. The Galleria, one of the largest retail centers in the state, offers 2,000,000+ square feet of leasable space with anchors. These include Macy's, Neiman Marcus, Nordstrom, and Saks Fifth Avenue.
Other retail centers nearby include River Oaks District, Highland Village, and Uptown Park.
Outdoor entertainment hubs are also minutes away from River Hollow. Memorial Park features an 18-hole municipal golf course, miles of hike-and-bike trails, and picnic areas.
Residents can also enjoy the River Hollow's swimming pool.
Here are some of River Hollow Houston's must-visit places:
Dining
rise nº2
Liberty Kitchen & Oysterette
Masraff's
Etoile Cuisine et Bar
Uptown Sushi
North Italia
Yia Yia Mary's
Songkran Thai Kitchen
True Food Kitchen
Willie G's Seafood
Retail
River Oaks District
The Galleria
Highland Village
Uptown Park
Post-Oak Plaza
Sage Plaza Shopping Center
Nightlife
Story Ultralounge
Bosscat Kitchen & Libations
Bar 12
The Remington Bar
Belvedere
Mastro's
Steak 48
Le Colonial
The Railyard
17fifty Bistro & Lounge
Groceries
Central Market
Westcreek Market and Deli
H-E-B
Target
Hatterman Poultry Farm
Whole Foods Market
Urban Harvest Farmers Market
Golf and Outdoor Entertainment
River Oaks Country Club
Memorial Park
Houston Arboretum & Nature Center
Seymour Lieberman Exercise Trail
Memorial Park Tennis Center
Memorial Park Golf Course
Picnic Loop
---
Best River Hollow Realtor – Paige Martin
---
As featured on Fox News in the Morning, Houston Business Journal, and Houston Magazine, Paige Martin, a consistent Top Producing Broker-Associate and head of the Houston Properties Team, is ranked as one of the top residential real estate agents in the world.
---
Best Houston Real Estate Resources
---