Riverside Real Estate Guide
Riverside homes for sale & insider real estate guide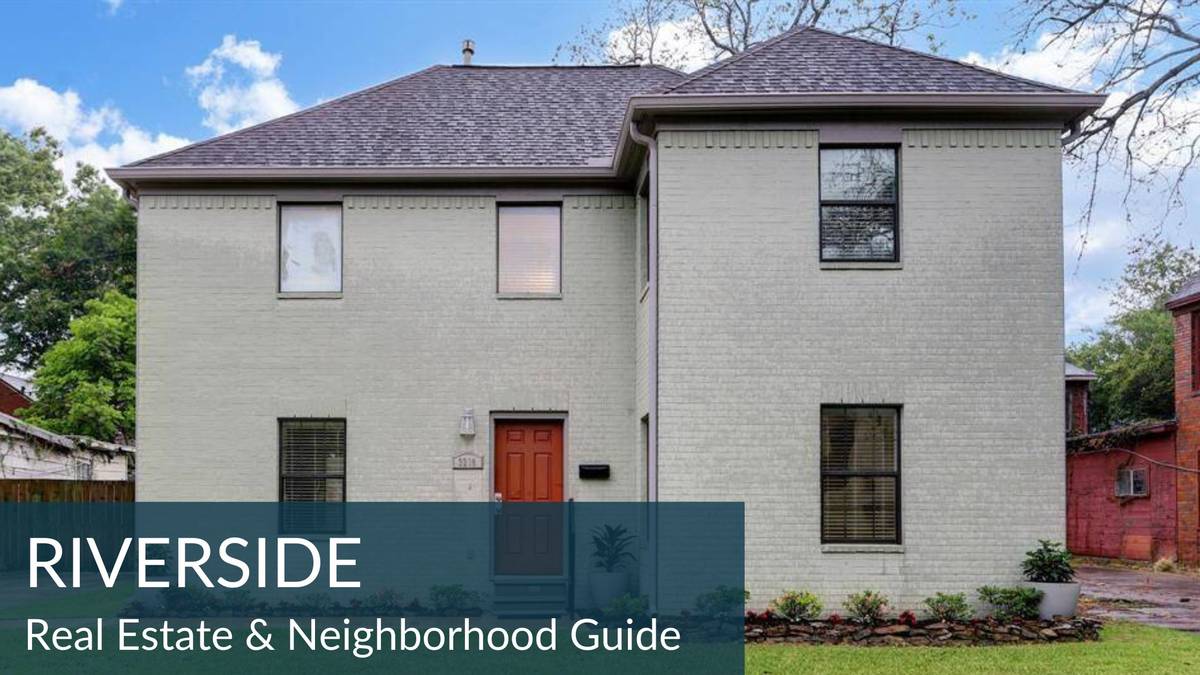 Riverside is a historic community rising in popularity. This community is accessible to parks, schools, and employment hubs. Downtown Houston and Texas Medical Center are the two nearby major employers.
Riverside is famous due to its:
ACCESSIBILITY: Riverside offers excellent convenience. It is north of MacGregor Way, SH 288 to its west, and US 90 to its south. Loop 610, I-45, and I-69 are also nearby. Riverside is near many top recreational venues. This includes Hermann Park's museums, zoo, golf course, theater, and playgrounds.

EMPLOYMENT HUBS: Riverside Terrace homes are accessible from Houston's major hubs. Downtown Houston is 12 minutes away. Texas Medical Center and Museum District are 7 minutes away. Residents also have access to top shopping centers like Rice Village.

EMERGING SCHOOLS: Riverside is zoned to the Houston Independent School District. Some of top schools in the district include Cullen Middle School and Yates High School. Riverside is also a short drive from nearby colleges and universities. This includes TSU, Rice University, St. Thomas University, and Houston Community College Central.

PARKS & TRAILS: The Riverside neighborhood offers miles of hike and bike trails for everyone. Hermann Park and MacGregor Park Trail are some of the attractions in this area. Located along Braes Bayou, large parks surround the area at its western and eastern edges. There is also a two-mile linear park and bike/walking trail along its northern edge

HISTORY: Riverside has a long and rich history dating back to the 1920s when the area was first established. There have always been a variety of homes for sale in the neighborhood. The houses range from stately mansions to vintage homes and single-family residences.

NEIGHBORHOOD: Riverside is home to many prominent people from various fields. Many business people, politicians, community leaders, and professionals live in this community.
It is important to note that Riverside real estate can be challenging to navigate. This is due to the deed restrictions (a major issue regarding resale) and ongoing renovations. It would help to contact the best Riverside realtor.
To get personal advice on buying or selling in the Riverside area, contact Paige Martin, one of Houston's best realtors and one of the top-ranked Realtors in the United States.
"Ashley Tilton is hands down one of the hardest working and most genuine loving people I have been blessed to know. A few years ago we were trying to find a home and we were hitting a lot of bumps in the road due to my identity theft issues but she still work tirelessly to help us even while she herself was taking care of a little baby and dealing with personal illness. A couple of years later once my credit issues was resolved she still worked really really hard and she was on the verge of giving birth to her second baby and fighting a bad flu, she still showed up to help us finish the paperwork to buy our dream home. She truly cares about her clients and really anyone whether human or furbabies. I'm just so grateful to known her and we're very very lucky to call her a friend and now a sister to our hearts." - Artie Bayat (Google Review)
---
Table of Contents
---
Riverside Home Sale Trends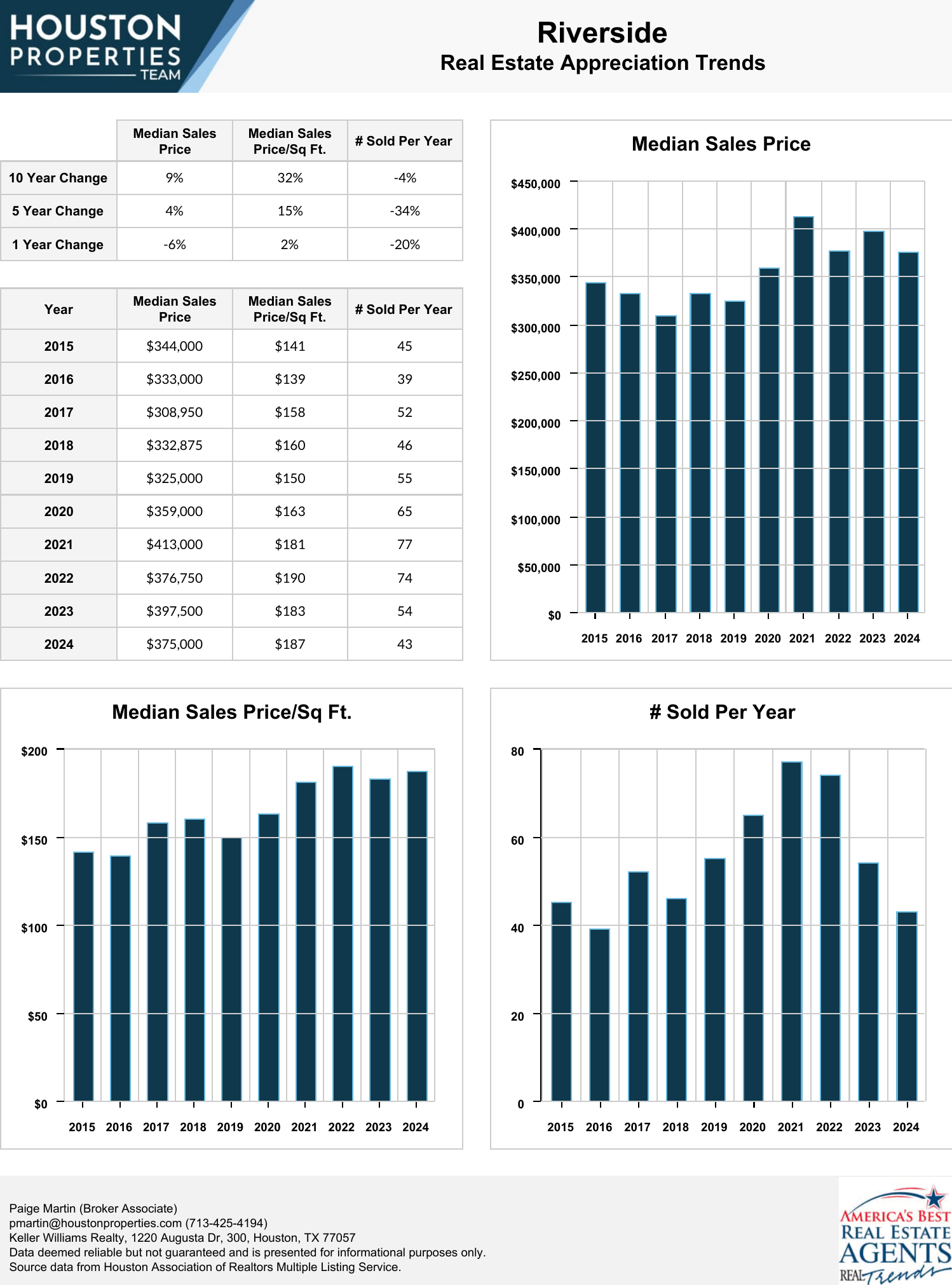 Riverside is a community south of Downtown Houston and east of the Texas Medical Center. It features over 1,300 properties built with rich historical significance.
The neighborhood is becoming popular as a result of its:
MODERN AND TRADITIONAL HOMES: Most Riverside homes have a fusion of classic and present-day designs. Oversized backyards and showers and upgraded floors are some of its notable features.

PROXIMITY TO HOUSTON'S MAJOR EMPLOYMENT CENTERS: The historic community is minutes away from Texas Medical Center and Museum District.

SHORT COMMUTE TO TOP RECREATIONAL VENUES: Residents enjoy easy access to leisure joints in and around the area. The list includes Hermann Park, Brays Bayou Park, and many more.

WELL-KEPT GROUNDS: Riverside offers upscale living and estates with large columns, lush lawns, and tall oak trees.
Riverside has a high demand for real estate due to ongoing reform that preserves the community's documented history.
---
Riverside Best Realtor Insights
Riverside Terrace, a popular Riverside district subdivision, was formerly comparable to Houston's most affluent neighborhoods, such as River Oaks.
Riverside Terrace has around 1,300 homes in the Riverside region, distinguished by a solid historical character and a variety of real estate choices.

It was built in the 1930s with notable families and majestic houses designed by prominent architects who formerly resided in this neighborhood.

The neighborhood is situated in the center of the Inner Loop, bordered by MacGregor Way to the north, SH 288 to the west, and US 90 to the south.

Houston's central business district is 12 minutes away, while the Texas Medical Center and Museum District are 7 minutes away.

Riverside Terrace is zoned to the Houston Independent School District. Students may attend Thompson Elementary School, Cullen Middle School, and Yates High School.

The neighborhood is distinguished by its winding roads, undulating hills, and tree-lined streets.

Traditional architectural styles and one- or two-story floor designs are typical among Riverside region homes.

Deed restrictions are strictly enforced to protect the neighborhood from incompatible development.

Other house characteristics include modern fixtures and amenities, hardwood floors, formal dining rooms, and landscaped and walled backyards.

Property prices in Riverside Terrace range from around $85,000 and $595,000.
---
Riverside Maps, Location & Zip Code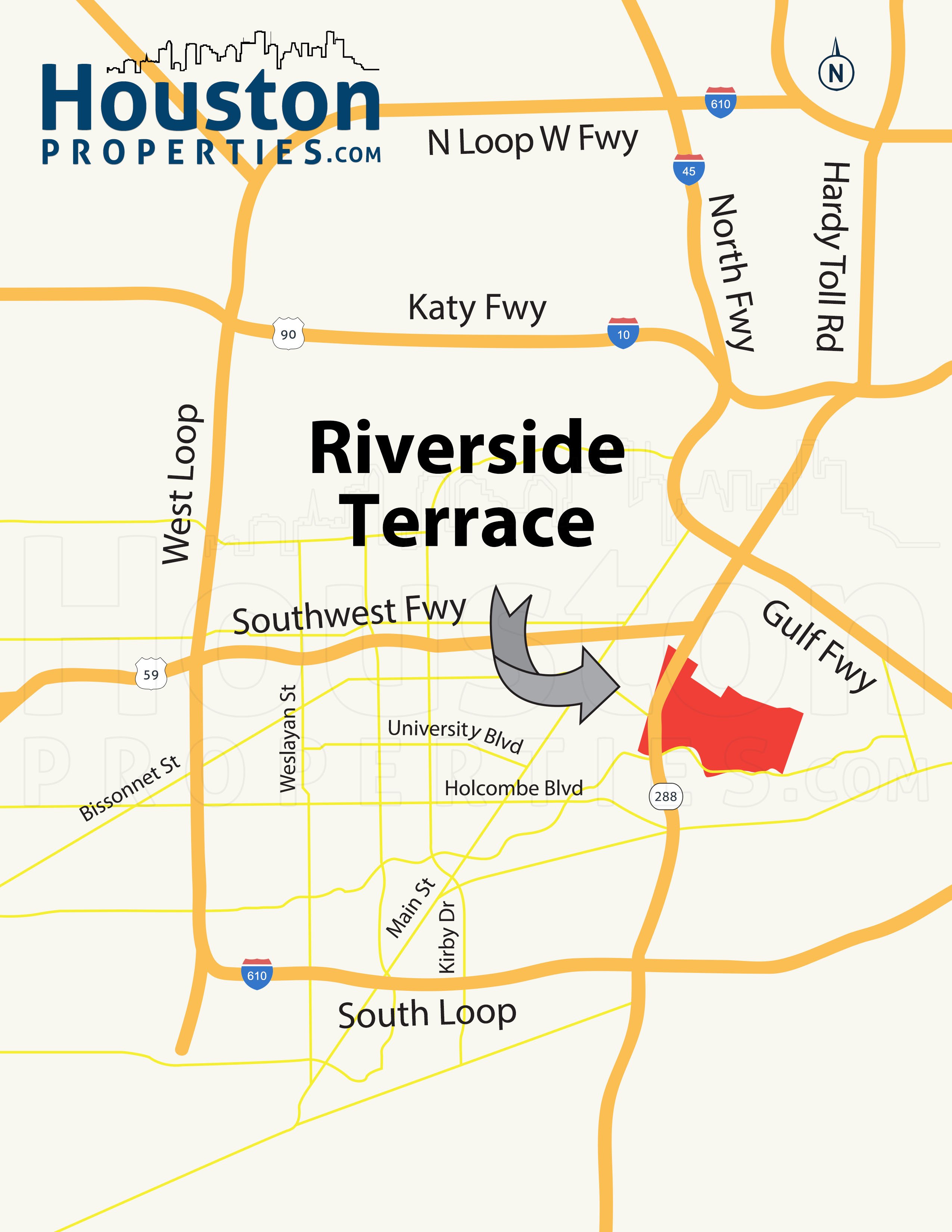 | Commute Time | Riverside |
| --- | --- |
| Downtown (min) | 10 |
| Med Ctr (min) | 5 |
| Energy Corridor (min) | 25 |
| Galleria (min) | 15 |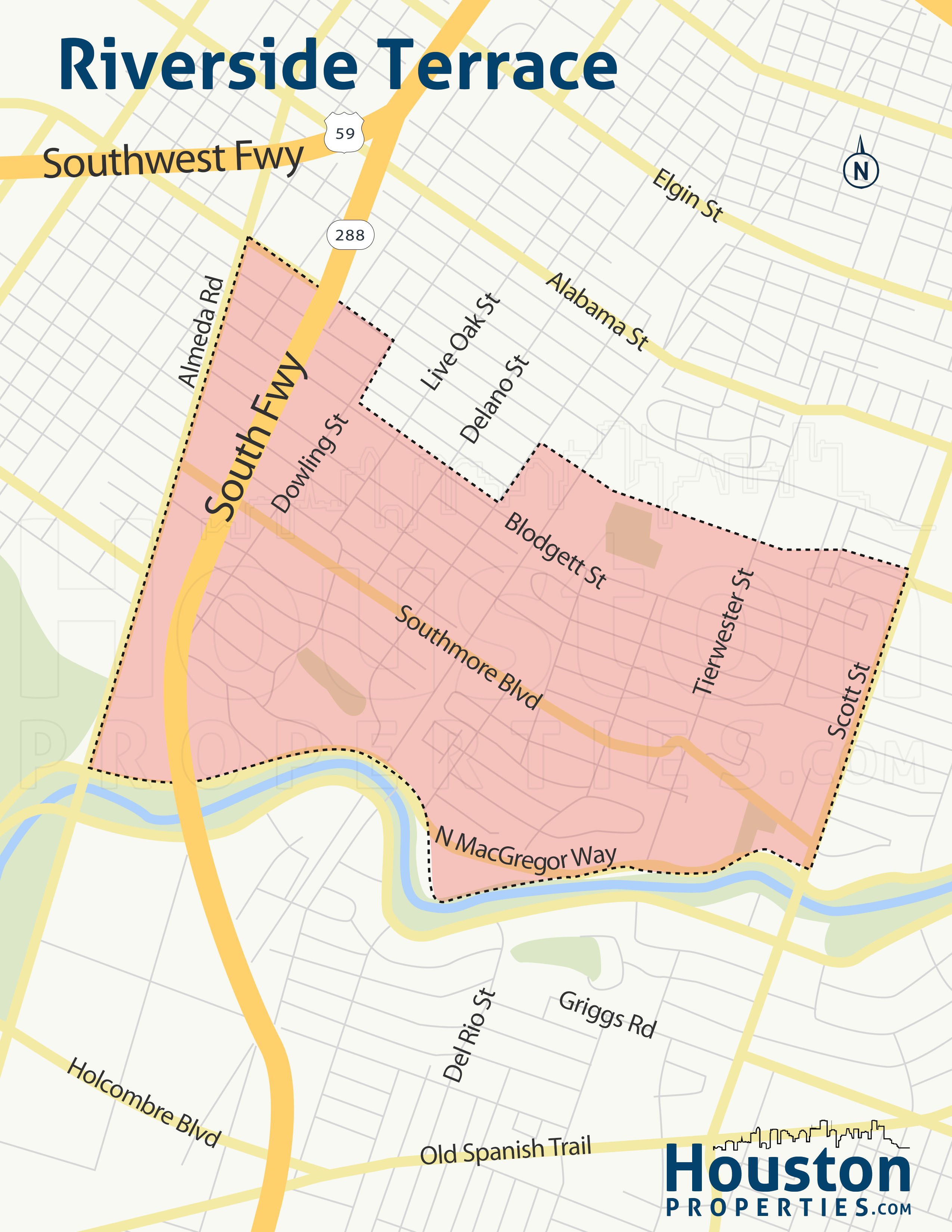 Highlights
Riverside
Amenities
Riverside has access to retail, dining, and entertainment options. A nearby 18-hole golf course in the area, such as Herman Park, boasts its oak-lined grounds and impressive scenery.

Residents can enjoy hike and bike trails like Brays Bayou Park and the MacGregor Park Trail.

The neighborhood features classical architecture with historic and timeless properties.
Golf Courses
- Hermann Park Golf Course
- Gus Wortham Golf Course
- East River 9
Run / Bike Trails
- Brays Bayou Park
- Marvin Taylor Exercise Trail
- Heights Hike and Bike Trail East Trailhead
- Japhet Creek Park
- Fonde Park
- Nau Family Pavilion
- Eleanor Tinsley Park
- Marron (Tony) Park
- James Bute Park
- Guadalupe Plaza Park
Nearby Retail / Dining
Retail:

- Fabulous Furniture Resale
- Cricket Authorized Wireless Retailer
- PrimeWay-TMH Retail Center
- Verizon Authorized Retailer-Victra
- Alex Trading Wholesale and Retail
- Luna Retail LLC
- Supernova Furniture Retail Store & Outlet Center
- Southwest Freeway Retail Center
- Streamline Retail
- Mc Queen's Custom Tailor Retail Store

Dining:

- Moody Towers Dining Commons
- Terrace 54
- Davis Street at Hermann Park
- Lucille's
- Hungry's
- Barnaby's Cafe
- M&M Grill
- Fuddruckers
- Nobie's
- Monarch

Entertainment:

- On The Rocks Bar And Lounge
- Skittles Sports Lounge
- 50/Fifty Club
- Dreams Bar And Lounge
- Turning Point Club
- Hollywood Inn
- Etro
- Barbarella
- The Continental Club
- Clé

Groceries:

- Sheffield's Grocery
- Nick's Grocery
- Lydia Food Market
- ALDI
- Theresa Meat Grocery Store
- Pyburns Farm Fresh Foods
Major Employers
- Texas Medical Center
- Liongard
- City Supply Company
- JD Fields & Company
- Buffalo Bayou Brewing Company
- Patten Title Company
- Swift + Company
- JDM Group Company
---
Riverside Schools
Riverside homes are zoned to the Houston Independent School District.
The HISD features several National Blue Ribbon and multi-award-winning schools.
Students in the area may attend the following public schools:
---
Elementary Schools
---
Thompson Elementary School at 6121 Tierwester St. Thompson Elementary serves Pre-K to fifth-grade students. It features Dual-Language, Linked Learning, Core Enrichment, and Special Education programs.
---
Middle Schools
---
Cullen Middle School at 6900 Scott St. Cullen offers 6th to 8th-grade students with UIL Academics, YMCA Sports, and IB Middle Years Programme. Additionally, Special Education is on top of the standard Cullen Middle School programs. The school's student-teacher ratio is 11:1, which is better than other districts.
---
High Schools
---
Yates High School at 3650 Alabama St. Yates High School offers Academic Boot Camps, Special Education, and Summer School programs. Specialized magnet programs are also available, and one of them is the Maritime Academy. Yates serves students from grades 9 to 12.
To find an updated listing of all Riverside real estate zoned to any specific public school, please email Paige Martin at PMartin@HoustonProperties.com with the property preference and budget that you're working with.
Note: For more detailed information on specific schools zoned to different Riverside areas, please refer to our Houston Schools Guide OR email me.
Note: School zoning tends to change from year to year. The information provided above is accurate but not guaranteed. Please double-check by visiting the school's website.
---
Riverside Real Estate Market
Riverside Single-Family Home Sale Trends
---
Riverside Terrace homes are typically done in traditional architectural styles with 1- and 2-story layouts. Homes feature diverse options, from stately mansions, and single-family homes, to vintage homes waiting to be restored.
The homes also have updated amenities and fixtures, hardwood floors, and formal dining areas. Landscaped and fenced backyards are also available.
---
Riverside Townhome Sale Trends
---
There are no townhomes in the Riverside District. There are, however, plenty of townhome options available in nearby neighborhoods.
The Houston Properties Team are expert in Riverside real estate. Please contact us if you'd like to see Houston townhomes or learn more about properties that could be a fit for you.
---
Riverside Condo Sale Trends
---
There are no mid- or high-rise Riverside condos for sale, but plenty of units are available in the surrounding areas.
Several condo buildings are located in the Downtown and Museum District, including:
Chenevert Condos

Ellie Lofts
Park Lofts
Parklane Condo Tower
The Mond
Mosaic Residential North Condominium
Lovette Place Condos
Rushmore Lofts
To see other condos within the Inner Loop, see Inner Loop Houston Condos. To see condos within the nearby Galleria area, see Galleria Houston Condos. To see other condos within Downtown Houston, see Downtown Condos. To see condos within Museum District, see Museum District Condos.
The Houston Properties Team are expert in Riverside real estate. Please contact us if you'd like to see Houston condos or learn more about buildings that could be a fit for you.
---
Riverside TX History
---
Founded in the 1930s, the Riverside District is a community that, according to some, has become stagnant.
Houston was prosperous in the 1930s, unlike most of America. The city flourished. West University, Montrose, the Museum District, and the best, River Oaks, went throughrapid growth phasesh.
Most of the District's single-family homes were built before 1950 for Houston'swealthyh families, while most of the multifamilydwellingss and commercial buildings wereconstructedt during the 1950s.
Riverside Terrace and the commercial sections along Old Spanish Trail, commonly known as the Riverside District, are experiencing a resurgence. Numerous older homes are being restored. Other abandoned homes are being torn down and upgraded into new properties.
---
Fun Things To Do Near The Riverside
---
Riverside residents can enjoy proximity to a wide range of retail, dining, and entertainment options thanks to its central Inner-Loop location.
The neighborhood offers tons of green space and hike-and-bike trails. It features Brays Bayou, Hermann Park, and MacGregor Park, among others.
Here are some of Riverside's must-visit places:
Dining
Fuddruckers
Houston This Is It Soul Food
Eric's Restaurant
Barnaby's Cafe
Lucille's
Wendy's
Wing Quarter
Ray's Real Pit BBQ Shack
Taco Bell
Sonic Drive-in
Nightlife
On The Rocks Bar And Lounge
Turning Point Club
Farah Pub
Groceries
HEB Curbside Pickup & Grocery
Tip Top Grocery
Travel Traders
Mc Queens Custom Tailor Retail Store
Southwest Freeway Retail Center
ALDI
Golden King's food
Almeda Mediterranean
Parks
Brays Bayou Park
Mills Bennett Park
Parkwood Park
MacGregor Park
Calloway Park
Hermann Park
VFW Park
George T. Nelson Park
Fonde Park
Smither Park
---
Best Riverside Realtor – Paige Martin
---
As featured on Fox News in the Morning, Houston Business Journal, and Houston Magazine, Paige Martin, a consistent Top Producing Broker-Associate and head of the Houston Properties Team, is ranked as one of the top residential real estate agents in the world.
---
Best Houston Real Estate Resources
---