Royden Oaks Houston Neighborhood Guide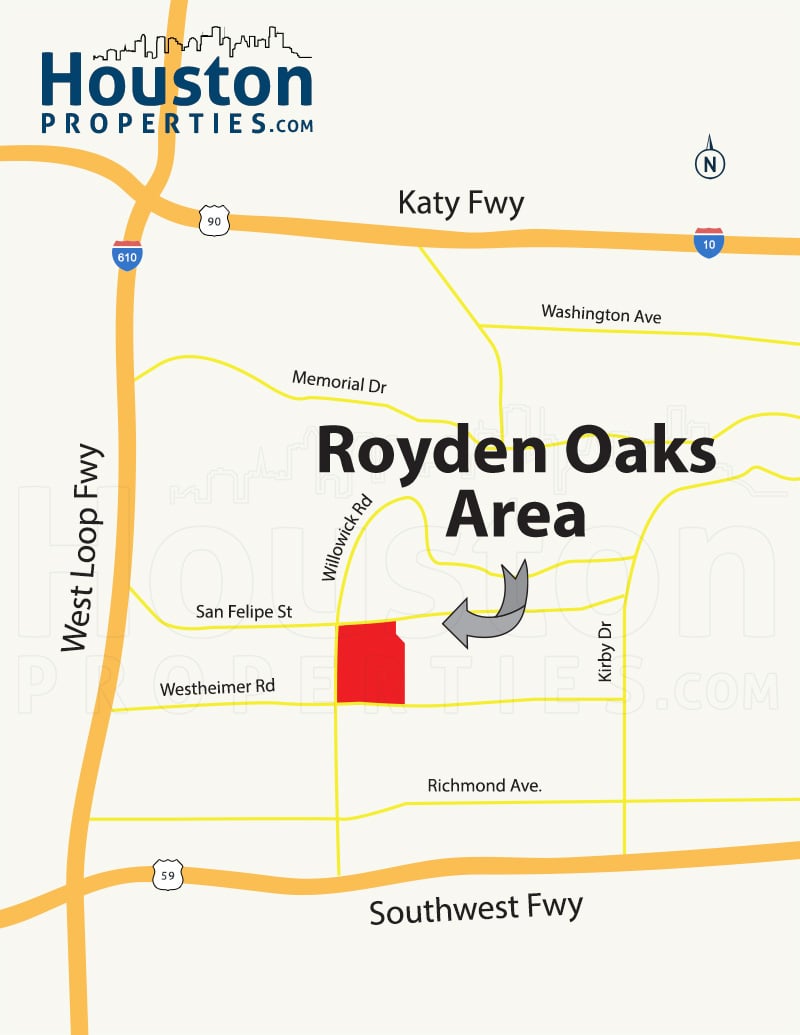 Royden Oaks Houston is a peaceful enclave of over 200 homes. It is also one of the 20 most expensive neighborhoods in Houston.
The subdivision enjoys the same location benefits of its neighbor, River Oaks. While it has its own collection luxury homes for sale, Royden Oaks real estate are still less expensive compared to homes for sale in River Oaks.
Royden Oaks remain popular due to its:
GREAT ACCESSIBILITY: This Inner Loop neighborhood is located in the geographic center of Houston making it one of the most accessible Houston neighborhoods.
SIMILARITIES WITH RIVER OAKS: Aside from often being mistaken as part of River Oaks, Royden Oaks homes also have back-door trash pick up, 24-hour security, and an active civic club protecting the integrity of the neighborhood.
SHOPPING: It has excellent access to the best shopping districts in Houston; Highland Village Shopping Center, River Oaks Shopping Center, and the world-famous The Galleria.
PROXIMITY TO MAIN DISTRICTS: The area also offers excellent commute to the major job centers of Houston such as Downtown Houston, Uptown, Greenway Plaza, and Texas Medical Center.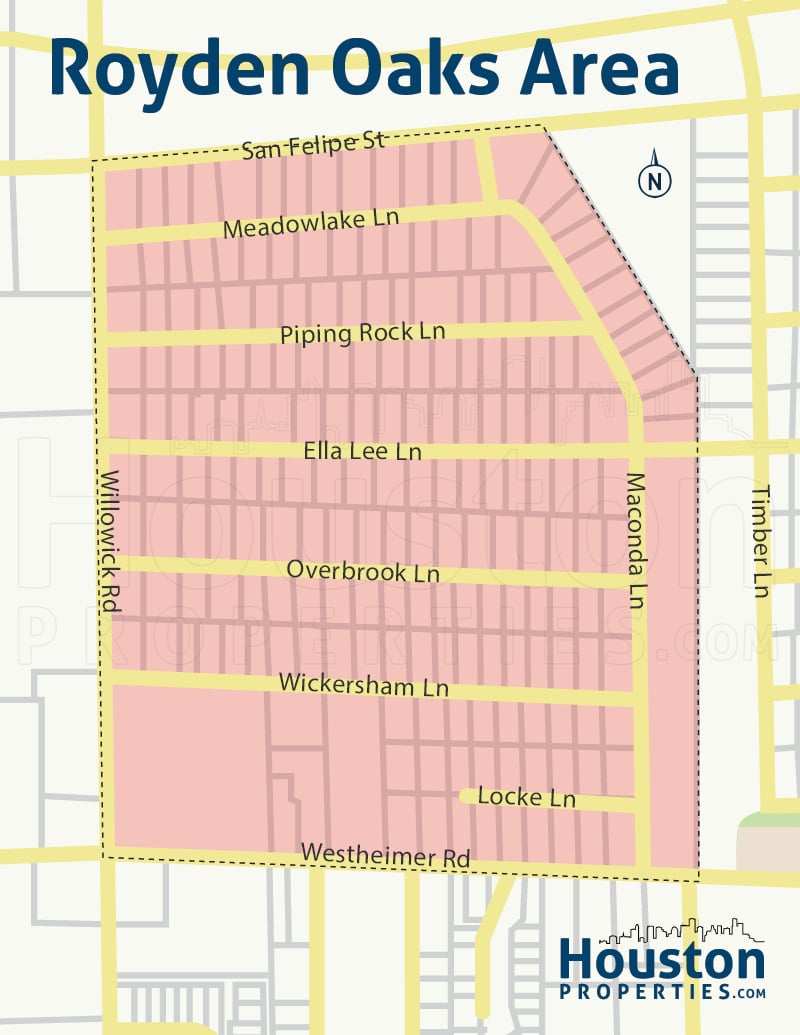 Due to its small size and often low inventory, finding the best Royden Oaks Houston realtor familiar with the area is crucial to securing your Royden Oaks home.
For questions, advice, Royden Oaks real estate recommendations, or off-market MLS listings, contact Paige Martin, head of the Houston Properties Team and rated as the best Keller Williams Memorial realtor the last four years.
Royden Oaks Houston Resources:
Houston Royden Oaks Neighborhood Profile
Royden Oaks Place Real Estate Guide
Paige Martin – Royden Oaks Realtor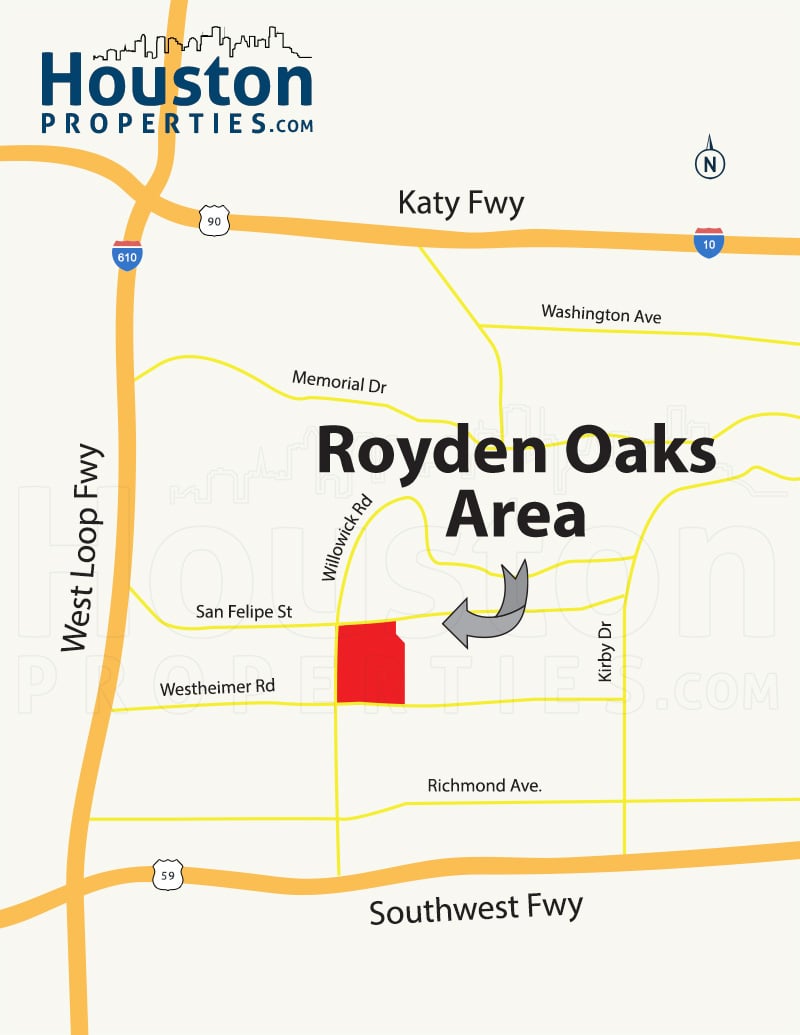 Royden Oaks Maps and Location
Just over 67 acres in size, Royden Oaks Houston lies directly west of River Oaks. This upscale community lies north of Westheimer Road, south of San Felipe Road, east of Willowick Road, and west of Timber Lane.
The West Loop Fwy and the Southwest Fwy are just a mile away from Royden Oaks, allowing residents convenient commute to other Houston districts.
Located within the Houston 77027 zip code, Royden Oaks offers easy access to the city's main districts.
Downtown Houston is easily accessible through a 20-minute drive via the scenic Allen Pkwy. Uptown Houston and the Galleria are less than 10 minutes away across the West Loop South.
Nearby zip codes include: 77046, 77098, 77019, 77007, 77024, 77056, and 77401. (View Houston zip code map)
Fun Things To Do Near Royden Oaks
The Royden Oaks HOA only allows properties to be used for residential purposes. While there is a lack of businesses within the neighborhood itself, it has easy access to the favorite shopping centers of Houston and its seemingly endless array of shopping, entertainment, and dining options.
Highland Village Shopping Center is just a few blocks away along Westheimer Road. For over 50 years, it has been one of Houston's most distinctive and appealing retail venues.
A 5-minute drive to the west along Westheimer will bring you to the world-famous The Galleria. It's the largest mall in the state of Texas and houses over 375 stores.
The mixed-use development Greenway Plaza is also just 5 minutes away along US Hwy 59, right next to the Lakewood Church.
The River Oaks Shopping Center at West Gray and S.Shepherd has 76 stores, 14 restaurants, a theater, and a grocery store. With all these choices, you'll never run out of retail options near Royden Oaks.
For those who wish to be closer to nature, the River Oaks Park is just outside the neighborhood near the corner of Westheimer and Timber Ln. The park offers a playground, a hike and bike trail, tennis courts, a basketball court, and a sports field.
Although the terrain is flat, there are minimal bike lanes within Royden Oaks. For public transportation options, there are buses plying Westheimer Road and Wesleyan Street towards the Greenway area.
The area offers excellent walkability and is near many major thoroughfares such as Westheimer Road, Kirby Drive, and San Felipe Street. Royden Oaks has a Walkscore of 75 out of 100. Most errands can be accomplished on foot through the many businesses surrounding the neighborhood.
Some of these businesses include: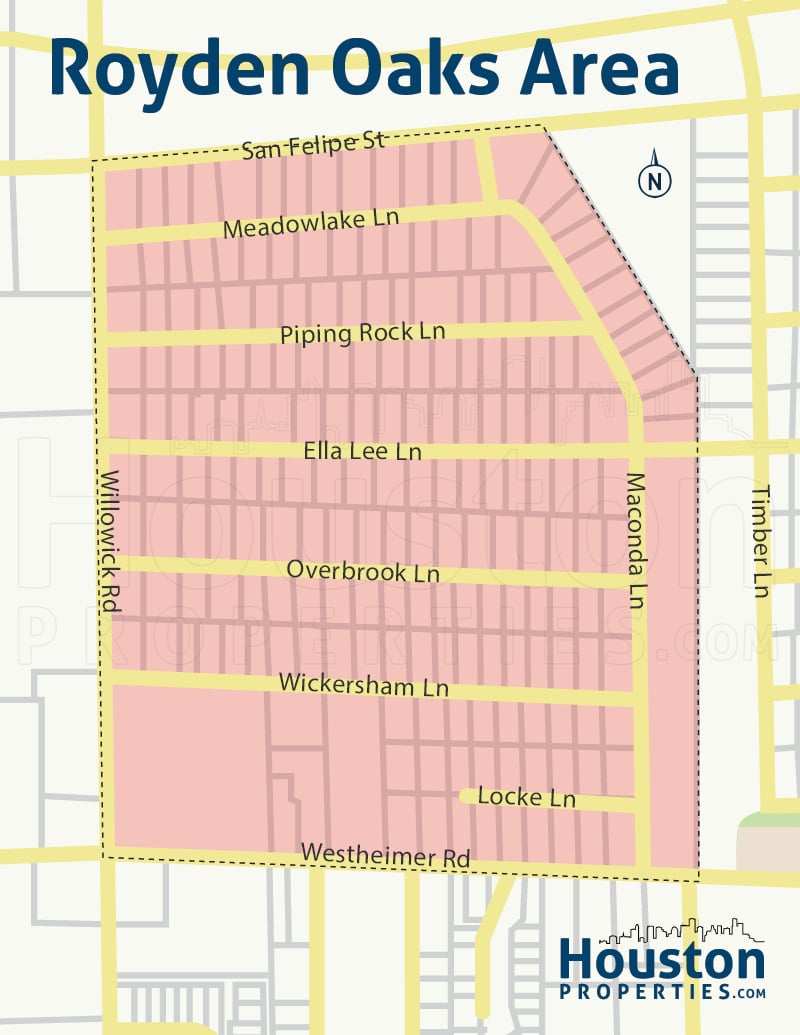 Restaurant
Ouisie's
Zoe's Kitchen
Kiran's
RA Sushi Bar
Whataburger
Frank's Americana
Nightlife
The Railyard
Capone's
L.A. Bar
Velvet Melvin Pub
Lizard's Pub
Shopping
South Swell Sports
Past Era Antique Jewelry
Alexandra Knight
Diamond Cutters International
Central Market
Entertainment
Edwards Theaters Greenway
Arader Galleries
Rienzi
The Beer Can House
River Oaks Theatre
Neighborhoods Near Royden Oaks
Neighborhoods near Royden Oaks Houston include:
Royden Oaks Houston History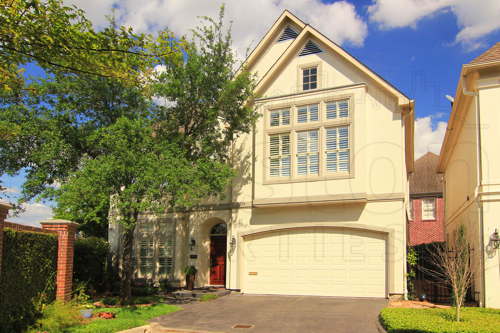 The neighborhood was developed by Frank Sharp, Houston's renowned real estate developer, in the 1940's. Homes back then were predominantly one-story ranch style homes.
The Royden Oaks Association of Property Owners was established on May 29, 1951. To this day, the HOA enforces stringent deed restrictions to maintain its small town atmosphere.
Royden Oaks have grown from a small patch of undeveloped land to a bustling yet peaceful neighborhood with luxury homes.
Royden Oaks Schools
The Houston Independent School District (HISD) runs the schools zoned to Royden Oaks. These public schools are some of the best in the city, and offer high-quality education comparable to the exemplary private schools nearby.
Elementary Schools
River Oaks Elementary School at 2008 Kirby Dr. River Oaks Elementary School has an accelerated multidisciplinary curriculum and is one of the first three elementary schools in Texas to acquire an authorization for the International Baccalaureate Primary Years Programme. It has a GreatSchools.org rating of 10/10.
Middle Schools
Lanier Middle School at 2600 Woodland. Sidney Lanier Middle School handles students from grades 6 to 8. They received a Texas Gold Performance Award based on language arts, math, reading, science, social studies, and writing in 2011. They also have a Vanguard program for gifted students. It has a GreatSchools.org rating of 10/10.
High Schools
Lamar High School at 3325 Westheimer Rd. Lamar High School has a great Athletics program. They have one of the oldest lacrosse programs in the state. Their football team, The Lamar Redskins, is one of the highest-ranking teams within the Greater Houston area. It has GreatSchools.org rating of 7/10.
Royden Oaks Private Schools
Much like River Oaks, students in the area mostly attend private schools nearby. Two of Houston's finest private schools are just a few minutes from Royden Oaks.
River Oaks Baptist School lies on the boundary of Royden Oaks along Willowick Rd. It is one of the premier independent, co-educational schools in Houston. Half of their faculty hold advanced degrees in their field and they boast of a low teacher to student ratio.
St. John's School at the corner of Claremont Lane and Buffalo Speedway is one of "America's Elite Prep Schools" according to Forbes.com and "the best private school in Houston" according to the New York Times.It has a GreatSchools.org community rating of 3/5 stars.
Other private schools in the area include:
The Childhood Center
St. Luke's Day School
Bethany Christian School
Children's Garden Montessori School
Houston Preparatory Academy
St. Anne Catholic School
St. Stephen's Episcopal School
To find an updated listing of all Royden Oaks real estate zoned to any specific public school, please email Paige Martin at [email protected] with the property type and budget that you're looking for.
*Note: school zoning can change from year to year, information above is deemed accurate, but not guaranteed. Please double check.
Royden Oaks Real Estate Trends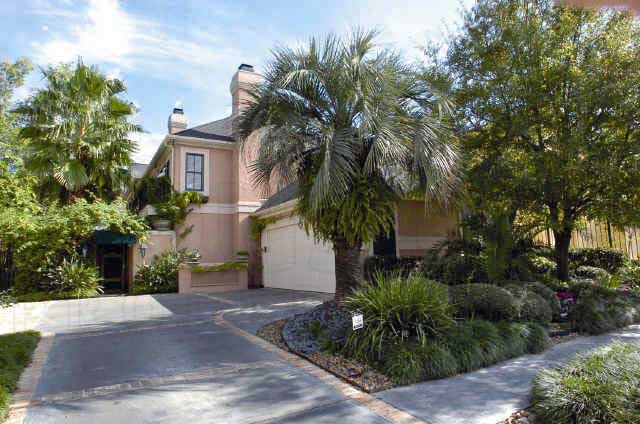 River Oaks is such a seamless neighborhood that many people mistake Royden Oaks homes as still a part of it.
With River Oaks being the most expensive Houston neighborhood, buying a property in Royden Oaks is comparable to having a River Oaks home, at a lower price point.
Home sizes range from 2,000 – 5,000 square feet and are at least 25 feet away from the front property line guaranteeing spacious front yards.
Posh new constructions have been changing the Royden Oaks real estate market for the past decade.
Despite being on relatively smaller lots, these new homes rival the grandeur of River Oaks homes for sale and easily sell for at least $1 million. More than a third of the older homes have already been replaced with stunning 2-story homes.
These two-story homes blend well with the majestic vintage homes on Ella Lee Lane, leading to River Oaks Houston. Recently renovated homes usually sell for around $700,000 to over $1,600,000.
Royden Oaks homes for sale are a mix of elegant ranch-style homes and new construction two-story residences. Home designs range from Mediterranean, French, Georgian, and contemporary architecture.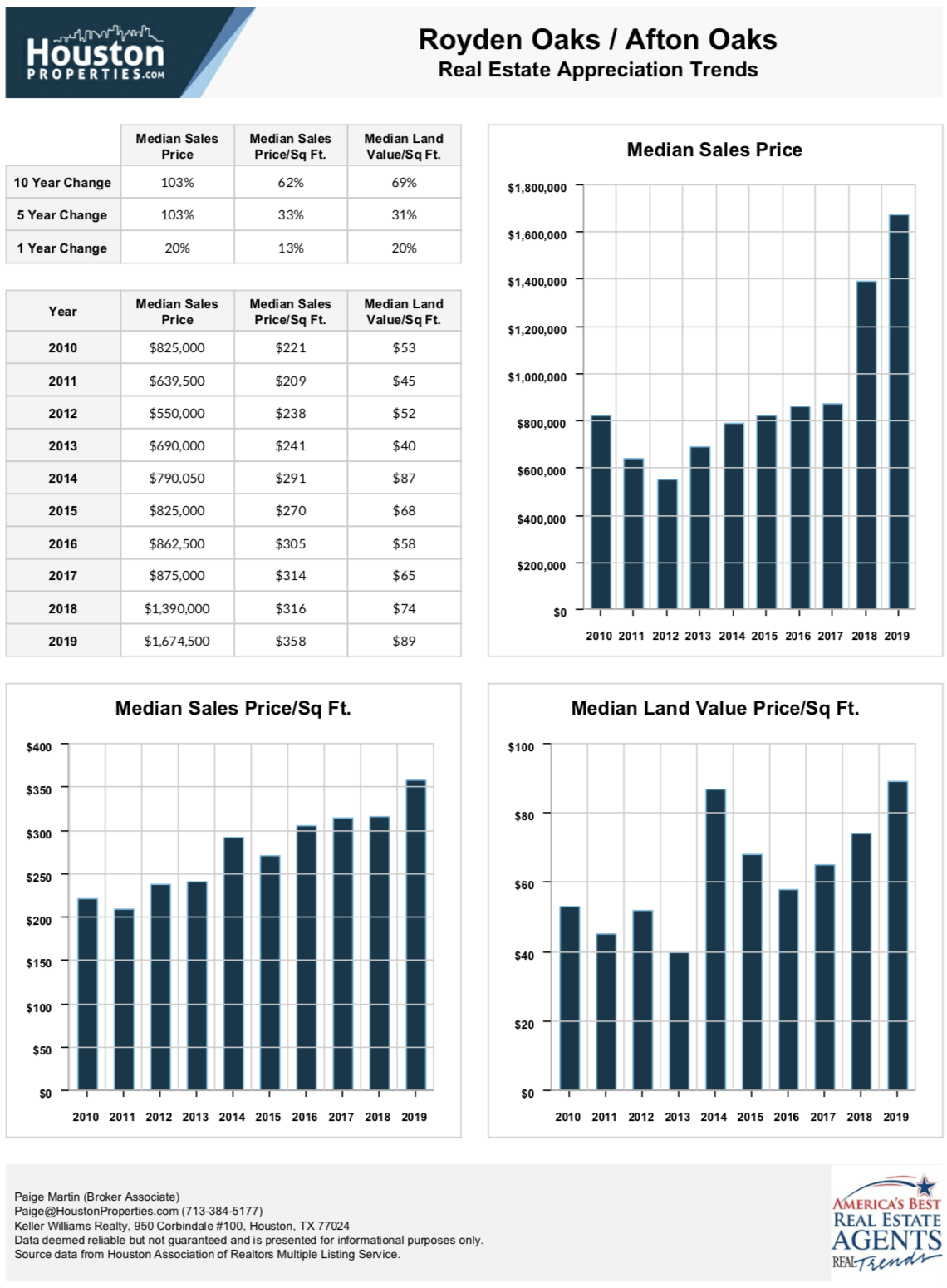 (Data sourced from the Houston Association of Realtors Multiple Listing Service and is deemed reliable but is not guaranteed).
For an updated Royden Oaks real estate pricing or trend analysis, please contact Paige Martin at [email protected].
Royden Oaks Single-Family Home Sale Trends
The median sales price of Royden Oaks single-family homes is around $1,500,000 with a median home size of about 3,000 square feet in size. The average number of bedrooms and baths is 3.3 and 2.9 respectively.
The appeal of Royden Oaks single-family homes for sale is due to its lower price point despite offering the same benefits as other Inner Loop neighborhoods with a small-town vibe.
Sizable new constructions cost a lot less compared to similar neighborhood such as West University and River Oaks.
Due to the low number of homes that get in the market, analyzing the Royden Oaks real estate trends won't get you a clear picture of its status. The only thing to note is, Royden Oaks homes are continually in demand and can fetch high asking prices depending on updates.
Royden Oaks Townhomes Sale Trends
There are no townhomes within the Royden Oaks subdivision which further increases the demand for housing.
There are however, many townhome options in nearby neighborhoods, especially towards the Galleria area such as Afton Oaks Oaks townhomes for sale.
Townhomes near Royden Oaks include:
Park St. John
River Oaks Townhomes
Raintree Place Townhomes
West Main Commons
West Lane Annex
Oakshire Landing
Riverhollow
Bancroft Square
Mid Lane Townhomes
Royden Oaks Condo Sale Trends
There are no Royden Oaks condos for sale either. The closest condo is Inwood Manor Condominium just on the borders of Royden Oaks and River Oaks along San Felipe. The Willowick is also on the west boundary, on the other side of Willowick Rd.
Other nearby condos in the area include:
Other condos near Royden Oaks are within the Inner Loop. To tour these condos, click on the links below: