Royden Oaks Houston Homes For Sale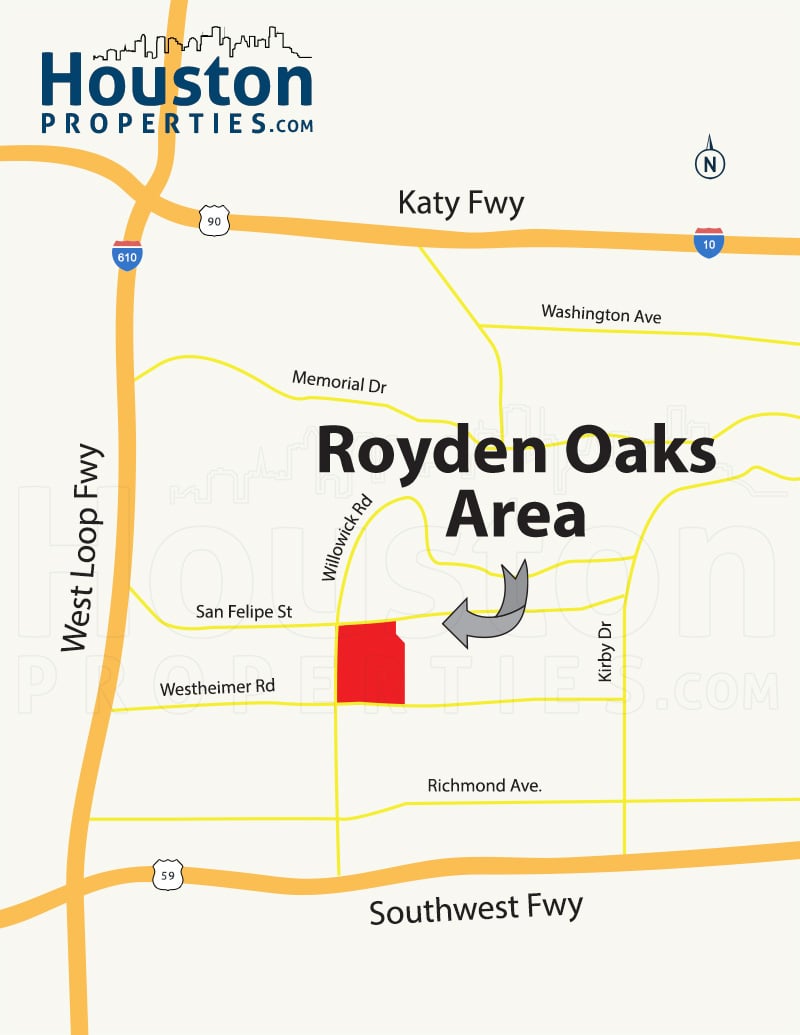 One of the 20 most expensive Houston neighborhoods, Royden Oaks is a small enclave of 200 homes next to the upscale River Oaks.
Homes for sale in Royden Oaks and nearby Oak Estates are great alternatives for homebuyers looking for more affordable options that offer the same Inner Loop convenience, but at a lesser price point.
The prestigious River Oaks area is such a seamless neighborhood that many people often mistake Royden Oaks homes as still part of it.
Still, Royden Oaks has a distinct character on its own. Royden Oaks Houston homes offers great accessibility to Houston's job districts and best shopping centers.
Residents also enjoy conveniences such as back-door trash pick up and 24-hour security, and excellent walkability and commute times.
Royden Oaks is a small and secluded community of just over 200 homes and the real estate inventory is often low.
The best homes often go out of the market fast and finding the best Royden Oaks Houston realtor who knows the neighborhood is very important.
For questions, advice, Royden Oaks real estate recommendations, or off-market MLS listings, contact Paige Martin, head of the Houston Properties Team and rated as the best Keller Williams Memorial realtor the last four years.
Royden Oaks Houston Resources:
For more information on available Royden Oaks homes for sale call Paige Martin at 713-425-4194 or email [email protected]
Royden Oaks Houston Neighborhood Guide
This upscale community lies north of Westheimer Road, south of San Felipe Road, east of Willowick Road, and west of Timber Lane.
Royden Oaks is one of the 20 most expensive neighborhoods in Houston. Homes in the area are very similar to River Oaks homes for sale, but typically on smaller lots. There's also more new constructions in Royden Oaks.
Royden Oaks homes are a great investment for those who want Inner Loop new constructions, without spending as much as it would compared to similar neighborhood such as West University and River Oaks.
The Royden Oaks Association of Property Owners enforces stringent deed restrictions to protect the integrity of the community, and keep its traditional neighborhood vibe.
Royden Oaks also has excellent access to the best shopping districts in Houston; Highland Village Shopping Center, River Oaks Shopping Center, and the world-famous The Galleria.
Royden Oaks homeowners enjoy close proximity to the West Loop Fwy and the Southwest Fwy, as well as many major thoroughfares such as Westheimer Road, Kirby Drive, and San Felipe Street.
Located within the Houston 77027 zip code, Royden Oaks offers easy access to the city's main districts. Downtown Houston is easily accessible through a 20-minute drive via the scenic Allen Pkwy. Uptown Houston and the Galleria are less than 10-mins away across the West Loop South.
Nearby zip codes include: 77046, 77098, 77019, 77007, 77024, 77056, and 77401. (View Houston zip code map)
Neighborhoods nearby include: Upper Kirby, River Oaks, Avalon Place, Oak Estates, Glendower Court, Lynn Park, West University Place, Bellaire, Tanglewood, Highland Village, Galleria, and Memorial Park.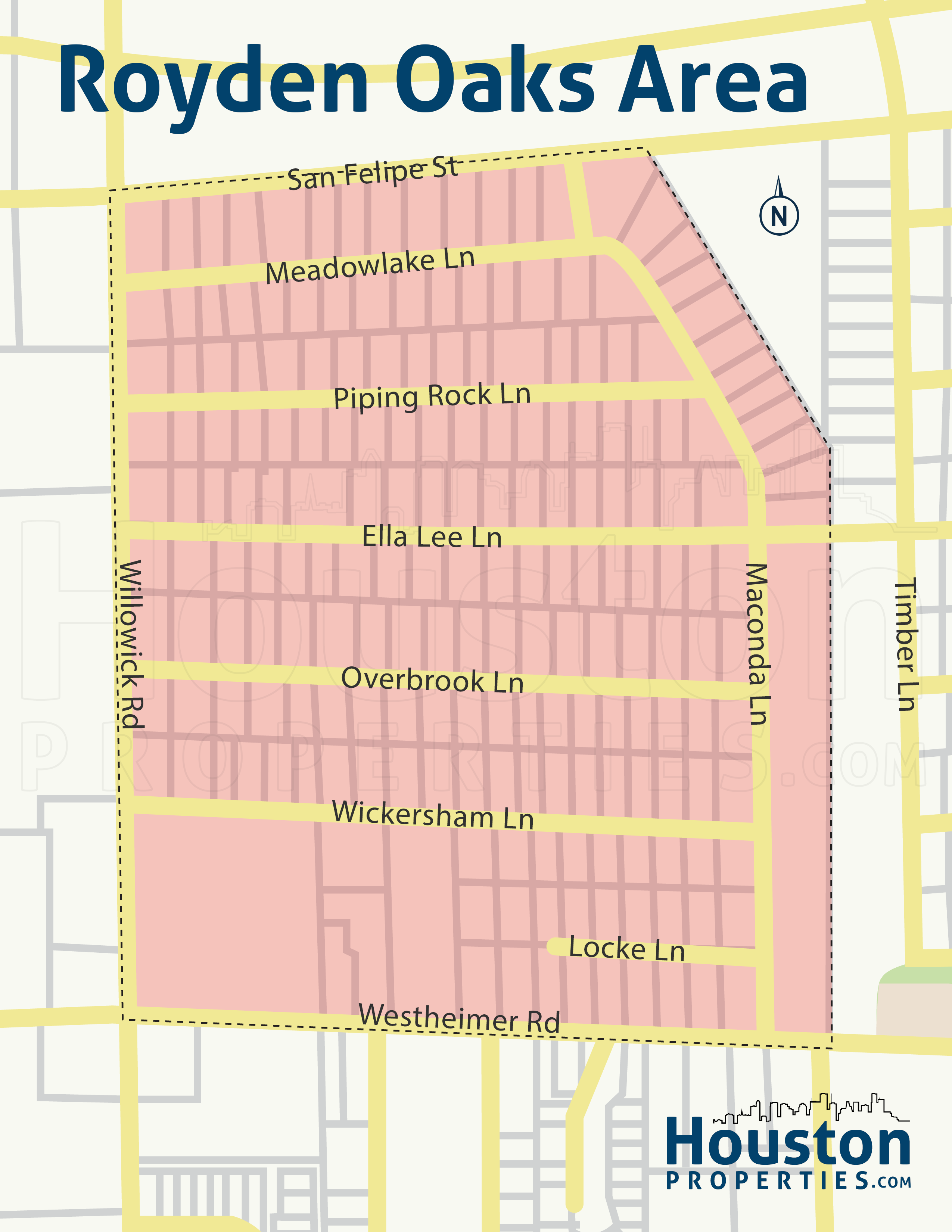 Royden Oaks Houston Schools
The Houston Independent School District (HISD) runs the schools zoned to Royden Oaks. These public schools are some of the best in the city, and offer high-quality education comparable to the exemplary private schools nearby.
Elementary Schools
River Oaks Elementary School at 2008 Kirby Dr. River Oaks Elementary School has an accelerated multidisciplinary curriculum and is one of the first three elementary schools in Texas to acquire an authorization for the International Baccalaureate Primary Years Programme. It has a GreatSchools.org rating of 10/10.
Middle Schools
Lanier Middle School at 2600 Woodland. Sidney Lanier Middle School handles students from grades 6 to 8. They received a Texas Gold Performance Award based on language arts, math, reading, science, social studies, and writing in 2011. They also have a Vanguard program for gifted students. It has a GreatSchools.org rating of 10/10.
High Schools
Lamar High School at 3325 Westheimer Rd. Lamar High School has a great Athletics program. They have one of the oldest lacrosse programs in the state. Their football team, The Lamar Redskins, is one of the highest-ranking teams within the Greater Houston area. It has GreatSchools.org rating of 7/10.
Royden Oaks Private Schools
Much like River Oaks, students in the area mostly attend private schools nearby. Two of Houston's finest private schools are just a few minutes from Royden Oaks.
River Oaks Baptist School lies on the boundary of Royden Oaks along Willowick Rd. It is one of the premier independent, co-educational schools in Houston. Half of their faculty hold advanced degrees in their field and they boast of a low teacher to student ratio.
St. John's School at the corner of Claremont Lane and Buffalo Speedway is one of "America's Elite Prep Schools" according to Forbes.com and "the best private school in Houston" according to the New York Times.It has a GreatSchools.org community rating of 3/5 stars.
Other private schools in the area include:
The Childhood Center
St. Luke's Day School
Bethany Christian School
Children's Garden Montessori School
Houston Preparatory Academy
St. Anne Catholic School
St. Stephen's Episcopal School
To find an updated listing of all Royden Oaks real estate zoned to any specific public school, please email Paige Martin at [email protected] with the property type and budget that you're looking for.
*Note: school zoning can change from year to year, information above is deemed accurate, but not guaranteed. Please double check.
Royden Oaks Houston Realtor – Paige Martin
As featured on Fox News in the Morning, the Houston Business Journal, Houston Chronicle, and Houston Magazine, Paige Martin – a consistent Top Producing Broker-Associate and head of the Houston Properties Team – is ranked amongst the very top Keller Williams agents in the Houston area.
Paige is ranked as one of the top realtors in Royden Oaks Houston, and the state of Texas. Read more about the over 65 awards she's won in the last few years.
Paige works with a tremendous number of buyers and sellers within the Inner Loop.
For a specific recommendation of neighborhoods, homes or properties based upon your personal style, goals & price point, please contact Paige Martin, head of the Houston Properties Team & Broker Associate at [email protected] or 713-425-4194.