Luxury Royden Oaks Homes For Sale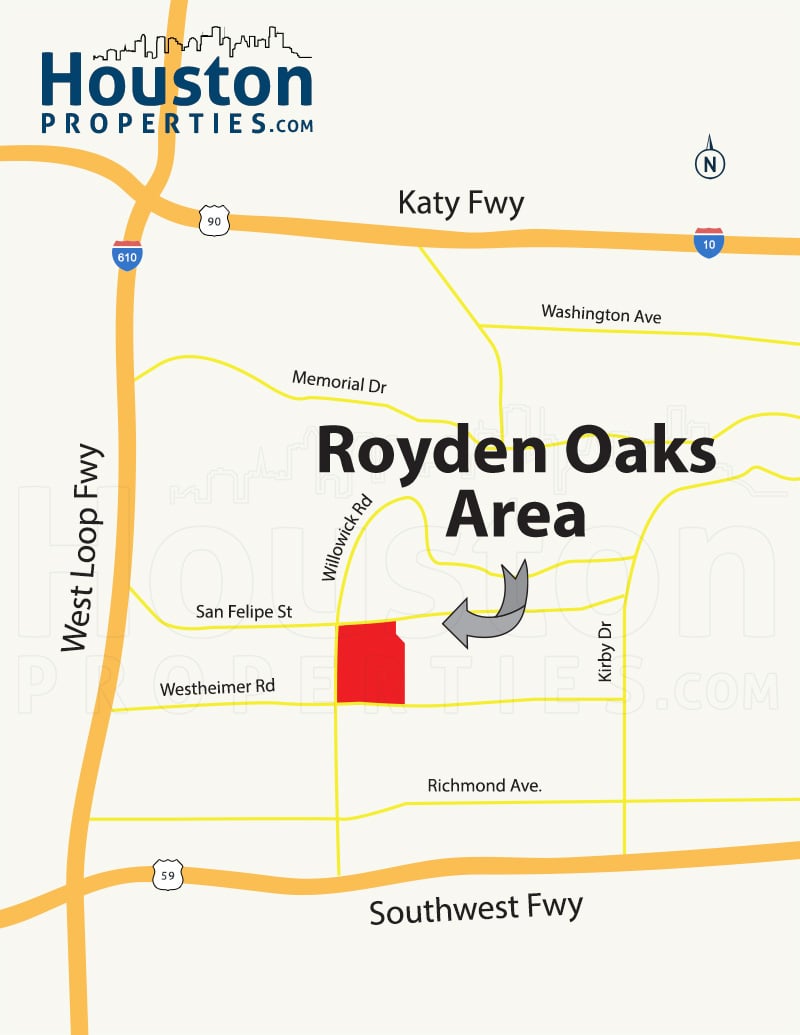 Royden Oaks subdivision is a small neighborhood within the vicinity of River Oaks. Royden Oaks has an ongoing trend of replacing older properties with new construction and newly remodeled homes.
River Oaks is such a seamless neighborhood that many people mistake Royden Oaks homes as still a part of it. Even the street lamps in the neighborhood are the same as those in River Oaks.
Still, Royden Oaks has an identity on its own. Its small-town feel and "close-knit" neighborhood vibe are just some of the reasons it is one of the 20 most expensive neighborhoods in Houston.
It is the best neighborhood outside of River Oaks for the following reasons:
Quiet ambience: The neighborhood is near enough West Loop and Southwest Freeways but is secluded enough to not be affected by the noise and heavy traffic.
Stunning views: Crape myrtles lining Willowick bloom every summer, adding shades of pink, red, and lavender to the lush greenery.
Established community: An active civic club enforces strict deed-restrictions, back-door trash pick up, 24-hour security, and maintains the beautiful esplanades.
Best shopping options: It has excellent access to the best shopping districts in Houston; Highland Village Shopping Center, River Oaks Shopping Center, and the world-famous The Galleria.
High-value properties: Royden Oaks are always in high demand. Its land value has increased by 200% in the past decade.
Due to its small size and often low inventory, finding the best Royden Oaks Houston realtor familiar with the area is crucial to securing your Royden Oaks home.
For questions, advice, Royden Oaks real estate recommendations, or off-market MLS listings, contact Paige Martin, head of the Houston Properties Team and rated as the best Keller Williams Memorial realtor the last four years.
Royden Oaks Houston Resources:
For more information on available Luxury Royden Oaks homes for sale call Paige Martin at 713-425-4194 or email [email protected]
Guide To Luxury Royden Oaks Homes For Sale
Just over 67 acres, Royden Oaks Houston lies directly west of the extravagant River Oaks. This upscale community lies north of Westheimer Road, south of San Felipe Road, east of Willowick Road, and west of Timber Lane.
It's hard not to compare Royden Oaks to neighboring River Oaks homes for sale. They both offer the same Inner Loop convenience and luxurious lifestyle.
However, Royden Oaks homes typically have smaller lots. Royden Oaks homes for sale make great use of their space, and have substantially lower price tags.
There are also more new constructions in Royden Oaks. More than a third of the older homes have already been replaced with stunning 2-story homes.
Royden Oaks homes for sale are a mix of elegant ranch-style homes and new construction two-story residences. Home designs range from Mediterranean, French, Georgian, and contemporary architecture
There are plenty of healthcare and medical specialist centers near Royden Oaks. The River Oaks Emergency Center is just 5 minutes away on South Shepherd. The neighborhood also has access to the best retail destinations in Houston.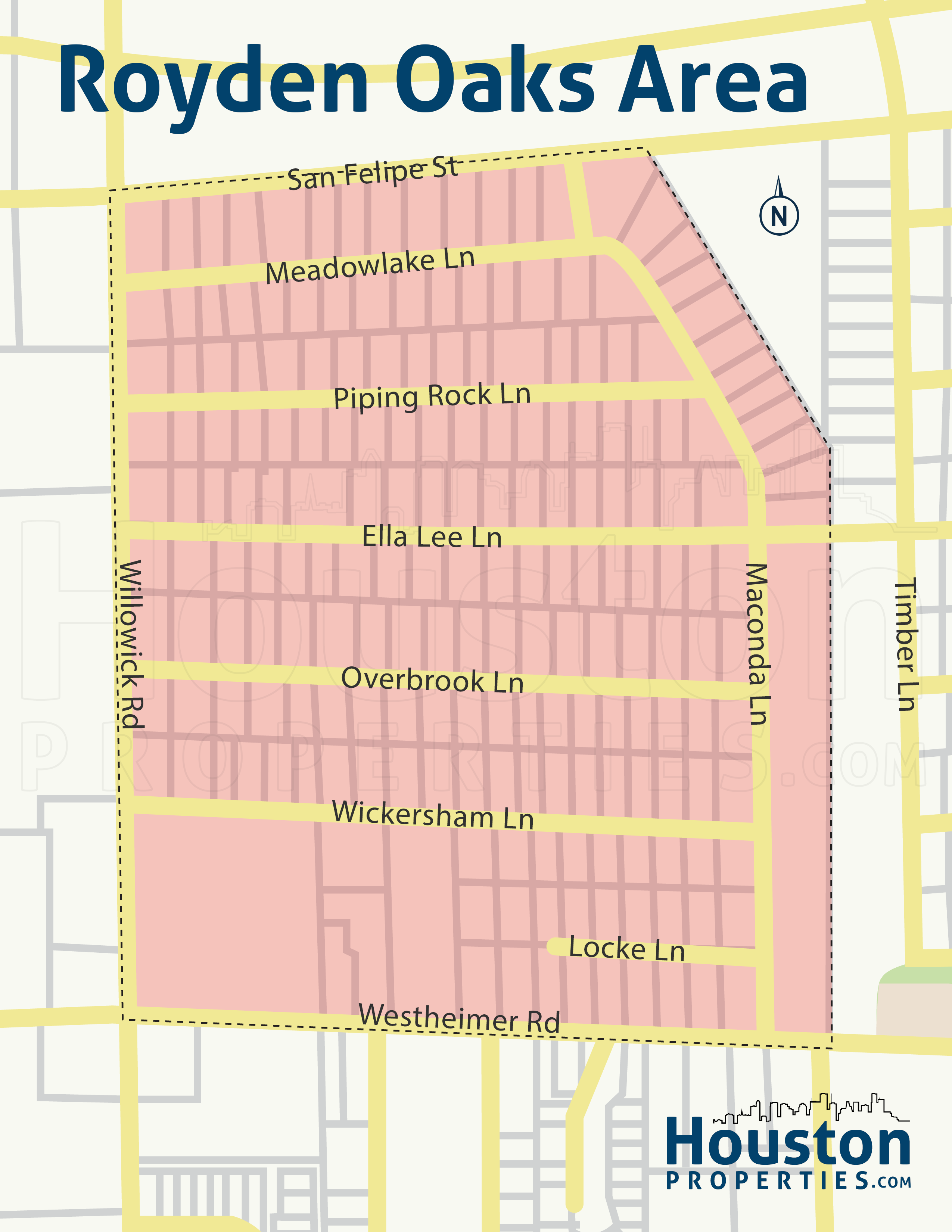 Fun Things To Do In Royden Oaks
The Royden Oaks HOA only allows properties to be used for residential purposes. While there is a lack of businesses within the neighborhood itself, it has easy access to the favorite shopping centers of Houston and its seemingly endless array of shopping, entertainment, and dining options.
Highland Village Shopping Center is just a few blocks away along Westheimer Road. For over 50 years, it has been one of Houston's most distinctive and appealing retail venues.
A 5-minute drive to the west along Westheimer will bring you to the world-famous The Galleria. It's the largest mall in the state of Texas and houses over 375 stores.
The mixed-use development Greenway Plaza is also just 5 minutes away along US Hwy 59, right next to the Lakewood Church.
The River Oaks Shopping Center at West Gray and S.Shepherd has 76 stores, 14 restaurants, a theater, and a grocery store. With all these choices, you'll never run out of retail options near Royden Oaks.
For those who wish to be closer to nature, the River Oaks Park is just outside the neighborhood near the corner of Westheimer and Timber Ln. The park offers a playground, a hike and bike trail, tennis courts, a basketball court, and a sports field.
Although the terrain is flat, there are minimal bike lanes within Royden Oaks. For public transportation options, there are buses plying Westheimer Road and Wesleyan Street towards the Greenway area.
The area offers excellent walkability and is near many major thoroughfares such as Westheimer Road, Kirby Drive, and San Felipe Street. Royden Oaks has a Walkscore of 75 out of 100. Most errands can be accomplished on foot through the many businesses surrounding the neighborhood.
Some of these businesses include:
Restaurant
Ouisie's
Zoe's Kitchen
Kiran's
RA Sushi Bar
Whataburger
Frank's Americana
Nightlife
The Railyard
Capone's
L.A. Bar
Velvet Melvin Pub
Lizard's Pub
Shopping
South Swell Sports
Past Era Antique Jewelry
Alexandra Knight
Diamond Cutters International
Central Market
Entertainment
Edwards Theaters Greenway
Arader Galleries
Rienzi
The Beer Can House
River Oaks Theatre
Royden Oaks Houston Realtor – Paige Martin
As featured on Fox News in the Morning, the Houston Business Journal, Houston Chronicle, and Houston Magazine, Paige Martin – a consistent Top Producing Broker-Associate and head of the Houston Properties Team – is ranked amongst the very top Keller Williams agents in the Houston area.
Paige is ranked as one of the top realtors in Royden Oaks Houston, and the state of Texas. Read more about the over 65 awards she's won in the last few years.
Paige works with a tremendous number of buyers and sellers within the Inner Loop.
For a specific recommendation of neighborhoods, homes or properties based upon your personal style, goals & price point, please contact Paige Martin, head of the Houston Properties Team & Broker Associate at [email protected] or 713-425-4194.