Royden Oaks Houston is a luxury neighborhood with approximately 200 homes directly west of River Oaks, and is considered one of the 20 most exclusive neighborhoods in the city of Houston.
Royden Oaks sits within the Interstate 610 loop, bordered to the south by Westheimer Road, San Felipe Road to the north, Willowick Road to the west, and Timber Lane to the east.
Royden Oaks Houston Resources:
Two New Royden Oaks Houston Neighborhood Maps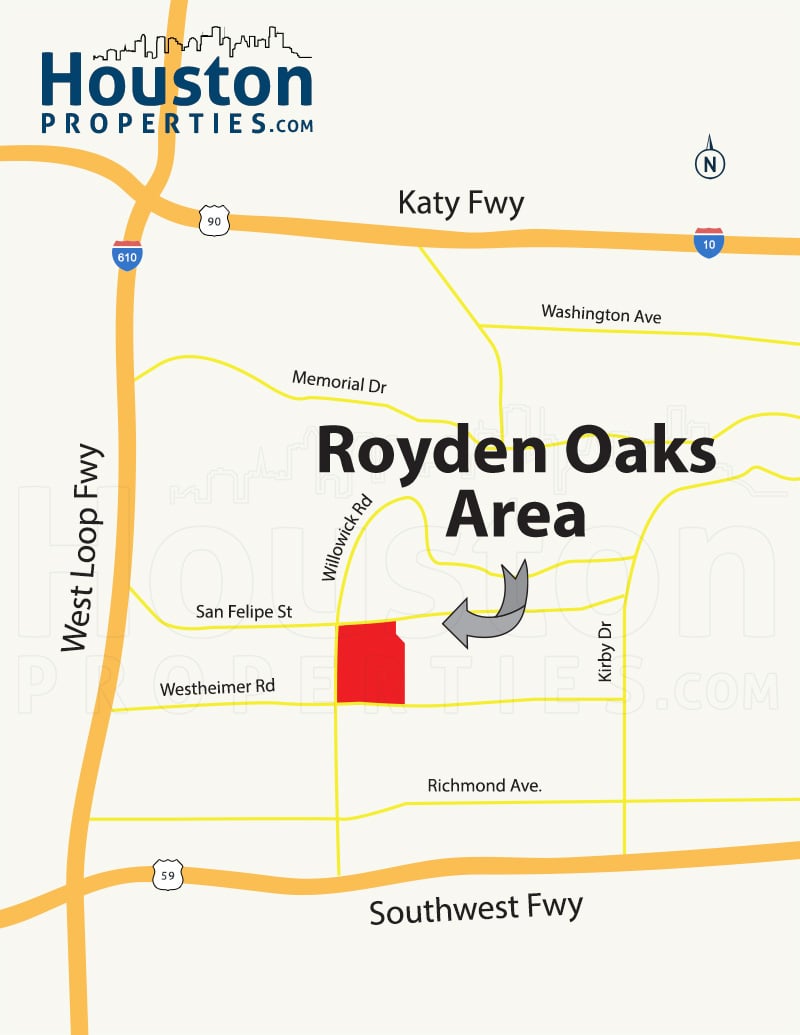 Royden Oaks Maps: Neighborhood
The exclusive Royden Oaks neighborhood features tall and mature trees that line the roads filled with hedges designed to emanate a classic American neighborhood vibe. It's a personal oasis for residents because of the lush greenery throughout the neighborhood.
Similar to Houston's most affluent neighborhoods, developers renovated many of Royden Oaks homes and replaced them with newer and larger properties.
Royden Oaks homes for sale are a mix of elegant ranch-style homes and new construction two-story residences. Home designs range from Mediterranean, French, Georgian, and contemporary architecture.
The Royden Oaks Association of Property Owners enforces stringent deed restrictions to maintain its small town atmosphere.
Royden Oaks boasts of an Inner Loop location. The neighborhood is near Galleria, Downtown Houston, River Oaks, Glendower Court, Memorial Park, and Highland Village.
The community is especially attractive to families due to its peaceful neighborhood. It also offers a lower median home price compared to neighboring River Oaks homes.
Royden Oaks is a few minutes to and from Highland Village Shopping Center and its outstanding shops and restaurants. For more shopping and dining options, The Galleria and the River Oaks Shopping Center are just around 15 to 20 minutes away.
The neighborhood is also near two of Houston's finest private schools, St. John's and River Oaks Baptist School.
The median list price of Royden Oaks homes is around $1,300,000 with a median home size about 3,000 square feet in square size. The average number of bedrooms and baths is 3.3 and 2.9 respectively.
Royden Oaks is within the zip code 77027.
Royden Oaks offers the convenience of living near the city's business district, with the charm and safety of a suburban community.