Royden Oaks Homes For Sale Under $1M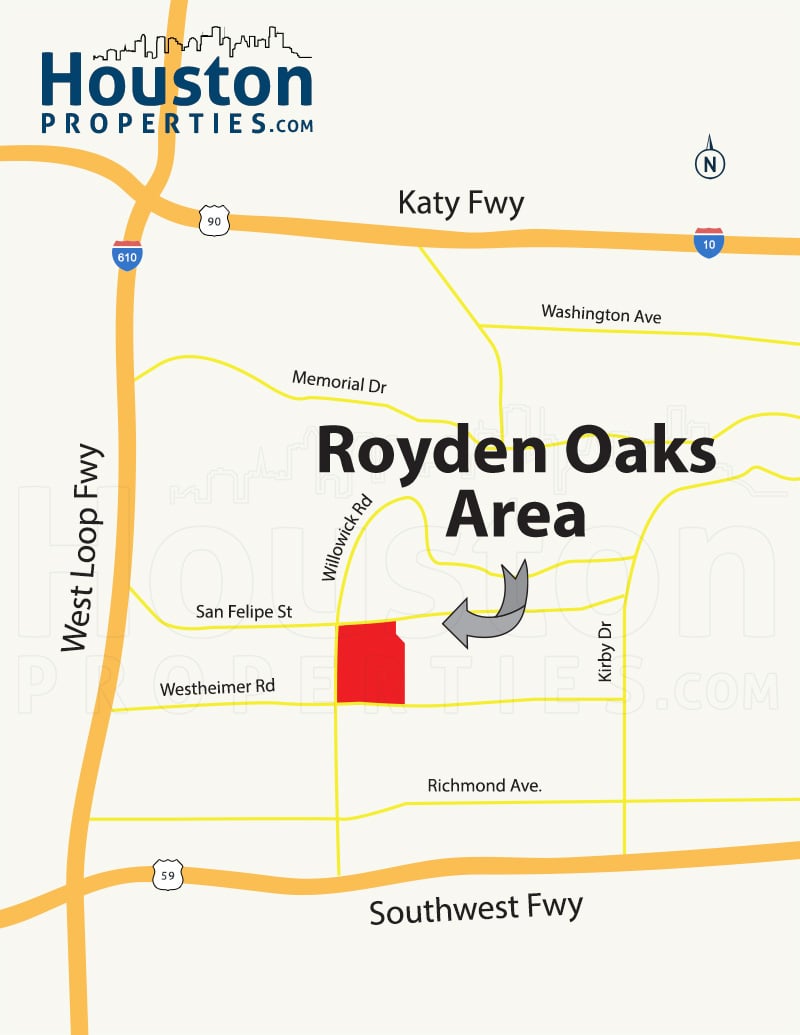 The exclusive Inner Loop neighborhood of Royden Oaks is one of the most expensive neighborhoods in Houston. Royden Oaks mirrors the grand oaks and beautiful homes of the prestigious River Oaks just east of it.
Royden Oaks Houston's small-town feel attract homebuyers to the neighborhood. Aside from this, Royden Oaks offers its residents:
STUNNING VIEWS: Crape myrtles lining Willowick bloom every summer, adding shades of pink, red, and lavender to the lush greenery.
SIMILARITY WITH RIVER OAKS: Aside from often being mistaken as part of River Oaks, Royden Oaks homes are very similar to River Oaks properties but at a lesser price.
GREAT LOCATION: This Inner Loop neighborhood is within the geographic center of Houston, making it one of the most accessible Houston neighborhoods.
SHOPPING: It has excellent access to the best shopping districts in Houston; Highland Village Shopping Center, River Oaks Shopping Center, and the world-famous The Galleria.
Located within the Houston 77027 zip code, Royden Oaks offers easy access to the city's main districts. Downtown Houston is easily accessible through a 20-minute drive via the scenic Allen Pkwy. Uptown Houston and the Galleria are less than 10-mins away across the West Loop South.
The Inner Loop convenience that Royden Oaks provides along with the constant low inventory makes the Royden Oaks real estate market a very competitive arena for home buyers.
Working with the best Royden Oaks Houston realtor with a long track record of success in the area, has knowledge of non-MLS inventory, and understands your needs will help you find your dream Royden Oaks home.
Royden Oaks Houston Resources:
NOTE: Royden Oaks homes are among the fastest selling real estate in Houston. Some of the properties are off-market (not publicly listed). For more information on available Royden Oaks Houston homes for sale call Paige Martin at 713-425-4194 or email [email protected]
Guide To Royden Oaks Houston Homes For Sale Under $1M
At just over 67 acres, Royden Oaks Houston lies directly west of the extravagant River Oaks. This upscale community lies north of Westheimer Road, south of San Felipe Road, east of Willowick Road, and west of Timber Lane.
Travelling to other Houston districts is made easy with both the West Loop Fwy and Southwest Fwy being just 5 minutes away. For public transportation options, there are buses plying Westheimer Road and Wesleyan Street towards the Greenway area.
The Royden Oaks HOA only allow construction for residential purposes. While there is a lack of businesses within the neighborhood itself, it has easy access to the favorite shopping centers of Houston and its seemingly endless array of shopping, entertainment, and dining options.
The area offers excellent accessibility and is near many major thoroughfares such as Westheimer Road, Kirby Drive, and San Felipe Street. Royden Oaks has a Walkscore of 75 out of 100 making it one of the most accessible neighborhood in Houston.
River Oaks is such a seamless neighborhood that many people mistake Royden Oaks homes as still a part of it. Despite being on relatively smaller lots, these new homes rival the grandeur of River Oaks homes for sale and easily sell for at least $1 million.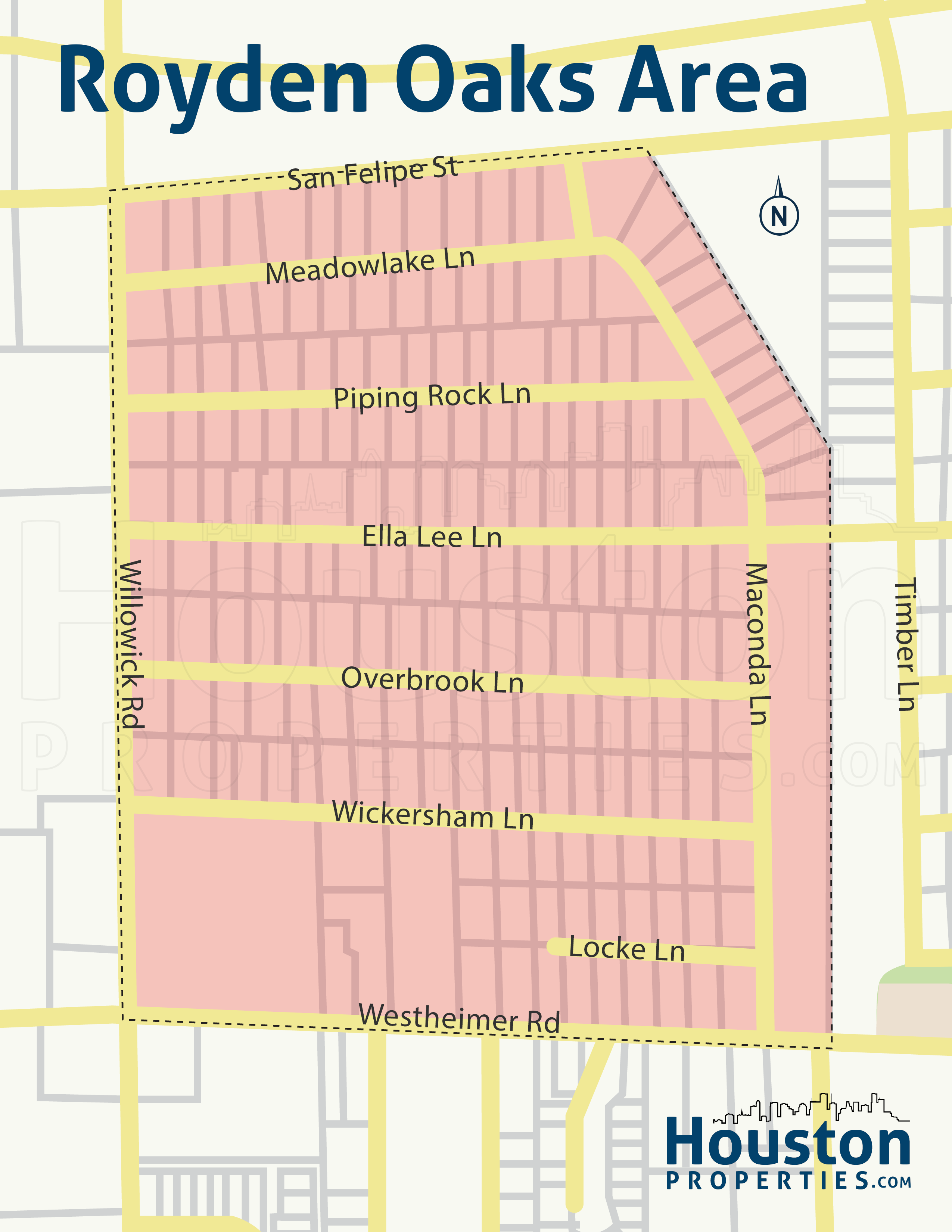 Royden Oaks Houston: Schools Information
The Houston Independent School District (HISD) runs the schools zoned to Royden Oaks. These public schools are some of the best in the city, and offer high-quality education comparable to the exemplary private schools nearby. Elementary Schools
River Oaks Elementary School at 2008 Kirby Dr. River Oaks Elementary School has an accelerated multidisciplinary curriculum and is one of the first three elementary schools in Texas to acquire an authorization for the International Baccalaureate Primary Years Programme. It has a GreatSchools.org rating of 10/10.
Middle Schools
Lanier Middle School at 2600 Woodland. Sidney Lanier Middle School handles students from grades 6 to 8. They received a Texas Gold Performance Award based on language arts, math, reading, science, social studies, and writing in 2011. They also have a Vanguard program for gifted students. It has a GreatSchools.org rating of 10/10.
High Schools
Lamar High School at 3325 Westheimer Rd. Lamar High School has a great Athletics program. They have one of the oldest lacrosse programs in the state. Their football team, The Lamar Redskins, is one of the highest-ranking teams within the Greater Houston area. It has GreatSchools.org rating of 7/10.
Royden Oaks Private Schools
Much like River Oaks, students in the area mostly attend private schools nearby. Two of Houston's finest private schools are just a few minutes from Royden Oaks.
River Oaks Baptist School lies on the boundary of Royden Oaks along Willowick Rd. It is one of the premier independent, co-educational schools in Houston. Half of their faculty hold advanced degrees in their field and they boast of a low teacher to student ratio.
St. John's School at the corner of Claremont Lane and Buffalo Speedway is one of "America's Elite Prep Schools" according to Forbes.com and "the best private school in Houston" according to the New York Times. It has a GreatSchools.org community rating of 3/5 stars.
Other private schools in the area include:
The Childhood Center
St. Luke's Day School
Bethany Christian School
Children's Garden Montessori School
Houston Preparatory Academy
St. Anne Catholic School
St. Stephen's Episcopal School
To find an updated listing of all Royden Oaks real estate zoned to any specific public school, please email Paige Martin at [email protected] with the property type and budget that you're looking for.
*Note: school zoning can change from year to year, information above is deemed accurate, but not guaranteed. Please double check.
Royden Oaks Houston Realtor – Paige Martin
As featured on Fox News in the Morning, the Houston Business Journal, Houston Chronicle, and Houston Magazine, Paige Martin – a consistent Top Producing Broker-Associate and head of the Houston Properties Team – is ranked amongst the very top Keller Williams agents in the Houston area.
Paige is ranked as one of the top realtors in Royden Oaks Houston, and the state of Texas. Read more about the over 65 awards she's won in the last few years.
Paige works with a tremendous number of buyers and sellers within the Inner Loop. For a specific recommendation of neighborhoods, homes or properties based upon your personal style, goals & price point, please contact Paige Martin, head of the Houston Properties Team & Broker Associate at [email protected] or 713-425-4194.