Sienna Area Real Estate Guide
Sienna Area homes for sale & insider real estate guide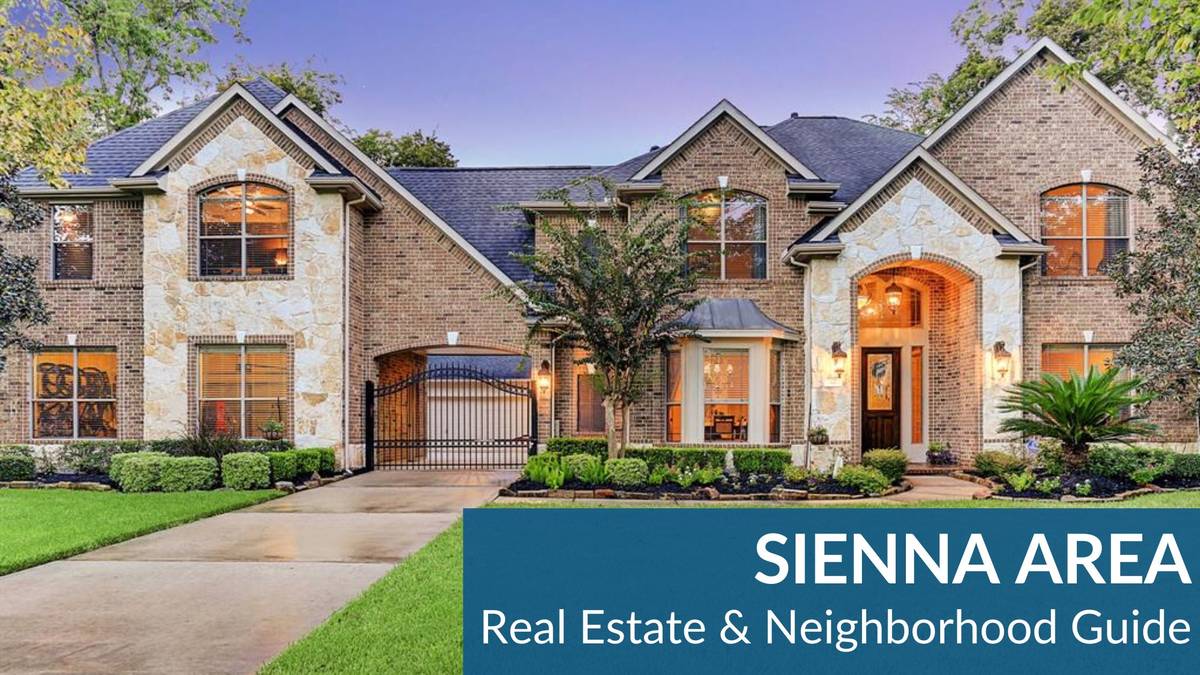 Sienna Area is a residential neighborhood in Fort Bend County, near State Highway 288. It is located in Fort Bend County. Its close location to major employment centers and excellent schools makes it a popular destination for families and young professionals.
Sienna Area is popular thanks to its:
ACCESSIBILITY: Major highways are accessible to Sienna Area. It is easily accessible from Highway 6, Highway 288, and the Sam Houston Tollway. Downtown Houston and the Energy Corridor are 35 minutes away.

FACILITY HIGHLIGHTS: Sienna Golf Club has a golf course with 18 holes, a fitness center, and a library. Residents can also enjoy Camp Sienna. This sports complex offers a variety of youth sports leagues, as well as adult leagues for soccer and softball. The complex also has 1.5 miles of trails, a playground, and a pavilion.

TOP-RANKED SCHOOLS: Sienna Area homes are zoned to the Fort Bend Independent School District (FBISD). FBISD is one of the largest districts in Texas. The neighborhood boasts some of the top-ranked schools in the region.

COMMUNITY ASSOCIATIONS: The many associations in the neighborhood make up the Sienna Associations. The Sienna Associations protect and maintain common areas. They also enforce deed restrictions. The associations also host a variety of events throughout the year, such as festivals, concerts, and community service projects.

SHOPPING AND DINING OPTIONS: There are many popular shopping and dining options in Sienna Area. A few of the favorites are the shops and pavilion at Sienna shopping center, Sienna Wings, and Sienna Grill.

WIDE VARIETY OF HOME OPTIONS: Sienna homes have large yards and practical amenities that fit different tastes and ways of living. This open floor plan creates a sense of spaciousness. Sienna Area's home options include homes and townhomes.

TRANSPORTATION: Sienna is easily accessible by car via the Westpark Tollway, the Hardy Toll Road, and the Katy Freeway. The community is also served by public transportation, including the METRO bus system and the METRORail light rail system.
Buying properties in the Sienna Area can be challenging. There is a lot of competition for homes, which can drive up prices. Homes often sell within days of being listed, and buyers need to be prepared to act quickly if they see a home they like. Homebuyers may feel overwhelmed with the process. It is advisable to seek help from an experienced realtor in the Sienna Area community.
To get personal advice on buying or selling in the Sienna Area, contact Paige Martin, one of Houston's best realtors and one of the top-ranked Realtors in the United States.
"This team went above and beyond my expectations. From the beginning, Shannon and her team treated me and my family with such kindness knowing how difficult selling my family home would be after the loss of my mother. Even while I was away Shannon took charge of the entire process and got me top dollar! The icing on the cake is that I made a lifelong friend!" - Susan Sprawls (Google Review)
---
Table of Contents
---
Sienna Area Home Sale Trends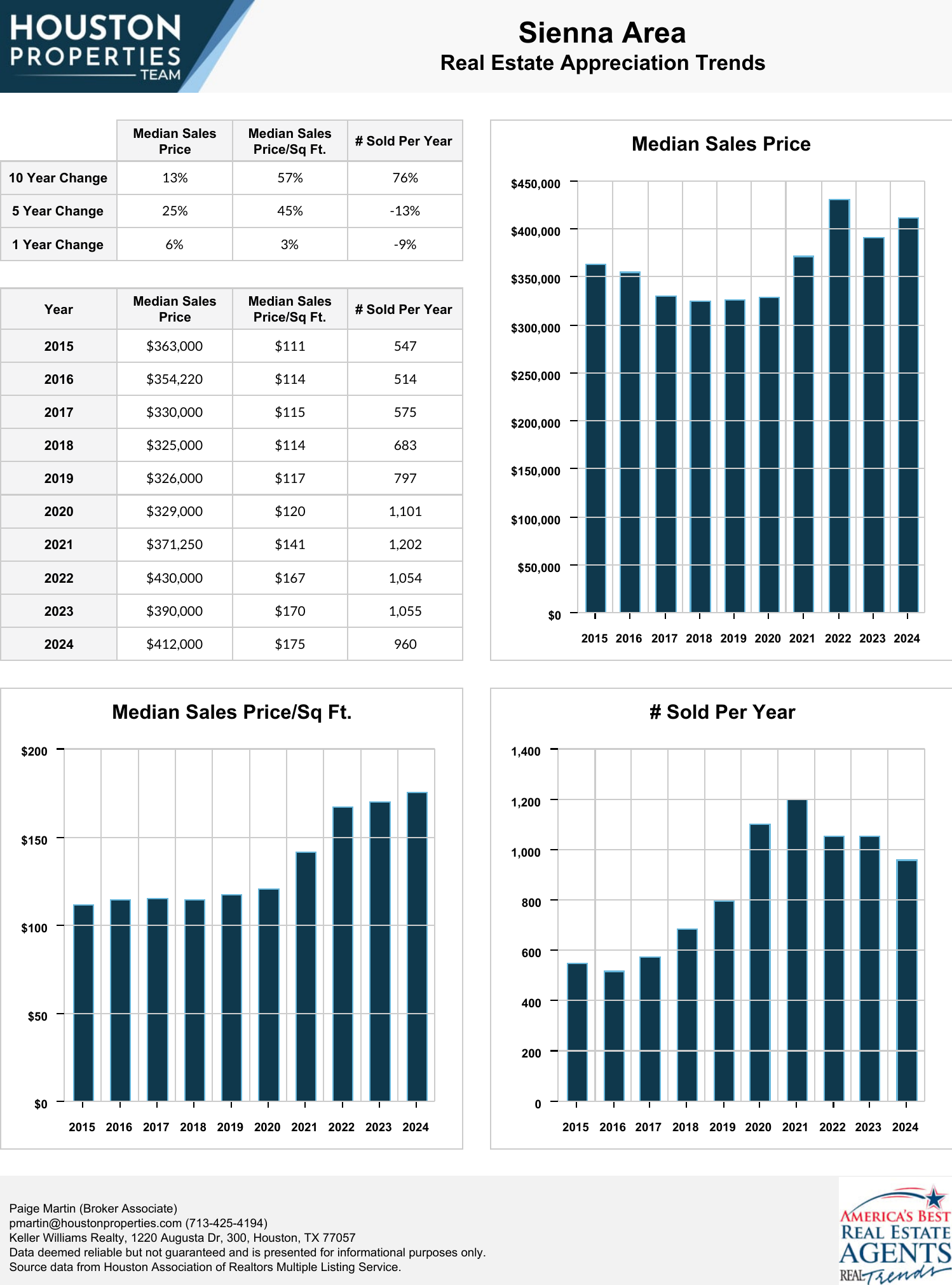 Sienna Area is a 10,000-acre community located on major highways and freeways. It is near State Highway 288 and the Sam Houston Tollway Beltway 8.
The Sienna Area is popular for a variety of reasons, such as:
VAST RECREATION OPTIONS: Residents can enjoy the 18-hole championship golf course of Sienna Golf Club. There is also the Brushy Lake Recreation Area, known for its fitness center and lake views. Other notable recreational areas are Sienna Stables and the Sienna Branch Library.

EXCELLENT SPORTS AMENITIES: The Sienna Area has well-thought-out amenities. This includes water parks, pools, tennis courts, playgrounds, and a lakeside amphitheater. There is also the 160-acre sports complex known as Camp Sienna.

HOME TO TOP-RANKED SCHOOLS: Sienna Area is zoned to the Fort Bend Independent School District (FBISD). It is known for its top-ranked schools. Some of its best schools are Sienna Crossing Elementary, Billy Baines Middle, and Ridge Point High School.
Sienna Area is a lively community with a variety of home options in its master-planned setting. Residents have access to amenities that foster an active lifestyle.
---
Sienna Area Best Realtor Insights
Sienna Area is one of the best golf course communities outside Beltway 8. It is located near two of Houston's best suburbs, Downtown Houston and The Galleria.
Sienna offers a range of amenities within its master-planned community. It has water parks, pools, tennis courts, playgrounds, and a lakeside amphitheater. Sienna Springs Resort Pool and Camp Sienna are the area's popular community hubs.

Fort Bend County is among the top ten counties for numeric growth. It is where Sienna is located and is also one of the wealthiest counties in Texas. It has the highest number of master-planned communities in the state.

Reputable home builders offer options in the Sienna Area. Newmark Homes, Perry Homes, and Toll Brothers are among the notable builders. From patio homes to large estate-style homes, buyers can find a match to their preferences and budgets.

Sienna has two neighborhood associations, the Sienna Residential Association (SRA) and the Sienna Community Association (SCA). These organizations make sure the residents follow the community guidelines. They play a crucial role in keeping things organized in the area.

Sienna is part of the Fort Bend Independent School District. All schools serving the area are located within the community's borders. Residents enjoy the convenience of having schools nearby.

Sienna Area was created by Johnson Development. They also developed Cross Creek Ranch, Fall Creek, and Tuscan Lakes. Buyers are ensured of the developer's track record of creating exceptional communities.

Most of the homes in Sienna are either new or recently constructed, offering buyers the advantage of modern designs and amenities. Yet, some homes from the late 1990s are also available in the area.

Homebuyers can find a variety of home styles in Sienna, ranging from 3 to 4 bedrooms with over 1,500 to 4,000 square feet of living space. Lot sizes and architectural styles vary, providing options to suit different preferences.

For those seeking luxury properties, Sienna offers some of the area's most expensive real estate options. These high-end homes can feature 7 bedrooms or more, with over 7,500 square feet of living space.

Prices for homes in Sienna start around $170,000, making it accessible to a range of budgets. However, the area also offers luxury properties that can sell for over $1,000,000, catering to those seeking upscale living.
---
Sienna Area Maps, Location & Zip Code
| Commute Time | Sienna Area |
| --- | --- |
| Downtown (min) | 35 |
| Med Ctr (min) | 30 |
| Energy Corridor (min) | 35 |
| Galleria (min) | 30 |
Highlights
Sienna Area
Amenities
The Sienna Area offers a wealth of amenities for its residents.

The area has parks, playgrounds, pools, sports fields, and beautiful walking trails.

The community provides amenities like golf courses, fitness centers, clubhouses, and community events to enjoy.
Golf Courses
- Sienna Golf Club & Grille
Run / Bike Trails
- Camp Sienna (Bike Trail)
- Sienna (Brazos River) Park
- Northwinds Park
- Wishing Trail Park
- Camp Sienna
- Future Trailhead: Sienna Oaks Greenway
Nearby Retail / Dining
Retail Shops:

- Forever Finer Designs
- Tilted Lotus
- Princesses and Tykes
- Get Into It Athleisure Apparel
- SuiteBaby
- RainGlo
- Sienna Market & Deli
- The Posh
- Shop London Lane

Dining:

- Pizza Inn
- Burrell's Smoke Mobile BBQ & Catering
- Mariscos Armenta
- Subway
- Wingstop
- El Regio Mexican Grill & Bar
- Texanada BBQ
- Crawfish & Pho
- Sushi Monster

Nightlife/Entertainment:

- Lou's Back Porch Bar
- Bar Sevyn
- BAR KADA
- MoCity Grill
- J P Mc Nasty's

Groceries:

- Harvest Market Sienna
- Sienna Market & Deli
- Regio's Meat Market
- Fresno Food Market
- Kroger
- Walmart Supercenter
Major Employers
- Texas Children's Hospital
---
Sienna Area Schools
| Top Elementary Schools | Great Schools Ranking |
| --- | --- |
| Scanlan Oaks Elem | 8 |
| Sienna Crossing Elem | 9 |
| Top Middle Schools | Great Schools Ranking |
| --- | --- |
| Baines Middle | 7 |
Sienna Area homes are zoned to the Fort Bend Independent School District (FBISD).
The listed schools have clear boundaries and high-performance ratings from GreatSchools.org.
---
Elementary Schools
---
Sienna Crossing Elementary School at 10011 Steep Bank Tr. Sienna Crossing Elementary was the first school in the Sienna Area. The school is home to The Navigators. The school focuses on providing a strong foundation in core subjects. They offer enrichment programs like art, music, and technology.

Scanlan Oaks Elementary School at 9000 Camp Sienna Trl. Scanlan Oaks Elementary opened in 2004. It was named after Thomas Scanlan, a former mayor of Houston. The school focuses on providing well-rounded learning experiences and character development.

Donald Leonetti Elementary School at 1757 Waters Lake Blvd. The school provides an education program from Pre-K to 5th grade. DLES strives for a caring learning environment, academic excellence, and good character. The school offers a range of activities for their students' success.
---
Middle Schools
---
Billy Baines Middle School at 9000 Sienna Ranch Rd. It is an FBISD charter school. The school offers an AVID (Advancement Via Individual Determination) Program. Other programs and courses include ESL, and Career and Technology (CTE).

Quail Valley Middle School at 3019 FM 1092 Rd. The school takes pride in its rigorous academic curriculum focusing on core subjects and a wide range of fine arts programs. With a rich history spanning several decades, Quail Valley Middle School has been a pillar of education in the community.
---
High Schools
---
Ridge Point High School at 500 Waters Lake Blvd. Ridge Point High is a 77-acre campus located in Sienna. The school was founded in 2010 and has consistently excelled in academics and received recognition for its achievements. The school offers a curriculum that includes Advanced Placement (AP) and Dual Credit courses.

Lawrence E Elkins High School at 7007 Knights Ct. The school offers a variety of academic programs. It includes Advanced Placement (AP), Dual Credit, and Career and Technical Education (CTE) programs. Elkins High School has a long history and a diverse student population. It fosters a supportive and inclusive learning environment for the students.
---
Sienna Area Private Schools
---
The following are some notable private schools near Sienna Area:
Sienna Montessori School at 10010 Steep Bank Tr.

Divine Savior Academy at 770 Waters Lake Blvd.

Southminster School at 4200 Cartwright Rd.

The Towne Creek School at 3311 Williamsburg Ln.

Primrose School of Sienna at 4400 Sienna Pkwy.

The Wide School at 2777 Dulles Ave.
To find an updated listing of all Sienna Area real estate zoned to any specific public school, please send an email to Paige Martin at PMartin@HoustonProperties.com with the property preference and budget that you're working with.
Note: For more detailed information on specific schools zoned to different Sienna areas, please refer to our Houston Schools Guide OR email me.
Note: School zoning tends to change from year to year. The information provided above is accurate but not guaranteed. Please double-check by visiting the school's website.
---
Sienna Area Real Estate Market
Sienna Area Single-Family Home Sale Trends
---
Sienna homes are typically built in the late 1990s. New construction homes are also common in the area.
Smaller homes in the area offer 3 to 4 bedrooms, with living spaces ranging from 1,500 to 4,000 square feet.
The most expensive Sienna real estate is often custom-built homes built on sprawling lots. These homes can feature as many as 7 bedrooms (with 6 full baths), spread over 4,000 to upwards of 7,500 square feet. Spacious front and back yards, water, lake, or golf course views, formal dining areas, outdoor kitchens, and swimming pools are common amenities.
Architectural styles vary, though most lean toward traditional aesthetics. Prices for Sienna homes can range from $170,000 to upwards of $1,000,000.
---
Sienna Area Townhomes Sale Trends
---
There are no townhomes in the Sienna Area; however, there are plenty of townhome options available in nearby neighborhoods.
The Houston Properties Team is an expert in Sienna Area real estate. Please contact us if you'd like to see Houston townhomes or learn more about properties that could be a fit for you.
---
Sienna Area Condo Sale Trends
---
There are no mid- or high-rise Sienna Area condos for sale, but plenty of units are available in the surrounding areas.
To see other condos within the Inner Loop, see Inner Loop Houston Condos. To see condos within the nearby Galleria area, see Galleria Houston Condos. To see other condos within Downtown Houston, see Downtown Condos. To see condos within Museum District, see Museum District Condos.
The Houston Properties Team are experts in Sienna Area real estate. Please contact us if you'd like to see Houston condos or learn more about buildings that could be a fit for you.
---
Sienna Area TX History
---
The tract of land where Sienna now sits was purchased by Jonathan D. Waters (originally from South Carolina) in 1840. By 1872, the land changed hands, and again in 1913 (to former mayor of Houston Thomas H. Scanlan).
Between the 1950s to the early 1970s, the heirs of Scanlan entrusted the property to the Catholic Diocese of Houston, who used it as a retreat. They called it after Siena, in Tuscany, Italy.
Johnson Development Corp. purchased the property and broke ground in 1978. In the 1980s, development stopped but picked up again in the 1990s.
The community is made up of several neighborhoods, with homes from reputable builders like Newmark Homes, Perry Homes, Ryland Homes, Trendmaker Homes, Taylor Morrison, Toll Brothers, and Fairmont Homes, among others.
Today, Sienna is one of the finest communities in the south of Houston. Upon completion, the community is projected to have more than 16,000 homes. Commercial spaces are also slated for Sienna.
---
Fun Things To Do Near Sienna Area
---
Sienna offers a wide variety of resort-style community amenities. The 10,800-acre community features around 3,000 acres of green space (parks, recreational spaces, lakes, open spaces, and golf areas).
Sienna features a 160-acre sports complex called Camp Sienna. Home to the community's many sports teams, the complex features facilities for baseball, soccer, volleyball, and basketball. Residents can also enjoy the complex's concession area, walking trails, playground, and picnic area.
The Brushy Lake Recreation Area, on the other hand, offers a fitness center where residents can attend exercise classes, or simply make use of the center's fitness equipment. A lap pool, diving well, Kid's Play area, and multi-use pool are also available within Brushy Lake.
Covering 12 acres, the Club Sienna Recreation Complex features a junior Olympic pool, water slides, three diving wells, a community center, an amphitheater, a fishing pier, and a playground. The complex also has eight lighted tennis courts where residents can work on their game individually or with the community's tennis pro.
The Sienna Springs Resort Pool provides a waterfall, two water slides, and tropical landscaping.
Here are some of the must-visit places in the Sienna Area:
Dining
TLC Tender Loving Care BBQ
Soto's Grill
Ula's Mexican Restaurant and Cantina
Nana's Tortilla Factory
Take The Wheel Mobile Restaurant
Sienna Grill
Hoggs N' Chicks
Papa Murphy's
R&R Bar-B-Que
Russo's Coal Fired Italian Kitchen
Nightlife
Baker St Pub
Bogie's
Pennison's
Big Ben Tavern
Bar Louie - Sugarland
The Lonestar Saloon
The Oxbow Tavern
Groceries
Harvest Market Sienna
Regio's Meat Market
Kroger
Crossroad Market
H-E-B
Fresno Grocery
Run/Bike/Hike Trails
Camp Sienna Bike Trail
Sienna Brazos River Park
Northwinds Park
Wishing Trail Park
Vicksburg Walking Trail
Camp Sienna
Golf Course
Sienna Golf Club & Grille
Quail Valley Golf Courses & City Centre
---
Best Sienna Area Realtor – Paige Martin
---
As featured on Fox News in the Morning, Houston Business Journal, and Houston Magazine, Paige Martin, a consistent Top Producing Broker-Associate and head of the Houston Properties Team, is ranked as one of the top residential real estate agents in the world.
---
Best Houston Real Estate Resources
---