The exclusive Southampton neighborhood (located near West University Place, Rice University, Texas Medical Center, Museum District, and Hermann Park) has been one of Houston's best performing real estate markets over the past decade.
With approximately 2,000 home sites, Southampton is one of Houston's most desirable neighborhoods. Its Inner Loop location, proximity to hot Houston hubs, and strong real estate appreciation rates put it among the top districts in the city.
Southampton Place Resources
Southampton Place Homes: Neighborhood And Location Overview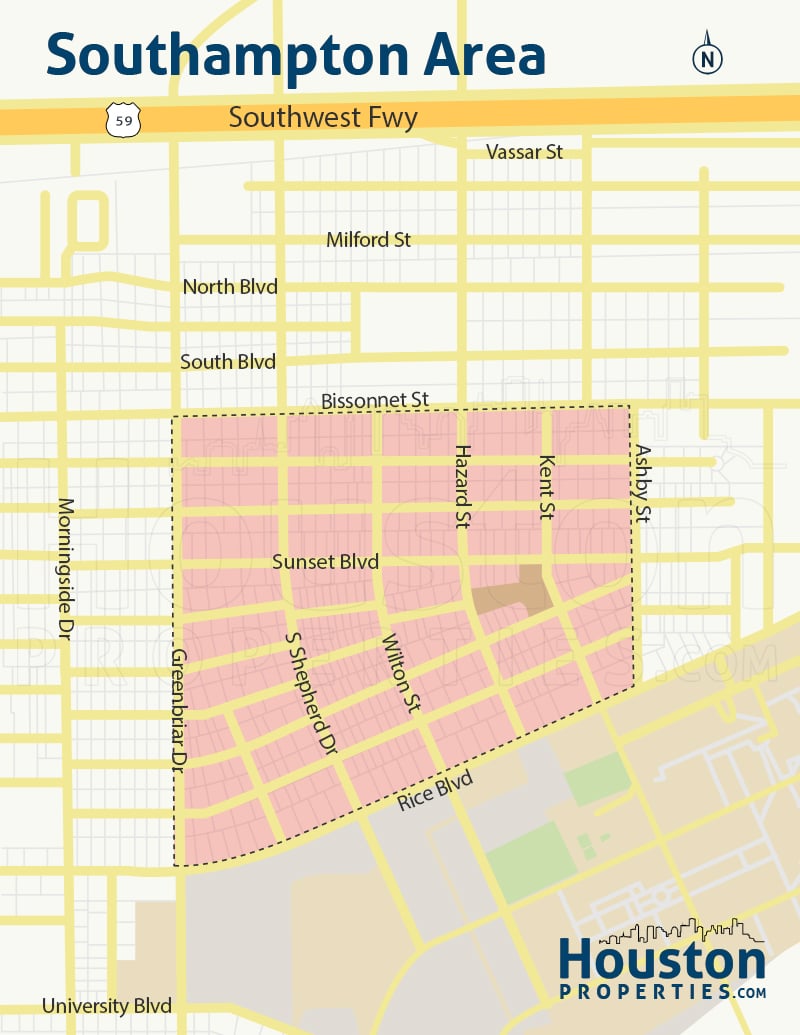 Developed by E.H. Fleming in 1922, Southampton is a collection of upscale homes set on a piece of land bordering Rice University, Texas Medical Center, Museum District and West University. The Houston Southampton neighborhood is flanked by Bissonet St, Greenbriar Dr, and Ashbyb St.
As shown in inner neighborhood map, Southampton is a very organized community. Southampton Place has strictly been a residential area for 65 years, mainly due to tough deed restrictions. Established since April 15, 1923, the restrictions state:
No apartment houses or duplexes in Southampton
Minimum construction costs on Rice Boulevard: $12,000 to $15,000
Minimum construction costs on Sunset Boulevard: $8,000 to $10,000
Minimum construction costs on the rest of the area: $5,000 to $7,000
These restrictions are set in place for 150 years and could then be extended by action of a majority of the property owners. This residential stability is one of the main driving factors of why Southampton Place has the best performing property appreciation over the last two decades.
Southampton Place Homes: Real Estate Trends
Thanks to deed restrictions, the median home price of Southampton homes have been one of the best performing neighborhoods with a 48% appreciation rate between 2003 and and 2013.
The Southampton Civic Club launched a "save the trees" campaign and preserved Southampton's beautiful oaks. As a result, Oak-lined boulevards trail through a neighborhood full of traditional two-story homes erected on wooded lots, while the neighborhood park at Sunset and Kent provides a central gathering place for neighborhood festivities.
Christmas carolers, costumed Halloween-goers and an annual Spring picnic attract those already drawn to the Fleming Park's scenic layout, lined with updated play equipment and landscaping, picnic tables and two tennis courts.