SOUTHBELT / ELLINGTON REAL ESTATE GUIDE
2022 Southbelt / Ellington homes for sale & insider real estate guide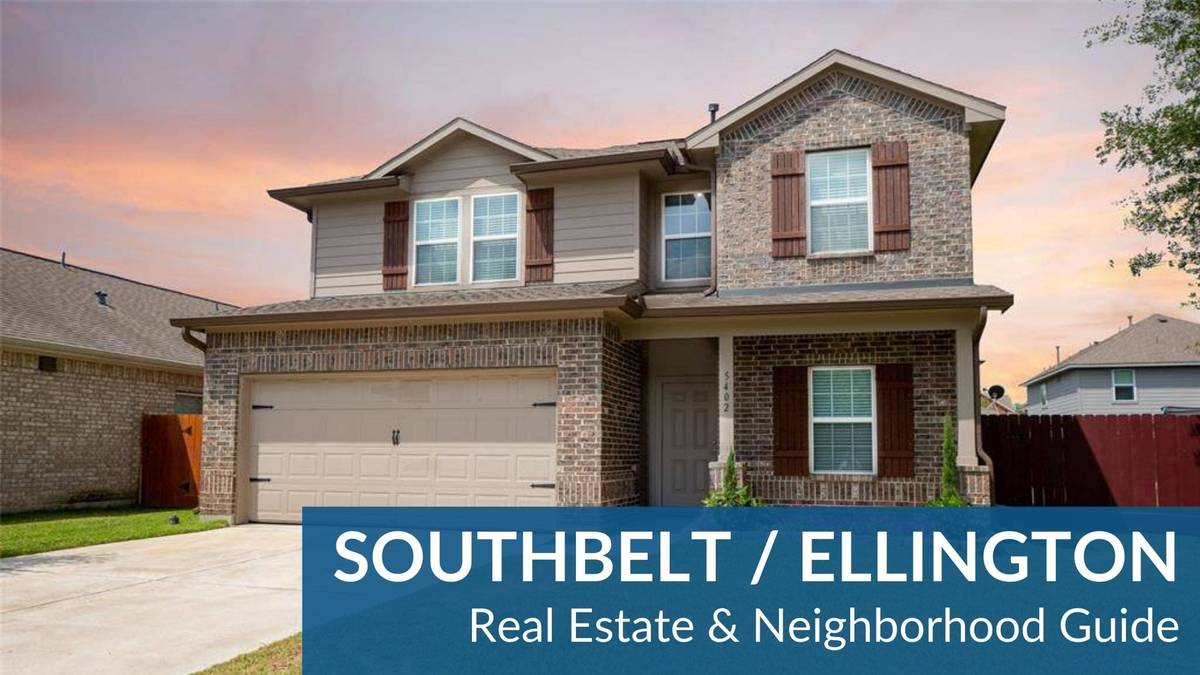 Southbelt / Ellington is a historic neighborhood located 15 miles southeast of Downtown Houston. The community is formerly a ranching and farming area. Southbelt / Ellington has gone through residential and commercial redevelopment. Today the mixed-use neighborhood features diverse real estate options near numerous business and entertainment hubs. The community features top-notch schools, excellent amenities, and proximity to entertainment nearby.
Southbelt / Ellington real estate features:
GREAT SUBURBAN FEEL: Southbelt / Ellington homes are located within some of the Best Suburbs in Houston. Well-known suburbs such as Pearland and Clear Lake City. It is also a short drive from the newest developments in the Galveston Bay area.

TOP RANKED SCHOOLS: Southbelt / Ellington homes are zoned to top-ranked public schools within Southeast Houston. Some of Houston's Best Schools are located in the area. The list includes North Pointe Elementary, Clear Lake Intermediate, and Westbrook Intermediate.

EASY COMMUTE TO KEY CITY DISTRICTS: Some of Bayou City's major thoroughfares cut across the Southbelt / Ellington. Interstate 45, Beltway 8, and Texas State Highway 3 run along the neighborhood. These major roads provide easy access in and around the area. Nearby suburbs such as Pearland and Clear Lake City are less than 8 miles away from their centers. Only 18 minutes away from the community is Downtown Houston.

DIVERSE REAL ESTATE: Southbelt / Ellington is home to several established subdivisions and newly developed master-planned communities. Some of its communities include Reserve at Clear Lake and Kirkwood.

EXCITING ACTIVITIES: The community offers a number of entertainment options. Part of the community's redevelopment includes the construction of many entertainments within and near the area. There are also business centers and spaces included. It is also near the Best Golf Course Communities within Pearland and Clear Lake. The community houses many parks, including El Franco Lee Park and Beverly Hills Park, among others.

GREAT HOPTPOTS NEARBY: The neighborhood is conveniently located near excellent spots situated around the area. Located inside the community is the Lone Star Flight Museum. It is an aerospace museum that features more than 23 historic planes. Accessible via Gulf Fwy is the Space Center Houston, about a 16-minute drive away.
Southbelt / Ellington real estate can get tricky to navigate due to its several real estate options available.
To get personal advice on buying or selling a Southbelt / Ellington home, contact Paige Martin. One of Houston's best realtors and one of the top-ranked Realtors in the United States.
"We had the best experience working with the Houston Properties team. They were always honest and provided insightful feedback which was invaluable during the home buying process. Houston is a complicated market and they know it inside and out. They worked tirelessly for us during an extremely difficult and volatile market. I can't recommend them highly enough!" - Jen Schulten (Google Review)
---
Table of Contents
---
Southbelt / Ellington Home Sale Trends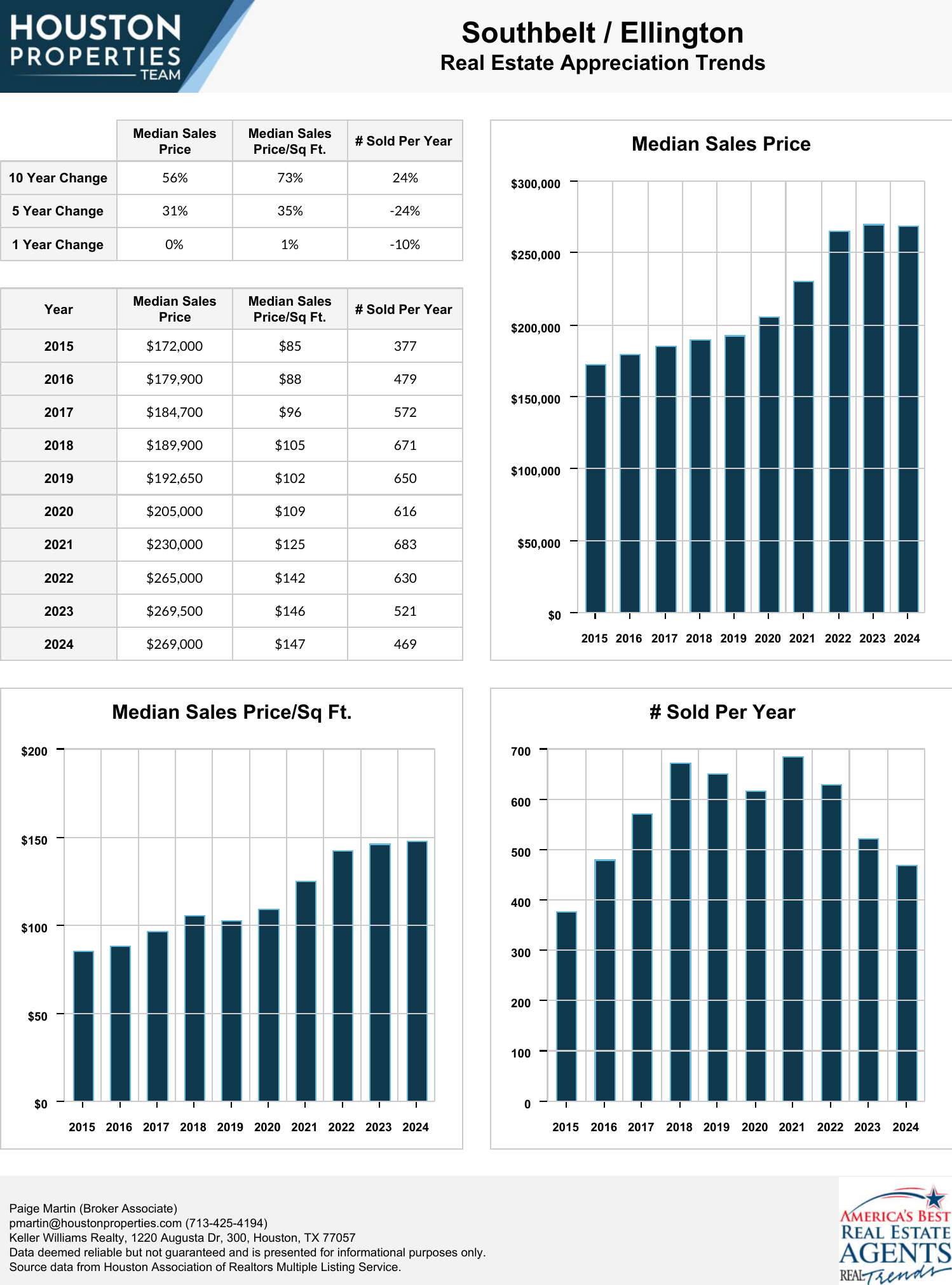 ---
Southbelt / Ellington Maps, Location & Zip Code
| Commute Time | Southbelt / Ellington |
| --- | --- |
| Downtown (min) | Unknown |
| Med Ctr (min) | Unknown |
| Energy Corridor (min) | Unknown |
| Galleria (min) | Unknown |
| Highlights | Southbelt / Ellington |
| --- | --- |
| Amenities | Unknown |
| Golf Courses | Unknown |
| Run / Bike Trails | Unknown |
| Nearby Retail / Dining | Unknown |
| Major Employers | Unknown |
---
Southbelt / Ellington Schools
| Top Elementary Schools | Great Schools Ranking |
| --- | --- |
| Atkinson Elem | 9 |
| Moore Elem (Pasadena) | 8 |
| Top Middle Schools | Great Schools Ranking |
| --- | --- |
| Westbrook Intermediate | 8 |
---
Best Houston Real Estate Resources
---