Southgate Houston Homes For Sale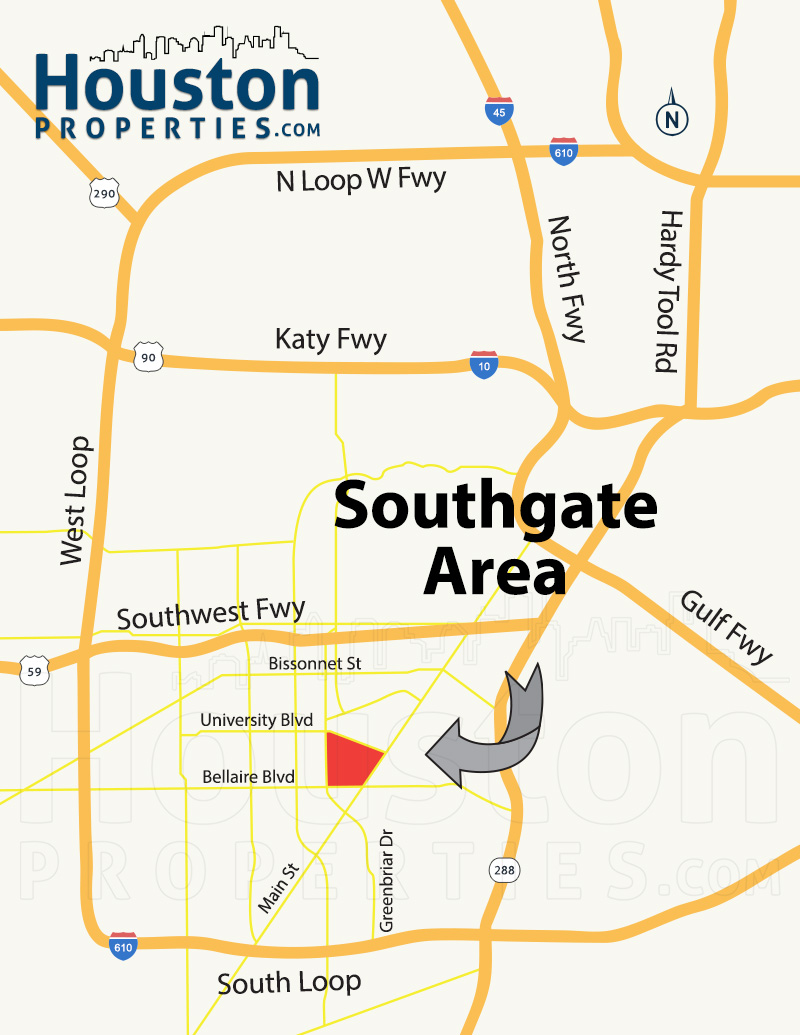 One of Houston's older subdivisions, Southgate is a deed-restricted, mostly residential neighborhood.
Oak-canopied and highly accessible, Southgate greatly benefits from its central Inner Loop location. Homes in the area are very popular for their:
Great location: Located about 5 miles southwest of Downtown Houston, Southgate is located near the Museum District, adjacent to both Rice University and the Medical Center.
High accessibility: Southgate homes have immediate access to Main Street, Holcombe Blvd, and University Blvd and have Houston's cultural, business, and entertainment hotspots just minutes away.
Strong real estate market: Thanks to the neighborhood's continuing popularity, property values in Southgate have remained strong. The neighborhood is one of Houston's hottest neighborhoods in terms of real estate appreciation.
Beautiful homes: Some of Southgate's picturesque homes date back to the 1930s and 1940s, recently renovated and updated. Other homes in the community are newly constructed and custom-built to conform with the neighborhood's deed restrictions.
Southgate also boasts of a very active neighborhood association and multi-award winning schools.
Contact Paige Martin, a top-ranked Houston realtor and head of the Houston Properties Team for questions and advice about Southgate homes for sale.
Southgate Houston Resources:
For more information on available Southgate homes for sale call Paige Martin at 713-425-4194 or email [email protected]
Neighborhood Guide: Southgate Houston
Located well within the Inner Loop, Southgate Houston is bordered by University Boulevard to the north, Travis Street to the east, Holcombe Boulevard to the south, and Greenbriar Street to the west.
The neighborhood is adjacent to Rice University, and has the Texas Medical Center a stone's throw away to the west. Houston's main cultural hub, the Museum District, is a few minutes from Southgate homes for sale.
Downtown Houston, the Galleria, and West University are all within a short drive from the neighborhood. The neighborhood is centrally located near schools, parks, restaurants, bars, cafes, and retail hubs.
Divided into 4 sections, Southgate features tree-lined streets, beautiful homes, and a very active neighborhood association.
Developed during the 1930s, a number of original Southgate homes still stand. These vintage homes have since been extensively renovated and updated. Some of the neighborhood's homes have been replaced with custom-built dwellings.
An average Southgate home for sale features a 3-bedroom floor plan, with traditional aesthetics. Lot areas range between 4,500 to more than 7,000 square feet.
Southgate Houston has a 77030 Harris County zip code.
Zip codes near Southgate Houston include 77054, 77025, 77005, 77046, 77098, 77006, and 77004. (View Houston zip code map)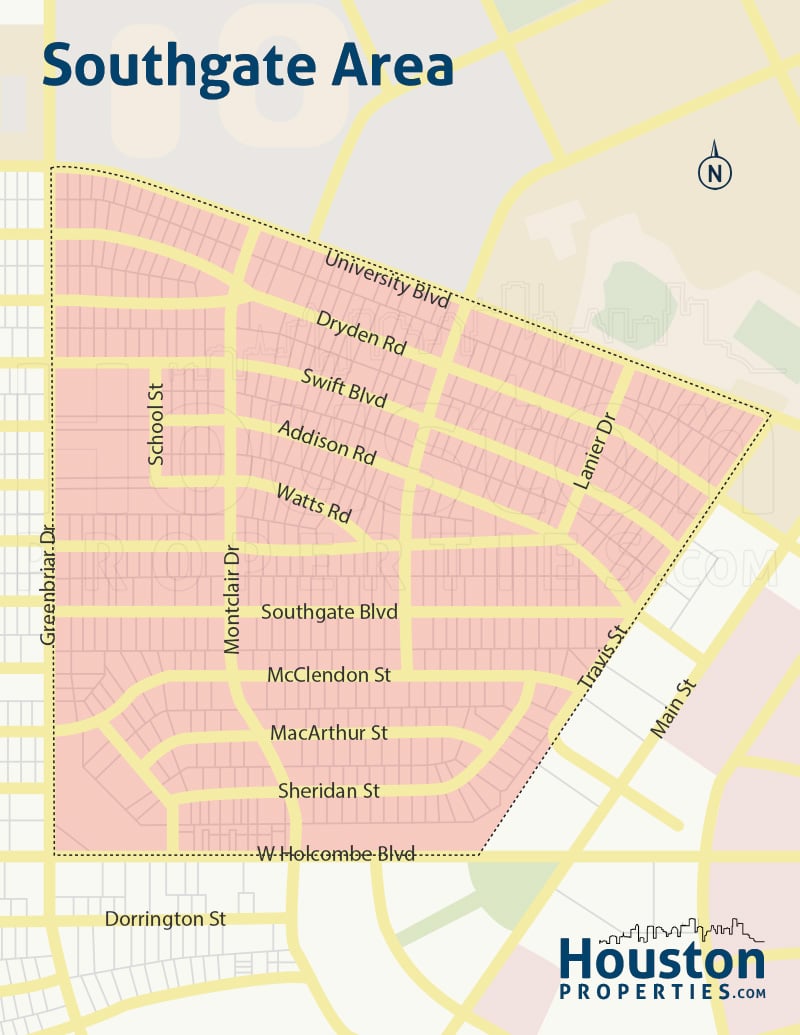 Southgate Houston Schools Guide
Southgate is zoned to the Houston Independent School District (HISD). Roberts Elementary School is located within the neighborhood's borders.
Elementary
Roberts Elementary School at 6000 Greenbriar St. Oran M. Roberts Elementary School is a multi-award winning school located within Southgate. It has been recognized as an Honor Roll School by the Texas Business and Education Coalition (TBEC), and as an Exemplary School by the Texas Education Administration (TEA). Apart from its Vanguard program, the school also serves an International Baccalaureate programe and a Fine Arts magnet program.
Middle Schools
Pershing Middle School at 3838 Blue Bonnet Blvd. Located in nearby Braeswood Place, John J. Pershing Middle School offers a wide array of academic programs. Along with its neighborhood, gifted and talented, and a Fine Arts magnet programs, Pershing is also known for its enrichment programs.
Pin Oak Middle School at 4601 Glenmont St. Pin Oak is a one of the most highly regarded schools in the HISD and has been recognized as a TEA Exemplary School and a National Blue Ribbon School. Students zoned to Pershing can opt to apply into Pin Oak's regular program and Foreign Languages magnet program.
High Schools
Lamar High School at 3325 Westheimer Rd. Located in Upper Kirby, Lamar is highly regarded for both its academic and athletics programs. It is home to the Lamar Texans, and offers a business magnet, neighborhood, and AP programs. Lamar is also one of the HISD's International Baccalaureate World schools, with one of the largest IB Diploma programs in the state.
Southgate Houston Private Schools
Credit to the neighborhood's proximity to Rice University and the Texas Medical Center, Southgate homes have plenty of private school from which to choose. Listed below are some of them.
St. Nicholas School Medical Center Campus at 1920 North Braeswood Blvd.
St. Vincent de Paul School at 6800 Buffalo Speedway.
Episcopal High School at 4650 Bissonnet St.
St. Mark's Episcopal School at 3816 Bellaire Blvd.
Beresford School at 2501 W Holcombe Blvd.
Children's Hour Montessori School at 2227 Dorrington Street
Sheridan Montessori School at 2433 Sheridan Street
Diamond-A-Cat-A-Me at 6955 Almeda Road
Creative Minds Development Center at 2479 S Braeswood Blvd.
To find an updated listing of all Southgate real estate zoned to any specific public school, please send an email to Paige Martin at [email protected] with the property preference and budget that you're working with.
*Note: School zoning tends to change from year to year, information provided above are accurate but not guaranteed. Please double check by visiting the school's website.
Fun Things To Do In And Around Southgate
Apart from its great access to Houston's finest educational and medical institutions, Southgate also benefits from its proximity to the Museum District and Hermann Park.
The Museum District is a few minutes away from the neighborhood, and features 19 museums and institutions within a 1.5-mile radius of the Mecom Fountain. The Museum of Fine Arts, Houston, the Children's Museum of Houston, and the Houston Museum of Natural Science are among the most visited spots in the district.
Hermann Park, one of Houston's most popular destinations, is a 445-acre public park that houses the Houston Zoo, the Miller Outdoor Theatre, the Houston Garden Center, and the Hermann Park Golf Course.
Several attractions and facilities are available at the park, including several jogging trails, playgrounds, gardens, and even pedal boats. The area also teems with dining, retail, and entertainment options.
Here are some of must-visit places in Southgate Houston:
Dining
Maxwell Street Grill
Number 1 Chicken Rice & Seafood
Bowl Cafe
Davis Street at Hermann Park
Bowl Cafe
The Raven Grill
Bodegas Taco Shop
Lucille's
Pax Americana
Museum Park Cafe
Reggae Hut
Pinewood Cafe
Black Hole Coffee Houst
Ambrosia
Green Seed Vegan
The Lexington Grille
Papa Mio Italian Cafe
Nightlife
Monarch Restaurant & Lounge
Grand Prize Bar
Absinthe Brasserie
Harp
Revelry on Richmond
Ruthie's Place
Bar 5015
Kaiser's Korner Pub
The Alley Kat Bar & Lounge
Bosta Wine and Coffee
Mosaic Bar and Lounge
Parks
Reckling Park
Texas A&M University Park
Hermann Park
In Hermann Park
Japanese Garden
Houston Zoo
Miller Outdoor Theatre
Hermann Park Golf Course
Museums
Health Museum
Museum of Natural Science
Children's Museum
Holocaust Museum
Asia Society Texas Center
Czech Center Museum
African American Culture
Center for Contemporary Craft
Lawndale Art Center
Museum of Fine Arts
Contemporary Arts Museum
Jung Center of Houston
Rice Art Gallery
Southgate Houston Realtor – Paige Martin
As featured on Fox News in the Morning, the Houston Business Journal, Houston Chronicle, and Houston Magazine, Paige Martin – a consistent Top Producing Broker-Associate and head of the Houston Properties Team – is ranked amongst the very top Keller Williams agents in the Houston area.
Paige is ranked as one of the top realtors in Southgate Houston, and the state of Texas. Read more about the over 65 awards she's won in the last few years.
Paige works with a tremendous number of buyers and sellers within the Inner Loop.
For a specific recommendation of neighborhoods, homes or properties based upon your personal style, goals & price point, please contact Paige Martin, head of the Houston Properties Team & Broker Associate at [email protected] or 713-425-4194.