Southgate Houston TX Neighborhood Maps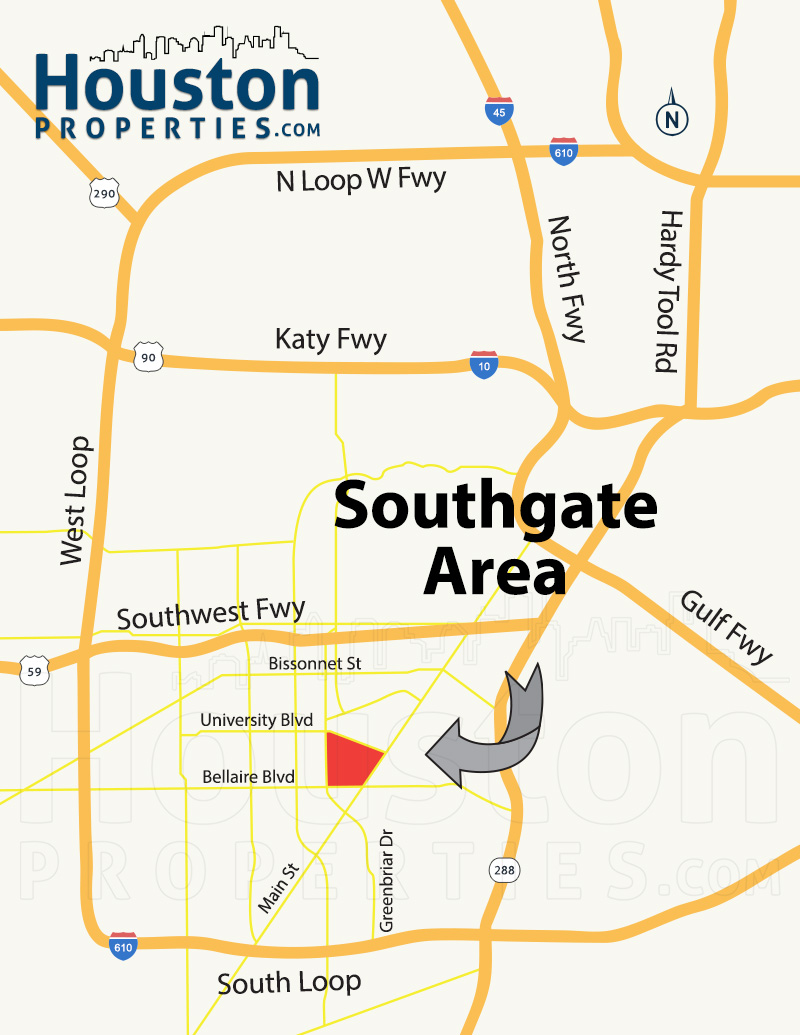 Southgate Houston is a peaceful enclave recently included among Houston's most expensive neighborhoods and one of the 14 hottest Inner Loop neighborhoods in real estate appreciation.
Consisting of 4 sections, the neighborhood is directly west of Texas Medical Center and south of Rice University.
The tree-lined neighborhood is mostly made up of single-family homes. Southgate Houston residents enjoy easy access to Downtown, Galleria, and Memorial.
It lies south of University Blvd., east of Travis St., north of West Holcombe Blvd., and west of Greenbriar Dr.
The close-knit community operates the Southgate Civic Club to enforce its deed restrictions, including architectural review.
Southgate Houston TX Related Resources:
Two Exciting Southgate Houston Neighborhood Maps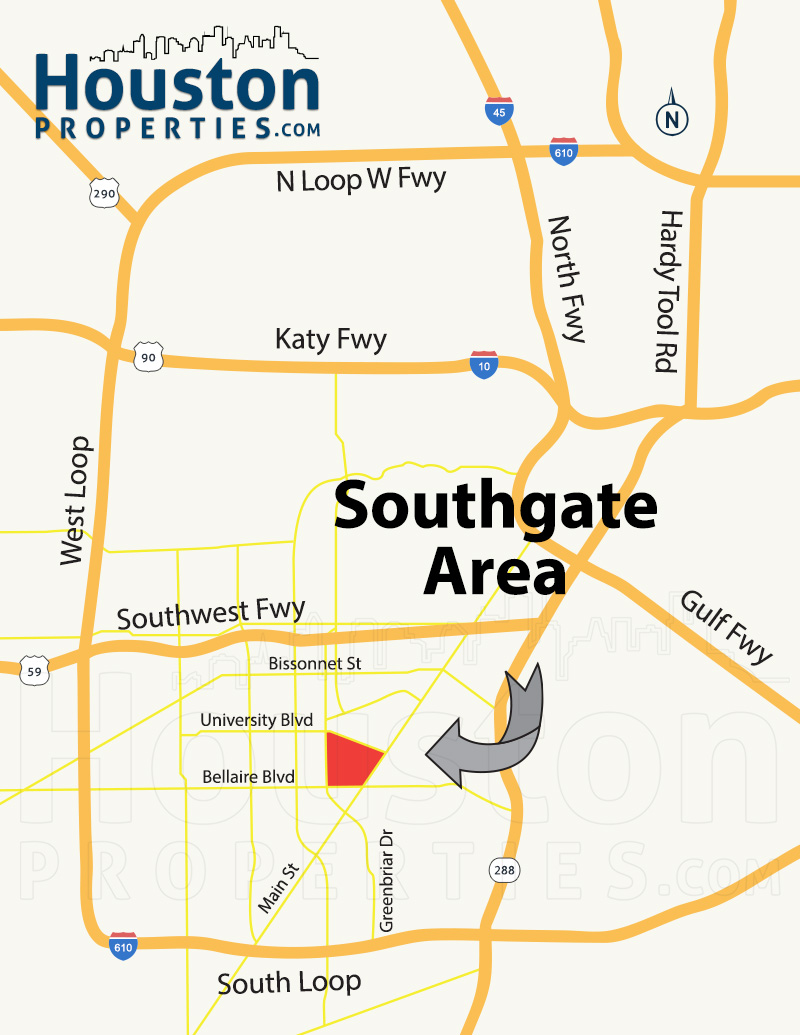 Southgate Houston Maps: Neighborhood Review
Southgate is within in one of the most expensive Houston zip codes, 77030.
Commuting to the busy job centers of Houston such as Downtown and Uptown Houston is made easy by its proximity to the South and Southwest Freeways. The MetroRail station at Memorial Hermann is just a 20-minute walk from the neighborhood.
Southgate Houston homes for sale are close to the many dining and retail offerings of Rice Village. One of the largest medical complexes in the state, Texas Medical Center, is just 5 minutes away froum Southgate homes.
Southgate has an active civics club that handles strict enforcement of its deed restrictions.
Most of the original homes are meticulously kept and restored, and new constructions are not as common as in neighboring West U. There's also less housing variety in Southgate, with home prices ranging from $500,000 to over $1 million.
Many of Southgate homes sit on 50-feet wide lots, but there are some on plots as large as 100-feet wide.
The Southgate Houston real estate market is a bustling seller's market with 1 to 2 homes getting sold every month in its often low inventory. With a median price of around $300 per square foot, it is one of the most expensive Houston neighborhoods.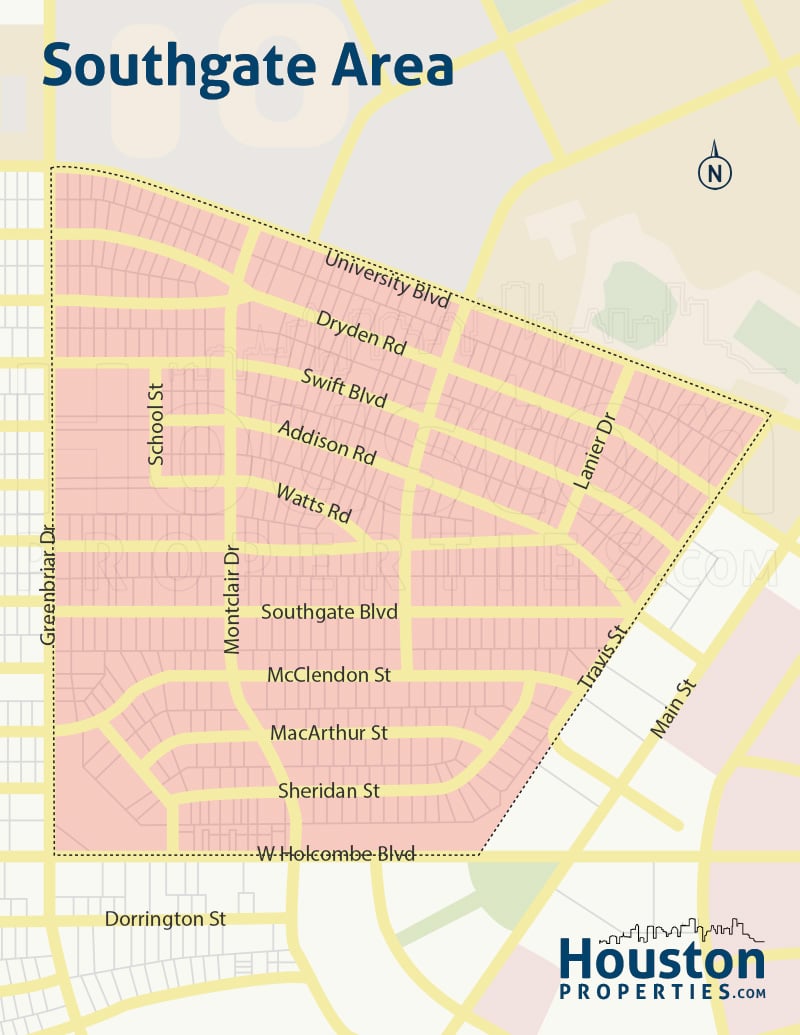 Southgate Houston Sections
Section 1 – It is the largest Southgate section and is bordered by University Blvd. to the north, Southgate Blvd. to the south, Greenbriar Drive to the east, and the streets of Lanier to the west. This is a strictly single-family residential area.
Section 2 – covers the north and south side of Southgate Blvd.
Section 3 – It is the 2nd largest section of Southgate and runs from the south side of Southgate Blvd. to West Holcombe Blvd, between Greenbriar Dr. and Travis St.
Southgate Annex – This small portion lies east of Main Street between Lanier Dr., University Blvd., Travis St., and Dryden Rd.