SOUTHSIDE PLACE REAL ESTATE GUIDE
2022 Southside Place homes for sale & insider real estate guide
Alternatively called "The City of Tallows" for its rich Chinese Tallow trees, Southside Place spans a 10-block area south of West University Place and east of Bellaire.
Southside Place homes are well-loved thanks to:
ACCESSIBILITY: Southside place offers easy access to major roads and thoroughfares including Loop 610, Bellaire Boulevard, and Bissonnet Road. In addition, Holcombe Boulevard, University Boulevard, and Buffalo Speedway are all easily available from the community.

EXCLUSIVITY: Forbes added Southside Place to its list of the "Most Expensive Suburbs Surrounding Major U.S. Cities". The median sales price is over $1,000,000. See Income Needed To Live In Houston's Top Neighborhoods.

PROXIMITY TO MED CENTER: One of Houston's major employers, the Texas Medical Center is a few couples of miles away from the city. The district has more than 50 medical-related institutions, schools, hospitals, and clinics with plenty of employees and volunteers

GREAT COMMUNITY ATMOSPHERE: The small city covers 10 blocks of picturesque tree-lined streets. The tight-knit community celebrates annual holiday parties, block parties, and other events

RETAIL AND ENTERTAINMENT NEARBY: Braes Heights Shopping Center, a Mid-Century modern mall, is a retail and dining hub within the neighborhood. Fire Truck Park, however, features a swimming pool, two tennis courts, sports facilities a clubhouse, and a pavilion.

GREAT SCHOOLS: Top-ranked schools including West University Elementary, Twain Elementary, and Pershing Middle School all operate in the community. Two of Houston's best public high schools are within Southside Place homes: Lamar High and Bellaire High.

REAL ESTATE APPRECIATION: Southside Place homes posted great real estate and land value appreciation (with West U) numbers in the last decade. The vintage bungalows from the 1930s-40s and new construction luxury homes rival homes in nearby neighborhoods.
Southside Place real estate may tend to be challenging to navigate due to older homes (some may need extensive renovations). Different new home developers (some have quality track records, while others do not) and different school zoning in the neighborhood may also pose a challenge to homebuyers.
To get personal advice on buying or selling in the Southside Place area, contact Paige Martin, one of Houston's best realtors and one of the top-ranked Realtors in the United States.
"I can't recommend the Houston Properties Team enough. Working with them has been a painless and wonderful experience and would recommend them to any of our friends and family. She and the Houston Properties Team guided us flawlessly through our first home purchase. There is no other person I would trust with our next home purchase after how amazing this process has been." - Chad (Google Review)
---
Table of Contents
---
Southside Place Home Sale Trends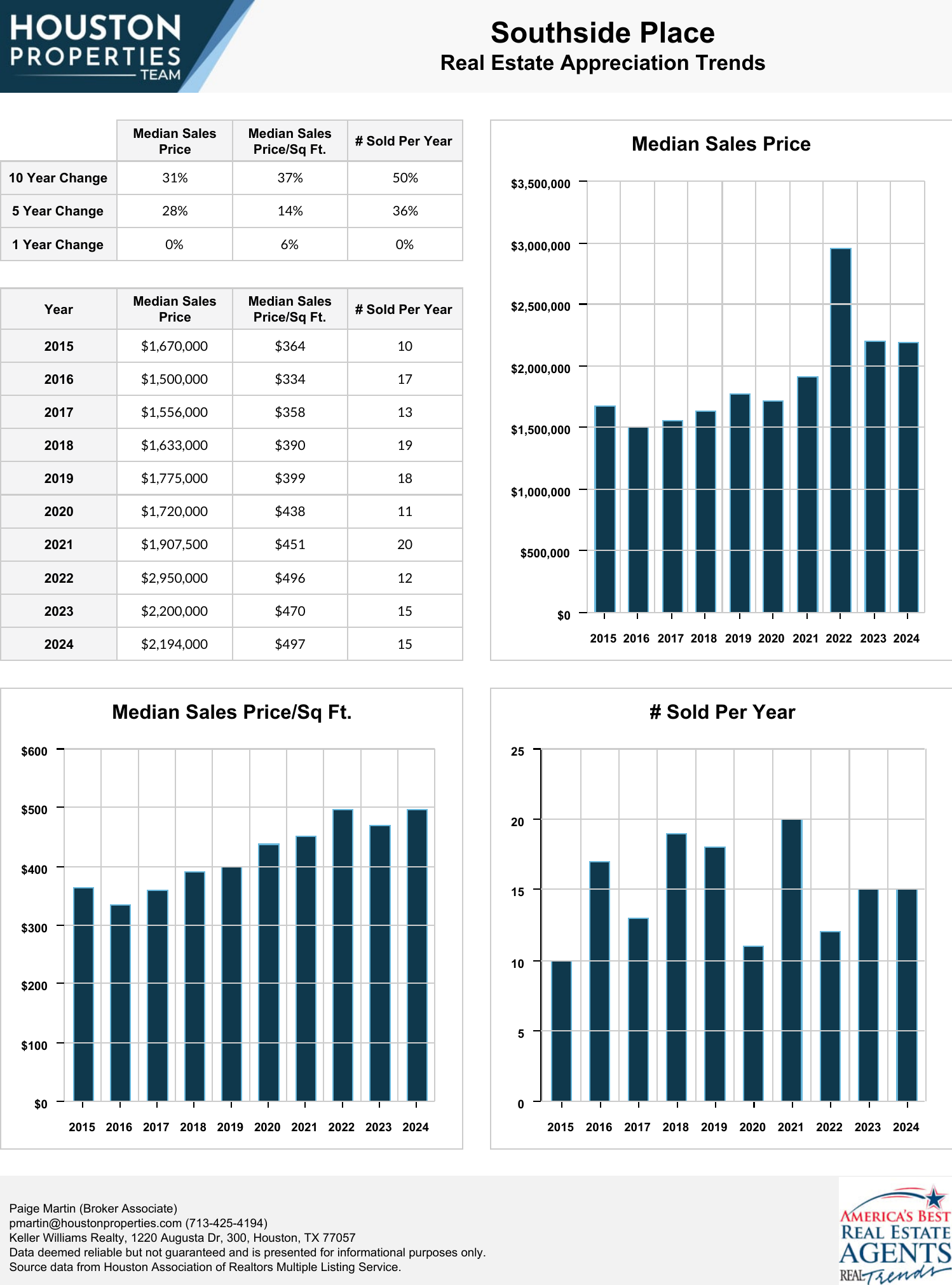 ---
Southside Place Maps, Location & Zip Code
| Commute Time | Southside Place |
| --- | --- |
| Downtown (min) | Unknown |
| Med Ctr (min) | Unknown |
| Energy Corridor (min) | Unknown |
| Galleria (min) | Unknown |
| Highlights | Southside Place |
| --- | --- |
| Amenities | Unknown |
| Golf Courses | Unknown |
| Run / Bike Trails | Unknown |
| Nearby Retail / Dining | Unknown |
| Major Employers | Unknown |
---
Southside Place Schools
| Top Elementary Schools | Great Schools Ranking |
| --- | --- |
| Twain Elem | 8 |
| West University Elem | 10 |
---