Spring Branch Houston Neighborhood Maps
Spring Branch Houston covers over 40 square miles of tree-lined streets, abundant green spaces, and smaller bayous flowing to the Buffalo Bayou.
It is located west of Downtown Houston and east of the Energy corridor. This strategic location makes it popular for people who wish to be near work yet still enjoy a great quality of life.
Spring Branch is very similar to Memorial Houston which is just to the south of the neighborhood. It is bordered by the 610 Loop to the east, Interstate 10 to the south, Beltway 8 to the west, and Hempstead Road to the north.
Spring Branch Houston Related Resources:
Two New Spring Branch Houston Maps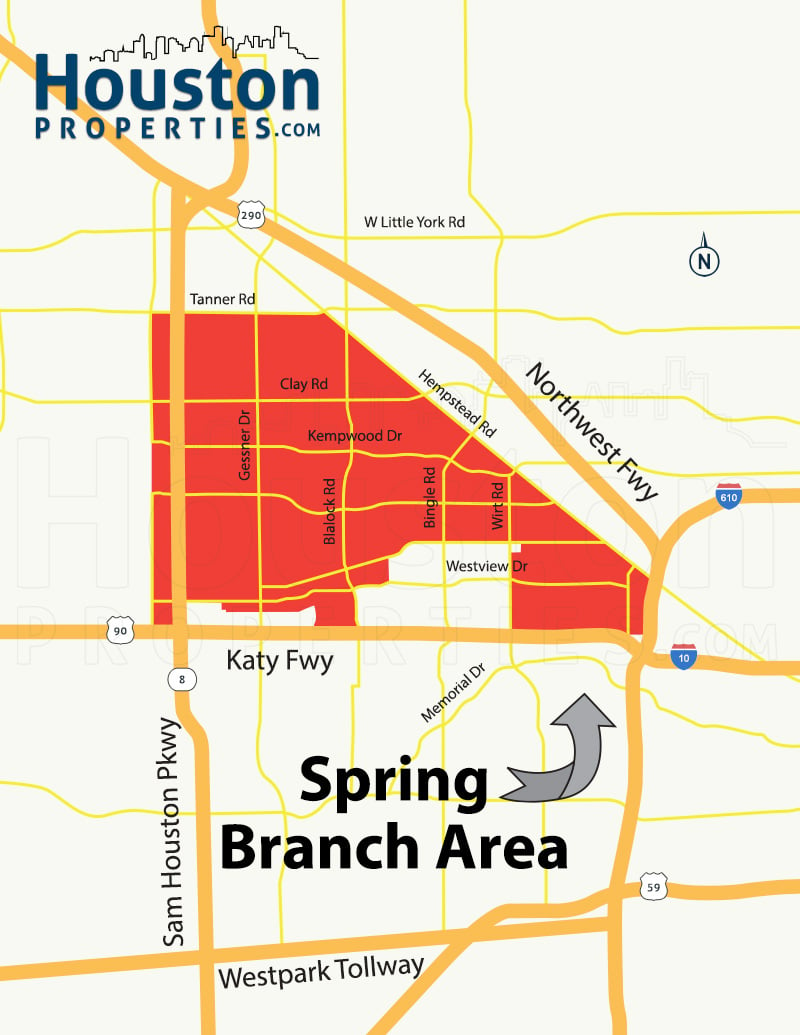 Spring Branch Houston Maps: Neighborhood
Spring Branch has a history older than Houston. In 1830, a German immigrant named Karl Kolbe built a log cabin along a small stream flowing to Buffalo Bayou. Its name was derived from the natural spring-fed stream in the heart of the area.
The heavily wooded area had an abundance of lumber early developers used to build local churches and shops. As the area moved towards industrialization, the farmlands were sold and developed into subdivisions, schools, and shopping centers.
Many of the street names were named after the early settlers. Minor bayous such as the Brickhouse Gully and Briar Branch runs through the community and empty themselves into the Buffalo Bayou. Spring Lake, a small pond, lies in the northwestern part of the neighborhood. Long Point Road, one of the oldest roads in Houston, runs from east to west of the neighborhood.
Spring Branch is a district within Harris County. It offers easy access to Interstate 10, I-610, Sam Houston Parkway, and the Hempstead Highway. The quick commute to Energy Corridor and Downtown Houston, two major job centers in Houston, is one of the many reasons many choose to relocate to Spring Branch Houston.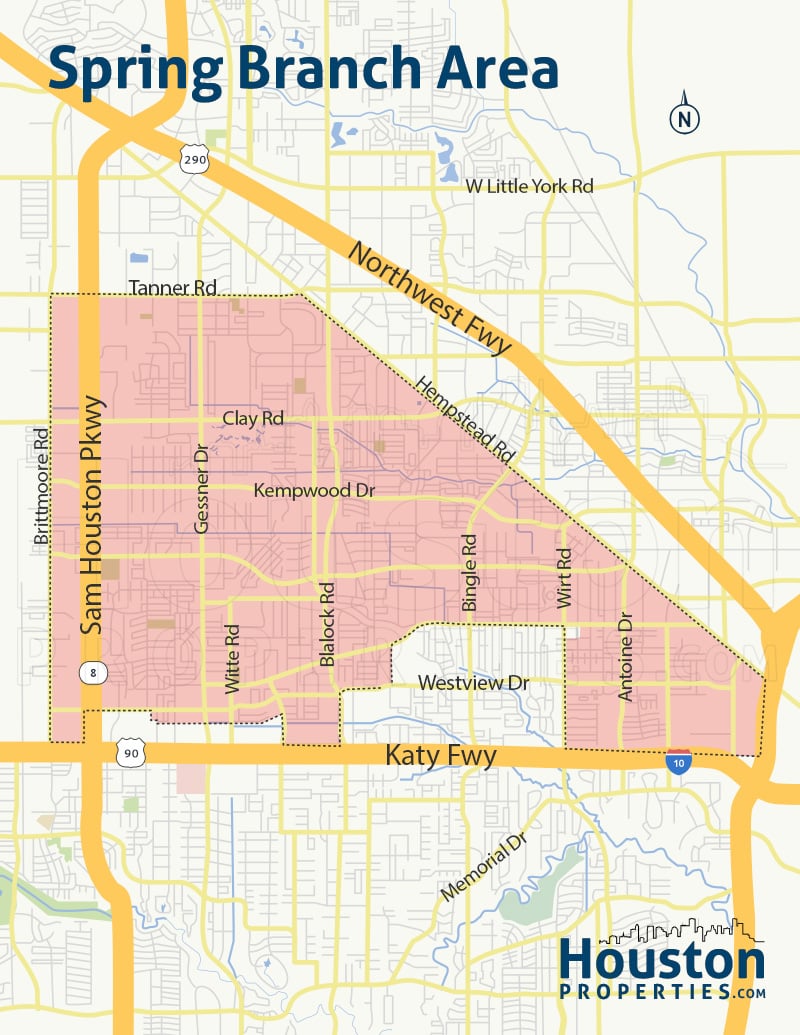 Spring Branch Subdivisions
Spring Branch Houston is divided into four neighborhoods, each with their own neighborhood association.
Spring Branch Super Neighborhood Central
Spring Branch Central is roughly bordered by Bingle Road to the east, Hempstead Road to the northeast, Clay Road to the north, Campbell and Blalock Roads to the west, and the Westview neighborhood to the south.
Civic Associations in Spring Branch Central include:
Binglewood Civic Club
Binglewood 5
Campbell Woods Civic Association
Hollister Place Civic Club
Holley Terrace Civic Club
Kempwood North Civic Association
Langwood II Civic Club
Outpost Estates Civic Club, Inc.
Spring Branch Estates II Civic Association
Spring Branch Oaks Civic Association
Springwood/Timbercreek Civic Club
United Civic Club of Spring Branch
Western Oaks Civic Association
Whisperwood Townhome Association
Yaupon Estates
Spring Branch Medical Center
Veterans of Foreign Wars (VFW Post 8790)

Spring Branch Super Neighborhood West
Spring Branch West is bordered by Interstate 610 to the south; Blalock Road to the east; Neuns, Hammerly, and Clay Roads to the north; and Addicks Reservoir to the west.
Civic Associations in Spring Branch West include:
Gessner Woods Civic Association
Pine Village Civic Club
Rollingwood Civic Association
Royal Oaks Civic Association
Royal Spring Civic Association
Shadow Oaks Civic Association
Sherwood Oaks Civic Association
Spring Branch Civic Association
Springwoods Civic Association
Timber Oaks Civic Association
Victorian Village Townhouses
Wrenwood Civic Association

Spring Branch Super Neighborhood East
Spring Branch East is roughly bordered by West Loop North Freeway to the east, Hempstead Road to the north, Bingle Road to the west, and Katy Freeway to the south. It is the oldest part of the Spring Branch community.
Civic Associations in Spring Branch East include:
Spring Oaks Civic Association
Pine Terrace Civic Association
Ridgecrest Civic Club
Afton Village Homeowners Association
CBB Civic Association
Monarch Oaks Civic Association
Westview Terrace Civic Association
Craig Woods Civic Association
Old Spring Branch Civic Association
Village of Afton Woods Homeowners Association
Spring Branch Super Neighborhood North
This super neighborhood north of I-10 is bordered by Clay Road to the north, Campbell Road to the east, Neuens Road and Hammerly to the south and the Sam Houston Parkway on the west.
Civic Associations in Spring Branch North include:
Campbell Woods
Kempwood
Kempwood North
MacGregor West
Oak Tree Townhomes
Spring Branch Valley
Spring Shadows Civic Association
Spring Shadows Townhomes Association
Victorian Village
Willow Walk Townhomes