Starbridge Real Estate Guide
Starbridge homes for sale & insider real estate guide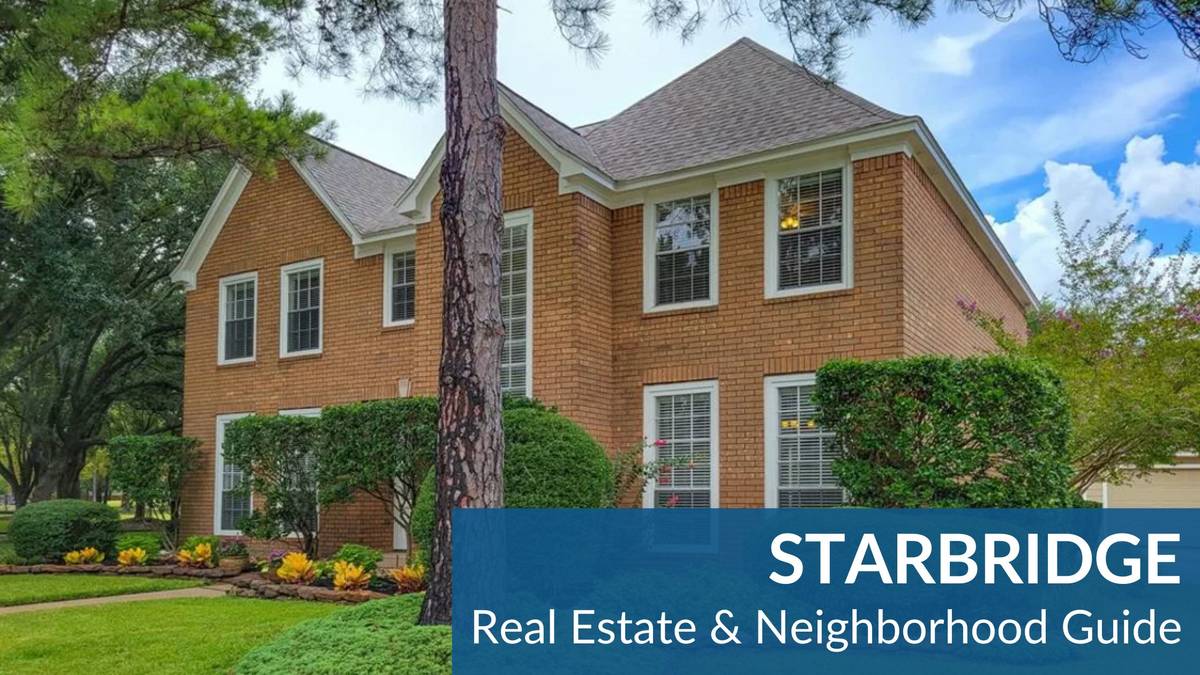 Starbridge is an up-and-coming neighborhood in Fort Bend County, Texas. The community is also southwest of downtown Houston. The proximity and its vibrant job market are appealing to families and professionals.
Starbridge is well-known for its:
CONVENIENT AMENITIES: Starbridge has a clubhouse where residents gather for various events. It has a community pool, playgrounds, and basketball and tennis courts. The neighborhood also has access to dining and shopping options in Katy. Shopping centers include Katy Mills Mall and The Shops of Bella Terra.

GREAT COMMUTE: Starbridge is well-located for commuting to various parts of Houston. It has direct access to major highways like the Westpark Tollway. Business and employment opportunities in Katy and Houston are nearby. It is an easy commute to busy areas like Energy Corridor and The Galleria. Other popular locations are also within a reasonable commuting distance.

GOLF COURSES: Several golf clubs are a short drive from Starbridge. The Meadowbrook Farms Golf Club has a par of 72 and measures over 7,100 yards from the back tees. The Willow Fork Country Club includes an 18-hole championship golf course. It also has tennis courts, swimming pools, and a clubhouse.

ACCESSIBLE SCHOOLS: Starbridge is zoned to Lamar CISD. Highly-rated schools like H F Mcneill Elem and George Ranch High are accessible in the area. H F Mcneill Elem has a comprehensive education program that focuses on core subjects. George Ranch High also excels in academics, receiving many College Success Awards.

PARKS & TRAILS: Various parks and trails like Parkway Lakes Park are close to the community. Residents often visit the parks and trails for good outdoor recreation. Residents also visit small lakes around the area to enjoy fishing and boating. Lakes include West Cinco Ranch Lake, Westheimer Lakes North lake, and Figure Four Lake.

PRISTINE SETTING: Various green spaces, shrubs, and trees fill the community. The common areas and amenities are always maintained. Starbridge's HOA maintains the neighborhood's look and ambiance. They look out for the common areas and enforce community rules. The area's pristine and elegant setting is a well-known quality of Starbridge.

HOME OPTIONS: Families of all sizes can choose between a wide variety of home styles. They range from a traditional classic design to Mediterranean architecture. Retirees may appreciate the peaceful atmosphere and low-maintenance homes.
Starbridge is both convenient and enjoyable to live in. As a new neighborhood, acquiring a home in the area will be difficult. Contact the best Starbridge realtor as properties are becoming limited.
To get personal advice on buying or selling homes in Starbridge, contact Paige Martin, one of Houston's best realtors and one of the top-ranked Realtors in the United States.
"Paige Martin, Yolanda Ames, and the Houston Properties Team are the best in the business here in Houston! They have provided my family with expert assistance in locating, offering, and successfully closing on two properties for us; and we could not be happier. Their regular updates to us on market trends and other important details about the real estate market are timely and informative. We also love staying connected with them on a more personal level by attending many of their quarterly events they hold for their clients. (See photos) I highly recommend them for any real estate needs in and around Houston!" - Sam Vranish (Google Review)
---
Table of Contents
---
Starbridge Home Sale Trends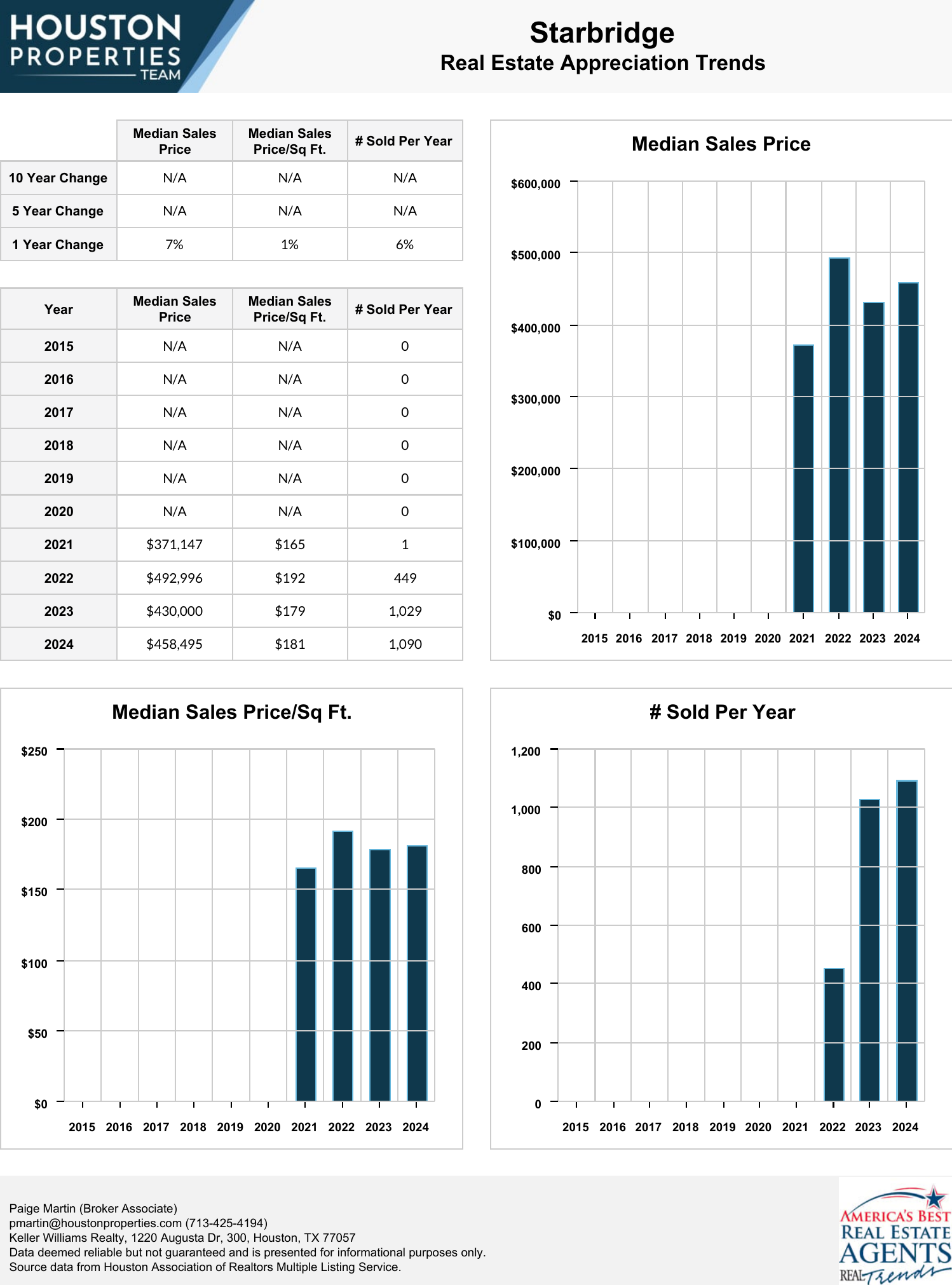 Starbridge is a community located southwest of downtown Houston. It's a peaceful neighborhood known for its tree-lined streets, and manicured lawns.
Starbridge is appealing for its:
ACCESSIBILITY: The area has access to major highways like the Westpark Tollway. Have an easy commute to busy areas like Energy Corridor and the Galleria.

FUN AMENITIES: Starbridge has access to a clubhouse, swimming pool, and many playgrounds. Sports facilities with basketball and tennis courts are ready to use.

PLEASANT ENVIRONMENT: The area is teeming with green space and small lakes. Residents can relax with activities like walking, fishing, and boating.
Starbridge offers a calm and comfortable way of living. Residents can take a break from the hustle and bustle of city living.
---
Starbridge Best Realtor Insights
Starbridge is well known for its central location. It has become a popular option for professionals and families alike.
Starbridge is located southwest of downtown Houston. Major highways like the Westpark Tollway make it easy to commute in and out of the area.

Amenities in the area include a community pool, playground, and tennis courts. It also has a clubhouse used for social gatherings.

The neighborhood is zoned to the highly rated Lamar CISD, which includes some of the top schools in the area.

Starbridge offers a relaxed and peaceful lifestyle. There are plenty of opportunities for outdoor recreation as well.

Starbridge features a variety of home styles including traditional, Mediterranean, and modern designs. The homes are known to have high ceilings, large windows, and elegant finishes.

The neighborhood is neat, with attractive landscaping, well-paved roads, and clean sidewalks.

Starbridge is a gated community. This provides an extra level of security and peace of mind for residents.

The area has several parks and green spaces. It provides residents with opportunities to enjoy the outdoors and nature.

Starbridge is a well-established neighborhood with single-family homes being the most common properties.

The sale price for properties in Starbridge is $230,000 on average. However, there are home options available for a variety of budgets.
---
Starbridge Maps, Location & Zip Code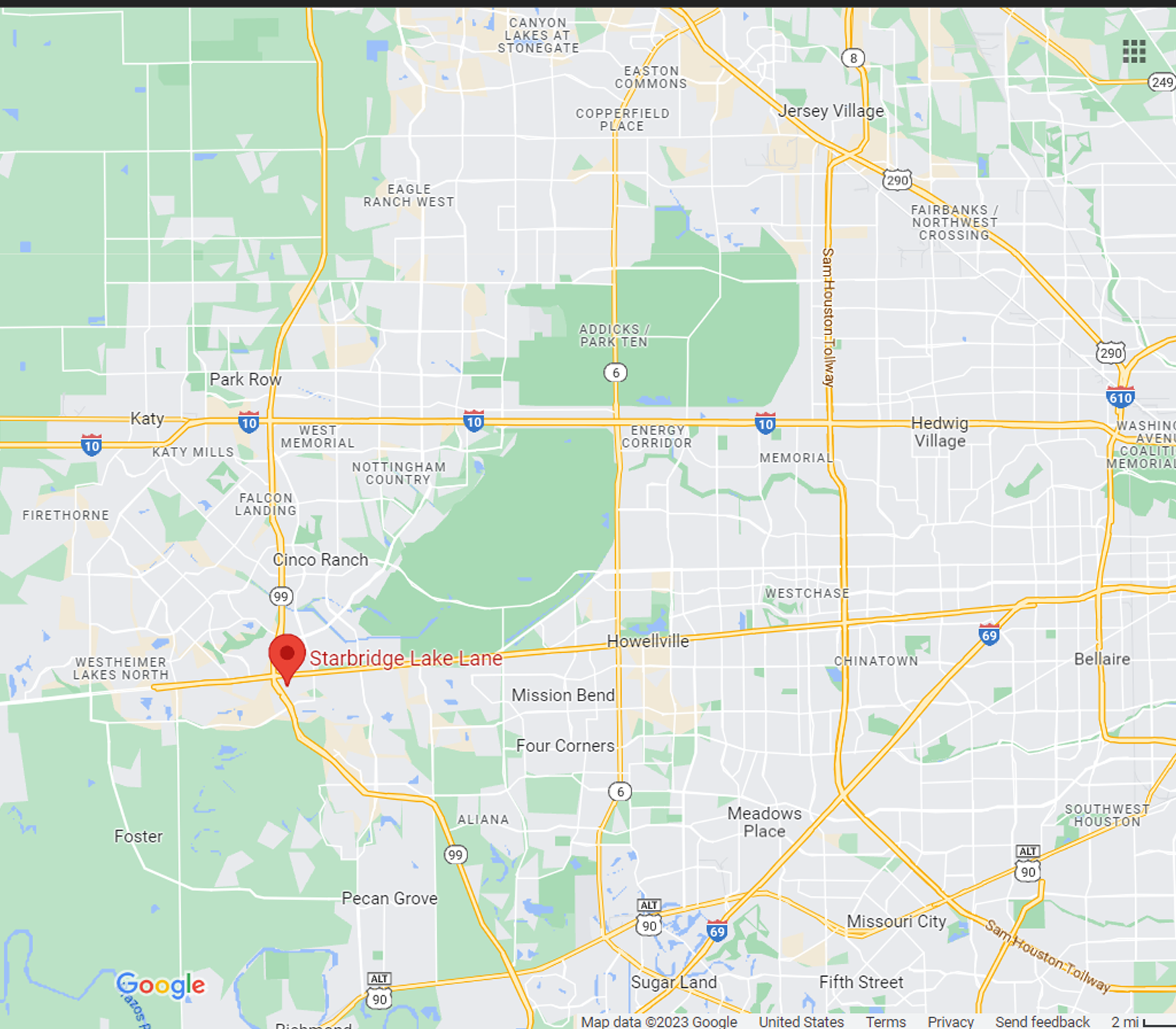 | Commute Time | Starbridge |
| --- | --- |
| Downtown (min) | 45 |
| Med Ctr (min) | 45 |
| Energy Corridor (min) | 40 |
| Galleria (min) | 35 |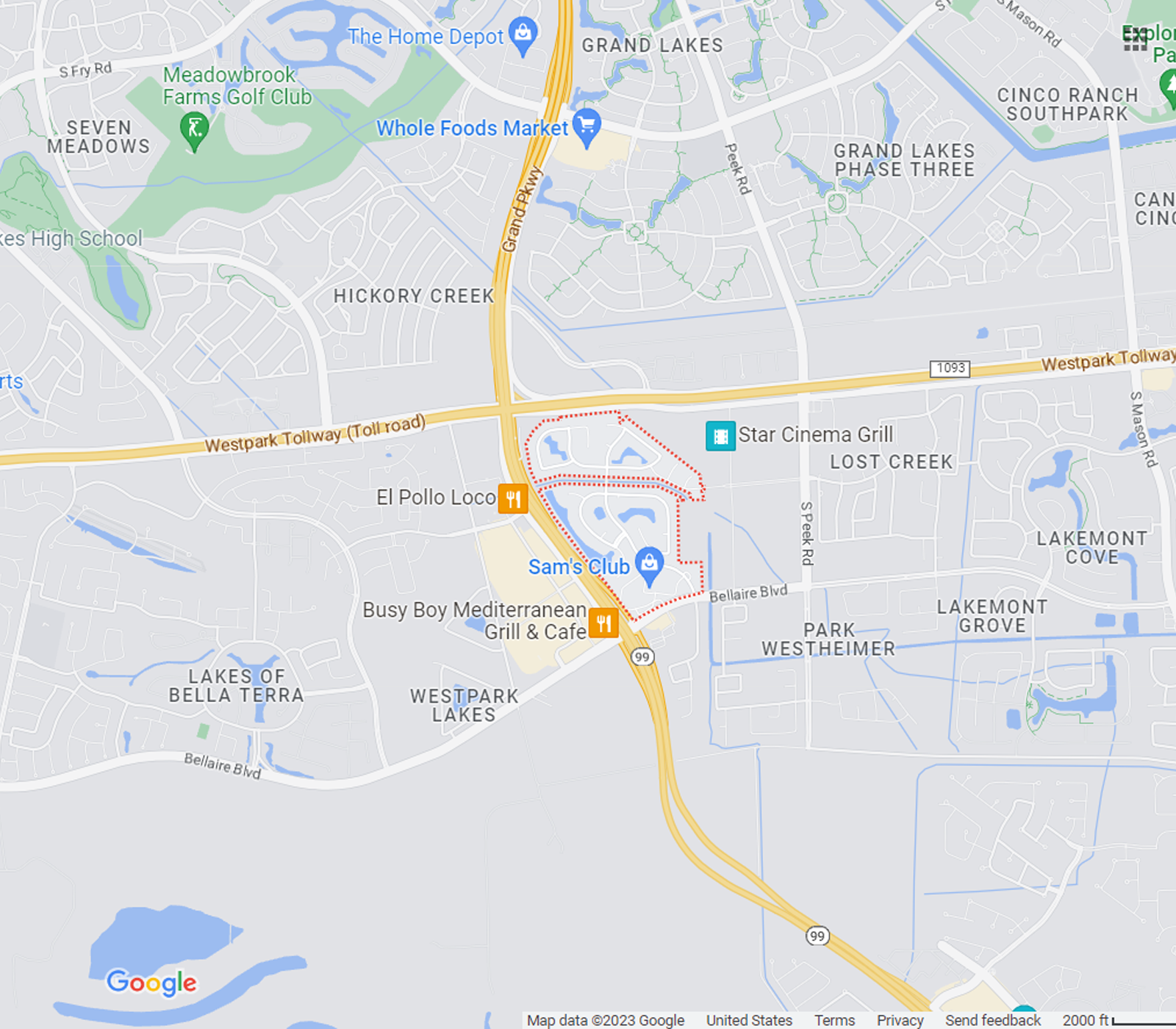 Highlights
Starbridge
Amenities
Starbridge is an upcoming master-planned community in Fort Bend County, Texas. It will have 2,000 homes in development across 933 acres.

The new neighborhood will have community amenities and will be nearby retail and entertainment centers in Fort Bend County.
Golf Courses
- Fields Fairways Golf Course
Run / Bike Trails
- Beasley Park
- Bates Allen Park
Nearby Retail / Dining
Dining:

- Tacos Los Alvarados
- Taqueria Las Cazuelas
- Texas burger and Subway - Needville
- Los Charros Mexican Restaurant
- Simple Simon's Pizza
- Glory Bean Coffee
- Lupe's Mexican Cafe

Retail:

- Burke's Outlet
- Family Dollar
- Brazos Town Center
- Target
- The Home Depot

Entertainment:

- The Ice House of Rosenberg
- Bohemian Hill Tavern
- Da' Tyki Drink Hut
- Hunters Lounge
- El Acapulco Bar
- The Lonestar Saloon

Grocery:

- Kroger's Marketplace
- H-E-B
- San Luis Grocery Meat Market
- Fiesta Mart #6
- ALDI
Major Employers
- Memorial Hermann Medical Center - Rosenberg
- Oakbend Medical Center - Jackson Street Medical Campus
- Sterling McCall Toyota Fort Bend
- Gillman Honda Fort Bend
-
---
Starbridge Schools
Starbridge is zoned to Lamar Consolidated Independent School District.
Lamar CISD is well known for its highly-rated elementary and high schools.
---
Elementary Schools
---
H F Mcneill Elementary School at 7300 S Mason Rd. The school has undergone several expansions to accommodate the growing student population. They boast a comprehensive education program that excels in the core academic subjects.

Joe Hubenak Elementary School at 11344 Rancho Bella Pkwy. The school was established in 2007 and was named after a former state representative and community leader in the area. They have extracurricular activities and clubs in athletics, music, art, and robotics.

Judge James C Adolphus Elementary School at 7910 Winston Ranch Pkwy. The school's curriculum challenges the students in academics. It also fosters their social, emotional, and physical development. The school offers a variety of extracurricular experiences as well, including athletics, music, and art.
---
High Schools
---
George Ranch High School at 8181 FM 762 Road. The school has rated 9 in test scores and college readiness in Great Schools. The school has earned the College Success Award for several years.
---
Private Schools
---
Notable private schools are also located nearby such as:
Westlake Preparatory Academy at 23300 Bellaire Blvd.

British Private Prep School at 4025 S Mason Rd.

Montessori House For Children & Elementary School at 20625 Lakemont Bend Ln.
To find an updated listing of all Starbridge real estate zoned to any specific public school, please email Paige Martin at PMartin@HoustonProperties.com with the property preference and budget that you're working with.
Note: For more detailed information on specific schools zoned to different Starbridge areas, please refer to our Houston Schools Guide OR email me.
Note: School zoning tends to change from year to year. The information provided above is accurate but not guaranteed. Please double-check by visiting the school's website.
---
Starbridge Real Estate Market
Starbridge Single-Family Home Sale Trends
---
There are no single-family homes in Starbridge, however, there are plenty available in surrounding neighborhoods, including Westheimer Lakes North, Sugarland, and Richmond.
The Houston Properties Team are expert in Starbridge real estate. Please contact us if you'd like to see Houston single-family homes or learn more about properties that could be a fit for you.
---
Starbridge Townhomes Sale Trends
---
There are no townhomes in Starbridge. There are, however, plenty of townhome options available in nearby neighborhoods.
The Houston Properties Team are expert in Starbridge real estate. Please contact us if you'd like to see Houston townhomes or learn more about properties that could be a fit for you.
---
Starbridge Condo Sale Trends
---
There are no mid- or high-rise Starbridge condos for sale, but plenty of units are available in the surrounding areas.
To see other condos within the Inner Loop, see Inner Loop Houston Condos. To see condos within the nearby Galleria area, see Galleria Houston Condos. To see other condos within Downtown Houston, see Downtown Condos. To see condos within Museum District, see Museum District Condos.
The Houston Properties Team are expert in Starbridge real estate. Please contact us if you'd like to see Houston condos or learn more about buildings that could be a fit for you.
---
Starbridge TX History
---
Starbridge is a new neighborhood but has become a popular choice in the area.
Starbridge began building homes and amenities in the 2000s. Its first homes were completed around 2007.
The neighborhood includes a mix of home styles, depending on the appeal to various buyers. The neighborhood has become popular among families and professionals.
---
Fun Things To Do Near Starbdrige
---
Starbridge is located in a great location with many fun things to do nearby. Outdoor activities, dining, and entertainment options are available in the area.
Shopping centers like the Katy Mills Mall have a variety of retail and dining options.
The Cross Creek Ranch Butterfly Garden is a natural habitat for butterflies. Visitors can learn about these fascinating creatures and their role in the ecosystem.
Explore some of the interesting places near Starbridge:
Golf Courses
Meadowbrook Farms Golf Club
The Golf Club at Cinco Ranch
Willow Fork Country Club
The Club at Falcon Point
Run/Bike/Hike Trails
Parkway Lakes Park
Exploration Park
Grand Lakes Park
River Green Park
Frog Park
West Cinco Ranch Lake
Freedom Park
Retail
Peek Road Shopping Center
The Shops at Bella Piazza
The Shops at Richmond Lakes
Aliana Shopping Center
The Shops of Bella Terra
Royal Montreal Plaza
Highland Knolls Shopping Center
Groceries
Whole Foods Market
Market Town Katy
Cinco Village Market
H-E-B
Southwest Farmers Market, Richmond
Harvest Green Farmer's Market
Dining
Slurp Ramen Factory
Busy Boy Mediterranean Grill & Cafe
Chick-fil-A
Sushi Hana Fusion Cuisine
Aina Poke
Whataburger
San Eatery
DaddyO's Pizza
Nightlife
The Local Bar Katy
The Public House
Ramble Creek Grill
Baker St Pub and Grill
EinStein's Pub
Mo's Irish Pub
Dry Creek Social Club
---
Best Starbridge Realtor – Paige Martin
---
As featured on Fox News in the Morning, Houston Business Journal, and Houston Magazine, Paige Martin, a consistent Top Producing Broker-Associate and head of the Houston Properties Team, is ranked as one of the top residential real estate agents in the world.
---
Best Houston Real Estate Resources
---