Most Expensive Timbergrove Houston Homes For Sale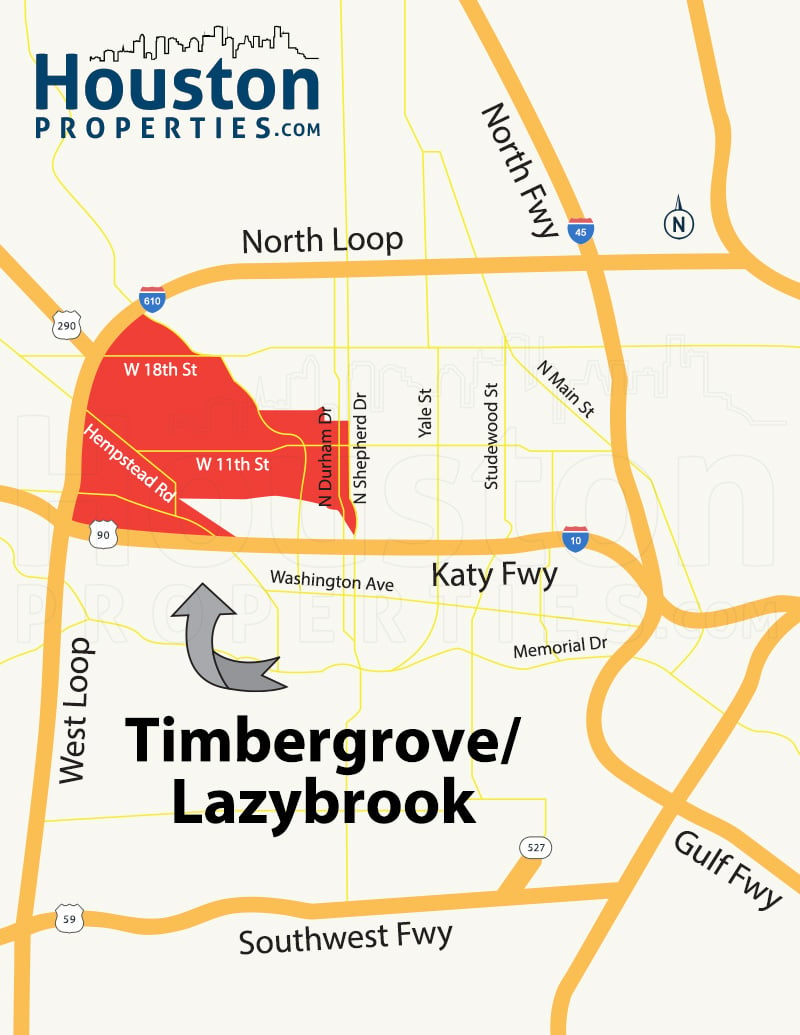 Located a few miles from Downtown Houston, Timbergrove Manor is a thriving, mostly residential neighborhood.
Timbergrove also features the fastest appreciating real estate within the Inner Loop.
Tree-lined streets and large lots give the neighborhood an idyllic, suburban atmosphere. Timbergrove homes for sale are highly desirable due to a host of other factors including:
Central location: Timbergrove luxury real estate enjoy the comfort of having schools, green spaces, restaurants, cafes, activity centers, and retail hubs nearby. The neighborhood even features a hike and bike trail as well as a pocket forest.
High accessibility: Being located near three major freeways (Loop 610, Katy Freeway, and Northwest Freeway) has its perks, which includes having key Houston centers like Downtown, the Galleria, and the Heights within short driving distance.
Excellent choice of luxury homes: The neighborhood features both gorgeously updated ranch-style homes from the 1950s and newer two-story construction, custom-built homes. Timbergrove homes for sale also feature generous lot areas ranging from 7,000 to more than 15,000 square feet.
Strong market appreciation: Timbergrove is one of Houston's hottest neighborhoods in terms of appreciation.
Contact Paige Martin, one of the best realtors in Houston, head of the Houston Properties Team, and Broker Associate at [email protected] or 713-425-4194 for more information about Timbergrove luxury real estate.
Timbergrove Houston Resources:
For more information on available Timbergrove luxury real estate call Paige Martin at 713-425-4194 or email [email protected].
Timbergrove Luxury Real Estate and Neighborhood Guide
Largely wooded before development started in the 1950s and 1960s, Timbergrove has come a long way.
Named after the pine trees that grace the area, Timbergrove Manor has managed to preserve its peaceful suburban charm with its active civics associations and deed restrictions.
The neighborhood was developed in two sections, one on either side of the White Oak Bayou's lush banks. The section east of the bayou is under the Timbergrove Homeowners Neighborhood Association, while the one west is under the Timbergrove Manor Civic Club. Both HOAs handle each community's additional security, events, and deed restrictions.
In the 90s and 2000s, young families and professionals took notice of Timbergrove – its central location, high accessibility, and proximity to key Houston hotspots made the neighborhood quite popular.
This popularity also drew in the attention of developers, who saw the demand and converted some of the neighborhood's older homes into two-story dwellings. Other properties were restored and updated to keep up with the times, whilst keeping faithful to the homes' rustic design.
Today, Timbergrove luxury real estate is a gorgeous mix of both old and new homes. Architectural styles vary, though the most traditional and ranch-style homes are among the most prevalent in the area.
The neighborhood's newer and updated homes tend to sell for higher prices than older ones.
Timbergrove Houston luxury real estate have a 77008 Harris County zip code.
Neighborhoods near Timbergrove include: Downtown Houston, Greater Heights, Rice Military, Garden Oaks, Oak Forest, Cottage Grove, Lazybrook, Camp Logan, and Montrose.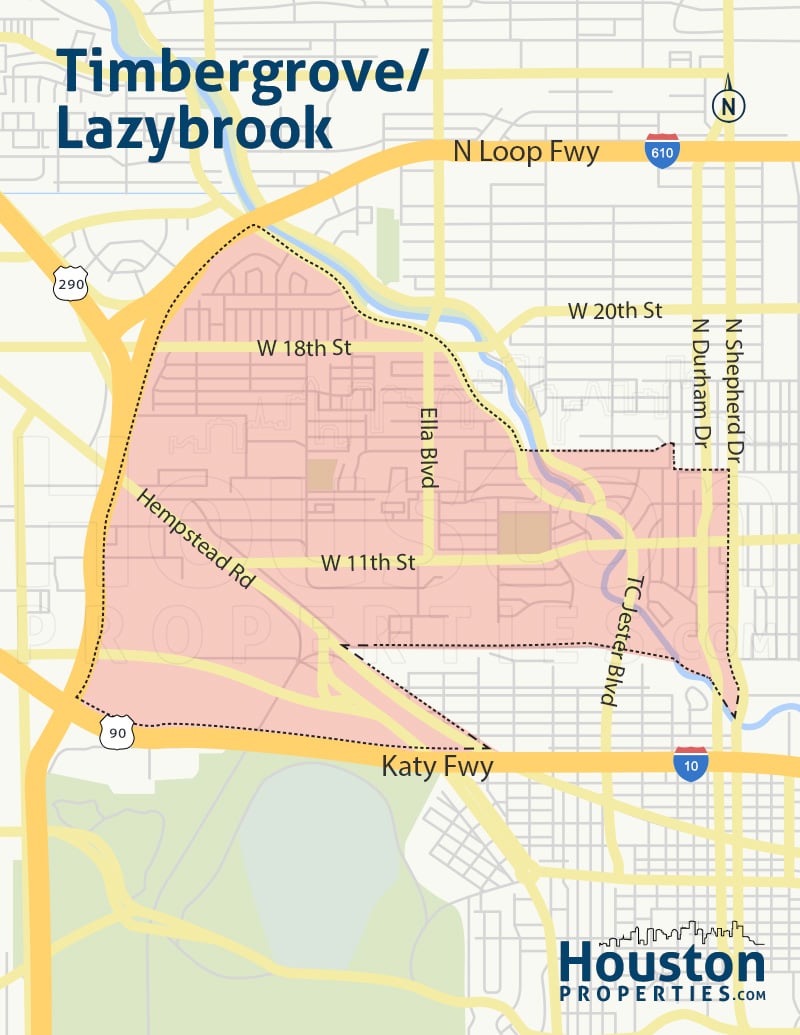 Timbergrove Houston: Fun Things To Do In The Neighborhood
Timbergrove Manor, though mainly residential, does have a few retail, dining, and entertainment options available within its borders. There are, however, more than enough sights and eats (along with nightlife, retail, and entertainment) so conveniently located in surrounding neighborhoods.
With the Galleria, the Heights, Memorial Park, and Rice Military are all within driving distance of the neighborhood, Timbergrove residents have plenty of options from which to choose.
Timbergrove also offers a number of green spaces including the Jaycee Park, West 11th Street Park, and Timbergrove Manor Park.
Jaycee Park, located at 1300 Seamist, had undergone fairly recent renovation through the efforts of the Friends of Jaycee Park and the surrounding communities. The park now features a basketball court, a number of tennis courts, a playground, a 1/3 mile walking trail, a water playground, and picnic tables.
West 11th Street Park, on the other hand, is a 20.2-acre nature park and is home to several species of birds, butterflies, and a wide variety of other flora and fauna. It is largely wooded, with trails and spots for birdwatchers. Residents also enjoy the White Oak Bayou's 7.4-mile hike and bike trail, which is connected to several parks including Timbergrove Manor Park.
With the Memorial Park a short drive away, Timbergrove Manor homes also have easy access to its many amenities, including a top-rated municipal golf course, nature center, and miles of trails.
Here are some must-visit places in Timbergrove Houston:
Restaurants
Pappa Geno's
Tia Maria's
Hughie's
Demeris Barbecue
Stalla's Deli
Pizza Inn
Live Oak Bar and Grill
Fiesta Tacos
Jason's Deli
Luby's
Captain Benny's
Pho and Grill
Ty Seafood Kitchen
Nightlife
Neon Boots Dancehall and Saloon
NJ's
Sassafras
Sunset Strip
Cristobal Mexican Grill and Bar
TA's Cargo Club
Lynn's Longbranch Saloon
Retail and Entertainment Centers
The Galleria
River Oaks Shopping Center
Marq*E Entertainment Center
Uptown Park
Highland Village
Groceries
Kroger's
Walmart
HEB
Randall's
Fiesta Mart
Parks
Memorial Park
Timbergrove Manor Park
Jaycee Park
T.C. Jester Parkway Park
West 11th Street Park
Magnum Manor Park
In Memorial Park
Seymour Lieberman Exercise Trail
Houston Arboretum and Nature Park
Memorial Park Golf Course
Timbergrove Houston Realtor – Paige Martin
As featured on Fox News in the Morning, the Houston Business Journal, Houston Chronicle, and Houston Magazine, Paige Martin – a consistent Top Producing Broker-Associate and head of the Houston Properties Team – is ranked amongst the very top Keller Williams agents in the Houston area.
Paige is ranked as one of the top realtors in Timbergrove Houston, and the state of Texas. Read more about the over 65 awards she's won in the last few years.
Paige works with a tremendous number of buyers and sellers within Timbergrove, earning praises like "Paige Martin is the best Timbergrove Houston realtor I know." Click here to learn more about what previous clients say about Paige.
For a specific recommendation of neighborhoods, homes or properties based upon your personal style, goals & price point, please contact Paige Martin, head of the Houston Properties Team & Broker Associate at [email protected] or 713-425-4194.