Timbergrove Houston Homes For Sale Under $1M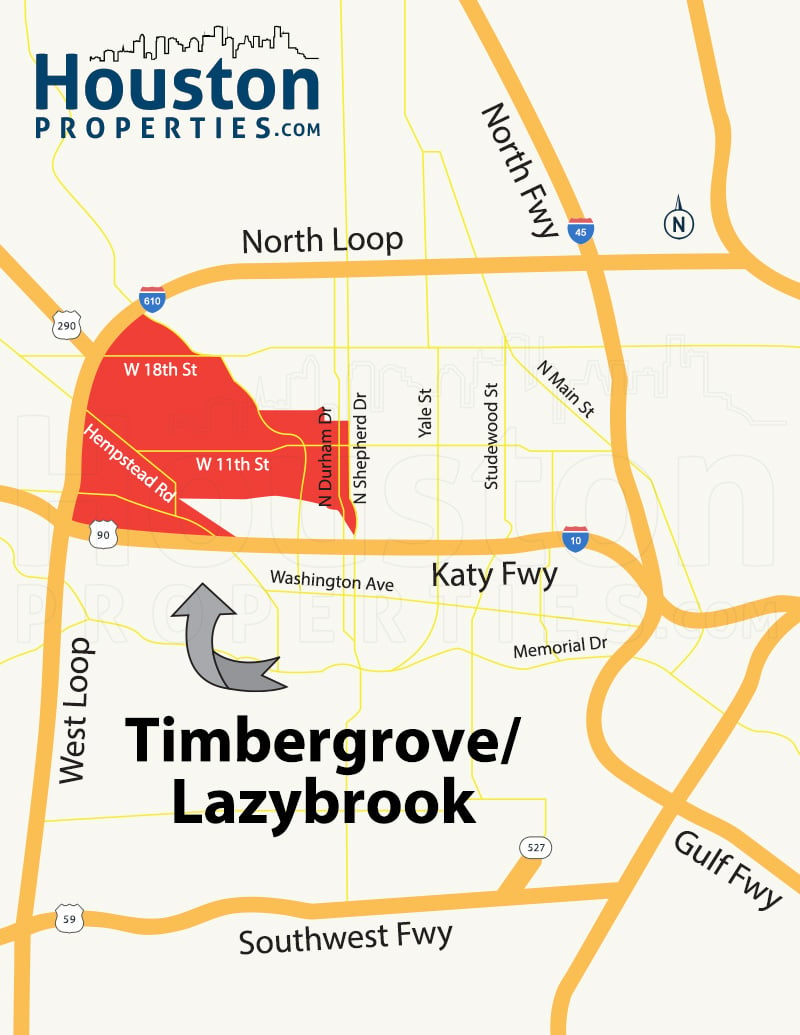 One of the adjoining communities that make up the Lazybrook/Timbergrove Super Neighborhood, Timbergrove Manor is a deed-restricted, mostly residential neighborhood.
The neighborhood's suburban charm, affordable options, and great location make it a great choice. Here are a few reasons why Timbergrove homes for sale are among the most popular in the Inner Loop:
Location: Timbergrove is conveniently located near schools, stores, restaurants, entertainment hubs, and parks.
Accessibility: Timbergrove homes have easy access to three major freeways (Loop 610, Northwest Freeway, and Katy Freeway). Downtown Houston, Rice Military, and the Galleria are all within minutes of the neighborhood.
Active community organizations: The neighborhood is divided into two distinct communities, each under its own homeowners association.
Affordable homes: One of the Inner Loop's hottest neighborhoods, Timbergrove Manor features some of the most affordable homes in the area. Housing options range from gorgeous ranch-style homes to more recently constructed two-story homes.
Contact Paige Martin, one of the best realtors in Houston, head of the Houston Properties Team & Broker Associate at [email protected] or 713-425-4194 for advice or questions about buying or selling a Timbergrove home.
Timbergrove Houston Resources:
NOTE: Timbergrove homes are among the fastest selling real estate in Houston. Some of the properties are off-market (not publicly listed). For more information on available Timbergrove homes for sale call Paige Martin at 713-425-4194 or email [email protected]
Timbergrove Houston Neighborhood Guide
Named for the area's abundance of pine trees, Timbergrove is a residential enclave located just inside the Inner Loop.
The neighborhood directly sits west of Greater Heights and north of Cottage Grove. Garden Oaks and Oak Forest are just across Loop 610 to the north, while Memorial Park, Rice Military, and Camp Logan are across Katy Freeway to the south of the neighborhood.
Timbergrove was developed during Houston's post-war suburban boom in the 50s and 60s. Even development, deed restrictions, and the neighborhood's two homeowners association helped preserve the area's peaceful, rustic vibe.
During the 90s and 2000s, Timbergrove began attracting young families and professionals due to its close-in location. Increased demand spurred development in the neighborhood and some of Timbergrove Manor's old ranch-style homes were converted into two-story homes. Others were updated or renovated while keeping faithful to the original style.
Today, Timbergrove homes come in a variety of styles ranging from traditional, ranch, Mediterranean, French, and contemporary designs.
The neighborhood remains one of the Inner Loop's most popular and this reflects on its appreciating property values. Despite the neighborhood's growth, Timbergrove homes for sale remain among the most accessible in the Inner Loop.
Timbergrove Houston is under the 77008 Harris County zip code.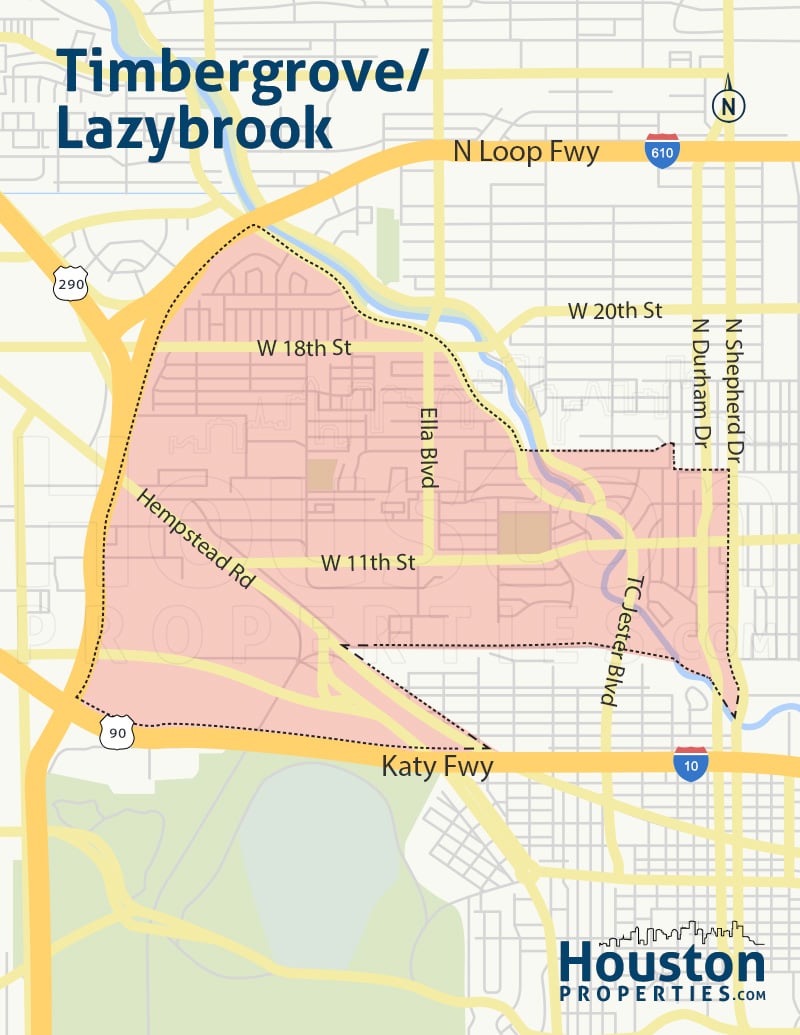 Timbergrove Schools Information
Timbergrove Manor is zoned to the Houston Independent School District (HISD).
Elementary Schools
Sinclair Elementary at 6410 Grovewood Ln. Sinclair Elementary features a a Communications magnet program aimed at developing written, visual, and oral communication among students in grade K to 5. This includes programs in TV/Video/Movie Production, Multimedia/Publishing, and Drama/Broadway/Production.
Love Elementary School at 1120 W 13th St. Love Elementary features a wide variety of activities and enrichment programs designed to develop its diverse student body. It is one of the HISD's Neighborhood Vanguard Gifted and Talented schools, and offers programs including Bilingual/ELL and a special education program. Activities also include a Lego-based robotics program.
Middle Schools
Frank Black Middle School at 1575 Chantilly Ln. Founded in 1957, Black is a Vanguard magnet school named after one of Houston's most notable educators. It stays true to its motto, "Excellence in Academics, Athletics and the Arts" through its academics and athletics programs, as well as its rich variety of electives.
Hamilton Middle School at139 E 20th St. Also featuring a Vanguard magnet program, Hamilton has a research-centric curriculum for its gifted and talented students.
High Schools
Waltrip High School at 1900 West 34th St. Waltrip High School features the Houston ISD's Research and Technology magnet program. Founded in 1959, the school was named after Stephen Pool Waltrip, a former principal who also served in Reagan High School.
Reagan High School at 413 E 13th St. Located in the Heights, Reagan is the HISD's Magnet School of Computer Technology. It is also an IB World School that offers the IB (International Baccalaureate) Middle Years Programme. In addition, the school also features AP programs and divides students into different "Academies," including Computer Magnet, Health Science, Business, Engineering and Design, and Transportation.
Timbergrove Houston Private Schools
Listed below are some private schools located near Timbergrove.
River Oaks Baptist School at 2300 Willowick Rd.
St. Theresa Catholic School at 6623 Rodrigo St.
St. Thomas High School at 4500 Memorial Dr.
St. Rose of Lima Catholic School at 3600 Brinkman St.
Lutheran High School at 1130 W 34th St.
Immanuel Lutheran School at 306 E 15th St.
Houston Heights Charter School at 1125 Lawrence St.
To find an updated listing of all Timbergrove real estate zoned to any specific public school, please send an email to Paige Martin at [email protected] with the property preference and budget that you're working with.
*Note: School zoning tends to change from year to year, information provided above are accurate but not guaranteed. Please double check by visiting the school's website.
Timbergrove Houston Realtor – Paige Martin
As featured on Fox News in the Morning, the Houston Business Journal, Houston Chronicle, and Houston Magazine, Paige Martin – a consistent Top Producing Broker-Associate and head of the Houston Properties Team – is ranked amongst the very top Keller Williams agents in the Houston area.
Paige is ranked as one of the top realtors in Timbergrove Houston, and the state of Texas. Read more about the over 65 awards she's won in the last few years.
Paige works with a tremendous number of buyers and sellers within Timbergrove.
For a specific recommendation of neighborhoods, homes or properties based upon your personal style, goals & price point, please contact Paige Martin, head of the Houston Properties Team & Broker Associate at [email protected] or 713-425-4194.