UPLAND LAKES REAL ESTATE GUIDE
2022 Upland Lakes homes for sale & insider real estate guide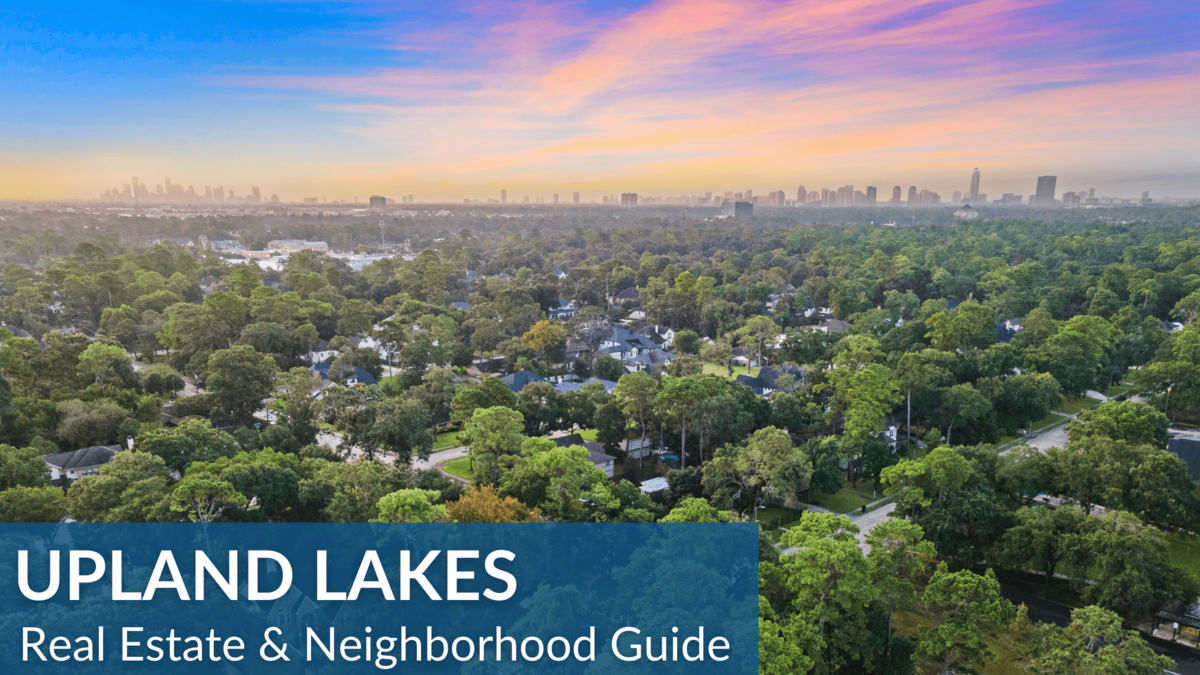 Upland Lakes is a 24/7 manned gated community situated north of Interstate 10 and west of Beltway 8. The Community is located a few minutes east of Houston's major employment district, the Energy Corridor. Upland Lakes features unique estates, high access, home options, and great amenities.
Upland Lakes real estate is well-known for its:
CENTRAL LOCATION: The gated neighborhood is located within Spring Branch and is staffed 24 hours daily. It is nestled 15 miles northwest of downtown Houston. Upland Lakes is a few miles west of Beltway 8 and north of Interstate 10 (Katy Freeway). The Community is close to Houston's major employment center, the Energy Corridor. The neighborhood is centrally located and easily accessible, with nearby parks, schools, and shopping centers. Residents are minutes away from the CityCentre, Memorial City Mall, and Town & Country Village.

ENVIRONMENT-FRIENDLY HOMES: Homes in Upland Lakes are environmentally friendly. The Community uses GeoThermal HVAC systems. These are the systems that work with nature rather than against it. Upland Lakes features energy-efficient homes and is the country's largest use of these systems.

VARIETY OF HOME OPTIONS: Upland Lakes features French architecture with stucco elevations within its gated Community. Floor plans for three and four stories are available. The neighborhood offers detached single-family homes. There are also townhome options available in the area.

PROXIMITY TO BUSINESS DISTRICTS: Only 4 miles away from the neighborhood is the Energy Corridor. The Energy Corridor is one of the major employment districts in Houston and houses many large businesses. It is also home to Fortune 500 companies. Among those are BP, Citgo, ConocoPhillips, Dow Chemical, ExxonMobil Chemical, and Foster Wheeler. There are over 80,000 employees that commute to the district every day.

GREAT COMMUNITY AMENITIES: Residents enjoy many amenities due to its proximity to major thoroughfares. Beltway 8 and Interstate 10 (Katy Freeway) offer many entertainment spaces. Upland Lakes homes are close to the Beer Creek Pioners Park, a 2,154-acre park with excellent trails, sports fields, and green spaces. A disc golf course and swimming pool are available at Agnes Moffitt Park, located north of the Community.

TOP-RANKING SCHOOLS: Upland Lakes homes are zoned to the highly reputable Spring Branch Independent School District (SBISD). Sherwood Elementary, Spring Forest Middle School, and Stratford High School serve students in the area.
Upland Lakes real estate can be challenging and tricky to navigate due to its proximity to many areas. Some homes are close to major thoroughfares and hotspots.
To get personal advice on buying or selling an Upland Lakes home, contact Paige Martin. One of Houston's best realtors and one of the top-ranked Realtors in the United States.
"We had the best experience working with the Houston Properties team. They were always honest and provided insightful feedback which was invaluable during the home buying process. Houston is a complicated market and they know it inside and out. They worked tirelessly for us during an extremely difficult and volatile market. I can't recommend them highly enough!" - Jen Schulten (Google Review)
---
Table of Contents
---
Upland Lakes Home Sale Trends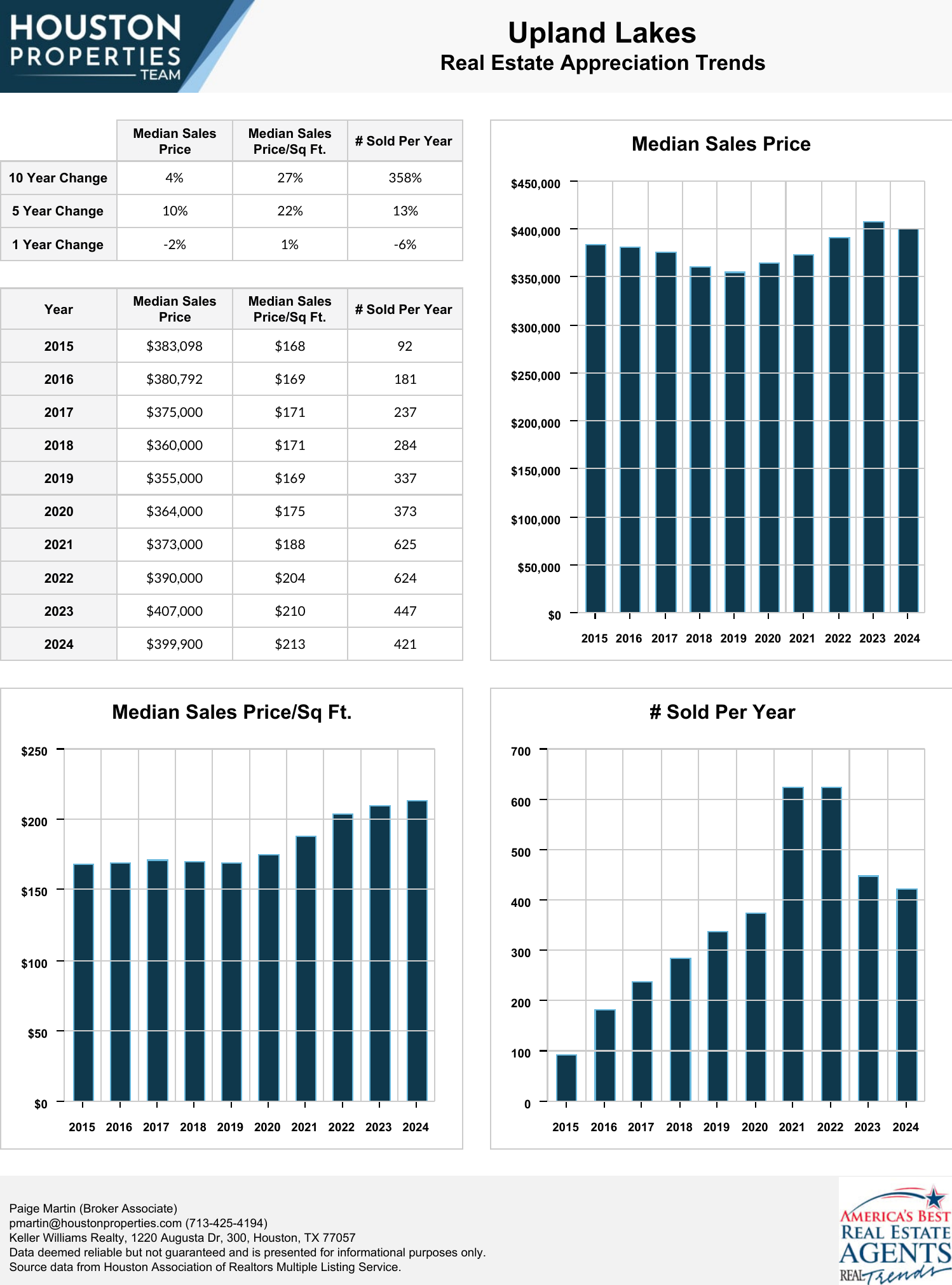 ---
Upland Lakes Maps, Location & Zip Code
| Commute Time | Upland Lakes |
| --- | --- |
| Downtown (min) | Unknown |
| Med Ctr (min) | Unknown |
| Energy Corridor (min) | Unknown |
| Galleria (min) | Unknown |
| Highlights | Upland Lakes |
| --- | --- |
| Amenities | Unknown |
| Golf Courses | Unknown |
| Run / Bike Trails | Unknown |
| Nearby Retail / Dining | Unknown |
| Major Employers | Unknown |
---
Upland Lakes Schools
| Top Elementary Schools | Great Schools Ranking |
| --- | --- |
| Valley Oaks Elem | 8 |
---
Best Houston Real Estate Resources
---