Chevy Chase Houston Neighborhood Guide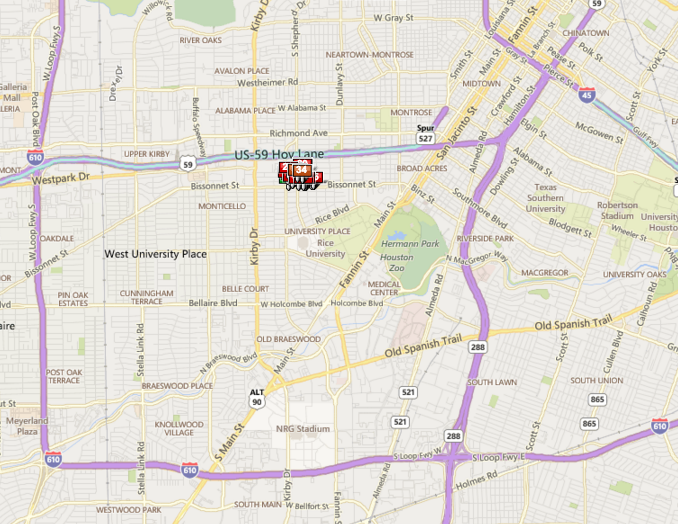 Chevy Chase is a quiet Inner Loop subdivision nestled beside some of Houston's most expensive neighborhoods. The neighborhood runs south of Upper Kirby and Montrose, and is one of the 21 subdivisions that form Boulevard Oaks.
Chevy Chase offers an easy drive and commute to and from key Houston areas. Chevy Chase homes are easily accessible from major roads and thoroughfares including Kirby Drive, Bissonnet Street, and Southwest Freeway.
Similar to its affluent neighbors, Chevy Chase is home to some amazing properties that are larger than the average Houston home. Because of this and its prized Inner Loop location, much of the real estate in the neighborhood can cost well over $1 million.
With only 1 or 2 properties up for sale per year, Chevy Chase homes are consistently in high demand. Homebuyers will benefit from the guidance of an experienced Chevy Chase realtor who knows the neighborhood, deed-restrictions, non-MLS inventory.
For any inquiries about Chevy Chase homes recommendations, or off-market MLS listings, get in touch with Paige Martin, head of the Houston Properties Team and one of the best realtors in Houston.
Chevy Chase Resources (Popular Topics)
Call Paige at 713-425-4194 to tour a Chevy Chase Houston home today or email [email protected] for more information.
12 Things Chevy Chase Real Estate Buyers Should Know
Chevy Chase features a quiet yet affluent neighborhood centrally located within the prized Inner Loop area.
Chevy Chase is minutes away from business, academic, and entertainment hubs including the Medical Center, Downtown Houston, and Rice University.
The neighborhood is centrally located within the Inner Loop, intersecting some of the main roads in the area including Bissonnet Street, S Sheperd Drive, and Greenbriar Drive.
Chevy Chase homes are also easily accessible from major thoroughfares such as Interstate 10 and Interstate 45.
Chevy Chase is one of 21 subdivisions that make up Boulevard Oaks, one of Houston's most established neighborhoods.
Chevy Chase has maintained most of its original 1930s homes and quiet tree-lined streets lending to the neighborhood's small-town feel.
There are also plenty of green spaces scattered around the neighborhood including Levy Park, Ervan Chew Park, and Hermann Park.
Chevy Chase has an active civic club originally established in the 1930s that continues to look over the maintenance of the community.
Deed restrictions are strictly enforced in the community.
Chevy Chase is zoned to the Houston ISD and a number of notable private schools are also located nearby.
Lot sizes in Chevy Chase range from 5,500 up to more than 7,000 square feet.
While most of the original homes line the community, contemporary modern homes are also available.
Prices for Chevy Chase homes for sale start at around $900,000 to more than $1 million.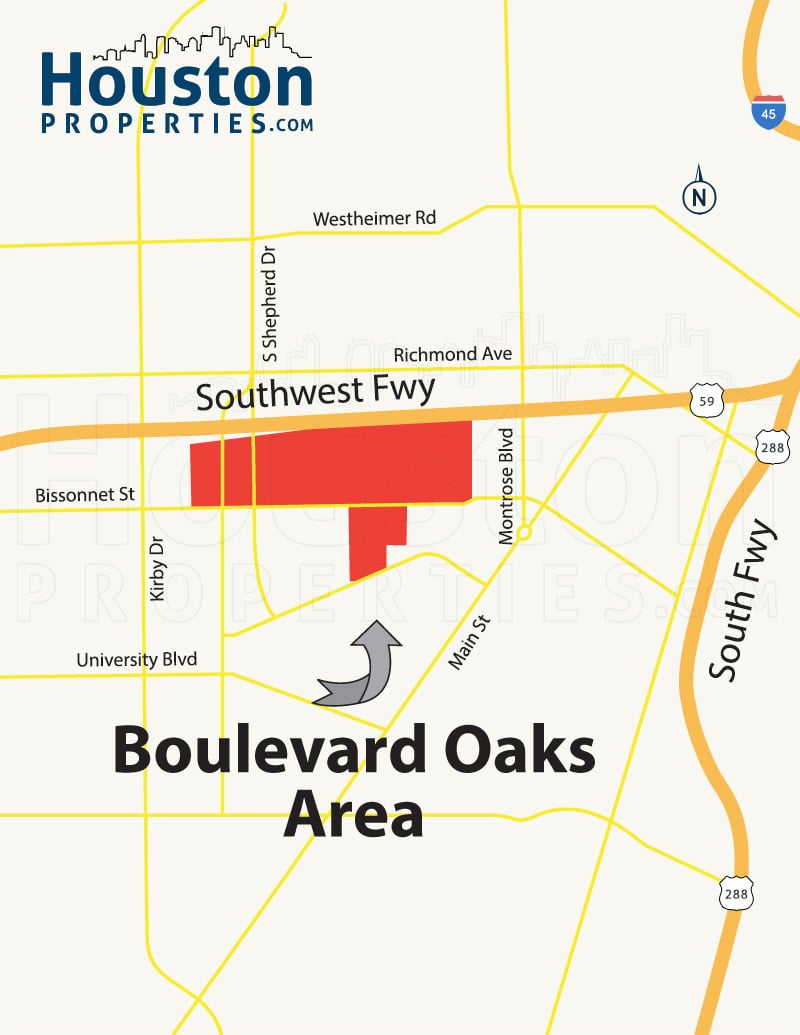 Fun Things To Do Near Chevy Chase
With convenient access to Houston's hotspots, Chevy Chase is minutes away from upscale shops and restaurants, and cultural and outdoor recreation. A few places of interest include the Inner Loop, Downtown Houston, and the Museum District.
Here are some of the places to visit in and around Chevy Chase:
Dining
Luna Pizzeria
Tacos Tierra Caliente
Local Foods
Gusto Gourmet
Eddie V's Prime Seafood and Steak
Flip 'n Patties
Luigi's Cucina Italiana
Retail
The Galleria
Highland Village Shopping Center
River Oaks Shopping Center
Rice Village
Outdoor  
Vassar Spaceway Park
Fleming Park
Levy Park
Ervan Chew Park
Hermann Park
Memorial Park
Neighborhoods Near Chevy Chase
Neighborhoods near Chevy Chase include:
Chevy Chase Schools
Chevy Chase homes are zoned to the Houston Independent School District (HISD). Students in the area may attend the following public schools:
Elementary Schools
Poe Elementary at 5100 Hazard Street. The Edgar Allen Poe Elementary School is a fine arts magnet school that aims to develop creative thinkers and performers in the arts.
Middle Schools
Lanier Middle School at 2600 Woodland. Sidney Lanier Middle School handles students from grades 6 to 8. Lanier is a recipient of the Texas Gold Performance Award based on language arts, math, reading, science, social studies, and writing programs. They also have a Vanguard program for gifted students.
High Schools
Lamar High School at 3325 Westheimer Road. Lamar High School has a great Athletics program. They have one of the oldest lacrosse programs in the state. Their football team, The Lamar Redskins, is one of the highest-ranking teams within the Greater Houston area.
Chevy Chase Private Schools
The following are some of the notable private schools near Chevy Chase:
Presbyterian School at 5300 Main Street. Presbyterian School is a co-education school serving Pre K to 8 students.
John's School at 2401 Claremont Lane. St. John's School has been hailed as one of America's elite prep schools and the best private school in Houston. St. John's admits students from K-12.
Agnes Academy at 9000 Bellaire Boulevard. St. Agnes Academy is a college-preparatory school serving young women grades 9 to 12.
Strake Jesuit College Preparatory at 8900 Bellaire Boulevard. Strake Jesuit College Preparatory is the largest Catholic school in Houston for grades 9 to 12.
The Kinkaid School at 201 Kincaid School Drive. The Kinkaid School is a non-sectarian school attended by students from PK -12. It is also the oldest independent coeducational school in Greater Houston.
River Oaks Baptist School at 2300 Willowick Road. River Oaks Baptist School is one of the premier independent, co-educational schools in Houston. Half of their faculty holds advanced degrees in their field and they boast of a low teacher to student ratio.
The Glassell Junior School at 5100 Montrose Boulevard. The Glassell Junior School is an art school for young people ages 3–18, devoted to nurturing creativity and dedicated to fostering an appreciation of the arts and an awareness of the world.
To find an updated listing of all Chevy Chase real estate zoned to any specific public school, please send an email to Paige Martin at [email protected] with the property preference and budget that you're working with.
*Note: School zoning tends to change from year to year, information provided above are accurate but not guaranteed. Please double check by visiting the school's website.
Top Chevy Chase Houston Realtor – Paige Martin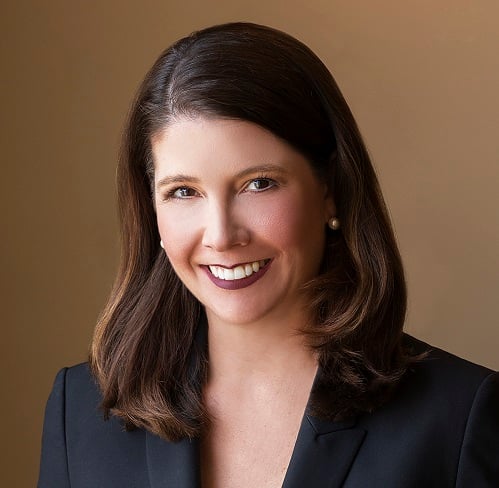 As featured on Fox News in the Morning, the Houston Business Journal, Houston Chronicle, and Houston Magazine, Paige Martin – a consistent Top Producing Broker-Associate and head of the Houston Properties Team – is ranked amongst the very top Keller Williams agents in the Houston area.
Paige is ranked as one of the top realtors in Houston and the state of Texas. Read more about the over 65 awards she's won in the last few years.
Paige works with a tremendous number of buyers and sellers within Chevy Chase, earning praises like "Paige Martin is the best Chevy Chase Houston realtor I know." Read more about client feedback and ratings here.
For a specific recommendation of neighborhoods, homes or properties based upon your personal style, goals & price point, please contact Paige Martin, head of the Houston Properties Team & Broker Associate at [email protected] or 713-425-4194.