Upper Kirby Houston Homebuyers Guide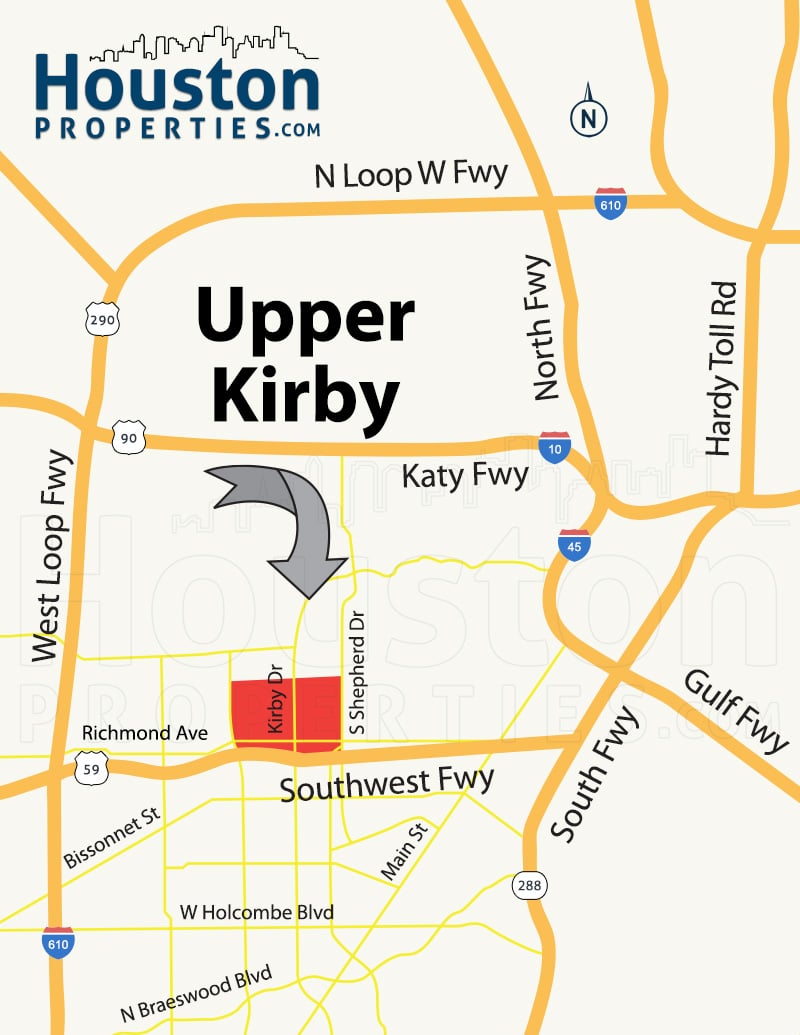 The vibrant and hip neighborhood of Upper Kirby straddles the Southwest Freeway and is surrounded by older, more established Inner Loop neighborhoods.
Despite being a relatively young community, Upper Kirby has grown to become one of the hottest neighborhoods in the area.
Upper Kirby homes are highly desirable due to the neighborhood's:
Excellent location: Situated about 6 miles southwest of Houston's Central Business District, Upper Kirby is ideally located near cultural, entertainment, retail, business, and job centers. It sits near two other major employment centers, namely the Medical Center and the Greenway Plaza.
High accessibility: Upper Kirby's central location along the Southwest Freeway and the Buffalo Speedway gives it excellent accessibility to and from other Inner Loop neighborhoods.
Great dining, nightlife, and retail options: Apart from having the Galleria and other shopping centers minutes away, Upper Kirby is also a destination in itself, with its wide variety of upscale boutiques, chef-owned restaurants, chain restaurants, bars, lounges, and pubs.
Top-ranked schools: With a number of the HISD's IB schools zoned to the area, Upper Kirby homes for sale have access to some of the best in the area. Two highly regarded schools, Lamar High School and St. John's School are located within the district's borders.
Wide array of homes: Like its immediate neighbor Montrose, Upper Kirby features a wide selection of housing options, including single-family homes and townhomes in gated communities, upscale condos, and patio homes.
Contact Paige Martin, a top-ranked Houston realtor and head of the Houston Properties Team for questions and advice about Upper Kirby homes for sale.
Upper Kirby Houston Resources:
Most Expensive Upper Kirby Homes For Sale
Upper Kirby Homes Under $1M
Upper Kirby Homes Under $500K
For more information on available Upper Kirby homes for sale call Paige Martin at 713-425-4194 or email [email protected]
Neighborhood Guide: Upper Kirby Houston
Compared to its neighbors, the Upper Kirby District is fairly new. Its rise from a neglected neighborhood to one of Houston's premiere districts was mainly a community effort, sparking redevelopment and growth in the area.
During the late 80s, the area now known as Upper Kirby used to be a nameless community of aging commercial properties and infrastructure. Concerned about the community, residents and business owners reached a consensus to work together to redevelop and improve the ailing neighborhood.
With River Oaks to the north, Greenway Plaza to the west, and Montrose to the east, Upper Kirby's location within the Inner Loop also had a hand in the district's redevelopment.
Today, Upper Kirby boasts of being one of the most sought after, fastest growing, and most accessible neighborhoods in the Inner Loop.
Demand for Upper Kirby homes for sale has spurred new development, as well as driven up property values.
The neighborhood features a wide variety of options, including old patio homes, townhomes within gated communities, and condos in luxury highrise buildings.
Upper Kirby Houston is under the 77098 zip code of Harris County. Neighborhoods near the district include: Downtown Houston, Museum District, Rice Military, River Oaks, Afton Oaks, West University Place, Midtown, Bellaire, Medical Center, Montrose/Neartown, and the Galleria.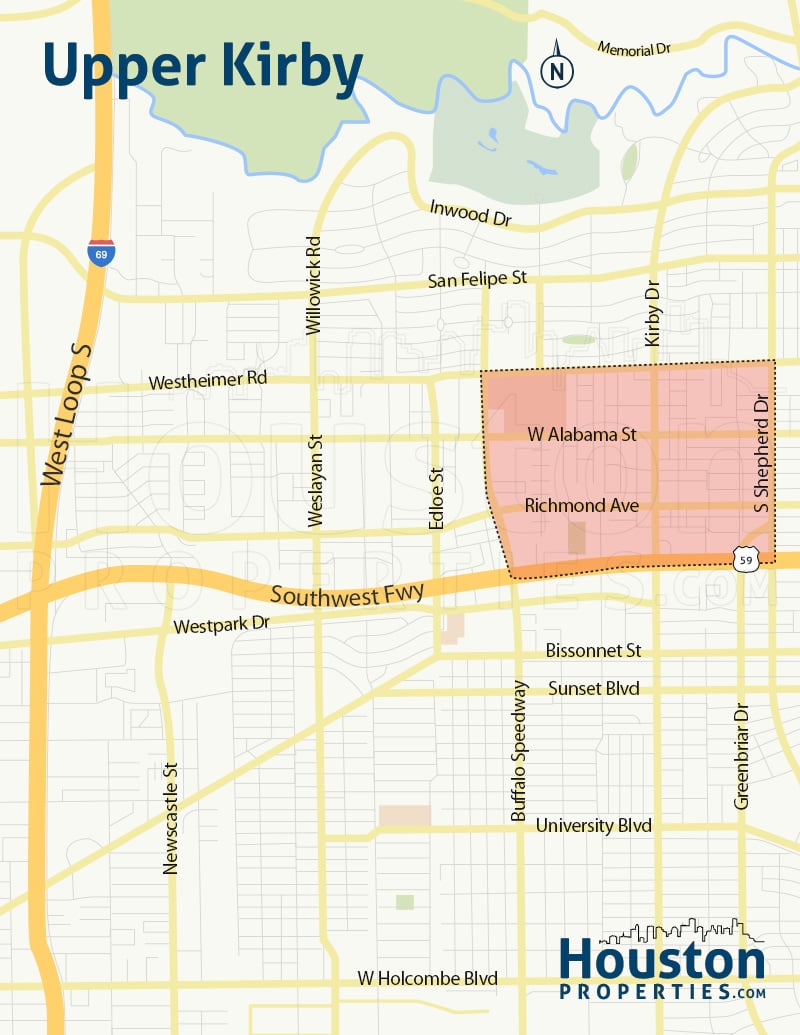 Fun Things To Do In And Around Upper Kirby
Residents in the Upper Kirby District don't have to go very far for shopping, dining, and entertainment as its location gives it easy access to the finest Houston has to offer. The Greenway Plaza is virtually the district's next door neighbor, while Montrose's lively nightlife and street scene and the Galleria's posh offerings are equally accessible from Upper Kirby.
Apart from reaping the benefits of its central location, the neighborhood is also a destination in itself, with its collection of upscale boutiques, fine dining restaurants, bars, and lounges.
Upper Kirby's restaurants offer feasts in various cuisines, making the neighborhood quite a hotspot for foodies.
The Queen Vic Pub & Kitchen, located at 2712 Richmond Avenue, offers British-Indian fusion cuisine alongside a wide selection of craft beers. The Goode Co. Seafood (2621 Westpark Drive) and the Goode Co. Taquerita (4902 Kirby Drive) are sure to sate one's hankering for seafood and Tex-Mex. Kata Robata Sushi and Grill, at 3600 Kirby Drive, features sushi and tapas.
The neighborhood also features lounges, bars, and pubs offering great selections of craft beers and wine.
While Upper Kirby doesn't have much green spaces within its dense, urban landscape, the neighborhood has Levy Park in nearby Greenway Park. The park has been renovated in the past few years, and now features a dog park, a softball field and a community garden.
Listed below are just some of the best places to visit in and around Upper Kirby.
Dining
Kata Robata
The Queen Vic Pub and Kitchen
Goode Co. Seafood
Goode Co. Taqueria
Sonoma Wine Bar & Restaurant
Luna Pizzeria
Fat Bao
Paul's Kitchen
Mia's
Ruggles Black
Gusto Gourmet
Hobbit Cafe
Grace's
Luigi's Cucina Italiana
Corner Table
El Tiempo Cantina
Beck's Prime
Nightlife
Beckrew Wine House
The Stag's Head Pub
Mezzanine Lounge
Mugsy's
The Cellar Bar
1919 Wine and Mixology
Velvet Melvin
The Davenport
Downing Street Pub
McElroy's Pub
McGonigel's Mucky Duck
Shopping
River Oaks Shopping Center
Rice Village
The Galleria
Weslayan Plaza
Highland Village
Shepherd Square Shopping Center
Kirby Richmond Plaza
Southwest Freeway Retail Center
Parks
River Oaks Park
Levy Park
Menil Park
Memorial Park
Weir Park
Upper Kirby Schools Information
Upper Kirby is zoned to the Houston Independent School District (HISD) and is home to two of the most highly regarded schools in the area: Lamar High School and St. John's School.
Public
Elementary
Poe Elementary at 5100 Hazard St. Named after the famous author, Edgar Allan Poe Elementary offers a fine arts magnet program, featuring various enrichment classes in dance, music, visual arts, Suzuki violin, and technology. It is a candidate for the International Baccalaureate Primary Years Programme.
River Oaks Elementary School at 2008 Kirby Dr. Founded in 1929, River Oaks Elementary is a magnet Vanguard school and is one of the HISD's International Baccalaureate World schools (Primary Years Programme).
West University Elementary School at 3756 University Blvd. Located in the eponymous independent city, West U Elementary is considered as one of the HISD's best elementary schools. It has a GreatSchools.org rating of 10 out of 10.
Middle School
Lanier Middle School at 2600 Woodhead St. Lanier is located in neighboring Neartown/Montrose and is one of the HISD's International Baccalaureate World schools (IB Middle Years Programme). It offers a Vanguard Magnet/GT program that features classes in foreign languages, algebra, and IPC (Integrated Physics and Chemistry).
Pershing Middle School at 3838 Blue Bonnet Blvd. Located in nearby Braeswood Place, Pershing offers a neighborhood program, a Fine Arts magnet program, Pre-AP, and a Vanguard Gifted and Talented program. The school specializes in music and features enrichment classes in "unorthodox" areas.
Pin Oak Middle School at 4601 Glenmont St. Located in Bellaire, Pin Oak is an option for students zoned to Pershing. The school is "application-only" and serves a regular program together with a Foreign Languages magnet program. Known for its academic excellence, Pin Oak was named a National Blue Ribbon School as well as a TEA Exemplary school.
High School
Lamar High School at 3325 Westheimer Rd. Located within the Upper Kirby District, Lamar features several academic programs including an IB Diploma Programme, Advanced Placement, and a magnet program for Business Administration. As one of the HISD's International Baccalaureate schools, it offers IB diplomas in 5 languages: French, Chinese, Italian, Russian, and Spanish.
Upper Kirby Houston Private Schools
St. John's School at 2401 Claremont Ln. Forbes lists St. John's (or SJS) as one of "America's Elite Prep Schools." It has long held a reputation in both academic excellence and selectivity. SJS also features a House system, in which students are sorted into six Houses.
Other notable private schools around the Upper Kirby area includes:
Annunciation Orthodox School at 3600 Yoakum Blvd.
The Harris School at 900 Lovett Blvd.
Avalon Academy at 1616 Indiana St.
Kipling Street Academy at 1425 Kipling St.
School For Young Children at 810 Sul Ross St.
St Stephens Episcopal School at 1800 Sul Ross St.
To find an updated listing of all Upper Kirby real estate zoned to any specific public school, please send an email to Paige Martin at [email protected] with the property preference and budget that you're working with.
*Note: School zoning tends to change from year to year, information provided above are accurate but not guaranteed. Please double check by visiting the school's website.
Upper Kirby Houston Realtor – Paige Martin
As featured on Fox News in the Morning, the Houston Business Journal, Houston Chronicle, and Houston Magazine, Paige Martin – a consistent Top Producing Broker-Associate and head of the Houston Properties Team – is ranked amongst the very top Keller Williams agents in the Houston area.
Paige is ranked as one of the top realtors in Upper Kirby Houston, and the state of Texas. Read more about the over 65 awards she's won in the last few years.
Paige works with a tremendous number of buyers and sellers within the Inner Loop.
For a specific recommendation of neighborhoods, homes or properties based upon your personal style, goals & price point, please contact Paige Martin, head of the Houston Properties Team & Broker Associate at [email protected] or 713-425-4194.