Raintree Place Homes For Sale & Real Estate Trends
2022 Raintree Place homes for sale & insider real estate guide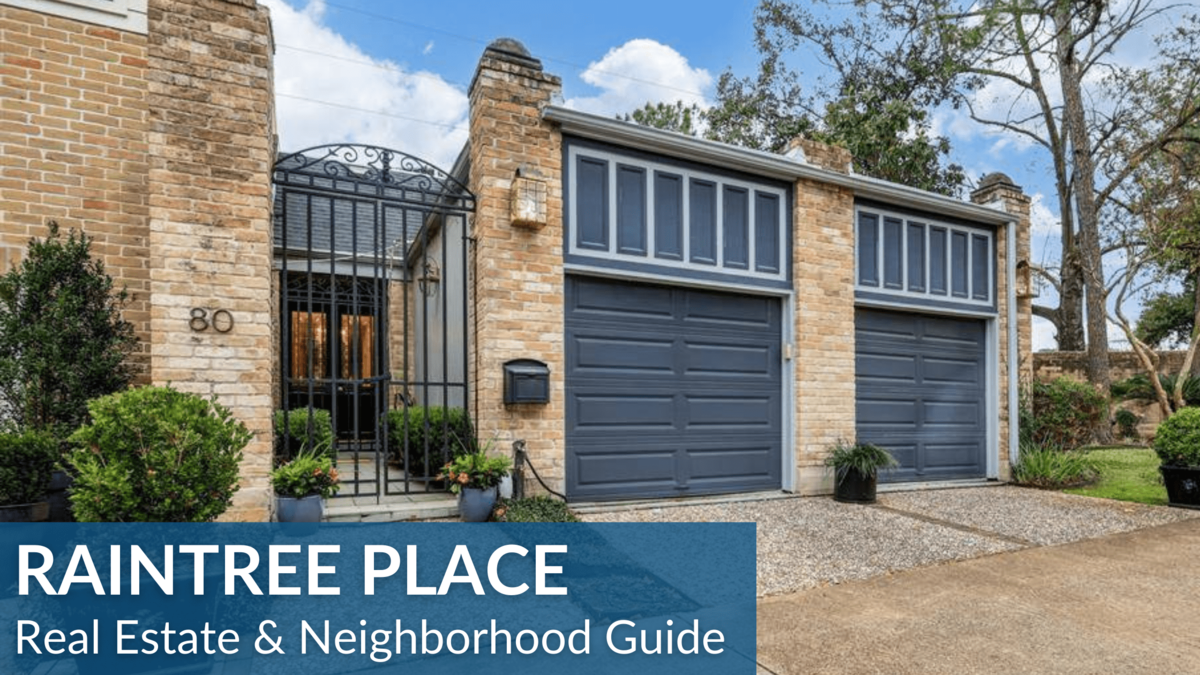 One of Houston's Best Gated Communities, Raintree Place is tucked away in a secluded area between River Oaks and the Galleria area. Known for its close proximity to Houston's key locations, the community is often called one of Houston's "best-kept secrets"
Raintree Place residents enjoy its excellent features, including:
SECLUDED AND SECURE COMMUNITY: The 24-hour manned gate is just of South Briar Hollow Lane, which leads to a wooded drive into Raintree Place. Most of Raintree Place is adorned with mature trees. (See also 26 Best Gated Communities Within 45 Minutes of Downtown Houston)

CENTRAL LOCATION: Located within Briar Hollow, the community is minutes away from business, retail, and entertainment centers. Commutes to and from the neighborhood are fairly easy, thanks to its location near main roads and freeways. Raintree Place has close proximity to San Felipe Street, Post Oak Boulevard, Loop 610, and Westheimer Road.

PROXIMITY TO THE GALLERIA AREA: The Galleria/Uptown area is less than a mile away from Raintree Place. The district is home to over 23 million square feet of office space, with thousands of businesses and employees. The Greenway Plaza/Upper Kirby area, another business and employment center, is also nearby.

PLENTY OF RETAIL AND ENTERTAINMENT: River Oaks District (along Westheimer Road) is located about 5 minutes away from Raintree Place. The upscale outdoor shopping center covers around 250,000 square feet and offers a range of restaurants, boutiques, and cafes. Highland Village, also located along Westheimer, features more than 50 dining, retail, and entertainment options.

PROXIMITY TO MEMORIAL PARK: Memorial Park covers a 1,400-acre area just north of Raintree Place. The park is home to one of Houston's best golf courses, as well as a variety of sports facilities. Miles of multi-use trails, varying in difficulty, surface, and size, wind around the park's lush and vast expanse.

ACTIVE COMMUNITY ASSOCIATION: Founded in the 1970s, the Raintree Place Property Owners Association is responsible for maintaining the community's overall look and feel. The RPPO Association enforces the community's deed restrictions and maintains lighting, roads, common areas, parking areas, and 24-hour security.
Raintree Place real estate can be challenging to navigate due to the neighborhood's deed restrictions and limited inventory. Apart from the tight home inventory and deed restrictions, some homes are located near train tracks.
To get personal advice on buying or selling in the Raintree Place area, contact Paige Martin, one of Houston's best realtors and one of the top-ranked Realtors in the United States.
"The Houston Properties Team helped make the purchase of our first home so much less stressful, especially in this market. They kept in constant communication and helped us navigate the process from beginning to end." - Meagan Joacim (Google Review)
---
Table of Contents
---
Raintree Place Home Sale Trends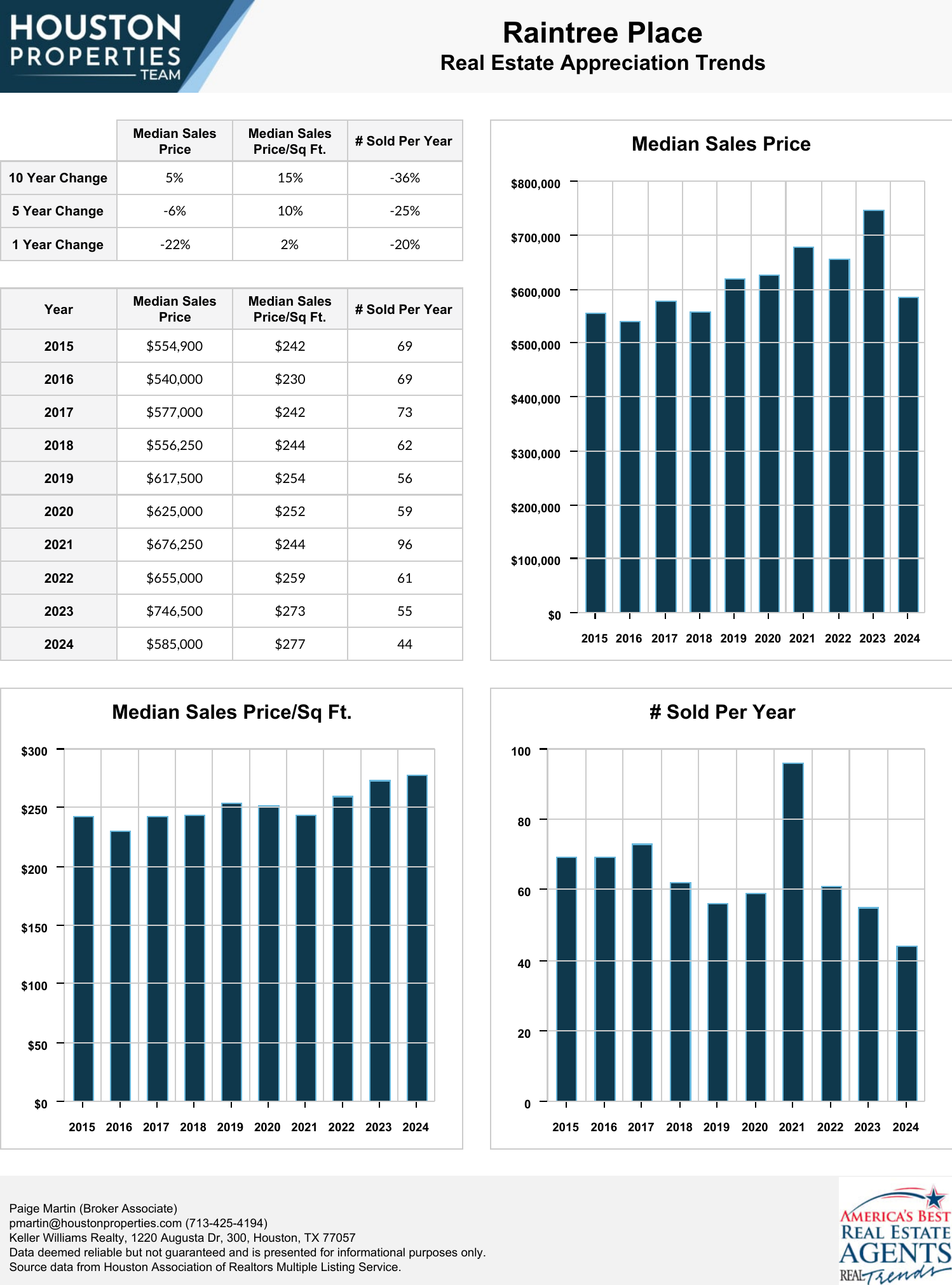 ---
Raintree Place Maps, Location & Zip Code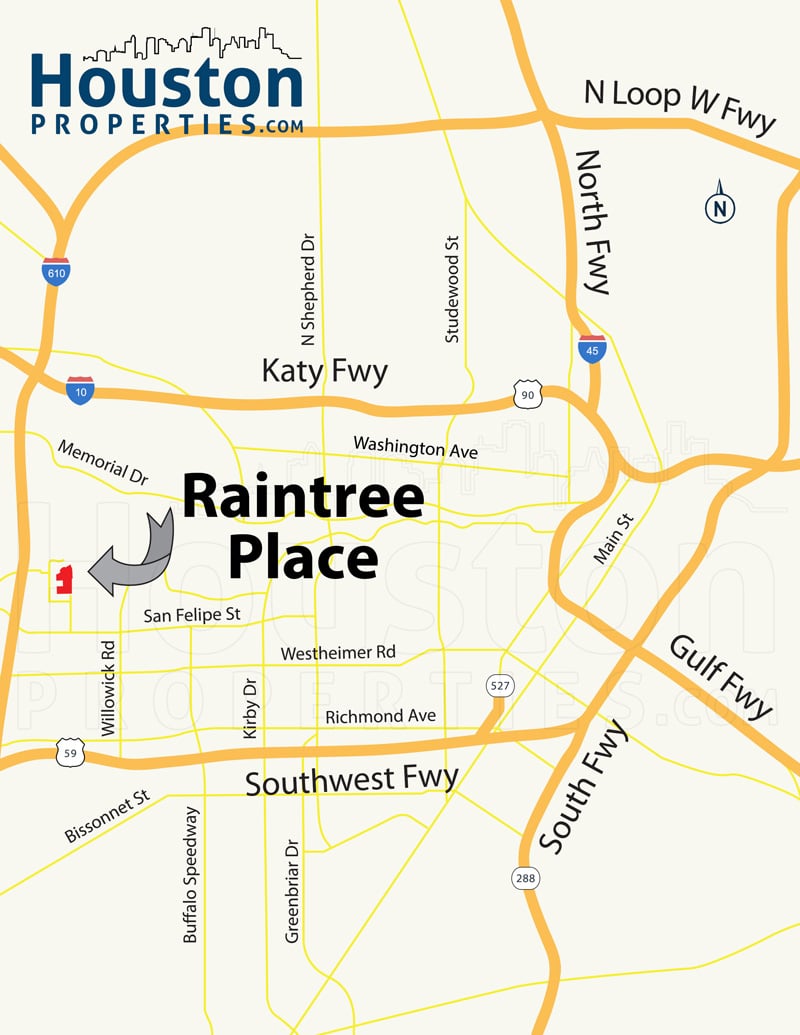 | Commute Time | Raintree Place |
| --- | --- |
| Downtown (min) | Unknown |
| Med Ctr (min) | Unknown |
| Energy Corridor (min) | Unknown |
| Galleria (min) | Unknown |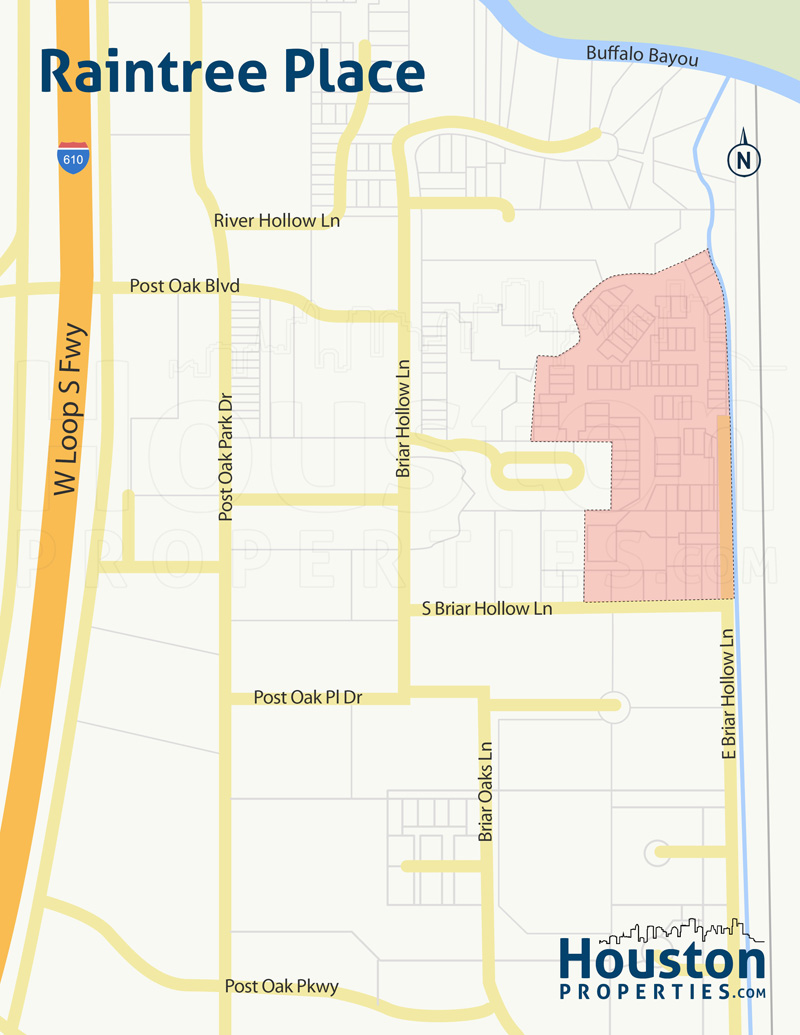 | Highlights | Raintree Place |
| --- | --- |
| Amenities | Unknown |
| Golf Courses | Unknown |
| Run / Bike Trails | Unknown |
| Nearby Retail / Dining | Unknown |
| Major Employers | Unknown |
---
Raintree Place Schools
| Top Middle Schools | Great Schools Ranking |
| --- | --- |
| Lanier Middle | 9 |
---
Best Houston Real Estate Resources
---