West Ranch Homes For Sale & Real Estate Trends
2022 West Ranch homes for sale & insider real estate guide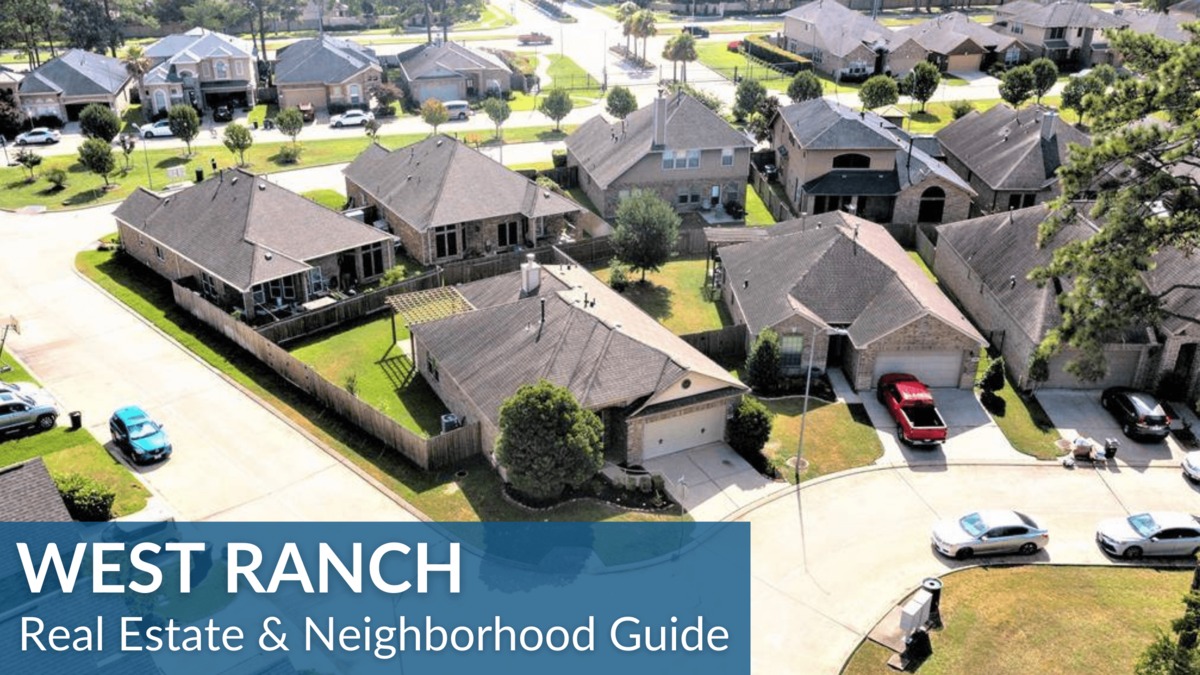 Ranked as one of "America's Top 100 Places To Live", West Ranch is a master-planned community within Friendswood. It is bordered by Clear Creek and Chigger Creek. West Ranch Friendswood residents enjoy one of the easiest commutes in South Houston via Interstate 45 and Highway 35. The community features excellent amenities, convenient access, and good schools.
West Ranch is famous due to its:
GREAT COMMUNITY AMENITIES: West Ranch offers fantastic amenities such as a 20-acre Town Center commercial site. More than ten miles of trails wind through 100+ acres of green space and resort-style swimming pools. In addition, the community is surrounded by two man-made lakes, each with its scenic views and activities. The community has its second recreation center and includes a competition-size swimming pool and covered seating areas. There is a playground, a splash pad, and a lodge-style clubhouse with a kitchen. A community room and plenty of parking are also available.

EASY ACCESS: I-45 North takes about 35 minutes to get to Downtown Houston. The Inner Loop will take a few minutes to reach via I-45 and Memorial Drive. Nearby communities around include Pearland and Manvel. West Ranch residents easily access the Space Center Houston and the Nassau Bay Peninsula Wildlife Park. The community is conveniently located near parks, hospitals and clinics, and transportation services. There are also retail, dining, and entertainment options.

TOP PERFORMING SCHOOLS: West Ranch is zoned in the highly-acclaimed Friendswood Independent School District. FISD is one of Texas' top independent school districts and has the highest SAT average. Friendswood Junior High School is located adjacent to West Ranch.

WIDE RANGE OF HOME OPTIONS: West Ranch homes for sale are located on 766 acres of land. It is bounded by Centennial Park, Clear Creek, and Chigger Creek. It will have 68 acres of commercial space and 23 acres of Village Center. West Ranch Friendswood real estate features over 60 acres of parks. The miles of trails extending to Centennial Park allow residents to enjoy the natural beauty. West Ranch consists of single-family, garden, and estate homes in various styles and sizes. West Ranch houses come in one or two stories lay-out.
West Ranch real estate can be challenging to navigate. Given the number of communities in the area and diversity of builders (some more superior than others).
To get personal advice on buying or selling a West Ranch home, contact Paige Martin. One of Houston's best realtors and one of the top-ranked Realtors in the United States.
"Our experience with Houston Properties Team was fantastic and we are very grateful that we made the decision to hire their team when we did. We were looking for a dynamic group of people with a great reputation in the Houston area, that could promote and sell our house in a relatively reasonable time, using the most suitable marketing tools, and we were not disappointed." - German Torres (Google Review)
---
Table of Contents
---
West Ranch Home Sale Trends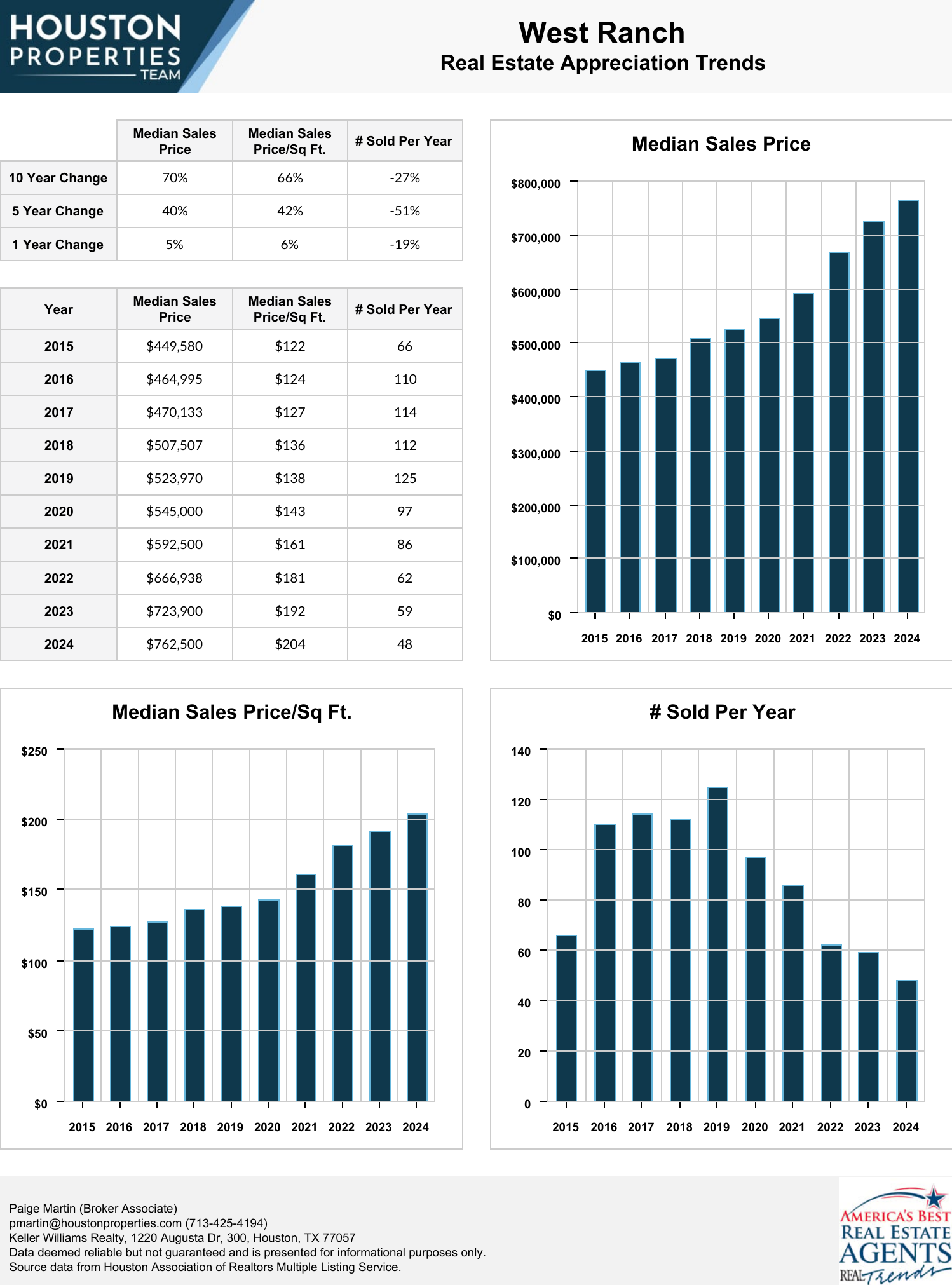 ---
West Ranch Maps, Location & Zip Code
| Commute Time | West Ranch |
| --- | --- |
| Downtown (min) | Unknown |
| Med Ctr (min) | Unknown |
| Energy Corridor (min) | Unknown |
| Galleria (min) | Unknown |
| Highlights | West Ranch |
| --- | --- |
| Amenities | Unknown |
| Golf Courses | Unknown |
| Run / Bike Trails | Unknown |
| Nearby Retail / Dining | Unknown |
| Major Employers | Unknown |
---
West Ranch Schools
| Top Elementary Schools | Great Schools Ranking |
| --- | --- |
| Cline Elem | 9 |
| Top Middle Schools | Great Schools Ranking |
| --- | --- |
| Friendswood Jr High | 7 |
| Top High Schools | Great Schools Ranking |
| --- | --- |
| Friendswood High | 8 |
---
Best Houston Real Estate Resources
---