How To Sell Your West University Home Fast For The Most Money
Expert Home Seller Guide From The Best West University Realtor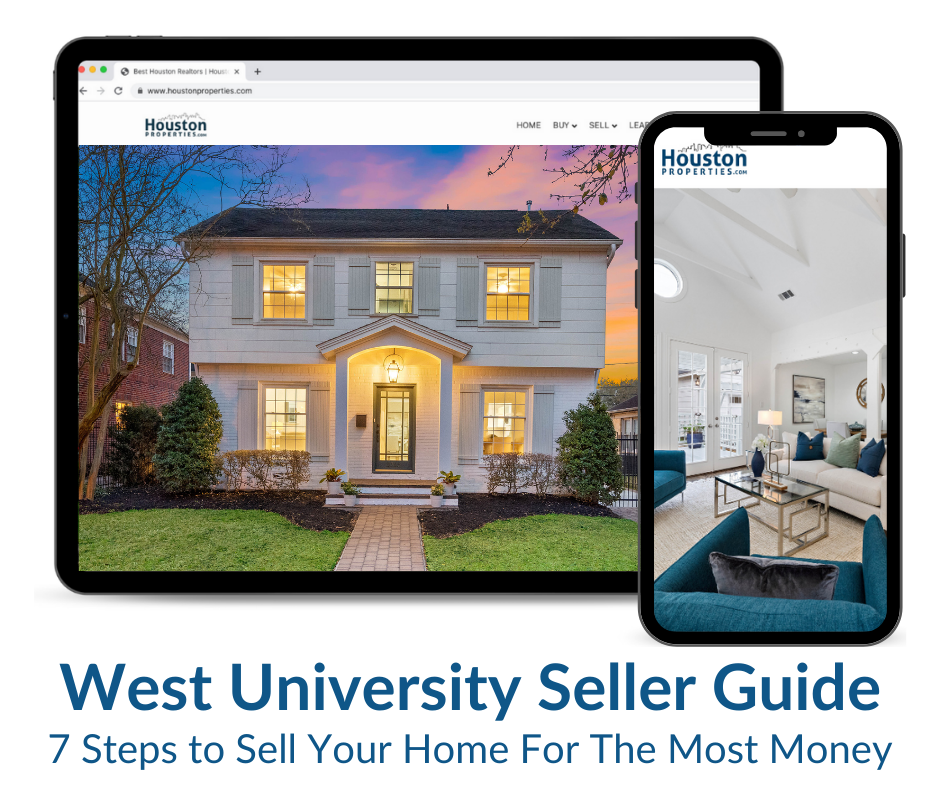 Summary
Houston Properties Team listings sell for 7.2% more and for 43.7% faster than average.

We achieve these numbers because we know what it takes to sell your West University home fast and for more money.

We've gained experience as the #1 boutique real estate team and have gathered data from our database of 30,000 buyers.

We created over 150 pages of guides containing best practices, expert tips, market insights, and recent data on what buyers are looking for.

Alternatively, you can simply contact the Houston Properties Team and list your home with us today.
West University Home Seller Resources
"The Houston Properties Team was absolutely amazing. I had initially listed with a different realtor that was recommended by a neighbor with very poor results. It was even more difficult because I was no longer in Houston and the trust I had put in the other agent was definitely taken advantage of. However, when I found Kim with the Houston Properties Team, all that changed. I was informed throughout the process and when she promised something would be done, it was. Before the experience with her, I swore off ever even considering purchasing a home again. She restored my faith in the real estate world." – Jeanette (Google Review)
---
Table of Contents
---
Get A Free Valuation On Your West U Home Now!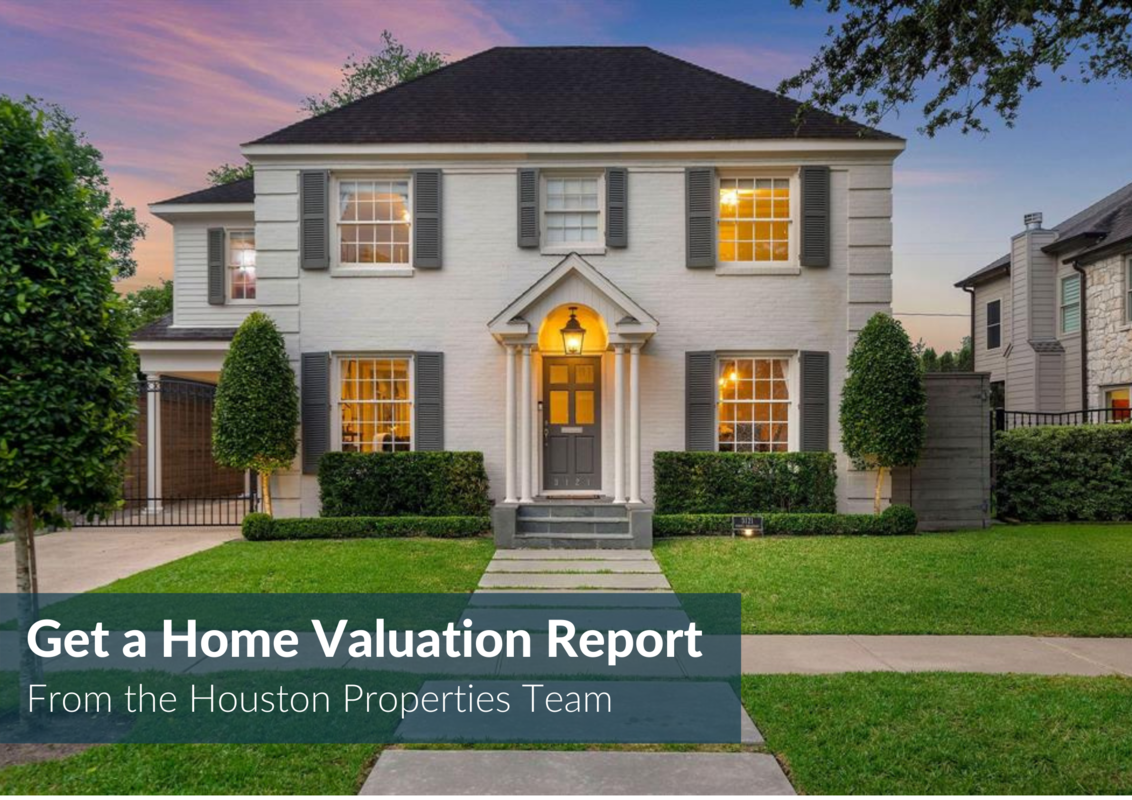 "We relocated to Texas from out of state 3 years ago, and Paige's intimate knowledge of Houston neighborhoods, valuations, trends, and pitfalls, especially in West U, was simply unmatched. We would never have been able to find our perfect home without her. She was calm and focused when everything seemed most challenging — a true professional and advocate who has become a dear friend. We are grateful to have met her!" - Gretchen & Brad Richter
Thinking of where to start on selling your West U home?
Every home seller dreams of getting the best deal in the fastest way possible for their property.
To begin – it is essential to know your property's value.
Many factors can influence your West U home's worth. Being located in one of Houston's premier real estate areas, many aspects such as lot sizes, floor plans, amenities, community, diversity of builders, the rule of supply and demand should be considered.
With these factors in mind, you would want to choose the best team to deal with your home valuation.
Houston Properties' home valuation reports will show you 10-year sales trends, current sales trends, and what's selling in the West U now, based on our analysis of 13,110 West U home sales and 10-channel marketing program.
With West University's best real estate appreciation rates, accessibility to top-ranked schools, central location, strong community, and exclusivity, many buyers will surely want to get a home in this conveniently accessible "city within a city".
To get the top dollar for your home fast, all you need is to tap on Houston Properties' real estate expertise!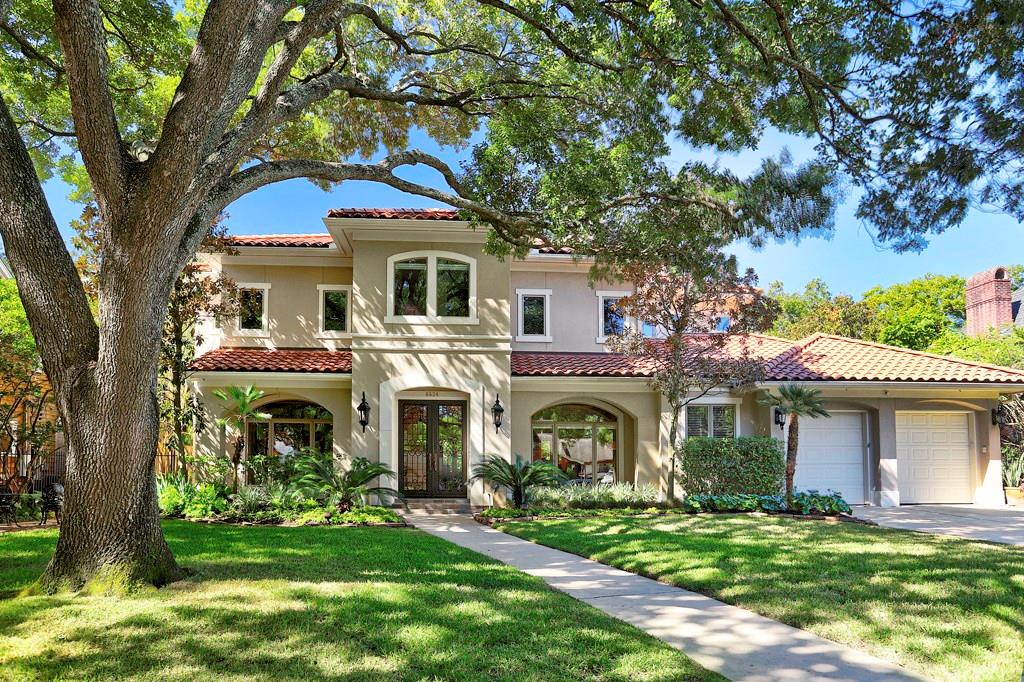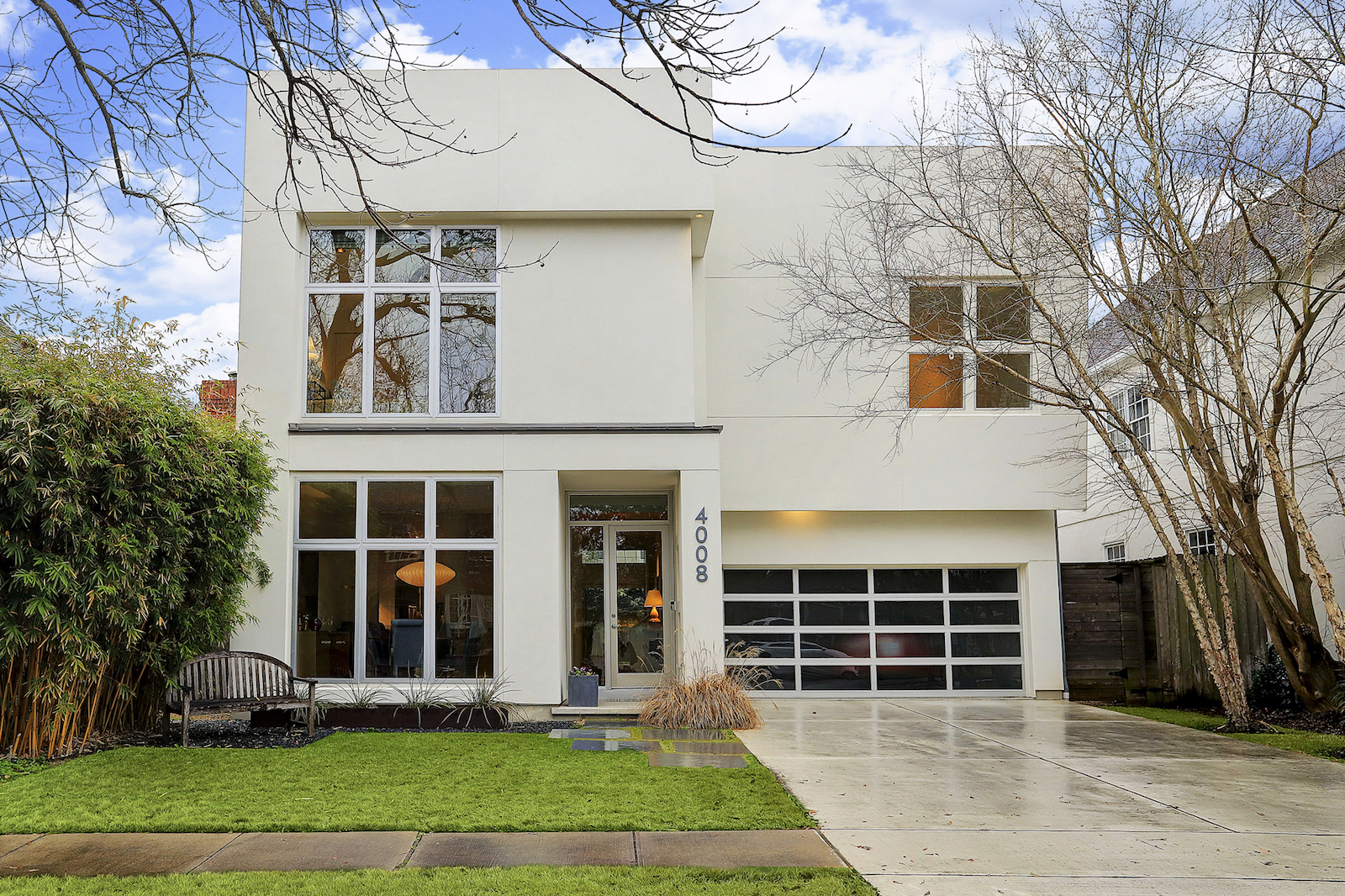 ---
The City Within A City : Your West U Neighborhood Guide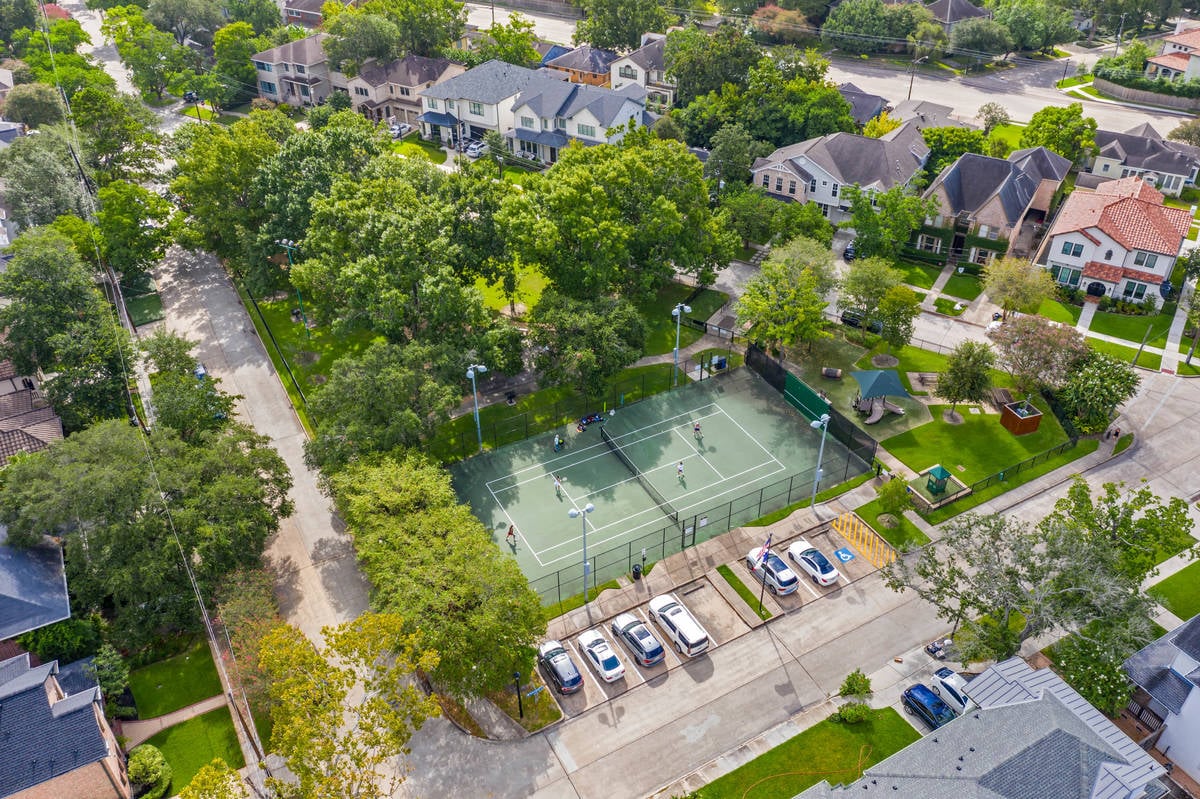 "We lucked upon Paige and the Houston Properties Team when we decided to locate a property near West University. We were very impressed by her professionalism and warm personality. Not only was she knowledgeable with the current market trends, but as the process unfolded, she always provided us with valuable and timely advice, regularly updating us with progress and information. She was very patient as she walked us through a complex process. She is the best Houston realtor and we hope others won't have to depend on luck to find her. If you need a realtor in Houston, call her quickly and get ready to be wowed! – Eddie (Google Review)
When deciding on a Realtor to deal with your home, it is crucial to choose only the best in the industry.
Houston Properties has been selling homes in Houston, including West University for over a decade.
We have collected more than enough data from the neighborhoods we have handled so we can present them conveniently to buyers or sellers like you.
Our West University Neighborhood Guide gives every buyer a glimpse of the area where the home is located.
This lets them imagine living in this neighborhood and knowing its history, ambiance, accessibility, and even community amenities to take delight in.
Our neighborhood expertise extends to lists of top-ranked schools, best retail, dining, and entertainment hotspots, plus detailed guides on the subdivisions that make up West U.
To add to that, we have worked on the current real estate trends of different property types in the area to help both buyers and sellers.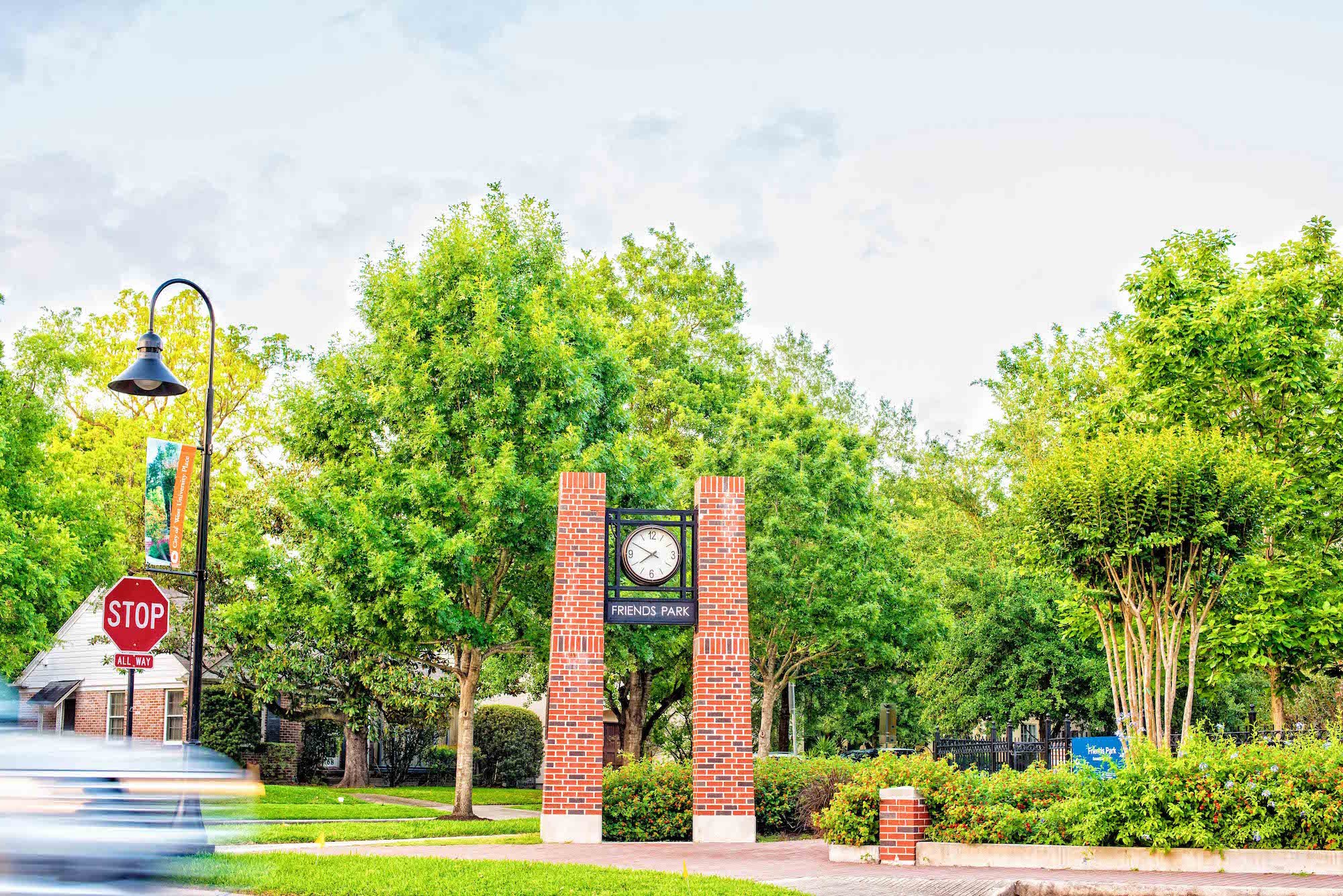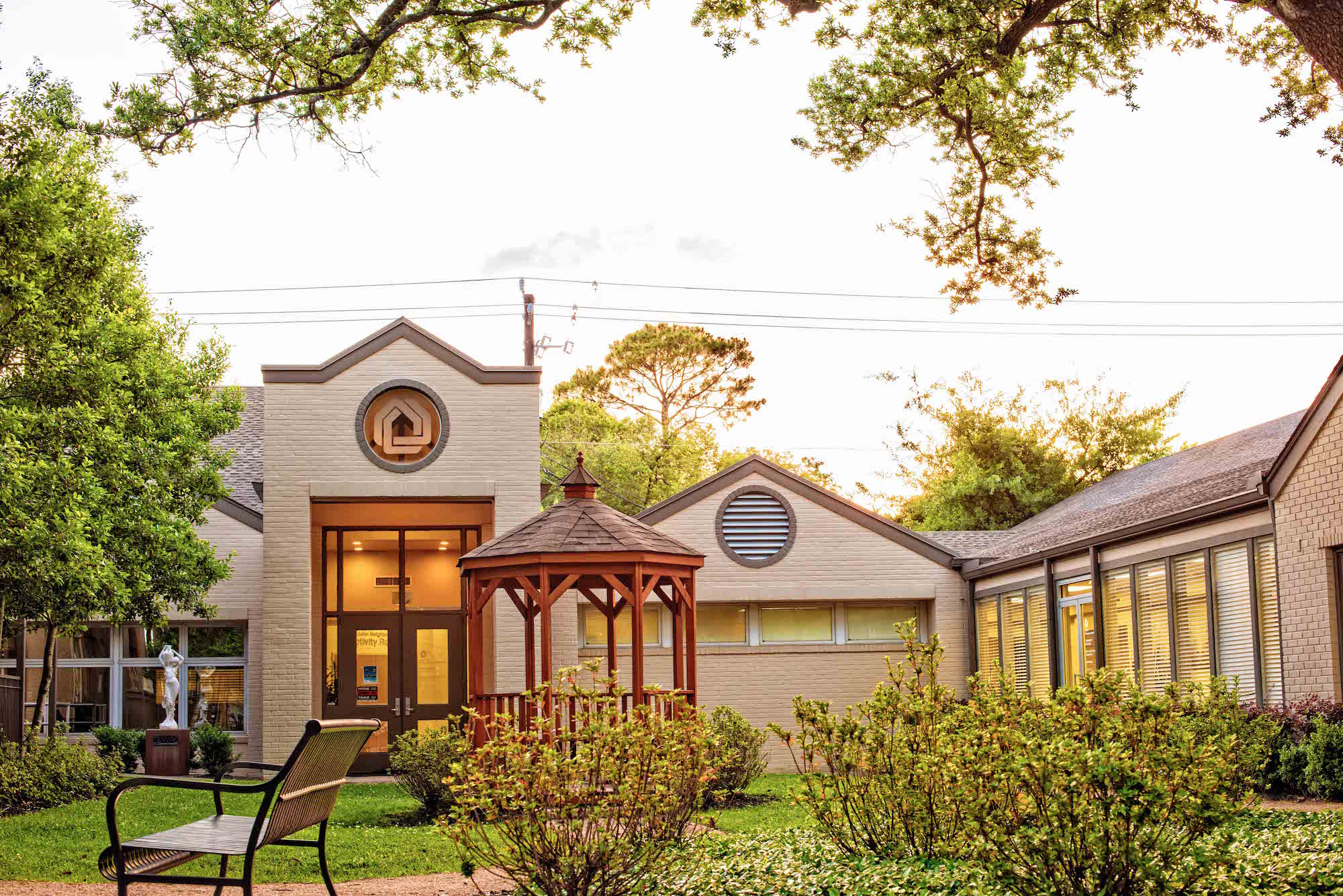 ---
West University Area Data And Historic Sales Trends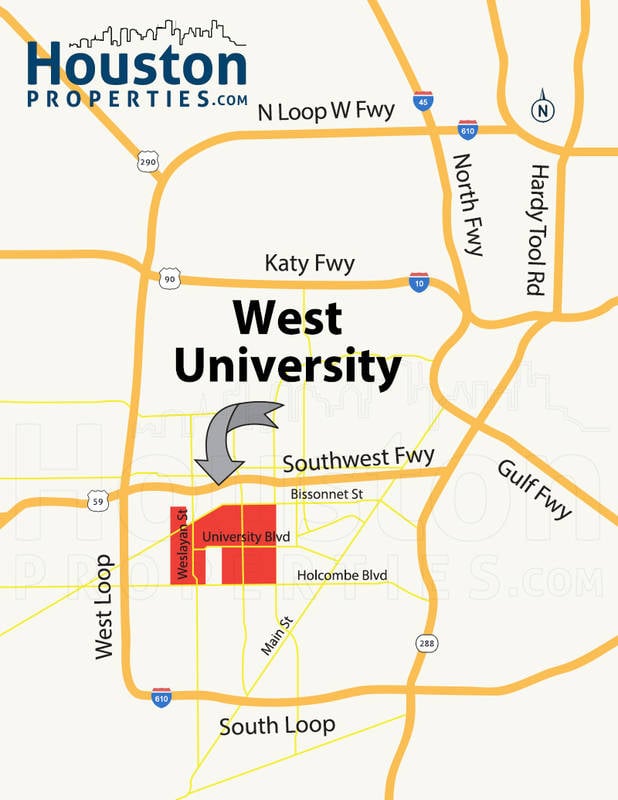 "Paige Martin and her team, notably Lisa Iglesias, are the ultimate real estate professionals. They acted as our seller's agents in the recent sale of our home in West University, and I cannot recommend them highly enough. We met with Paige and Lisa in February; after we implemented their recommendations through April, the listing went live on a Thursday evening in May; and we accepted a great offer, from among several received, the following Monday, a mere FOUR days later. We simply could not have received better service and advice, or anticipated a better outcome. Great sales experience — highly recommend." - Katherine Parsons
| Neighborhood | Median Home Price | 5-Yr Apprec. % | 10-Yr Apprec. % |
| --- | --- | --- | --- |
| West University/Southside Area | $1,595,000 | 20% | 61% |
Covering a total area of 2 square miles, West University Place is a "city within a city", subdivided into 26 sections called blocks. It has Bellaire to the west, Southside Place to the south, and Houston to the east and north.
Nestled south of the Southwest Freeway, West University real estate is minutes away from key Houston locations, including the Texas Medical Center, the Galleria, and Downtown. The city has convenient access to main roads like the Buffalo Speedway, Bissonnet Street, Kirby Drive, and Bellaire Boulevard, as well as Loop 610 and US 59.
Some of Houston's dining, retail, and entertainment hotspots – Rice Village, the Greenway Plaza, and the Galleria – are a short drive away from West University Place homes. Like Bellaire, West University is mostly made up of gorgeous single-family homes, some of which date back to the 1930s.
West University real estate continues to post strong appreciation rates over the years. The average median price of homes in the city has reached over $1,000,000. Average price per square foot and land values have posted similar positive changes.
During the 1990s and early 2000s, many of West U's original homes were torn down to make way for new construction. The city of West University Place has a council-manager form of government and maintains its own fire and police departments.
Homes in the area are zoned to the Houston ISD's West University Elementary School, Pershing Middle School, and Lamar High School. West University homes range from recent construction to updated and carefully maintained vintage homes.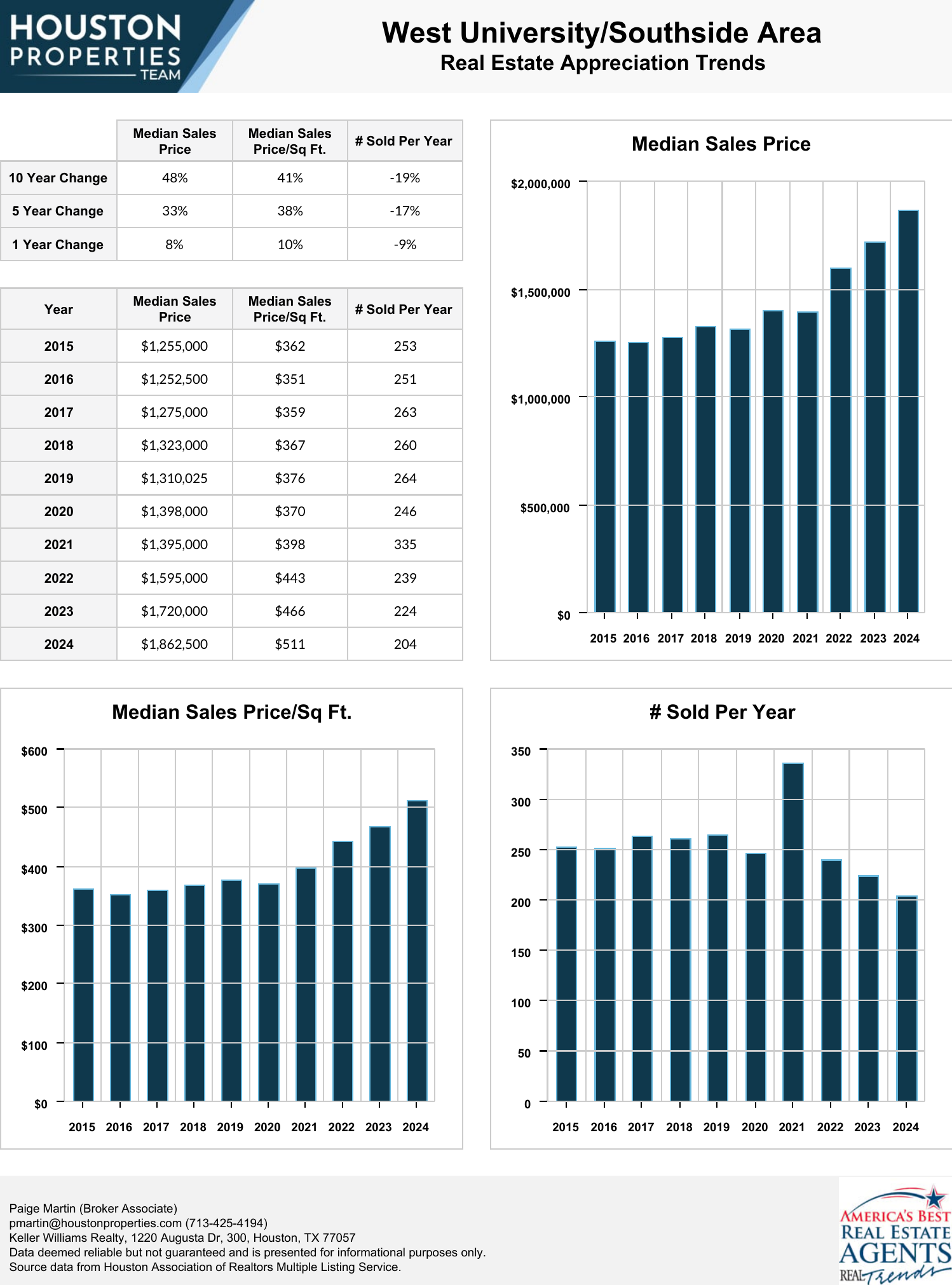 ---
West University Area Real Estate Trends & Appreciation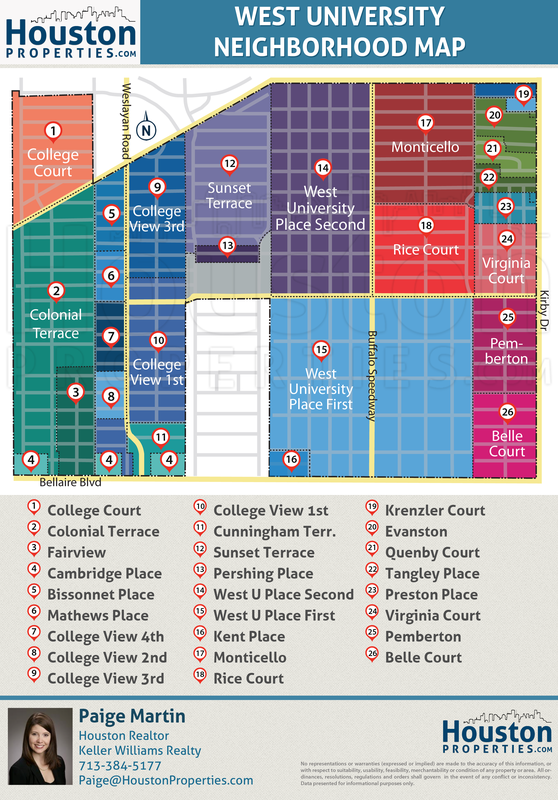 "We chose Houston Properties based on their ability to work with us in a friendly and flexible manner. They put in a lot of time and effort into selling our property make into selling the property. Our real estate agent Courtney Williams was absolutely terrific. She spent a lot of hours answering our questions, providing objective data regarding how many homes they sell, how long their listings typically stay on the market, and providing tons of info on comps in the area. The actual process of selling our home was challenging. Courtney helped us navigate those challenges with her professionalism and poise. I would highly recommend Courtney Williams and Houston Properties to anyone who wants to buy or sell their home in the Houston area." - Dhruva Krishna
| Neighborhood | Median Home Price | Home Price / Sq Ft | 10-Yr Apprec. % |
| --- | --- | --- | --- |
| 1. Mathews Place | $1,675,000 | $409 | |
| 2. Sunset Terrace | $2,405,000 | $458 | 79% |
| 3. Pershing Place | $1,847,000 | $393 | 76% |
| 4. Kent Place | $0 | $0 | |
| 5. Rice Court | $1,475,000 | $467 | 61% |
| 6. Quenby Court | $1,595,000 | $442 | 61% |
| 7. Preston Place | $1,595,000 | $442 | 61% |
| 8. Virginia Court | $1,237,500 | $413 | 76% |
| 9. Pemberton | $1,225,000 | $379 | 33% |
| 10. Pemberton | $1,225,000 | $379 | 33% |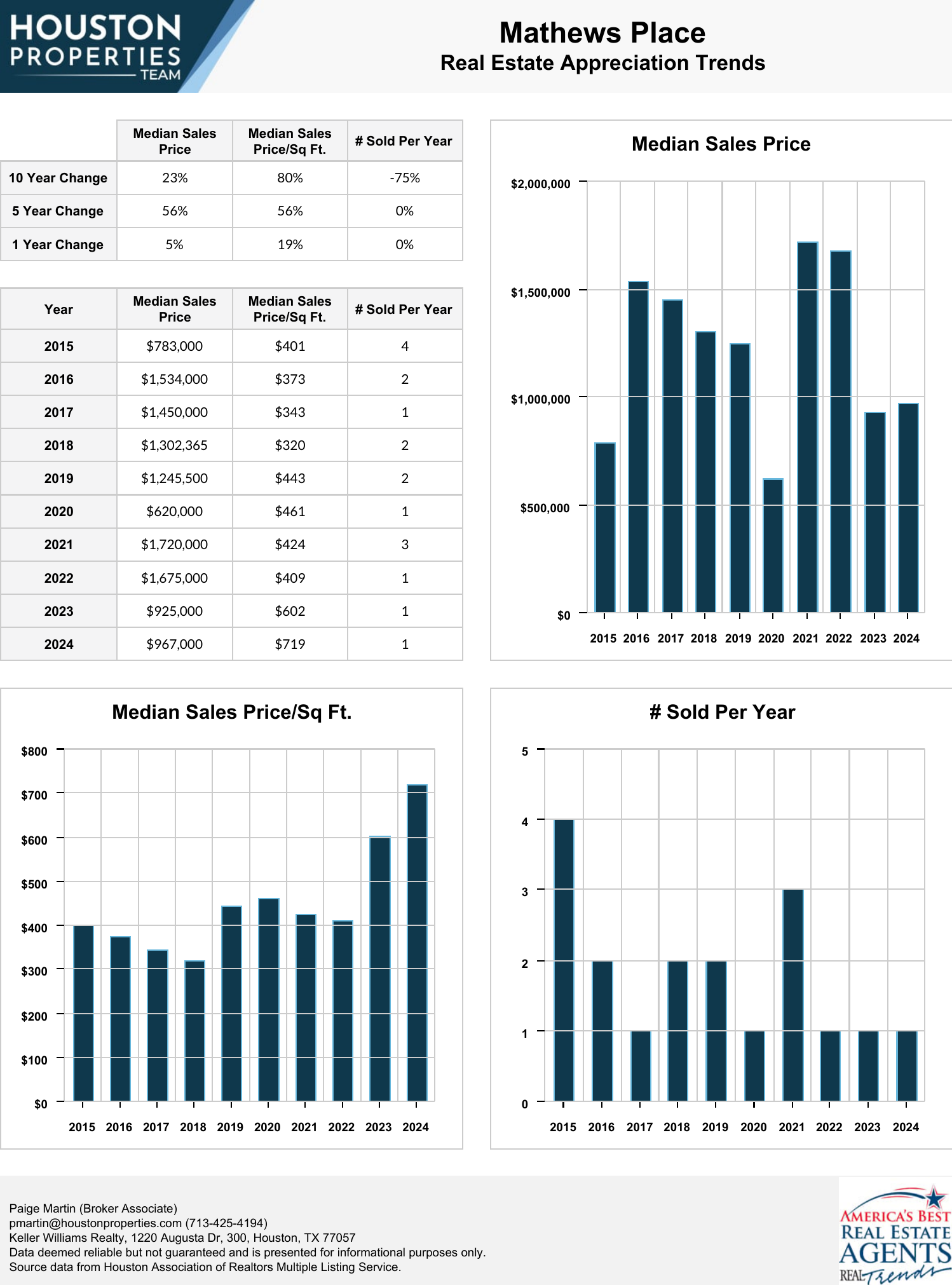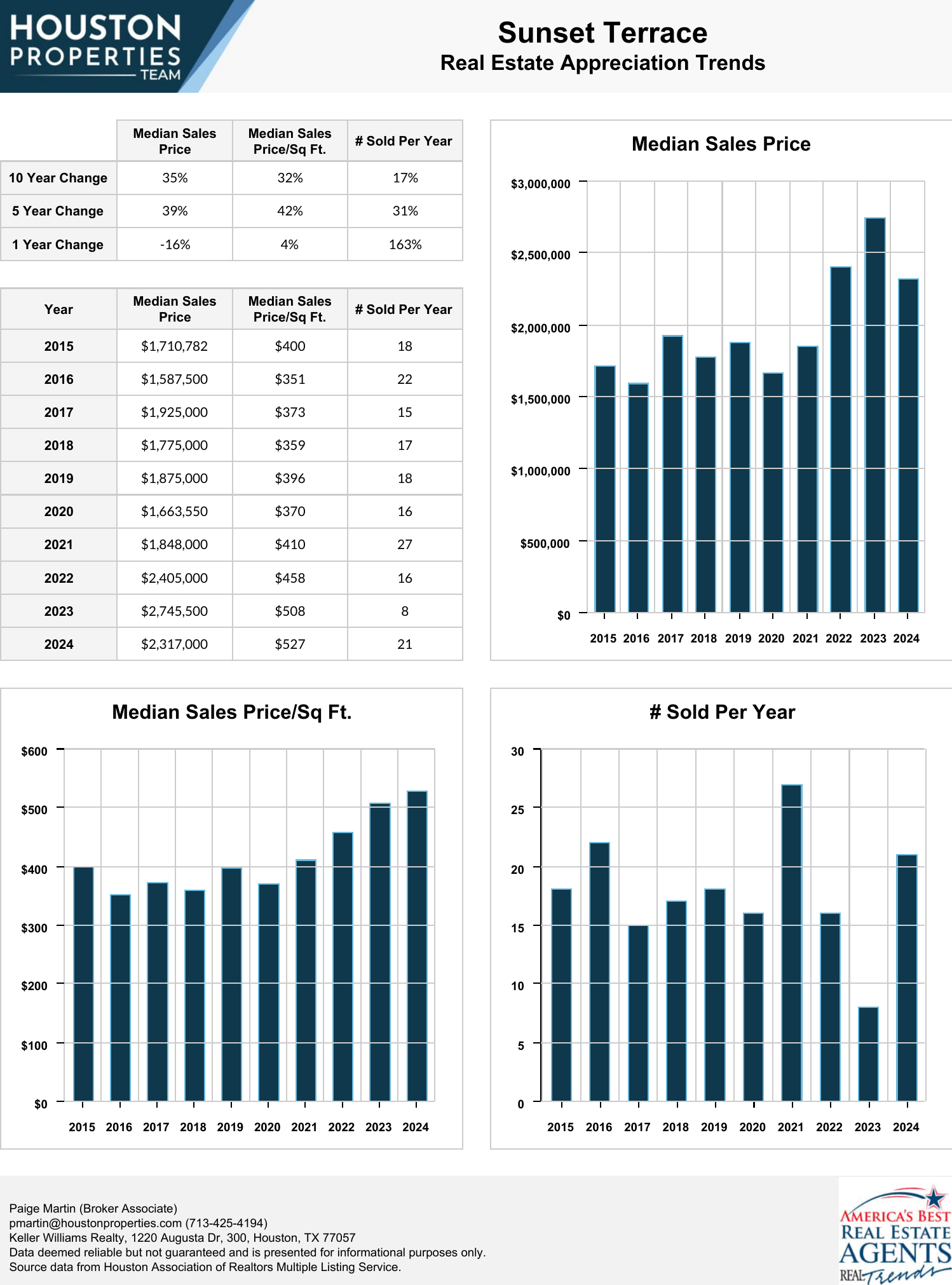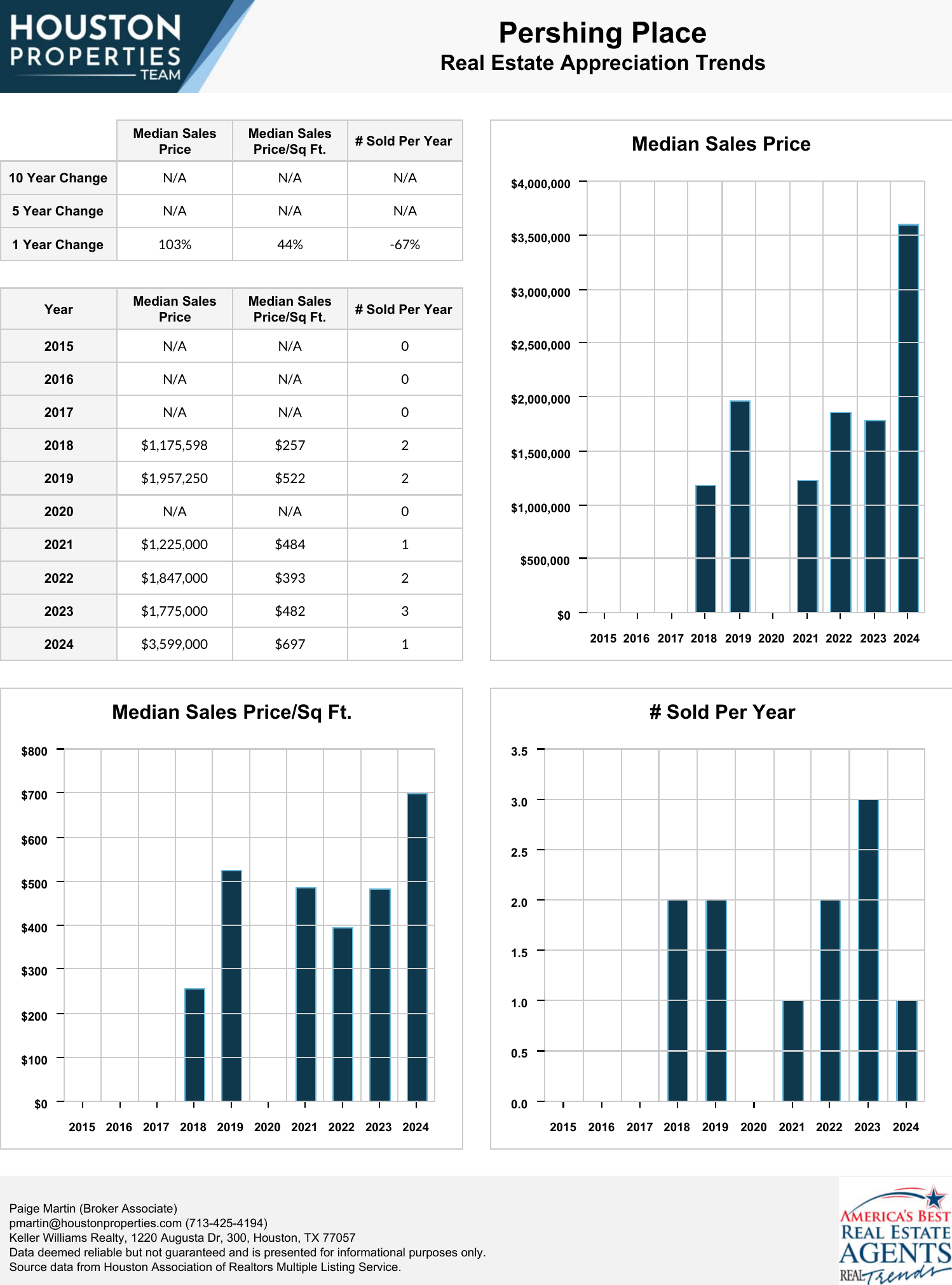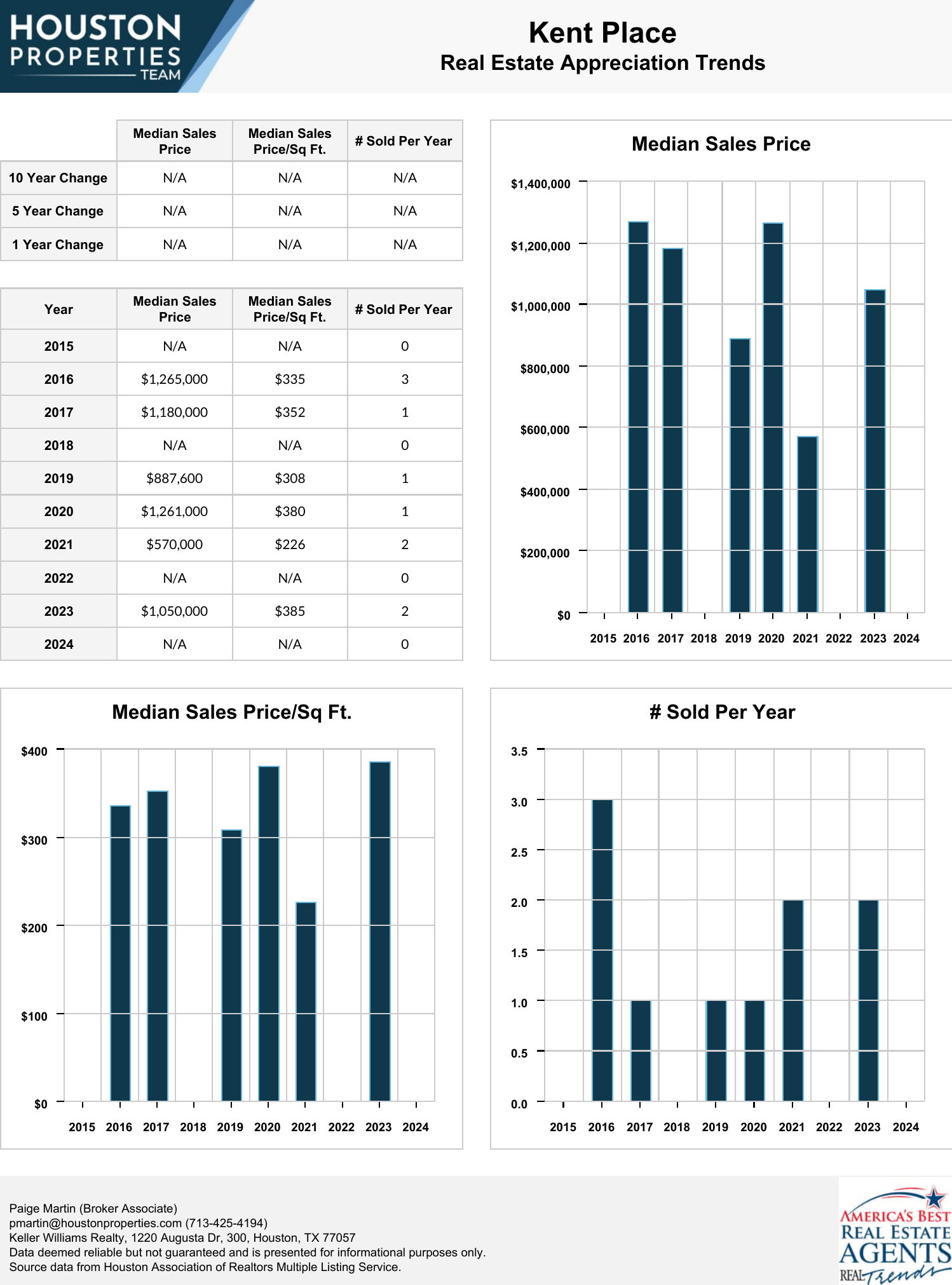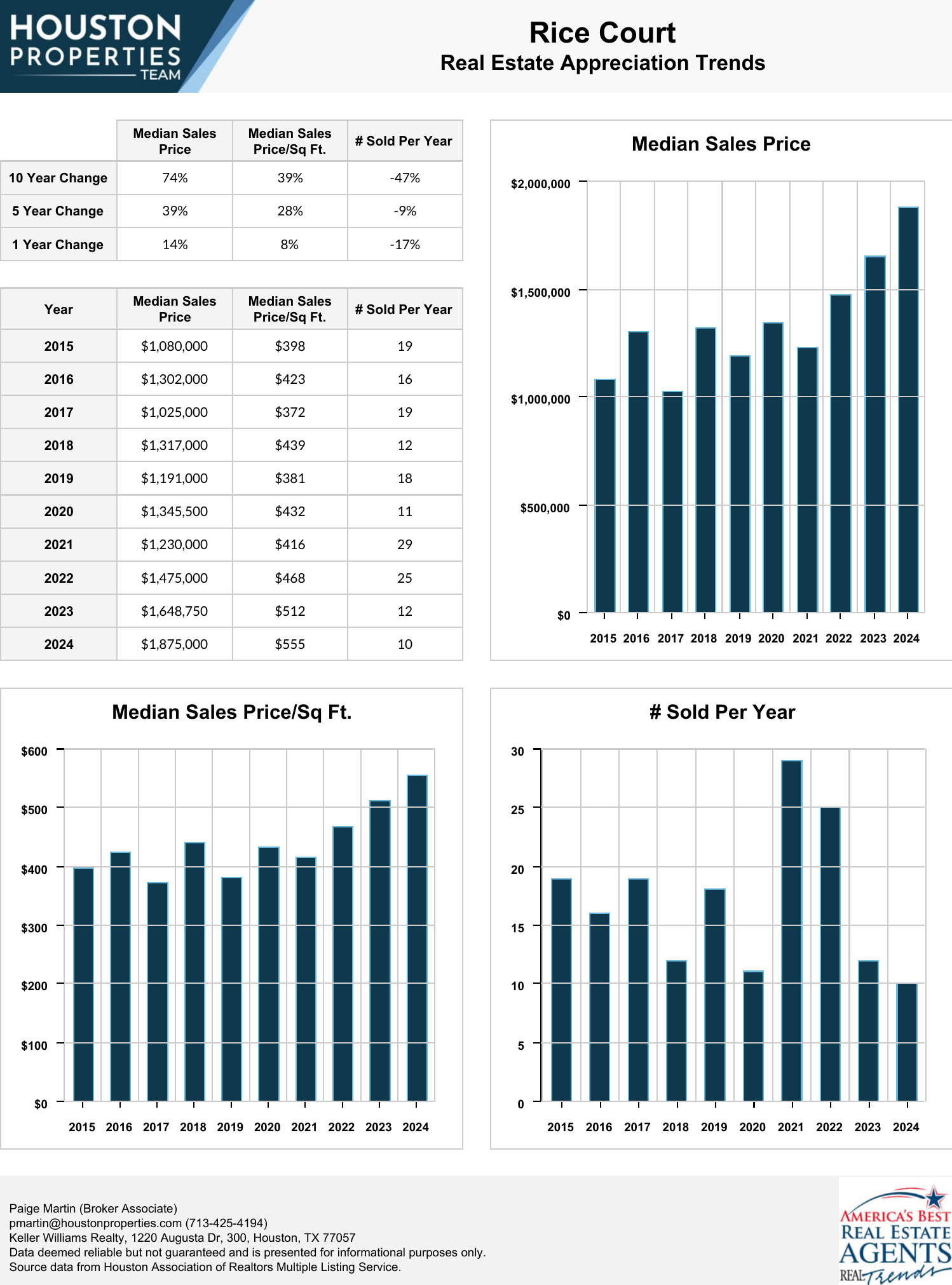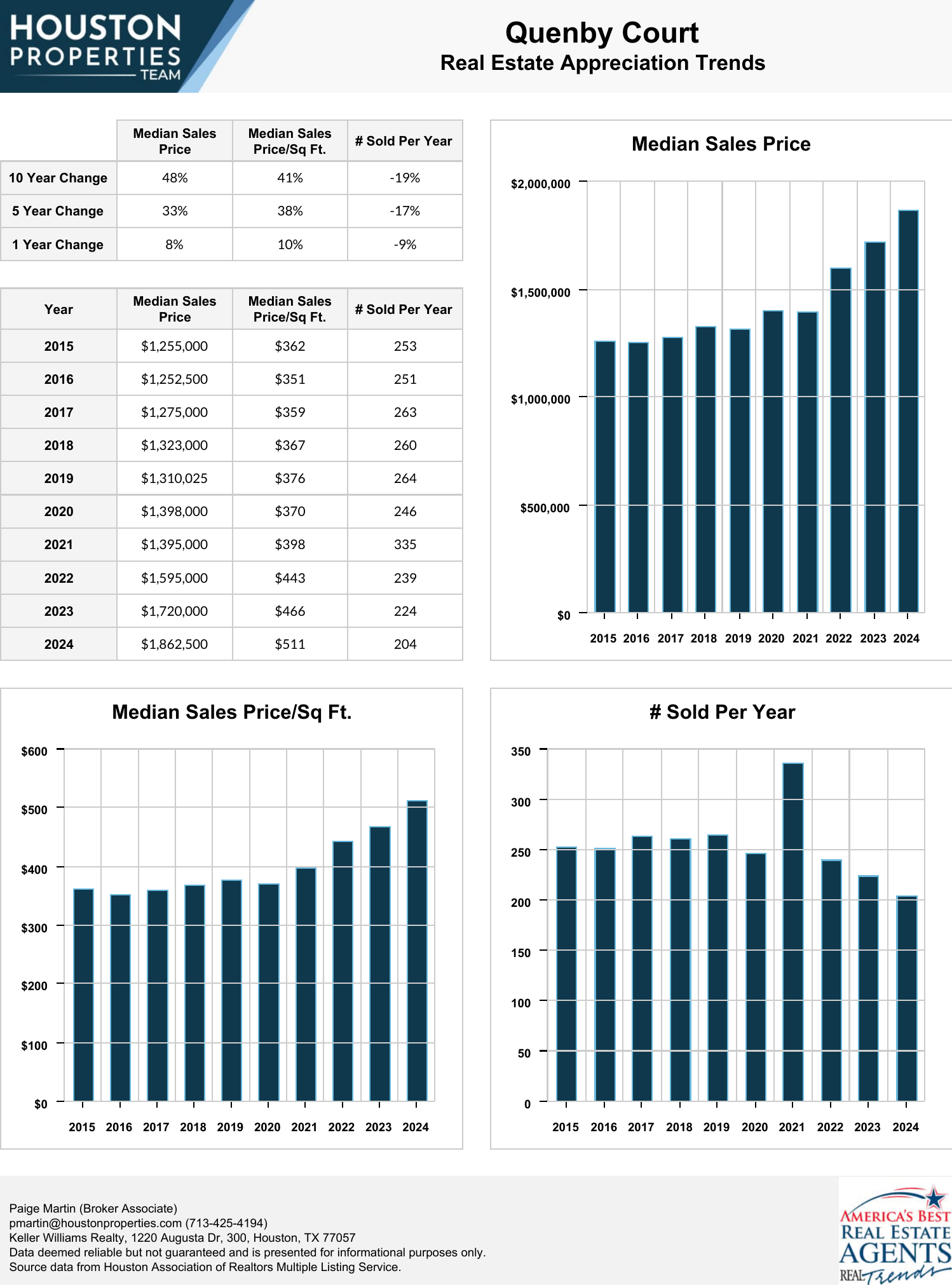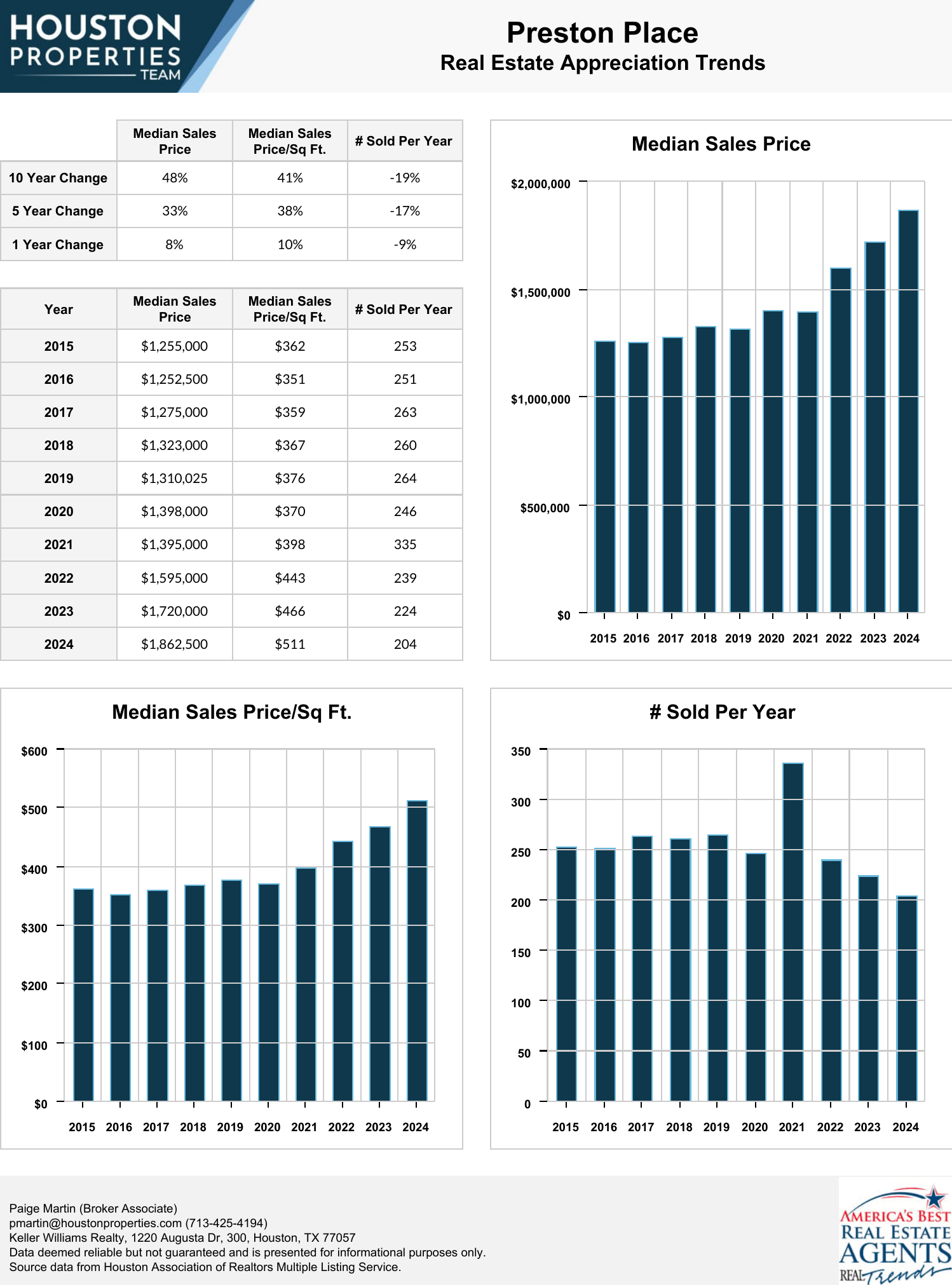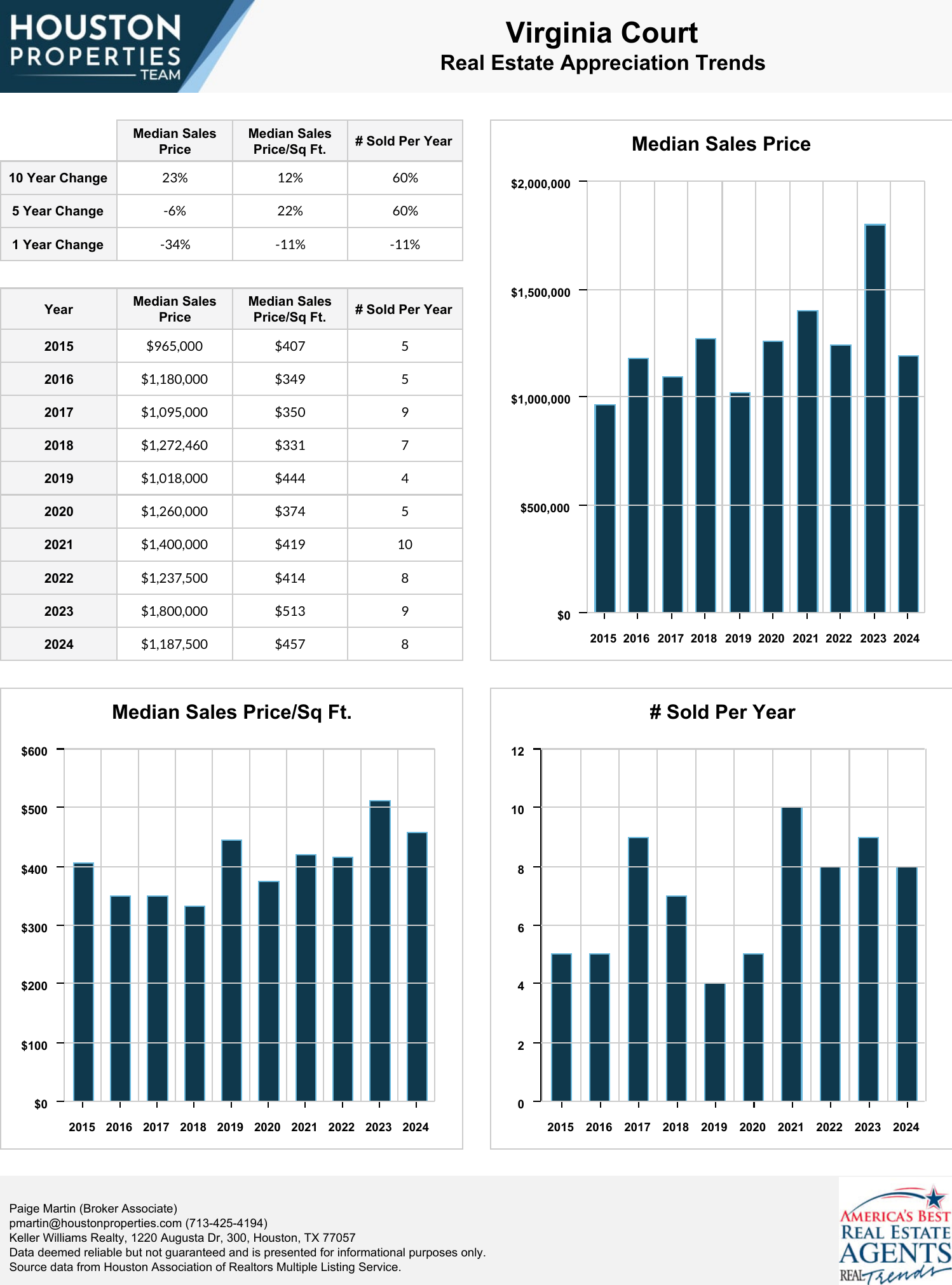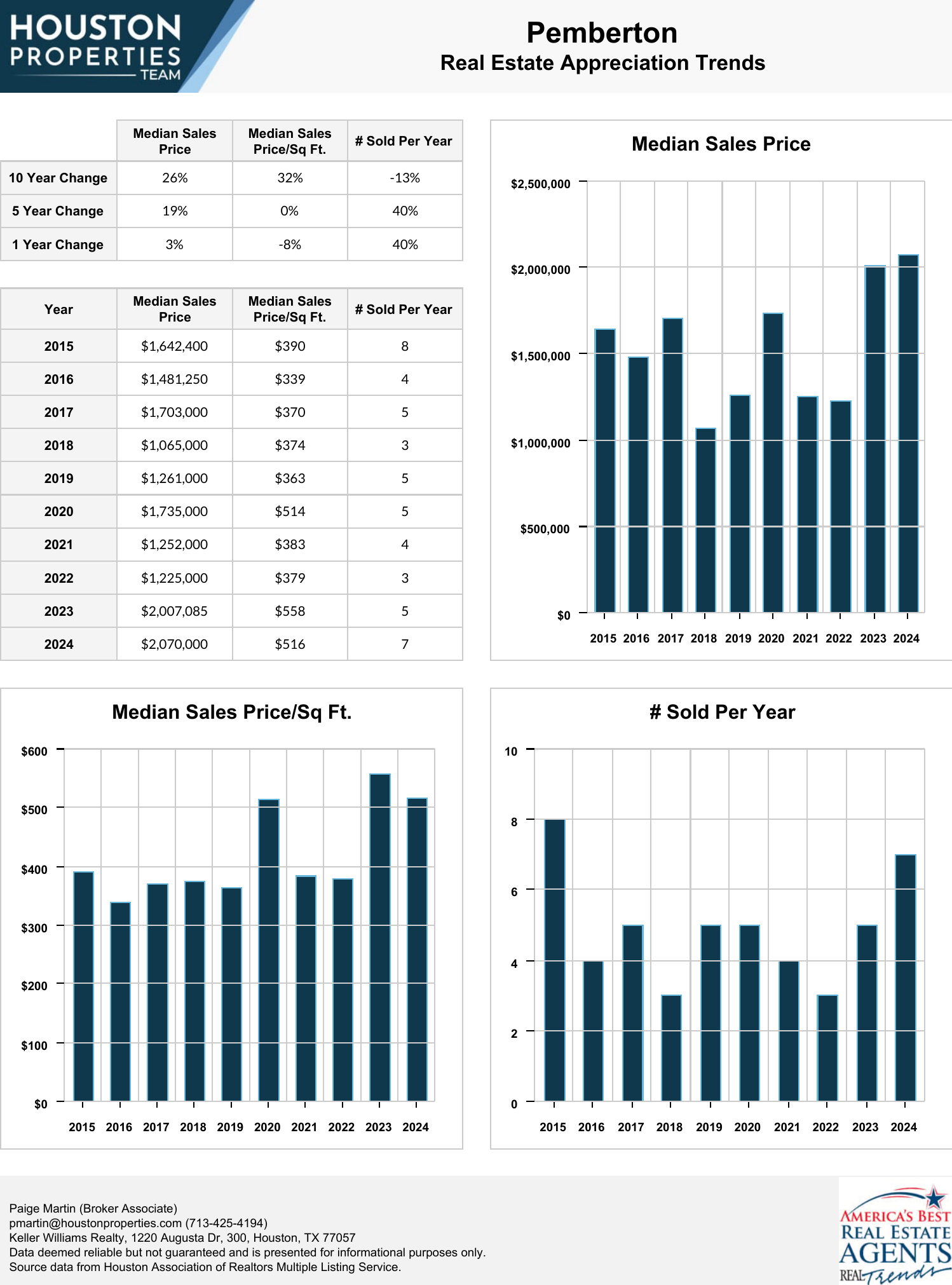 ---
Avoid These Top 9 West U Home Selling Mistakes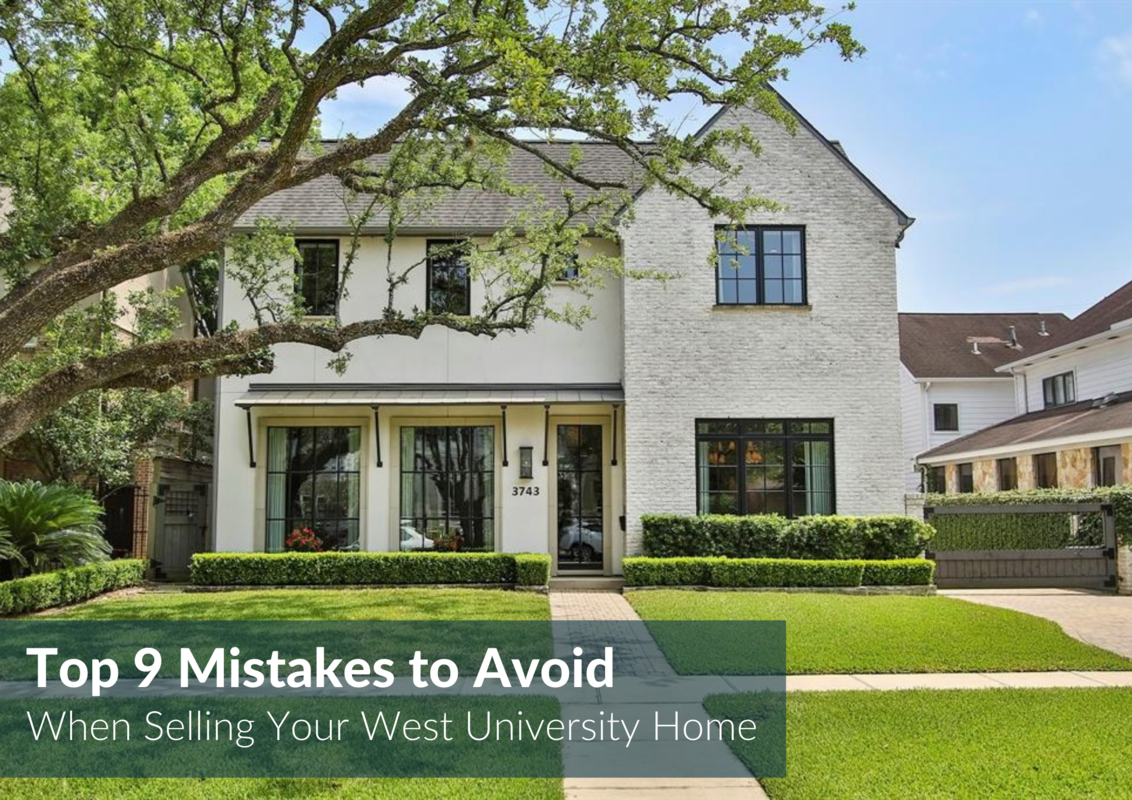 "The Houston Properties Team make real estate transactions a lot less complicated for West U sellers – they take care of everything AND they get the highest prices and the shortest closings. Paige went the extra mile in helping us and has been diligent in giving us reliable and intelligent recommendations. You're the best Paige and congrats on being the #1 Keller Williams agent in the entire state of Texas!" – Kathryn (Google Review)
"What should I do if my home didn't sell?"
The Houston Properties Team is proud to have mastered the art of selling homes at the highest price fast in West University. This is because we have carefully built a phenomenal listing platform through our intensive research, experience, and extensive preparation (our to-do checklist for listings has 9 phases and 457 rows).
Our trusted program abide by this long-standing philosophy: We avoid making mistakes.
Going back to the question in the first line, the first step is to determine the pitfalls to dodge when selling your West U home again.
This shows the analysis of 815,494 listings (including those that didn't sell) and the top 9 Houston home selling mistakes, from bad-quality photos to listing errors, and more.
Going through this seller guide will give you insights on what should be avoided when selling your West U home.
For a flawless and detailed home selling process, you can simply reach the Houston Properties Team and work with some of Houston's top Realtors.
---
10 Home Staging Ideas For An Impeccable West U Home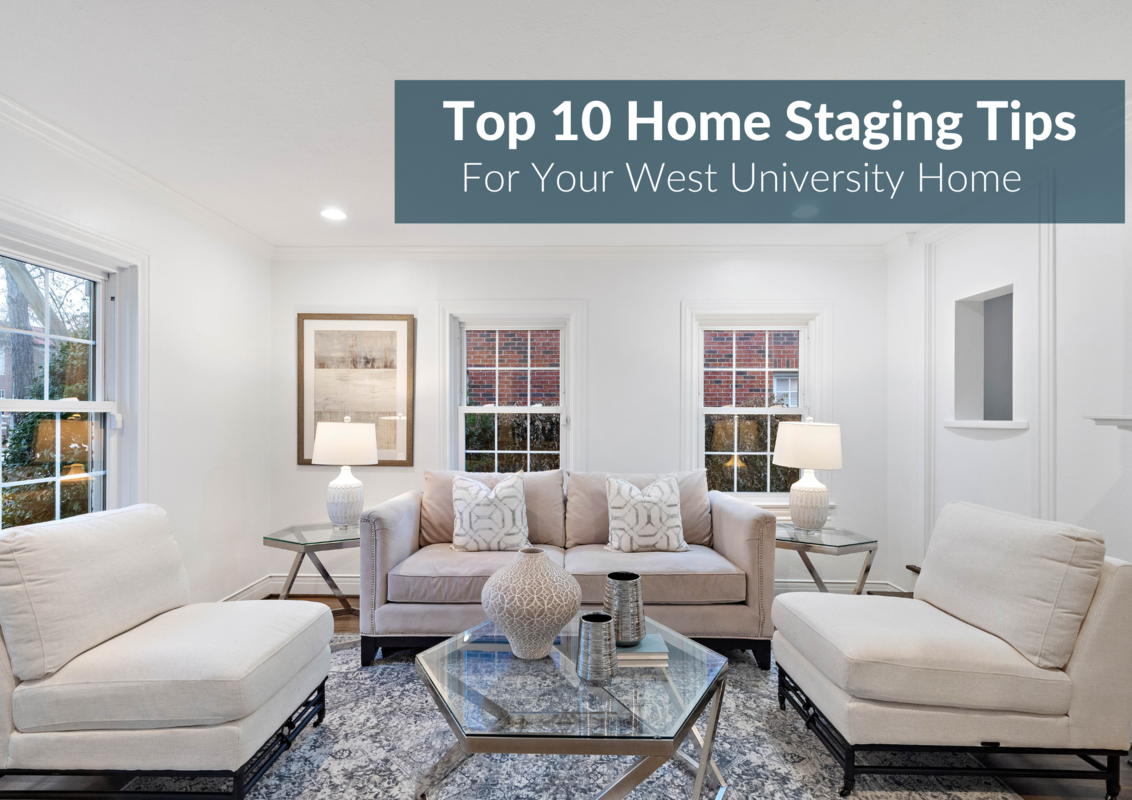 "The Houston Properties Team sold my house over list price within 2 days. Their marketing works. They're the best listing platform in Houston. Call them. You won't be sorry!" – Josh (Google Review)
Nowadays, it is crucial to present stunning visuals to sell your home for the most money fast.
Having phenomenal photos is a must!
Taking the importance of high-quality photos of your West U home for granted is one of the most costly mistakes home sellers can make when enlisting a home on the market.

Photos are critical as 93% of the buyers turn to them to check details when looking for a new home. Thus, homes with amazing visuals get sold faster by 32%.
Proper home staging is essential in producing outstanding photos.
The National Association of Realtor's data suggests 40% of buyers' agents say home staging influenced the interest of buyers to visit the home.
In this West University Home Sellers Guide Series, we included the 10 best home staging ideas (along with photos) for you to transform your home and capture great photos.
---
Seller Checklist To Raise Home Value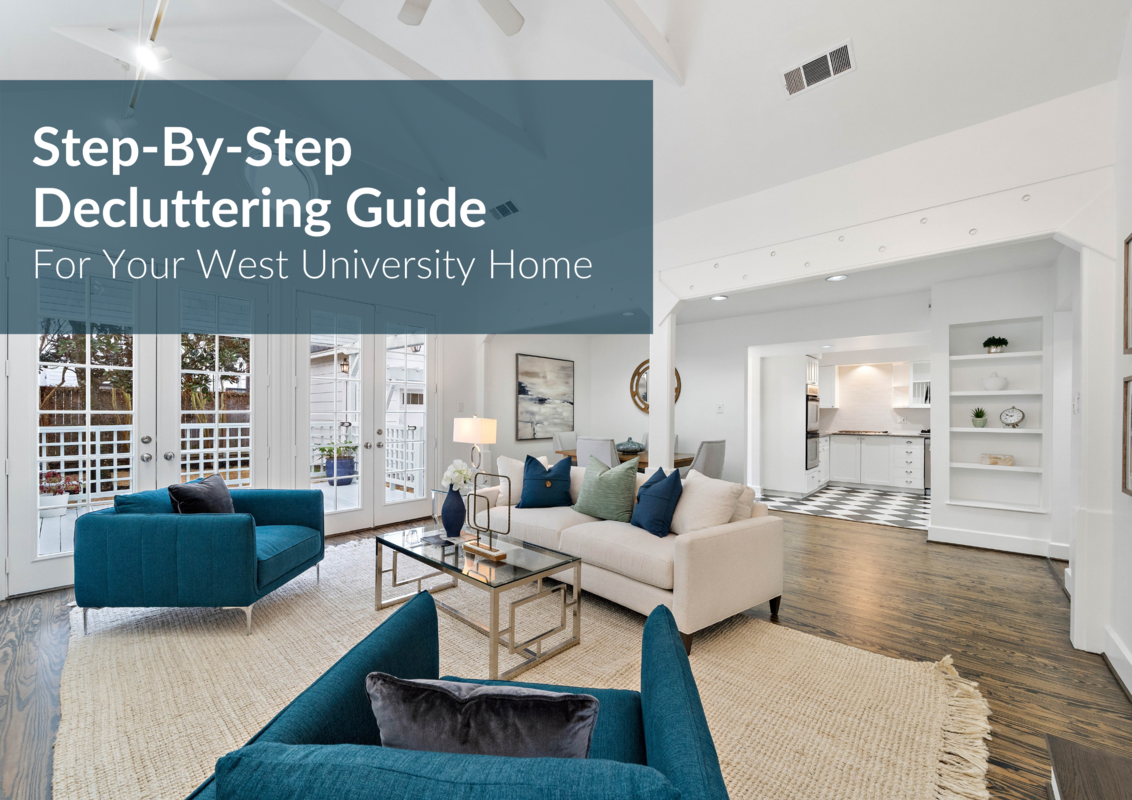 "It's hard to find a team that has your best interests at heart, especially when dealing with real estate. Paige Martin and the Houston Properties Team are amazing! They're incredibly candid about their recommendations, they care a great deal about their clients, and they make sure you won't make decisions you're bound to regret. I'd highly recommend them if you're looking for a great realtor in West University. You will thank me!" – Elizabeth (Google Review)
Restyling your West U home to achieve impressive listing photos needs different levels of home improvement and renovation, depending on the property's condition.
But, one simple and inexpensive home selling tip for a lived-in home is:
Decluttering.
Why should you declutter your West U home before listing and showing?

A clear, well-organized, and expansive home evokes good emotions in buyers, making them imagine their life in the home. With this, your home will sit in the market for a shorter time.

Decluttering increases your home's value by about 3-5%. An untidy home creates a bad impression and opens buyers to negotiations for a lower price.
Decluttering may be hard to achieve for some, but its good results are worth all the labor.
To make the task easier, we came up with a step-by-step decluttering checklist to help you declutter each part of your home. We arranged the tasks from start to finish to get your home ready to sell sooner.
---
20 Makeovers To Sell Your West U Home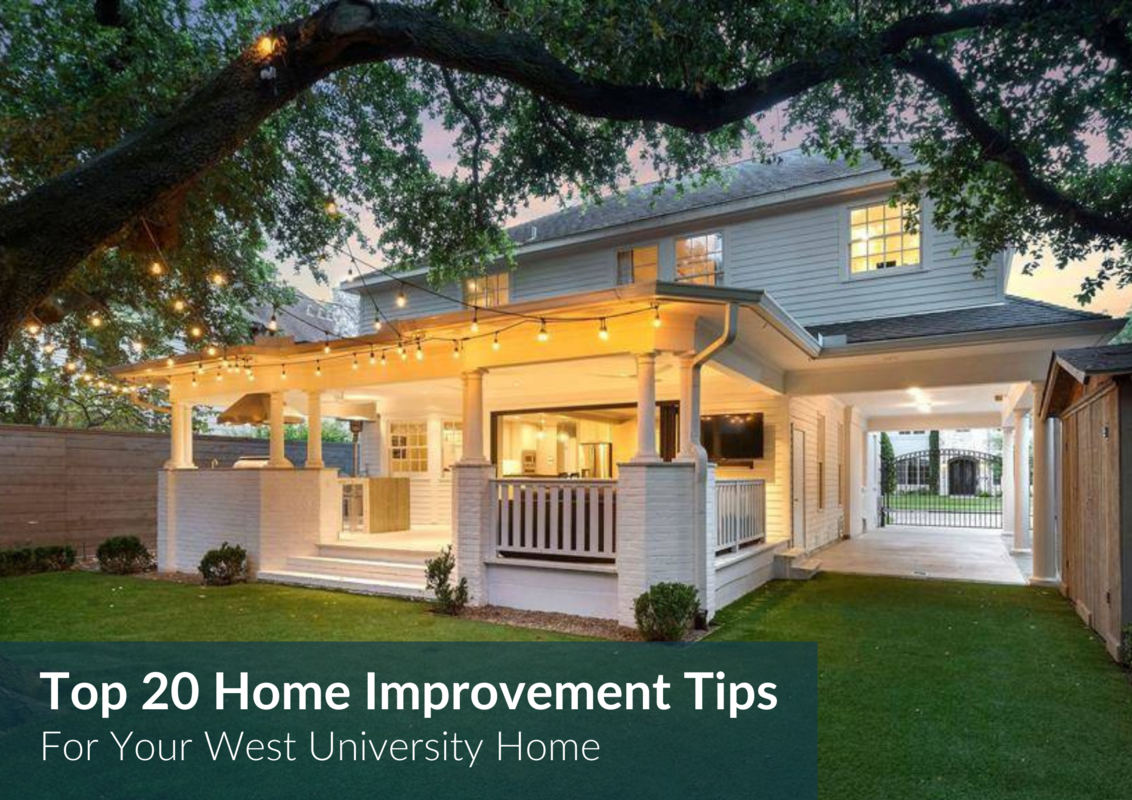 "Paige listens to your wants and needs, likes and dislikes, and focuses her efforts on helping you narrow your choices in a manner that allows you to limit the necessary compromises in buying a house. Also, her attention to detail at every step along the way was greatly appreciated, especially during the offer and closing process. I highly recommend her services, and will use her again in the future when my housing needs change!" – Lisa Shepard
The Houston Properties Team are experts in selling your home fast and for top dollar.
Boosting your West U home's value needs revamps and enhancements to be at par with the fresh and new look of the new construction properties.
But, you'll need to consider many aspects such as budget, location, property type, and more. Cost vs. value is also an important factor to know the returns you'll get out of the renovation.
With our extensive experience in selling countless homes in more than a decade, we have shared expert tips on the best renovations for you, considering your property type, location, and timing. We collated the top 20 home revamps to boost the sale of your West U home fast.
We classified our list with these budget ranges:

Free

Under $500

Under $5000

Above $5000

We added 2 BONUS Sections:

A flood renovation checklist for your home

Your own printable home improvement checklist as your guide
---
West U Home Preventive Maintenance Hacks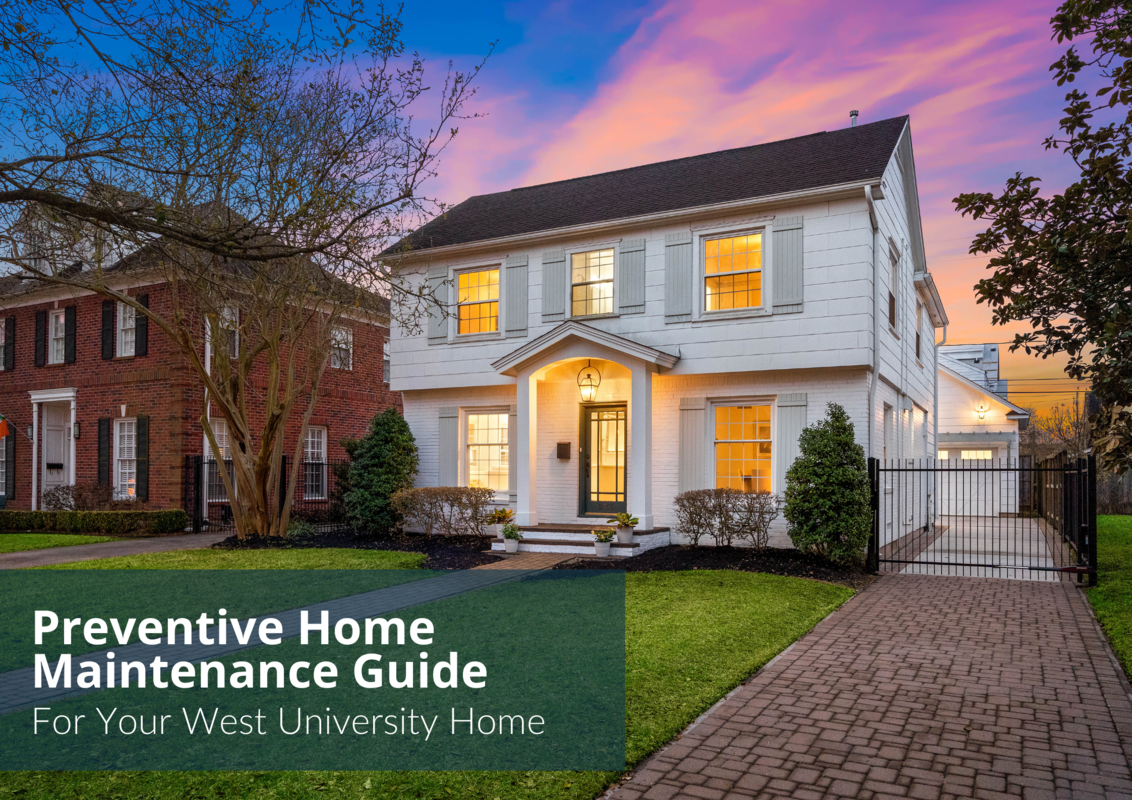 "Paige is a very detailed and assertive real estate agent. She always made sure I understood everything that was happening and explained different options along the way. I could not have asked for a better experience in purchasing a new home and selling my old one. I'm glad the best Houston realtor was on my side during the entire process." – Kim Duncan
Our success in selling West U homes fast in the quickest possible time is attributed to our detailed marketing program, stunning listing photos, and years in the industry.
Want to know another "trade secret"?
In-depth research and preparedness.
We "front end load the work" (prepare as much as we can) before jumpstarting the home selling process to get the best negotiations.
We deal with even the smallest details to avoid having headaches along the way.
Preventive maintenance for your West U home will yield a spotless inspection report and lead to seamless negotiations during the option period. Buyers will also be amazed during showings and open houses.
We collected data from expert Realtors and inspectors and created an extensive preventive maintenance guide for you to start with, in this article.
We categorized the list based on their suggested schedules, plus we included the 6 best preventive maintenance tips on the top section for you to start with immediately.
---
10 Best West U Home Interior Maintenance Tips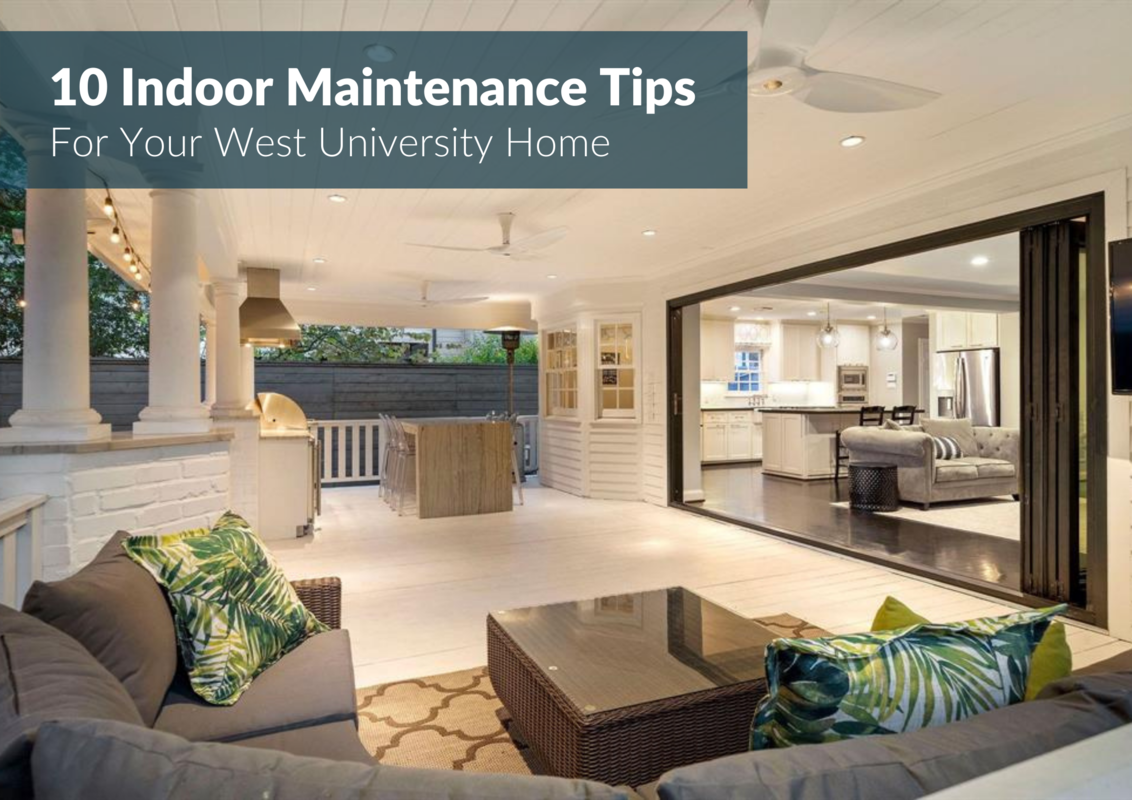 "I am highly recommending Paige as a real estate agent and would definitely use her again in my future real estate needs. Paige is very knowledgeable about the real estate market in West University. She is a great listener and understand fully my housing needs. Given this, she was able to recommend high quality properties in great locations that satisfy my needs. She is very responsive and flexible in working around my schedule in order to make the search very effective and efficient. She has the highest integrity and puts her client's needs first. I trust her completely and am very happy with the home that she had helped me locate and move into. Thank you Paige" – Phil Hoang
Increasing home value and producing amazing quality photos will help you get amazing deals for your West U home in the least amount of time.
To achieve both with ease, you'll need to perform consistent home maintenance.
Why is this so important?
Home maintenance adds home value by about 1% each year.

It saves you money. Every dollar spent on home maintenance saves about $100 on future repairs.

Buyers prefer well-maintained homes. Any tiny issues may give them the impression of getting bigger problems in the future if they make an offer.
A lot of home sellers prioritize exterior home maintenance, but indoor maintenance is also as important as increasing curb appeal.
We discussed the 10 easy steps you can do easily at home in this seller guide. These home maintenance hacks can boost home value, save time and money, and get your home sold at the highest price, fast!
---
Meet the Best West U Realtors: Paige Martin & The Houston Properties Team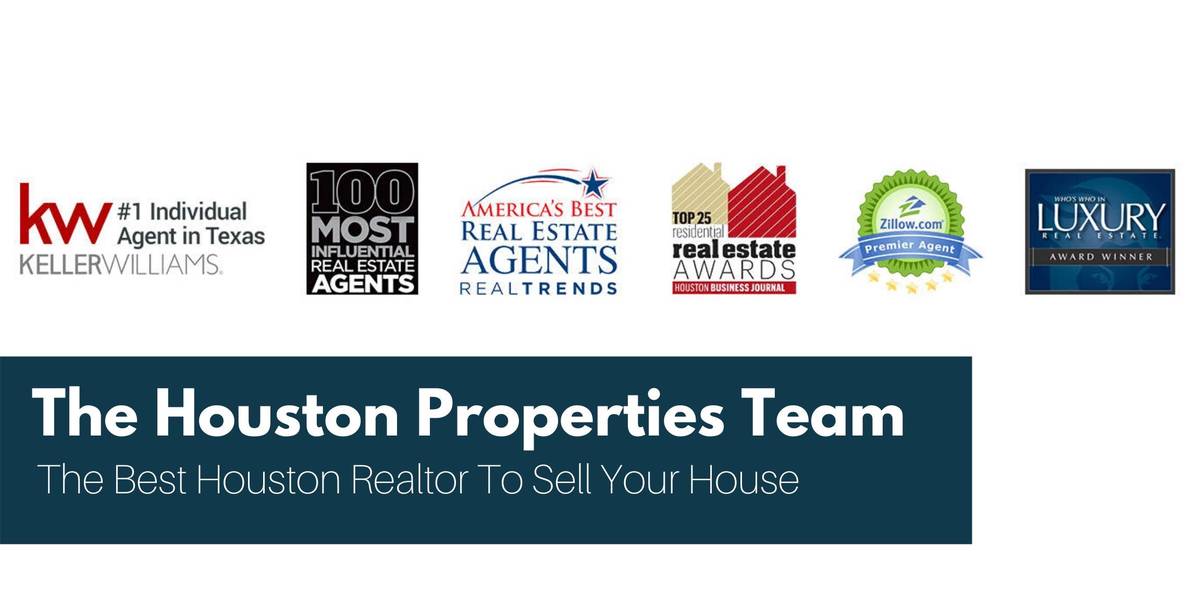 "The Houston Properties Team under the leadership of Paige Martin, is one of the most successful real estate teams in Texas. Paige and her team takes the pain out of the real estate experience through hard work, proprietary systems and processes, and a deep understanding of the hyper local Houston real estate market. She's ranked #5 in Keller Williams worldwide and #1 in Houston with good reason." – Sandy (Google Review)
Home selling is a big life decision. Your West U home is your high-value investment and you would want the best team to handle it
With an excellent team, you'll get the best deal possible in the least amount of time.
The Houston Properties Team are experts in getting top dollar for your home fast, with over $750 million in sales in the past 15 years.
Our unfair advantage? We care more.
As the #1 boutique real estate team in Houston with a pool of top-rated Realtors, we can guarantee you the following:
Candid advice

Expertise

Complete data

Network of experts
Get to know Paige Martin, the top Realtor in Houston, and the rest of our Realtor pool through this article. Learn the value of working with a team and why the Houston Properties Team has the best listing agent you can hire to sell your house fast.
---
Best Houston Real Estate Resources
---