Developed by former Tennessee Governor Ben Hooper in 1917, the West University neighborhood got its name due to its close proximity to Rice Institute.
West University Place is surrounded by the cities of Houston, Bellaire, and Southside Place.
Well within the Houston Inner Loop, the West U neighborhood is bordered by Bellaire Blvd, South Freeway, and Southwest Freeway.
This close proximity to major freeways provides West University residents easy access to Downtown Houston, the Museum District, Houston Medical Center, the Galleria, Greenway Plaza, and Montrose.
Great West University Place Resources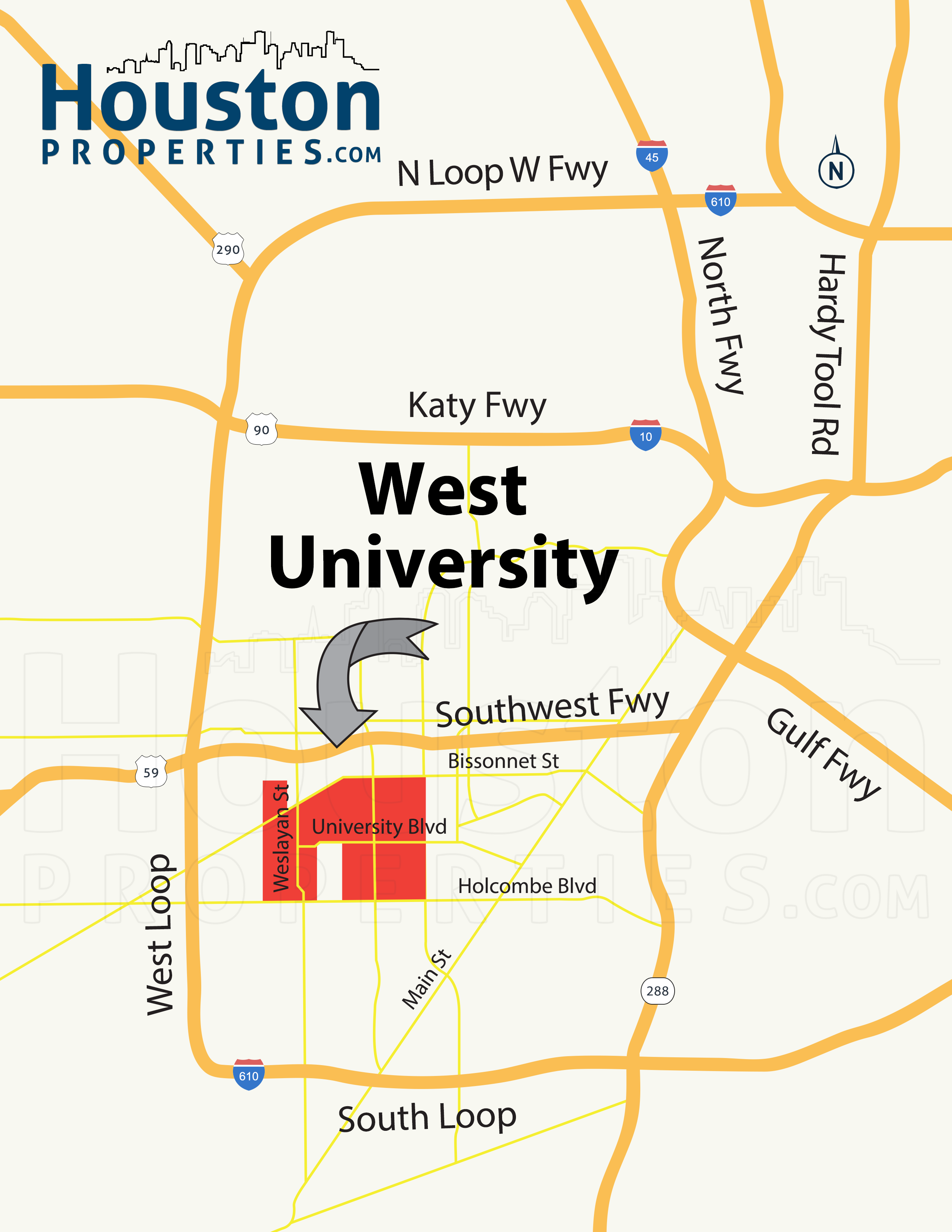 West University Place: Small Town Feel Within A Bustling City
Proud of their neighborhood's "residential image", West University Place homeowners have tough zoning and deed restrictions. These protect the city from industrial and commercial development. In an era of rapid metropolitan growth, West University has emerged as an island of residential stability.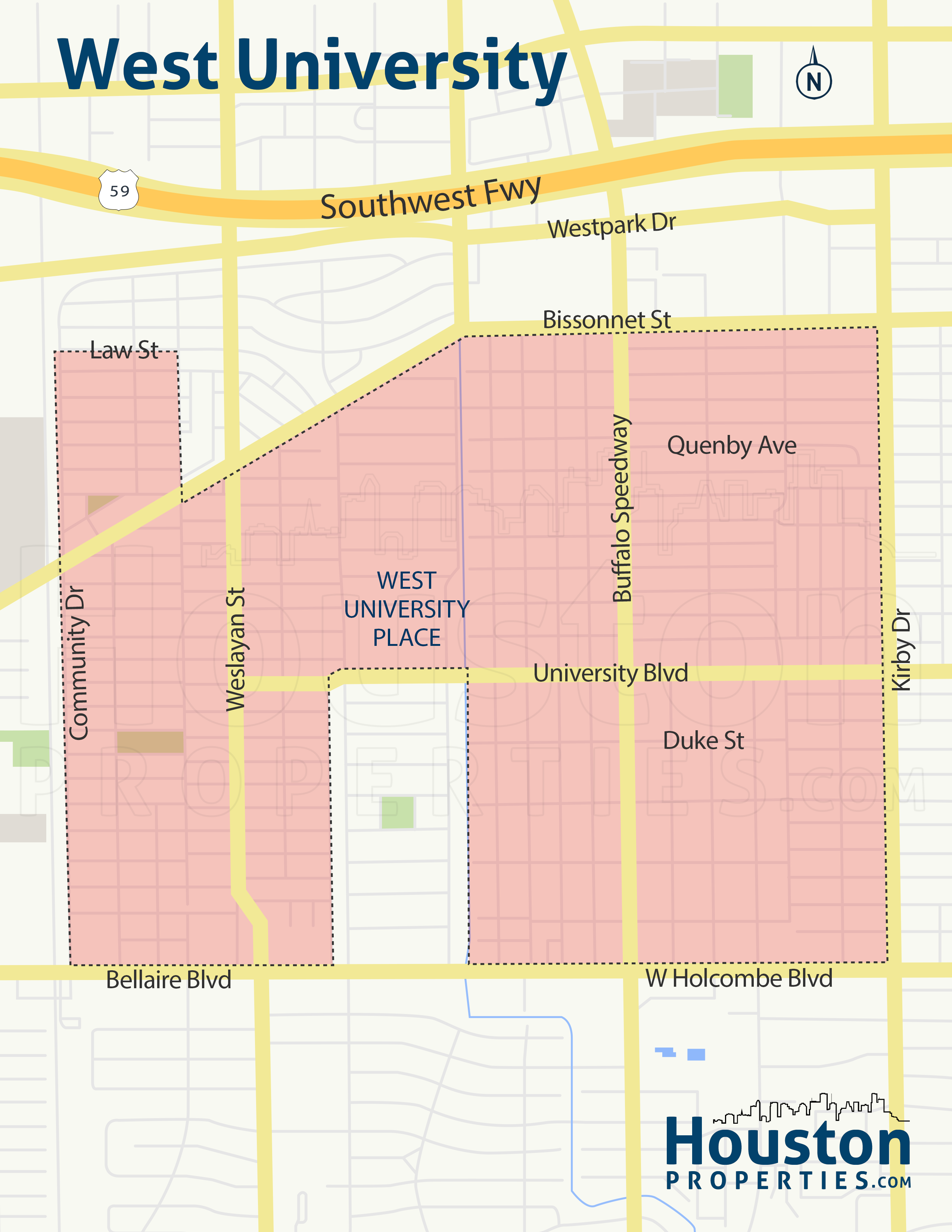 In order to preserve the beauty and integrity of the neighborhood, current ordinances require that each lot contain a certain amount of open space. This prohibits large new construction homes or remodeled homes from occupying the total yard.
A recent addition to the City has been the Urban Forester who protects the neighborhood from losing too many of its cherished trees. As a result, West University Place has maintained its small town atmosphere with a very organized community planning.
West University Place: Neighborhoods
West University Place has emerged as one of Houston's most desirable neighborhoods. As part of its goal to keep the West U area well-organized, the neighborhood has been divided into "blocks". There are a total of 26 sections or blocks within West University (see West University Place map below).
Each block contains original bungalows, recently remodeled homes, as well as an abundance of beautiful new and recent construction. Contemporary, Tudor, New Orleans, traditional Georgian, and French designed homes blend harmoniously into the neighborhood.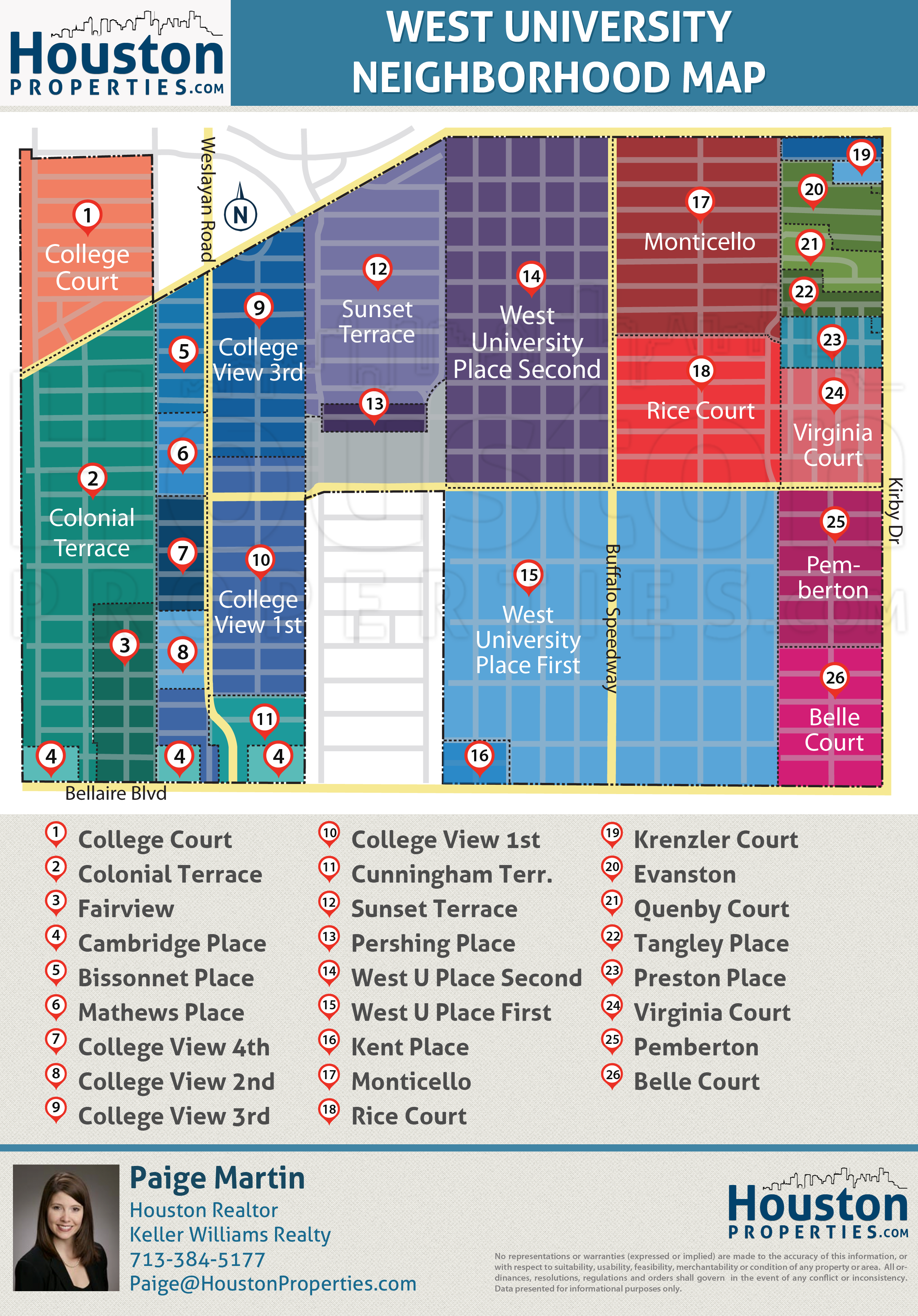 West University Neighborhood "Blocks/Sections"
College Court
College View 4th
College View 2nd
College View 3rd
College View 1st
Sunset Terrace
Pershing Place
West U Place Second
West U Place First
Kent Place
Rice Court
Krenzler Court
Tangley Place
Preston Place
Virginia Court
Pemberton