Rice Court Real Estate Guide
Rice Court homes for sale & insider real estate guide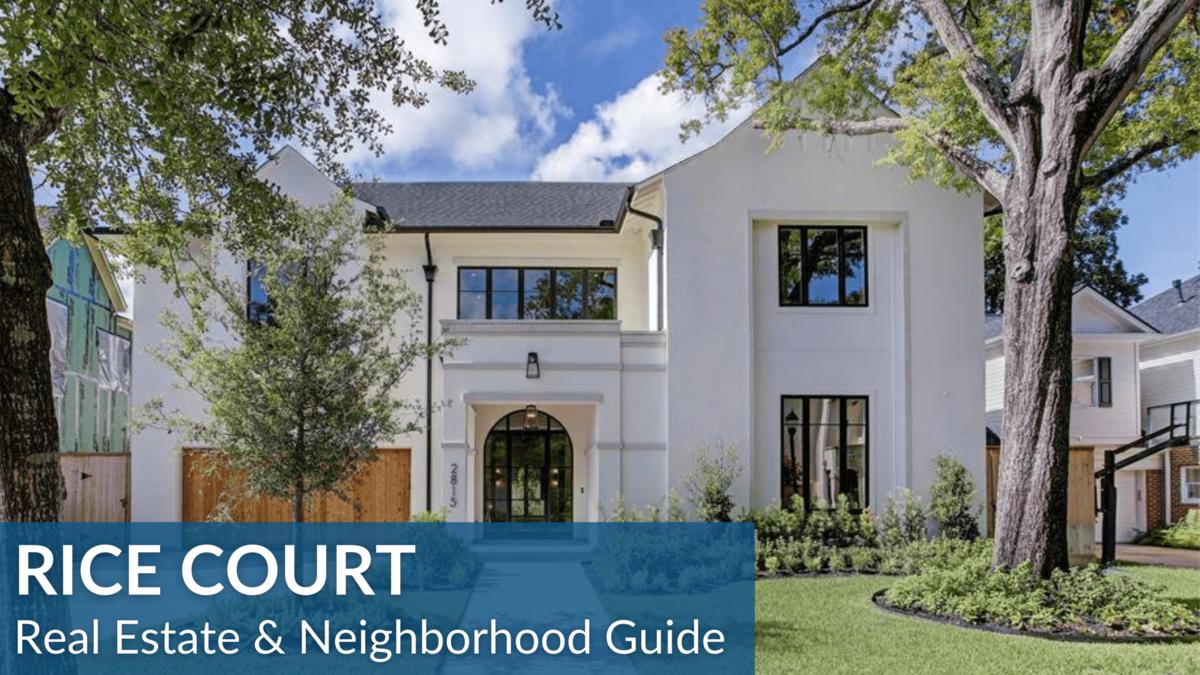 Rice Court is one of the most desirable and expensive neighborhoods in Houston. Made up of around 350 luxury homes and vintage bungalows. Rice Court features an exclusive community, high accessibility, and a great atmosphere.
The community is continuously in high demand due to the following:
WEST UNIVERSITY PLACE LOCATION: Dubbed "The Neighborhood City," West University is one of Houston's most desirable places to live. It is an independent city and maintains its own police force. Forbes named West University Place a "Top Urban Enclave."

EXCLUSIVITY: Rice Court homes have a median home sale price of over $1,000,000. New construction homes (and bigger vintage estates) tend to sell for well over $2,000,000. The community is among the most expensive and exclusive luxury neighborhoods in Houston. (See The Salary I Need To Buy A Home In Houston's Best Neighborhoods)

ACCESSIBILITY: Located less than 5 miles away from Downtown Houston, residents have easy commutes to key districts. Downtown, with its 3,500 businesses and 150,000-strong workforce, is less than 20 minutes away. The Texas Medical Center is a 10-minute drive from Rice Court. On the other hand, the Galleria is around 9 minutes away. Named as one of Houston's most accessible neighborhoods due to the community's proximity to many establishments. Restaurants, retail stores, parks, and Rice Village are all easily accessible.

MULTI-AWARD WINNING SCHOOLS: Rice Court homes are zoned to the Houston Independent School District (HISD). HISD is the largest school district in the state, with 283 schools. Lamar High School, Pershing Middle School, and West University Elementary School all serve the community. The schools mentioned consistently rank among the Best Schools in Houston.

SMALL TOWN VIBE: Rice Court has access to big city amenities while also maintaining a small town vibe. Tree-canopied streets and wide setbacks provide a picturesque atmosphere within Houston's Inner Loop.

GREAT REAL ESTATE APPRECIATION: Rice Court boasts of strong property values. West University is consistently among the best Houston neighborhoods in terms of real estate and land value appreciation.
Buying or selling a home in Rice Court can be challenging. Inventories are tight, with very few homes put on the market every year. There have been fewer than 40 home sales in the neighborhood in the past three years.
To get personal advice on buying or selling a Rice Court home, contact Paige Martin. One of Houston's best realtors and one of the top-ranked Realtors in the United States.
"I highly recommend Courtney from the Houston Properties Team for reliable real estate services! She was professional, knowledgeable, and always available to answer any questions I had throughout the process. Courtney went above and beyond to ensure that my home was marketed effectively and sold quickly. No question that I'd work with Courtney and her team again in the future. Thank you!" - Dora Williams (Google Review)
---
Table of Contents
---
Rice Court Home Sale Trends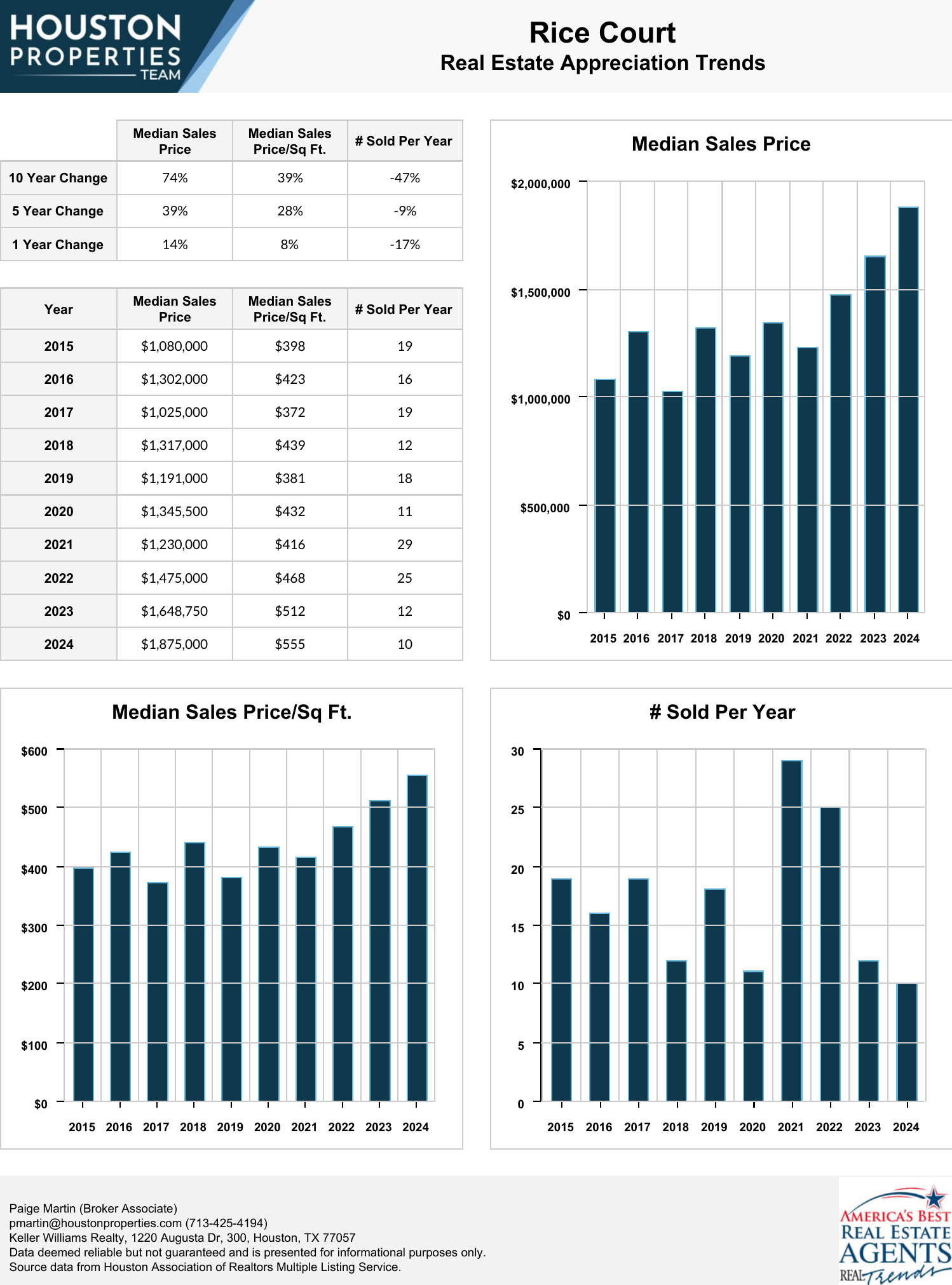 ---
Rice Court Maps, Location & Zip Code
| Commute Time | Rice Court |
| --- | --- |
| Downtown (min) | Unknown |
| Med Ctr (min) | Unknown |
| Energy Corridor (min) | Unknown |
| Galleria (min) | Unknown |
| Highlights | Rice Court |
| --- | --- |
| Amenities | Unknown |
| Golf Courses | Unknown |
| Run / Bike Trails | Unknown |
| Nearby Retail / Dining | Unknown |
| Major Employers | Unknown |
---
Rice Court Schools
| Top Elementary Schools | Great Schools Ranking |
| --- | --- |
| West University Elem | 10 |
---
Best Houston Real Estate Resources
---