WHISPERING OAKS REAL ESTATE GUIDE
2022 Whispering Oaks homes for sale & insider real estate guide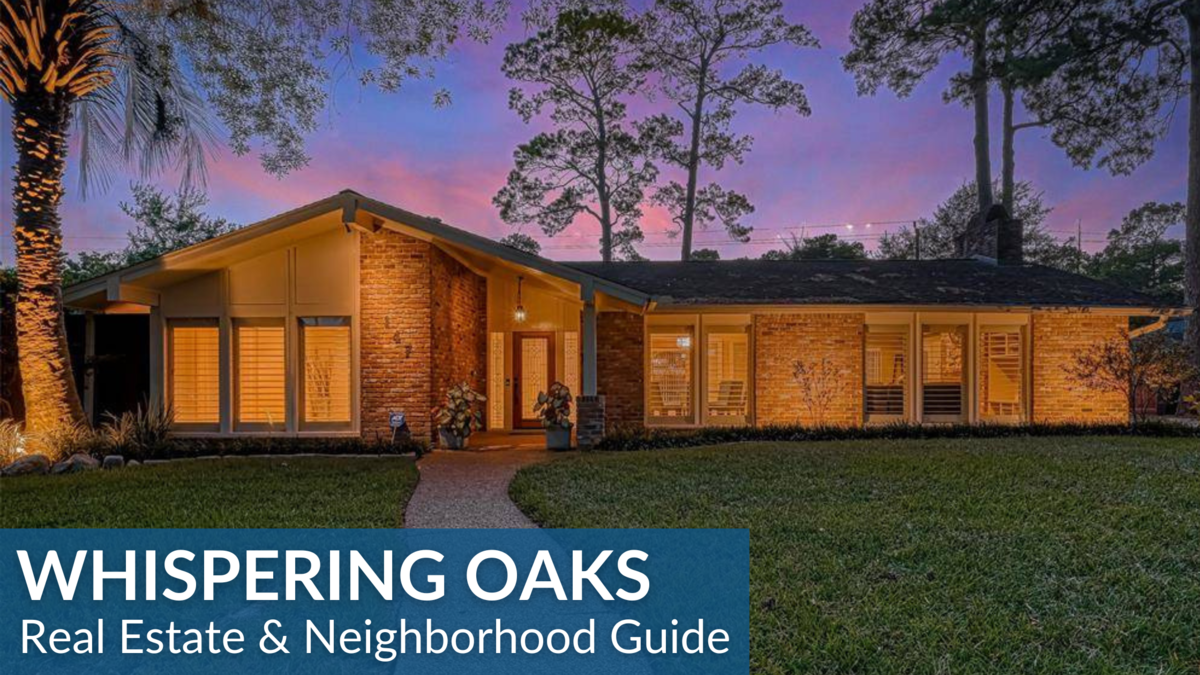 Made up of around 200 single-family homes, Whispering Oaks is a residential community. The neighborhood overlaps with Bunker Hill Village, one of the most expensive neighborhoods in Houston.
Whispering Oaks real estate features:
EXCLUSIVITY: Whispering Oaks homes are slightly more affordable than homes in nearby Bunker Hill and Frostwood. The community is still among Houston's most expensive real estate. The median appraised values of homes in the neighborhood are around $800,000.

77024 ZIP CODE: 77024 is home to Houston's most expensive neighborhoods. It includes the Memorial Villages, Frostwood, Memorial Forest, and Whispering Oaks. Forbes includes 77024 in its list of "America's Most Expensive ZIP Codes."

HOME OPTIONS ON LARGE LOTS: Whispering Oaks was developed in the mid-1950s. The neighborhood's older homes date back to the 1950s to 1960s. Architectural styles differ. Traditional styles are popular, but some newer properties may have more modern/contemporary designs. Whispering Oaks homes typically sit on spacious lots (by Houston standards). On average, lot sizes range from 10,000 to around 14,000 square feet. Bigger and more expensive properties can feature lots over 19,000 square feet.

NATIONAL BLUE RIBBON SCHOOLS: Award-winning Spring Branch ISD schools serve the neighborhood. Frostwood Elementary, Memorial Middle, and Memorial High School serve the community. The community is also zoned to National Blue Ribbon Schools. (See Best Houston Neighborhoods With Top Houston Schools)

NEAR RETAIL AND ENTERTAINMENT: The community is located near a cluster of retail centers and commercial establishments. Most of the stores are situated along I-10 and Beltway 8. Whispering Oaks homes have easy access to major retail, dining, and entertainment hotspots. Memorial City Mall and the CityCentre Plaza are within easy driving distance from the neighborhood. Town & Country Village is also nearby. Residents can easily access additional retail in communities and major roadways around the area.

PROXIMITY TO BUSINESS AND EMPLOYMENT: Major business and employment districts are all within minutes away from the community. Westchase, the Energy Corridor, and the Galleria are all a short distance away. The Westchase District (home to several energy and oil companies like Phillips 66 and Chevron) is around 3 miles away.
Buying or selling a home in Whispering Oaks can be challenging due to a number of factors. Older homes in the area may require extensive renovations. While there is some homes' proximity to busy roads may also affect resale values.
To get personal advice on buying or selling a Whispering Oaks home, contact Paige Martin. One of Houston's best realtors and one of the top-ranked Realtors in the United States.
"The entire Houston Properties Team was excellent to work with. Incredibly informed, proactive, and responsive, we could not have been happier with our Houston home search and the property we purchased. Will definitely work with this great group again in the future." - Kathryn Kaufman (Google Review)
---
Table of Contents
---
Whispering Oaks Home Sale Trends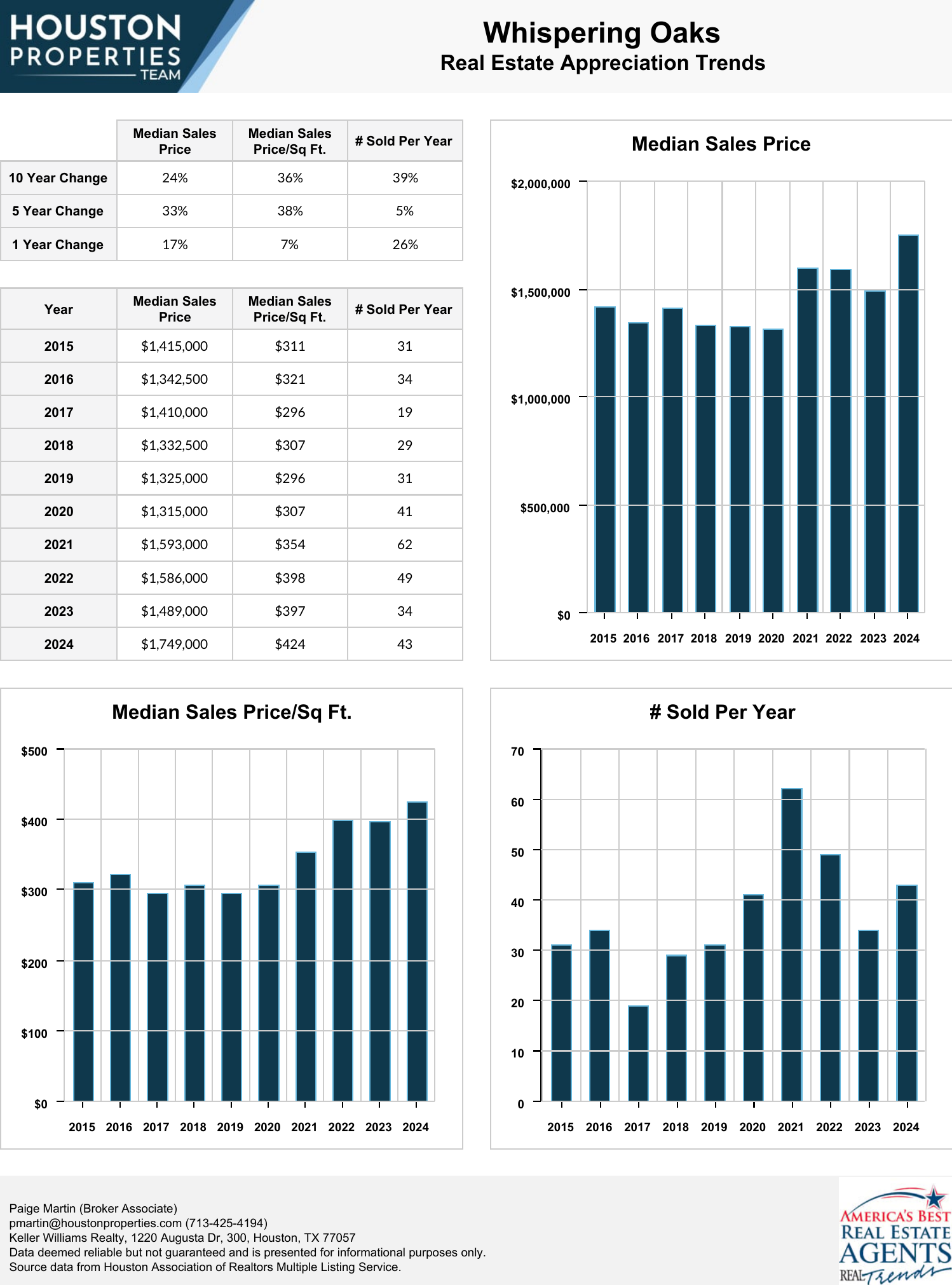 ---
Whispering Oaks Maps, Location & Zip Code
| Commute Time | Whispering Oaks |
| --- | --- |
| Downtown (min) | Unknown |
| Med Ctr (min) | Unknown |
| Energy Corridor (min) | Unknown |
| Galleria (min) | Unknown |
| Highlights | Whispering Oaks |
| --- | --- |
| Amenities | Unknown |
| Golf Courses | Unknown |
| Run / Bike Trails | Unknown |
| Nearby Retail / Dining | Unknown |
| Major Employers | Unknown |
---
Whispering Oaks Schools
| Top Elementary Schools | Great Schools Ranking |
| --- | --- |
| Frostwood Elem | 10 |
| Memorial Drive Elem | 9 |
| Rummel Creek Elem | 10 |
| Top Middle Schools | Great Schools Ranking |
| --- | --- |
| Memorial Middle | 9 |
---
Best Houston Real Estate Resources
---