Winrock Real Estate Guide
Winrock homes for sale & insider real estate guide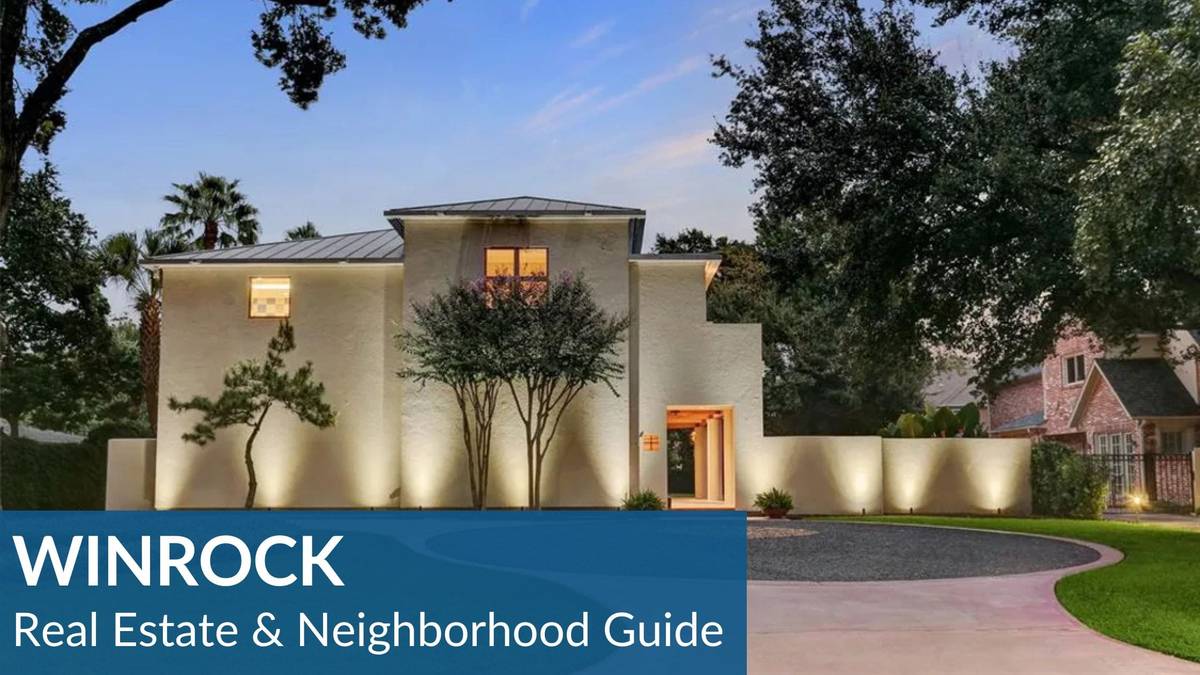 Located just outside the Loop and a mile south of the Houston Country Club. Winrock is a small neighborhood of gated townhomes, condos, and apartment complexes in Western Houston. Winrock homes are a popular alternative to the more expensive Inner Loop condos and Downtown Houston condos. Winrock features good amenities, accessibility, and great schools.
The community is famous thanks to its:
EXCELLENT ACCESSIBILITY: Winrock homes are bordered by the major thoroughfares. Major roads nearby are Westheimer, San Felipe, Voss, and Briargrove Drive. Winrock residents enjoy an easy drive to key Houston areas. There is also a bus station along Winrock Boulevard. The bus station offers a direct commute to the business districts of Energy Corridor and Westchase. Downtown Houston is also accessible.

GREAT LOCATION: Winrock homes are surrounded by some of Houston's best hotspots. The Galleria, one of Houston's premier destinations with its upscale shops and restaurants, is less than 3 miles east of Winrock. Houston's hottest Inner Loop neighborhoods are also less than 5 miles away. Nearby communities include Piney Point Village, Hunters Creek, and Tanglewood.

COMMUNITY AMENITIES AND RECREATIONS NEARBY: Winrock homes are mostly located in gated communities and complexes. Most of which feature several amenities, including private courtyards, pools, clubhouses, and play areas. Parks located around the area include Park at Bering, Grady Park, and most of west Tanglewood's parks. The Houston Country Club offers trail systems and open spaces only a mile away. Nestled 3 miles away is the expansive Memorial Park.

AFFORDABILITY: Winrock homes are also known for their affordable and gorgeous abodes. Condos near Inner Loop and Downtown areas can go as high as $3.5 million. On the other hand, Winrock homes have a more affordable range. Winrock homes prices have a median price of $220,000. Winrock real estate listings include an open concept floor plan and hardwood floors. Most homes have an updated chef's kitchen and a spacious fenced back patio.

HIGH PERFORMING SCHOOLS: Winrock homes are zoned to the Houston Independent School District (HISD). Students in the area may attend Briargrove Elementary, Grady Middle School, and Lee High School. Grady Middle School is one of the Best Schools in Houston.
Winrock real estate can be tricky to navigate given the area's proximity to major roads (which can hurt resale). Lack of zoning as there are some homes that may have street parking issues. A diversity of builders (some far superior to others) are also a factor.
To get personal advice on buying or selling a Winrock home, contact Paige Martin. One of Houston's best realtors and one of the top-ranked Realtors in the United States.
"Brad and Laura were amazing and exceeded my expectations. They helped me and my family selling our old home and buying a new one. They were both very professional, knowledgeable and respectful of my time and my family. I have 2 teenagers and a dog that can make anyone's job challenging but they were able to accommodate to our schedule and always seem calm and confident that everything was going to be ok. A process that could have been stressful was actually a pleasure. From the staging and pictures to the day we sold our house everything was great and the house sold really quick at a very good price. Brad was always a call away and was very responsive to any question we might have; excellent communication and customer service skills. Brad was with us every step of the way and did not miss anything for the house we sold and the house we bought; he recommended a very good inspector who was able to find some issues with our new house that the builder was able to fix before we signed on the contract to buy our new house; Brad also went to the final walk through with me and helped me checking the house one last time since my husband was not going to be able to go. Everything from day one was first class with Brad and Laura. I would recommend them as realtors to anyone I know. We hope to stay in this new house for a while but I will definitely contact them the next time I sell and/or buy a new house!" - Paula Sutton (Google Review)
---
Table of Contents
---
Winrock Home Sale Trends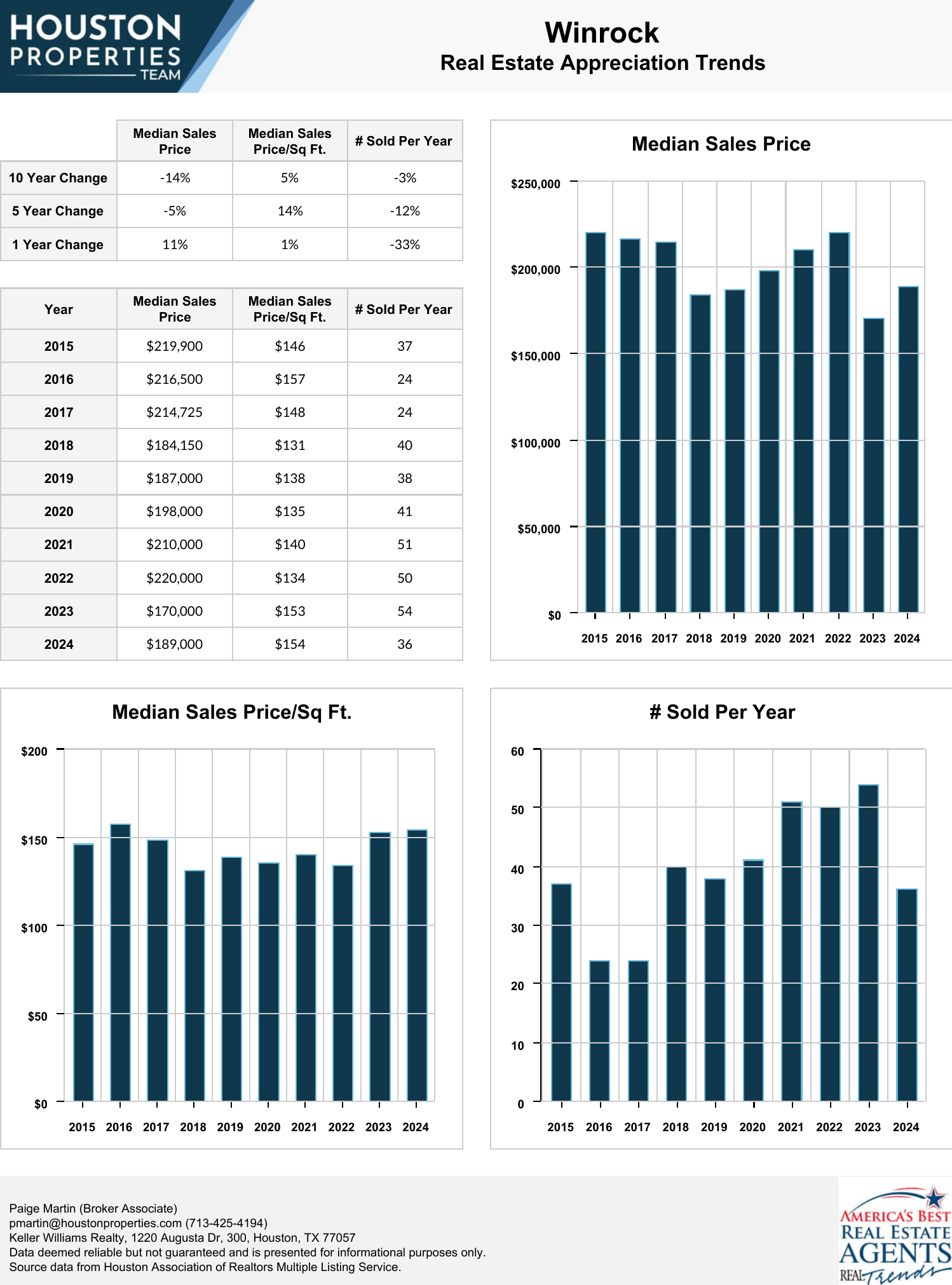 ---
Winrock Maps, Location & Zip Code
| Commute Time | Winrock |
| --- | --- |
| Downtown (min) | Unknown |
| Med Ctr (min) | Unknown |
| Energy Corridor (min) | Unknown |
| Galleria (min) | Unknown |
| Highlights | Winrock |
| --- | --- |
| Amenities | Unknown |
| Golf Courses | Unknown |
| Run / Bike Trails | Unknown |
| Nearby Retail / Dining | Unknown |
| Major Employers | Unknown |
---
Winrock Schools
| Top Middle Schools | Great Schools Ranking |
| --- | --- |
| Grady Middle | 7 |
---
Best Houston Real Estate Resources
---