Moving to Houston? Check Out This Comprehensive Houston Relocation Guide
Our real estate experts share the secrets to relocating in Houston.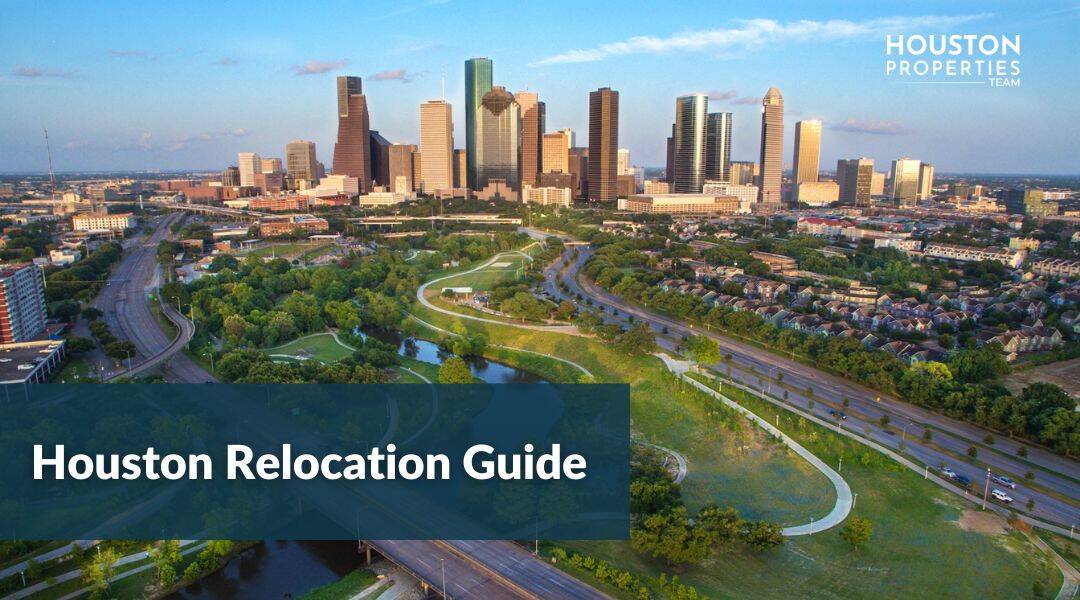 Are you contemplating a move to the vibrant, sprawling metropolis that is Houston, Texas? Look no further — in this comprehensive Houston relocation guide, we'll dive deep into what makes Houston such an enticing destination. We'll answer burning questions like "Is Houston a good place to live?" and "What is Houston, Texas known for beyond its world-renowned space center?"
Houston isn't just any city; it's a dynamic, multicultural hub where the possibilities are as vast as the Texas skies. Throughout this guide, we'll provide you with hard numbers and facts to help you make an informed decision about your upcoming relocation. We'll delve into the pros and cons of living in Houston, offer practical tips for a smooth transition, and take you on a virtual tour of Houston's diverse neighborhoods. You'll discover its thriving job market, top-notch schools, excellent healthcare facilities, and more.
Your journey to the Bayou City begins here, and we're your trusted guide to making the move.
It can be confusing when finally making a decision on which neighborhood or property to choose from with all the available information out there about Houston. Remove the guesswork in relocating and get the advice of the best realtor in Houston. Contact Paige Martin now at pmartin@houstonproperties.com.
---
Table of Contents
---
9 Things to Know About Living in Houston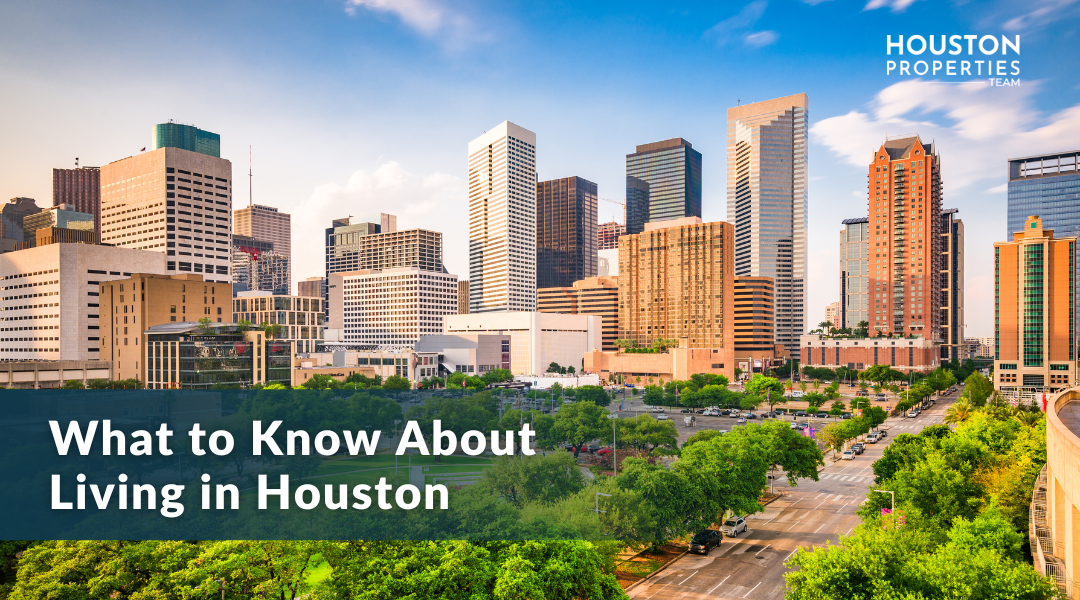 "Kim Vargas and her team made all the difference in the world during our home search and purchase. We are moving from out of state and Kim took away a lot of the stress that comes with buying a home remotely. She not only answered all of our questions but also answered questions we didn't even know to ask. Great job!" - Diana Morris
1. It's affordable
One of the things you need to know before moving to Houston is it's pretty affordable compared to larger cities. The cost of living in Houston is lower than in many major U.S. cities, which means you can enjoy a high quality of life without breaking the bank. According to the Council for Community and Economic Research (C2ER) Cost of Living Index 2023 Q2, the living costs here are 5.8% below the nationwide average and 28.8% below the average of the country's most populous metropolitan areas.
Housing costs are also quite reasonable. The average rent for a one-bedroom apartment is $1,232 per month, which is $400 below the national average. Compare this to the average rent for a one-bedroom in San Francisco, which will set you back $3,007 per month. A two-bedroom in Houston, meanwhile, will cost you $1,582 a month, compared to a whopping $5,587 in New York. If you're on the market to buy a home, on the other hand, the median home price is only around $350,000 compared to the national average of $416,000.
Beyond housing, Houston extends its affordability across various aspects of daily life. Groceries, dining out, and entertainment options offer value for your money, ensuring you can savor the city's vibrant culinary scene and cultural attractions without emptying your wallet.
2. It has a huge population
The city's vibrant population is a testament to its appeal. The Houston, Texas population is 2.3 million, making it the most populous city in Texas and the fourth-largest in the United States. The Greater Houston population (Houston-The Woodlands-Sugar Land area), on the other hand, is 7.3 million.
You may be wondering how big is Houston to accommodate all these people. Well, simply put, Houston is huge. With an area of 672 square miles, it's the largest city in Texas, surpassing Dallas which only covers 387 square miles, and Austin which covers 305 square miles.
3. Keep an eye on the weather
Houston's summers are renowned for their warmth and humidity. From June to August, temperatures frequently soar into the 90s (°F), making it a paradise for those who relish the sun's embrace. The long, sunny days provide ample opportunities for outdoor adventures, whether it's exploring parks, hitting the golf course, or enjoying a leisurely afternoon at the beach. However, be prepared for frequent rain showers as well when living in Houston, Texas, especially during the hurricane season from June to November. In fact, Houston receives the most rain out of any other city in Texas, making it susceptible to flooding. Its average annual rainfall is about 50 inches. In comparison, Dallas receives 39 inches, San Antonio receives 33 inches, and Lubbock receives 19 inches.
However, winter in Houston is a delight for those seeking milder temperatures. While some parts of the country grapple with freezing conditions, Houston enjoys a more temperate climate. The average low temperature in Houston, Texas is only around 50°F, making outdoor activities a year-round possibility.
4. The job market is thriving
Houston's robust economy is a testament to its unwavering status as a thriving business hub. Traditionally anchored in the energy sector, with a multitude of oil and gas giants headquartered here, the city's job market is rapidly diversifying, offering a spectrum of opportunities across various industries.
The healthcare industry, for instance, is experiencing significant growth, with the renowned Texas Medical Center as its epicenter. That industry alone accounts for one in every 10 jobs in the region, 9.5% of the local payroll, and more than 48,000 jobs created since the end of the Great Recession.
Aerospace and aviation companies, bolstered by NASA's presence, have also taken root, offering careers in research, engineering, and more. Furthermore, Houston's burgeoning tech sector is attracting talent and investment, contributing to its economic dynamism.
The job market in Houston is synonymous with opportunity. Whether you're an experienced professional seeking career advancement or a recent graduate embarking on your journey, the city's diverse industries and expanding job sectors ensure there's a niche for everyone.
5. There's no state income tax but property taxes are high
One of the most significant financial advantages of living in Houston is the absence of state income tax. Texas, in general, does not levy state income tax on its residents' earnings. This means that your income remains untouched by state-level taxation, allowing you to retain a more substantial portion of your earnings.
Property taxes can be relatively high, however. These taxes fund local services, schools, and infrastructure.
"The property tax rate can vary significantly by neighborhood, so it's essential to research and consider this cost when choosing a place to live. For example, The Woodlands, one of the city's most popular suburbs, has a tax rate of 1.83%. Another popular suburb, Sugar Land, has a tax rate of 1.99%. Belville has the lowest property tax rate at 1.3%, while Angleton has the highest at 2.03%," Kim Vargas, a top-producing member of the Houston Properties Team, explains.
Houston imposes various other taxes, including hotel occupancy tax, rental car tax, and special purpose district taxes, to fund specific projects or services. There's also a sales tax, which consists of a state rate and a local rate. The combined rate can vary slightly depending on your location within the city. Be mindful of sales tax when budgeting for everyday purchases.
6. There are no zoning laws either
In Houston, you won't find the traditional zoning laws that categorically dictate land use, such as residential, commercial, or industrial zones. Instead, the city relies on land use regulations, building codes, and deed restrictions to guide development.
It also often relies on neighborhood associations, and this places a significant emphasis on community involvement and cooperation in determining the character and aesthetics of neighborhoods.
On the positive side, the lack of zoning laws encourages innovation, an entrepreneurial spirit, and economic growth. It allows for organic urban development and can lead to vibrant neighborhoods. However, it can also result in haphazard development, with commercial enterprises located next to residential areas, potentially impacting quality of life.
Navigating Houston's unique zoning landscape requires an understanding of local regulations and a willingness to engage with the community in shaping the future of your neighborhood. It's a distinctive aspect of life in the city, offering both opportunities and challenges for residents and businesses alike.
7. It has an excellent education system
Houston is home to a diverse range of school districts, each with its unique strengths and programs. More than 1.3 million students are enrolled in independent school districts (ISDs) and charter schools. The largest one, Houston ISD, has 213,000 enrolled students in 280 campuses covering a 333-square-mile area.
High-performing districts like Katy, Cypress-Fairbanks, and Pearland Independent School Districts consistently receive accolades for their quality education. Parents have the flexibility to choose a district that aligns with their educational priorities and values.
Houston is also a mecca for higher education, boasting prestigious universities and colleges. The region has more than 40 community colleges and universities with nearly 430,000 students, and boasts three Tier 1 universities: the University of Houston, Rice University, and the Texas A&M University in College Station.
It also has 50 trade, vocational, and business schools that specialize in law, healthcare, welding, process technology, and other disciplines that enroll an additional 20,000 students.
Houston's educational tapestry is a testament to its dedication to nurturing minds and fostering lifelong learning. Whether you're seeking quality K-12 education for your children or pursuing higher academic endeavors for yourself, Houston's educational landscape is primed to support your quest for knowledge.
8. Inside The Loop is where it's at, but the outer loop is great too
The Loop is an informal reference to the Interstate 610 loop, a highway that encircles the central part of Houston. Within this loop lies the heart of the city, characterized by an array of neighborhoods, cultural institutions, and economic centers.
Inside the Loop, you'll discover a tapestry of neighborhoods, each with its unique personality. From the trendy and artsy Montrose to the historic charm of the Heights and the business buzz of downtown, there's a neighborhood to suit every lifestyle.
Many of Houston's renowned cultural institutions, including the Museum District, Theater District, and the Menil Collection, call Inside the Loop home. Residents and visitors can explore world-class art, theater, and music without straying far from the city center.
The Loop is also a hub for commerce and innovation. It's where you'll find the Central Business District, which houses the headquarters of major corporations and contributes significantly to Houston's economic vitality.
While inside the Loop captures Houston's urban vibrancy, the suburbs outside the Loop offer a different, yet equally appealing, way of life. These suburban communities provide respite from the bustling city center while delivering a high quality of life, excellent schools, and a strong sense of community.
Places like Katy, Sugar Land, and The Woodlands, for example, offer spacious homes, top-rated schools, and an array of parks and recreational facilities.
Sugar Land, additionally, boasts master-planned communities and an exuberant cultural scene, while The Woodlands is known for its forested landscapes, trails, and lakes.
9. The traffic can be insane
Houston's vast geographical footprint and rapidly growing population contribute to traffic congestion on its highways and major thoroughfares, particularly during rush hours. Commuters often face delays and longer travel times, making it crucial to plan your daily commute strategically.
The good news is Houston offers a public transportation system that includes buses and the METRORail, which runs from 4:30 AM to midnight Monday through Thursday, 4:30 AM to 2:20 AM on Friday, 5:30 AM to 2:20 AM on Saturday, and 5:30 AM to 11:40 AM on Sunday.
However, while public transit options exist, the city's reliance on automobiles means that many residents still prefer driving. But carpooling and ridesharing services have rapidly gained popularity as practical solutions to mitigate traffic woes. Platforms like Uber and Lyft provide convenient alternatives to solo driving.
When relocating to Houston, consider your workplace location and choose your residence strategically to minimize your daily commute. Exploring flexible work arrangements or alternative hours can also help ease the burden of rush-hour traffic.
---
The Pros and Cons of Moving to Houston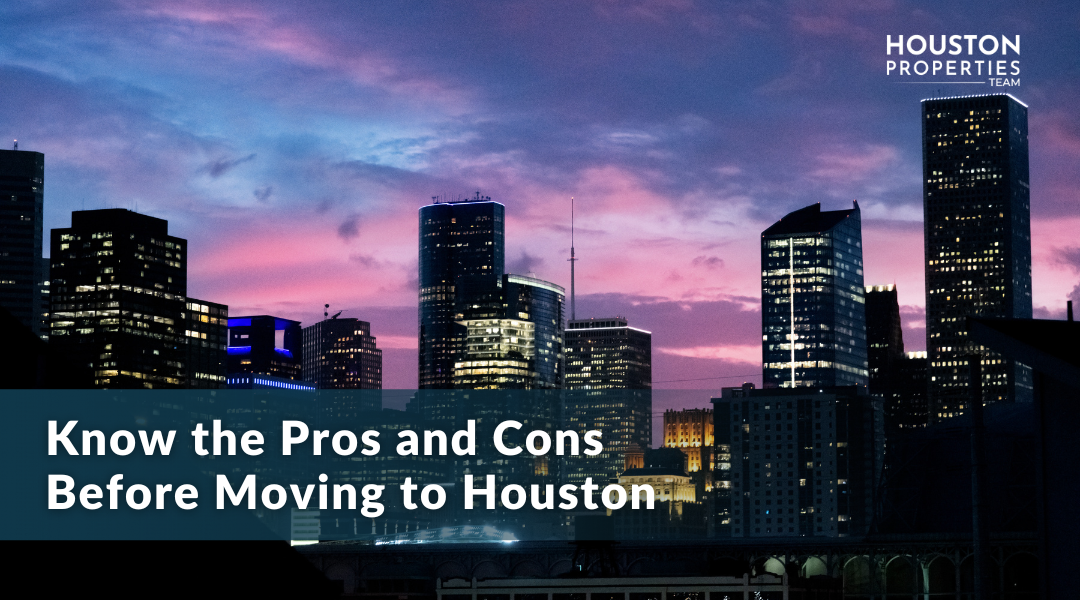 "Yolanda Ames is listed as a platinum agent and her service validates just that. She is kind, thorough, transparent, dependable, efficient, and did I mention thorough! I made the decision to move from NY to Tx and with Yolanda's help, was able to find an amazing residence, and close in a month. Her team (those from Houston Properties) and all her connections (from inspection SMEs to financial advisors) - mitigated the anxiety and overwhelming stress of purchasing a home. A year later, she still follows up and keeps me informed. If you have any inclination to move to the Houston area, reach out to Yolanda Ames. You will not regret it! Thanks Yolanda and Houston Properties!" - NNeka Wilson
1. Affordable Housing
Houston's housing market is a breath of fresh air for those accustomed to the sky-high costs of living in many major cities. The city offers a remarkable blend of affordability and variety, ensuring that residents of all backgrounds can find a comfortable place to call home.
One of the standout features of Houston's housing market is the variety of options available, which means that you can tailor your housing to your lifestyle and budget.
"Compared to metropolises like New York, San Francisco, or Los Angeles, where the cost of living can feel prohibitive, Houston's housing costs are refreshingly reasonable. The median home price is only around $350,000 compared to New York's $830,000," says Yolanda Ames, a top-producing Realtor and member of the Houston Properties Team.
"As you can see, your housing budget can stretch further here, allowing you to enjoy a higher standard of living and potentially save for other financial goals," she continues.
Houston's affordability extends beyond just housing; it positively impacts your overall financial well-being as well. With lower housing costs, you can allocate more of your income to other essentials, investments, or leisure activities, enhancing your quality of life.
2. Thriving Job Market
Houston's thriving job market stands as a beacon of opportunity, drawing individuals from various corners of the country and the world. This sprawling city is more than just a major metropolitan area — it's an economic powerhouse with a diversified employment landscape.
In the energy sector, Houston reigns supreme as the Energy Capital of the World. The city is home to numerous oil and gas giants, offering a multitude of positions ranging from engineering to finance. Additionally, the healthcare sector is robust, with the Texas Medical Center serving as a global epicenter for medical innovation, research, and patient care.
The aerospace and aviation industry also takes flight in Houston, thanks to NASA's Johnson Space Center. Here, scientists, engineers, and space enthusiasts find fulfilling careers in the pursuit of human space exploration.
Furthermore, Houston's growing technology sector is making waves, attracting tech talents seeking opportunities in software development, data science, and IT. Start-ups and established tech companies alike are contributing to the city's evolution as a tech hub.
Houston's job market isn't just about the big players; it's about diversity, innovation, and inclusivity. The city's unique blend of industries and its commitment to fostering talent make it a fertile ground for career growth and development. So, whether you're a recent graduate, a seasoned professional, or an aspiring entrepreneur, Houston offers a world of opportunities to shape your career journey.
3. No State Income Tax
For many, the absence of a state income tax in Texas, and particularly in Houston, is a financial game-changer. It's a compelling reason to call the Lone Star State home, and it can significantly impact your financial well-being.
In states with income taxes, a portion of your earnings goes to the government. However, in Texas, you get to keep every dollar you earn on the state level. This means your paycheck reflects your gross income, without any state deductions. For individuals and families, this can translate into substantial savings over time.
The benefits extend beyond just your regular paycheck. If you're a small business owner or an entrepreneur, the absence of state income tax can be a substantial boon to your bottom line. It allows you to reinvest in your business, expand operations, or simply enjoy more financial flexibility.
Additionally, the lack of state income tax in Texas fosters a business-friendly environment. Companies are attracted to the state, leading to job growth and increased economic opportunities. The positive business climate contributes to the overall economic prosperity of the region.
4. World-Class Healthcare
Houston's reputation for world-class healthcare is more than well-deserved, thanks to the Texas Medical Center (TMC), one of the most significant medical complexes globally. If health is a priority for you, Houston provides access to top-notch healthcare facilities and a pool of medical professionals dedicated to providing the best care possible.
The Texas Medical Center is a colossal hub of medical innovation and excellence, comprising more than 60 institutions, including hospitals, research centers, and medical schools. Some of the world's most brilliant minds in medicine and healthcare call Houston home. These institutions lead the way in groundbreaking research, cutting-edge treatments, and medical advancements across various specialties.
Whether you're seeking routine medical care, specialized treatment, or access to clinical trials, Houston's healthcare infrastructure offers an unparalleled depth of expertise and resources. Patients from around the globe come to Houston to benefit from its medical advancements and exceptional patient care.
In Houston, you can have peace of mind knowing that your health and well-being are in expert hands. The city's commitment to healthcare excellence extends beyond its world-renowned institutions; it's a part of the fabric of life in this vibrant, thriving metropolis.
5. Cultural Diversity
Houston stands as a shining example of cultural diversity, celebrating the vibrancy of the human experience. It's a city where diversity isn't just a concept; it's a way of life. Here, you'll find a rich tapestry of cultures, cuisines, and traditions that come together to create a uniquely inclusive and welcoming environment.
One of the first things you'll notice in Houston is the rich blend of cultures that are celebrated through festivals like the Houston Livestock Show and Rodeo, the Original Greek Festival, the Houston Italian Festival, AsiaFest, and more. You'll have the opportunity to explore different cultures without leaving the city limits.
Culinary enthusiasts will also find Houston to be a paradise. The city's restaurant scene is a world tour in itself, offering a plethora of international cuisines. From Tex-Mex and barbecue to Ethiopian, Vietnamese, and Indian delights, Houston's dining options reflect its cultural diversity. Foodies can embark on a gastronomic journey around the world without ever leaving the city.
Beyond the culinary delights, Houston's cultural diversity is evident in its neighborhoods, museums, and cultural institutions. You can visit cultural centers and art galleries that showcase the traditions and talents of various communities.
1. Humid Summers
Houston's summers are characterized by sweltering temperatures often surpassing 90°F (32°C) and high humidity levels, creating an environment that can be both challenging and advantageous depending on your perspective.
The combination of heat and humidity can be physically uncomfortable for some individuals. The air feels heavy, and perspiration doesn't evaporate quickly, which can lead to that sticky feeling. However, many Houstonians have acclimated to this climate and take advantage of the diverse indoor activities the city offers during the hottest parts of the day.
Health concerns arise as well. Prolonged exposure to extreme heat and humidity can lead to heat-related illnesses, such as heat exhaustion or heatstroke. Vulnerable populations, including the elderly and children, should take extra precautions during the summer months.
Additionally, the energy costs associated with maintaining comfortable indoor temperatures can be a drawback. Air conditioning becomes a necessity, leading to increased electricity bills. However, modern homes are often well-equipped to handle these weather conditions efficiently.
On the flip side, the warmth and humidity foster lush greenery and vibrant plant life, making Houston's outdoor spaces beautiful year-round. The city's parks, gardens, and bayous come to life during the summer, offering opportunities for outdoor enthusiasts to explore and appreciate nature.
2. Traffic Congestion
One of the worst things about living in Houston is the traffic congestion, an aspect of urban life that both residents and newcomers are intimately familiar with. The city's intricate network of highways and thoroughfares can indeed lead to lengthy commutes and occasional frustration during peak traffic hours.
The heart of the issue lies in Houston's sheer size and rapid growth. As the fourth most populous city in the United States, it's no surprise that millions of residents hit the road daily. The result? Heavy traffic, particularly during rush hours, which can extend well beyond what many urban areas experience.
While navigating this traffic congestion can be challenging, Houstonians have developed strategies to cope. Flexibility in work schedules, carpooling, and the use of public transportation are common tactics to mitigate the impact of traffic on daily life.
The city is also continually investing in transportation infrastructure improvements, including expansions of major highways and the development of public transportation options, with the goal of reducing congestion and improving mobility.
It's important to note that traffic congestion can vary depending on your location within the city. Inner-city areas often face more intense traffic, while suburban communities may offer more straightforward commutes.
3. Hurricane Risk
Living along the Gulf Coast, Houston is no stranger to the looming threat of hurricanes, particularly during the annual hurricane season, which stretches from June to November. While the region's natural beauty is undeniable, this geographical location places it in the crosshairs of tropical storms and hurricanes that can bring heavy rains, strong winds, and flooding.
Houstonians understand the importance of hurricane preparedness as an integral aspect of their lives. They keep a watchful eye on weather reports and heed evacuation orders when necessary. Local authorities and emergency services are well-versed in disaster management, ensuring residents are informed and safe during storms.
However, it's not all doom and gloom. The resilience of the community shines during these times. Neighbors help each other, and Houstonians come together to support those affected by hurricanes. Additionally, advancements in meteorology provide more accurate tracking and forecasting of storms, allowing for better preparation and response.
While the threat of hurricanes is a sobering reality, it's a testament to the strength and determination of Houston's residents. They embrace the beauty of coastal living while remaining vigilant, prepared, and ready to face the challenges that Mother Nature may bring.
4. Flood Risk
Houston's susceptibility to flooding, particularly during heavy rain events, is a topic of concern for residents and prospective homebuyers. Understanding the city's flood risk and taking appropriate measures is vital when considering real estate in this vibrant metropolis.
The city's flat topography and expansive network of bayous and waterways make it prone to flooding, especially during periods of intense rainfall. While Houston has implemented various flood control measures and drainage systems, it remains critical for residents to be aware of flood-prone areas and take precautions.
For those in the market for a home, flood risk is a critical factor to consider. It's advisable to research flood zones and evaluate a property's history of flooding. You can use our guide on how to avoid Houston homes with flooding history for your research.
Investing in flood insurance is often a wise decision as well, even for properties located outside designated flood zones, as heavy rain events can cause localized flooding.
Houston's local authorities and government agencies continue to work on flood mitigation and drainage improvement projects. This ongoing effort aims to reduce flood risk and enhance the city's resilience to extreme weather events.
While flood risk is a consideration, it's important to note that not all areas in Houston are equally prone to flooding. Homebuyers working with knowledgeable real estate professionals like the Houston Properties Team can find suitable properties that minimize flood risk while enjoying the benefits of living in this thriving city.
5. High Property Taxes
One of the financial nuances of living in Texas, including Houston, is the absence of a state income tax. While this is undoubtedly advantageous for residents' overall tax burden, it comes with a trade-off in the form of property taxes. The Lone Star State relies heavily on property taxes to fund local services and education, which can result in relatively high property tax bills.
For prospective homeowners in Houston, understanding the dynamics of property taxes is essential. Property tax rates can vary significantly between neighborhoods and school districts, and they are typically calculated based on the appraised value of your home. It's crucial to factor property taxes into your budget when considering homeownership, as they can significantly impact your monthly housing expenses.
However, it's worth noting that Texas offers various property tax relief programs, such as exemptions for homestead properties, veterans, and seniors. These exemptions can help reduce the property tax burden for eligible homeowners.
Houston's robust real estate market provides a range of housing options, each with its own property tax considerations. Before purchasing a home, it's advisable to research the property tax rates in your desired area and understand how they fit into your overall financial plan. While property taxes may be a consideration, many Houstonians find that the absence of state income tax and the city's affordability offset this financial aspect, making homeownership a viable and attractive option.
---
12 Houston Relocation Tips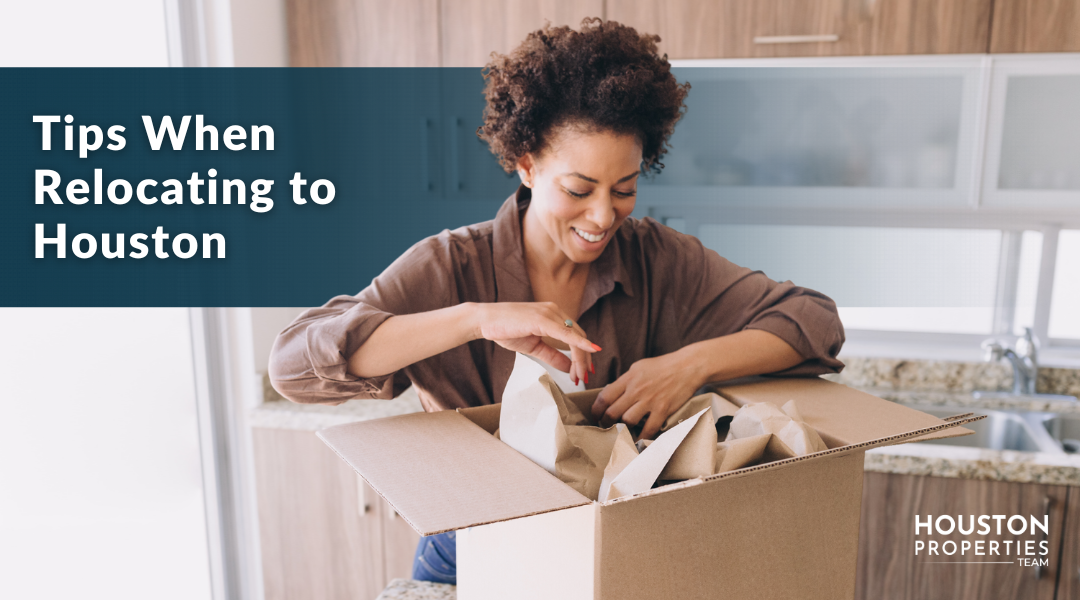 "Lisa was the absolute best realtor we could have asked for! Moving and buying a home can be stressful enough, let alone from 2,000 miles away. Lisa helped answer our questions every step of the way, and most important, was extremely knowledgeable about current market trends, pricing, etc. I am so thankful to have had Lisa as our realtor in helping us buy our first home! She also continues to even follow up and help us with any questions we have post close, which we are so thankful for. I cannot recommend her enough!" - Jason Roberts
If you're considering relocating to Houston, Texas, you're in for a fantastic journey. The Bayou City, as it's affectionately known, is a vibrant and economically thriving metropolis. But before you pack your bags and head to H-Town, there are some Houston relocation tips and a moving to Houston checklist you should keep in mind.
In this section, we'll walk you through what you need to know before moving to Houston. Whether you're drawn by the booming job market, the rich cultural scene, or the warm Texan hospitality, we've got you covered. We'll cover everything from finding the right neighborhood and navigating the city's unique quirks to settling into your new home seamlessly.
Tip 1: Research Neighborhoods
As you prepare for your move to Houston, one tip is to explore the city's eclectic neighborhoods. Houston's vast urban landscape boasts a variety of communities, each with its unique character and appeal. To make the right choice, consider factors like budget, lifestyle, and commuting needs.
Start by pondering your lifestyle preferences. "If you're drawn to art and a vibrant cultural scene, neighborhoods like Montrose may be your haven. On the other hand, if a suburban life is your priority, communities like Katy or Sugar Land may suit you," advises Lisa Iglesias, one of the most highly acclaimed principals of the Houston Properties Team.
Budget should also be a key consideration. Houston offers diverse housing options, from affordable apartments to upscale residences. Be aware though that property taxes can vary by neighborhood, which can impact your overall housing costs.
Commute wisely in Houston's sometimes congested traffic. Living closer to work or near public transportation can save time and reduce stress.
Also, think about essential amenities. Different neighborhoods offer various conveniences, such as parks, shopping, dining, and cultural attractions.
Lastly, consider future growth. Research the development plans for your chosen neighborhoods, as some areas are rapidly evolving, potentially affecting property values and your long-term living experience.
A trusted Realtor from the Houston Properties Team can help you with your research. We have in-depth knowledge of Houston's neighborhoods, housing market, property values, and community amenities, and we can provide you with valuable information so you can make informed decisions.
Tip 2: Secure Your Employment
Houston isn't just a place to call home; it's also a land of opportunity when it comes to your career. Before relocating, it's necessary to grasp the dynamics of Houston's job market, which boasts a thriving economy across various sectors, most notably in energy, healthcare, and technology.
Energy has long been synonymous with Houston, thanks to its status as the energy capital of the world. The city hosts numerous oil and gas corporations and related industries. Healthcare is another powerhouse, with the Texas Medical Center, one of the largest medical complexes globally, offering abundant career opportunities in healthcare, research, and innovation. Additionally, Houston's burgeoning technology scene provides a fertile ground for tech professionals and entrepreneurs alike.
To make your transition smooth, consider securing your employment before you move, if possible. This approach provides financial stability and peace of mind. Alternatively, if you're relocating for personal reasons, researching job opportunities in your field is paramount.
Leverage online job boards, industry-specific websites, and professional networks to explore positions aligned with your expertise. Connect with local recruiters and attend job fairs and networking events to expand your professional circle. Be proactive in reaching out to potential employers, and don't underestimate the power of informational interviews to gain insights into the local job market.
Tip 3: Consider the Educational Landscape
For families relocating to Houston, one of the most critical aspects to consider is the educational landscape. If you have school-age children, researching the city's independent school districts (ISDs) and schools within your chosen neighborhood is important. Houston provides a diverse array of educational options, including public, private, and charter schools, each with its unique strengths and offerings.
Start by delving into the ISDs serving your desired neighborhood. Houston's ISDs vary in terms of academic performance, extracurricular activities, and specialized programs. Consider your child's needs and interests when evaluating which ISD aligns best with your educational goals.
Next, explore the specific schools within the ISD. Look for schools with a track record of academic excellence, robust extracurricular activities, and supportive staff. Visit schools, attend open houses, and talk to parents in the community to gain firsthand insights.
Private schools are also prevalent in Houston, offering specialized curricula and smaller class sizes. Research private institutions that align with your educational philosophy and financial considerations.
Charter schools provide another alternative, often focusing on specific academic areas or themes. Investigate charter schools in your chosen area to see if they offer programs that match your child's interests.
Tip 4: Explore Healthcare Facilities
When it comes to relocating to Houston, your health and access to quality healthcare should be a top priority. Houston proudly hosts the renowned Texas Medical Center, an expansive medical complex that stands as one of the world's largest and most esteemed. To ensure you have reliable healthcare options, diligently research local hospitals, clinics, and healthcare providers.
Begin your quest by exploring the Texas Medical Center itself, a sprawling campus comprising multiple hospitals, research institutions, and healthcare facilities. It's renowned for its cutting-edge medical treatments and world-class specialists. Consider its proximity to your chosen neighborhood for convenience in emergencies or regular medical visits.
Beyond the Texas Medical Center, Houston boasts a wide array of hospitals and clinics, both public and private, catering to various medical needs. Investigate the reputation, services, and patient reviews of these facilities to find the ones that align with your healthcare requirements.
Selecting a primary care physician or specialist is equally crucial. Seek recommendations from locals or use online resources to find healthcare professionals with a track record of delivering excellent care.
Additionally, familiarize yourself with your health insurance options and networks to ensure coverage at your chosen healthcare facilities.
Tip 5: Create a Budget
While Houston is generally known for its affordability compared to many other major cities, there are nuances to consider, primarily related to property taxes and insurance costs that can vary widely by neighborhood.
Start by evaluating your housing budget. Houston offers a wide range of housing options, from budget-friendly apartments to spacious suburban homes. Keep in mind that property taxes are a significant part of the housing expenses and can differ substantially from one neighborhood to another. Research property tax rates in your chosen area to ensure they align with your budget.
Insurance costs, including homeowner's insurance and flood insurance, should also be considered. Houston's susceptibility to flooding means that flood insurance is often a necessary expense, especially in flood-prone areas.
Creating a detailed budget that encompasses all aspects of living in Houston is crucial. Include housing, utilities, transportation, healthcare, groceries, and entertainment expenses. Factoring in these costs will help you manage your finances effectively and ensure a smooth transition to your new city.
Tip 6: Be Aware of the Traffic
Houston's traffic can be congested, especially during peak hours. Therefore, selecting a residence that minimizes your commute time is a strategic move. Consider proximity to your workplace and explore alternate routes to avoid the busiest roads.
Public transportation is also a viable option for many Houstonians. The METRORail offers a convenient and eco-friendly way to traverse the city, connecting key areas, including downtown and the Texas Medical Center. Metro buses also provide comprehensive coverage across the metropolitan area.
In addition to public transit, Houston's extensive network of highways and roadways offers various commuting routes. Familiarize yourself with these routes and traffic patterns to optimize your daily journey.
Being traffic-aware and planning your commute wisely will not only save you time but also reduce stress. It's a valuable consideration as you settle into life in this city.
Tip 7: Dress for the Climate
​​When you're relocating to Houston, it's important to be prepared for the city's distinctive climate. Houston experiences hot, humid summers and mild winters that might differ from what you're accustomed to.
Houston's summers are hot and humid, with temperatures often exceeding 90°F (32°C). Lightweight, breathable clothing is your best friend during this season. Opt for loose-fitting fabrics that allow air circulation, sunglasses, and wide-brimmed hats to shield yourself from the sun. Don't forget sunscreen for added protection.
While Houston's winters on the other hand are mild compared to many other places, it's still necessary to have some warmer attire on hand. Layering is the key to dressing comfortably. Bring sweaters, long-sleeve shirts, and a light jacket for the cooler days. An umbrella for occasional rain showers is also a handy addition.
Houston's climate offers the advantage of outdoor activities year-round, but being prepared for the weather ensures you can enjoy the city's offerings comfortably. So, pack your wardrobe accordingly.
Tip 8: Prepare for Emergencies
Living in Houston means being mindful of the hurricane risk, especially during the hurricane season from June to November. To ensure the safety of your household, it's imperative to create an emergency preparedness plan and keep basic supplies readily available.
Start by familiarizing yourself with hurricane evacuation routes and local emergency resources. Houston has well-established procedures in place to deal with hurricanes, including evacuation plans for vulnerable areas.
Prepare an emergency kit that includes non-perishable food, water, flashlights, batteries, a first-aid kit, important documents, and any necessary medications. Ensure that you know the location of this kit and understand the evacuation plan.
Stay informed about weather updates and hurricane alerts. Local news and official sources provide real-time information to help you make informed decisions about evacuation or sheltering in place.
Consider flood insurance, as some parts of Houston are prone to flooding during hurricanes. Insurance can provide financial protection in case of property damage.
While the risk of hurricanes exists, Houston's robust emergency management systems and preparedness efforts help residents stay safe during these events. By planning ahead and staying informed, you can navigate hurricane seasons with confidence and peace of mind.
Tip 9: Immerse Yourself in the Culture
One of the most enriching aspects of relocating to Houston is the city's vibrant cultural scene, which is evident in its array of museums, theaters, and festivals waiting to be explored.
Begin your cultural journey by visiting the Museum District, home to world-class institutions like the Museum of Fine Arts, Houston Museum of Natural Science, and the Contemporary Arts Museum Houston. These venues showcase art, history, and science from around the globe.
For theater enthusiasts, Houston's Theater District offers a range of performances, from Broadway shows to experimental productions. Venues like The Alley Theatre and The Hobby Center for the Performing Arts promise captivating experiences.
Throughout the year, Houston hosts numerous festivals celebrating various cultures, cuisines, and art forms. The Houston Livestock Show and Rodeo, the Houston International Film Festival, and the Art Car Parade are just a few examples of the city's eclectic event calendar.
Embrace the opportunity to immerse yourself in Houston's cultural offerings. Whether you're passionate about art, theater, or culinary delights, Houston's rich tapestry ensures you'll find endless opportunities for exploration and appreciation.
Tip 10: Expand Your Social Network
Relocating to Houston is not just about finding a new home; it's also about building meaningful connections in your new city. One of the most effective ways to do this is by expanding your social network.
You can do this by joining local social groups and clubs that cater to various interests and hobbies. Whether you're into outdoor activities, book clubs, or volunteering, there's likely a group that shares your passion.
The digital age has also made it easier than ever to connect with people. Explore online platforms and social media groups that are dedicated to Houston residents. These forums provide a virtual space to ask questions, seek recommendations, and engage with the local community.
Lastly, keep an eye out for networking events and social gatherings in your area. These occasions offer a chance to meet professionals, entrepreneurs, and fellow newcomers, fostering both personal and career connections.
Tip 11: Look for A Relocation Company
Relocation companies in Houston are experts in the art of moving. They offer a wide range of services designed to streamline your move and alleviate the stress associated with it. One of their advantages is they can tailor their services to your specific needs. Whether you require assistance with packing, transportation, temporary housing, or settling into your new neighborhood, they have you covered.
Another advantage is that they possess in-depth knowledge of Houston's neighborhoods, schools, and amenities. They can guide you in selecting the right area to call home, considering your lifestyle and preferences.
Keep in mind as well that moving involves a multitude of logistical challenges. Relocation companies have the experience and resources to handle these complexities efficiently, ensuring your belongings arrive safely and on time.
And perhaps the most significant benefit is the reduced stress on you. With professionals managing the logistics, you can focus on the excitement of your new chapter in Houston.
To find a reputable relocation company, seek recommendations, read reviews, and conduct thorough research. Choose a company that aligns with your budget and specific requirements. With their expertise and support, your move to Houston can be a seamless and positive experience.
Tip 12: Hire A Trusted Real Agent
When relocating to Houston, perhaps one of the most valuable tips you can follow is to hire a trusted real estate agent. A reputable real estate agent like one from the Houston Properties Team possesses invaluable local knowledge. We understand Houston's neighborhoods, their unique characteristics, and the ever-changing market trends. This insight enables us to match your preferences with the right area, ensuring you find a home that suits your lifestyle.
And, as you can probably imagine, relocating can be overwhelming, especially in a sprawling city like Houston. Our skilled agents can narrow down your property search, presenting you with options that align with your budget, needs, and desires. This can save you time and energy.
Additionally, real estate transactions involve negotiation, and our experienced agents will advocate on your behalf. We work to secure favorable terms, whether you're buying or renting, ensuring you get the best deal possible. We also guide you through the paperwork, contracts, and compliance, ensuring a smooth and lawful process.
This is why we were able to close $1 billion in real estate sales in the last few years — we care more than anybody else that you get peace of mind during this significant life change. You can rely on our expertise to navigate the complexities of relocation, from your initial property search to closing the deal.
---
Guide to Houston's Neighborhoods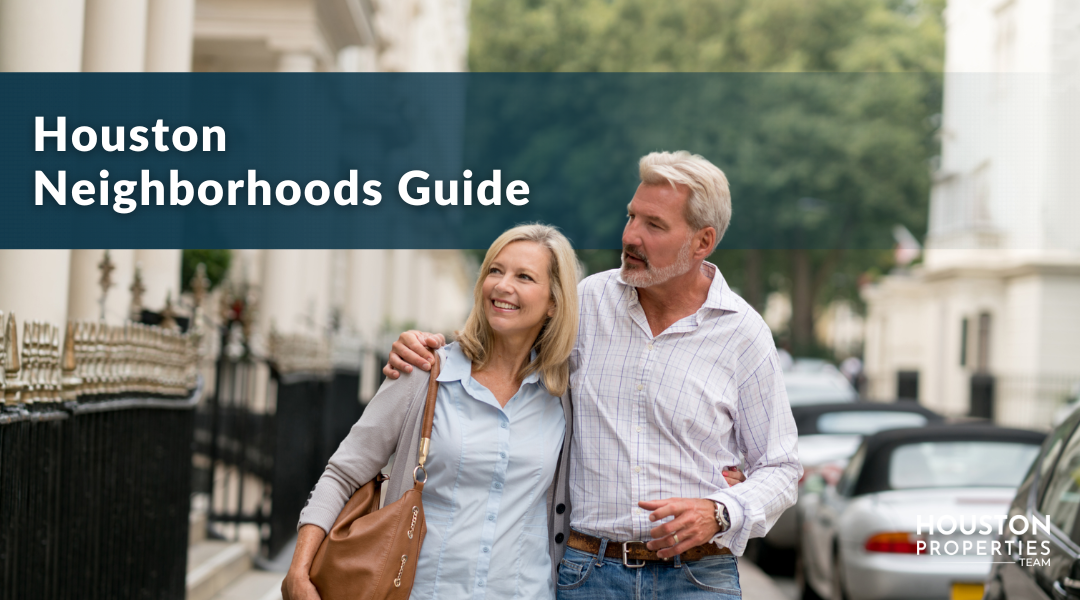 "I highly recommend Courtney from the Houston Properties Team. Her knowledge of the market and her exceptional service were key in making the home-buying process smooth and stress-free. My wife and I are new to the Houston area and buying a home during a very low inventory period for houses looked difficult. Fortunately, Courtney was fantastic during our home buying experience - providing lists of must-see locations for areas such as EaDo, the Heights, Rice Military, Oak Forest and our eventual new home neighborhood Spring Branch. Courtney was persistently available; willing to quickly hop on a calls, providing comprehensive information booklets compiled by the Houston Properties Team about the current and future value of the homes we toured. Best of all, after a couple of home tours, Courtney really locked into the style of home in the neighborhood we wanted quickly and was ready once the right home was available for us to get the right place! We are so happy with our new home! We even got to meet the more of the Houston Properties Team when we went to our first Astros Game downtown!" - Jonathan Siler
Houston is a city of neighborhoods, each with its unique personality, amenities, and charm. Explore them all here using our top neighborhood guides for people who are relocating to the Bayou City:
Spanning over 600 miles, Houston can be overwhelming to explore. We've compiled guides, custom maps, statistics, and trends of the best neighborhoods to help you find your ideal Houston home.
Discover the best Houston suburbs within a 45-minute drive from downtown, ranked by commute times & accessibility, amenities, and public schools.
Considering a home outside the heart of Houston as you're looking for more space, more top-ranked schools, or more affordable homes? Then this resource guide is for you.
Houston's Inner Loop is one of the top-ranked regions within Texas. 20 neighborhoods stand out with the best real estate appreciation over the past year.
Memorial is made up of several neighborhoods, gated communities, and independent cities. Memorial real estate are some of the Space City's most desirable and most expensive.
The Houston Heights is an exciting neighborhood of 3,700 homes. The Heights has experienced tremendous property appreciation and development over the past decade.
Choose from over 20 best gated communities in different locations. These lock & leave communities have excellent school zoning and great access to major business centers.
Houston has 10 of the wealthiest neighborhoods in the nation. See which communities made the list.
This guide explains Houston's floodplain terminologies, how to check a home or area's flooding history, and a list of places that have flooding and that have no flooding.
---
More Popular Guides to Houston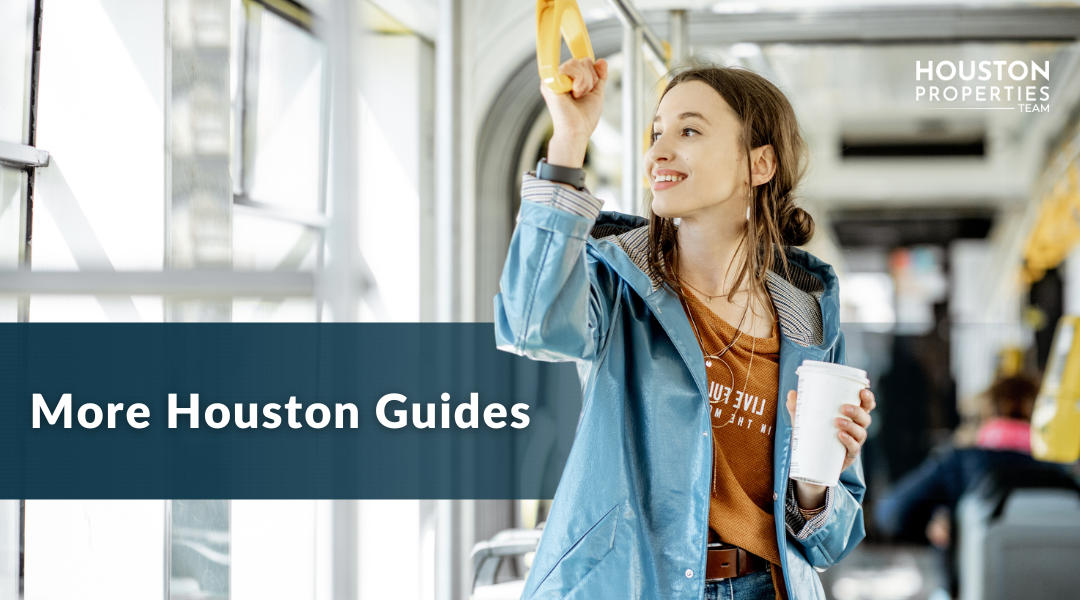 "I highly recommend Holly Hernandez if you are relocating to the Houston area. They were very helpful to find specific housing options for us including houses for sale and condos for lease. We were interested in the Texas Medical Center area and at our first meeting they provided a real estate market report that was very helpful. They were both excellent to work with when looking at the properties because they pointed out the positives and things to consider accordingly to each location." - Donna Baker
Houston's job market is strong and growing in some sectors, including health care. In the first three months of 2023, Houston added 29,612 jobs, a 3.6% annualized increase. The metropolitan area had a 6.6% increase in employment, compared to a 4.1% increase for the nation. Since the economy reopened in May 2020, the region has added 514,900 jobs.
Houston's economy is primarily based on the energy industry, particularly oil. Other large sectors include health care, biomedical research, and aerospace. Here are some of the top employers in Houston:
​​1. The University of Texas MD Anderson Cancer Center
MD Anderson Cancer Center is one of the world's leading cancer research and treatment institutions. It employs a vast workforce of healthcare professionals, researchers, and support staff dedicated to cancer care and research.
2. ExxonMobil
ExxonMobil is a multinational oil and gas corporation with a significant presence in Houston. The company is involved in exploration, production, refining, and marketing of energy products, making it a major player in the energy sector.
3. Memorial Hermann Health System
Memorial Hermann is a leading healthcare system in Houston, providing a wide range of medical services. With numerous hospitals and facilities, it employs a substantial workforce of healthcare professionals.
4. Chevron
Chevron is another prominent energy company with operations in Houston. It engages in oil and gas exploration, production, and refining, contributing to Houston's status as an energy hub.
5. United Airlines
United Airlines has a significant presence at George Bush Intercontinental Airport in Houston. The airline employs a large workforce, including pilots, flight attendants, and ground staff.
6. Schlumberger
Schlumberger is a global oilfield services company with a strong presence in Houston. It offers services related to the exploration and production of oil and gas, employing engineers, scientists, and technicians.
7. Houston Methodist
Houston Methodist is a leading healthcare system with multiple hospitals and medical facilities in the Houston area. It employs healthcare professionals across various specialties.
8. Shell Oil Company
Shell Oil Company, a subsidiary of Royal Dutch Shell, has a significant footprint in Houston's energy sector. It is involved in the exploration, production, and distribution of petroleum products.
9. Texas Children's Hospital
Texas Children's Hospital is one of the largest pediatric hospitals in the United States. It employs a diverse team of medical professionals, researchers, and support staff to provide pediatric healthcare.
10. NASA's Johnson Space Center
NASA's Johnson Space Center is a hub for human spaceflight operations and research. It employs scientists, engineers, astronauts, and support staff working on space exploration and missions.
The Greater Houston area boasts several prominent independent school districts (ISDs), each with its own unique characteristics and educational offerings. These ISDs play a crucial role in shaping the educational experiences of students and are often a top consideration for families who are relocating to the region and looking for the best Houston schools.
Let's take an in-depth look at some of the most well-known ISDs in Houston:
1. Houston Independent School District (HISD)
Number of Students: HISD is the largest school district in Texas, with over 200,000 students.
Communities Served: HISD serves the city of Houston, encompassing a vast urban landscape. It includes neighborhoods such as Downtown Houston, Midtown, Heights, West University Place, and many more.
Curriculum Offerings: HISD offers a wide range of academic programs, including magnet schools and specialized academies. The district is committed to college readiness and career preparation, offering Advanced Placement (AP) courses, International Baccalaureate (IB) programs, and a variety of extracurricular activities.
2. Cypress-Fairbanks Independent School District (CFISD)
Number of Students: CFISD is one of the fastest-growing ISDs in Texas, serving over 116,000 students.
Communities Served: CFISD covers a vast area in northwest Houston and serves communities such as Cypress, Jersey Village, and Fairbanks.
Curriculum Offerings: CFISD is known for its strong emphasis on technology integration in the classroom. The district offers a comprehensive curriculum, including STEM programs, fine arts, and athletics.
3. Fort Bend Independent School District (FBISD)
Number of Students: FBISD serves approximately 79,000 students.
Communities Served: FBISD serves communities southwest of Houston, including Sugar Land, Missouri City, Richmond, and others.
Curriculum Offerings: FBISD offers a diverse array of academic programs, including gifted and talented education, career and technical education (CTE) programs, and numerous extracurricular activities. The district focuses on college and career readiness.
4. Katy Independent School District (KISD)
Number of Students: KISD serves around 85,000 students.
Communities Served: KISD covers the western part of Houston, including the city of Katy.
Curriculum Offerings: KISD is recognized for its strong academic programs and extracurricular offerings. The district provides a well-rounded education and emphasizes college preparation.
5. Conroe Independent School District (CISD)
Number of Students: CISD serves approximately 65,000 students.
Communities Served: CISD is located north of Houston and serves communities like Conroe, The Woodlands, and Spring.
Curriculum Offerings: CISD offers a range of educational programs, including International Baccalaureate (IB) programs, advanced courses, and a strong emphasis on fine arts and athletics.
6. Pearland Independent School District (PISD)
Number of Students: PISD serves around 22,000 students.
Communities Served: PISD encompasses the city of Pearland and parts of neighboring areas.
Curriculum Offerings: PISD is known for its rigorous academic programs and extracurricular activities. The district provides a strong foundation for student success.
7. Spring Independent School District (SISD)
Number of Students: SISD serves approximately 35,000 students.
Communities Served: SISD is situated in the northern part of the Greater Houston area, serving communities like Spring, Klein, and more.
Curriculum Offerings: SISD offers a variety of educational programs, including advanced courses, career and technical education, and a strong focus on student achievement.
8. Clear Creek Independent School District (CCISD)
Number of Students: CCISD serves over 42,000 students.
Communities Served: CCISD covers the southeastern suburbs of Houston, including communities like Clear Lake, League City, and Friendswood.
Curriculum Offerings: CCISD is known for its emphasis on both academics and extracurricular activities. The district offers STEM programs, fine arts, and a wide range of clubs and organizations.
9. Humble Independent School District (HISD)
Number of Students: HISD serves around 44,000 students.
Communities Served: HISD is located northeast of Houston, serving communities like Humble, Atascocita, and Kingwood.
Curriculum Offerings: HISD offers a diverse range of educational programs, including advanced courses, gifted and talented education, and a commitment to student achievement.
10. Alief Independent School District (AISD)
Number of Students: AISD serves approximately 45,000 students.
Communities Served: AISD is situated in southwest Houston, serving communities such as Alief and parts of Westchase.
Curriculum Offerings: AISD focuses on academic excellence and offers a range of programs to meet diverse student needs, including dual language and career pathways.
Houston's healthcare sector has been reshaped by the pandemic. According to economic modeling, the healthcare sector will drive an increase of $63.5 billion to the local economy. One in six jobs added in the region from 2021 to 2036 will be in healthcare.
Here's a list of some of the top healthcare facilities in Houston. These facilities offer a wide range of medical services and specialties, making Houston a hub for world-class healthcare and medical research. Each is committed to providing high-quality care to patients and advancing medical knowledge in various fields.
1. The University of Texas MD Anderson Cancer Center
MD Anderson is a world-renowned cancer treatment and research center. It is consistently ranked as one of the top cancer hospitals in the world. The facility offers cutting-edge treatments, clinical trials, and a multidisciplinary approach to cancer care.
2. Houston Methodist Hospital
Houston Methodist is a leading healthcare system with multiple hospitals in the Houston area. The flagship Houston Methodist Hospital is known for its exceptional medical care, advanced technology, and a wide range of specialties.
3. Texas Children's Hospital
Texas Children's Hospital is one of the largest pediatric hospitals in the United States. It provides comprehensive pediatric care, including specialized services for children with complex medical conditions.
4. Memorial Hermann-Texas Medical Center
Memorial Hermann-TMC is part of the Memorial Hermann Health System and is located in the Texas Medical Center. It offers a broad spectrum of medical services and is a hub for medical education and research.
5. St. Luke's Health
St. Luke's Health is a part of the CHI St. Luke's Health system, offering a wide range of healthcare services, including cardiology, neuroscience, and orthopedics. It is known for its commitment to quality patient care.
6. HCA Houston Healthcare
HCA Houston Healthcare is a network of hospitals and healthcare facilities across the Greater Houston area. They provide comprehensive medical services, from emergency care to specialized treatments.
7. Ben Taub Hospital
Ben Taub Hospital is a county-owned Level I trauma center and serves as the primary teaching hospital for Baylor College of Medicine. It offers a range of medical services and emergency care.
8. The Menninger Clinic
The Menninger Clinic specializes in mental health care and psychiatric treatment. It is recognized for its excellence in behavioral health services and research.
9. Shriners Hospitals for Children
Shriners Hospitals for Children - Houston is dedicated to pediatric orthopedics and provides specialized care to children with orthopedic conditions, burns, spinal cord injuries, and cleft lip and palate.
10. TIRR Memorial Hermann
TIRR Memorial Hermann is a renowned rehabilitation and research hospital, specializing in neurological and spinal cord injuries. It offers comprehensive rehabilitation services and conducts innovative research.
Houston boasts a diverse array of shopping centers, from high-end boutiques to sprawling malls. These centers cater to a wide range of preferences, whether you're seeking luxury brands, outlet deals, or unique boutique finds. Houston's shopping scene has something for everyone, making it a shopaholic's paradise.
Here are some of the most popular shopping destinations in the city:
1. The Galleria
The Galleria is one of Houston's premier shopping destinations and is known as Texas' largest shopping center. It features a vast selection of stores, including luxury brands like Chanel and Gucci, along with department stores like Nordstrom and Macy's. The Galleria also houses an indoor ice skating rink, making it a year-round attraction.
2. Houston Premium Outlets
Located in Cypress, Houston Premium Outlets offer designer and brand-name outlet shopping. Shoppers can find significant discounts on top brands, including Coach, Nike, and Kate Spade. With an outdoor layout and a variety of dining options, it's a pleasant shopping experience.
3. Rice Village
Rice Village is a charming shopping district near Rice University. It offers a mix of boutiques, national retailers, and restaurants in a pedestrian-friendly environment. It's a great place to explore unique fashion finds and dine at local eateries.
4. Highland Village Shopping Center
Highland Village is an upscale shopping center with a picturesque setting. It features an assortment of boutiques, home decor shops, and restaurants. The open-air design and lush landscaping create a pleasant shopping atmosphere.
5. CityCentre
CityCentre is a mixed-use development that combines shopping, dining, entertainment, and residential spaces. It offers a range of upscale shops, bars, and restaurants, making it a go-to spot for both locals and visitors.
6. Willowbrook Mall
Willowbrook Mall is a spacious shopping destination in northwest Houston. It houses a variety of stores, from fashion and electronics to home goods. The mall also features a food court and entertainment options.
7. Katy Mills
Katy Mills is an outlet mall located in Katy, Texas, offering discounted shopping options for budget-conscious shoppers. It features over 175 stores, a movie theater, and a variety of dining options.
Houston is a sports-loving city with a range of professional sports teams that cater to various tastes. These teams contribute to the vibrant sports culture of Houston, providing residents and visitors with a wide range of sports entertainment options throughout the year. Whether you're a football, baseball, basketball, or soccer fan, there's a team for you to cheer on in the Bayou City.
Here's a list of some of the major sports teams in Houston:
1. Houston Texans (NFL)
The Houston Texans are the city's NFL team, playing their home games at NRG Stadium. Founded in 2002, they have quickly become a focal point of Houston's sports scene. The team boasts passionate fans and competes in the highly competitive AFC South.
2. Houston Astros (MLB)
The Houston Astros are a Major League Baseball team that competes in the American League West division. They play their home games at Minute Maid Park and have a storied history, with recent successes including two World Series championships in 2017 and 2022.
3. Houston Rockets (NBA)
The Houston Rockets are an NBA franchise known for their high-scoring, fast-paced style of play. The team plays at the Toyota Center and has a dedicated fan base. The Rockets have a history of success and have been home to legendary players like Hakeem Olajuwon.
4. Houston Dynamo (MLS)
The Houston Dynamo is a Major League Soccer team that competes in the Western Conference. They play their matches at the Shell Energy Stadium (formerly BBVA Compass Stadium, BBVA Stadium, then PNC Stadium) and have a passionate following among soccer enthusiasts in Houston.
5. Houston Dash (NWSL)
The Houston Dash is a professional women's soccer team that competes in the National Women's Soccer League (NWSL). They share the Shell Energy Stadium with the Dynamo and have been a positive force in promoting women's soccer.
6. Houston Outlaws (OWL)
The Houston Outlaws are a professional esports team competing in the Overwatch League (OWL). They represent Houston in the world of competitive gaming and have a dedicated fan base in the esports community.
Houston is a hub of arts and culture, with a vibrant scene that caters to a wide range of tastes. It hosts about 22,000 artistic performances and events each year, attracting more than 10 million people. Whether you're looking for things to do alone in Houston or things to do with family and friends, there's something in here for you. Here are some of the city's top arts and culture destinations:
1. Museum of Fine Arts, Houston (MFAH)
The MFAH is one of the largest art museums in the United States. It houses an impressive collection spanning thousands of years, with works from various cultures and periods. The museum's exhibitions include European masterpieces, American art, Asian treasures, and contemporary pieces. It also features the Glassell School of Art, making it a comprehensive center for art education and appreciation.
2. Houston Museum of Natural Science (HMNS)
The HMNS is a fascinating institution that offers a wide array of exhibits, from dinosaur fossils and gems to planetarium shows and interactive science exhibits. It's an ideal destination for both adults and children interested in the natural world and scientific exploration.
3. The Menil Collection
The Menil Collection is a private art collection featuring an exceptional assortment of modern and contemporary art, African art, and antiquities. The serene museum space, designed by Renzo Piano, provides a contemplative setting for art lovers.
4. The Houston Museum of Natural Science (HMNS)
The Houston Museum of Natural Science is a captivating destination for science enthusiasts. It houses an extensive collection of fossils, gems, minerals, and interactive exhibits. The museum also boasts a planetarium and a butterfly center.
5. The Contemporary Arts Museum Houston (CAMH)
The CAMH is dedicated to showcasing contemporary art through a dynamic program of exhibitions and installations. It provides a platform for emerging and established artists, making it a must-visit for those interested in modern art.
6. The Hobby Center for the Performing Arts
The Hobby Center is a premier venue for the performing arts, featuring Broadway productions, musicals, ballets, and concerts. Its state-of-the-art facilities and diverse performances make it a cultural cornerstone in Houston.
7. Alley Theatre
The Alley Theatre is a renowned theater company in Houston, offering a diverse range of theatrical productions, from classic plays to innovative new works. It's a hub for local and national talent, attracting theater enthusiasts from all over.
Houston's culinary scene is a vibrant tapestry that reflects the city's rich multicultural heritage. As one of the most cosmopolitan cities in the United States, its food landscape offers an eclectic mix of flavors, ingredients, and culinary traditions. Here's a comprehensive look at what makes Houston's food scene truly exceptional.
1. Global Cuisine Hub
Houston is a melting pot of cultures, and its culinary scene mirrors this. You can savor authentic dishes from around the world, from Vietnamese pho in Midtown to Mexican tacos in the East End. The city's international culinary offerings are unparalleled, making it a food lover's paradise.
2. Tex-Mex and Beyond
While Tex-Mex cuisine is a Texas staple, Houston takes it to the next level. Expect mouthwatering fajitas, enchiladas, and tacos, often with a creative twist. Don't miss the city's food trucks and taco joints, serving up some of the best in the country.
3. Southern Comfort
Houston is firmly rooted in Southern culinary traditions. You can indulge in comfort food classics like fried chicken, biscuits, and grits, or explore modern interpretations of Southern cuisine in upscale restaurants.
4. Seafood Sensation
Situated near the Gulf of Mexico, Houston is a seafood lover's dream. Enjoy Gulf Coast specialties like shrimp and oysters prepared in various delightful ways. The city's seafood markets and restaurants offer an array of fresh catches.
5. Fusion Fare
Houston chefs are known for their culinary creativity. Fusion restaurants seamlessly blend different culinary traditions, resulting in unique and delectable dishes. You might find Korean-Mexican fusion or Cajun-Asian fusion, each a delightful surprise for your taste buds.
6. Food Halls and Markets
The city's food scene thrives in communal spaces like food halls and markets. Venues like Conservatory and Finn Hall gather diverse culinary vendors under one roof, allowing you to sample a range of cuisines in a single visit.
7. Craft Beer and Breweries
Houston's craft beer scene has exploded in recent years, with numerous breweries crafting a wide variety of beers. Taprooms offer a chance to taste locally brewed creations, often with food pairings that elevate the experience.
8. Food Festivals
Houston hosts a plethora of food festivals throughout the year, celebrating everything from barbecue and crawfish to tacos and international cuisine. These events are a great way to immerse yourself in the city's culinary culture.
9. Farm-to-Table Movement
Houston chefs are increasingly sourcing ingredients locally, embracing the farm-to-table ethos. This commitment to freshness and sustainability enhances the dining experience.
10. Food Truck Phenomenon
Food trucks are a cornerstone of Houston's culinary landscape, serving up gourmet burgers, inventive tacos, and more. These mobile kitchens often become beloved local institutions.
11. James Beard Award Winners
Houston's culinary talent has earned recognition on a national scale, with several chefs and restaurants winning prestigious James Beard Awards. This accolade highlights the city's emergence as a culinary destination.
12. Eclectic Desserts
Houston's sweet offerings are just as diverse as its savory dishes. Try exotic desserts like Thai rolled ice cream, Mexican paletas, or classic Southern pecan pie.
13. Foodie Neighborhoods
Different neighborhoods in Houston offer distinct culinary experiences. For example, Chinatown is a haven for authentic Asian cuisine, while Montrose boasts trendy eateries and coffee shops.
14. Brunch Culture
Brunch is a beloved tradition in Houston, and you'll find brunch spots serving up everything from traditional Southern biscuits and gravy to global brunch options like dim sum.
15. Southern Hospitality
What truly sets Houston's culinary scene apart is its warmth and hospitality. You'll often find friendly service and a welcoming atmosphere that enhance your dining experience.
The Houston nightlife and entertainment scene is a dynamic tapestry that caters to a wide range of tastes and interests. From vibrant nightclubs to cultural venues and scenic places to take pictures in Houston, the city offers a plethora of options to explore. Here's an in-depth look at things to see in Houston and what makes Houston's entertainment and nightlife scene truly captivating.
1. Nightlife Extravaganza
Houston's nightlife comes alive when the sun sets. The city boasts a diverse array of nightclubs, bars, and lounges, ensuring there's something for everyone. Whether you're into hip-hop, EDM, jazz, or country music, you'll find venues that cater to your musical preferences.
2. Live Music
Houston has a thriving live music scene. Renowned venues like House of Blues and White Oak Music Hall host local and international acts across various genres. Catch a live performance and immerse yourself in the city's musical culture.
3. Theater and Arts
The city's cultural landscape includes numerous theaters and performing arts centers. The Alley Theatre, Wortham Theater Center, and The Hobby Center for the Performing Arts showcase a wide range of theatrical productions, from classical plays to contemporary performances.
4. Outdoor Entertainment
Houston's outdoor spaces offer plenty of entertainment options. Explore Discovery Green, a downtown park with live music events and outdoor movies. The Miller Outdoor Theatre in Hermann Park hosts free performances, including ballet, symphony, and Shakespearean plays.
5. Scenic Spots for Photos
Houston is teeming with picturesque locations for capturing memorable photos. The Buffalo Bayou Park Cistern, with its mesmerizing underground chambers, provides a unique backdrop. The Gerald D. Hines Waterwall Park, on the other hand, features a stunning, cascading fountain that's perfect for snapshots.
6. Cultural Exploration
The city's rich cultural scene extends beyond theaters. Visit the Museum of Fine Arts, Houston to explore an extensive collection of art from different eras and cultures. The Menil Collection houses an array of thought-provoking art pieces in a serene setting.
7. Trendy Rooftop Bars
Houston's skyline is best appreciated from its trendy rooftop bars. Sip cocktails with panoramic views of the city at spots like The Raven Grill or The High & Dry Rum Bar.
8. Late-Night Eats
After a night of revelry, satisfy your hunger at one of Houston's late-night eateries. Spots like Katz's Deli and Velvet Taco serve up delectable dishes into the early morning hours.
9. Cultural Festivals
Houston hosts a multitude of cultural festivals throughout the year. From the Houston Livestock Show and Rodeo to the Houston International Film Festival, these events offer a glimpse into the city's diverse cultural fabric.
10. Sports and Sporting Events
Houston is a sports lover's paradise. Catch a game featuring the Houston Astros (MLB), Houston Rockets (NBA), or Houston Texans (NFL). The city also hosts various sporting events, from marathons to golf tournaments.
11. Comedy Clubs
Enjoy a night of laughter at one of Houston's comedy clubs. Venues like The Secret Group and Improv Comedy Club showcase both local talent and nationally acclaimed comedians.
12. River Cruises
Experience the city from a different perspective with a river cruise along Buffalo Bayou. These narrated tours provide insights into Houston's history and landmarks.
---
FAQ
"Buying a house in Houston with The Houston Properties Team was just the start of our relationship. They helped me build friends, relationships and support as new residents in Houston. They truly went above and beyond to help make our lives better even after our move." – Brandon
Is it worth moving to Houston TX?
Yes, it's worth to moving to Houston, TX for those seeking an affordable, and economically thriving city. It offers a robust job market, no state income tax, and a rich cultural scene. However, factors like the humid climate and occasional weather-related challenges should also be considered when making the decision.
Why are people moving to Houston?
People are moving to Houston for various reasons. The city offers a thriving job market, affordable cost of living, and no state income tax. Its cultural diversity, renowned healthcare facilities, and access to top-notch education are also attractive. Houston's warm climate and numerous recreational opportunities add to its appeal.
Is Houston growing or shrinking?
Houston is the second fastest-growing city in the United States, thanks to its expanding job market and affordability. Its population grew by 125,000 between 2021 to 2022, and the nine county Houston metro area now has a population of 7.34 million.
Are a lot of people moving to Houston?
Yes, Houston has been a popular destination for many people due to its thriving job market, diverse cultural scene, and affordability. It consistently attracts newcomers seeking economic opportunities and a vibrant urban environment, contributing to its status as one of the fastest-growing cities in the United States.
What salary do you need to live comfortably in Houston Texas?
To live comfortably in Houston, Texas, an individual typically needs an annual income of around $60,000 post-tax, depending on factors such as housing costs, lifestyle and savings or debts.
Is Houston becoming gentrified?
Yes, Houston has seen instances of gentrification in certain neighborhoods, particularly close to the city center and cultural districts. As urban renewal and investment increase, property values rise, potentially displacing long-time residents. Gentrification's impact varies across the city, with efforts to balance revitalization and community preservation.
Where are people moving to Houston from?
People are moving to Houston from various regions, but mostly from California. Many are drawn by job opportunities, affordable housing, and the city's diverse culture. Houston's status as a global hub for industries like energy and healthcare also attracts a wide range of newcomers from other states.
---
The Best Houston Realtor to Help You Relocate to Houston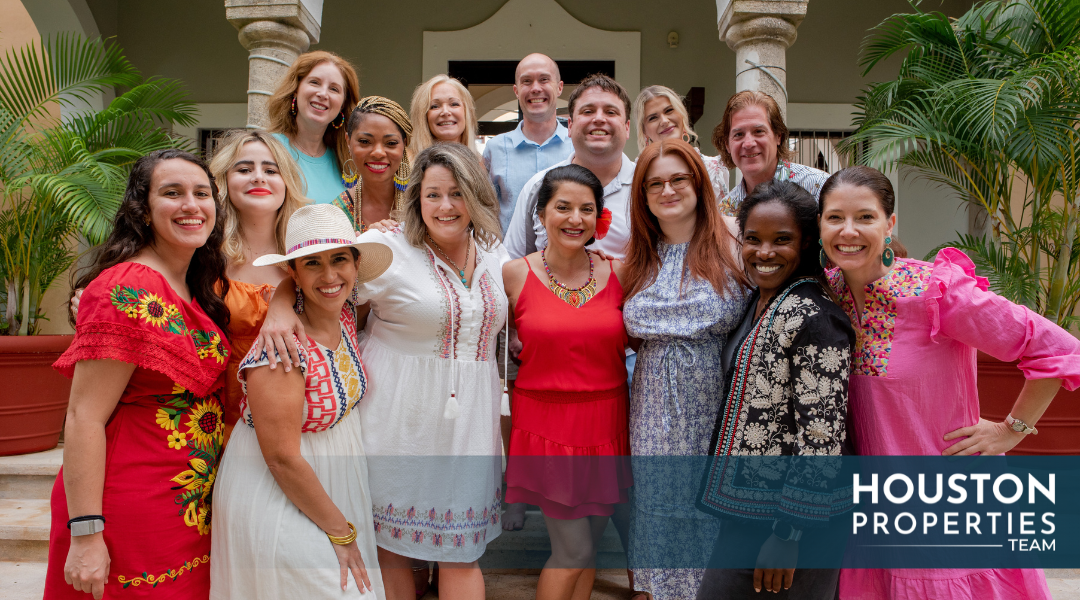 The Houston Properties Team has a well-defined structure based on the individual strengths of each member. Each member is a specialist in their role – which is why our homes sell faster and for more money than average.
Paige Martin, Broker Associate with Keller Williams Realty, and the Houston Properties Team are ranked among the top residential Realtors in the world.
They have been featured on TV and in dozens of publications including The Wall Street Journal, Fortune Magazine, Reuters, Fox News in the Morning, Money Magazine, Houston Business Journal, Houstonia, and Houston Chronicle.
Paige Martin was just ranked as the #5 agent in the world with Keller Williams, completing over $1 Billion in Houston residential real estate sales.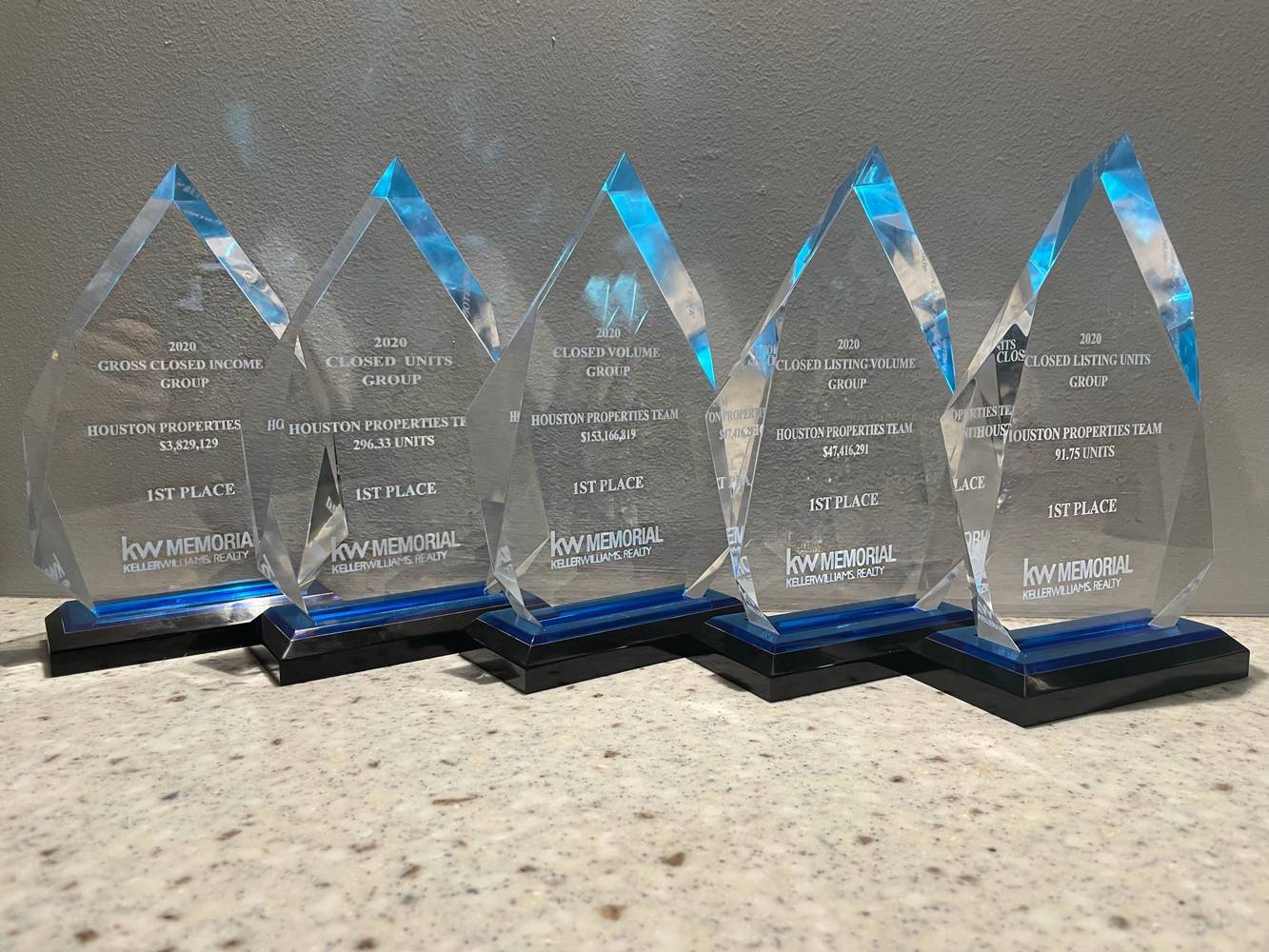 Recent awards include:
– 2022: #1 Residential Real Estate Team by Sales Volume, Houston Business Journal
– 2021: Best Real Estate Teams in America, RealTrends.com
– 2021: Top 100 Women Leaders in Real Estate of 2021
– 2021: America's Top 100 Real Estate Agents
– 2021: Top Real Estate Team (Houston Properties Team), Houston Business Journal
– 2021: Best Houston Real Estate Team, Best of Reader's Choice
– 2021: Top Real Estate Team (Houston Properties Team), Houston Business Journal
– 2021: #1 Real Estate Team, Keller Williams Memorial
– 2020: America's Best Real Estate Teams, Best of America Trends
– 2020: Best Houston Real Estate Team, Best of Reader's Choice
– 2020: Top Real Estate Team (Houston Properties Team), Houston Business Journal
– 2020: #6 Individual Agent, Keller Williams, Worldwide
– 2020: #1 Individual Agent, Keller Williams, Texas (Top Keller Williams Realtor)
– 2020: #1 Real Estate Team, Keller Williams Memorial
- 2019: Top Residential Realtors in Houston, Houston Business Journal
- 2019: America's Best Real Estate Agents, RealTrends.com
- 2019: #5 Individual Agent, KW Worldwide
- 2019: #1 Individual Agent, KW Texas
- 2018: #5 Individual Agent, Keller Williams, Worldwide
- 2018: #1 Individual Agent, Keller Williams, Texas
- 2018: #1 Individual Agent, Keller Williams, Houston
- 2018: America's Best Real Estate Agents, RealTrends.com
- 2018: Top 25 Residential Realtor in Houston, Houston Business Journal
- 2018: Texas' Most Influential Realtors
- 2017: #1 Individual Agent, Keller Williams, Texas
- 2017: #1 Individual Agent, Keller Williams, Houston
- 2017: #10 Individual Agent, Keller Williams, Worldwide
- 2017: America's Best Real Estate Agents, RealTrends.com
- 2017: Top 25 Residential Realtor in Houston, Houston Business Journal
- 2017: Texas' Most Influential Realtors
- 2016: #1 Individual Agent, Keller Williams, Texas
- 2016: #1 Individual Agent, Keller Williams, Houston
- 2016: #20 Individual Agent, Keller Williams, Worldwide
- 2016: Texas' Most Influential Realtors
- 2016: Top 25 Residential Realtor in Houston, HBJ
- 2016: Five Star Realtor, Featured in Texas Monthly
- 2016: America's Best Real Estate Agents, RealTrends.com
- 2015: #9 Individual Agent, Keller Williams, United States
- 2015: #1 Individual Agent, Keller Williams, Texas
- 2015: #1 Individual Agent, Keller Williams, Houston
- 2015: America's Best Real Estate Agents, RealTrends.com
- 2015: Top 25 Residential Realtor in Houston, HBJ
- 2015: Five Star Realtor, Texas Monthly Magazine
- 2014: America's Best Real Estate Agents, RealTrends.com
- 2014: #1 Individual Agent, Keller Williams Memorial
...in addition to over 318 additional awards.
Paige also serves a variety of non-profits, and civic and community boards. She was appointed by the mayor of Houston to be on the downtown TIRZ board.
Benefits Of Working With The Houston Properties Team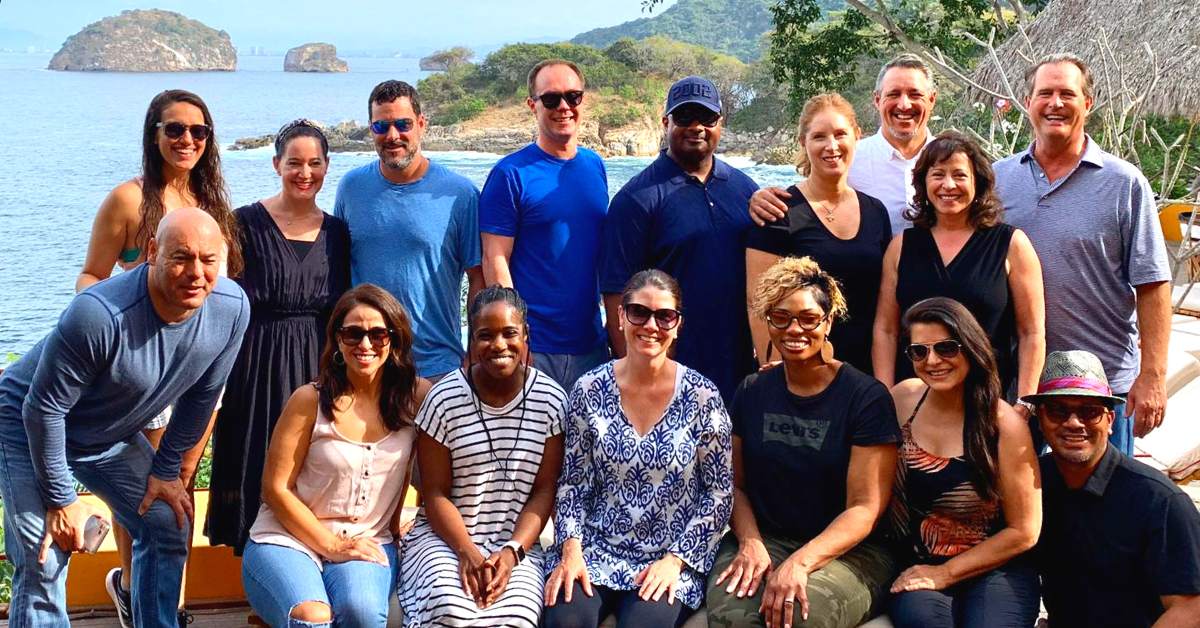 Our team, composed of distinguished and competent Houston luxury realtors, has a well-defined structure based on the individual strengths of each member.
We find team approach as the most effective way to sell homes. We have dedicated people doing staging, marketing, social media, open houses, and showings. Each Houston Properties Team member is a specialist in their role—which is why our homes sell faster and for more money than average.
The benefits of working with a team include:
the ability to be in two or three places at one time; a member can handle showings, while another answer calls
collective time and experience of members
targeted advice and marketing of agent expert in your area
competitive advantage by simply having more resources, more ideas, and more perspectives
a "checks and balances" system; selling and buying a home in Houston is an intensely complex process
more people addressing field calls and questions from buyers and agents to facilitate a faster, successful sale
efficient multi-tasking; one agent takes care of inspections and repair work, while another agent focuses on administrative details
multiple marketing channels using members' networks
constant attention: guaranteed focus on your home and your transaction
lower risk for mistakes. Multiple moving parts increase oversights. A team approach handles these "parts" separately
flexibility in negotiation and marketing
better management of document flow
increased foot traffic through more timely and effective showing schedule coordination; and
increased sphere of influence and exposure to more potential buyers.
To meet all the award-winning members of the Houston Properties Team, please go here.
---
Best Houston Real Estate Resources
---