Houston Trumps California In Housing Permits: 10 Astounding Houston New Construction Facts
Houston Trumps California In Housing Permits: 10 Astounding Houston New Construction Facts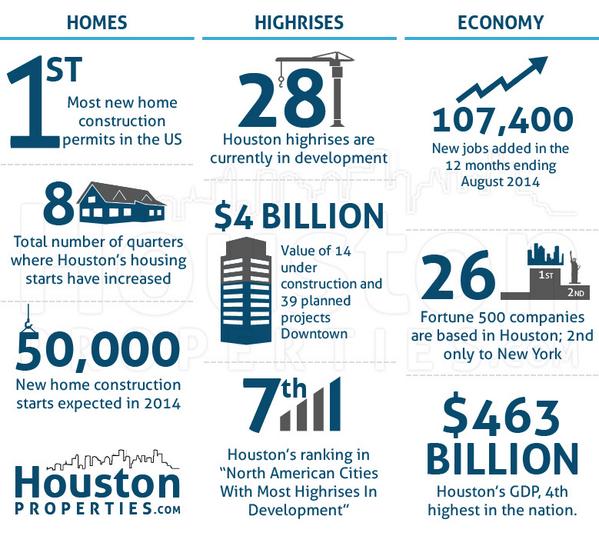 Bad news for California.  Good news for Houston.
Houston became the #1 city in the country for new single family home construction permits over the past year.  In addition, Houston's 27,151 new permits exceed the total number of permits for the entire state of California (1), (2), (3).
What's most astounding is that these 27,151 new permits may not be enough.
Houston added 107,400 jobs in the 12 months ending August. In addition, Houston's major employers are planning on boosting their workforce by another 100,000. This implies another 125,000+ people will be relocating to the Bayou City within the next year. (4), (5)
As a Realtor, many of my clients are concerned about this potential increase in traffic.  If you're trying to shorten your commute consider: Houston's 10 Most Accessible Neighborhoods, Best Value Townhomes For Sale, or Houston's Inner Loop Condo Guide.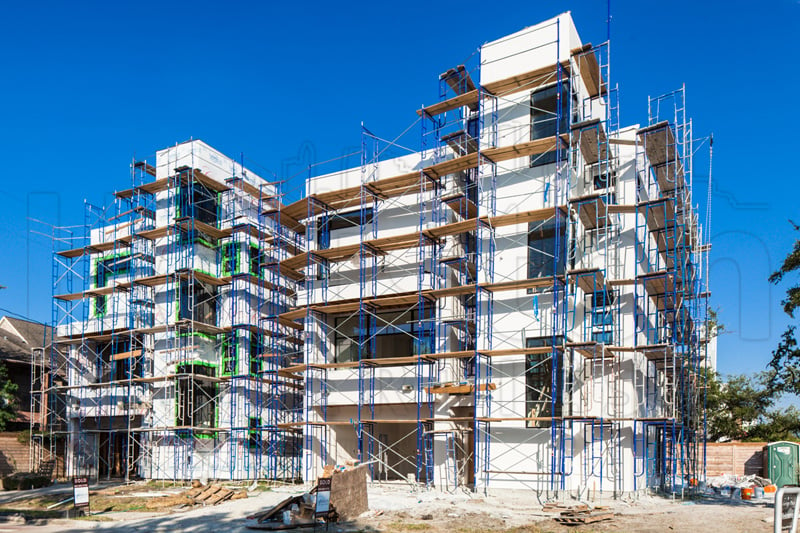 1. Houston Tops The Nation In Single Family New Home Construction Starts.
Houston builders are on pace to start 50,000 new homes in 2014. Houston issued 27,151 new building permits for single-family homes between August 2013 and August 2014. According to the most recent quarterly data, home construction increased 16% from the previous quarter. (6).
2. Houston's Planned New Construction Starts Exceed $4.8 Billion.
The construction industry is benefiting from new capital flowing into the city.  Houston is 3rd in Forbes list of "Cities With Most New Constructions." (7) Houston new construction starts total $4.8 billion. This figure represents an 8% year-over-year growth.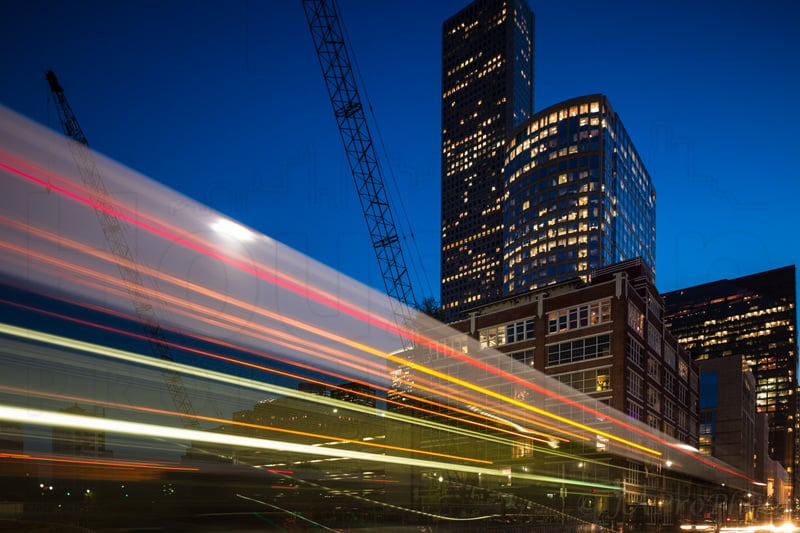 3. Houston Ranks #7 In the Nation For New Highrise Developments.
Since Houston covers over 600 square miles, we have fewer highrise buildings than other major US cities.  As grow comes to Houston's four major job centers (Downtown Houston, The Galleria, The Energy Corridor and The Medical Center), people want to shorten their commute and live closer to shopping, restaurants and grocery stores.
Houston now ranks 7th in Emporis' lists of "North American Cities With Most Number Of Highrise Developments"(8).
New luxury residential highrise buildings in Houston include: The Astoria, The Belfiore, Riva At the Park, and several new Luxury Gated Communities in Houston.
4. Houston Has 28 New Highrises Under Construction.
Including both residential and commercial, Houston has 28 highrises currently in development. (9)
This includes 609 Main At Texas, a towering 49-story high office building, and luxury residential highrises Belfiore and Astoria in the Galleria and a large number of residential rental towers.
5. 83 Additional Highrises Are Under "Approved" or "Proposed" Status.
In addition to the 28 buildings under construction, there are 83 additional buildings (that are at least 12 floors high) that are in "approved" or "proposed" phases with the city.  The majority of these buildings are commercial and located in or near Houston's four major job centers.
The list includes 50-story office highrise 1600 Louisiana and Block 98,  a residential building set to stand 38 floors high. Developers are set to start construction on both buildings in 2015.
6. Downtown Houston Houses $4 Billion Additional Proposed Construction Projects.
Downtown Houston is home to the largest number of proposed highrise projects (the majority of which are commercial in nature).
The Downtown District released a development update that listed 14 under construction and 39 planned projects, representing $4 billion worth of new construction or renovation(10).
The new projects include a 40-story apartment building on Market Square, a luxury hotel to be added to the mixed-use GreenStreet development, and a new High School for the Performing and Visual Arts on the east end of downtown.
(Here are is the current list of available Downtown Houston condos and lofts, including: Bayou Lofts, Franklin Lofts and Commerce Towers)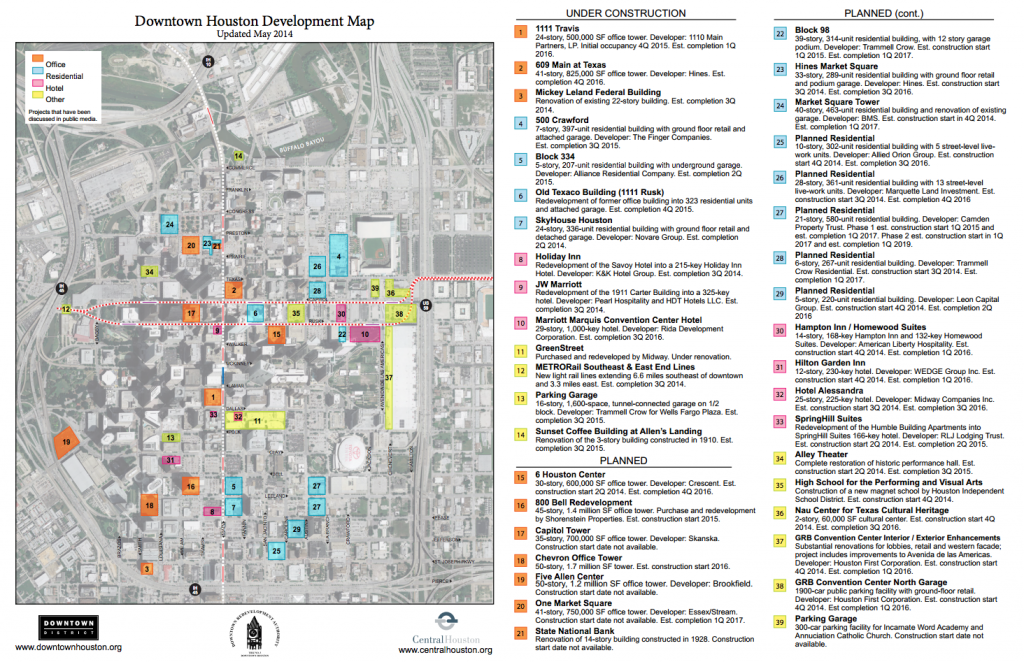 7. Major Houston Employers Are Planning On Relocating Or Hiring An Additional 100,000 People.
Houston-based companies have added 107,400 new jobs the last 12 months. This is on top of the 230% job growth recorded between 2005 and 2013.
In addition to this growth, Houston's major employers have plans to add another 100,000+ jobs in the next year. The majority of these positions are expected to be filled by individuals who do not currently reside in Houston. (11).
8. Houston Housing Starts Have Increased For 8 Consecutive Quarters.
Houston housing starts (new houses under construction) have increased for eight consecutive quarters. (12)
Even better, the new home inventory has not depressed prices of current inventory.  Looking at close in neighborhoods, the average price per square foot of single family homes has increased by 50.3% over the past decade.(12b)  New demand (people relocating to Houston) has exceed supply and provided consistent appreciation even during the 2008-2010 financial crisis.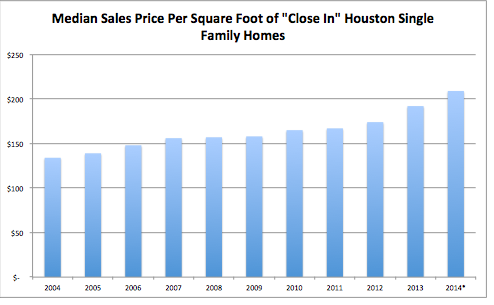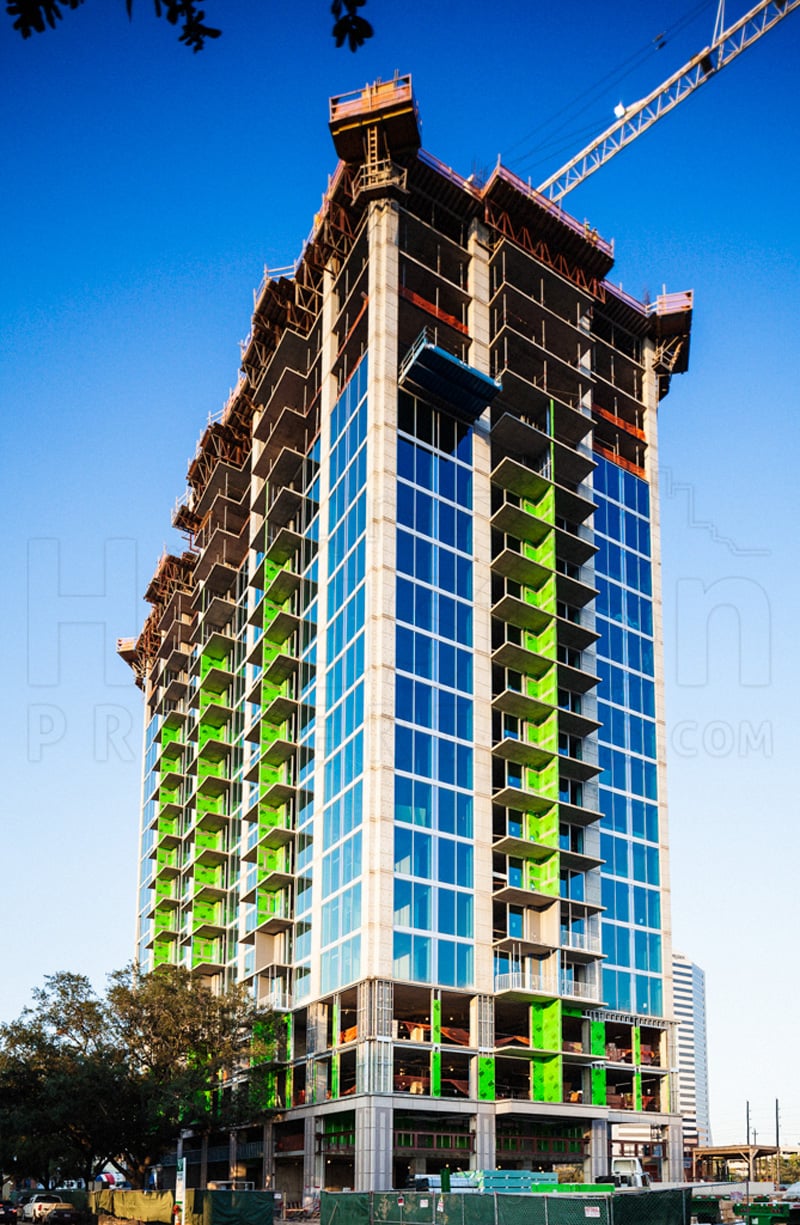 9. Vacant Developed Lot Inventory Is At An All Time Low.
Vacant, developed lot (VDL) inventory is down to 36,128 lots in the second quarter. This represents 15 months of supply, far below the 20-24 months of supply that Metrostudy considers "equilibrium" for the Houston market.
10. Houston Home Inventory Is 47% Below the National Average.
The number of available Houston homes for sale is at its lowest point since 1999, at 2.9 months inventory on the market. Demand for homes is expected to continue due to stable local economy, record-breaking number of people relocating to Houston, and increasing number of employment opportunities.
View More Houston Resources
About Paige Martin – Head of the Houston Properties Team
As featured on Fox News in the Morning, Houston Business Journal, the Houston Chronicle, and Houston Magazine, Paige Martin, a consistent Top Producing Broker-Associate and head of the Houston Properties Team, is ranked amongst the very top Keller Williams agents in the Houston area. Paige Martin's recent awards include:
2014 – Five Star Realtor, Featured in Texas Monthly Magazine (from 100,000+ Realtors)
2013 – Top 50 Houston Realtors by the Houston Chronicle (from 25,000+ Realtors)
2013 – Five Star Realtor, Featured in Texas Monthly Magazine (from 100,000+ Realtors)
2012 – #1 Ranked Individual Agent in the Keller Williams Memorial Office (from 200+ Realtors)
2012 – Top 5 Ranked Individual Agent in the Houston Area with Keller Williams (from 5,000+ Realtors)
2011 – #1 Ranked Individual Agent in the Keller Williams Memorial Office (from 200+ Realtors)
2011 – Top 10 Ranked Individual Agent in the Houston Area with Keller Williams (from 5,000+ Realtors)
2010 – #1 Ranked Individual Agent in the Keller Williams Memorial Office (from 200+ Realtors)
2010 – Top 10 Ranked Individual Agent in the Houston Area with Keller Williams (from 5,000+ Realtors)
and over 52 additional awards since 2006
Sources: