Clients: "Paige Martin is the best Houston realtor"
Paige Martin is ranked as one of the top Realtors in Houston. She has been featured on TV and in dozens of publications, including: Fox News in the Morning, Houston Business Journal, the Houston Chronicle, Downtown, Houston Magazine, and Texas Monthly Magazine.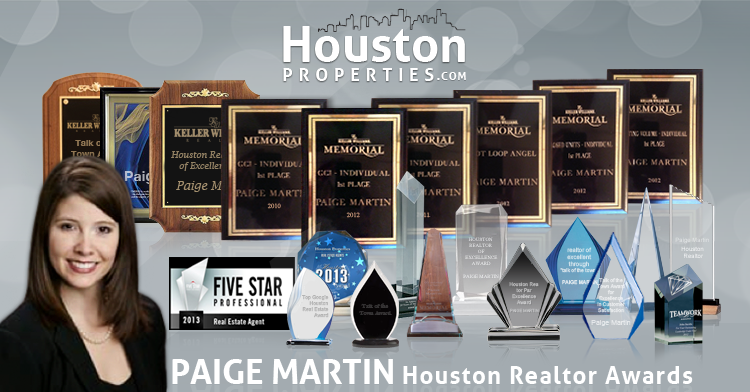 Paige Martin is ranked as one of the top residential real estate agents in the world.
Recent awards include:
2016: One of the Top 25 Residential Realtors in Houston, Houston Business Journal
2016: Five Star Realtor, Featured in Texas Monthly
2016: One of America's Best Real Estate Agents, RealTrends.com
2015 Q3: #9 Individual Agent, Keller Williams, Worldwide (of 125,000 agents)
2015: #1 Individual Agent, Keller Williams, Texas
2015: #1 Individual Agent, Keller Williams, Southwest Texas (Houston, Woodlands, Katy, San Antonio)
2015: #1 Individual Agent, Keller Williams, Houston
2015: #1 Individual Agent, Keller Williams Memorial
2015: One of America's Best Real Estate Agents, RealTrends.com
2015: One of the Top 25 Residential Realtors in Houston, Houston Business Journal
2015: Five Star Realtor, Featured in Texas Monthly Magazine
2014: One of America's Best Real Estate Agents, RealTrends.com
2014: One of the Top 40 Real Estate Agents in Houston, Houston Chronicle
2014: #1 Ranked Individual Agent, Keller Williams Memorial
2014: Five Star Realtor, Featured in Texas Monthly Magazine
2013: Top 50 Houston Realtors by the Houston Chronicle
2013: #1 Ranked Individual Agent, Keller Williams Memorial
2013: Five Star Realtor, Featured in Texas Monthly Magazine
2012: #1 Ranked Individual Agent, Keller Williams Memorial
2012: Top 5 Ranked Individual Agent in the Houston Area with Keller Williams
2011: #1 Ranked Individual Agent, Keller Williams Memorial
2011: Top 10 Ranked Individual Agent in the Houston Area with Keller Williams
2010: #1 Ranked Individual Agent in the Keller Williams Memorial Office
2010: Top 10 Ranked Individual Agent in the Houston Area with Keller Williams
…in addition to over 198 additional awards since 2003.
Paige also serves a variety of non-profits, civic and community boards and has been recognized for fundraising by the Houston Police Foundation.
Over 75 of her prior clients have publicly endorsed and recommended her via LinkedIn, YouTube Videos and HAR. Read testimonials, recommendations and connections below (or connect with Paige at [email protected]):
Video Testimonial
Below is a short YouTube video of some of Paige's former clients talking about their experiences working with her.
Recommendations on Social Networking Sites
HAR Client Reviews
Paige Martin's Recent Awards
Paige was named the #1 Ranked Individual Agent in the Keller Williams Memorial Office for 2012, 2011 and 2010. She has been a consistent top producing agent, with an ongoing seven-year roll for receiving awards due to her production levels.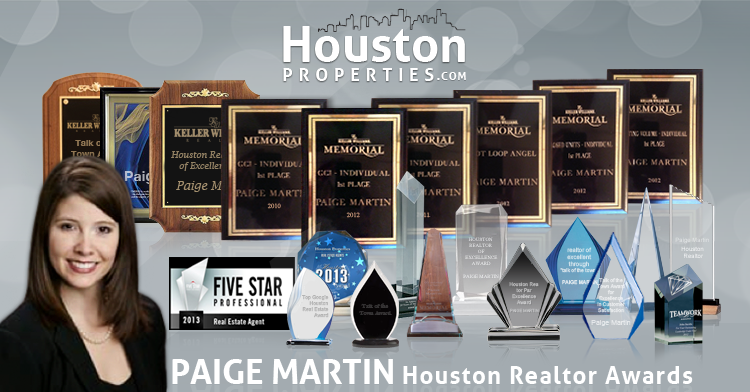 She was recently named as a
2013 Five Star Real Estate Agent
– a level of excellence achieved by less than 7 percent of the real estate agents in Houston. Other awards include
Houston Realtor of Excellence Award
,
Houston Realtor Par Excellence Award
,
Top Google Houston Real Estate Award
, and
Talk of the Town Award for Excellence in Customer Satisfaction
.
Additional Client Testimonials
"Paige was an absolute dynamo! She's simply the best Houston realtor! She kept us up-to-date on everything and was in our corner every step of the way. I thank my lucky stars that she was our realtor, and I would unequivocally recommend her to anyone looking for a realtor."
– Meghan Murray
"Paige handled two recent real estate transactions for me with skill, expertise and professionalism far exceeding my expectations. She processed each detail with in-depth knowledge that kept my transactions on tract from start through successful completion. I highly recommend that anyone considering a real estate transaction utilize her services."
– Scott Gordon
"Paige is a very detailed and assertive real estate agent. She always made sure I understood everything that was happening and explained different options along the way. I could not have asked for a better experience in purchasing a new home and selling my old one. I'm glad the best Houston realtor was on my side during the entire process."
– Kim Duncan
"I worked with Paige to acquire a property in downtown Houston. Her detailed knowledge of the area and the properties available was invaluabale. She made the process easy, especially for one not acquainted with the process. I would highly recommend using Paige for any real estate venture."

– Regina Johnson
"Paige is a hard worker and seeks out the best for her clients. She is communicates best over email and gets an answer back to you quickly. Paige is not afraid to go the extra mile for her clients and travels all over the city of Houston to do so. She makes our job at the title company easy and we always enjoy working with her. Paige is awesome!"
– Elizabeth Borski, Account Executive, Old Republic National Title Insurance Company
"Paige was a wonderful agent to work with. I would highly recommend her and if needed, will absolutely use her again. She's the best Houston realtor!"
– Derek Wrobbel
"There is little more to say other than Paige was/is Fantastic! We looked for houses for almost a year and Paige was nothing but patient…showing us house after house after house. Just what you expect from the best Houston realtor. Paige was able to get an accurate feel for our like/desires and dislikes…and this allowed us to use our time very efficiently as she did a great job screening the houses we picked from HAR.com and then finding some that we missed. Overall we could not have dreamed of a better experience."

– Jillian Jopling
"I am highly recommending Paige as a real estate agent and would definitely use her again in my future real estate needs. Paige is very knowledgeable about the real estate market in Houston. She is a great listener and understand fully my housing needs. Given this, she was able to recommend high quality properties in great locations that satisfy my needs. She is very responsive and flexible in working around my schedule in order to make the search very effective and efficient.
She has the highest integrity and puts her client's needs first. I trust her completely and am very happy with the home that she had helped me locate and move into. Thank you Paige"
– Phil Hoang
"Paige is the best of the best when it comes to real estate! She has bought & sold many properties for us & we couldn't recommend her more highly!"
– Forrest Roth MD, April 18
"We have worked with over 20 real estate agents through the years and she is by far one of the top two. Really works hard for her clients and keeps them up to date with continuous contact and accessibility."
– Jeremy Greene, April 17
"We first met Paige in summer of 2005. We were first time homebuyers and relatively new to Houston. My husband and I were impressed with Paige from our first conversation. She was exactly the type of realtor we were looking for: smart, straightforward, and "up-to-date" on what's going on in the Houston real estate market. We would have never been able to get through the process with such ease if we did not have Paige as our realtor. She was very patient when educating us and she pointed out things (good and bad) about each property we would have never thought of (or thought of when we had already moved into the house).
She carefully listened for what was important to us and kept us focused on what we desired as a "must have" in our future home. As a result, she found us our perfect first home. Paige was always prepared for our meetings, was always on time, and was always very pleasant to do business with.
We keep in touch and reach out with questions to Paige even today (we have since relocated to another city). We value her opinion and we gain valuable perspective (whether it concerns general real estate trends or sell vs. rent decisions) during our short conversations. We have yet to find a realtor in our new city that would come close to the level of service Paige provides.
I would highly recommend Paige for any real estate questions / transactions you may have."

– Tatsiana Bender, CPA, January 31
"Paige is a highly effective real estate agent who focused my search down to the home I purchased within three  appointments. She listened to what I wanted, worked within my budget and ultimately found me a great house in an area I absolutely love and never would have considered without her expertise.
At all times I felt that my satisfaction was her first priority and I was her only client. Paige will be my first call with all my real estate needs and I recommend her to anyone looking to buy, sell or lease. You can't go wrong."
– Matt Borowski, July 20
"Paige is an amazingly skilled real estate agent. She is thorough, detailed, exact, and highly knowledgeable. She more than exceeded our expectations. Throughout the process, she guided us and gave us excellent advice. Even though we only leased our property, she gave us around the clock attention. Our property was very popular and received an offer almost daily, which made for five times the work. She never rushed us to make a decision and was quite the opposite. She ensured we had all the information for each applicant; she asked questions of the applicant's realtor until we were comfortable. As a result of her, we have great tenants locked in for two years."

– Emily Smallwood, CPA, April 29,

"I first met Paige in late 2008, when she was highly recommended to me by a co-worker. Paige ended up helping my wife and I not only find our first home, but also negotiate a great deal on the house. Paige was extremely informative and patient in walking us through the home-buying process, and we couldn't be happier with her services.
If you are in the market for a house, you'll need the best Houston realtor –  I would highly recommend Paige!"

– Kenneth Liu, March 28
"Paige is an expert in her field. My husband and I had never purchased a home before and thus had many questions and concerns. Paige patiently walked us through the process and her expert advice steered us away from properties that would have been a mistake to our home that we love!"

– Vanessa McKeown, CPA, March 7
"I have hired Paige three times and she has been an absolutely spectacular agent every step of every transaction. What amazes me most is that Paige makes me feel like I am her only client: she is very prompt with responses, always knows the answers to all of my questions, and is always three steps ahead of the process keeping me and all involved moving towards the goal."
– Jerome Posatko, March 6
"Paige had such patience with me as I searched for just the PERFECT house. And with total dedication on her part – I found it. She even found the perfect home for my daughter and my friend as she was looking for me. Fabulous!"

– Sue Schechter, March 4
"I cannot write enough GREAT comments about Paige. I honestly believe she is THE BEST Real Estate Agent in the Houston metropolitan area.
Paige, at the expense of her own commission, has talked me out of several properties that in hind sight would have been a complete disaster. I am AMAZED at the due diligence she puts into every property we tour. I would recommend Paige, in a heartbeat, to anyone interested in buying or selling real estate."
– Neil Bedekar, March 4
"Paige is terrific! She listed our home and was great at marketing and selling our home for a good and fair price despite the bottom of the market. She is honest, reliable, experienced, and your total advocate while keeping the highest integrity. She is Houston's real estate expert."
– Mike Lambert, March 4
"Paige was our agent to sell our townhouse and to purchase our home. She was thorough, professional, and efficient. I've recommended her to both family and friends looking for the best Houston realtor."
– Julie Albright
"Paige listens to your wants and needs, likes and dislikes, and focuses her efforts on helping you narrow your choices in a manner that allows you to limit the necessary compromises in buying a house. Also, her attention to detail at every step along the way was greatly appreciated, especially during the offer and closing process. I highly recommend her services, and will use her again in the future when my housing needs change!"
– Lisa Shepard, July 20
"I would like to say a few words about Paige Martin…
My wife and I first met Paige Martin in the summer of 2005. We had been interviewing realtors at various showings but had not found anyone with the "IT" factor we desired. One Sunday, we randomly walked into a town-home near downtown Houston where she was hosting an open house. It did not take long for us to see the talent of this individual. After speaking with her for 30 minutes we knew this realtor was the real-deal!!! We did not buy that home, but we knew we wanted to do business with her. She has energy, drive, focus, and personality. She is punctual, and a hard negotiator. Her professionalism is second to none, and she has been a valuable business contact ever since!
In the fall of 2005 we closed a deal on a lovely condo near the popular Washington Avenue area, near the Historic Heights neighborhood. We could not have been happier then, nor now! We would never have been able to get through process without a realtor like Paige Martin. We were first-time homebuyers, and she handled our business with the care as though we were family, and the courage of a prizefighter. She was an educator and a leader for us in this new world of real estate. She made us feel confident about our purchase, and made sure we weeded out properties that were not to our standard of selection. She will listen to what you want and keep you aware of what you need, and she will find you the perfect home.
Paige is so good at what she does, that the only tough decision you have to make when it is said and done is to choose your favorite! She helped in so many ways that to say more would make this endorsement seem insincere.
I have recommended her services to all my friends, neighbors, and business contacts in and around Houston who are looking to buy or sell, and I will continue to do so.
I am confident in saying that she will do the same for all who use her service. She comes prepared with numbers, statistics, and valuable insight of the real-estate world given any type of circumstance in the volatile market of today. I would not do business with anyone else.
Sadly, we had to move to another city, and we have yet to find any realtor as talented as Paige.
Even today, we call and email Paige with questions and she has always makes time to help. She is never short of professionalism, nor courtesy.
If you are reading this, and if you are looking for someone to represent your best interests, do not look any further. Contact Paige Martin.
Sincerely,
Andrew Neil Bender, February 3
PaigeMartin is a customer-focused Houston Realtor' (member of the National Association of Realtors) dedicated to providing exceptional service.
She guides clients through all aspects of learning about Houston, relocating to Houston, buying a home, buying a highrise or condo, tips for selling your home and ensuring that your transaction goes as seamlessly as possible.
Email Paige at [email protected] or call 713-425-4194 today for personalized service.