Compare Houston Townhomes For Sale | HoustonProperties
Guide to Houston Townhomes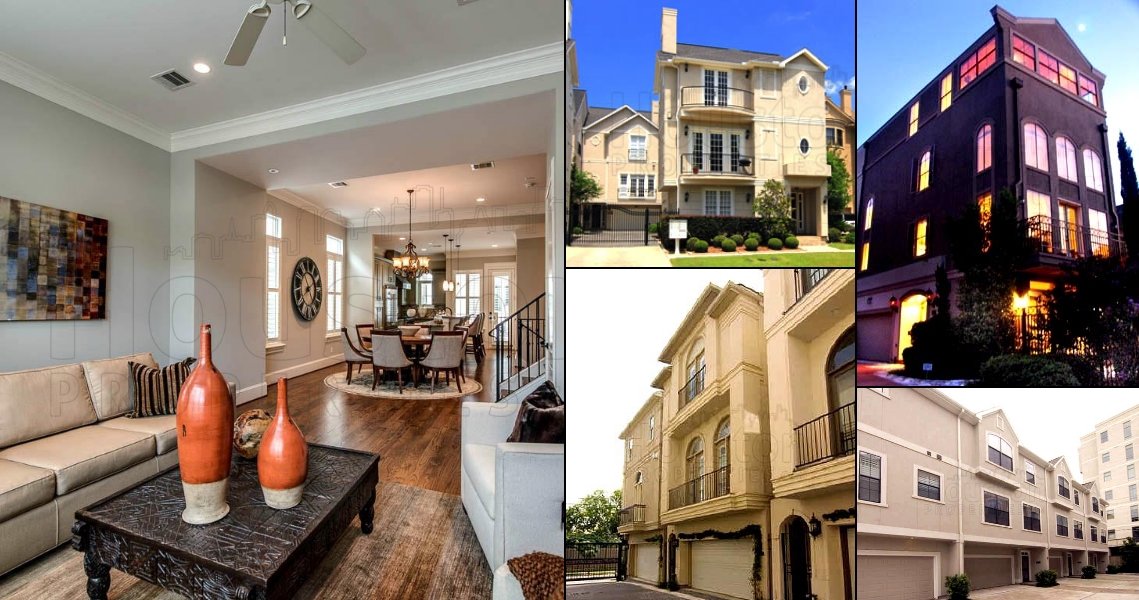 Looking at Houstons's best performing housing segments, Townhomes are among the fastest growing housing segments in the city.
New construction townhomes and townhouses in the "Under $250K" and "Under $500K" categories are spurring this growth. The appeal of owning a townhome stems from its smaller footprint, minimal maintenance, and affordability (vs. single-family homes).
Growing demand sparked townhome development within Houston's hottest neighborhoods, including EaDo, Rice Military, Montrose, Midtown, Camp Logan, and the Houston Heights area.
There is a wide variety of Houston townhomes for sale, with prices depending on location, home size, and age of the home.
See all Houston townhomes by:
"Paige and her team are knowledgeable, attentive, responsive, patient. The HoustonProperties.com team put us into our first dream home, and due to that experience, we've returned to them time and again for our real estate needs. While the team's focus is on completing your deal, their endgame is to ensure your needs are preserved and satisfied."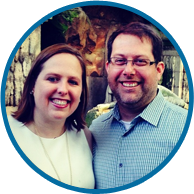 If you'd like to see any specific townhomes or learn about townhome communities that are best for you, please contact Paige Martin at 

[email protected]

, ranked #1 Individual Agent with Keller Williams in Houston and #10 in the United States.
Over the past few decades, developers have purchased lots in Houston's hottest neighborhoods to build chic new townhomes. Recent developments have centered around the Houston Heights area, Montrose, Midtown, EaDo, Rice Military, and Camp Logan.
Some Houston townhomes are within upscale gated communities (and within Houston's most expensive neighborhoods).
Below we've listed Houston Inner Loop neighborhoods (as well as notable gated communities) with townhomes.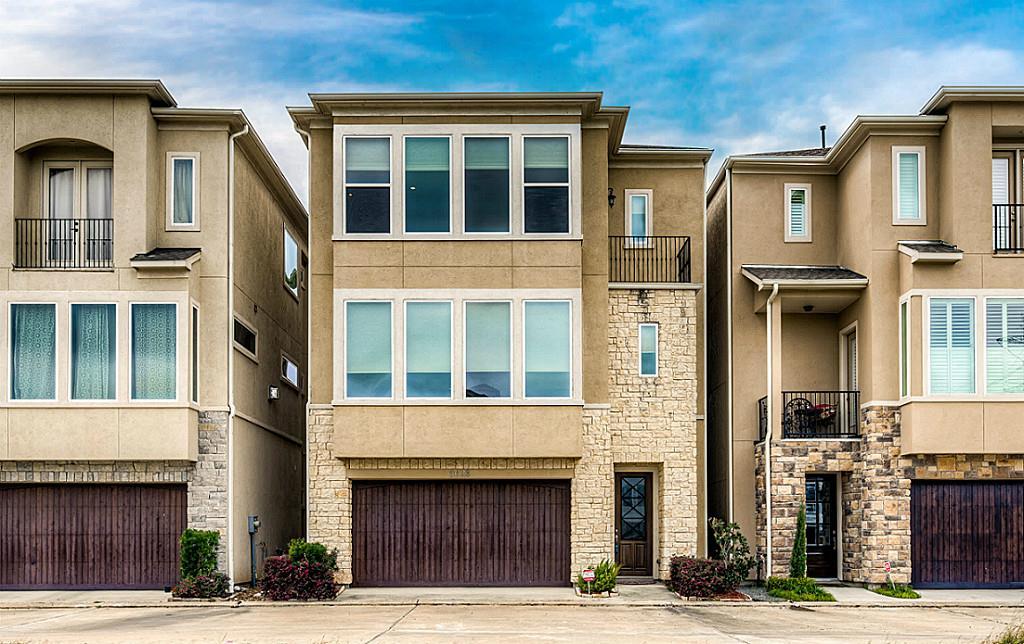 Garden Oaks, Spring Branch, and the Galleria area are among the hottest neighborhoods in terms of townhome development outside the Inner Loop. The Energy Corridor and various master-planned communities (like Upland Lakes, Cross Creek Ranch, Cinco Ranch) also offer great townhome options.
Below we've grouped together Houston townhomes outside the Loop.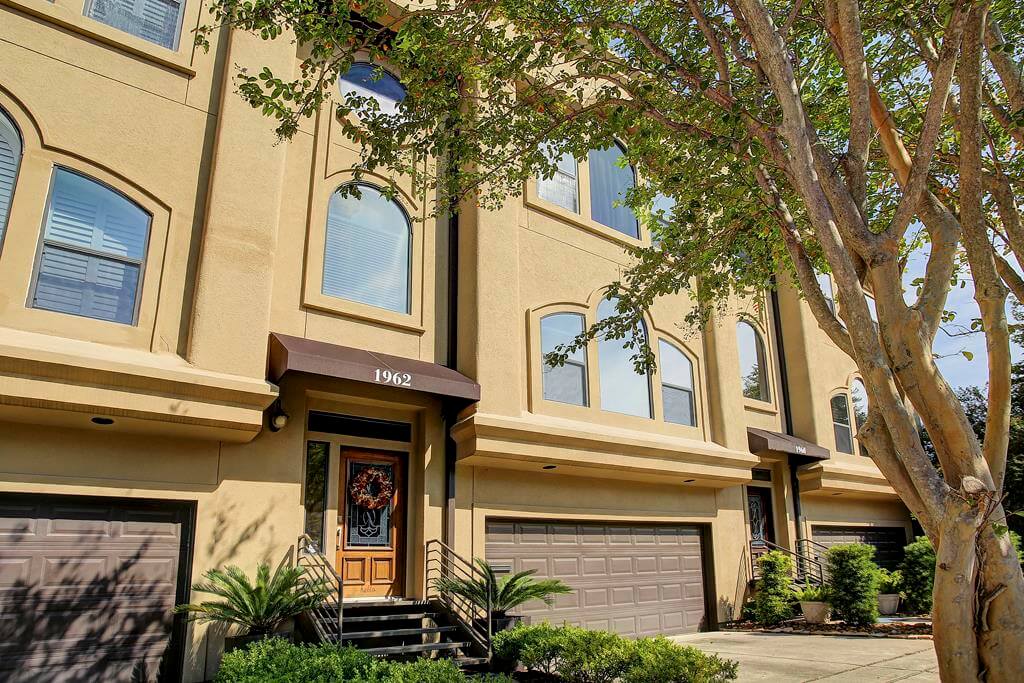 Thanks to increased demand, there are plenty of new construction Houston townhomes built in the last decade. Listed below are neighborhoods with new construction available and a few notable gated communities as well.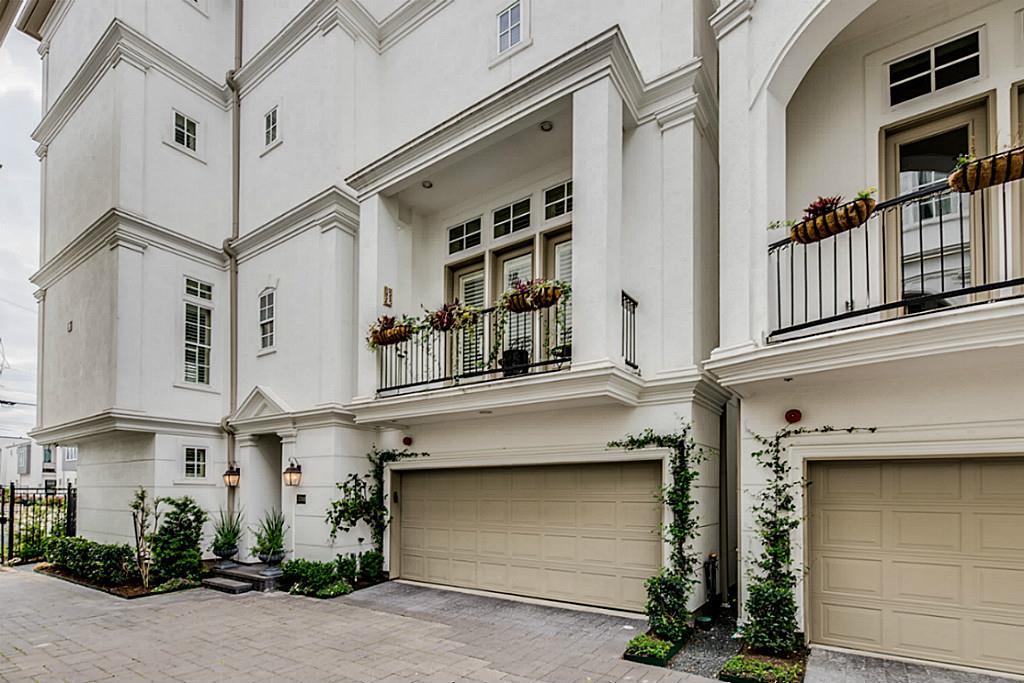 Home developers have started over 6,400 new Houston homes in the first quarter and are on track to start construction on over 28,000 properties this year.
Given the influx of people relocating to Houston, this additional new inventory should help Houston home buyers find more options.
Notable townhome developers include:
InTown Homes
Apex Builders
CapitalClassicHomes
Carmel Builders
CitySide Homes
City Scape Homes
CMC Homes
Pelican Builders
Coventry Homes
Lovett Homes
Avalon Homes
Arcada Homes
Tricon Homes
Covington Homes
Carnegie Homes
Urban Living
Rohe & Wright
Cunningham Development
Memorial Signature
Callisto Builders
Colony Builders
MTK Enterprises
Trimac Developers
Princeton City Homes
SmartSpace
Zenith Homes
ROC Homes Texas
Iron Gate Builders
Farb Homes
PlainView
Keystone Classic
Benefits of renting a Houston townhome (vs. apartments or condos)
More privacy. Renting a condo usually means you have neighbors above, below, and on either side. Townhomes only share a wall (or two, in the case of middle units) and each have their own private entrances and parking spaces.
More space. Renting a townhome offers more space spread out over two or more stories. The extra square footage and utilities will cost a bit more compared to apartments or condos, but if your budget allows it, the extra leg room is definitely worth it.
Amenities. A townhome offers amenities close to those in single-family homes. Laundry rooms, garages, patios, and media rooms are often built in, as opposed to sharing common building amenities with other tenants within an apartment or condo complex. Some townhome communities also offer controlled access and manned entrances, central park areas, and swimming pools.
There are some downsides when renting a Houston townhouse, including maintenance and HOA fees. It is important to know what your (your landlord's) maintenance responsibilities are, and the things covered by your HOA fees.
A great Houston Realtor can help your go through lease contracts and rent agreements. Click here to see all Houston townhomes for rent.
For recommendations and help in finding the Houston townhome for rent or learn about the best townhome communities in the city, please contact Paige Martin at 

[email protected]

.
Houston Townhomes Defined
Townhomes are mostly attached homes that share a wall with a neighbor. Owning a townhome is similar to single-family home ownership, wherein you own the land (from the center of the earth to infinity) plus the structure.
Single-family homes and patio homes are typically detached – meaning there are setbacks at all sides – while townhomes typically share a wall (or two) with their neighbors.
Condos and lofts on the other hand also share walls, but don't own the land. They instead share ownership of common areas and the building itself, plus the airspace. With a townhome, you own the dirt upon which the structure stands.
The benefits of owning a townhome is a mix of the benefits of a single-family home and the benefits of a condo. It is, however, not without its downsides.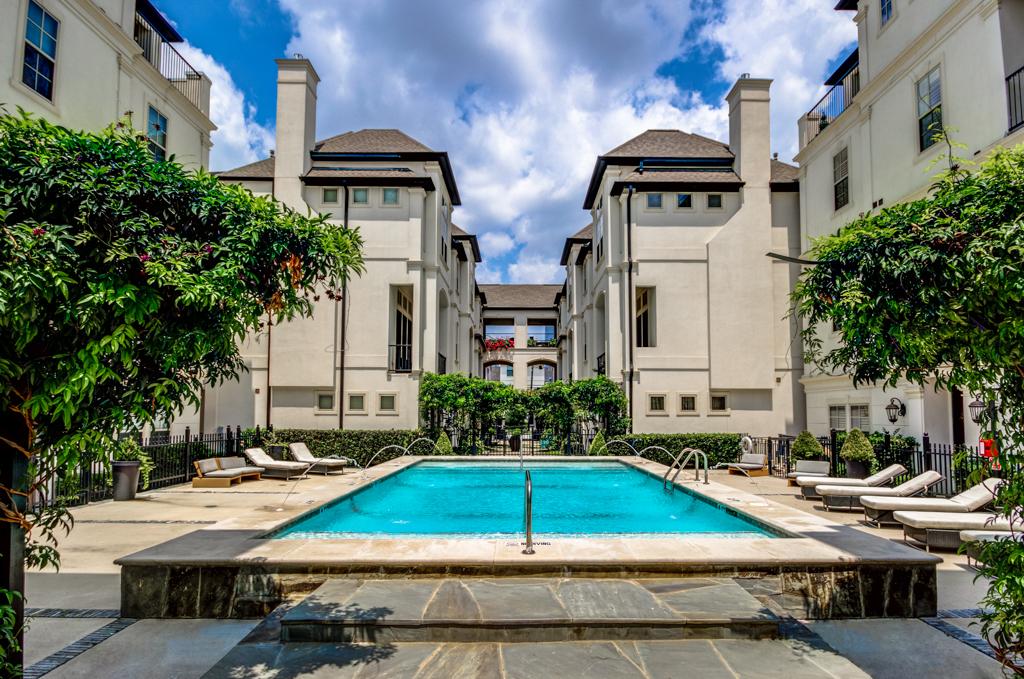 Pros of Living in a Townhome
Price. Compared to their single-family home counterparts, townhomes are typically less expensive. Construction costs are lower (as you share a wall) while giving more livable space for your money.
Lock-and-leave lifestyle. Some of the most expensive Houston townhomes are located within gated communities, which often feature 24-hour security and lawn maintenance.
Location. Most townhomes built in the last decade are within Houston's best (and most accessible) neighborhoods.
Reduced maintenance. Common areas, community amenities, and landscaping are usually maintained by the HOA.
Community amenities. Some townhomes are within gated communities that offer great community amenities, including water features, central park areas, additional parking, swimming pools, and controlled access.
Lower HOA fees. Compared to Houston condos, most townhomes in Houston have substantially lower HOA fees.
Primary Cons of Living in a Townhouse
Shared wall. As you share a wall with your neighbor, you live closer to them.
HOA fees. Many townhomes are subject to HOA fees that cover landscaping, common area maintenance, and security.
Fewer amenities. Compared to living in a luxury high-rise, living in a townhouse typically offers less amenities. Houston condos often feature fitness rooms, tennis courts, swimming pools, meeting/business centers, and party rooms.
Exterior maintenance. There is some maintenance involved in owning a townhome, including the exteriors of your home. Exteriors are typically maintained by the HOA in a condo.
Houston townhouses offer a great "middle-ground" option between single-family homes and condominiums. There are a few trade offs, but what makes them great options is that they are less expensive than single-family homes and offer more privacy than condominiums or lofts.
BENEFITS OF WORKING WITH
The Houston Properties TEAM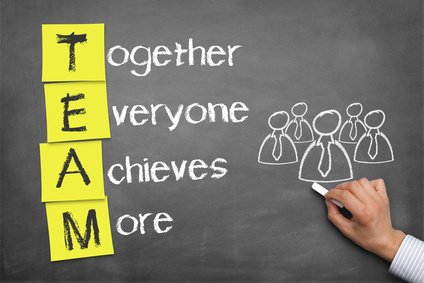 The Houston Properties Team has a well-defined structure based on the individual strengths of each member.
We find a team approach as the most effective way to sell homes. We have dedicated people doing staging, marketing, social media, open houses and showings. Each Houston Properties Team member is a specialist in their role – which is why our homes sell faster and for more money than average.
The benefits of working with a team include:
Ability to be in 2 or 3 places at one time: a member can handle showings, while another answer calls.
Collective time and experience of members.
Targeted advise and marketing of agent expert in your area.
Competitive advantage by simply having more resources, ideas, and more perspectives.
A "Checks and Balances" system. Selling and buying a home in Houston is an intensely complex process.
More people addressing field calls and questions from buyers and agents to facilitate a faster successful sale.
Efficient multi-tasking: One agent takes care of inspections and/or repair work, while another agent is focused on administrative details.
Multiple marketing channels using members' networks.
Constant attention: guaranteed focus on your home and your transaction.
Lower risk for mistakes. Multiple moving parts increase oversights. A team approach handles these "parts" separately.
Flexibility in negotiation and marketing.
Better management of document flow.
Increased foot traffic through more timely and effective showing schedule coordination.
Increased Sphere of Influence and exposure to more potential buyers.