December 2015 Update: The Impact of Falling Oil Prices On Houston Real Estate
December 2015 Update: The Impact of Falling Oil Prices On Houston Real Estate
JOBS: GROWTH SLOWS, BUT NEW JOBS ARE BEING ADDED
According to the Greater Houston Partnership, the Houston MSA surpassed 3.0 million jobs for the first time in the region's history in October 2015.(1)(2)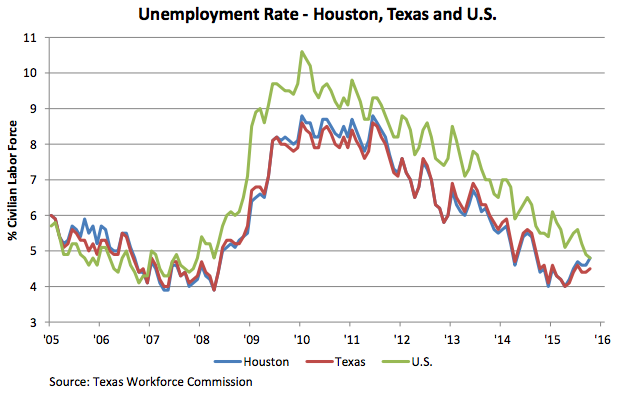 They record that the Houston area has shed about 10,200 energy jobs since last year, and may lose up to 19,000 energy jobs before the industry recovers. (3)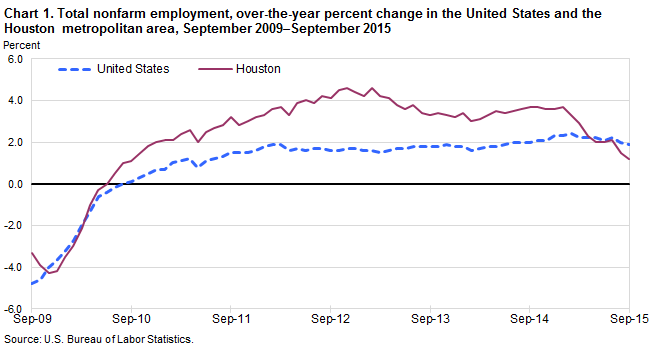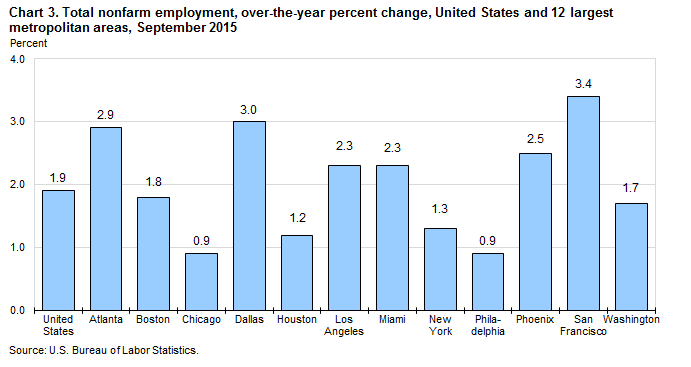 However, the Partnership predicts Houston will gain a net new 20,000 – 30,000 jobs for 2015, and 21,900 jobs in 2016. (3)(4)
As the table below shows, growth in Healthcare, Construction, Government, Retail, Accommodations, and Services has overcome the job loss from Energy, Manufacturing and Wholesale Trade.(3)(5)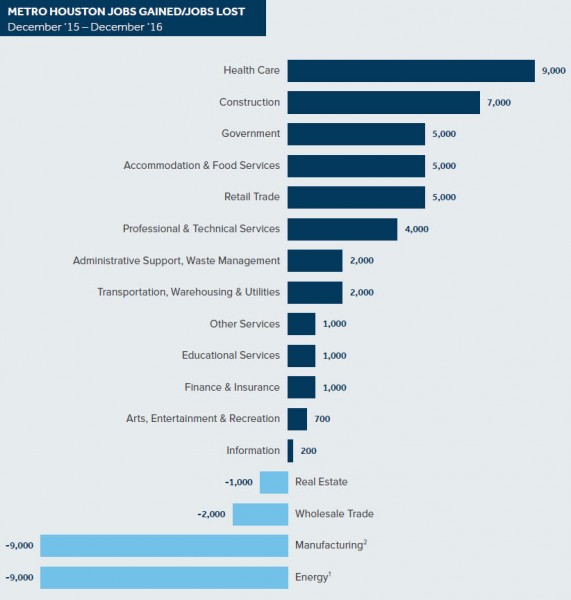 MACRO REAL ESTATE STATISTICS: LOOKING A LOT LIKE 2013
According to the most recent data from the Houston Association of Realtors (from November 2015), 2014 set record highs for home sales prices, properties sold per month and reached a record low of available inventory.
November 2015 data is down from the 2014 results, but comparable to results from 2012 and 2013 (each of which were record years for Houston real estate).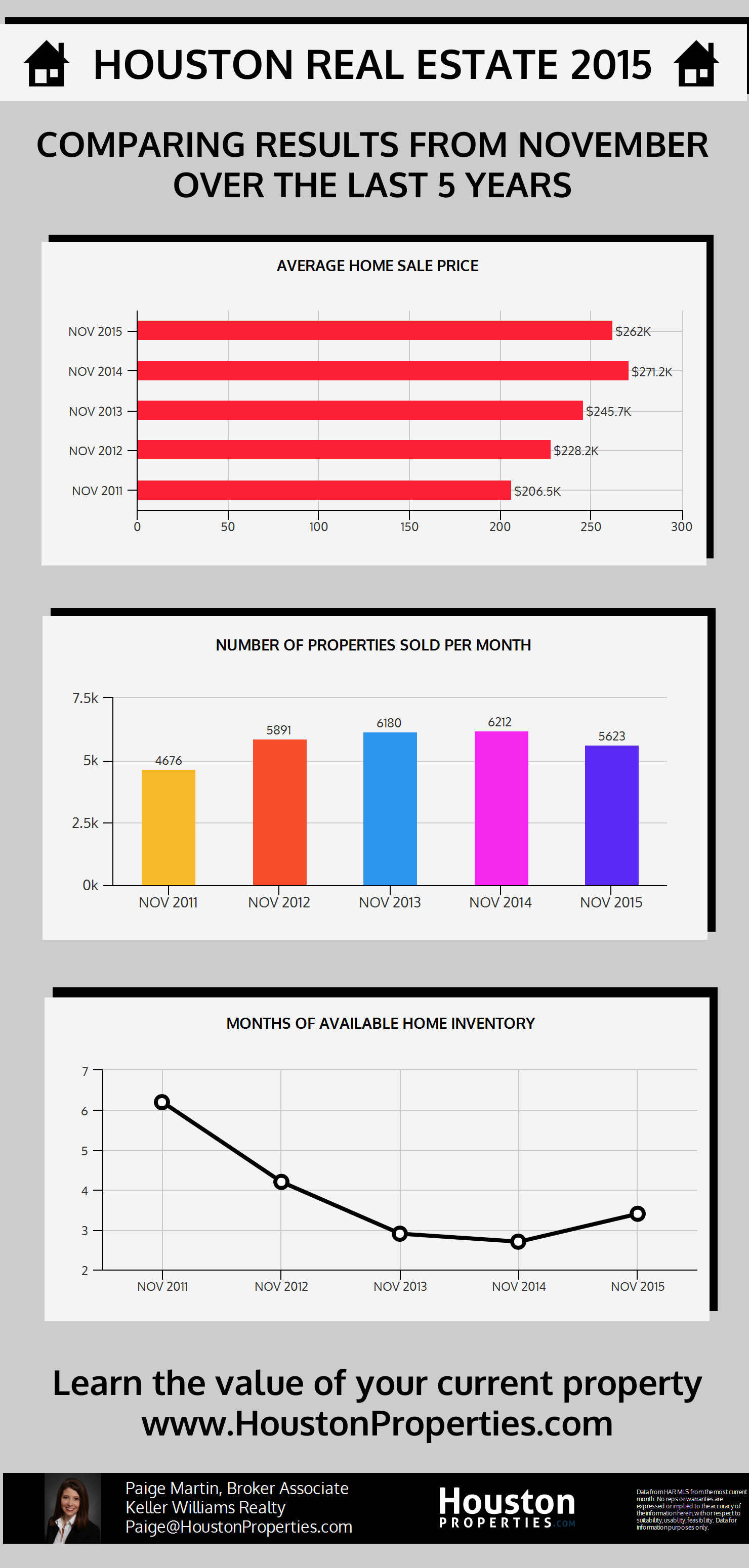 This data still results in Houston being in a Seller's Market, however it is "less so" that it was in 2014.
Months of available Houston home inventory is up to 3.4 for November 2015 (which is a 29% increase over the 2014 level) but materially lower than the nationwide average of 4.8 months of inventory or the definition of a "Balanced Market" (5-7 months of inventory).
Average home sale prices for 2015 are higher than 2013 levels.
The number of Houston homes sold in November 2015 is comparable to results from November 2012.
PERSONAL REAL ESTATE STATISTICS: NEIGHBORHOODS STARTING TO DIVERGE
High quality homes sell in nearly every market. Disadvantaged homes sell more slowly or at larger discounts.
Different neighborhoods and property types are starting to sell and different prices and with different frequency.
Several of the key factors that influenced the price and speed that homes that are selling include:
Railways. Homes in close proximity to railroads tended to sell at larger discounts.
Highways. Homes in close proximity to highways tended to sell at larger discounts.
On major thoroughfares. Homes located on a major thoroughfare tended to sell at larger discounts.
Floorplan. Homes built with a bad or awkward floor plan tended to sell slower or at larger discounts.
Quality of construction. While this can be subjective (or determined by a good inspector during the option period) homes built by "known problematic builders" sold at material discounts.
The primary value of a top Houston realtor is to provide candid advice on the resaleability of a home in a downturn. Not all homes are created equal.
The following graphs are based on data from the Houston Association of Realtors MLS System and highlight how different neighborhoods are trending differently.
The Right Y-Axis and blue bars show the median sales price. The Left Y-Axis and red line shows the months of available inventory.
This data is based on results for Novembers from 2011 through 2015. With a monthly sample size, based on the geo market areas, they show more volatility than looking at full year, or quarterly, trends.
However, they show divergence between different markets.
Get a custom market report for your neighborhood.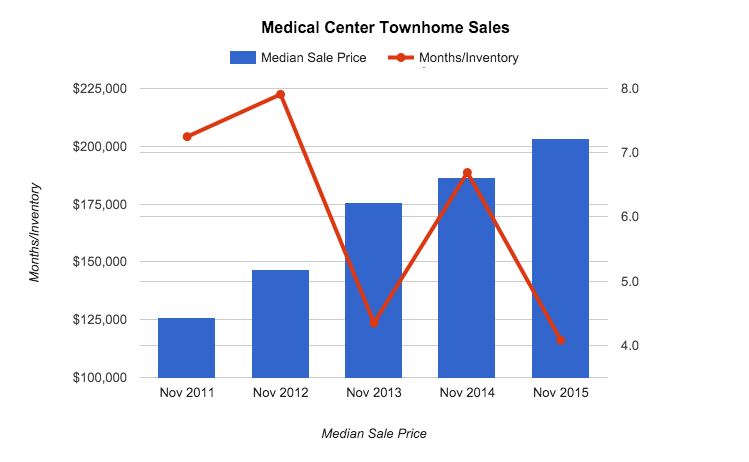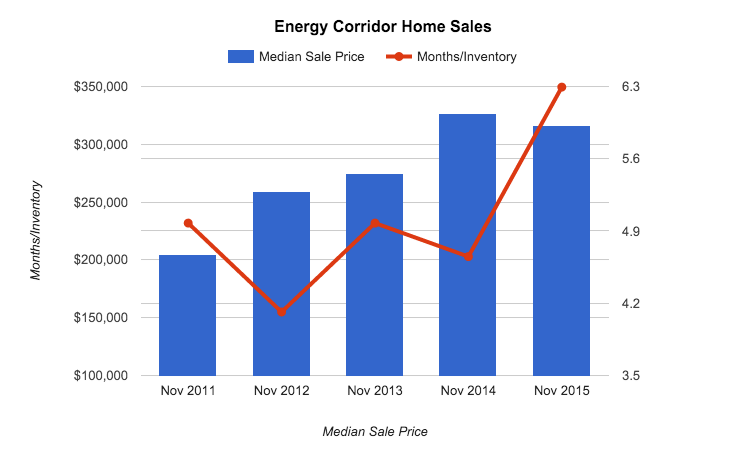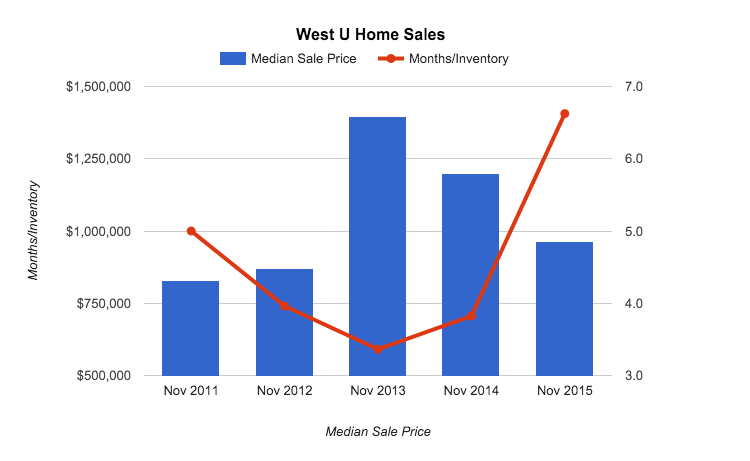 Data is from the Houston MLS system.  Information is believed to be accurate, but cannot be relied up and is not certified. The MLS does not verify the information provided and disclaims any responsibility for its accuracy. All data is preliminary and subject to change.
View More Houston Resources
About Paige Martin – Head of the Houston Properties Team
As featured on Fox News in the Morning, Houston Business Journal, the Houston Chronicle, and Houston Magazine, Paige Martin, a consistent Top Producing Broker-Associate and head of the Houston Properties Team, is ranked amongst the very top Keller Williams agents in the Houston area. Paige Martin's recent awards include:
2014 – Five Star Realtor, Featured in Texas Monthly Magazine (from 100,000+ Realtors)
2013 – #1 Ranked Individual Agent in the Keller Williams Memorial Office (from 300+ Realtors)
2013 – Top 50 Houston Realtors listed in the Houston Chronicle (from 25,000+ Realtors)
2013 – Five Star Realtor, Featured in Texas Monthly Magazine (from 100,000+ Realtors)
2012 – #1 Ranked Individual Agent in the Keller Williams Memorial Office (from 200+ Realtors)
2012 – Top 5 Ranked Individual Agent in the Houston Area with Keller Williams (from 5,000+ Realtors)
2011 – #1 Ranked Individual Agent in the Keller Williams Memorial Office (from 200+ Realtors)
2011 – Top 10 Ranked Individual Agent in the Houston Area with Keller Williams (from 5,000+ Realtors)
2010 – #1 Ranked Individual Agent in the Keller Williams Memorial Office (from 200+ Realtors)
2010 – Top 10 Ranked Individual Agent in the Houston Area with Keller Williams (from 5,000+ Realtors)
and over 52 additional awards since 2006
Sources: