Sell Your Home Fast For More Money: Houston Properties Online Marketing
Thanks to HGTV, your listing only has 8 seconds to capture a buyer's attention.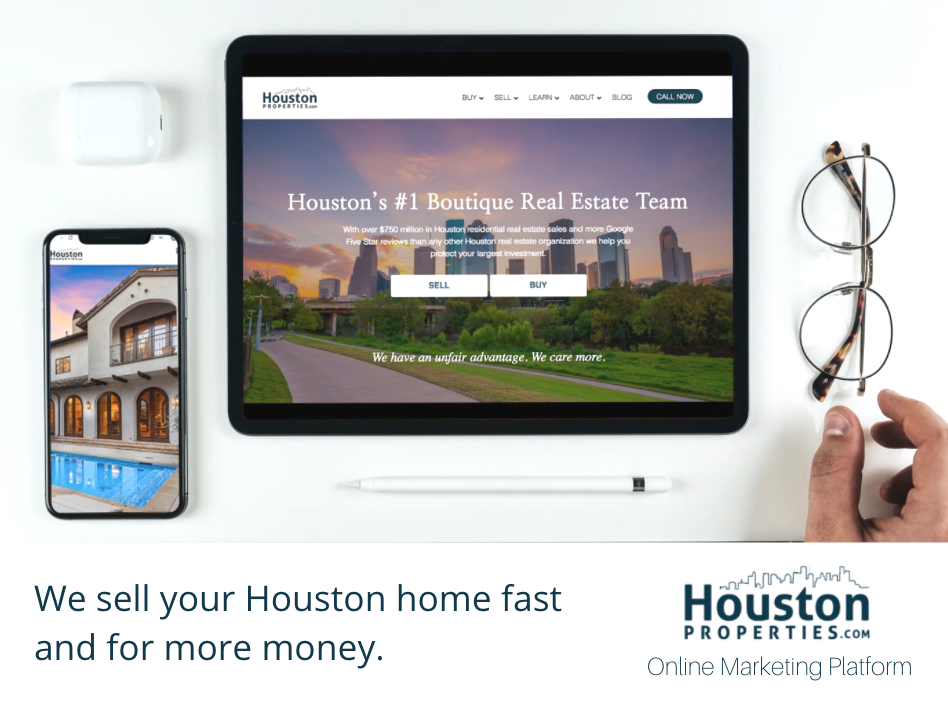 Summary
The Houston Properties team sells homes 43.7% faster and for 7.2% more money.

This is because more buyers now find homes online, and the Houston Properties Team is #1 in online marketing.

We have an innovative listing marketing platform that is more effective and efficient than your average Houston agent.

Another key to our success is our consistent data gathering and analysis allowing us to continuously adapt. We make sure to update your listing weekly and share our progress with you every step of the way.
Houston Home Seller Resources
"The Houston Properties Team is amazing! Their listing marketing is second to none. Their prep work, photography, outreach and follow up are spectacular! I highly recommend using them if you're considering listing your home." – Colleen, Google Review
---
Table of Contents
---
Have The #1 Team In Houston Work For You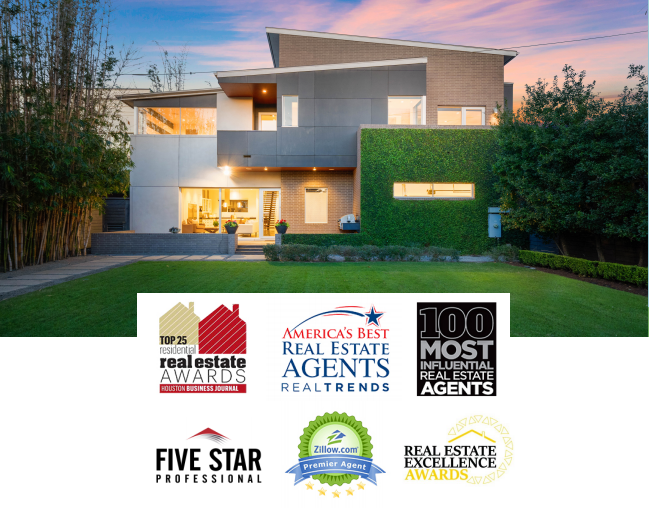 The Houston Properties Team is the #1 Boutique Real Estate Team in Houston. Listing with us means having a whole team consistently working for you.
The Houston Properties Team is the #1 boutique real estate team and #6 worldwide out of over 182,000 Keller Williams agents.
We have sold over $750 million of Houston real estate and won over 525 awards. (Read more about our credentials)
If you choose to list with our team, we can provide you with an unparalleled level of efficiency and customer service that can't be compared to working with just one individual agent.
Beyond our sale numbers, awards, and credentials, what we're most proud of is our lifelong client relationships that were prospered by having an entire team constantly working behind our listings.
---
Wide International And Relocation Buyers Reach For Your Listing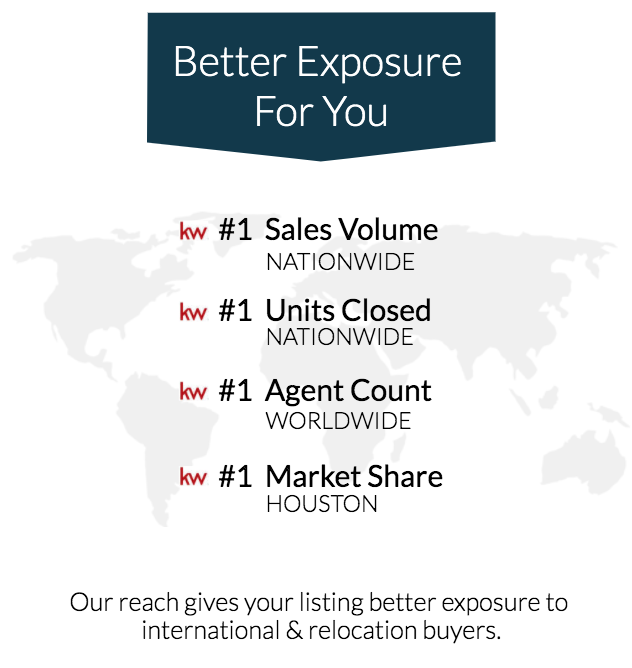 Keller Williams brokerage is #1 worldwide with the largest pool of international and relocation buyers. Its website has more visitors, views, and social media reach than any other brokerage.
Did you know that 50,000 people relocate to Houston every year? This is a large home buyer market you can target your home to.
The Keller Williams brokerage is the best platform to sell your home to buyers both outside the state and the country, with 600,000 real estate agents from over 100 countries.
With Keller Williams, your listing will have the best exposure to international and relocation buyers.
Read more about Keller Williams and the benefits of listing with the #1 brokerage worldwide by agent count and buyer pool.
---
List With The Best In Online Marketing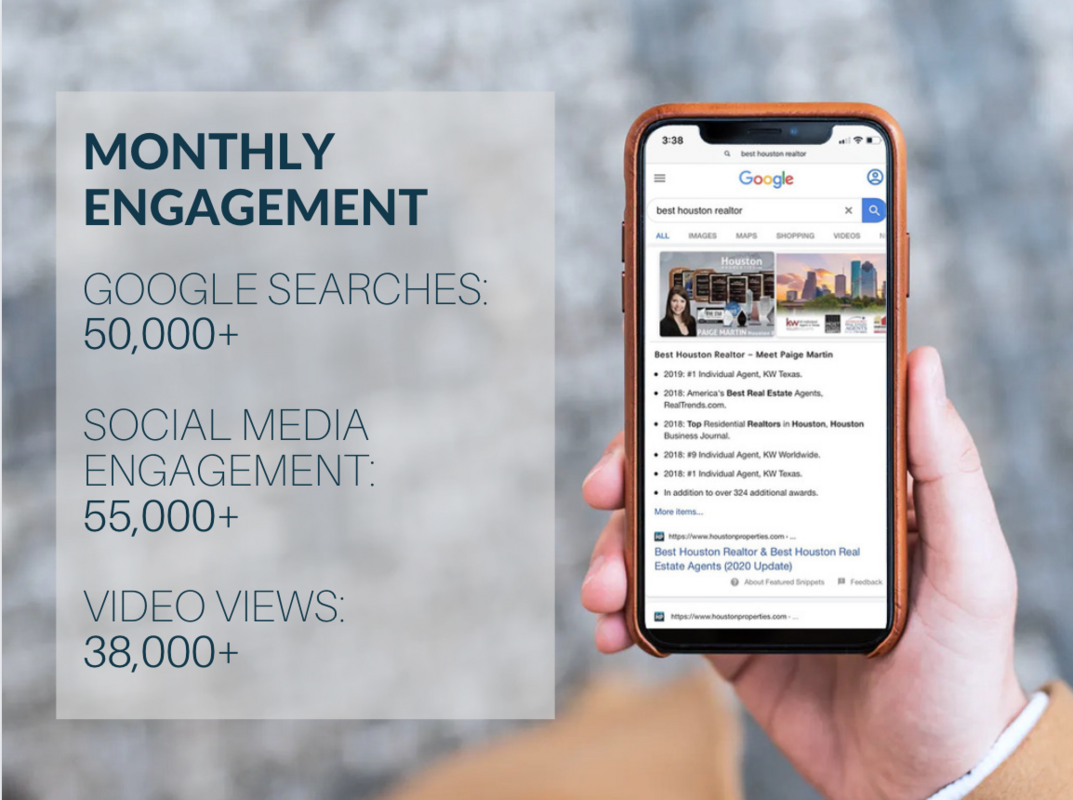 The Houston Properties Team is better at online marketing than your average Houston agent.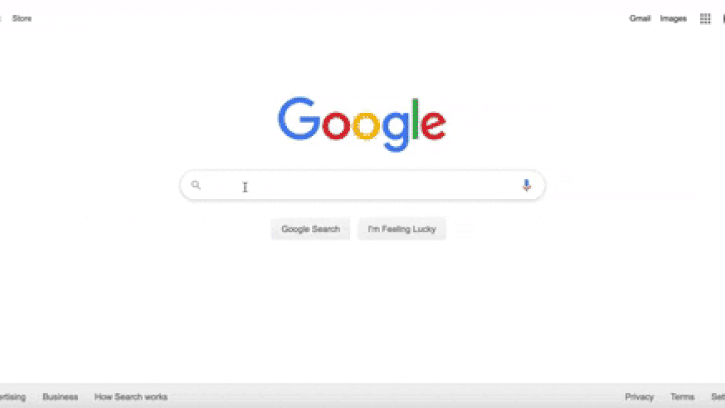 People usually go on one site when they want to check out a new restaurant or figure out how good a new movie is: Google. It's the world's top search engine with 3.5B searches made every day.
If you go on Google and search for the "Best Houston Realtor", you'll see us right at the top.
The same goes for 1,250 more Houston-related search keywords, including "Best Real Estate Agent In Houston" and "Top Houston Realtor".
Check out these other key figures:
The Houston Properties Website records over 50,000 visits monthly, while the average Houston agent has less than 50.

Our YouTube videos garner a combined 32,000 views monthly, while the average Houston agent has less than 800.

Our social media pages have a combined 45,000 visits on average. The average Houston agent has less than 200.
These statistics are not for our office or brokerage. These are figures solely accredited to our team.
The numbers speak for themselves; The Houston Properties Team dominates the online home search.
---
Next-level Marketing Platform For Your Listing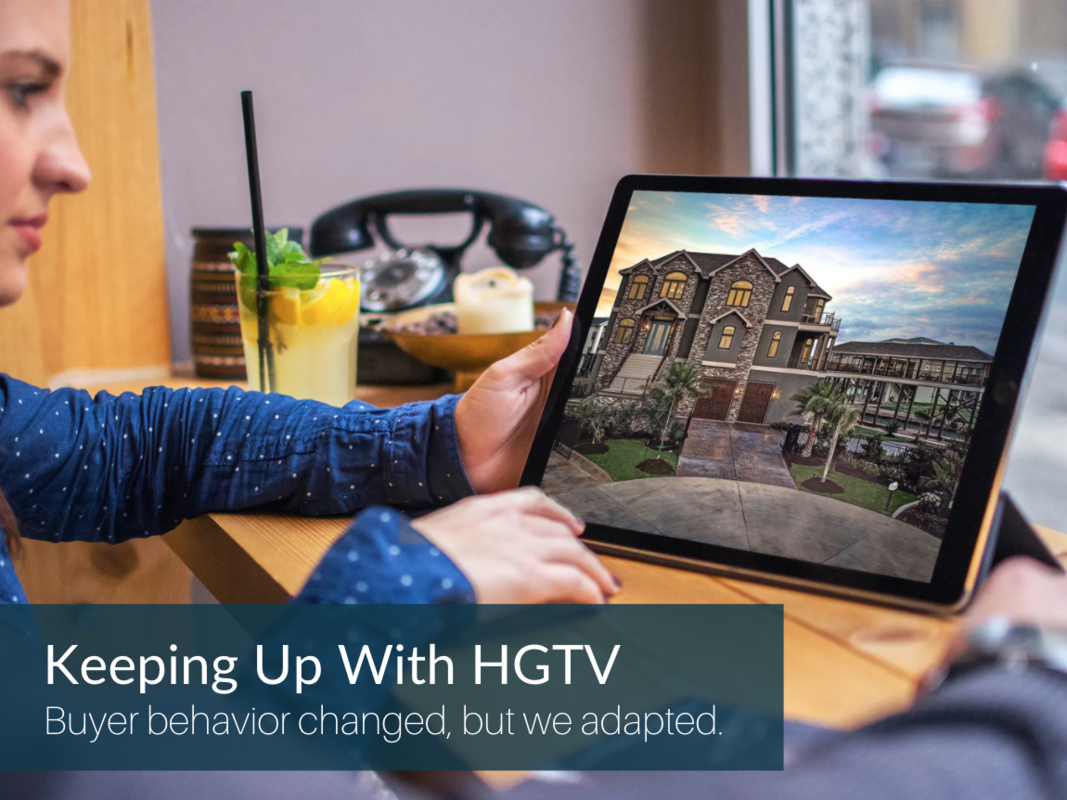 Thanks to HGTV, you only have 8 seconds to win a buyer's attention. We were first to adapt to how buyer behavior has changed in the last 120 days.
Buyer behavior has changed over the past 120 days.
For example, did you know that HGTV is now the 3rd largest network in the country?
Imagine being stuck indoors and considering buying a new home. While you're doing that, you're likely binge-watching the DIY Network or HGTV. This means a seller's listing is competing with all these fast-paced, high-quality images.
The Houston Properties team continues to sell faster and for more money because we were first to adapt to this change.
We continuously evolve and adjust to cater to buyers' expectations and make sure that your listing piques their interest the first few seconds they see it.
---
Client Reporting Done Right: We're Accountable & Transparent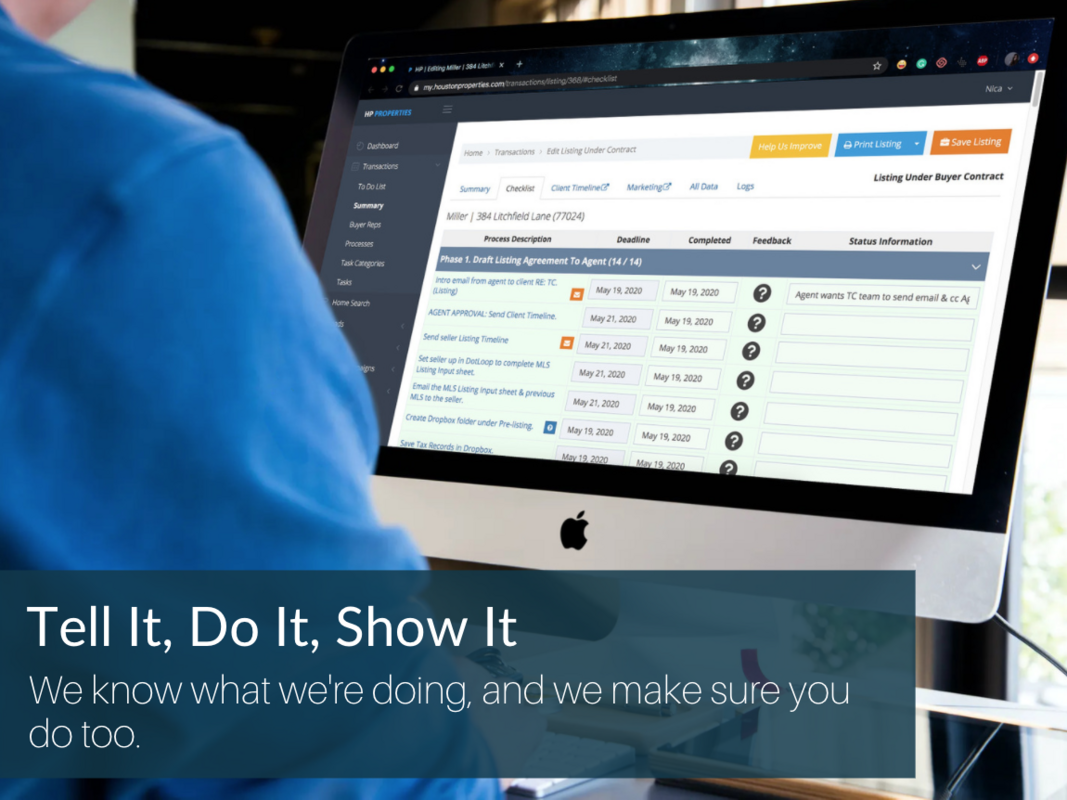 Not only do we have a better marketing plan; we also do a better job executing it and making sure you know what we're doing.
Our core values include accountability and transparency. We know that every seller deserves these qualities from their agent.
We follow a 152-step listing marketing checklist, so we can take care of the little things and avoid big mistakes. (Click here to learn more about the selling mistakes you need to avoid.)
We show you each step through weekly client reports. We also maintain constant communication with you, so you know what we're doing and that we are working for you every day.
We walk the talk and show the results to you.
---
Sell Your Home Fast For More: It's All About The Online Buyer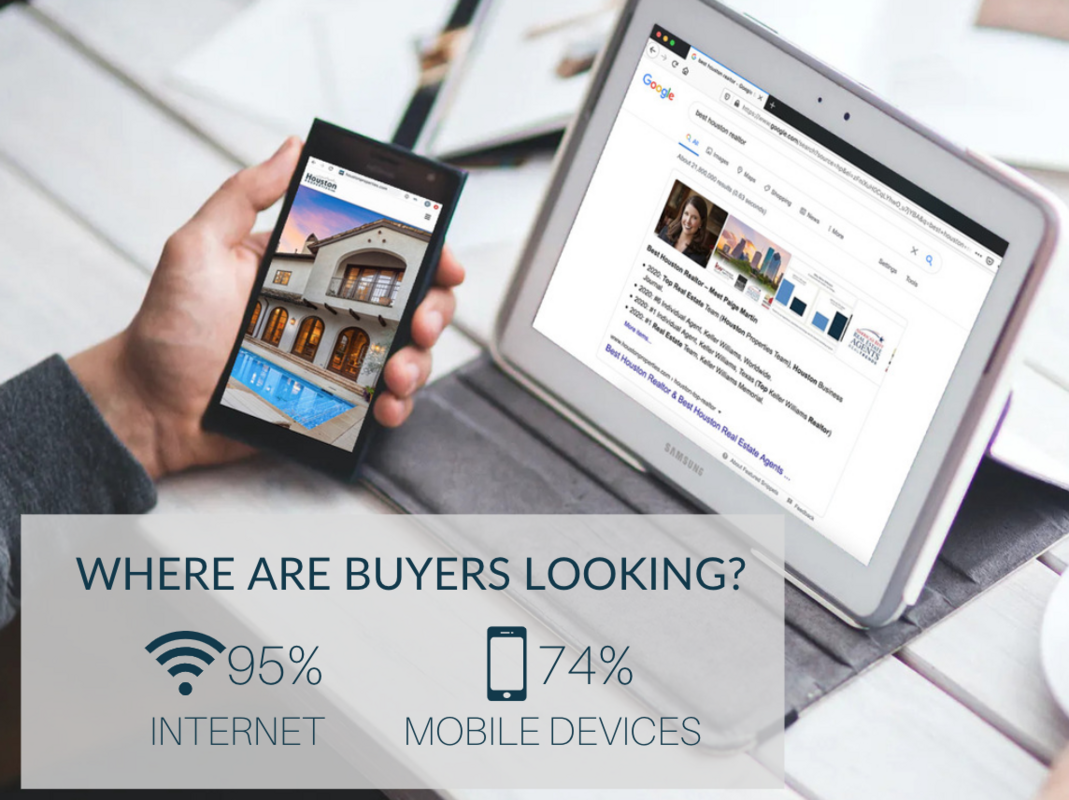 More people find the home they buy online than from all other marketing channels combined.
To sell your home fast for the most money, it's important to understand the changes in buyer behavior.
While the home selling process still ends with physically inspecting the home and making an offer, the journey now begins online.
95% of buyers now begin their home search online, and 52% found the home they ultimately bought on the internet.
---
"Buyers In Waiting" For Your Listing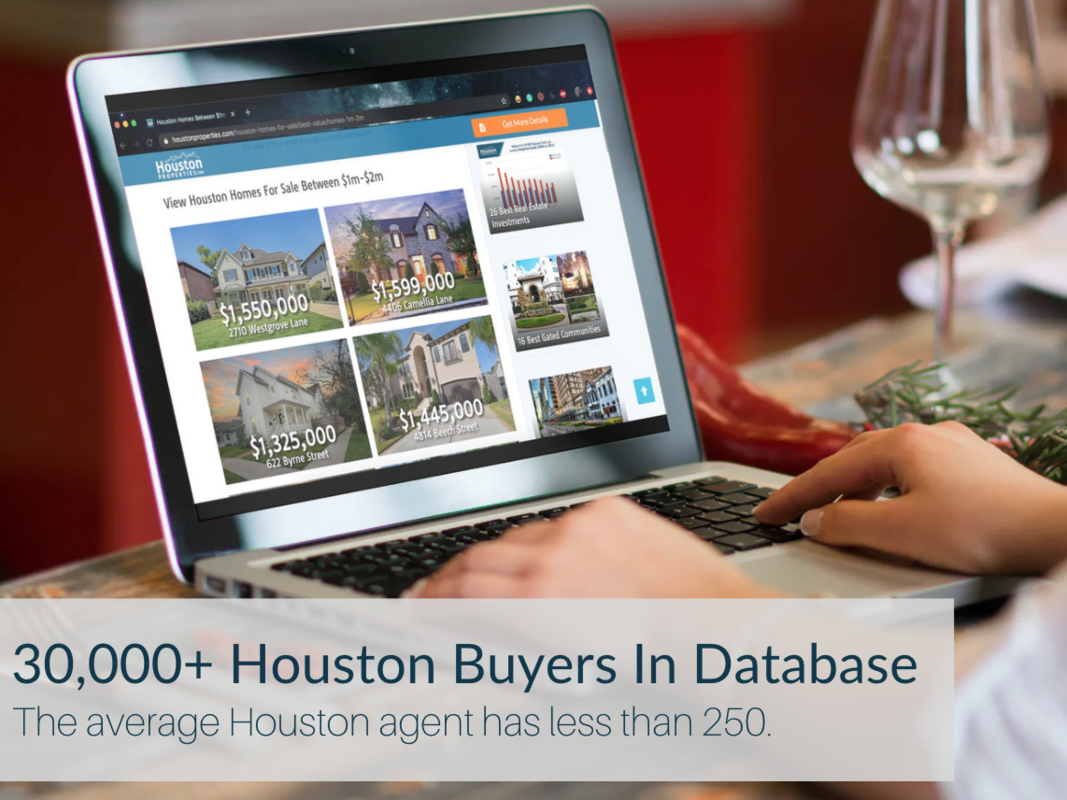 The Houston Properties Team has a database of over 30,000 buyers. One of them could be waiting for your Houston home.
The Houston Properties Team has a database of over 30,000 Houston "buyers in waiting" that we've been building since 2002. Meanwhile, the average Houston agent's database has less than 250 buyers.
Through our extensive buyer database, we're able to exhibit your home to a larger audience and get honest feedback from them.
If you think about it, your future buyer could just be waiting for you to list and market your home.
---
We Update Your Listing Weekly (And Report What We Did!)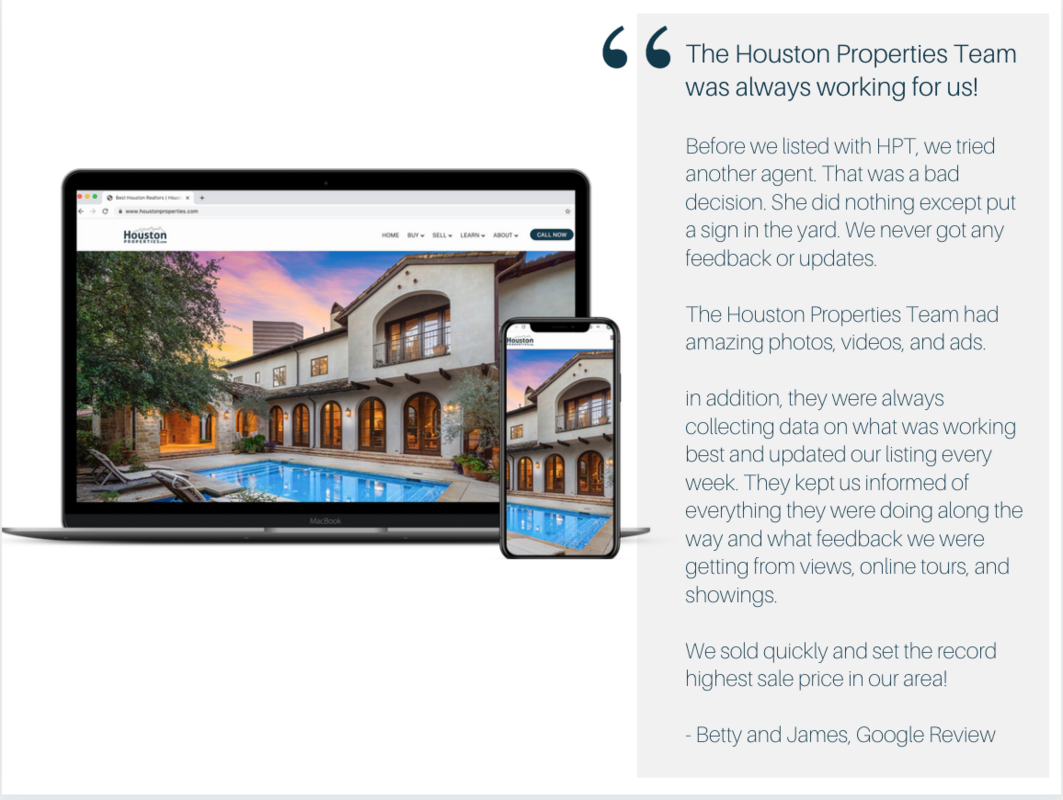 We update your listing every week and report it to you, so you know we do so much more than just putting up a sign on your yard and putting up your listing online.
Let's say you hire an agent who promises to market your listing.
How will you know if their "marketing process" is nothing more than placing a sign on the yard, putting your listing on HAR, and calling it a day?
Our process involves a 152-step checklist, weekly client reports, and extensive data analysis.
We also collect feedback from buyers, people who've seen your listing and home, and agents in your neighborhood.
Once your listing is active, we continue to update it according to what works and what doesn't. We remain in constant communication so you're in the loop with your listing's progress and how it evolves.
---
Quality Listing Photos For Your Houston Home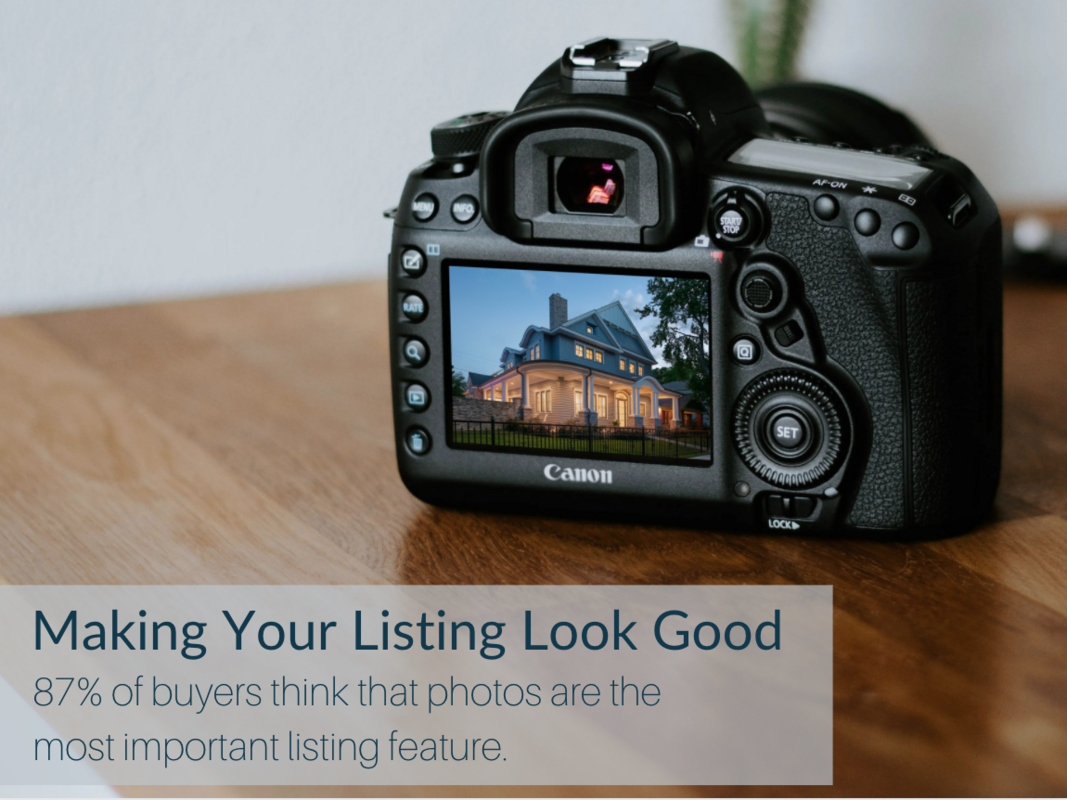 We provide professional staging, video, photography, and other services to help buyers see your home as their dream home.
Taking exceptional photos is essential for a great online listing. With only seconds to capture a buyer's attention, the quality of your visuals is crucial.
However, this is easier said than done.
That's because taking great photos requires a tedious multi-step process (staging, finding the right equipment, scheduling the right day and time, etc) that individual agents don't have the time or resources to accomplish.
The Houston Properties Team offers all these services and more because we know what it takes to produce outstanding listing photos.
Check out our guides on listing photo mistakes and home staging to learn more about how we create great listing visuals.
---
Win Showings With Our Virtual Tours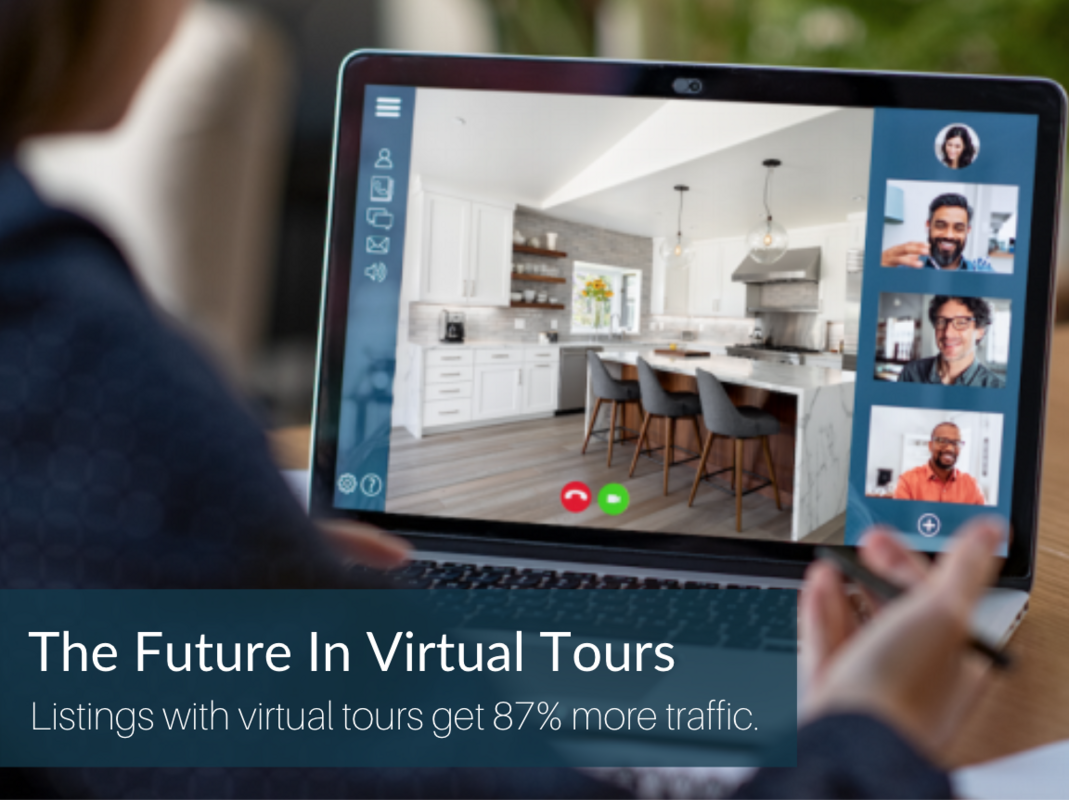 We track results and generate showings with our quality virtual tours.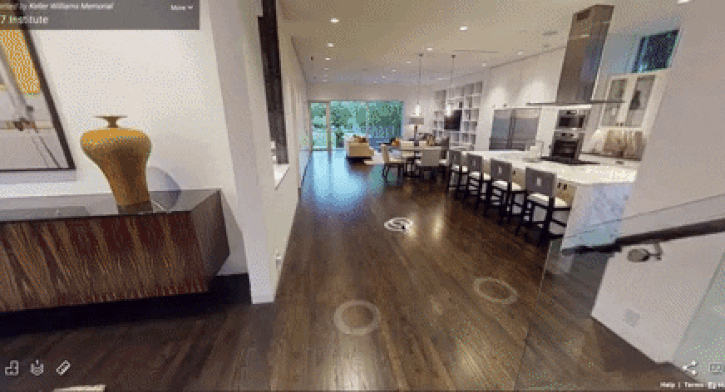 In the age of the online home search, 67% of prospective buyers want virtual tours in listings. Those that feature them get clicked on 87% more than those that don't.
We work with several 3D and Virtual Tour providers to optimize virtual tours for HAR, Instagram and Facebook (as each of the audiences expect something different). These are the highest quality virtual tour programs in the market, to ensure that buyers can experience your Houston home fully, even if they're at the comfort of theirs.
We also have a team member dedicated to helping you with virtual tours and tracking the attention they receive.
---
Google & Facebook Ads Optimized For Selling Your Home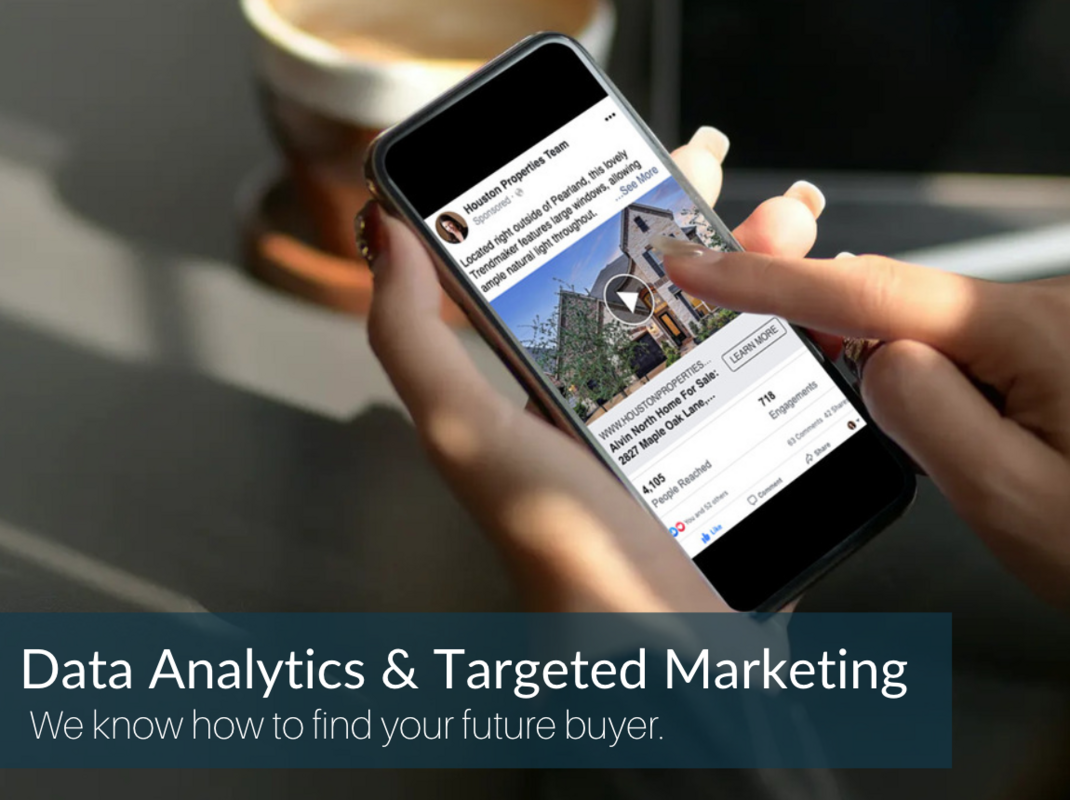 A lot of agents talk about "targeted online marketing", but we have the track record to prove that ours works.
How much do you know about retargeted marketing and optimizing Google and Facebook ads for your listing?
If your answer is, "not a lot", you don't have to worry.
Our data analytics and web marketing are spearheaded by a Harvard graduate who has over a decade of experience in online marketing.
Through marketing advancements such as retargeting, geofencing, and A/B testing, we can find out what your future buyers are like, where they are, and how to reach them.
With these tools, our listing advertising is faster, smoother, and more precise than ever.
---
We Market Your Home To The Realtors® Most Likely To Bring You A Buyer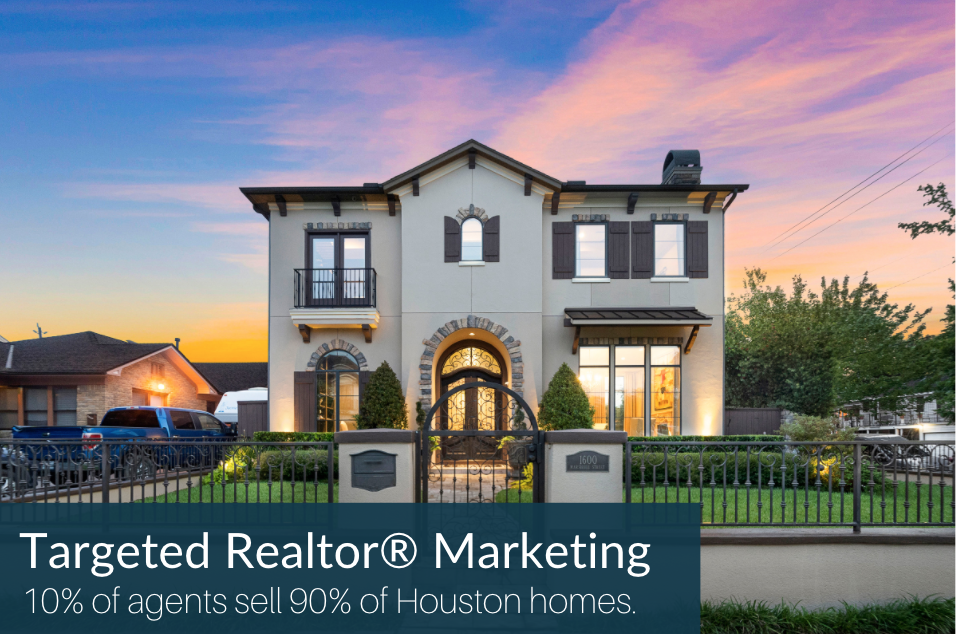 We have the resources and the reputation to bring your listing to a Realtor® most likely to sell it.
Can you guess how many Realtors® are currently in Houston?
Over 36,000.
You may be surprised to hear that only about 10% of those agents sell over 90% of the homes in Houston.
The Houston Properties Team is different because we know how to market your home to the Realtors® that are most likely to bring you a buyer. This is based on our elevated technology platform and our reputation within the Houston market that gets our emails answered and phone calls returned.
Read more about the best Realtor® team in Houston.
---
Our Innovative Pre-Marketing Delivers Results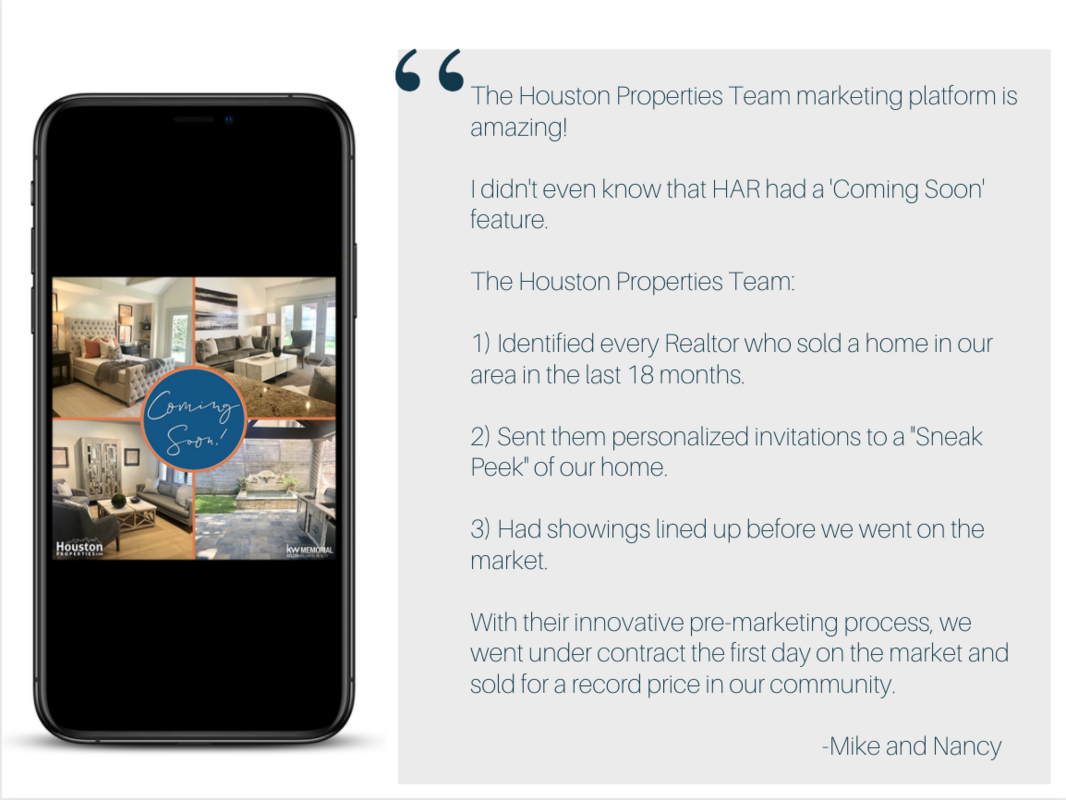 Our team can give Realtors® a "sneak peek" of your home before it even goes on the market.
HAR has rolled out a new "Coming Soon" feature that lets us promote properties that aren't quite ready for the market.
As previously mentioned, we have the ability to target every Realtor® who's sold a property in any area by pricepoint. We'll send them a personalized email with a sneak peek of your home, generating buzz and effectively marketing your listing even before it becomes active.
---
Put Your Home In Front With Our Open House Program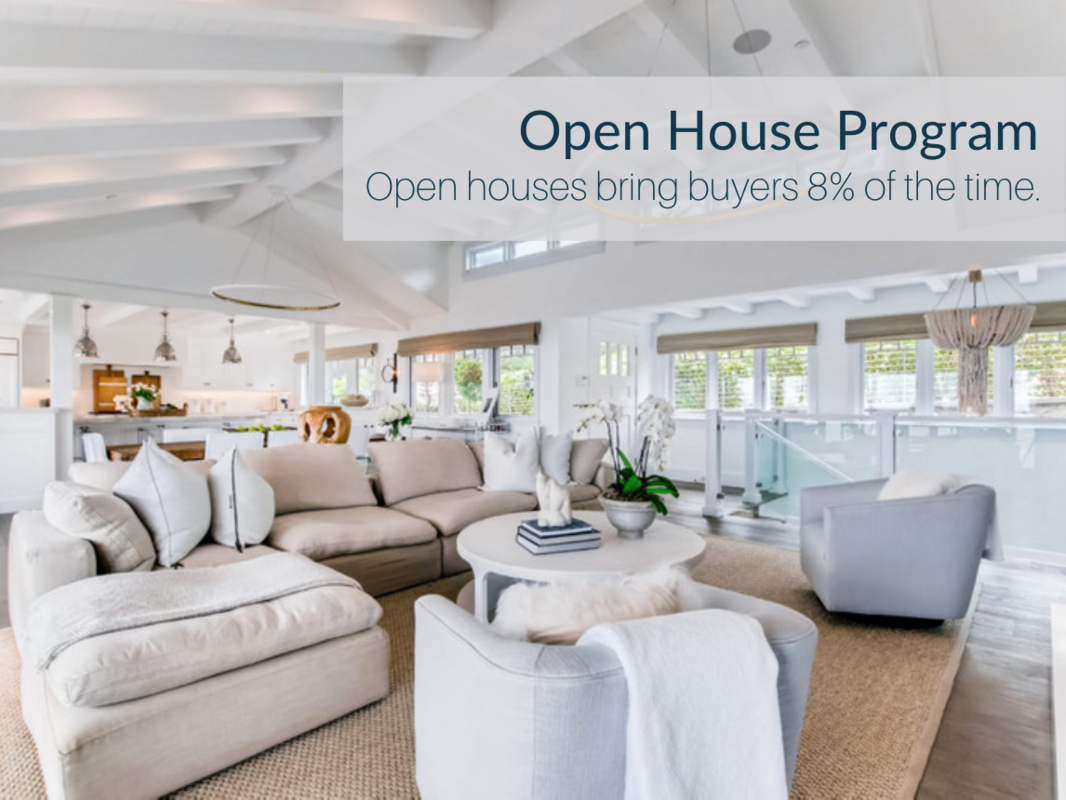 With the Houston Properties Team's capability to host both live and virtual open houses, you can put your home in front of as many future buyers as possible.
Despite the pivot to everything digital, a study shows that 30% of luxury home buyers still go to open houses during their home search.
Meanwhile, demand for virtual open houses has been steadily on the rise, simulating live events and interaction with people without having to go outside.
In the Houston Properties Team, we have the most effective open house program, both in-person and virtual. Having completed over 1000 open houses, we've built a 28-point checklist to follow and proved trained open house hosts for maximum efficiency.
---
OPTION: Keller Williams Concierge Program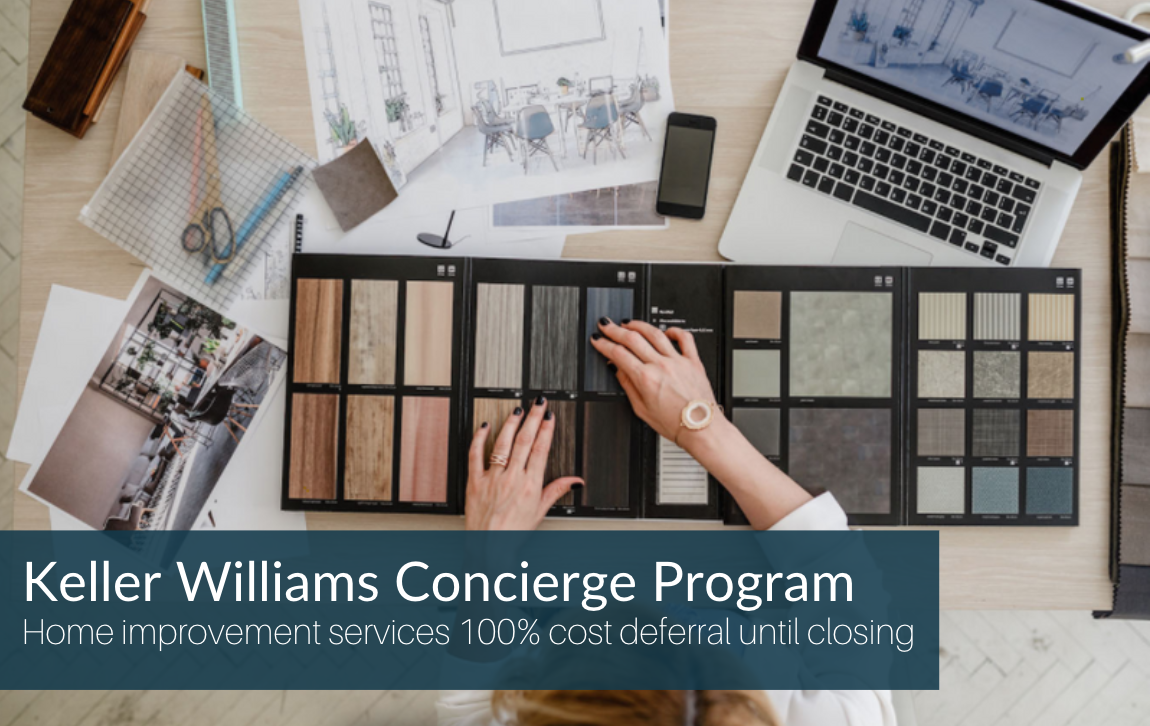 With the Keller Williams Concierge Program, you can get fronted for the cost of home improvement services and convert your home into a move-in ready condition that will help it sell faster and for more money.
Home improvement services include:
Floor repair
Staging
Deep-cleaning
Landscaping
Painting
HVAC
And more.
Check out our guide on home improvement and maintenance tips and services that can help you get top dollar for your Housotn home.
---
Best Houston Real Estate Resources
---