Top 20 Renovation Ideas To Increase Home Value In Houston
Best things to-do to raise the value of your home before putting it on the market.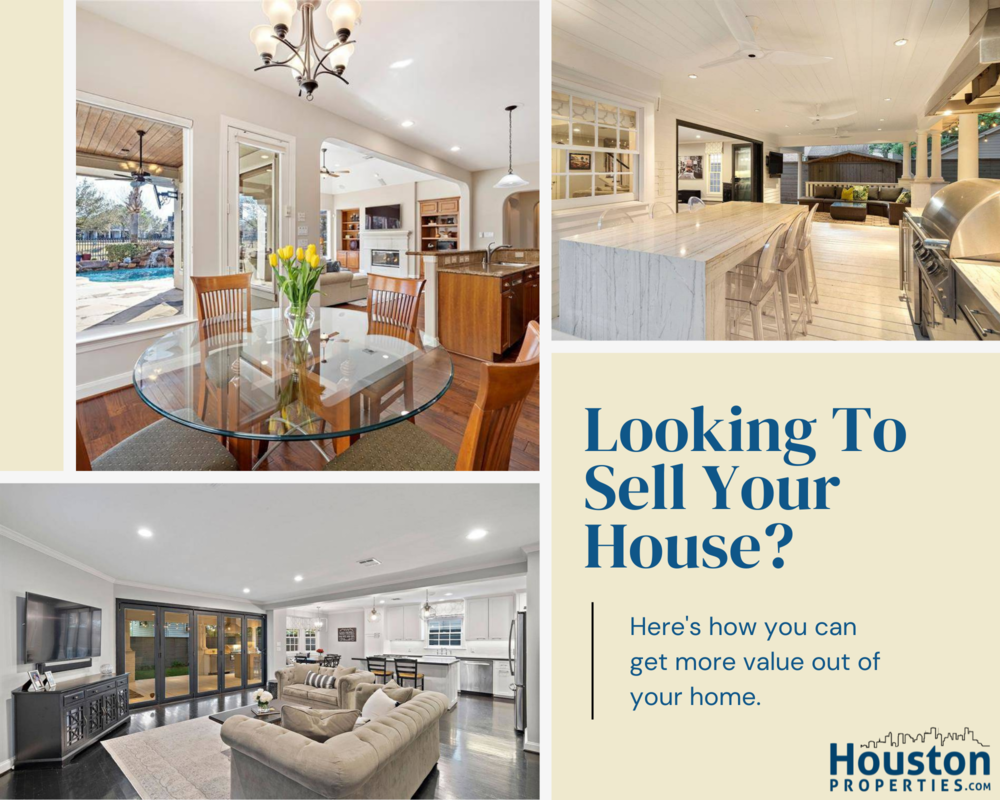 SUMMARY
Houston Properties Team listings sell for 7.2% more and for 4.3% faster.

This article is part of a six-part Houston Home Seller Series outlining how we achieve these results.

We outline the top 20 home improvement tips you can do before selling, based on your timing and budget.
HOUSTON HOME SELLERS GUIDE SERIES
"The Houston Properties Team EXPERTLY handled all of the steps involved in selling our house. Trying to sell a property is very intimidating, we were completely overwhelmed. Fortunately, the Houston Properties Team came in and took care of everything for us: from staging our house, getting it listed, all the way down to negotiating with buyers to get us the best offer. In just two weeks, we've had multiple showings and offers. They made things easy for us, and they worked so fast! We can't thank you enough." - Landrus | Google Review
---
Table of Contents
---
How To Increase Your Home Value For Free
"From beginning to end, it was a joy to work with the Houston Properties Team on the sale of our house. In preparing the house for sale, they helped us a ton with paint colors, flooring selections, and had many great ideas about staging our own belongings to keep those costs down. Houston Properties was so effective in marketing our home on all the main real estate websites in addition to getting the word out to Realtors when we were in the 'coming soon' stage. We felt that they had our best interest at heart and that we could trust them completely. We appreciated The Houston Properties Team system of providing feedback from realtors and potential buyers. The one Open House was a charm as we sold our house at full price a few days later." Fernando & Patricia
De-Personalize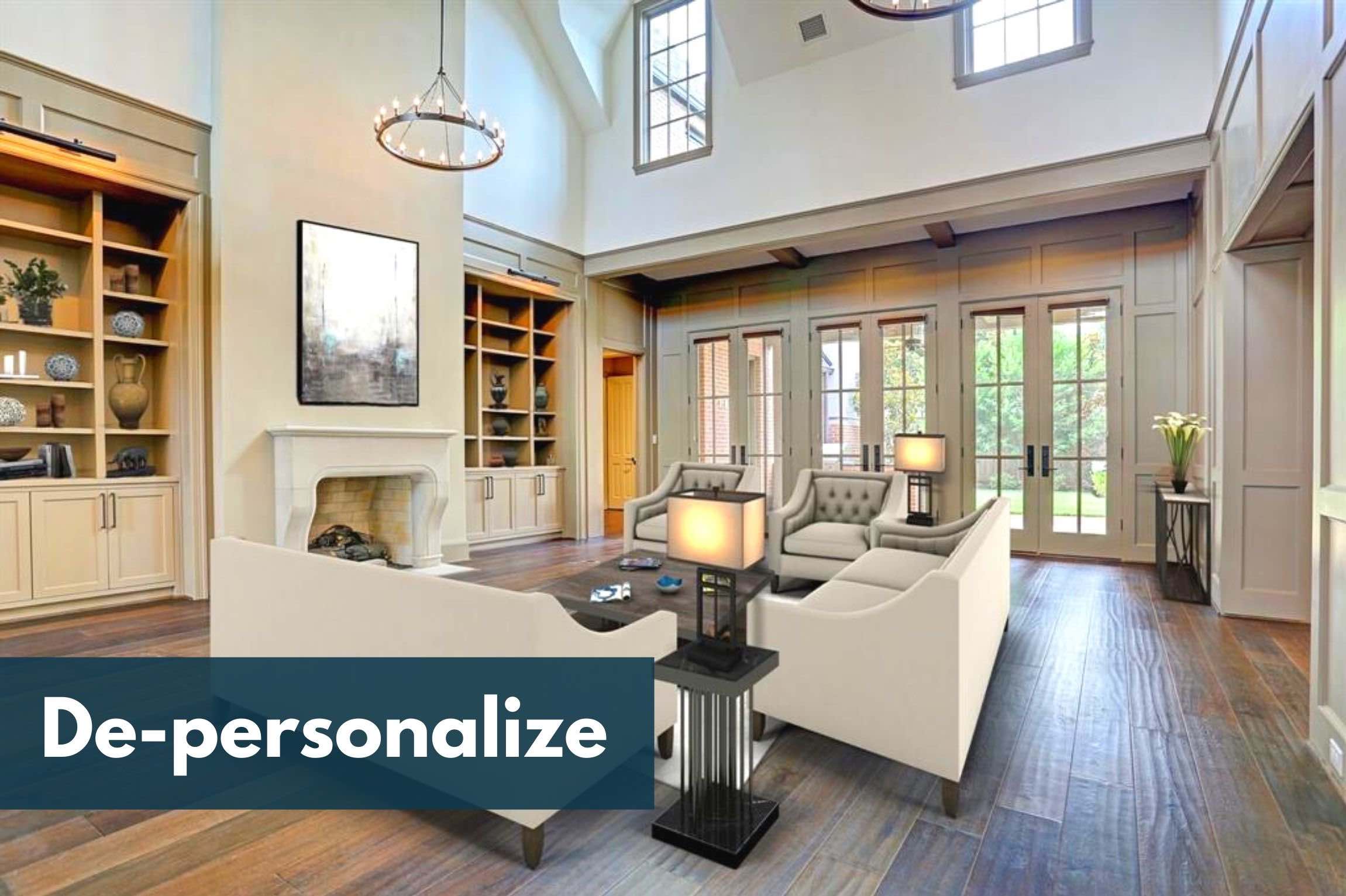 Having lots of personal items in your house is 6th on the list of 10 things that turn off homebuyers(1).
When buyers visit your house, you want them to picture themselves living in it.
Buyers may find that challenging if the place is filled with personal memorabilia. Oftentimes, buyers can get caught up in looking at "your life" instead of looking at your home.
While a few family photos here and there are fine, some of the best home selling tips dictate that walls and bookshelves displaying all of the special moments of your life are a distraction. Also, rooms filled with trophies, awards, posters, and the like draw away the focus from your house.
Need tips for decluttering? Here's a step-by-step guide from our Home Sellers Guide Series.
Deep Clean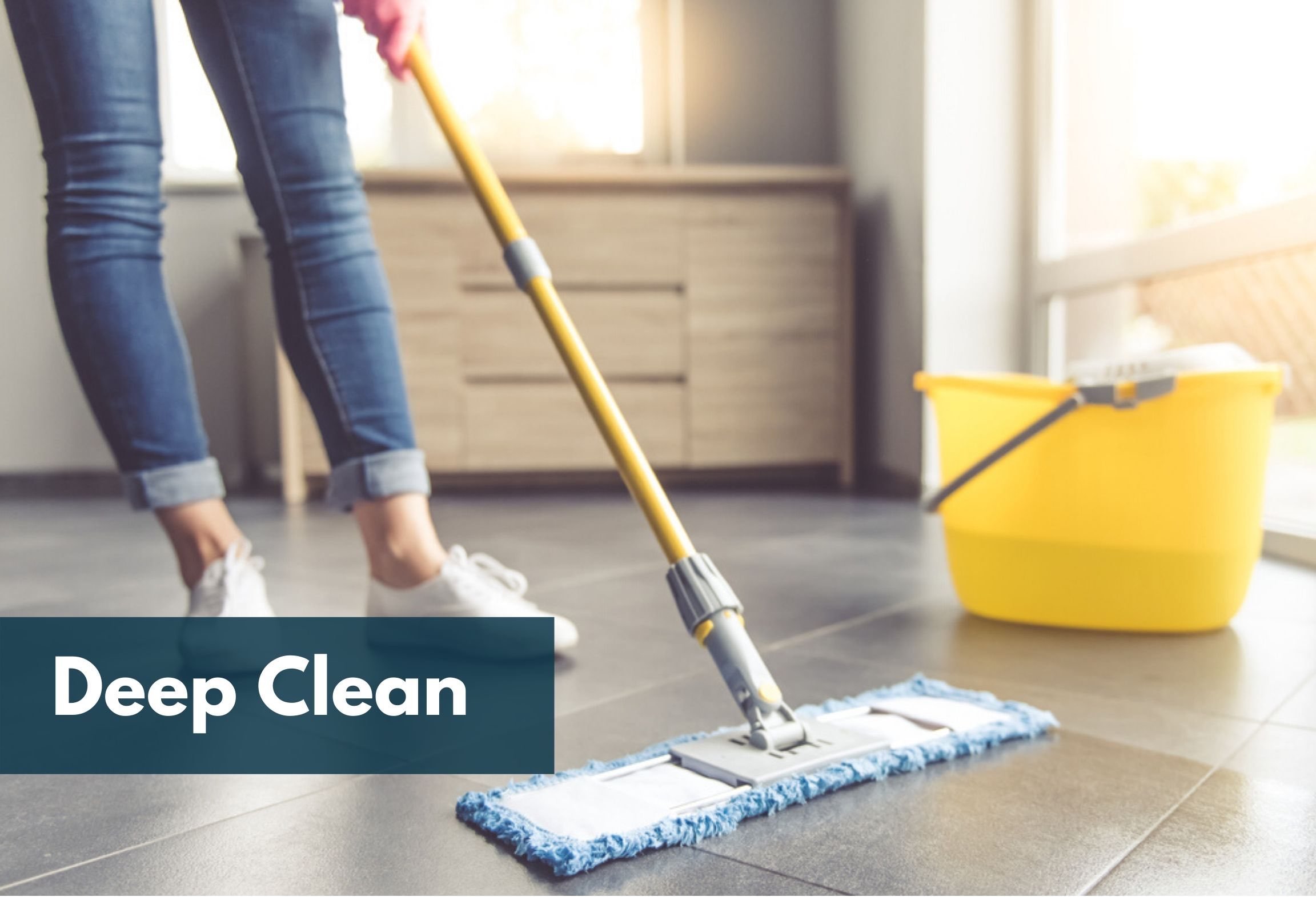 Some of homebuyers' common pet peeves are bad odors from old carpets, unwashed furniture, and pets.
Deep clean floors, carpets, furniture, baseboards, doors, bed and bath linens, and the like. You're often competing against new construction when you sell your home, so you want to do everything you can to minimize the years of "living" your home has seen. A good, thorough cleaning can go a long way in bringing your home back to life.
Clear Storage Space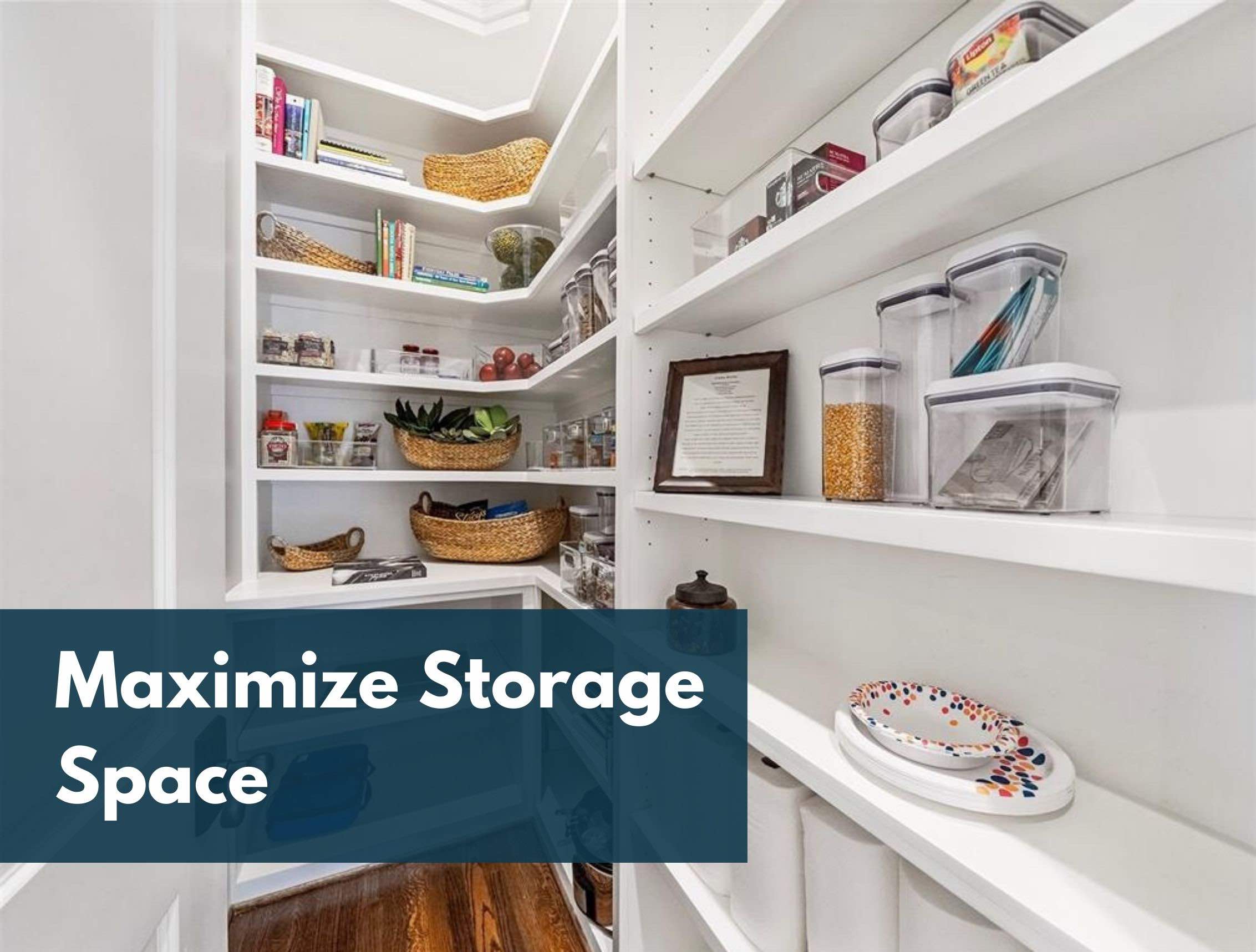 Storage space is high on the average buyer's list of home "needs."
To maximize your storage, spend time organizing and purging your pantries and cabinets.
If these are stocked full, the message it sends to buyers is "This house doesn't have enough storage for the current owners. How will it have enough for me?"
You don't have to completely empty these spaces – just tidy up and do a little organizing to show off their maximum potential.
Consult A Home Stager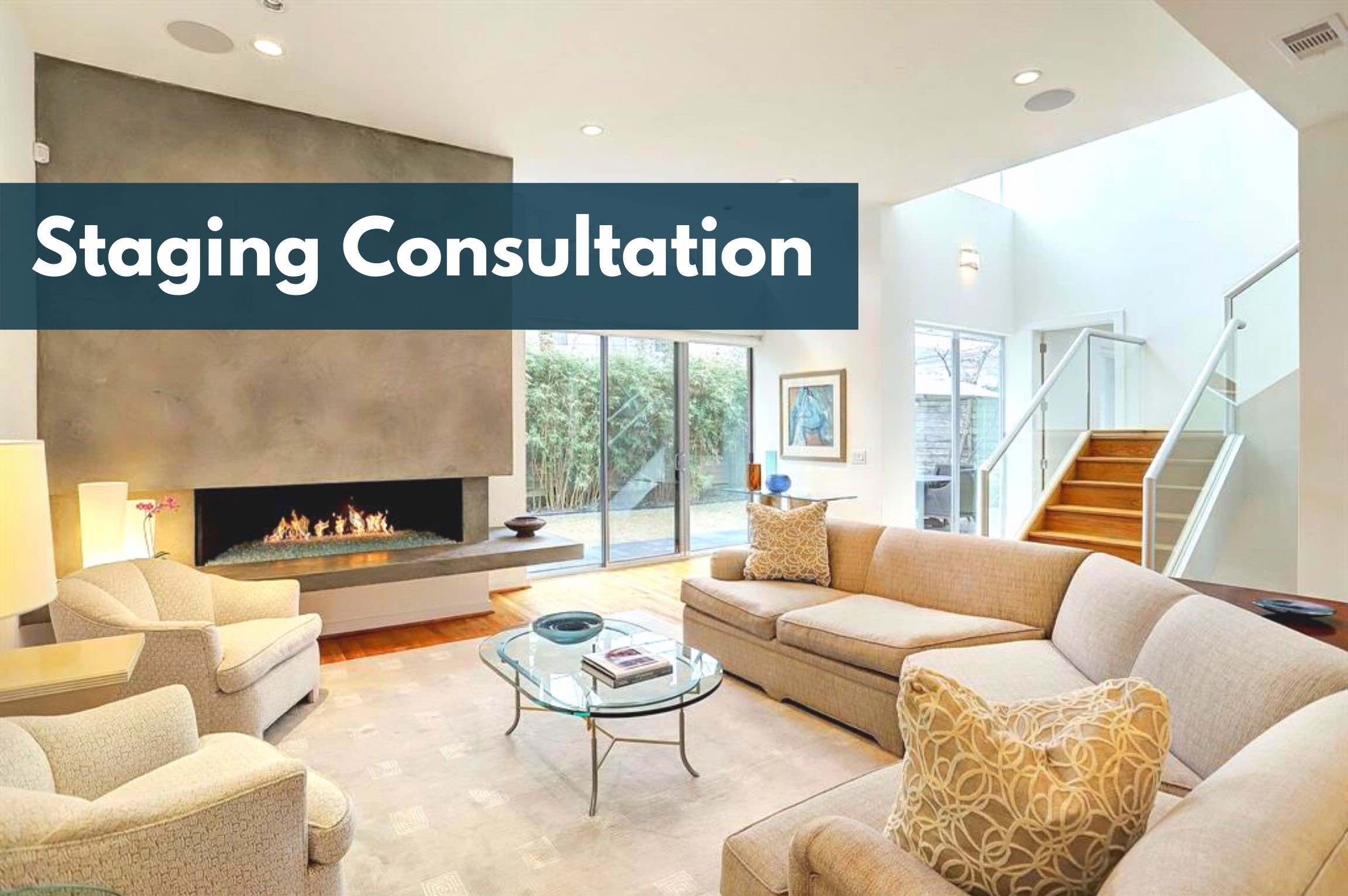 While staging comes with costs, most vendors offer free consultation.
For anyone seriously looking to sell, NAR's data show that staging pays for itself in the long run(2).
According to the report 23% of sellers' agents reported an increase of up to 5% of the dollar value offered by buyers, in comparison to similar homes. 82% said that staging a home also made it easier for a buyer to visualize the property as a future home.
Add to this the fact that over 80% of buyers found their home through the Internet and it's easy to see why staging has become so important.
---
Home Renovations For Under $500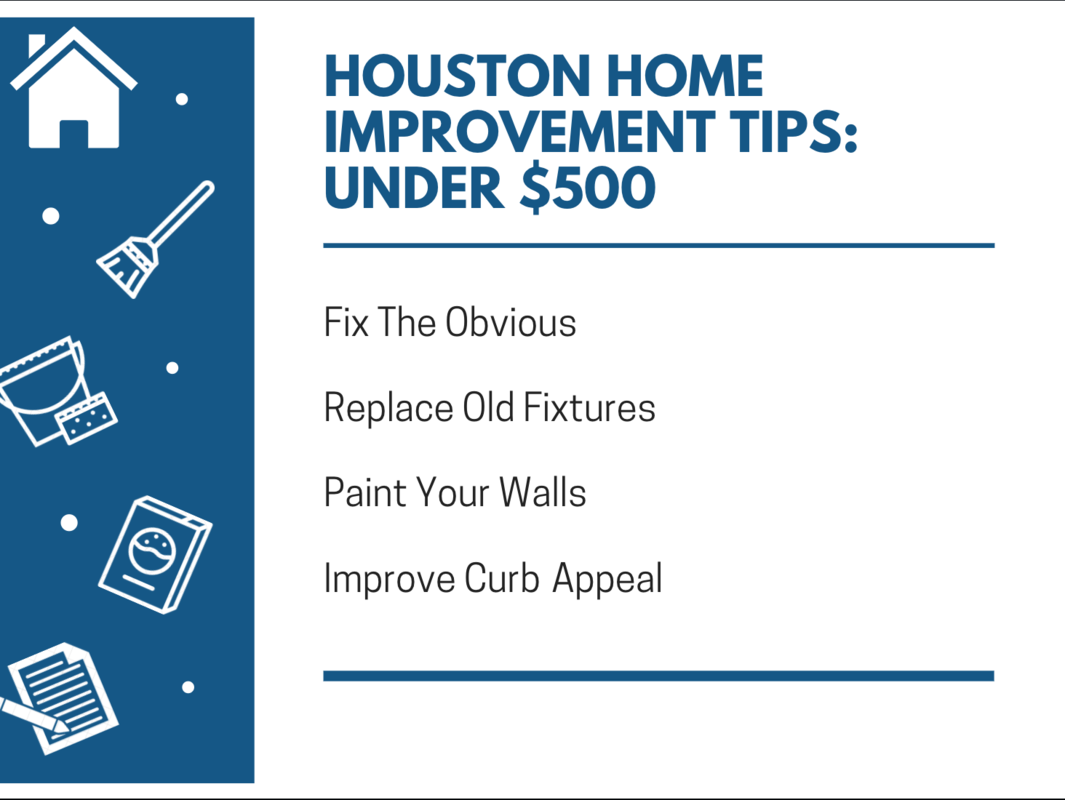 Overlooked minor repairs tell buyers that there are "bigger, more expensive" issues looming. Contact us for a more comprehensive Houston home renovation guide according to your neighborhood and property type.
Fix The Obvious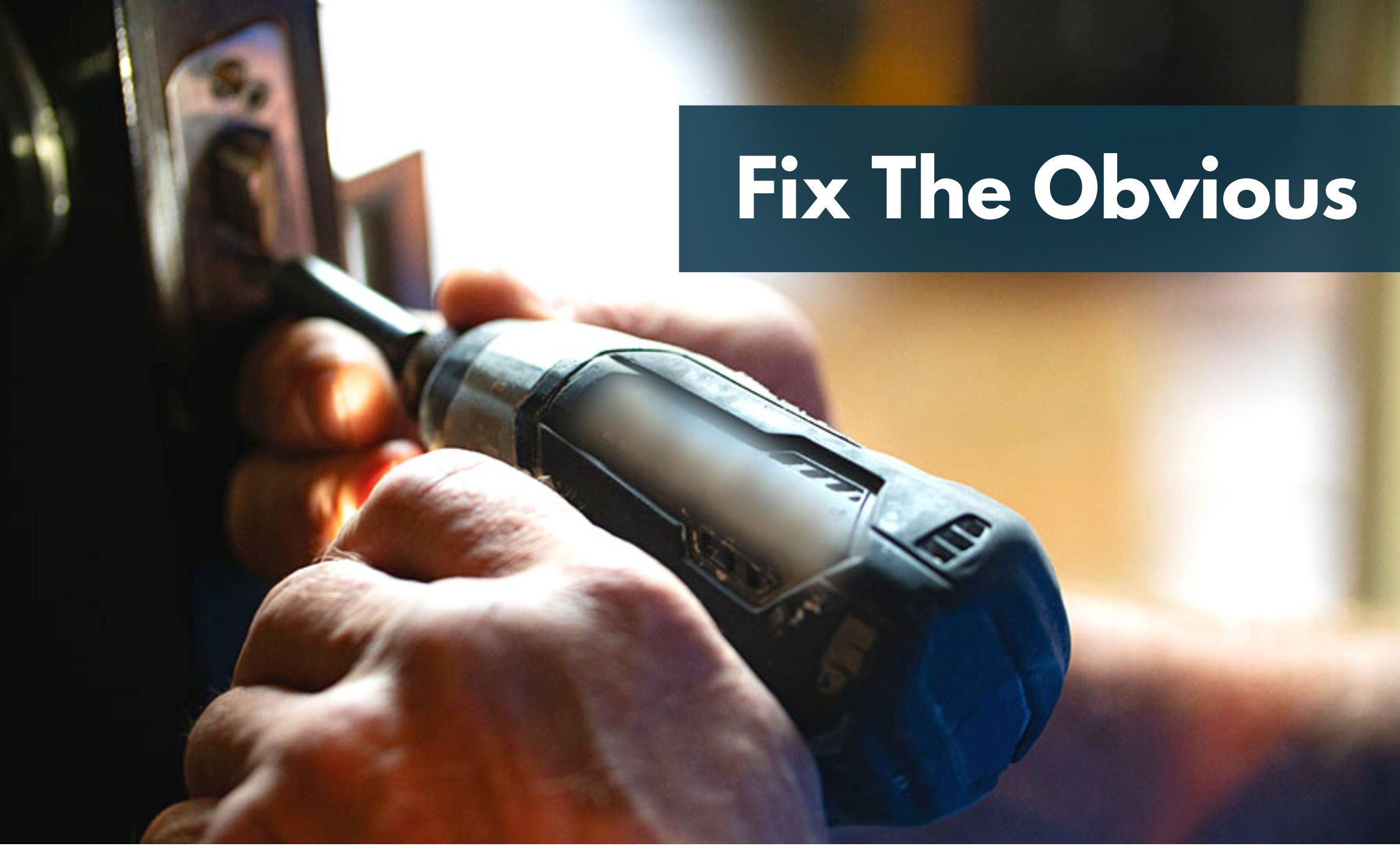 At this stage, you have to determine what home improvements add the most value. If a buyer notices a number of items in need of repair while walking through your house, it will them to the assumption that the property is not well cared for, or that there could be bigger and more expensive repairs looming.
You can avoid this by "fixing the obvious", or simply going through apparent home improvements that are easily seen at first glance.  For example, if you notice wood rot on your front porch leading to your front door, have it repaired so you make a better first impression.
Take care of the conspicuous issues you see (eg replace burned-out light bulbs, make sure all fans work, fix dings or scuffs on the wall), especially in high traffic areas.
Swap Out Old Fixtures & Hardware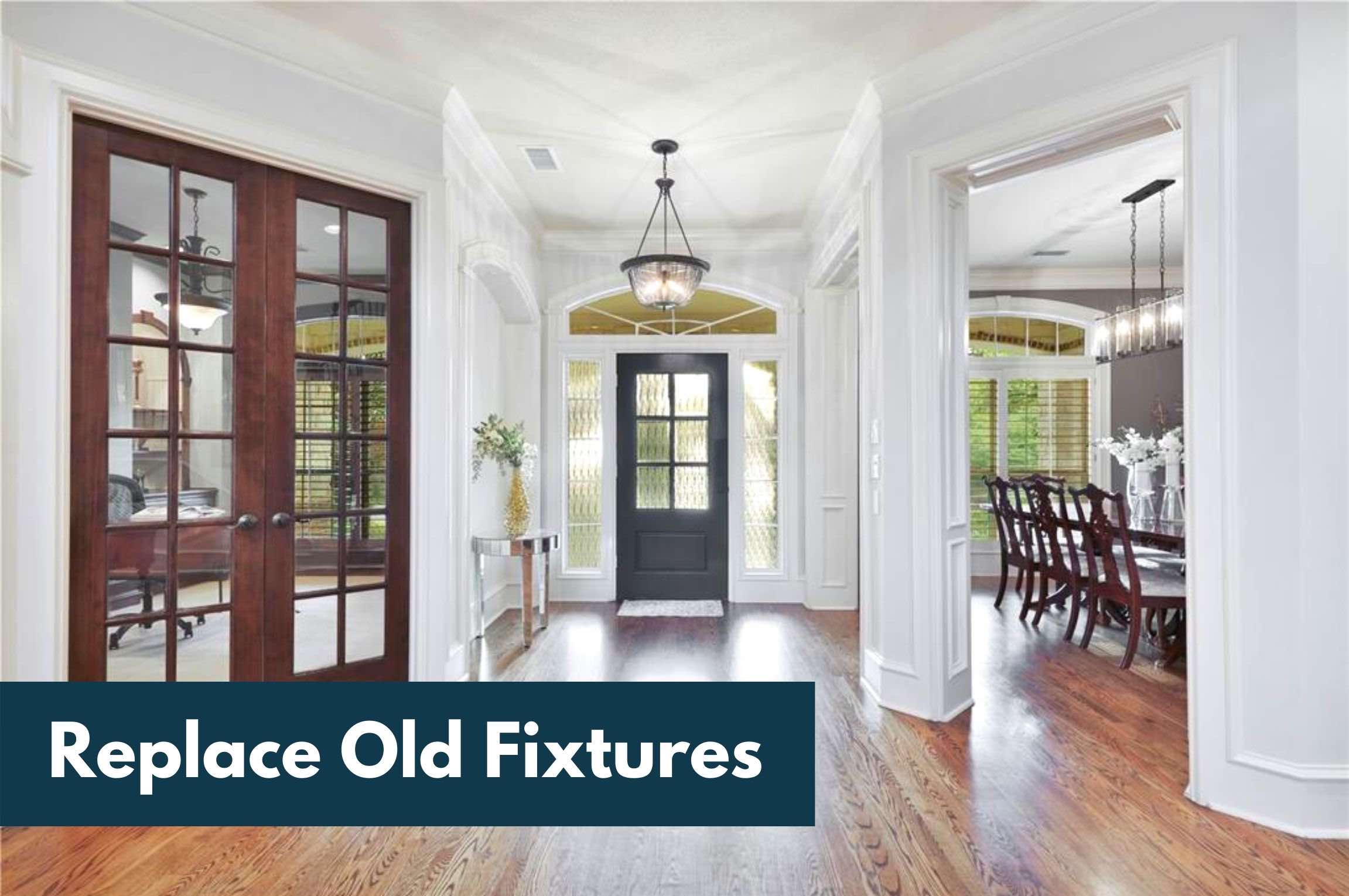 Another big turnoff for homebuyers is having outdated fixtures and appliances. While you can't replace appliances when on a budget, you can easily swap out old-looking fixtures.
Buy new door handles, wall outlets and cabinet fixtures at a Home Depot or Lowe's for a few hundred dollars, and easily give a makeover to the most important rooms, including:
Entryway (remember, 1st impressions matter)
Hallways
Kitchens
Bathrooms
Giving attention to these important repairs before selling a house can greatly increase your chances of getting your home sold in the shortest amount of time.
Improve Lighting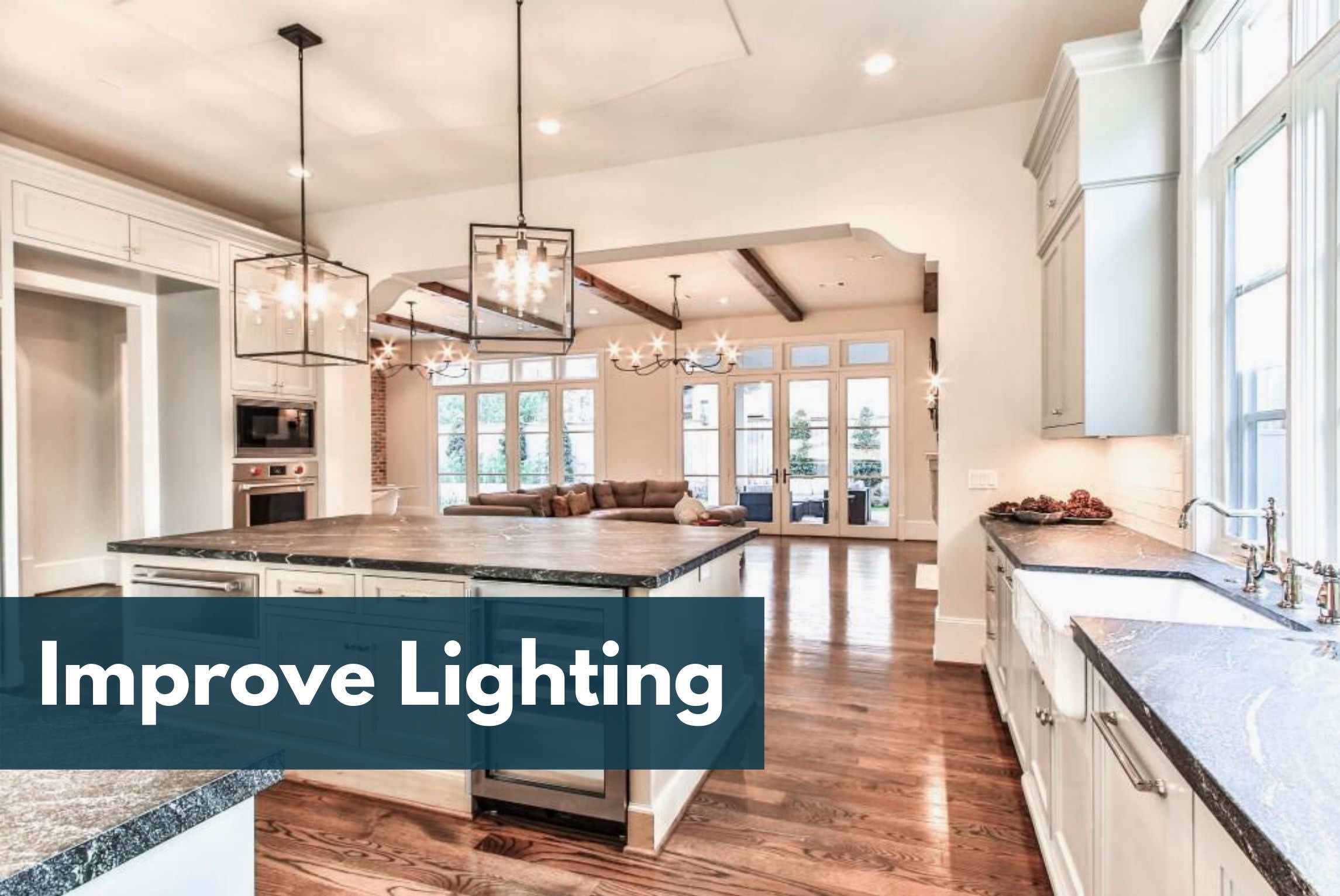 Inexpensive replacements of old & dated light fixtures from a home improvement store can make a room look more current, especially if the house is being shown empty.
If you're handy, you can also take the "DIY" route and paint out-of-style fixtures & replace shades for a much-improved look at a much lower cost.
If you have old, heavy draperies that can block out the light, consider removing those or replacing them with faux wood blinds to allow more light to come in. You can also try adding a single large mirror to a room so it can help visually enlarge the space. These may be small improvements, but they're vital home updates that increase value.
Paint Your Walls (Make It A DIY Painting Project)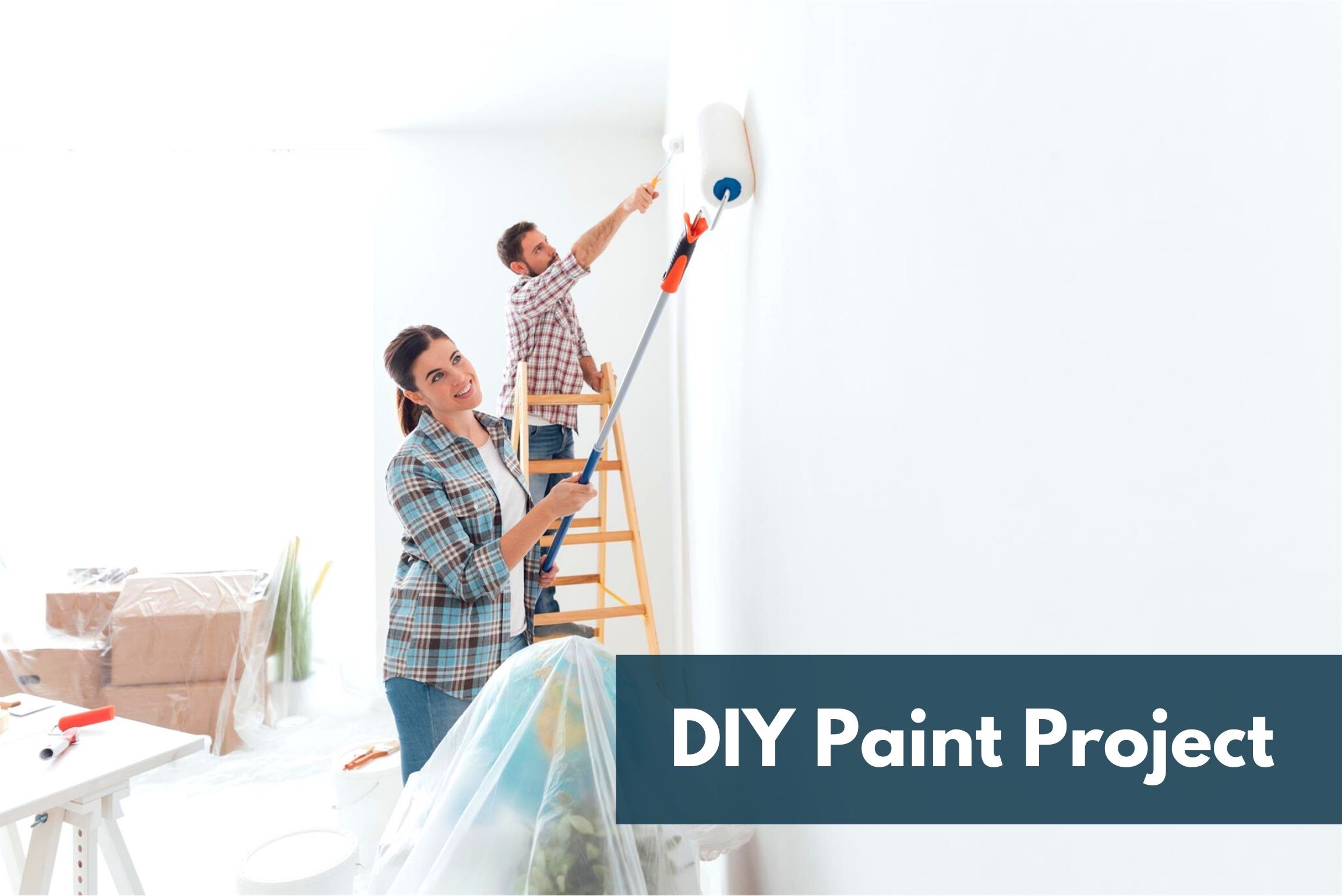 Painting your walls can instantly brighten up your house and make it appear in even better condition.
Freshly painted rooms look clean and current. When selecting paint colors, keep in mind that neutrals appeal to most people.
There are plenty of online guides and video tutorials on effective home painting techniques. With just a few gallons of paint and a couple of brushes and rollers, you can give your house a "newly-bought" vibe.
Work On Curb Appeal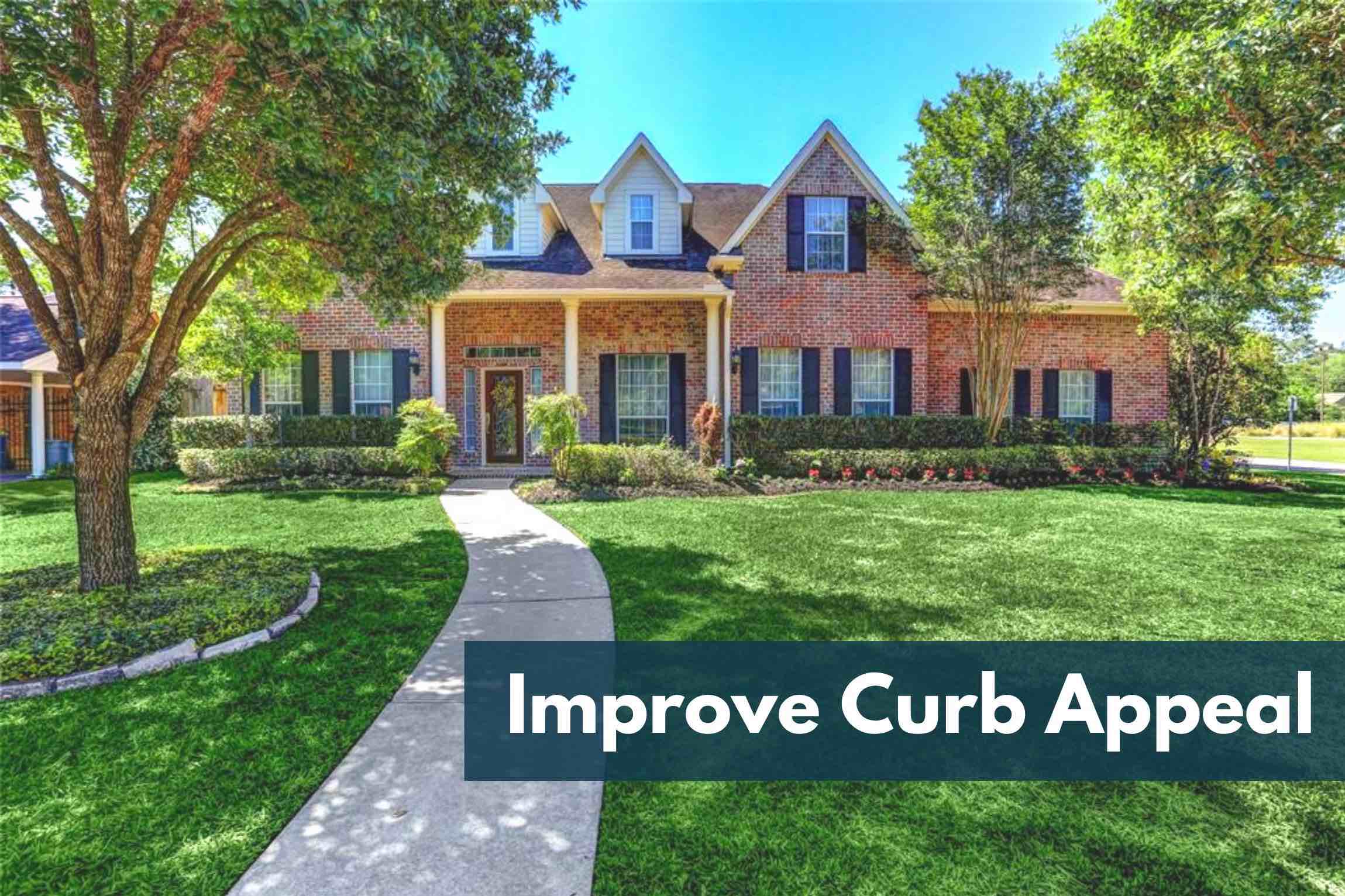 Focus on the first 10 seconds of a buyer's experience.
Cut the lawn, put fresh mulch down, trim the hedges, and ensure that the buyer's entrance into the home allows for effortless access and promotes a "fresh and clean" appearance.
If you're selling a single-family home, tidy up your front porch. Check if it needs a fresh coat of paint or a powerwash.
If you're selling a condo, make sure your door is clean and tight.  Notice the first things that a buyer sees when they open the door and make the necessary improvements (make it light, bright and attractive).
---
Home Renovations For Under $5,000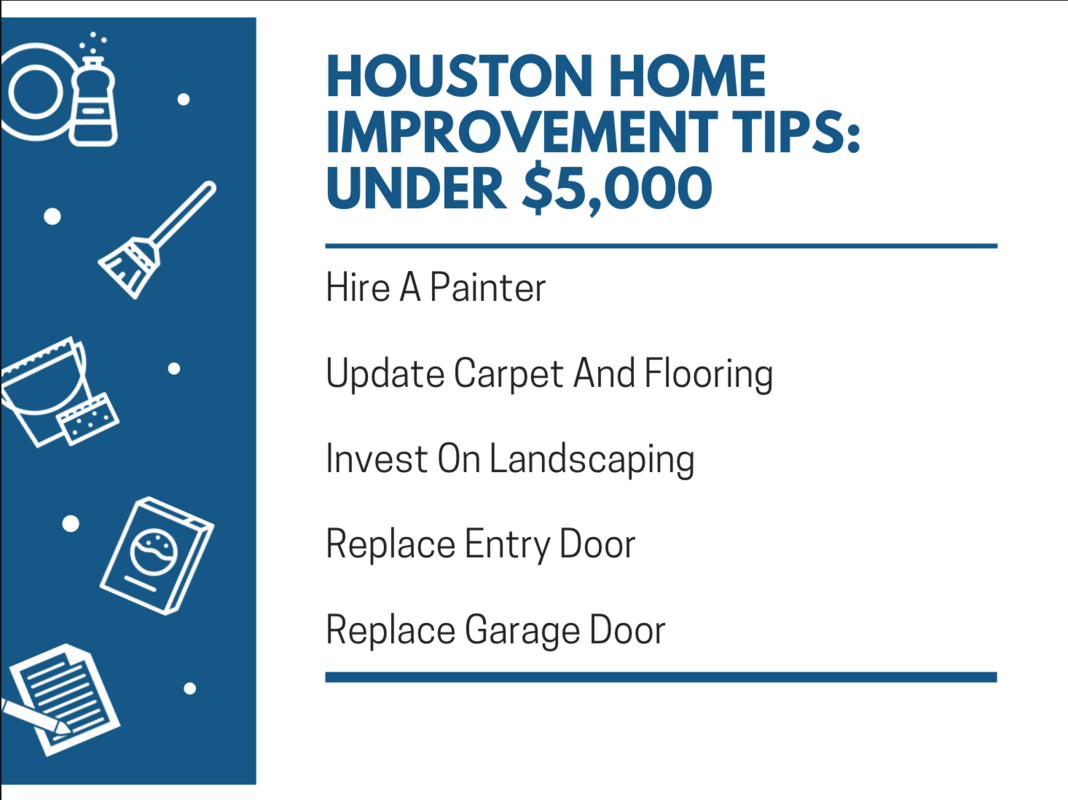 "What an incredible experience! They sold our home in 7 days but more importantly, Brad and Laura were incredibly responsive, attentive, and detail-oriented. The Houston Properties Team does not cut corners on pictures, staging or even the little things like snacks, water and bringing in the mail. I can't say enough things about Brad's professionalism, aggressiveness and responsiveness." - Brandon | Google Review
Professional Paint Job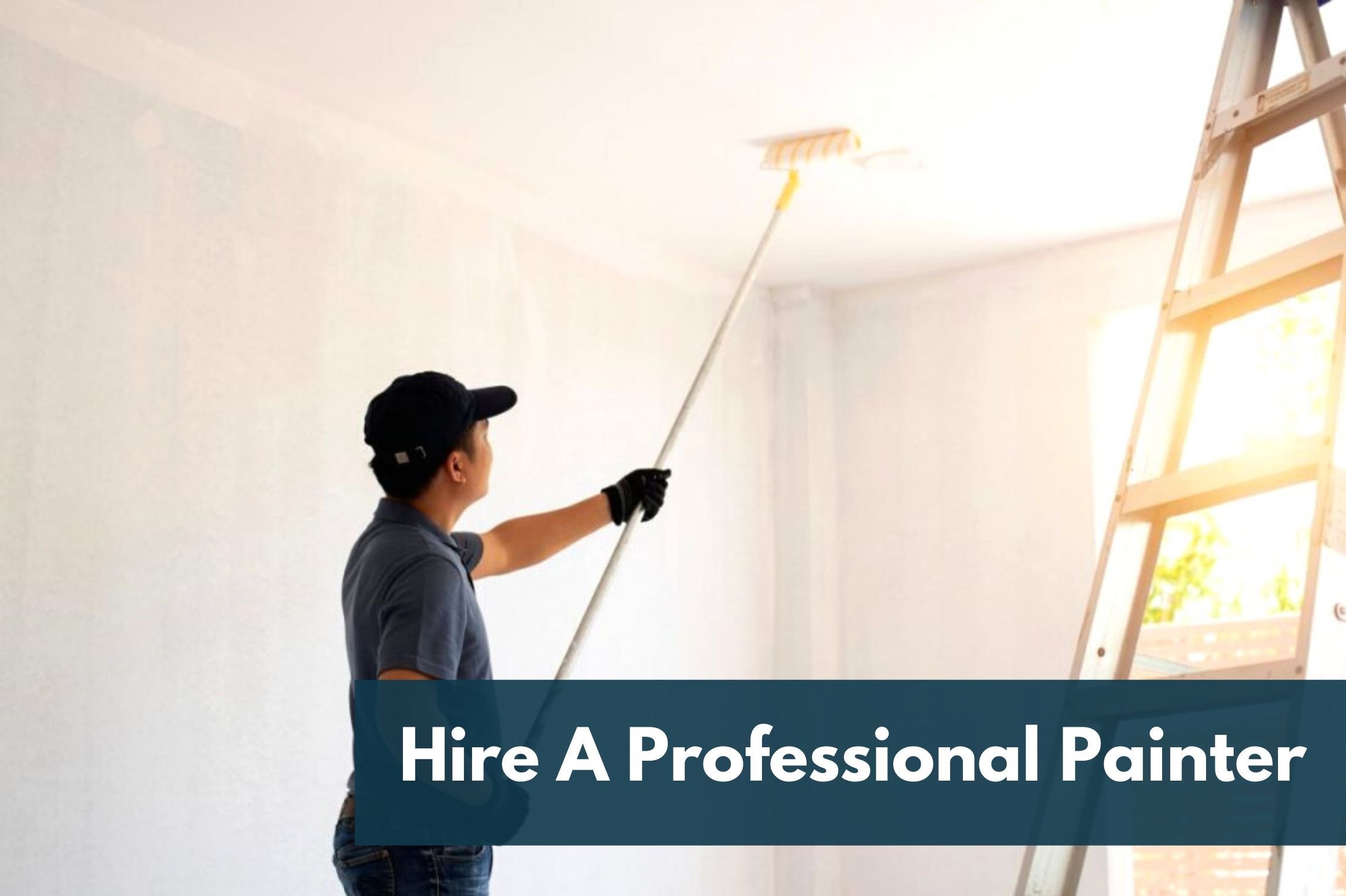 As mentioned in a previous tip, a fresh coat of paint is considered one of the best home improvements for resale. It helps immensely in making a house look new. If you have the budget for it, hire professionals to take care of your house painting job to ensure quality, hassle-free work.
Aside from the added curb appeal, regularly painting your house helps improve its longevity. You need a fresh coat of paint or sealant every 2 to 10 years for wood siding and every 15 to 25 years for fiber-cement.
Upgrade Carpet & Flooring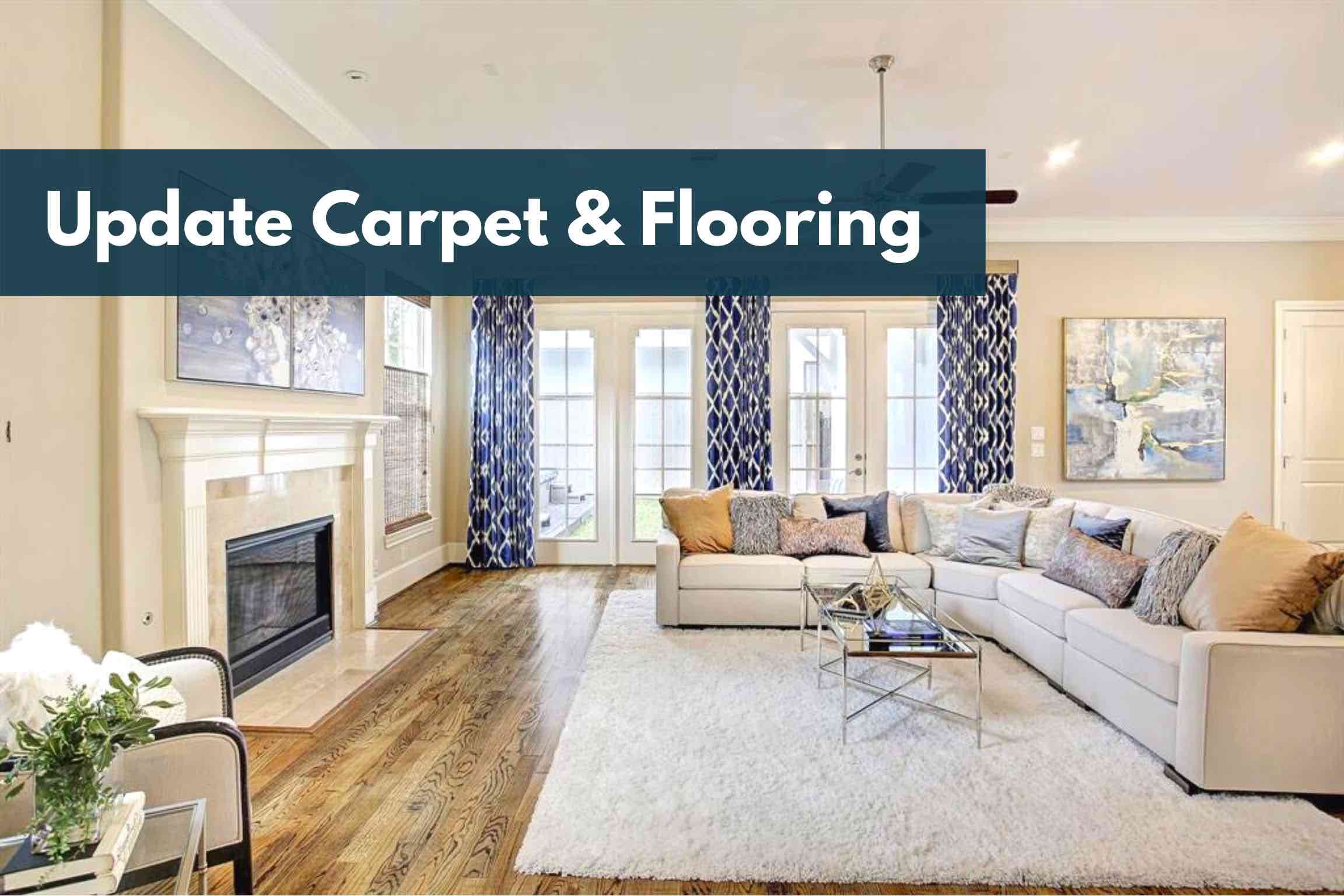 If your carpet or flooring shows a lot of wear and tear, it can make the home look dated.
Much like a fresh coat of paint, a new carpet or refinished flooring can really bring a home up to a buyer's expectations quickly and cost-effectively.
If you're improving only one or two areas, make them count. Prioritize rooms that buyers first encounter when they enter the home or those that need upgrading the most.
Landscaping Touch-Up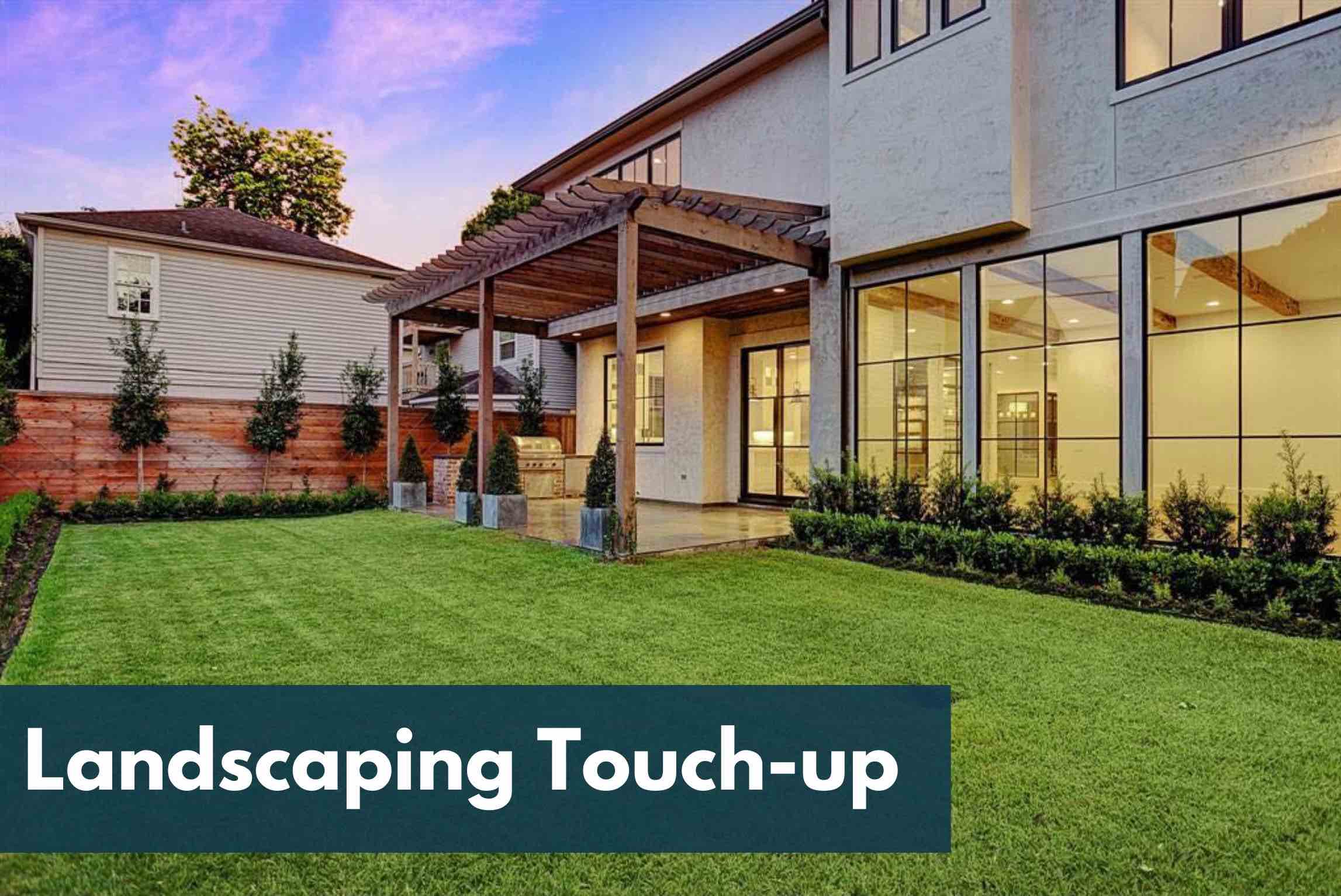 Landscaping can increase the value of your home by about 5.5-12.7%(3).
Curb appeal plays a big role in reeling in the interest of homebuyers. According to Manta, average landscaping costs are around $1,500-$2,000(4).
At a minimum, ensure that your lawn is well cared for (cut the grass, replace patches of dead grass, and trim overgrown trees or hedges).
Entry Door Replacement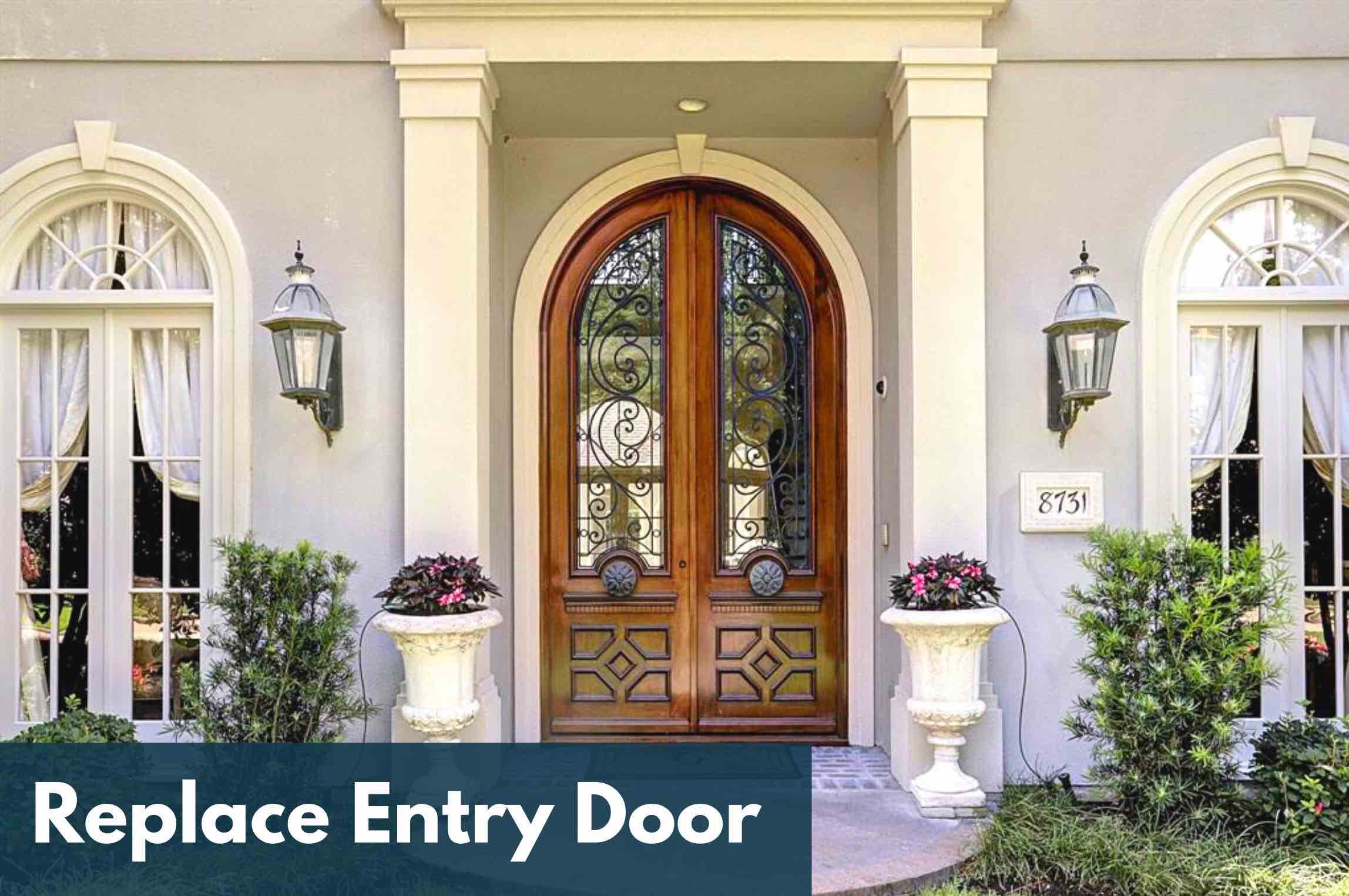 Your entry door is one of the first things a potential home buyer sees.
The return on investment (ROI) not only improves your home's exterior but is also profitable in the long run. Replacing your entry door is one of the most prominent renovations you can make before selling.
Garage Door Replacement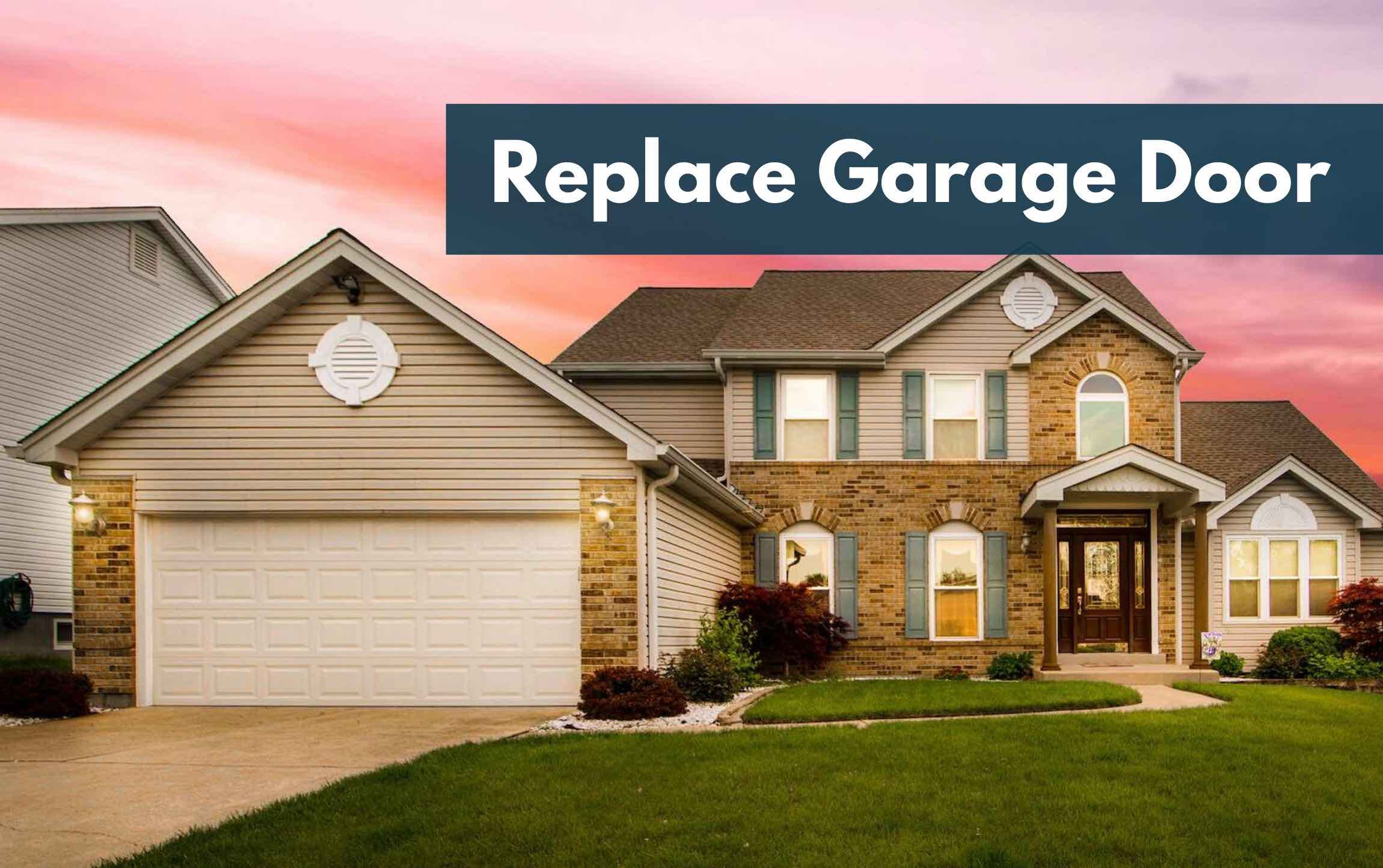 A garage door replacement is one of the Cost Vs Value report's "Best Deals"(5) with a 91% return on investment.
From personal experience, this value is best realized if your home features a garage door that is visible from the front of the house.
If your garage door is on the side of the house, at the back of the property or more hidden from immediate view, it's more practical to invest your money elsewhere.
---
Home Renovations For Over $5,000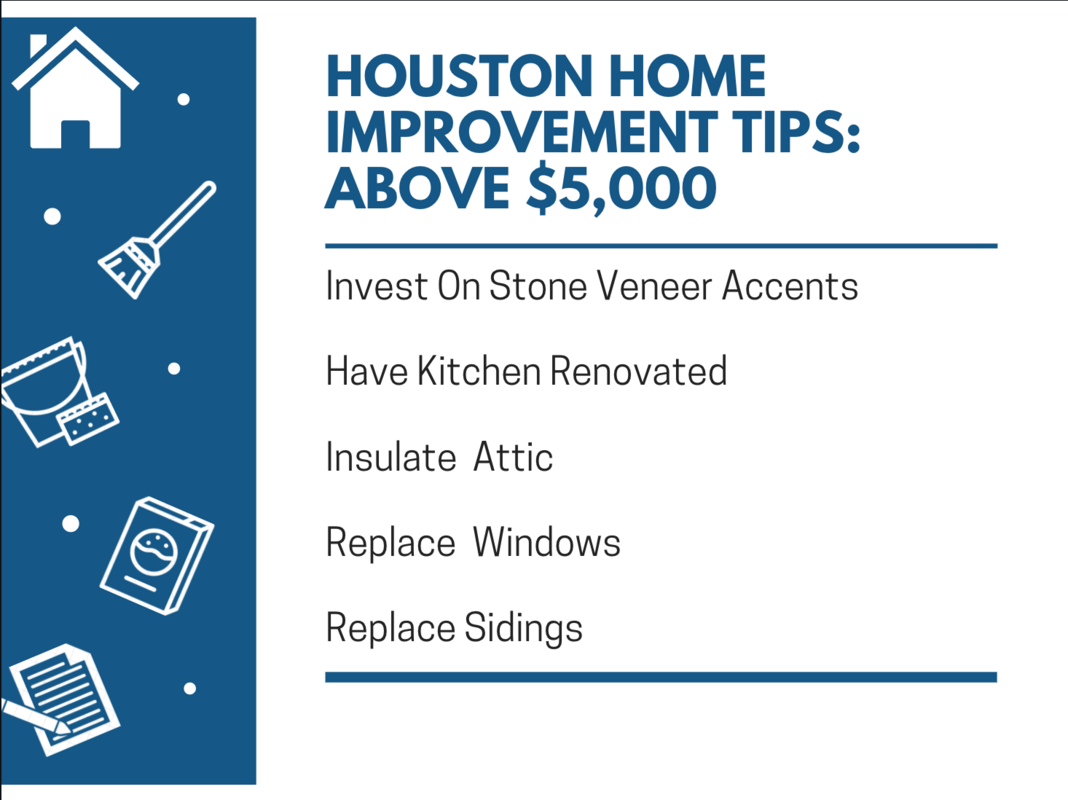 While some home improvement projects are high on the budget, much of the value comes in helping you sell your house fast and for the most money. Contact the Houston Properties Team for a custom home improvement value calculator and more advice on what home improvements increase home value.
Add Stone Veneer Accents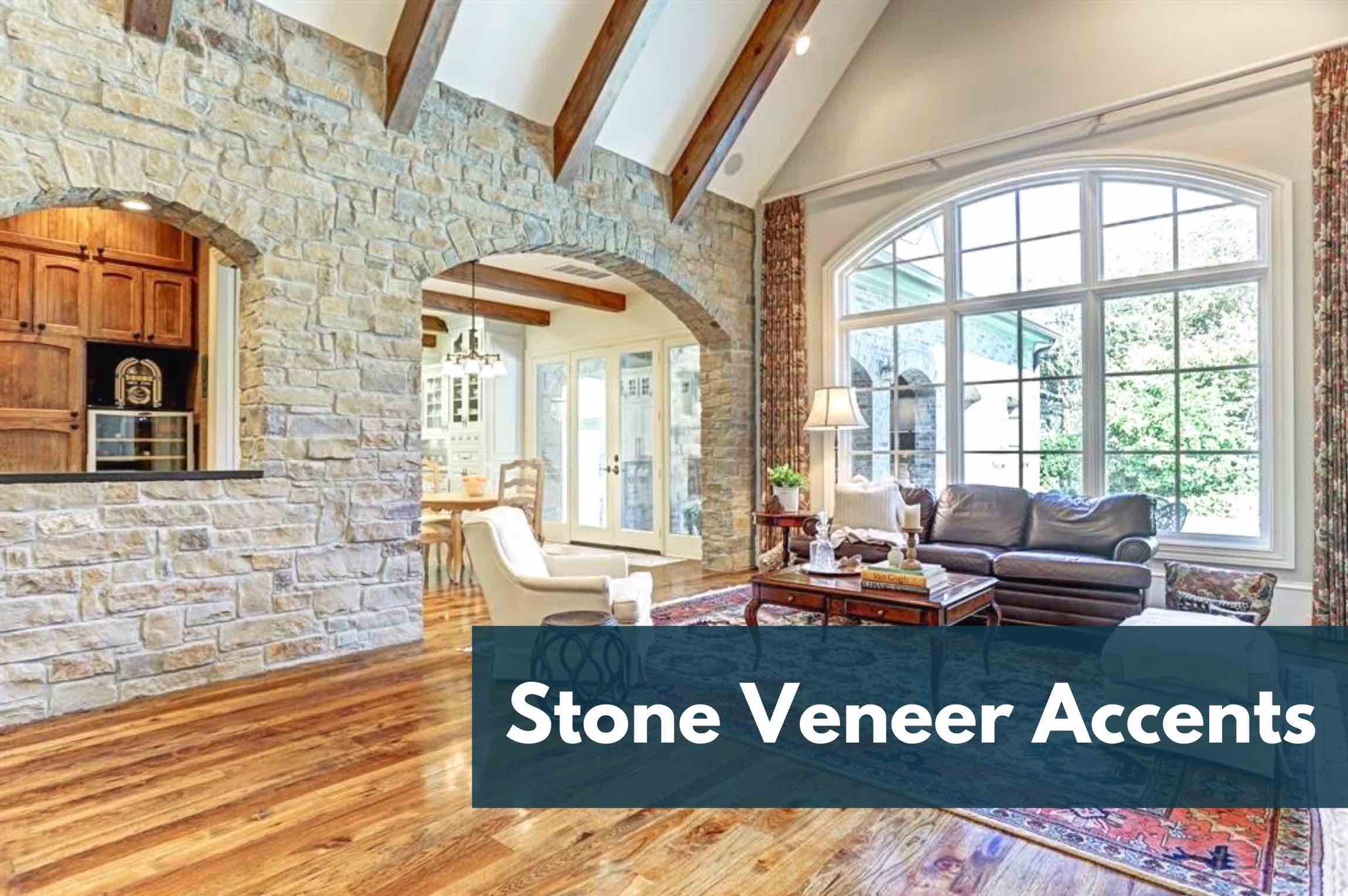 Installing stone veneer accents on your wall can be one of the best home improvement investments. For an average spend of $10,310, you stand to recoup $9,176 (89%) when you sell your home.
Even if you're not planning to sell, stone veneer accents add a touch of timeless beauty and a grounded, earthly appeal to your home.
Kitchen Renovation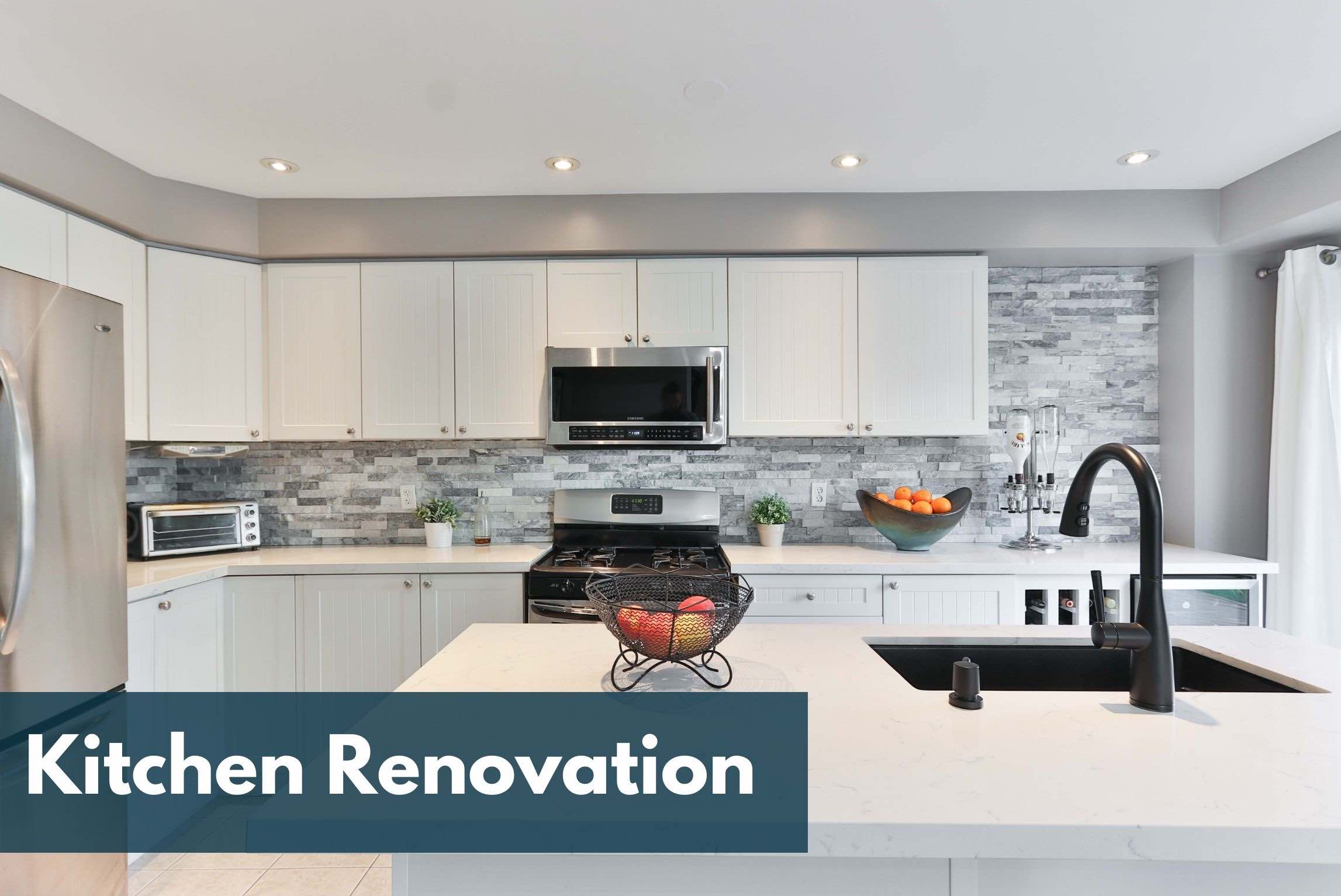 Kitchen remodeling can potentially be one of the best things to do to increase home value as well. Next to the master bedroom, a beautiful and practical kitchen is the second most attractive interior feature to homebuyers.
Depending on your kitchen renovation inspiration, you can have minor kitchen renovations at around $24,000 or major kitchen remodelling for roughly $70,000. Recouped costs are at 75% (minor renovation) and 56% (major remodelling).
Window Replacement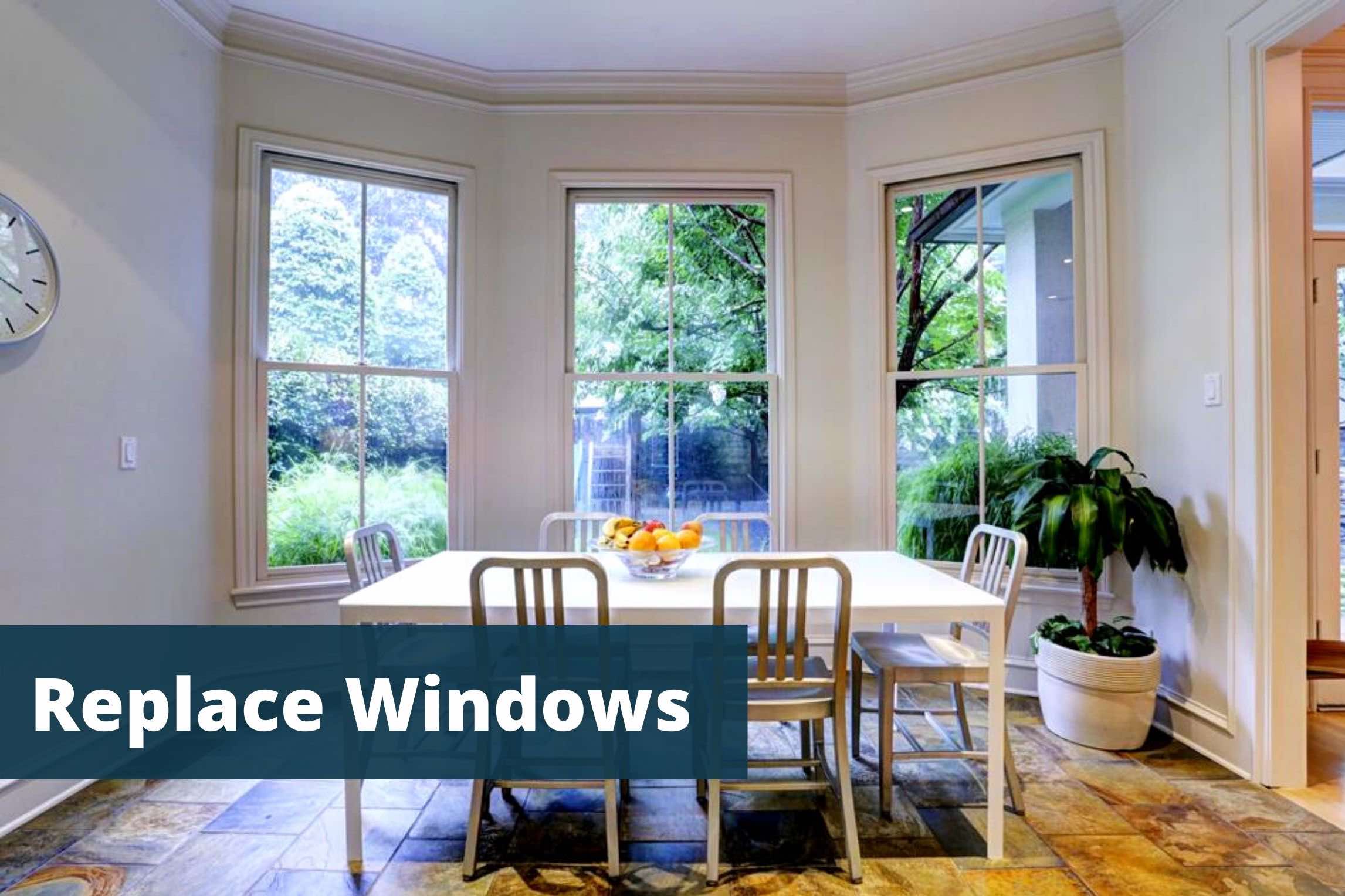 Window replacements can cost between $20,000 to $25,000, depending on the quality of your home and the materials (usually vinyl or wood) used. Costs recouped when selling is between 60-70%.
Personally, I have yet to see a buyer pay specifically more for a home because windows have been replaced. They appreciate the replacement but don't equate the same level of value to this project as a seller would.
Because this upgrade is often done for energy conservation, consider making this improvement during the early stages of your homeownership, as you need to recoup as much of this investment yourself as opposed to earning it back on resale.
Replace Sidings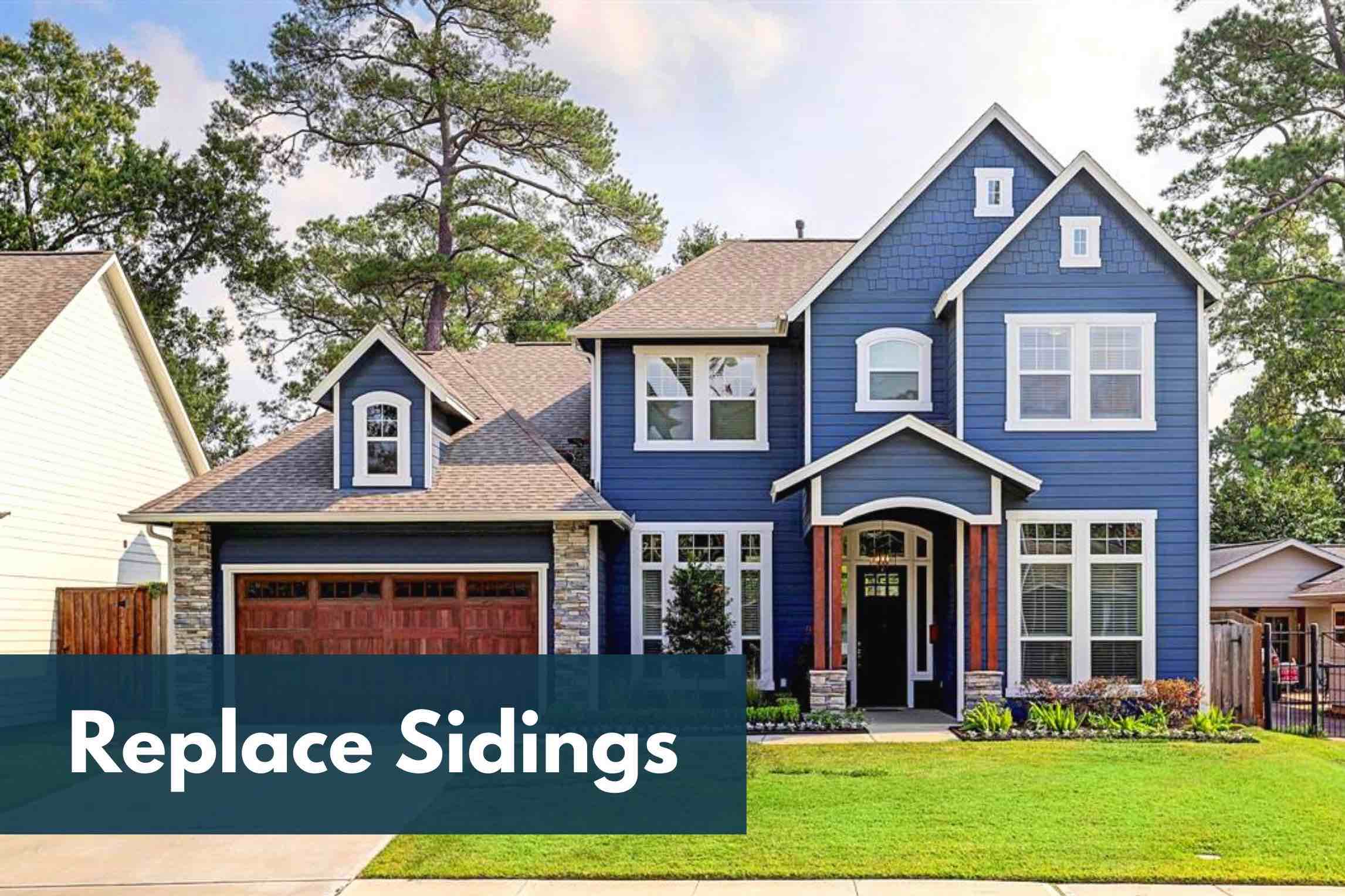 Quality siding replacements offer longevity and resistance to termites, moisture, rot, and fire. Renovation costs are between $14,000 to $18,000. You stand to recoup 70% of what you shell out. From my professional experience, this helps with curb appeal in a crucial way (especially on older homes or properties that have experienced significant wood rot).
However, for many buyers, this replacement is viewed more as a maintenance requirement than an upgrade. Like window replacements, this is noticed and appreciated but is typically not a dollar-for-dollar return on investment.
Candid disclosure: In nearly every one of these "best projects", it's likely that you won't get 100% of your investment back out of the property - but they're the projects that show the most evident results.
---
Recovering From A Flood Or Winter Freeze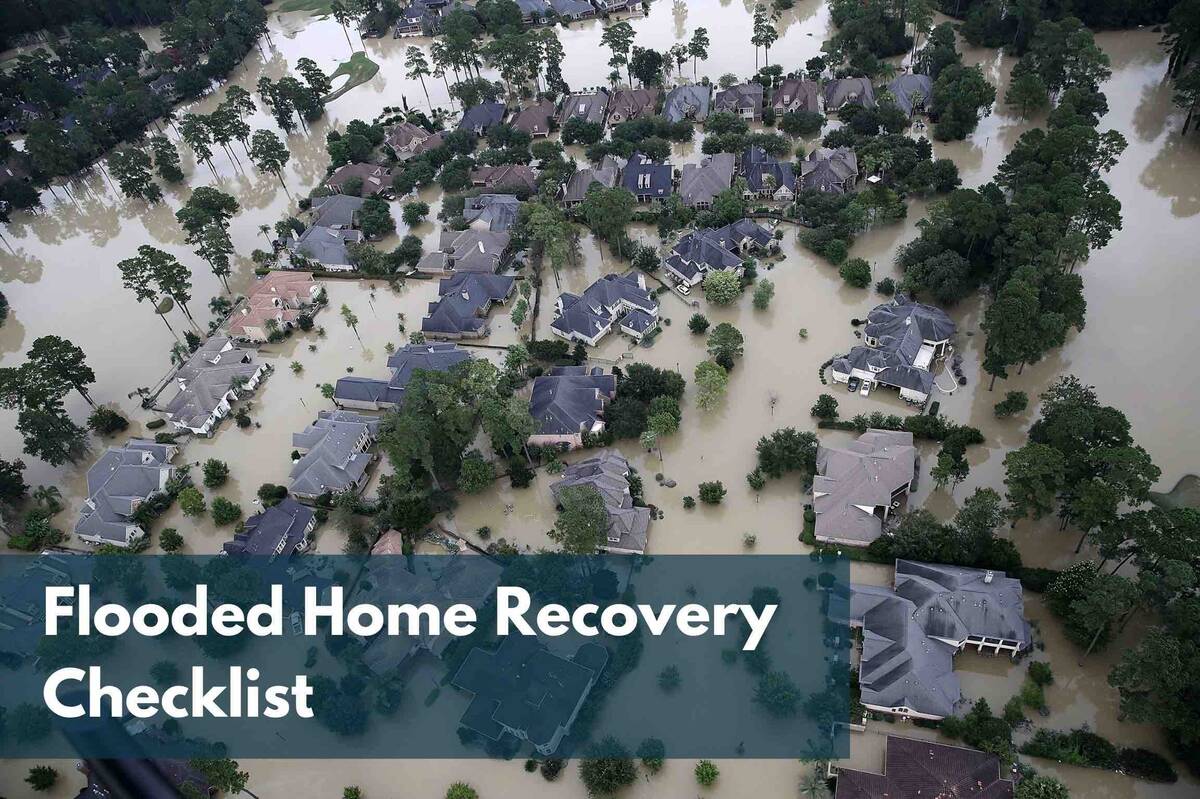 For those forced to rebuild due to flooding damages and planning to sell their homes in the near future, here are five things to watch out for. Contact the Houston Properties team for more home improvements to make before selling, depending on your neighborhood and property.
Flooding can wreak havoc in your home's value. Hurricane Harvey dumped over 50 inches of rain and caused over $180 billion in damages. The hurricane also displaced more than a million people from their homes.
We also saw city-wide power loss and plumbing issues during the recent winter freeze.
The scary thing is, only 17% of homeowners in the eight counties heavily affected by Harvey had flood insurance. Thousands of homeowners had to deal with long waiting lists for plumbing services post freeze.
For those forced to rebuild due to flooding damages and those planning to remodel to better prepare for the future, here are 5 important parts of your home to check on post-flooding.
Pipes and Drainage
Piping and drainage are easily among the most overlooked parts of the home. It's not only very hard to update due to its location, but it also doesn't present a lot of issues until it's too late.
If you try to look at the bright side, one small but crucial advantage of a home recovering from a flood is that it allows better access to the piping and drainage system.
Take advantage of the displacement and have your contractors check your pipes and drainage. Usual damages include cracks, leaks, and clogging. If you have an older home and never had any piping work done before, look into replacing the pipes and tubings entirely.
Molding
Aside from being a major health risk, mold can cause further damage to wood floors, ceiling tiles, drywall and other parts of a house if left untreated.
Within a day of a flood, mold can begin forming. Two of the biggest warning signs are discoloration and a strong musty smell. It's important to remove items from the home if they've been soaked with water and can't be fully dried. This can include everything from rugs and furniture to drywall and appliances.
Electrical Outlets
Developers build homes with a general idea of where the most ideal locations are for lighting, plugs, and sockets. The homeowner has a better idea of where exactly these outlets should be located.
Work with your contractor and map out the exact locations for your plugs and sockets. With everything currently displaced, you can also request additional outlets added all throughout your home. This helps get rid of octopus wiring and exposed outlets.
You can also ask your builder to spot-check your home's electrical system to make sure everything is in order. Replace everything that needs replacing, and ensure that there are no issues.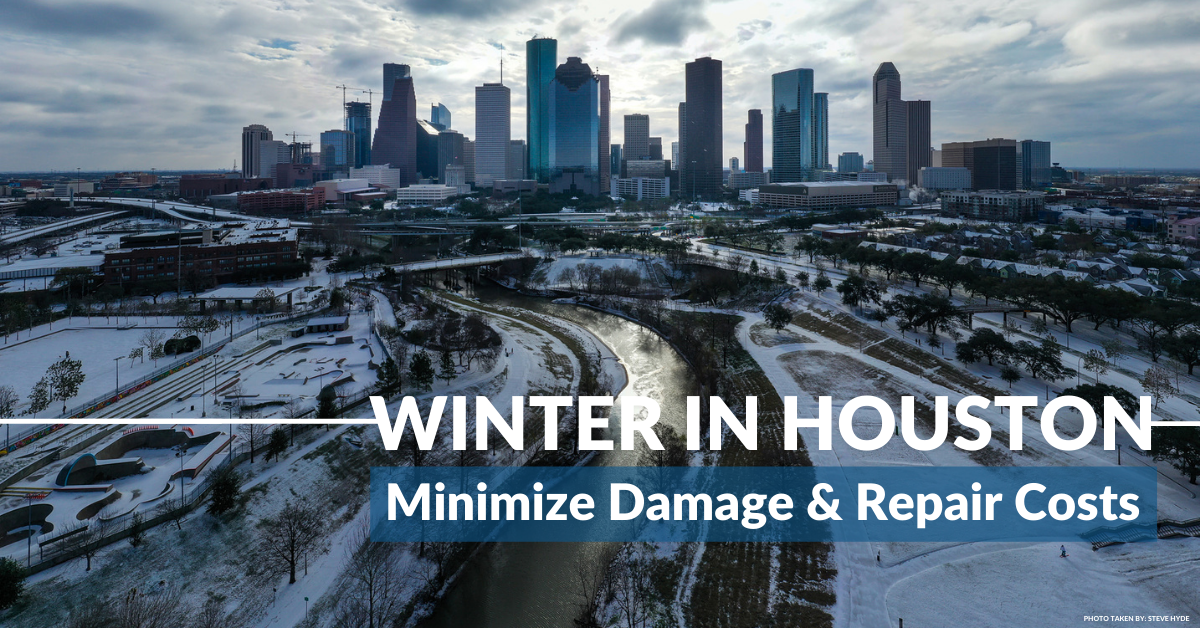 Flooring
Some parts of Houston have always been prone to flooding. Most homebuilders prepare for this by using floors not susceptible to water damage. However, too much exposure to water is still detrimental to any type of flooring. This is especially true for homes that use carpeting, hardwood floors, and laminated tops.
Consider installing tiles and other concrete or ceramic-based materials. Stay away from hardwood, laminated tops, and carpets.
Homeowners in flood-prone areas should also consider raising the floor off the concrete with rubber feet, making a small channel below where moisture can run.
Windows and Home Exteriors
If your windows were damaged to the point that they need replacing, it might be a good idea to also secure them better during the process.
Talk to your contractor and look into installing hurricane or wind-rated windows and doors. Have them check your window's jambs, sills, and overall frame. Ask them to replace these with high-grade materials if needed.
Look into updating home exteriors with solid brick and stucco siding. Avoid vinyl sidings as they are easily torn off by strong winds and are more susceptible to water damage.
Invest In Generators
Generators are expensive but can be quite a blessing during calamities. Many homes lost power for days after Hurricane Harvey and during the recent winter freeze.
In the latest Houston edition of the (Cost vs Value Report)(5) , a backup power generator usually costs in the $10,000 to $15,000 range. The recouped cost is at 50%.
Portable generators are less expensive, typically between $400 and $1,500. It can only power the sump pump and other basic electrical needs during a disaster. You'll also need to manually hook it up and fill it with gas.
Generators may stand idle most of the time. However, when the need for it does arise, it can make all the difference when it comes to your family's comfort.
---
Houston Home Value Improvement Checklist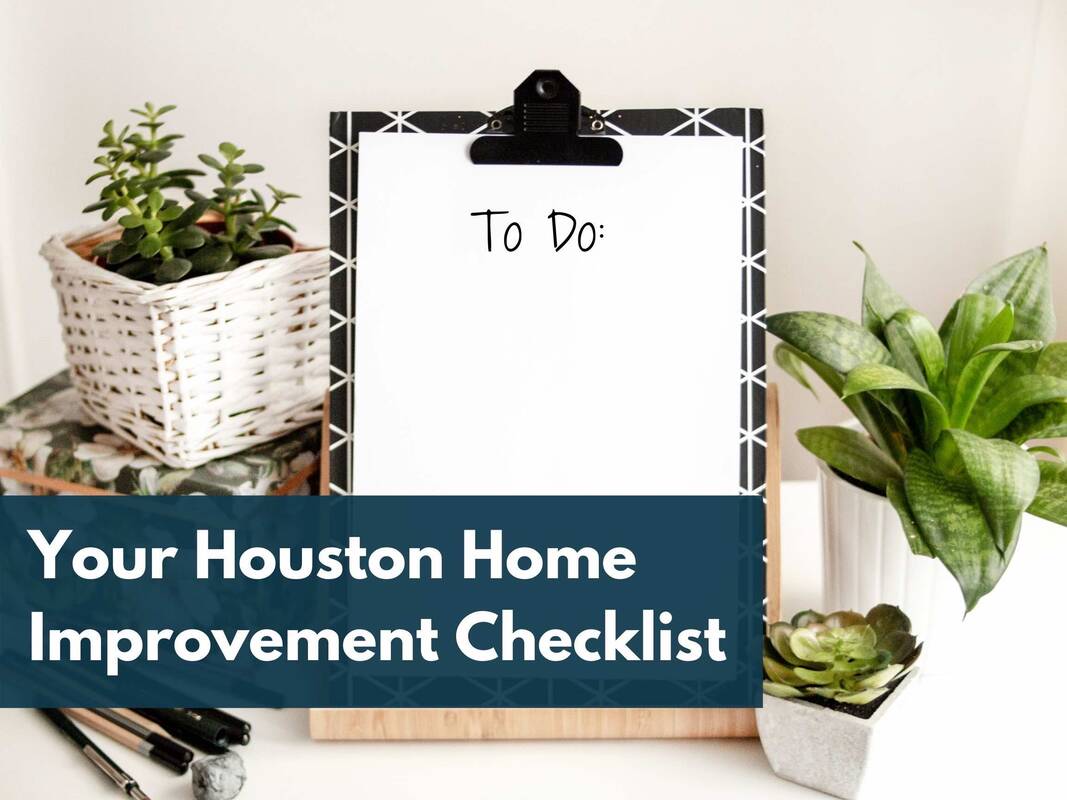 Every home that goes to market presents a unique set of challenges. Contact us, the #1 boutique real estate team in Houston, for more comprehensive advice on what renovations add value to a home, depending on where it's located.
Before entertaining any buyers, prep your home like you're about to have guests over. Here's a helpful checklist of some of the most important things to do before selling your house. :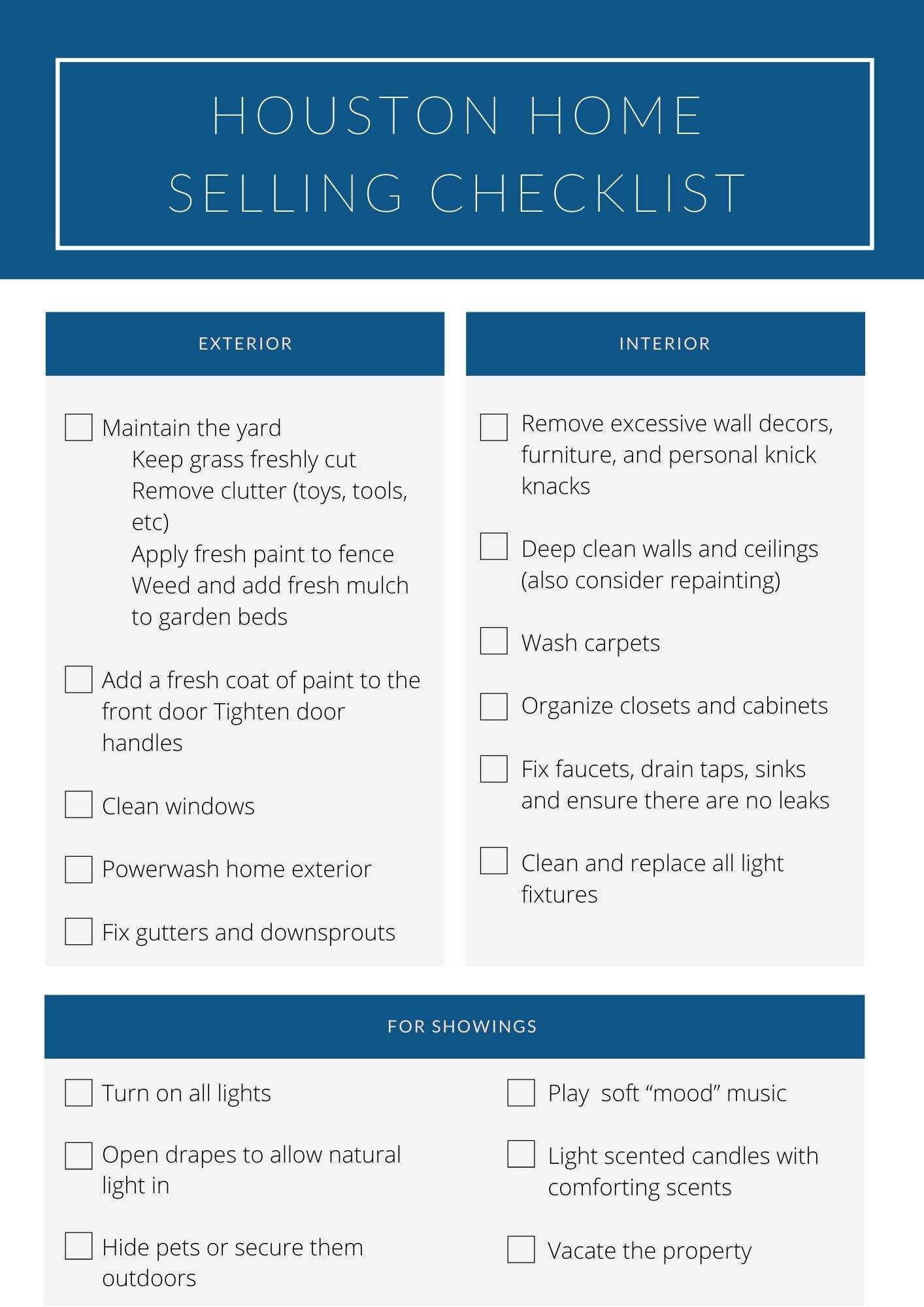 With this home improvement checklist, you can easily keep track of everything you need to do to get the most out of your home. Follow these tips and you're one step closer to selling your Houston home fast and for the most money.
---
Sources, Methodology & Disclosures

With all the available information out there about Houston's top areas, it can be confusing when finally making a decision on which neighborhood to choose. We provide comprehensive and substantial Houston home guides and Houston real estate market news to keep you informed and up-to-date. Get advice from the best Houston Realtors and remove the guesswork when looking for one of the best homes in Houston to live in.
(1) https://www.lakehomes.com/info/articles-and-news/top-10-turn-offs-potential-home-buyers
(2) https://www.nar.realtor/research-and-statistics/research-reports/profile-of-home-staging
(3) https://www.pubs.ext.vt.edu/content/dam/pubs_ext_vt_edu/426/426-087/426-087.pdf
(4) https://www.manta.com/cost-landscaping-houston-tx
(5) https://www.remodeling.hw.net/cost-vs-value/2021/
Data is deemed accurate but is not guaranteed. Information is provided for informational purposes only.
We don't have a crystal ball. All predictions are our educated guesses. Caveat emptor.
---
Best Realtors To Sell Your Home: The Houston Properties Team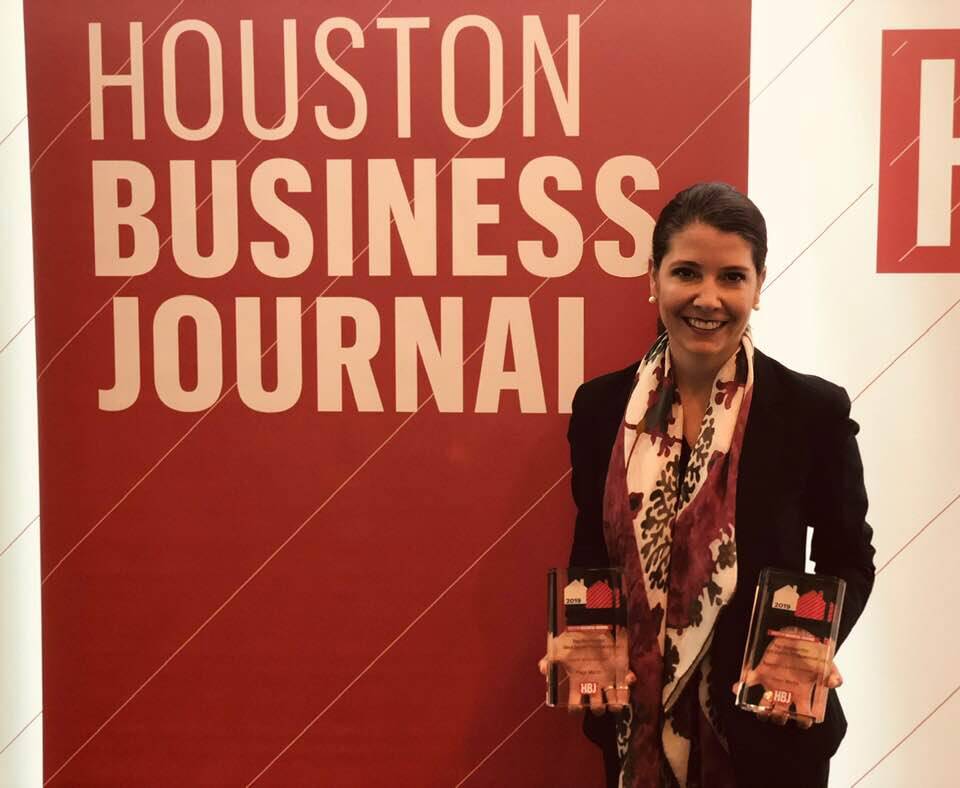 The Houston Properties Team has a well-defined structure based on the individual strengths of each member. Each member is a specialist in their role – which is why our homes sell faster and for more money than average.
Paige Martin, Broker Associate with Keller Williams Realty, and the Houston Properties Team are ranked amongst the top residential Realtors in the world.
They have been featured on TV and in dozens of publications including: The Wall Street Journal, Fortune Magazine, Reuters, Fox News in the Morning, Money Magazine, Houston Business Journal, Houstonia, and Houston Chronicle.
Paige Martin was just ranked as the #5 agent in the world with Keller Williams, and has completed over $1,000,000,000 in Houston residential real estate sales.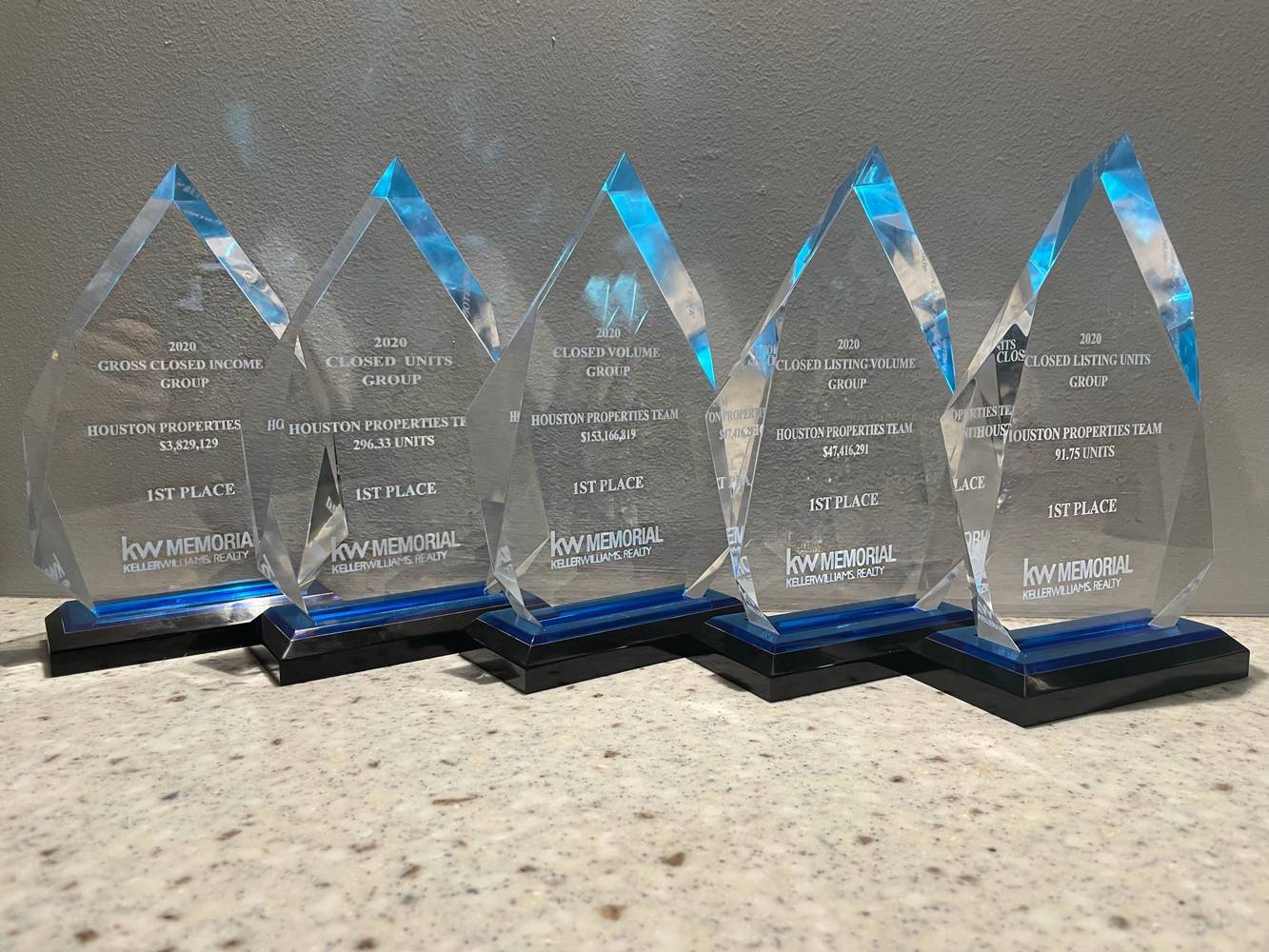 Recent awards include:
2020: Top Real Estate Team (Houston Properties Team), Houston Business Journal
2020: #6 Individual Agent, Keller Williams, Worldwide
2020: #1 Individual Agent, Keller Williams, Texas (Top Keller Williams Realtor)
2020: #1 Real Estate Team, Keller Williams Memorial
2019: Top Residential Realtors in Houston, Houston Business Journal
2019: America's Best Real Estate Agents, RealTrends.com
2019: #5 Individual Agent, KW Worldwide
2019: #1 Individual Agent, KW Texas
2018: #5 Individual Agent, Keller Williams, Worldwide
2018: #1 Individual Agent, Keller Williams, Texas
2018: #1 Individual Agent, Keller Williams, Houston
2018: America's Best Real Estate Agents, RealTrends.com
2018: Top 25 Residential Realtor in Houston, Houston Business Journal
2018: Texas' Most Influential Realtors
2017: #1 Individual Agent, Keller Williams, Texas
2017: #1 Individual Agent, Keller Williams, Houston
2017: #10 Individual Agent, Keller Williams, Worldwide
2017: America's Best Real Estate Agents, RealTrends.com
2017: Top 25 Residential Realtor in Houston, Houston Business Journal
2017: Texas' Most Influential Realtors
2016: #1 Individual Agent, Keller Williams, Texas
2016: #1 Individual Agent, Keller Williams, Houston
2016: #20 Individual Agent, Keller Williams, Worldwide
2016: Texas' Most Influential Realtors
2016: Top 25 Residential Realtor in Houston, HBJ
2016: Five Star Realtor, Featured in Texas Monthly
2016: America's Best Real Estate Agents, RealTrends.com
2015: #9 Individual Agent, Keller Williams, United States
2015: #1 Individual Agent, Keller Williams, Texas
2015: #1 Individual Agent, Keller Williams, Houston
2015: America's Best Real Estate Agents, RealTrends.com
2015: Top 25 Residential Realtor in Houston, HBJ
2015: Five Star Realtor, Texas Monthly Magazine
2014: America's Best Real Estate Agents, RealTrends.com
2014: #1 Individual Agent, Keller Williams Memorial
. . . in addition to over 318 additional awards.
Paige also serves a variety of non-profits, civic and community boards and was appointed by Houston's Mayor to be on the downtown TIRZ board.
Benefits Of Working With The Houston Properties Team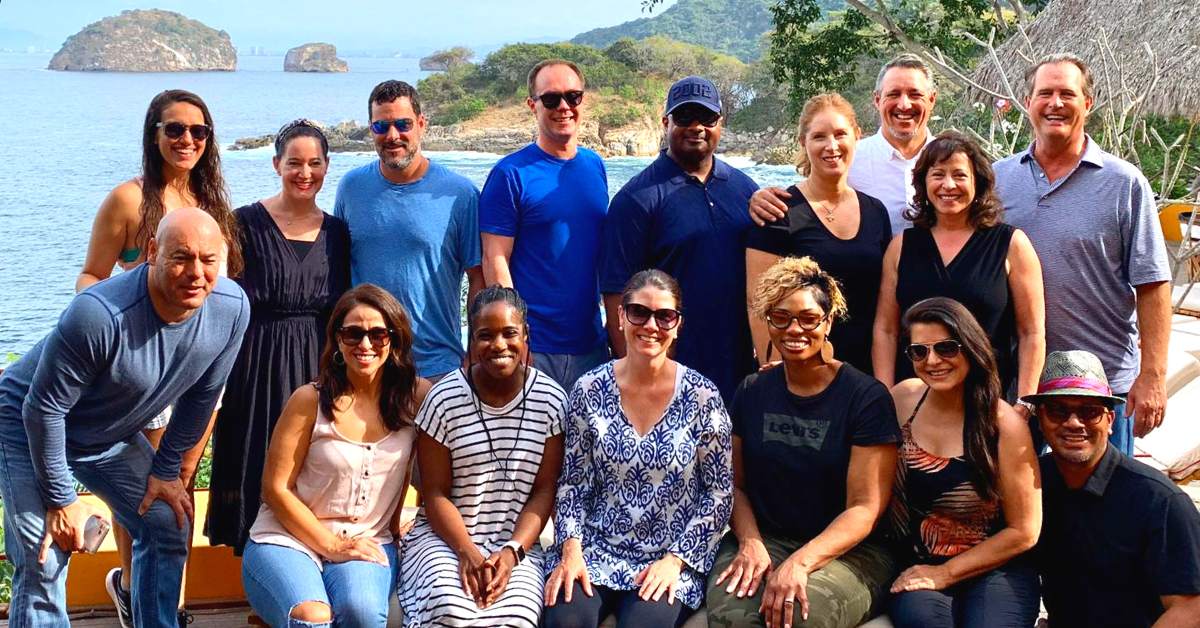 Our Team, composed of distinguished and competent Houston luxury realtors, has a well-defined structure based on the individual strengths of each member.
We find team approach as the most effective way to sell homes. We have dedicated people doing staging, marketing, social media, open houses and showings. Each Houston Properties Team member is a specialist in their role – which is why our homes sell faster and for more money than average.
The benefits of working with a team include:
ability to be in two or three places at one time: a member can handle showings, while another answer calls
collective time and experience of members
targeted advise and marketing of agent expert in your area
competitive advantage by simply having more resources, ideas, and more perspectives
a "Checks and Balances" system. Selling and buying a home in Houston is an intensely complex process
more people addressing field calls and questions from buyers and agents to facilitate a faster successful sale
efficient multi-tasking: One agent takes care of inspections and/or repair work, while another agent is focused on administrative details
multiple marketing channels using members' networks
constant attention: guaranteed focus on your home and your transaction
lower risk for mistakes. Multiple moving parts increase oversights. A team approach handles these "parts" separately
flexibility in negotiation and marketing
better management of document flow
increased foot traffic through more timely and effective showing schedule coordination; and
increased Sphere of Influence and exposure to more potential buyers.
To meet all the award-winning members of The Houston Properties Team, please go here.
---
Best Houston Real Estate Resources
---