Simple But Practical Houston Home Preventive Maintenance Tips
Your home is your biggest investment! Spend time on preventive home maintenance to secure more profit in your Houston Home.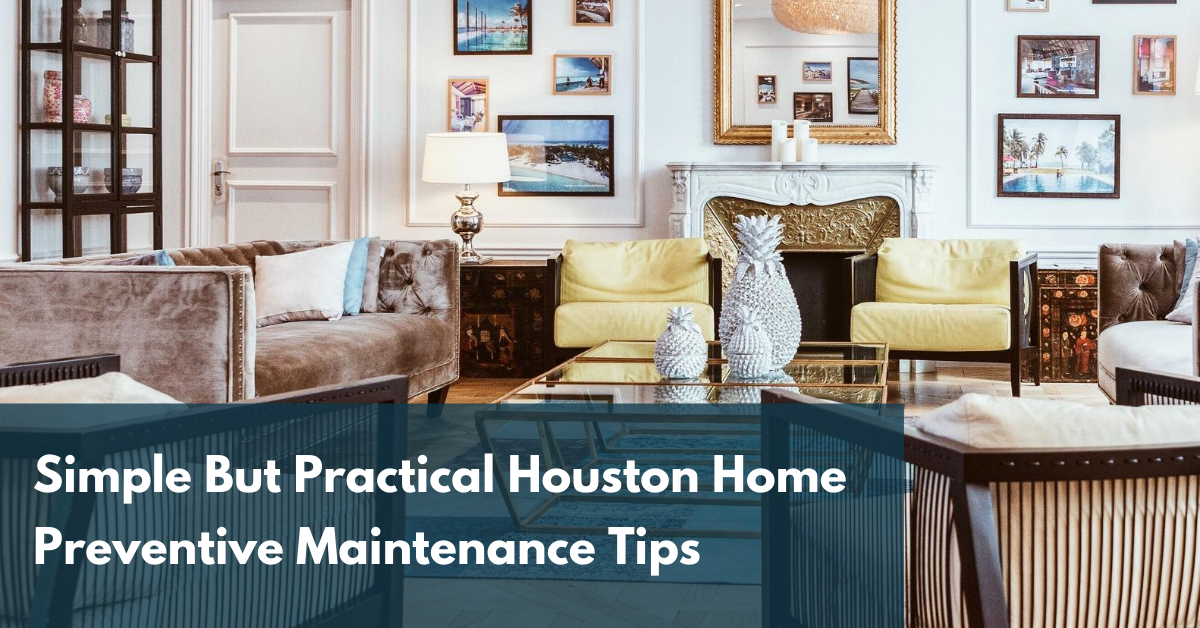 SUMMARY
Houston Properties Team listings sell for 7.2% more and for 4.7% faster.

We know how much you value your home, we do too, which is why we prepared a thorough guide on how to keep assets in good order and reduce unscheduled downtime to your benefit.

This article features the best preventive home maintenance routine to increases the value of your Houston home. You can print our checklist and go through one area at a time.
Check out our other Houston Home Seller Series:
20 Best Investments To Increase The Value of Your Property Before Selling
"The Houston Properties team has helped many of my friends find and sell their homes and made the process stress free and enjoyable for them. If you are looking to sell a home do yourself a favor and contact the Houston Properties Team today. Their extensive experience and client-first attitude make the whole process a lot easier." - Britney, Google Review
---
Table of Contents
---
Selling A House In Houston? Do These Now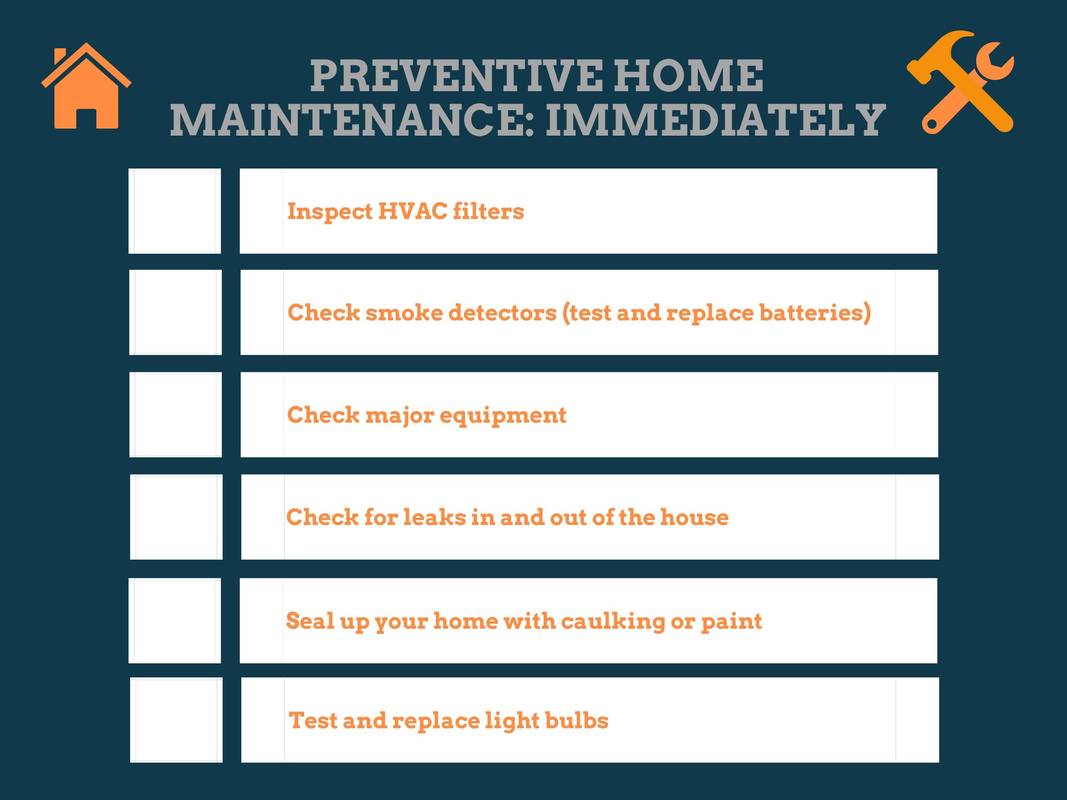 While preventive home maintenance can be unglamorous and unexciting, investing your time and budget on it can help you go far in raising the value of your Houston home. Contact the Houston Properties team for more home seller tips.
Showing your home soon and don't have the time to read through this guide? Our data reveals the 6 most important maintenance tips you should do immediately.
Use this preventive maintenance checklist to prioritize the following:
Inspect And Change HVAC Filters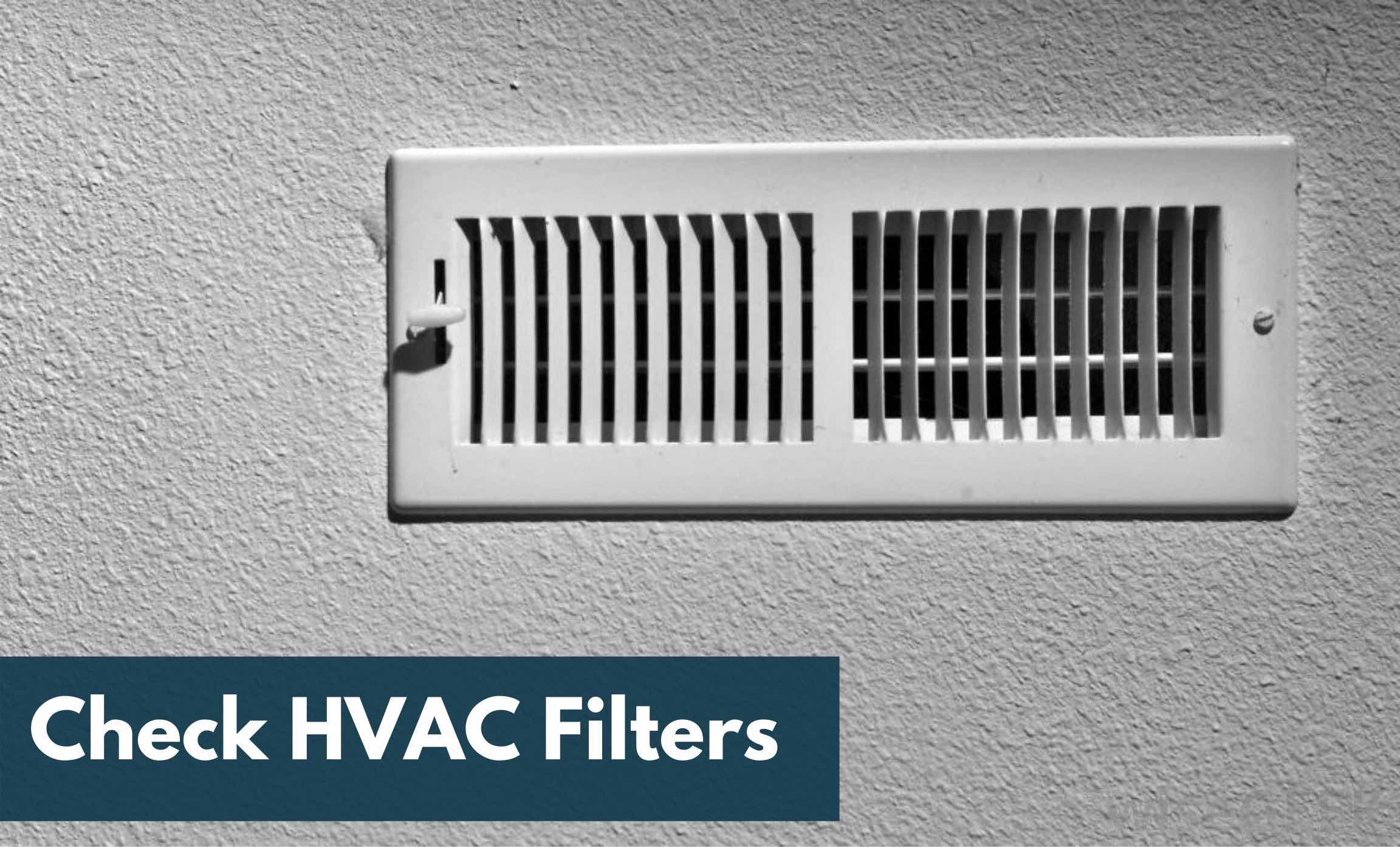 How often you change out HVAC filters depends on how dirty they are. Couples or small families without allergies or pets should be okay to replace them every 2 or 3 months. Regardless, make it a point to inspect them monthly.
As a budget-friendly tip, stock up on filters by the box to get them at a lower price. If you need to save time, there are also services around Houston that can deliver and replace your air filters for you.
Check Smoke Detectors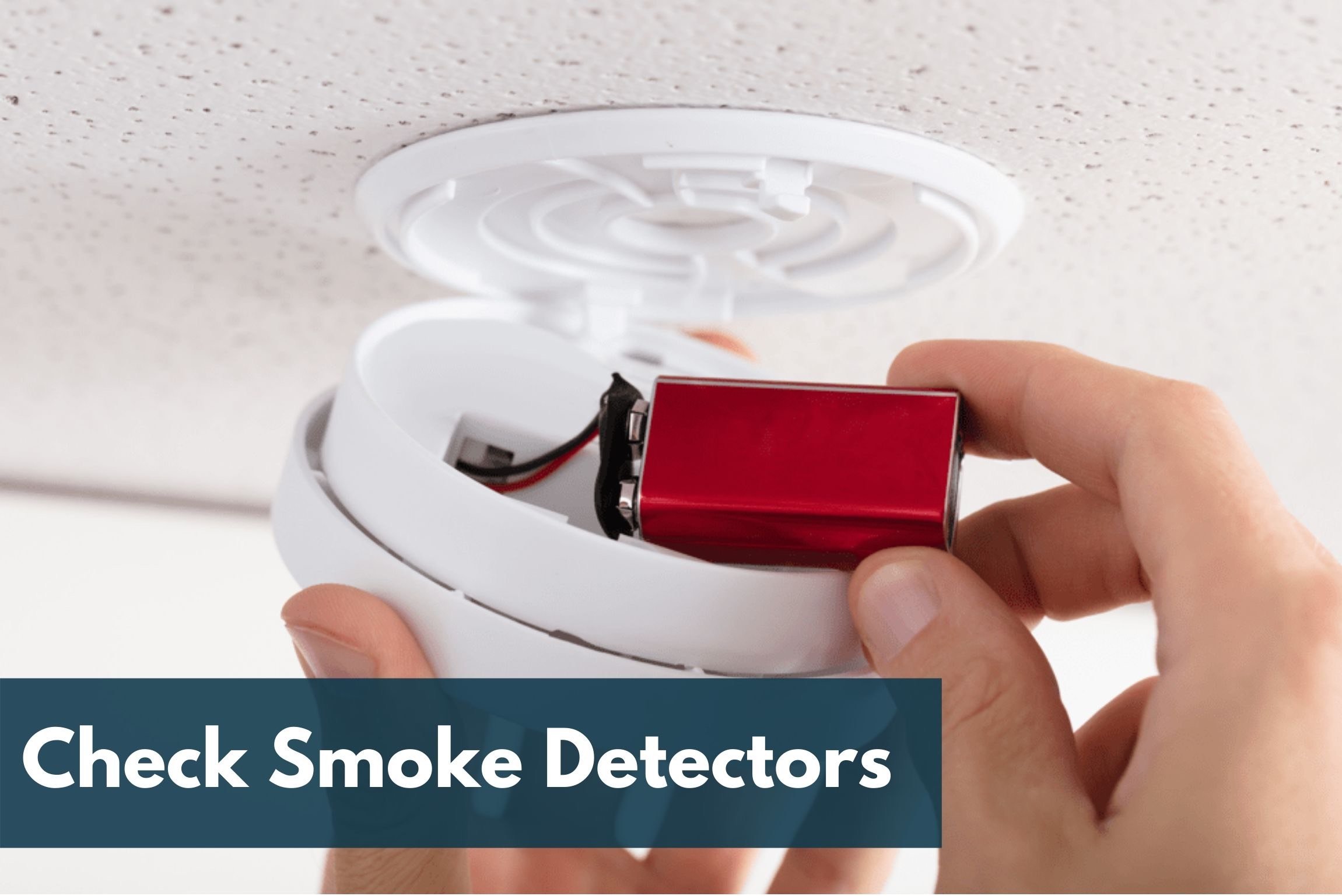 One of the most common complaints among home buyers going through a showing is a smoke or carbon monoxide detector beeping incessantly because of low battery.
A smoke detector usually has a "test" button. If the alarm doesn't go off after replacing the batteries, there might be corrosion in the battery terminal. If it still doesn't work after cleaning the terminal, your detector might need replacing.
You can also simply get into the habit of replacing the batteries in your smoke or carbon monoxide detector every six months. While the battery is still working during the time you tested it, its battery life might be dwindling and start to beep on the day of your showing.
Check On Your Houston Home's Major Equipment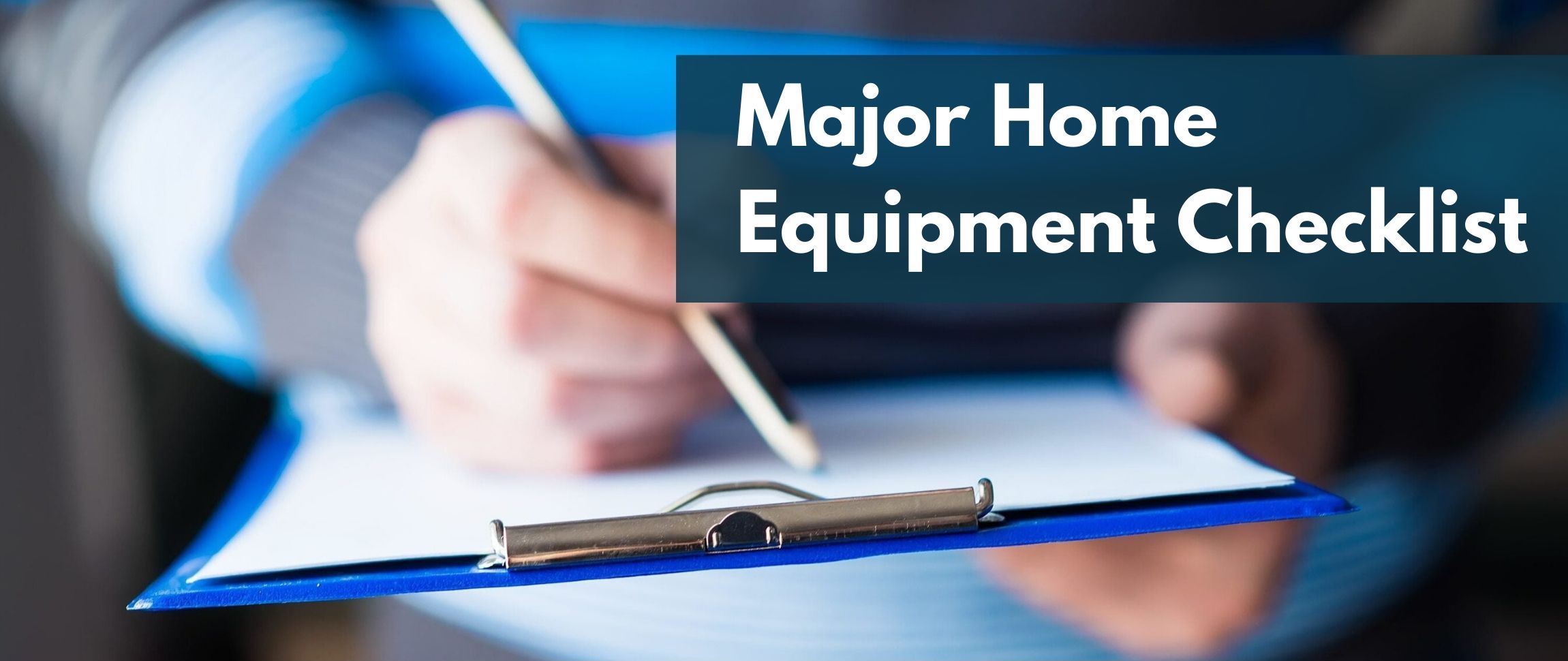 Make a checklist and take some time to make sure the following are in proper working order:
Water heater

Electrical panel

Plumbing manifold

Air Conditioning system
If something's not working right, have it serviced right away. Even if it's a small issue, taking care of it as soon as possible can prevent costlier problems in the future.
Check For Leaks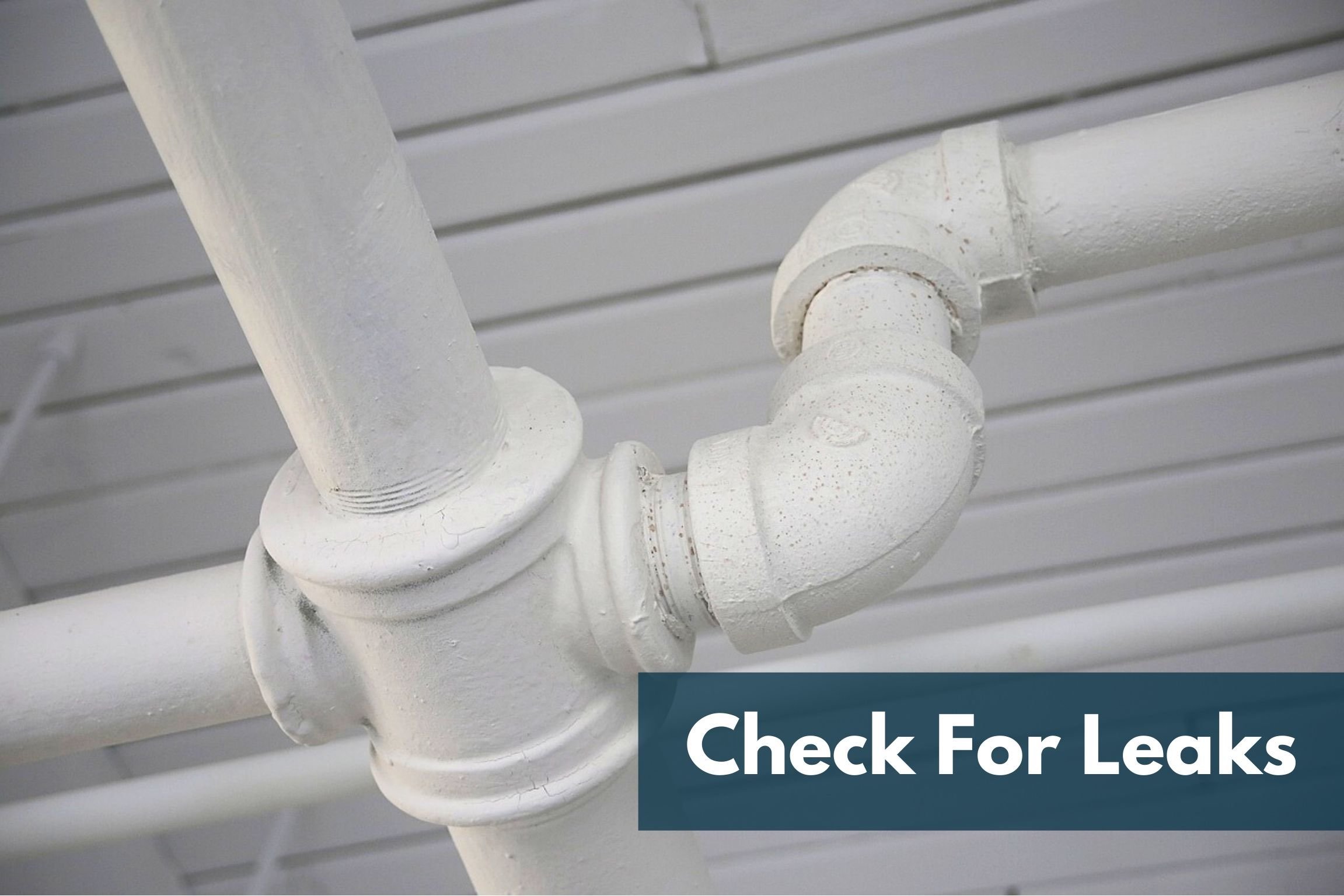 Checking your Houston home for leaks can prevent bigger mishaps and headaches. Go around your home and turn on the faucets and showers, then try flushing all the toilets. Look out for small leaks and poor water pressure. Walk around your attic and inspect it for leaks as well.
Make sure to check exposed pipes outside for water leaks. If you see water stains on walls or ceilings, the source could be an issue with an appliance such as your AC or water heater or a leak in your sprinkler system.
Seal Up Your House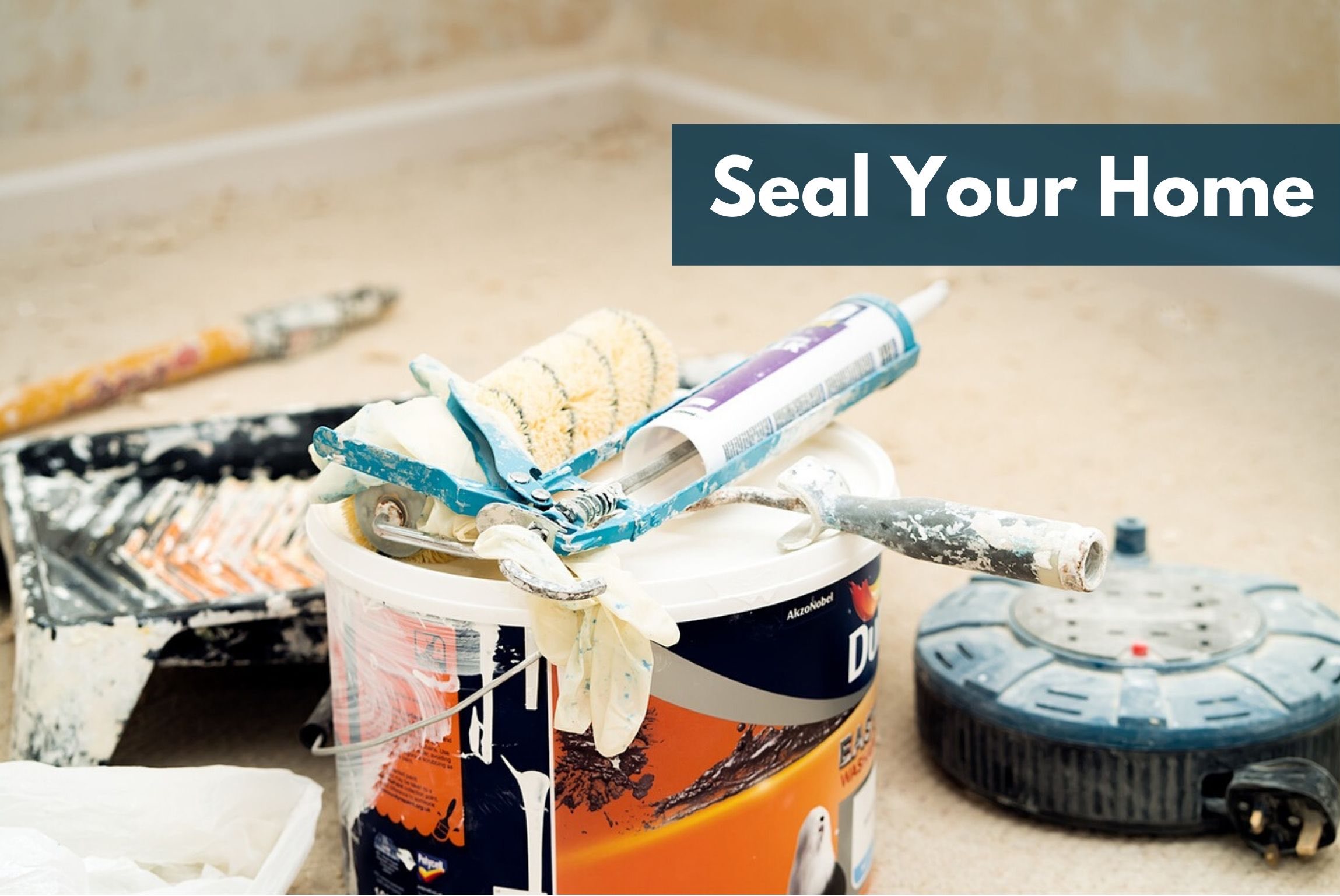 Sealing your Houston home can prevent water penetration, mold development, and air leaks. Consequently, it can also save you from higher energy bills.
Through caulking (caulk is a sealing compound specifically used to close gaps in structures) or paint, seal up cracks and gaps, gutter corners on the roof, and where windows and door frames meet wood sidings.
Replace Light Bulbs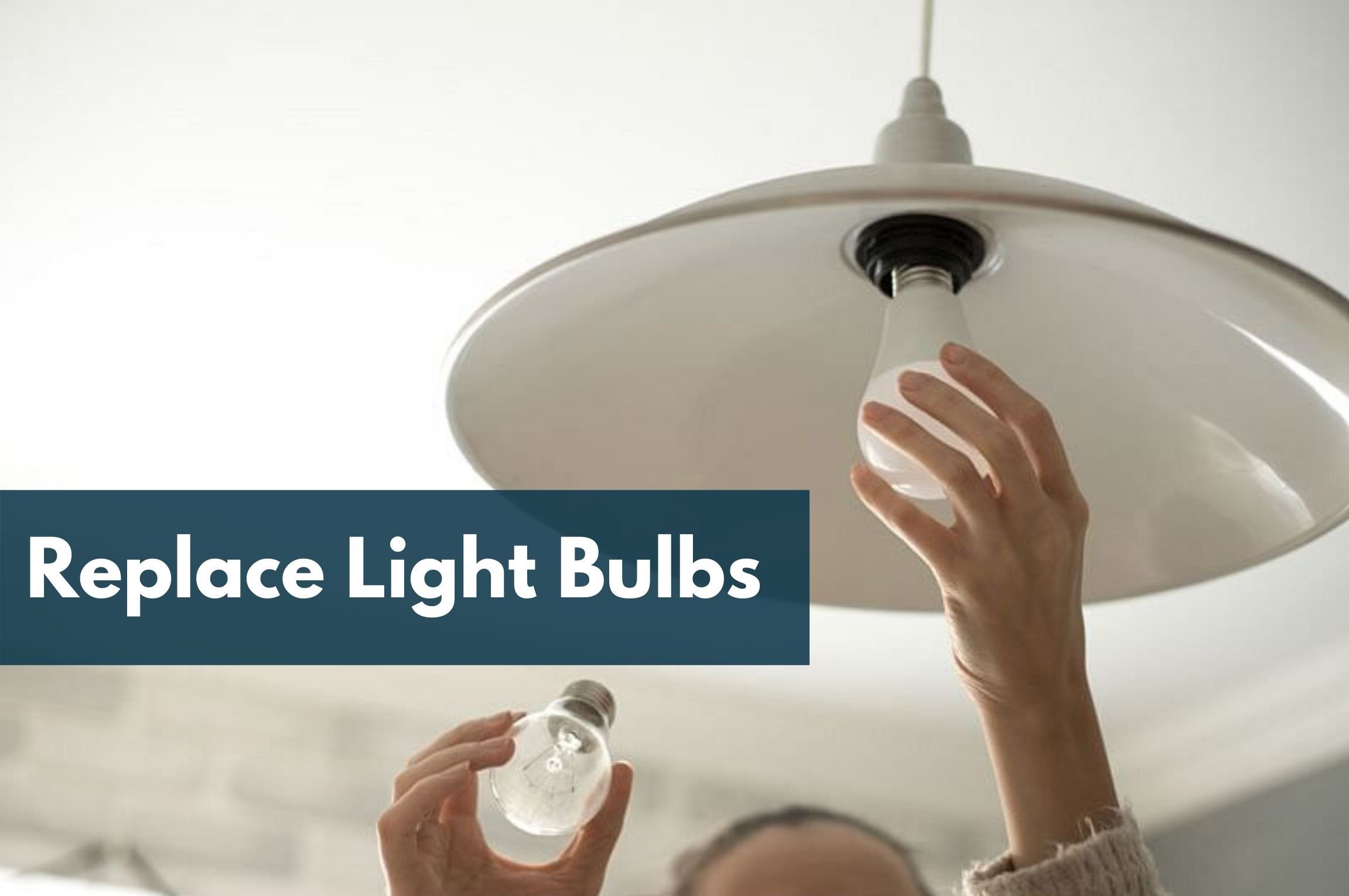 Another common home buyer complaint? Lights that don't turn on.
This maintenance tip is so simple, it spawned an age-old joke. But however easy it is, make sure you follow a safe process to avoid electric shocks.
Before anything, make sure your replacement bulbs have the correct wattage. Turn off any light you plan to replace before taking out the bulb and let it cool down before touching it. When installing the new bulb, avoid trying to over-tighten it as it might shatter.
---
Monthly Preventive Home Maintenance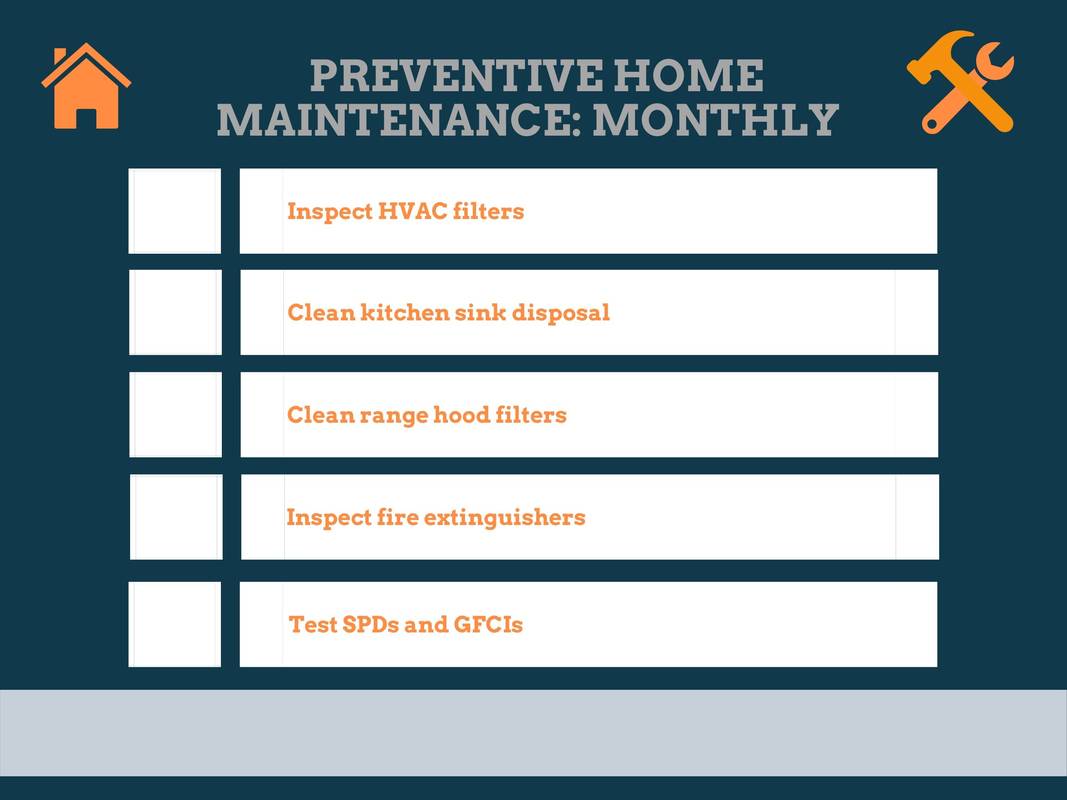 These simple but vital preventive maintenance tips can get you one step closer to selling your Houston home fast and for the most money. Contact the Houston Properties team if you're looking for a top Houston listing agent that can help you increase home value.
Clean Kitchen Sink Disposal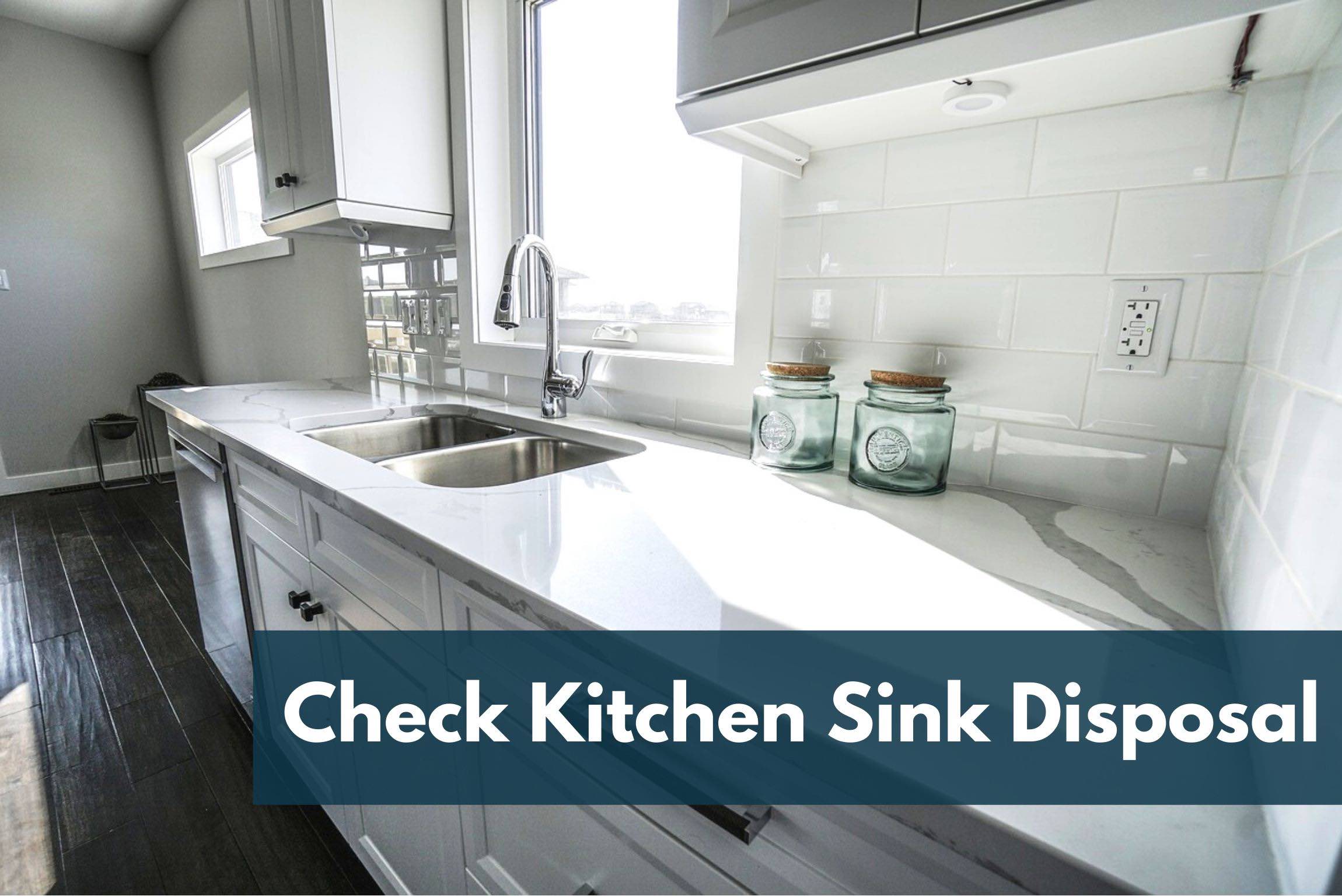 Unclogging your garbage disposal on a monthly basis gets rid of odor that can accumulate from regular use. It leaves your kitchen smell-free during house showings and you can enjoy a regularly-maintained unit until your Houston home gets sold.
While there are various ways on how to clean out your kitchen sink disposal, running vinegar ice cubes (freezing vinegar through an ice cube tray) through the unit produces the best results. It can neutralize odor and sharpen the blades at the same time.
Clean Range Hood Filters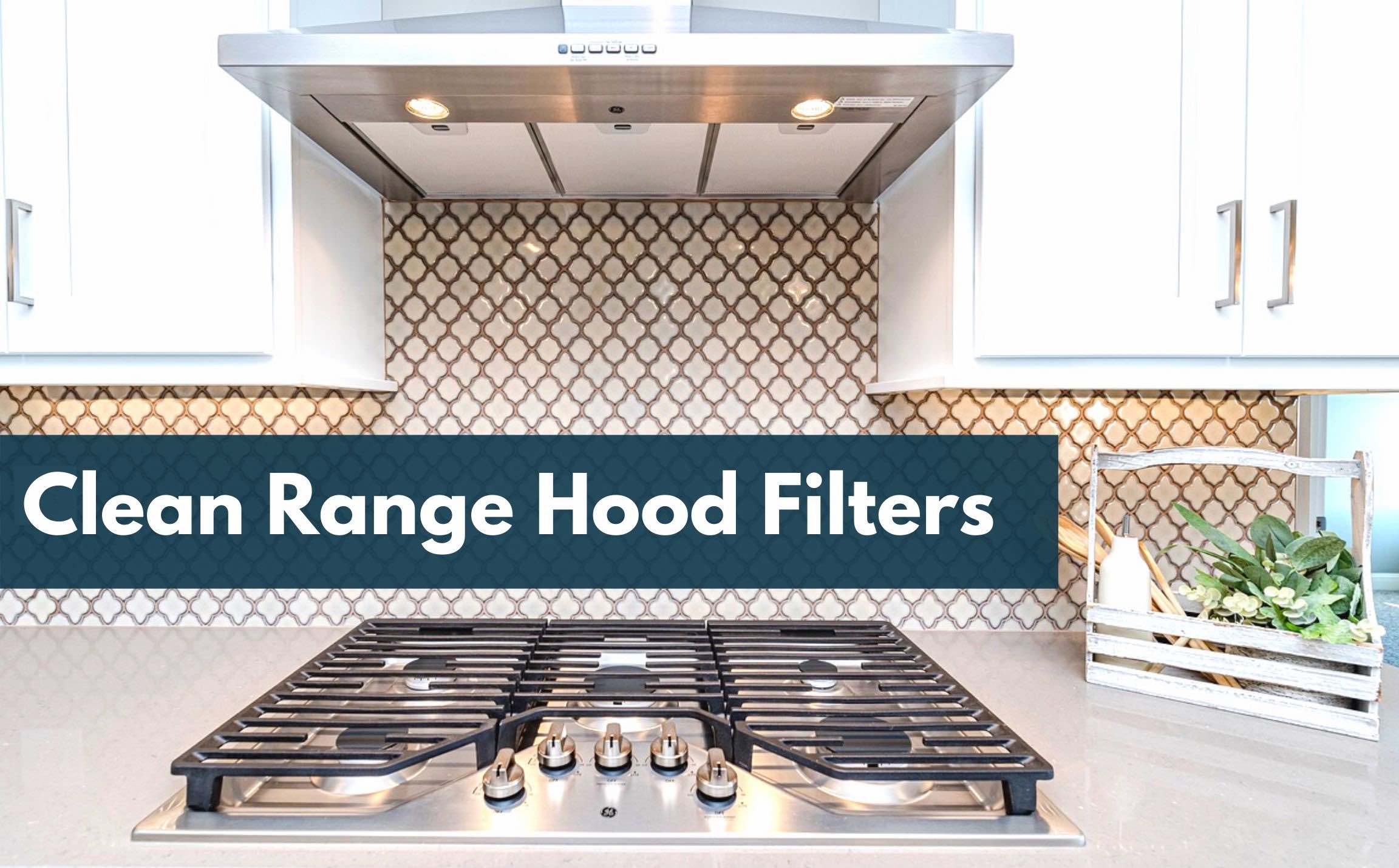 The purpose of a range hood filter is to collect grease while you're using the stove. When regularly used (but not regularly cleaned), the accumulated grease can clog up the filters and stop working effectively.
De-greasing a range hood filter monthly simply requires water, dish soap, baking soda, a scrub brush, and paper towels.
Inspect Fire Extinguisher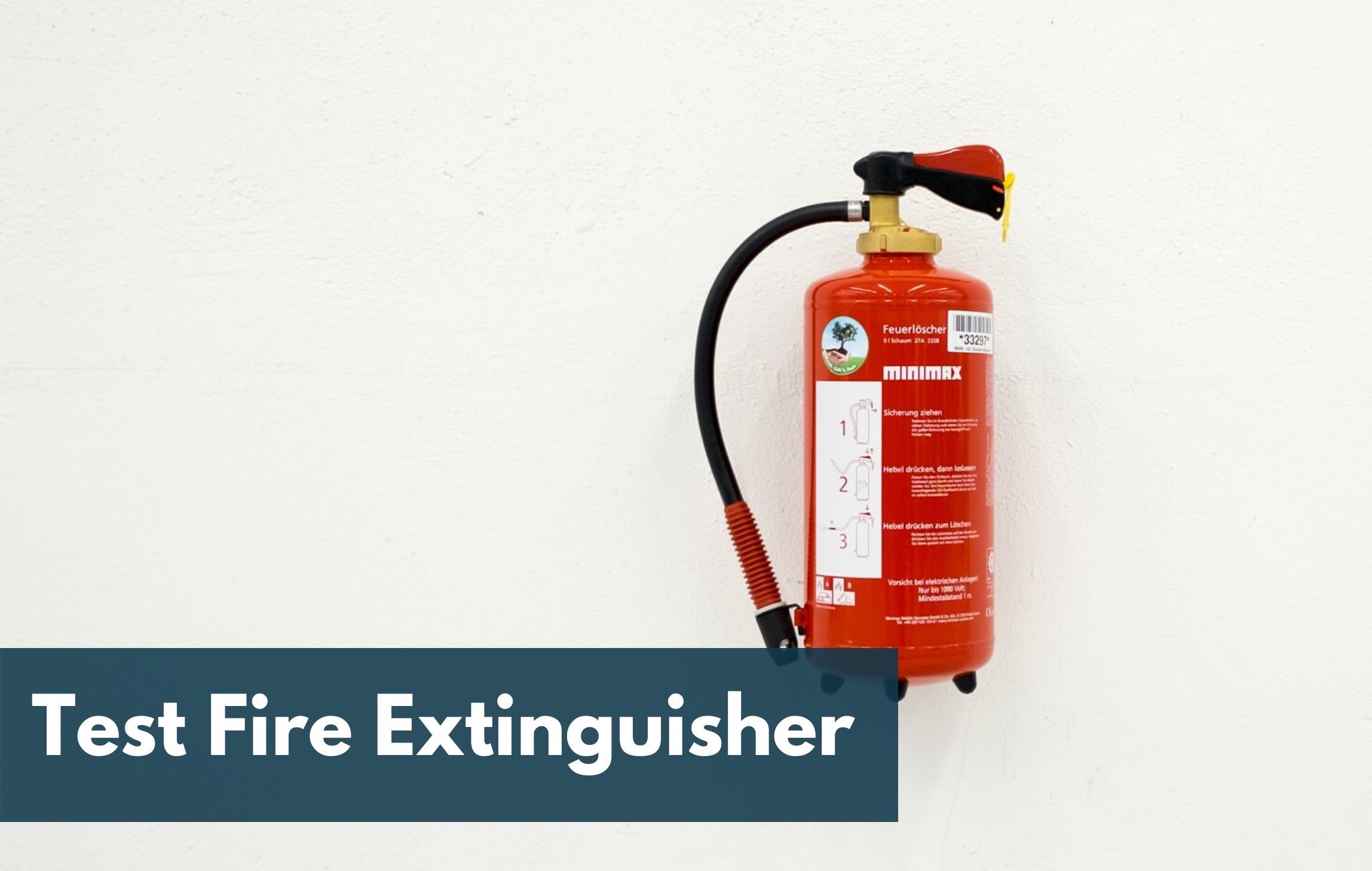 Having a fire extinguisher is a good preventive safety measure for your Houston home. However, there's no value in keeping one if it's not in proper working condition.
Once a month, retrieve your extinguisher (make sure it can be easily accessed), check the pressure gauge to ensure it's in proper operating range, and press the test indicator if it has one. Look for possible signs of damage and wipe it down to clean out dust and grease.
Test SPDs And GFCI Outlets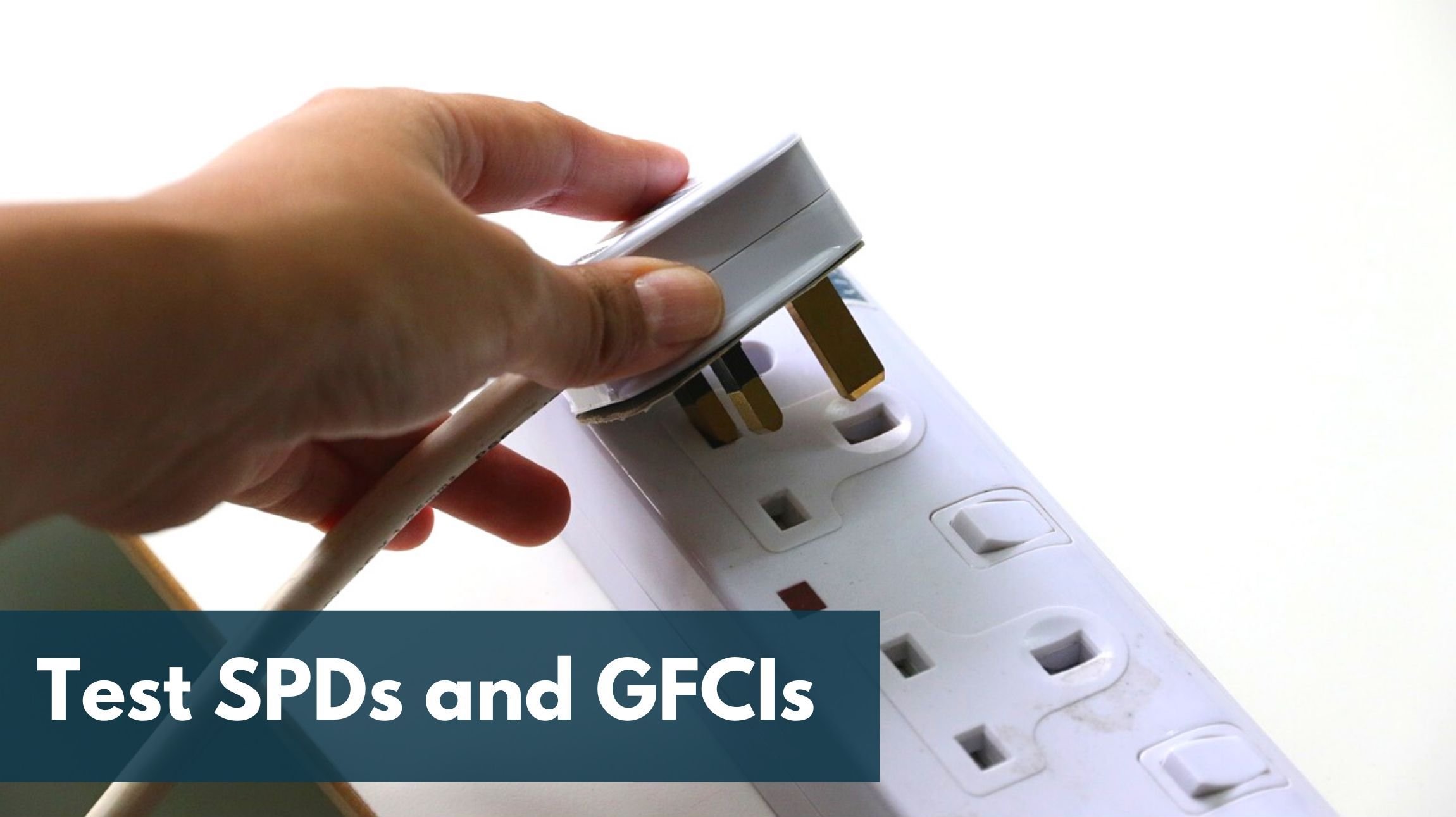 A whole-house surge protection device (SPD) protects your appliances from power surges. Connected to your home's electrical panel, they redirect excess current to the ground. As surge protectors have a limited lifespan, test to see if it's still running well once every 30 days.
Meanwhile, GFCI (ground-fault circuit interrupter) outlets protect you from electric shock. It monitors the amount of power going through a plugged device. If there's an imbalance in the amount of current, it trips the circuit. Test if your outlets are still working by pressing the test or reset button.
Taking time to check on these devices can help you prevent mishaps such as damaged appliances or accidents.
---
Quarterly Preventive Home Maintenance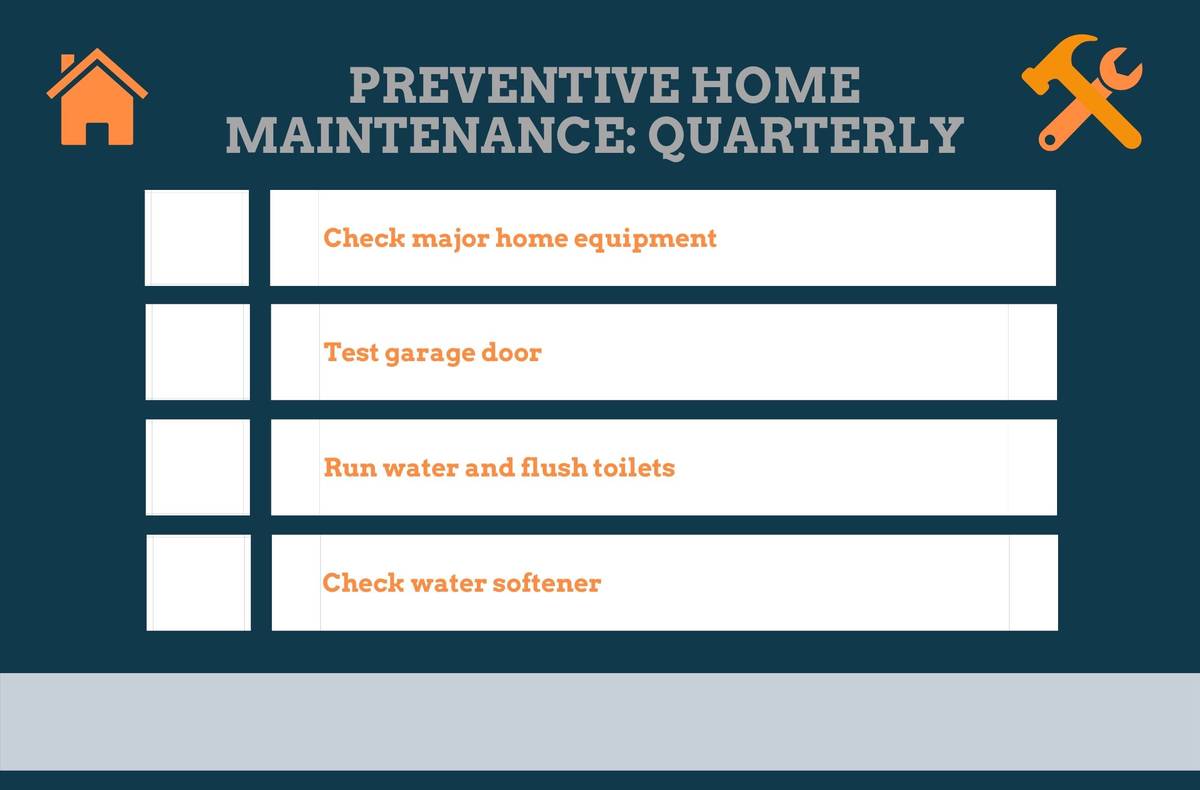 Going through this preventive maintenance schedule can help your home look good for buyers, open houses, and even the home inspection report during the option period. Selling a house in Houston soon? Contact the Houston Properties Team for more selling guides to help raise the value of your home.
Test Garage Door Auto-Reverse Feature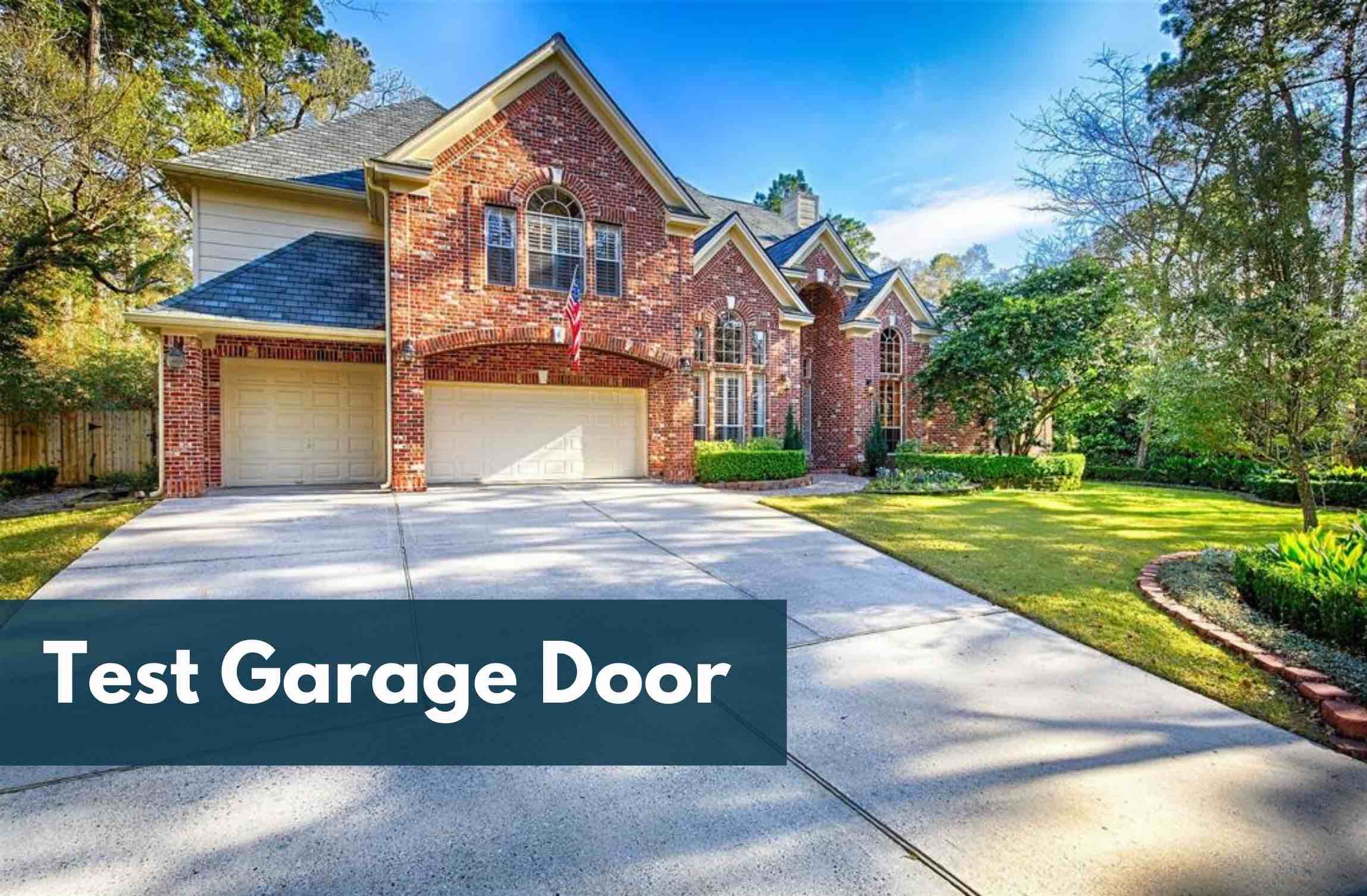 The auto-reverse mechanism of your garage door is a very important safety system that's been required by federal law since 1993. It forces your door to reverse if it senses something in the way: your car, a stray object, or crucially, your pet or small child.
To test if the auto-reverse feature of your garage door is in working condition, place a 2x4 on the ground where it would normally close to see if the door will reverse once it hits the wood. If it doesn't, have it repaired to ensure that your garage door won't be a problem not just for your home inspection report, but for your family's safety as well.
Run Water And Flush Seldom Used Toilets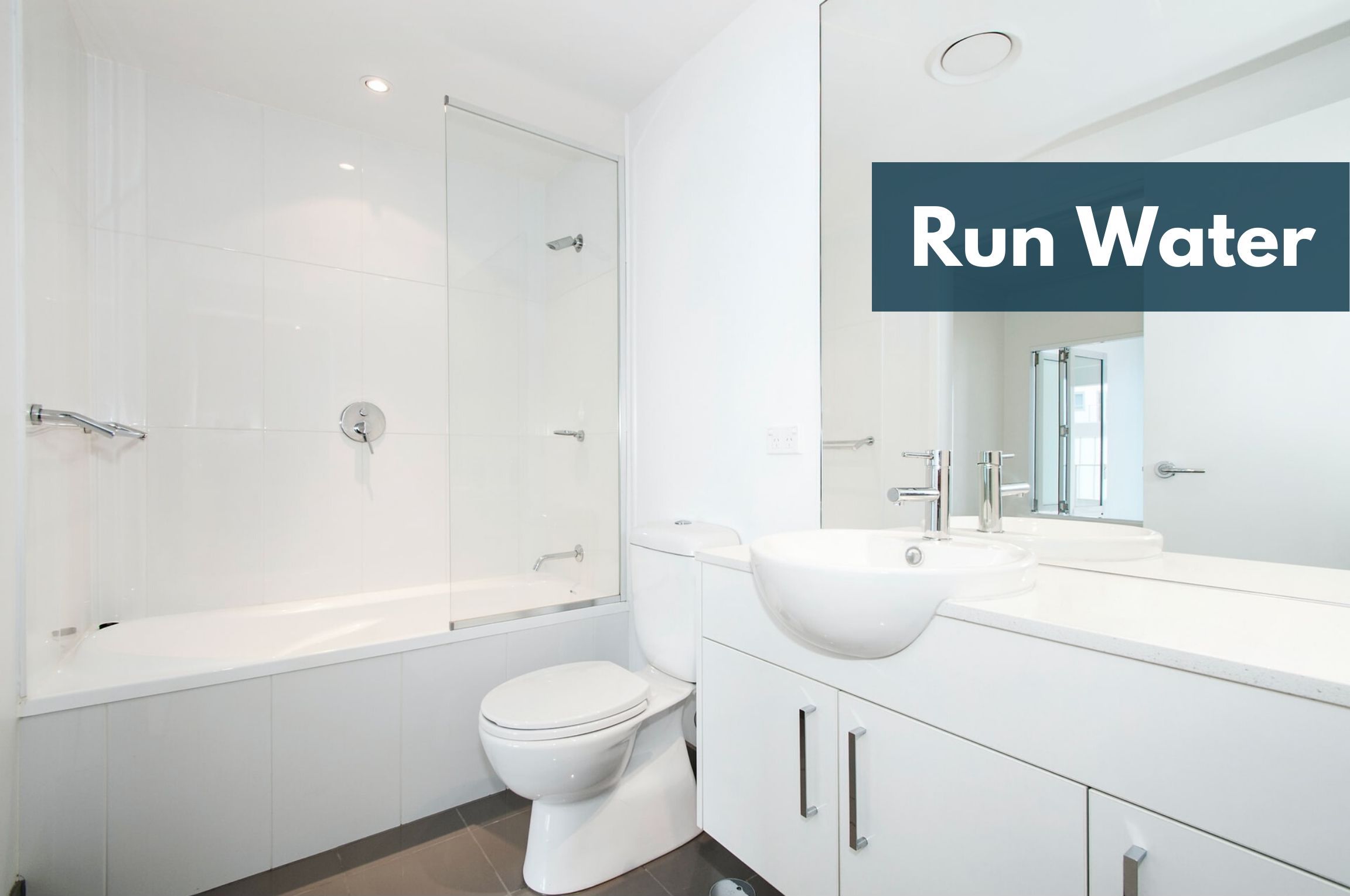 Running water through the toilets, sinks, and other water sources in bathrooms that aren't used on a regular basis can prevent grime buildup. Do this for your powder room and the bathrooms of your guest bedrooms to look fresh and clean during home showings and open houses.
Check Water Softener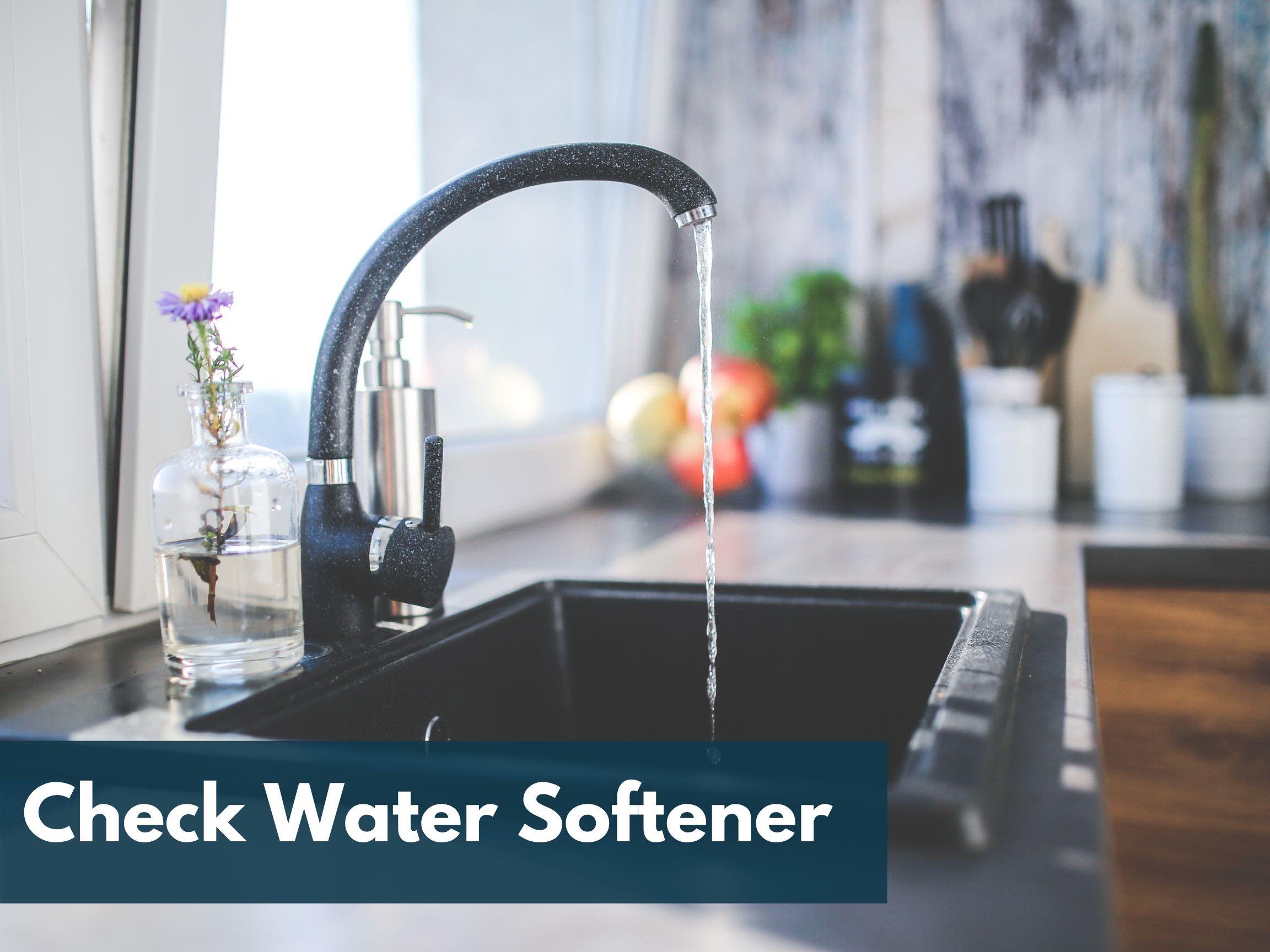 A water softener is a filtration system that removes hardness causing minerals like calcium and magnesium from water, therefore turning it into "soft water". It's useful for preventing damage and clogging in your pipes and appliances like dishwashers and ice machines.
Take a few minutes every quarter to check if your water softener needs more salt so it continues to work effectively. Make sure to use pure salt with iron remover.
---
Biannual Preventive Home Maintenance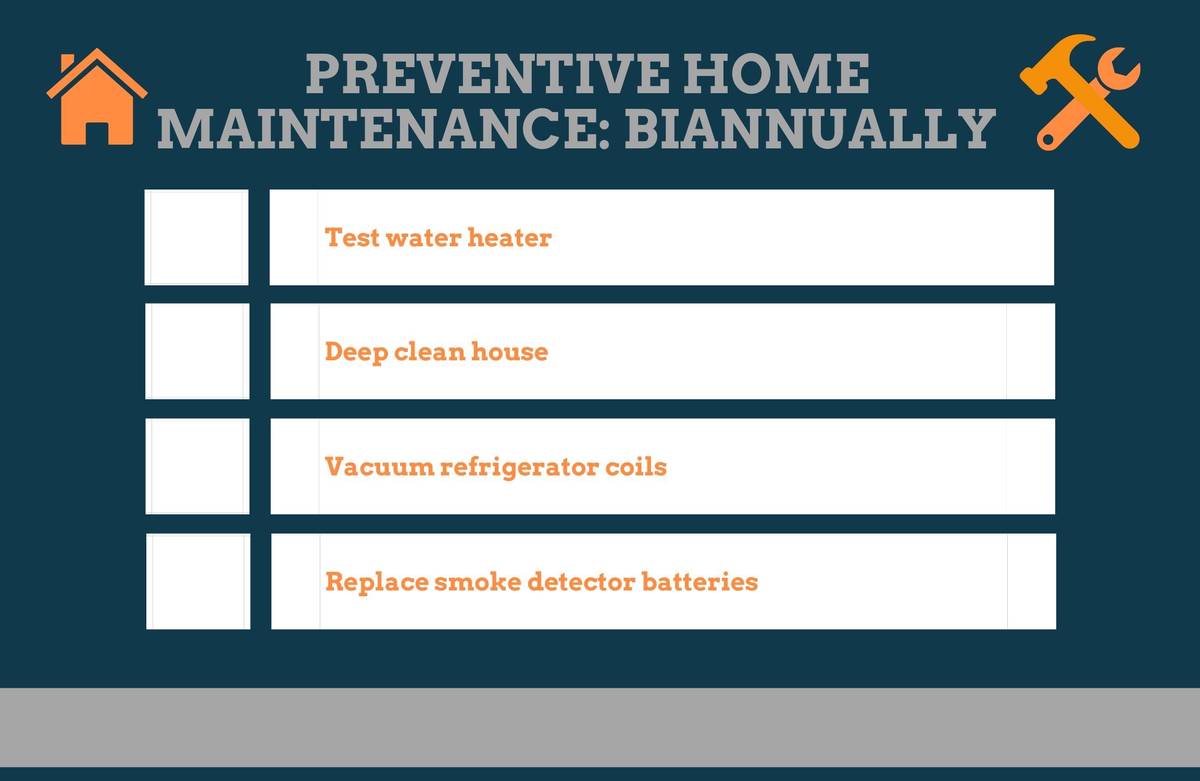 Trouble keeping track? We made our home maintenance checklist printable so you can see how often you should do these tips. Wondering how to sell your home for the most money? Contact the Houston Properties Team now.
Test Water Heater's Pressure Relief Valve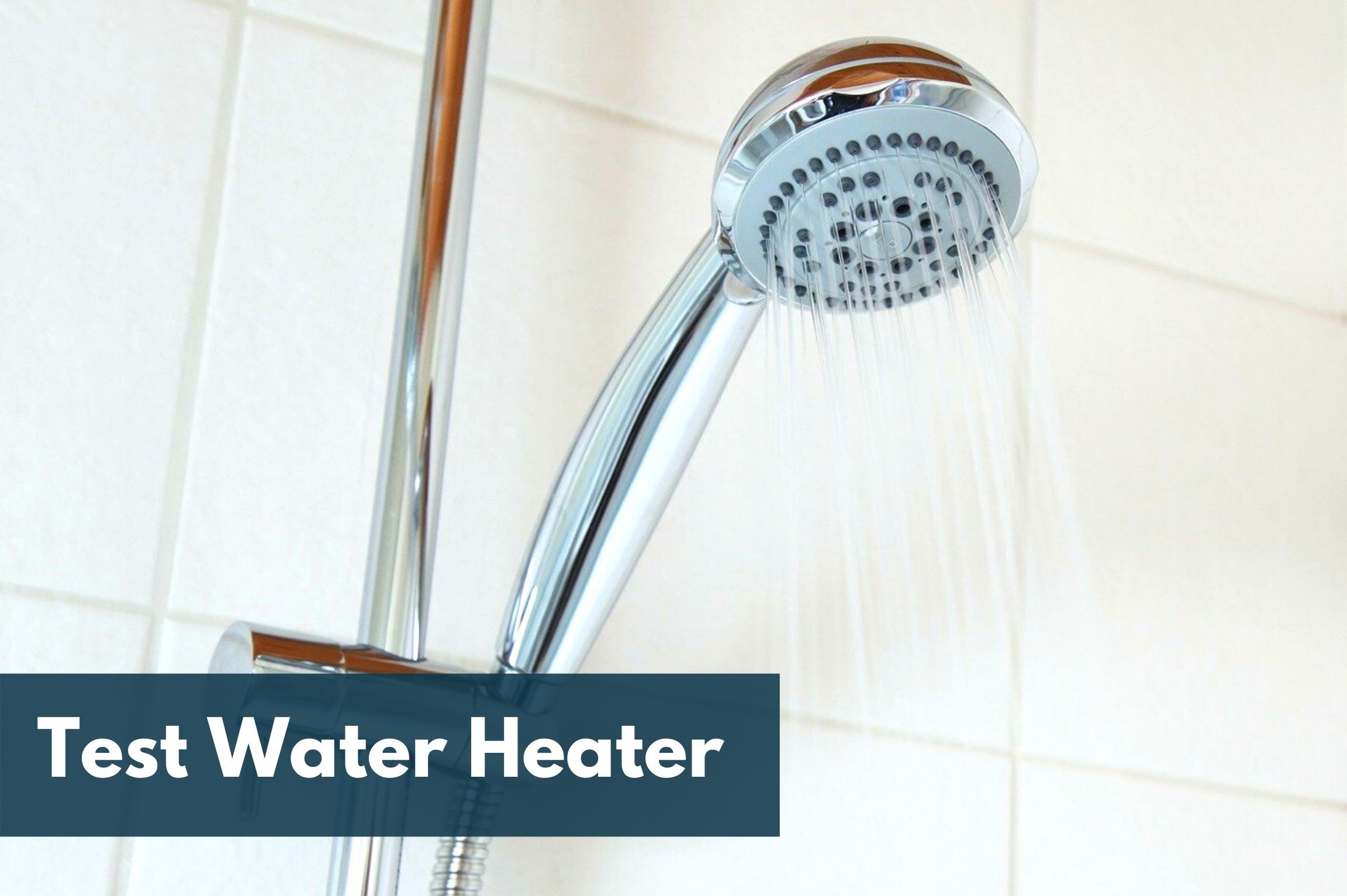 Testing your water heater every six months can reduce the chance of a leak caused by mineral and corrosion buildup. This buildup can also cause your heater's pressure relief valve to freeze and stop working.
To test your valve, raise and lower it several times. Hot water should come out a the end of the drainpipe. If little to no water comes out, you'll need to replace it.
Deep Clean Home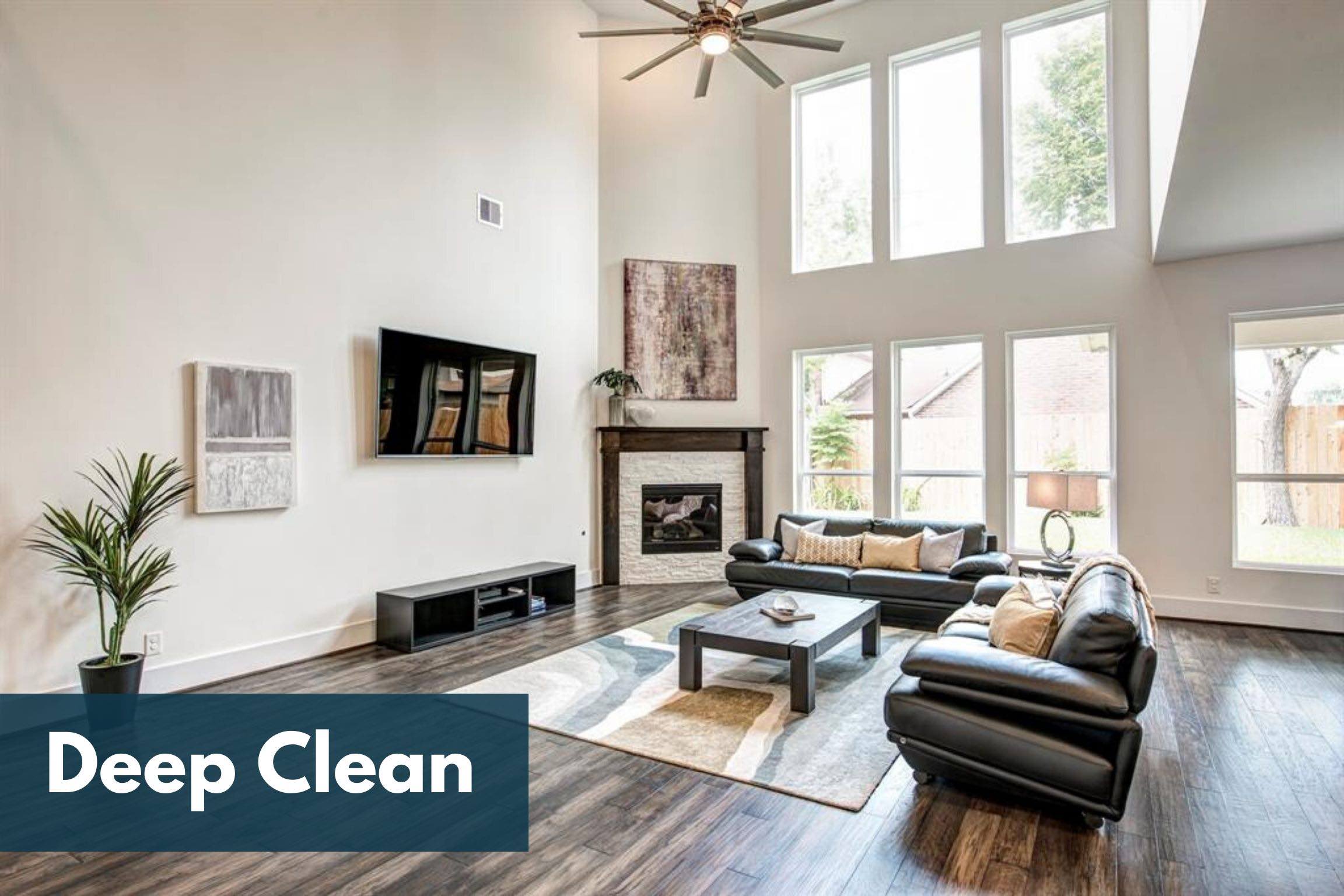 A thorough deep clean every six months is a habit that will pay off when you want to increase the value of your Houston home.
Dust and vacuum every corner, surface, and appliance to get rid of accumulated dirt and grime. Deep cleaning your home will also neutralize any odors that can irritate potential home buyers looking around.
Vacuum Refrigerator Coils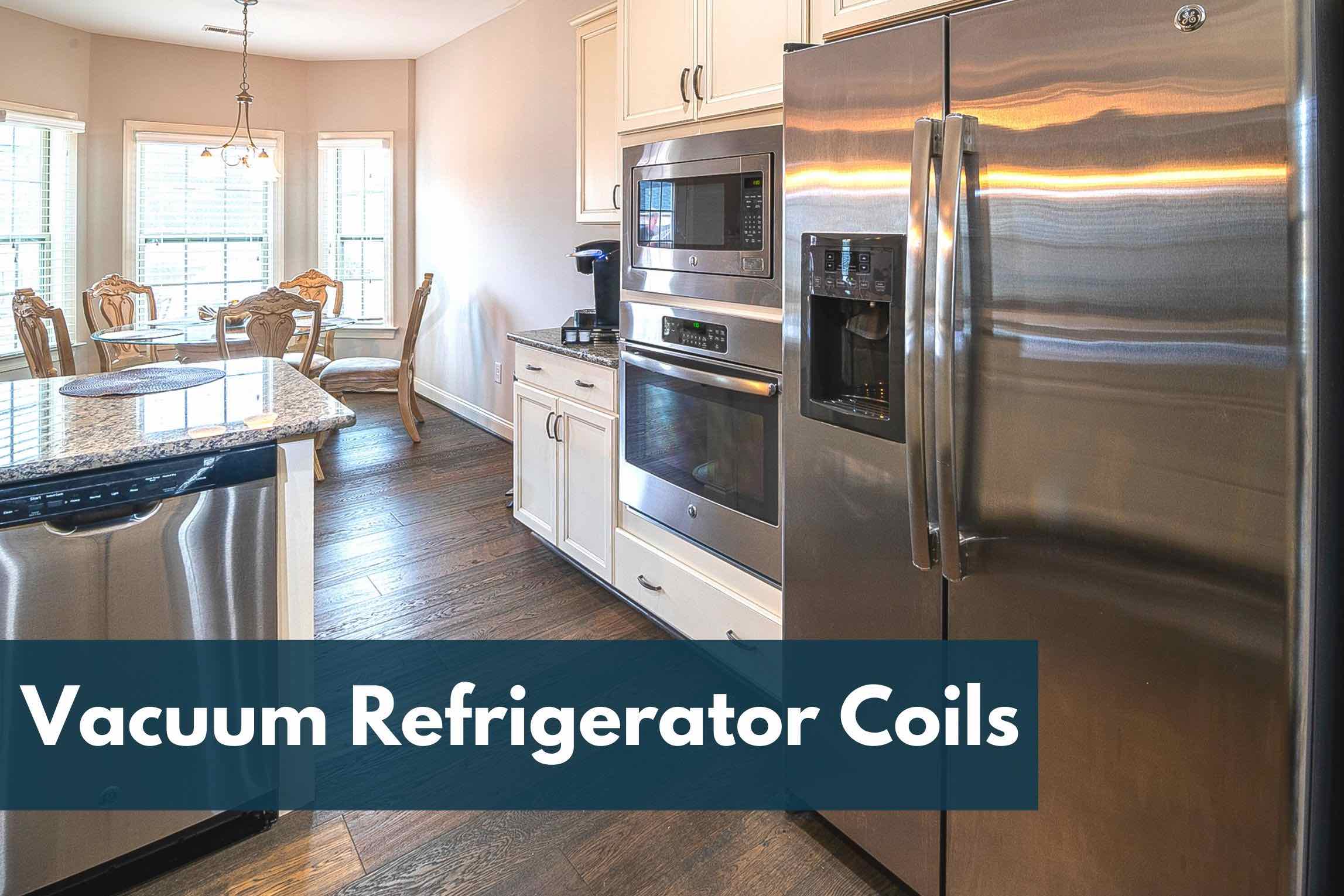 As one of our recommended indoor home maintenance tips you can do for free, adding the refrigerator coils to your list of things to vacuum can lengthen the lifespan of your fridge and help you conserve power.
Remove the cover at the back of your unit and vacuum out all the dirt, dust, and hair that built up. You can also use tools for an even deeper clean.
---
Annual Preventive Home Maintenance: How To Sell Your Home For The Most Money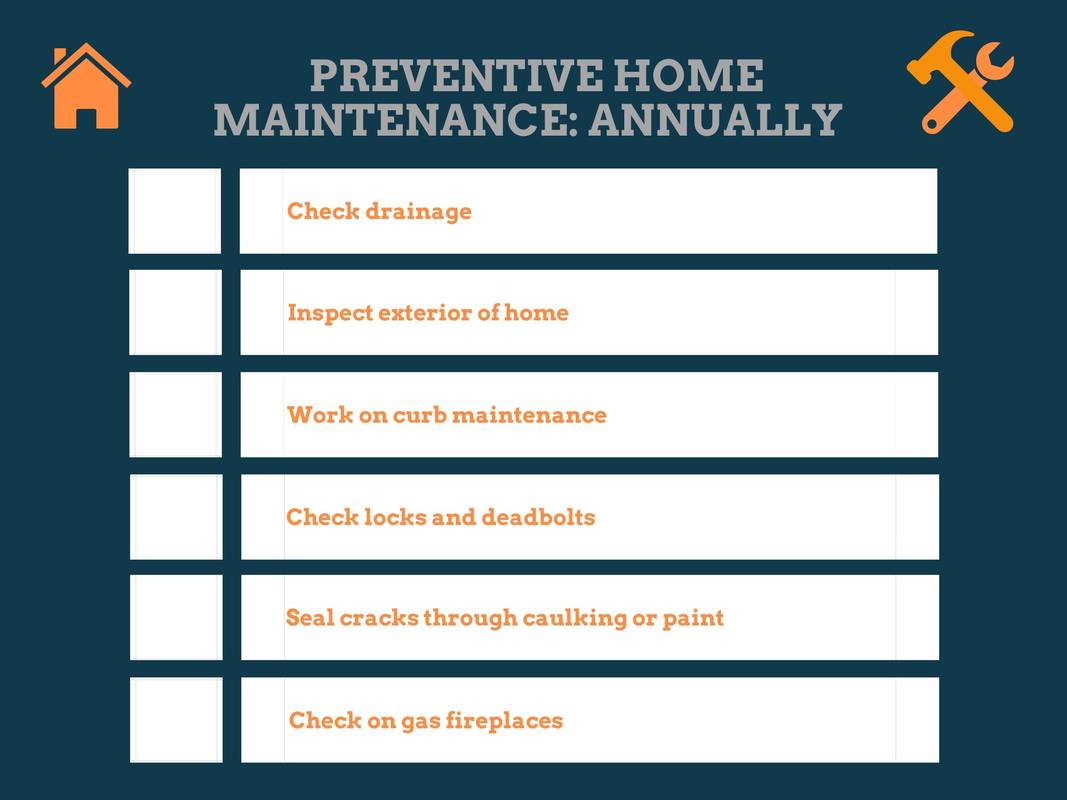 This preventive home maintenance guide is part of our series of Houston home seller guides. Contact the Houston Properties Team for more tips on how to sell your house fast in Houston.
Check Exterior Drainage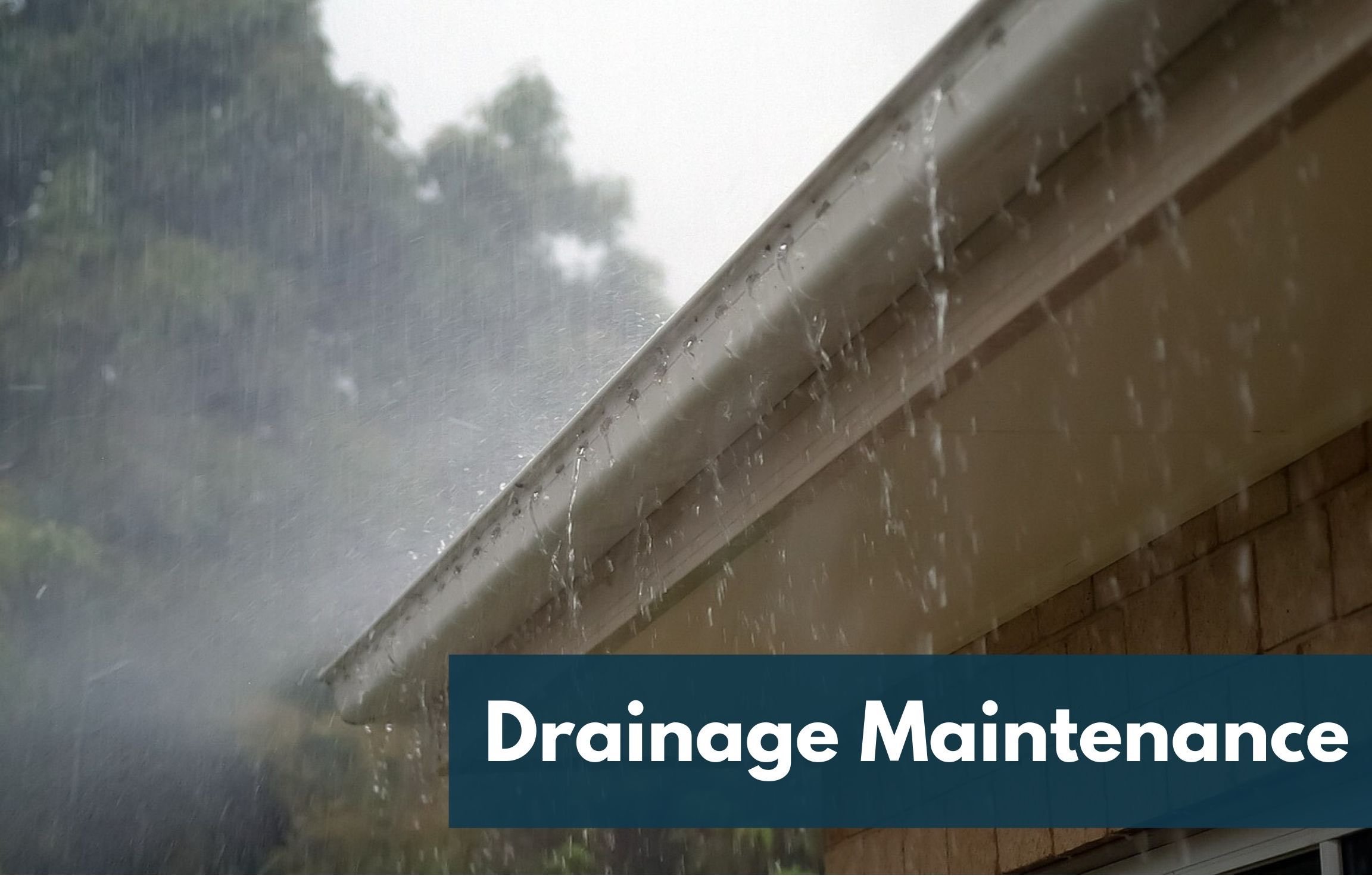 Make it a point once a year to make sure water is draining away from your Houston home properly during the rainy season. See if rainwater is flowing away in the right direction and puddles don't stay for more than a day.
Check your gutters for fallen leaves or grime buildup. Look out for bad spouts or any loose connections as well. You can also try to see if your pavement needs to be raised.
Inspect Home Exterior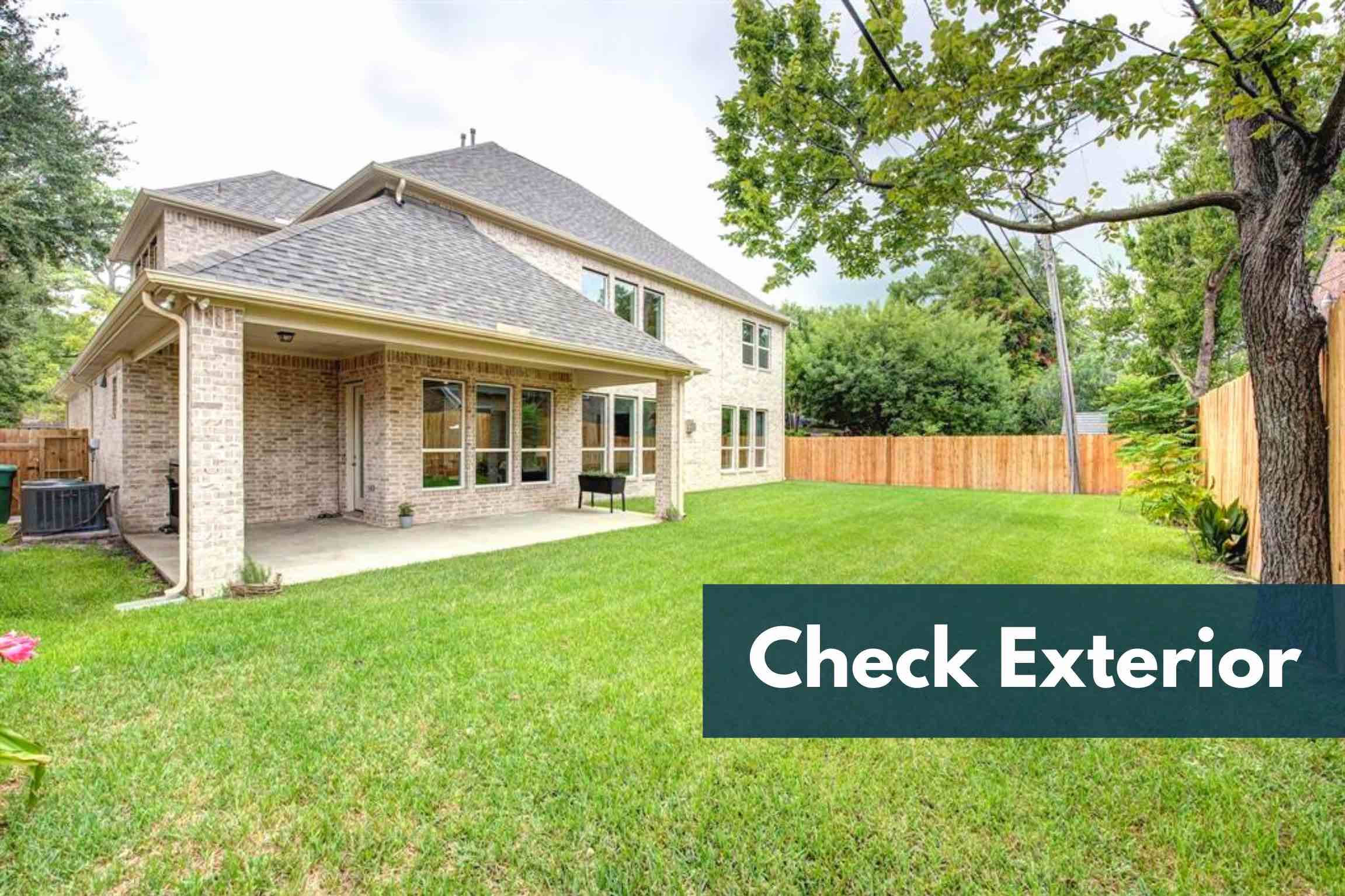 Exterior home maintenance is also key in raising home value. Fix the obvious, easy repairs, like chipping paint or loose bricks. Clean dirty windows and replace damaged ones so more light can go inside your house (this is important when staging your Houston home).
Have major repairs fixed and check the foundation for any cracks. A pristine home exterior can make a good impression for both the inspection report and curious buyers, fast-tracking you into selling your Houston home fast and for the most money.
Curb Maintenance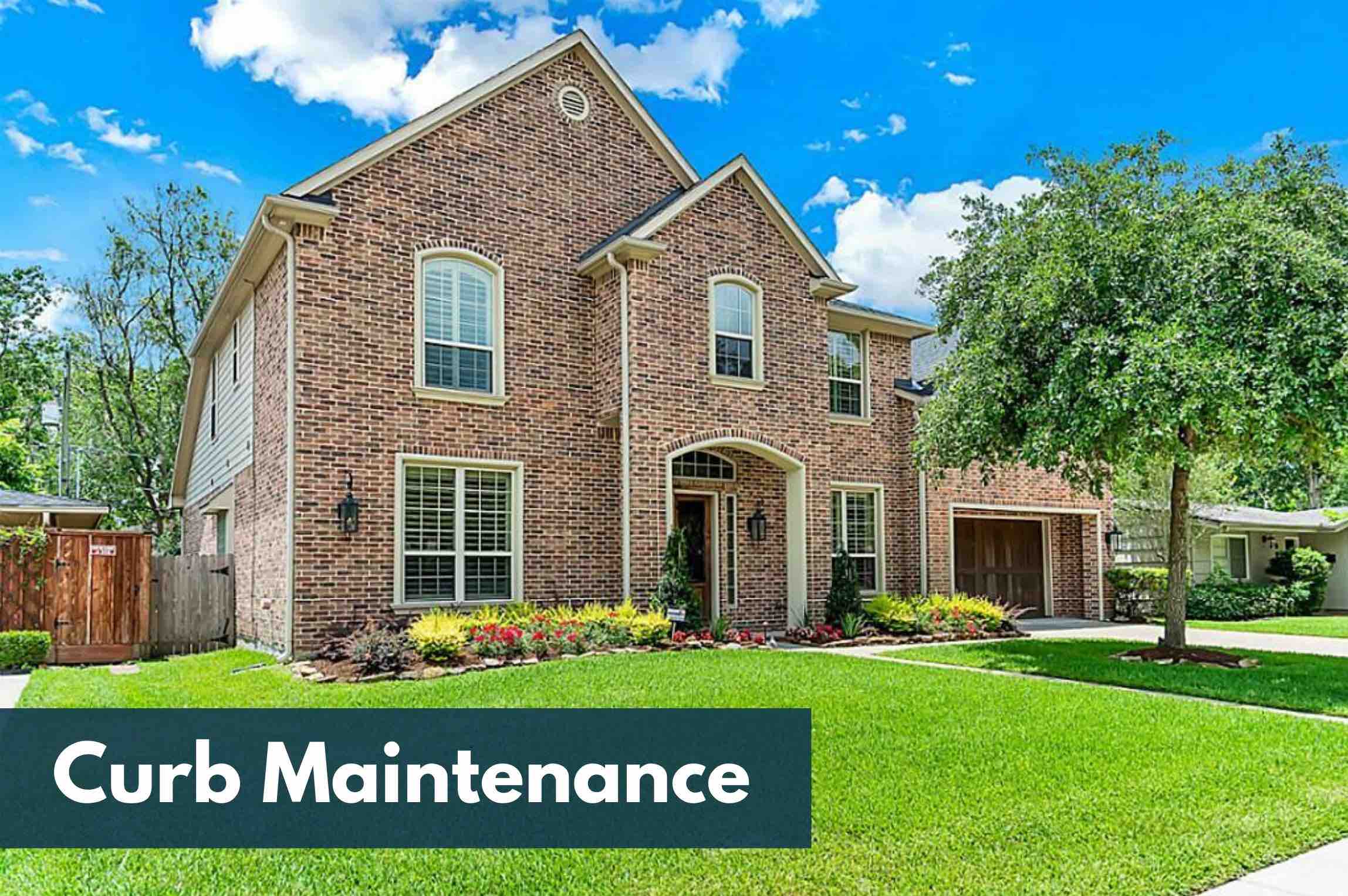 The walk from your yard to your front door is the first thing buyers will see of your Houston home. Make the annual home maintenance habit of maintaining your curb to make a good first impression.
Cut the lawn and clear dead plants or shrubs. Untamed plants can make their way into the cracks of your home and cause more problems. Put in fresh mulch in their place. Check if any trees are in the way of electric lines as well. If they are, have them professionally trimmed.
Check Locks And Deadbolts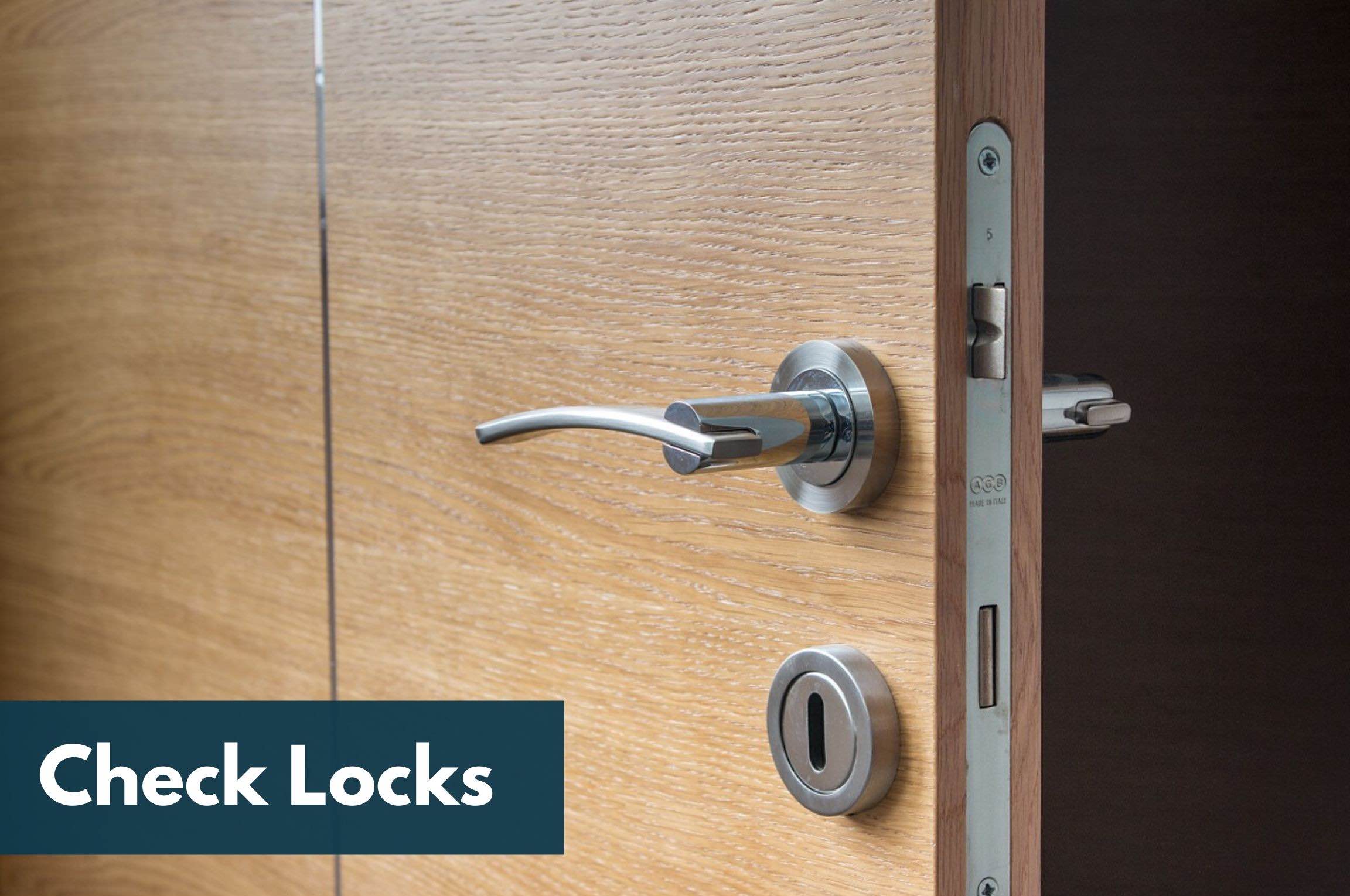 Safety and security is an important indicator of a good Houston home. Take some time to go around your house and check all the locks and deadbolts for wear and tear.
If it's a struggle to put your key into a certain lock, it might need replacing. Once you do, make duplicates of the keys for your new one. Check on the door frames and hinges as well.
Check On Your Gas Fireplace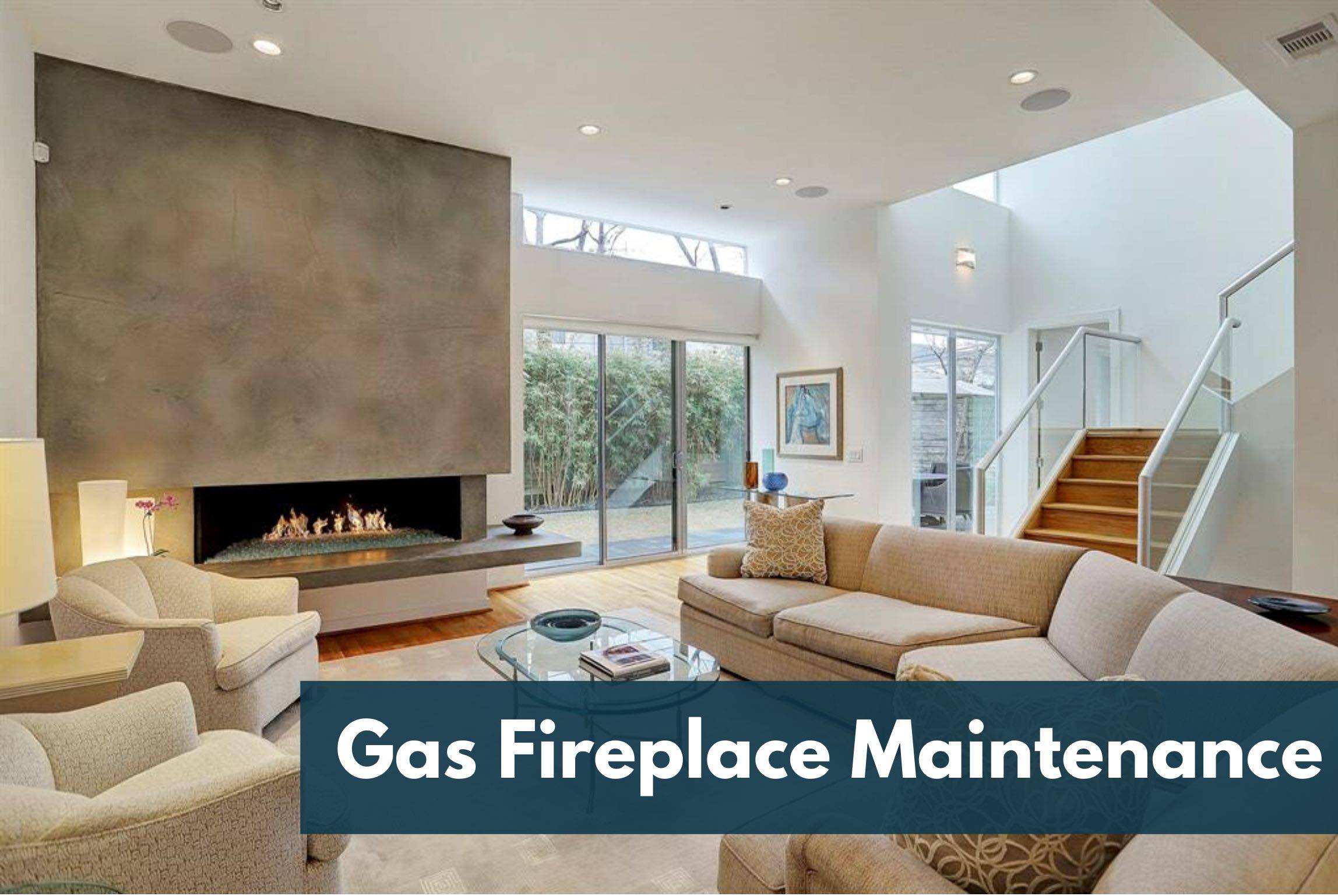 A gas fireplace is a great way to save energy while providing heat for your Houston home. Turn it on from time to time to help prevent blockage in the gas delivery system.
Think your gas fireplace needs to be looked at professionally? Watch out for these 5 signs.
---
Best Houston Real Estate Resources
---