Quick and Easy Renovation Tips: How To Add Value To Your Houston Home
Want to get top dollar for your property? Check out these quick home improvement tips for your Houston home that can add value at near zero cost.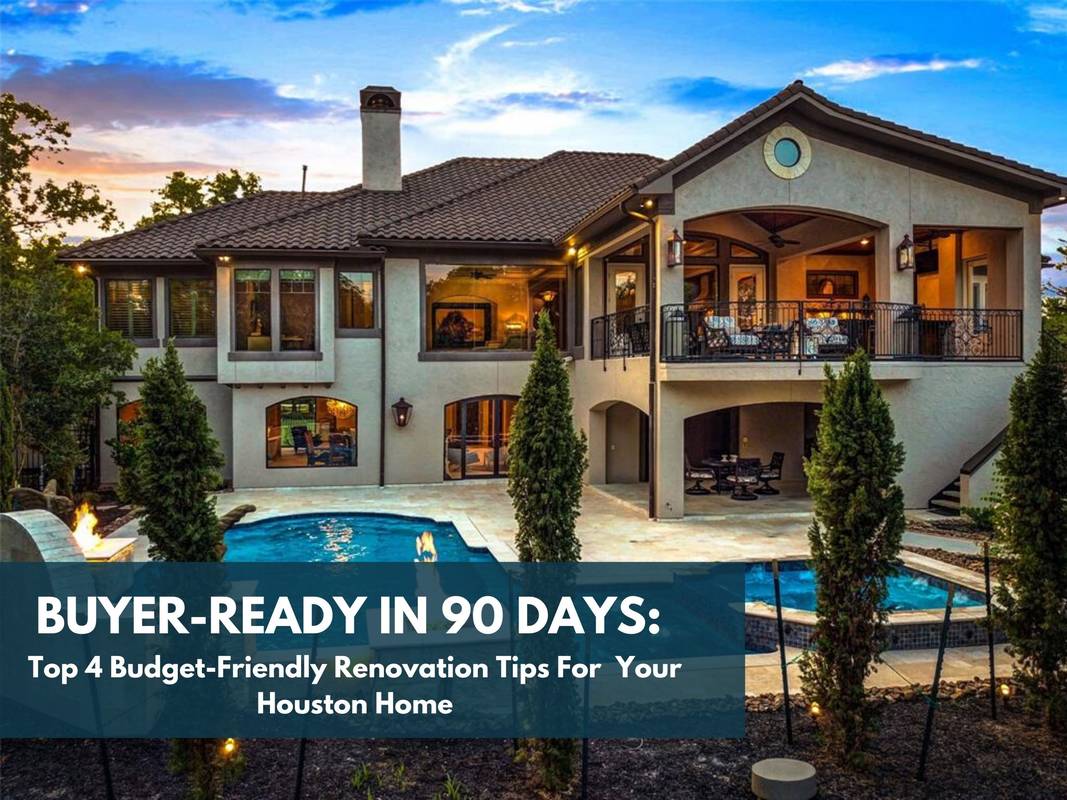 Summary
Looking to sell your Houston home? In today's uncertain times, you're going to want to sell it fast.

One of the first vital steps of the home selling process is to make sure that your house looks and feels ready to be sold.

Home renovation can be tedious and costly, but there are some essential DIY home improvement tips you can do that come with minimal costs.

If you're wondering how to add value to your Houston home on a budget, we have 4 quick and easy renovation tips you can do to help get your home ready for selling in 90 days.
Additional Resources
Check out our other home selling articles:
What happens when you combine trustworthiness, candor and deep understanding of the real estate market? You get one of the most successful Realtors worldwide - Paige is ranked #5 in Keller Williams worldwide. We commend Paige and The Houston Properties Team for their stellar communication skills and great dedication to their clients. If you want to work with the best real estate agents in Houston, call them! - Kenzie, Google Review
---
Table of Contents
---
3D's: Declutter, De-personalize, Deep Clean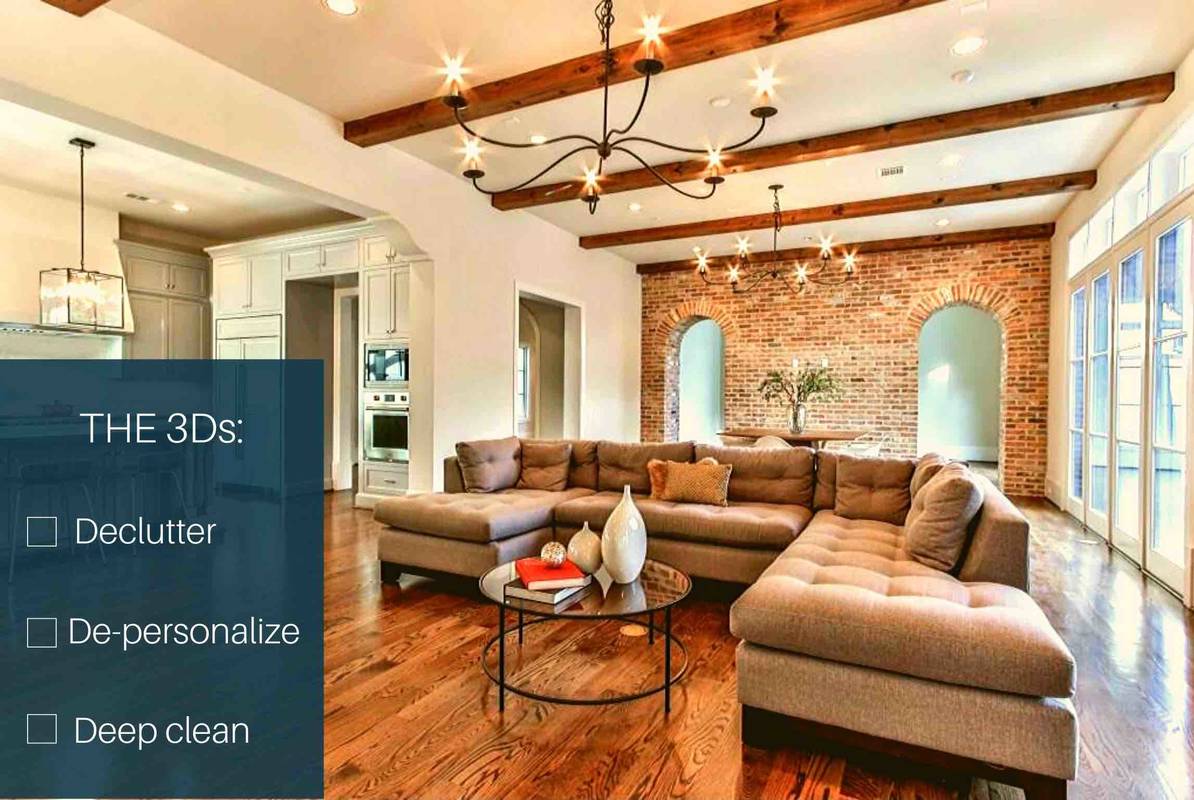 Each Houston home is unique. Contact the Houston Properties team for a custom home improvement value calculator, so you can find out what renovations are worth doing based on your neighborhood or area.
First things first: before you think about selling your house, make sure it's clean. The value of it is to minimize the "lived-in" effect so buyers can imagine themselves staying in your home.
Declutter. Home selling aside, a decluttered home can do you good in both your physical and mental health. An organized and decluttered home will give buyers the capacity to visualize themselves living in it.
Depersonalize. Having lots of personal items in your house is 6th on this list of 10 things that turn off homebuyers. Your photos, trophies and other memorabilia might discourage the buyers' imagination, as well as distract them from the house they are being shown.
Deep Clean. And the top of that list? bad odor. You can get rid of this by deep cleaning essential surfaces and items: floors, carpets, furniture, baseboards, doors, bed and bath linens, and the like. A good, thorough cleaning can go a long way in bringing your home back to life.
---
Repair Basic Issues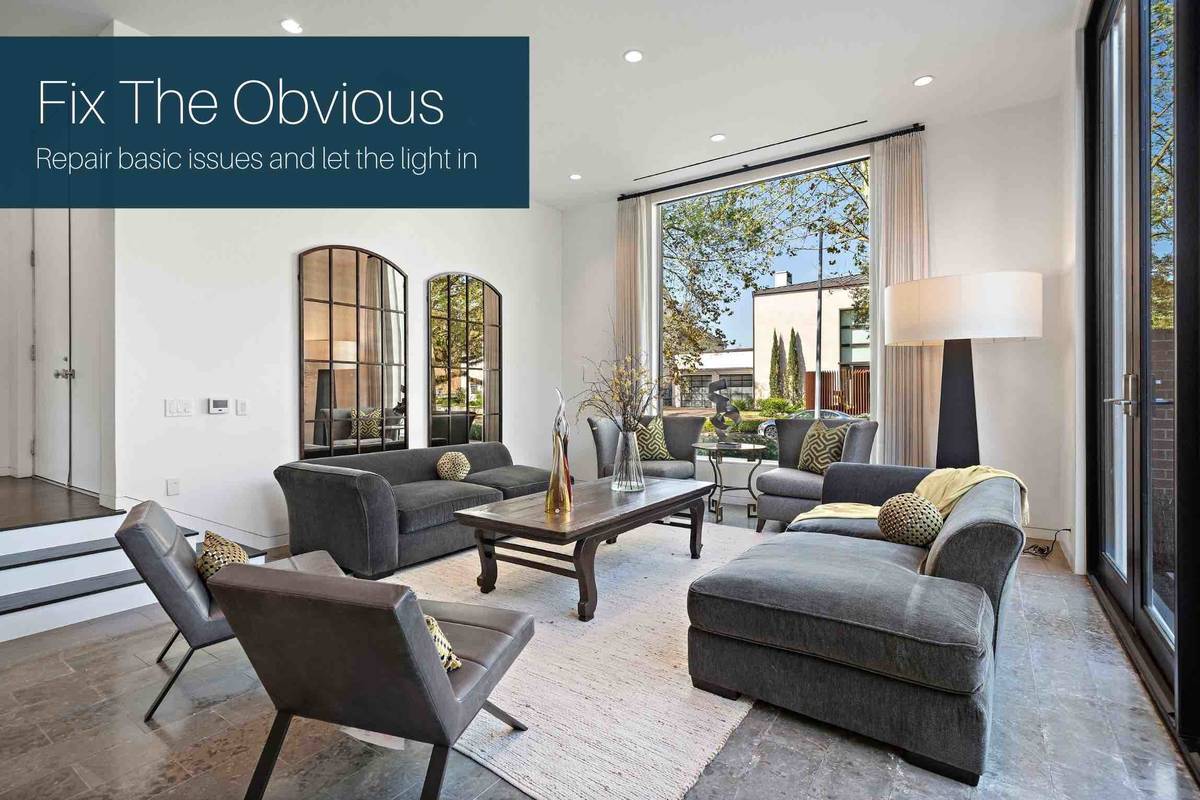 "If you are looking to buy or sell a home, do yourself a favor and contact the Houston Properties Team today. Their extensive experience and client-first attitude make the whole process a lot easier. It's easy to underestimate how big of an undertaking a real estate transaction is. Fortunately, there are good realtors who can help make it a lot less stressful." - Britney, Google Review
Take a look around your house. If you immediately notice things that need repair, chances are, your potential buyers will notice them too. This could lead them into thinking that the home isn't well-cared for, or that there can be more hidden, costly repairs that they're not seeing.
Take care of issues you can see at first glance (replace burned-out light bulbs, make sure all fans work, fix dings or scuffs on the wall), especially in high traffic areas.
Improving lighting in your house can also do wonders for your home's overall appearance. You can paint outdated fixtures or replace shades for little to no cost.
Letting in more natural light helps as well. Simple improvements such as removing or replacing heavy draperies or adding a large mirror to a room can show a brighter and more spacious home.
---
Paint Your Rooms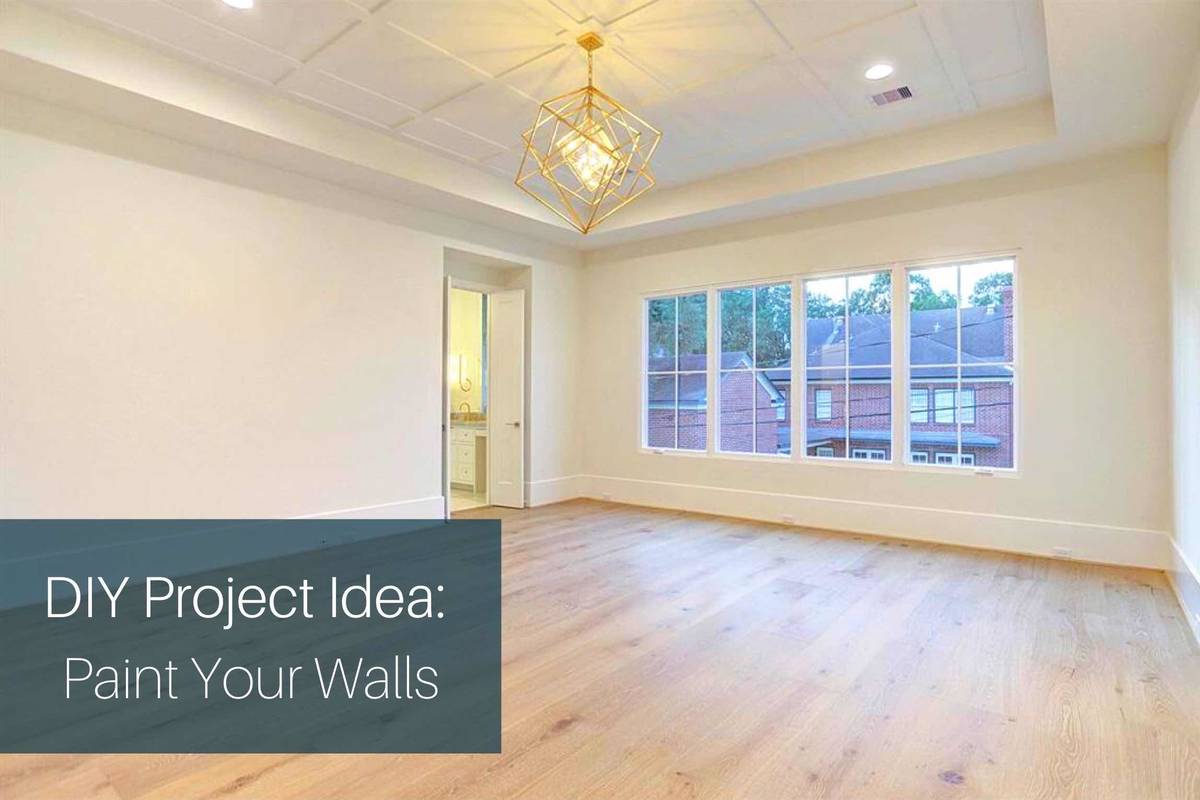 Houston real estate is hyper-local. Contact us, the #1 Keller Williams Real Estate team for more insights on how to increase the value of your Houston home and for a custom report on Houston home improvement tips on your neighborhood
Painting your walls can also brighten your home, as well as give it a "newly bought" feel. Your house will compete with newly constructed properties, so freshly painted rooms with neutral colors can make your house appear more current.
If you don't have any house painting experience, there are plenty of online guides and video tutorials on home painting techniques. A few gallons of paint with a couple of brushes and rollers can go a long way in getting top dollar for your Houston home.
---
Improve Your Home's Curb Appeal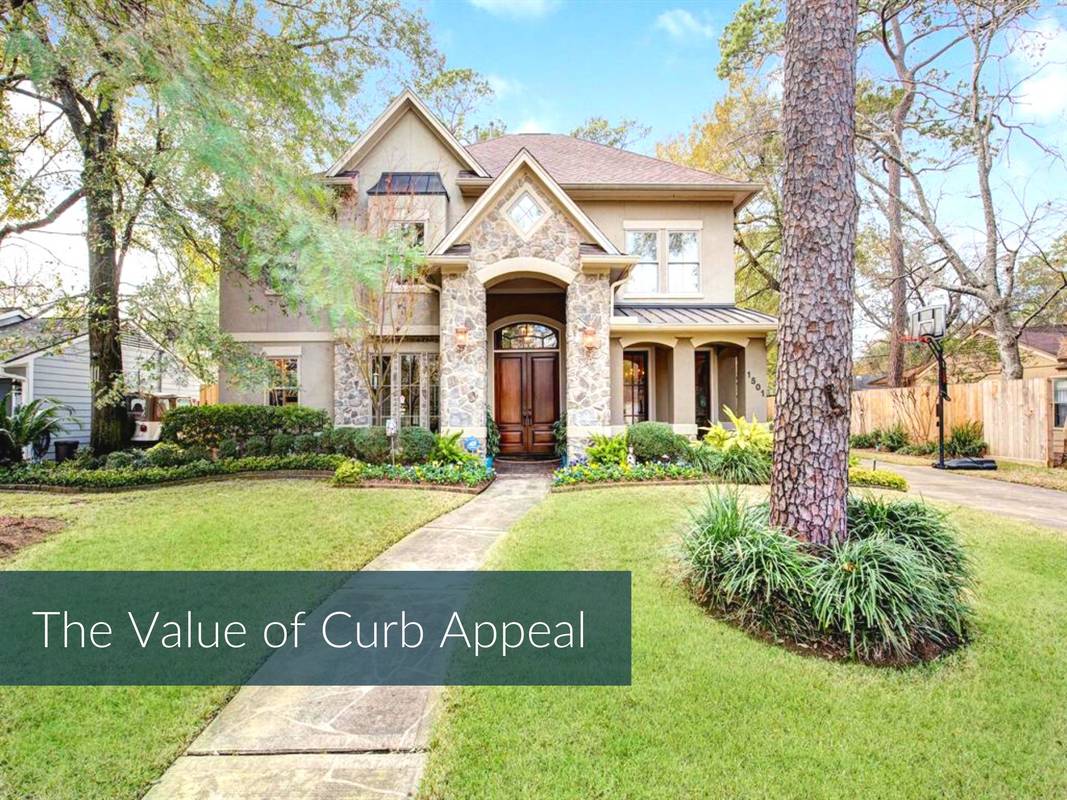 Exterior home improvements are as important as interior ones. Contact the Houston Properties team for a more detailed report on the best renovations to do before selling, depending on your neighborhood and area.
After you've taken care of what the buyers see once they've entered your home, shift your focus on what they see BEFORE they go inside. The first 10 seconds of a buyer's encounter with your house is simply walking through the path to the front door.
Cut the lawn, put fresh mulch down, trim the hedges, and ensure that the buyer's entrance into the home allows for effortless access and displays a fresh and clean appearance.
If you live in a condo, check your door and make sure it's clean and tight. Notice the first things that a buyer sees when they open the door and make the necessary improvements (make it light, bright and attractive).
First impressions can go a long way, so make sure your buyers have no reason to write your home out at the beginning.
---
The Ultimate Home Renovation Guide: How To Get Top Dollar For Your Houston Home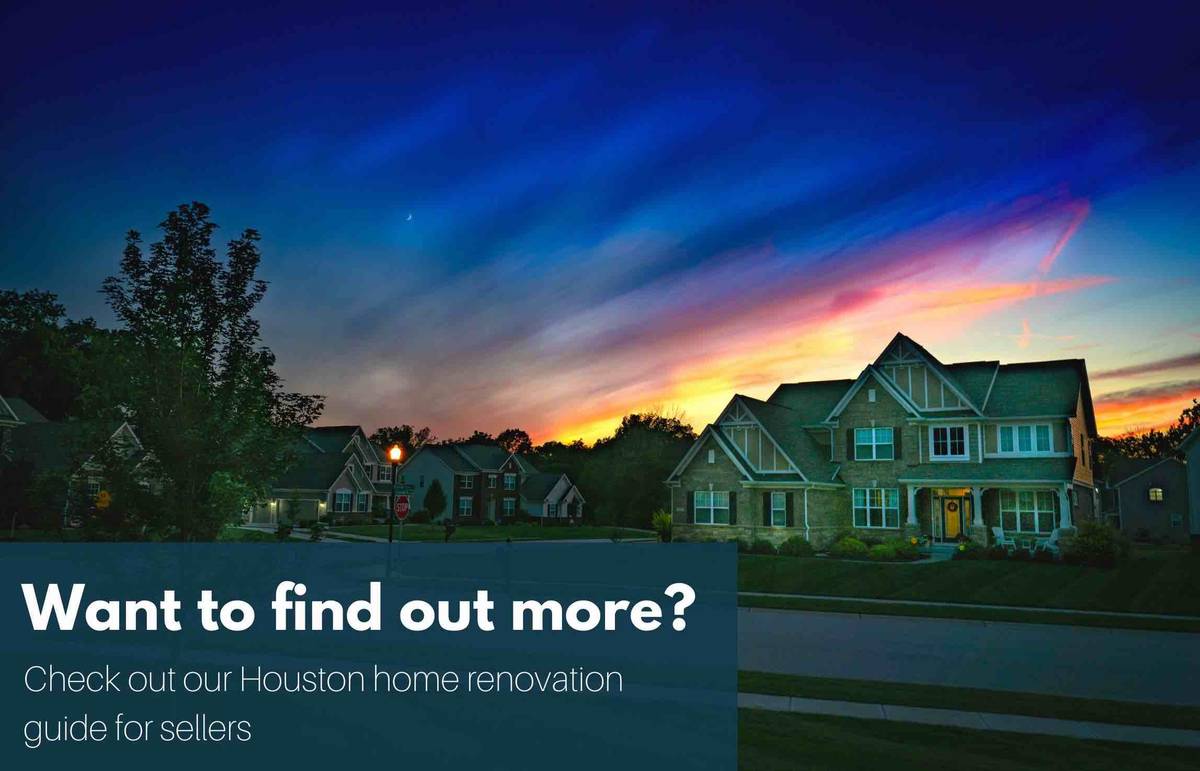 "Paige Martin and the Houston Properties Team are all specialists in their roles. Once you've enlisted their help, you're actually hiring a team that runs like clockwork – they have people dedicated for each phase of the buying or selling. I was amazed at how fast my transactions were completed with the best deals possible. Thank you for removing the hassle out of my real estate experience!" - Courtney, Google Review
These easy and budget-friendly tips can help you get one step closer to selling your Houston home in 90 days, but if you have the time and resources, there's still more you can do.
If you want to read up on more home improvements that increase the value of your home, check out our comprehensive Houston Home Renovation Guide. We have Houston home renovation tips listed according to price range, as well as a list of what to check on in your home to recover from flooding.
---
Best Houston Real Estate Resources
---